Car Hire Chania Airport – Rental Center Crete

How to get to this station?
View the map of Chania Airport
Latest offers in this station
Weather in Chania Airport
Reviews of real clients in Chania Airport
Chania International Airport, 73100, Chania
Telephone Centre: +30 2810 240 120
Email: chania-airport@rental-center-crete.com
Monday to Sunday: 24 Hours
Chania is one of the best tourist places to visit in Crete, with its historical museums and buildings to the harbour faced restaurants; you will find everything and more in this excellent city. Arriving at the city airport, hire from one of the best car hires in the Chania airport to zoom around the city and not miss out on any of the delights it promises to offer.
Chania is the first destination that people select, on their holiday to Crete. Hiring out a good car from the Chania airport, you can start your holiday on the island with all pomp and show it deserves. At Rental Center Crete, we offer some of the best holiday packages in the form of special discounts and best rates on specialised car hire to make your stay a remarkable one.

While Chania has treats galore for the exciting, new holiday tourists, there are many winding streets to take you through some of the fascinating locations of the city. Since you are on a holiday, you would not to miss any single museum or delightful sights the city has to offer. Due to this reason alone and to make your holiday a fun filled one, we have some of the experienced drivers to ferry you around the city streets. This way, you can relax and plan further for your holiday or just watch the world go by!
The Rental Center Crete has gained popularity over the years as the best car rental in Chania airport, because of some of the deals it offers. A tourist coming into the city can order the cars as soon as he steps into it or just book them through the advanced booking facility available online. And, with the facility of paying for the cars on their delivery, it works out wonderfully to pre-plan your holiday in advance.
For those enthusiastic car lovers, you can have a double benefit of enjoying the car of your choice and also driving through some of the most glorious streets of Chania city. With an insurance to cover all sorts of eventualities, have a completely fun-filled, and worry free holiday in Chania.
From the time you pick the cars from the car hire in Chania airport till the time you say 'adio' to us, we, at Rental Center Crete will promise to offer best services you have ever experienced from a car hiring company.

Thinking of spending a night or two in Chania? Read this page about Chania Old Town by We-Love-Crete.com
Latest Car Hire Deals At Chania Airport
Special Offer
Toyota Yaris
for May 2017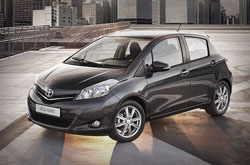 Weather at Chania Airport
Read reviews of real clients of Rental Center Crete at Chania Airport