One of the best ways to really connect with the Cretans – the best part of Crete! – is to understand local customs and traditions. For the devout Cretans, many of these are related to the Greek Orthodox Church. And the most important season of the Orthodox year is the season of Lent, culminating in the celebration of the resurrection at Easter.
Clean Monday in Crete is the beginning of this most sombre and festive period of the Christian Orthodox year.
When is Clean Monday in Crete?
The Clean Monday is always the 7th Monday before Orthodox Easter. Clean Monday is the beginning of the longest fast of the Orthodox calendar, lasting nearly 50 days.
Before the period of fasting and restraint that marks the weeks of Lent preceding Easter, there is Carnival, a Dionysyean celebration that involves meat, wine, and all kinds of revelry.
The Carnival begins on "Tsiknopempti" – a Thursday – rather like Fat Tuesday for the Catholics of New Orleans. It continues throughout the next two weekends. The Monday after them is Clean Monday – "Kathara Deftera". It is also known as Pure Monday, Ash Monday, Monday of Lent, Orthodox Shrove Monday or Green Monday.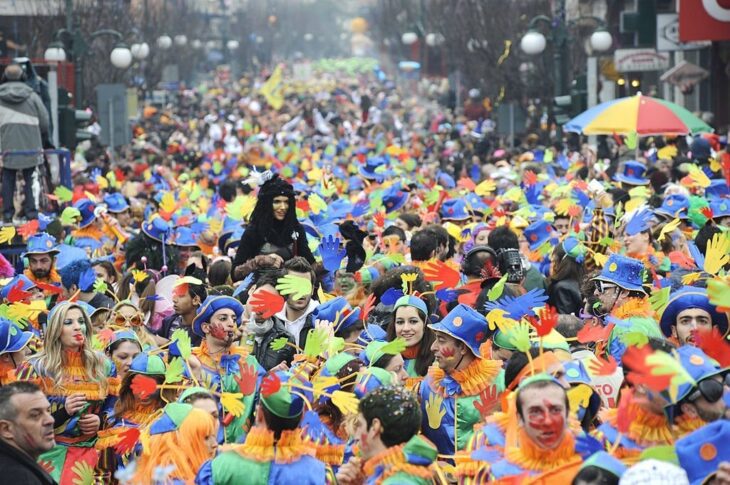 Clean Monday Preparations
Clean Monday is the perfect name for this special holiday. After a period of lots of meat and cheese, "Kathara Deftera" ushers in a period of "Clean" eating, a period of restraint. A special menu is enjoyed by people all over Greece. There is a lot of shopping prior to Clean Monday in Crete because of the very specific menu that people enjoy.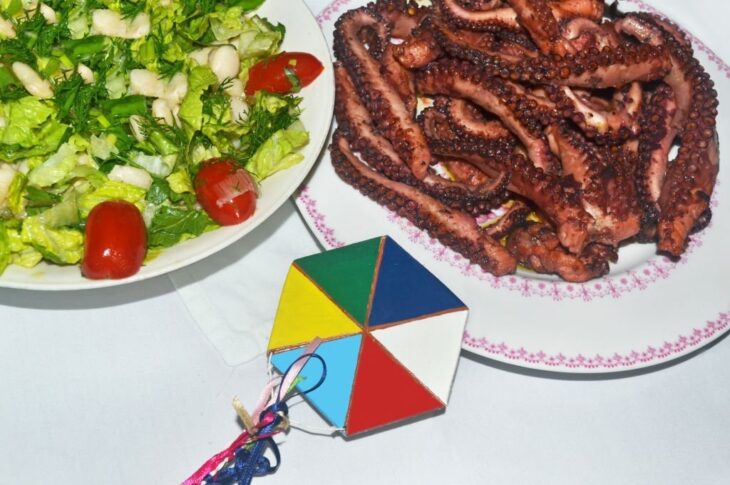 Traditional Menu of Clean Monday lunch
The Christian Orthodox fast prohibits any product from an animal with blood. This means no meat, fish, or poultry, no dairy, and no eggs. Even though there will be no meats and cheeses, there are still plenty of wonderful things to eat. The meal focuses on seafoods except for fish- things like mussels, calamari, shrimp, and so on, as well as legumes. Since it is spring and we are on Crete, there will also be wild foraged greens on the table. These are dressed with lemon and local extra-virgin olive oil from the trees that cover the island. As simple as they are, they are still one of the glories of Cretan cuisine – a sweet taste of the rugged landscape.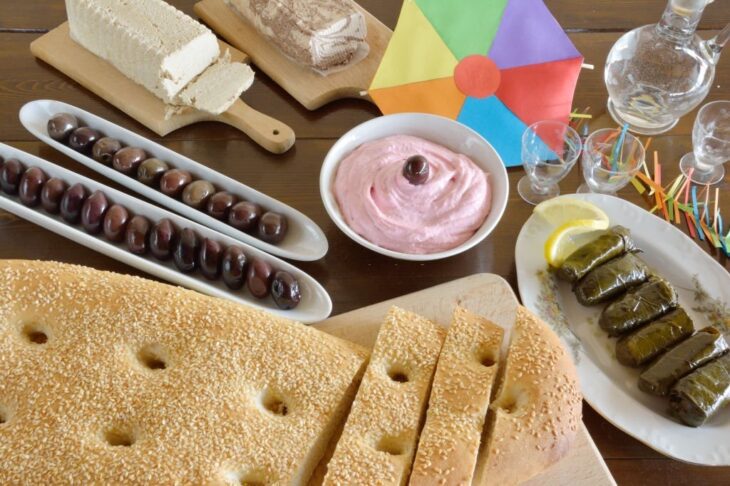 Additionally, there are several essentials dictated by tradition that are on every table in Greece. Taramosalata – a delicious creamy spread made of cured fish roe from cod or carp – come in both pink and white, depending on the colour of the fish roe. The roe is whipped with lemon and olive oil and either stale bread or boiled potatoes- both are delicious. Olives, too, are always included on the Clean Monday table. Since we are in Crete these may be the small, "tsakistes" – tiny olives that have been lightly smashed to help them absorb the fragrant lemon juice they are soaked in.
"Lagana" – the Ritual Bread of Clean Monday
Every bakery in Crete is working on Clean Monday, baking "Lagana". this flatbread which is covered with sesame seeds has its roots in the Old Testament and the flight of the Jews from Egypt. The flatbread relates to the unleavened bread that is integral to the Jewish Passover.
Lagana is often just a little bit sweet, making it delicious spread with the tangy, salty taramasalata or enjoyed with olives.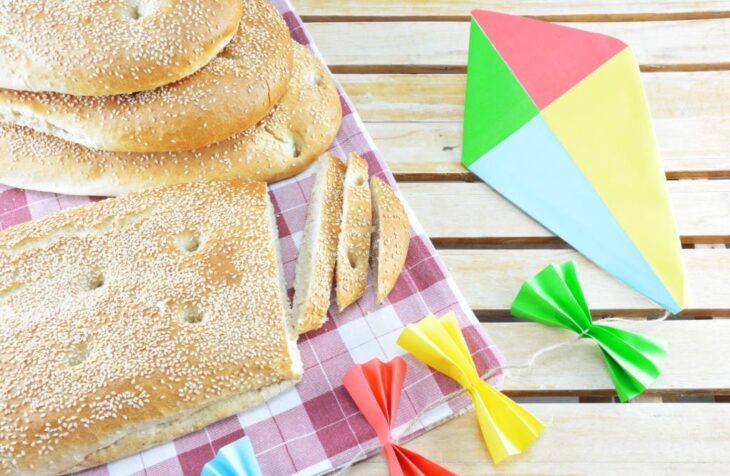 Sweets on "Kathara Deftera" on Crete
Sesame halva is also an absolute essential. This crumbly and rich sweet melts on the tongue. It's made only of tahini and sugar syrup – sometimes with honey – that has been boiled and kneaded with the tahini until it forms a marvellous texture. It is of course a lenten sweet. The halvah can have a ribbon of cocoa, the addition of toasted nuts, candied orange, or a number of other lenten additions.
There may also be other sweets, provided no eggs or milk are used. These can include halva of olive oil and coarse semolina.
Is Clean Monday a public / bank holiday ?
No, officially, Clean Monday is not a public or bank holiday.
Are the shops open on Clean Monday in Crete?
Commercial shops are closed on Clean Monday all over Crete and Greece. Only some grocery shops, supermarkets and bakeries open for a few hours early in the morning for some last minute food shopping.
How is Clean Monday celebrated in Crete?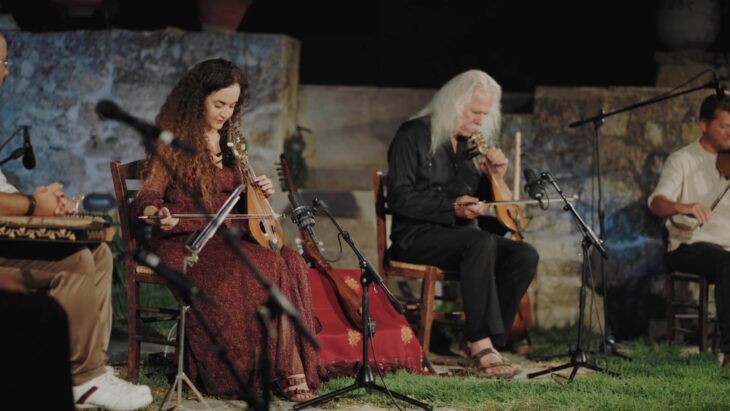 This is a national public holiday – there is no school and offices and public services are closed. Families and groups of friends all get together to greet the spring. Picnics are very common or at least eating out of doors if possible. Traditional Cretan Music with the Lyra is also popular, as are the traditional Cretan folk dances. A little of the pure Cretan spirit tsipouro – "raki" – helps to get into the rhythm.
Do people go to the beach on Clean Monday in Crete?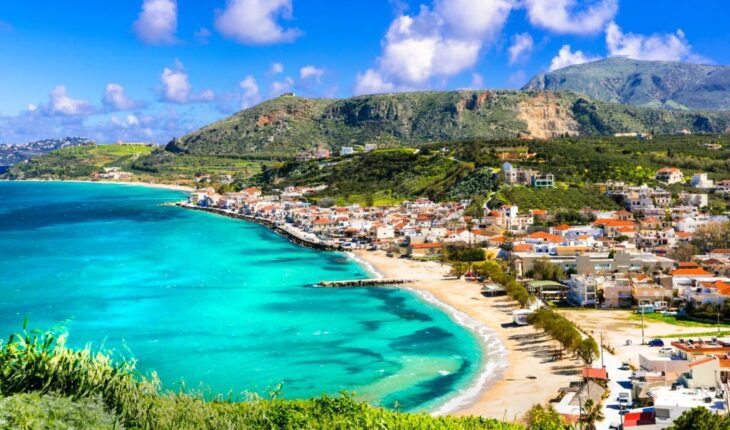 Although it may be too cold for some people to swim, the beach is still a very popular destination for Clean Monday celebrations. This is because it is the ideal place to fly a kite. In the days leading up to Clean Monday, vendors sell kites on the street corners. Many people fly a kite on Clean Monday – one can associate it with the fresh breezes, but it also serves as a symbol of the coming resurrection of Easter.
Why people fly kites on Clean Monday?
Flying kites is a great part of Clean Monday celebrations all over Greece. Recent research in history papers revealed that Easter-season kite-flying in Europe goes back to the 17th century and symbolises the raising of one's soul to God or Jesus' resurrection. For Greeks, it expresses the deep desire to reach for the divine.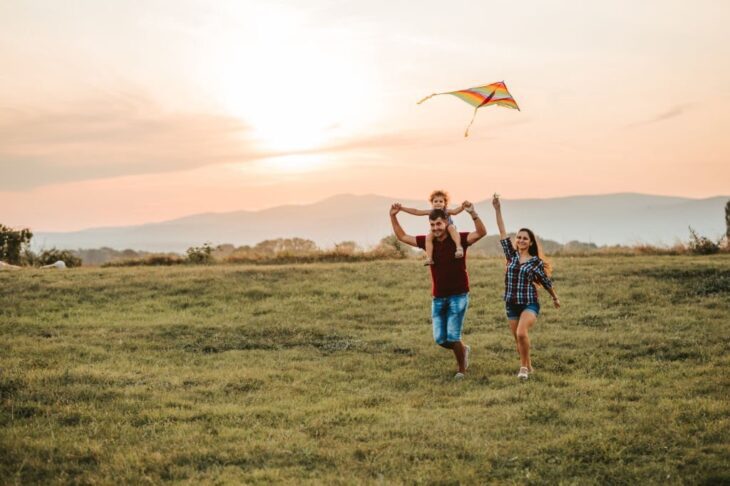 Should you visit Crete for Clean Monday
Clean Monday is a fantastic time to plan a visit to Crete. The winter weather is at an end, but the great heat of summer is still weeks away – it is the ideal weather for hiking exploring or even snorkeling. Also, the earth is waking up and the island is a blaze of Green – a wonderful time to see it and to enjoy seasonal specialties, like wild asparagus and wild artichokes, so tender and delicious that they are eaten raw in delicate strips.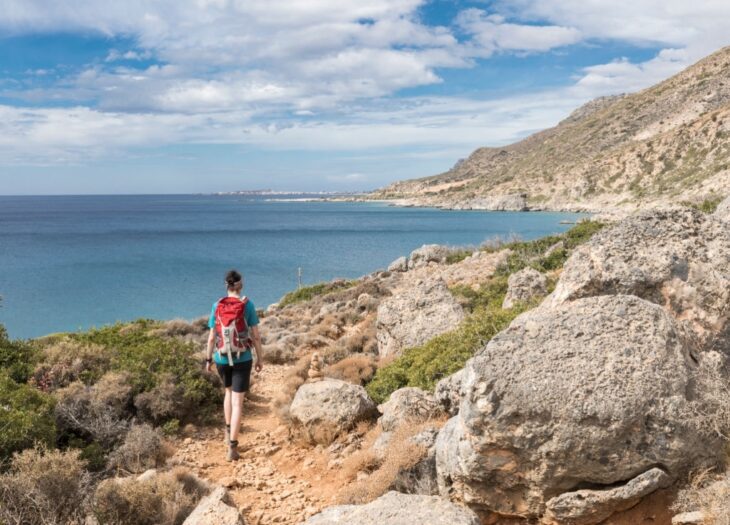 Another reason this is a great time to experience Crete is that many tourists have not yet come, so you can really connect with the Cretans as they celebrate. A solo trip is also recommended during this period.