Santorini is a Greek island found in the southern Aegean Sea, about 200 kilometres (120 miles) southeast of Athens. It is the biggest island of the same-named little round archipelago, which is also the remnant of a caldera. It is an area of approximately 73 km2 and is the southernmost member of the Cyclades group of islands. The populated islands of Santorini and Therasia, as well as the uninhabited islands of Palea Kameni, Nea Kameni, Christiana, and Aspronisi, are all part of the Santorini municipality. Santorini is included in the Thira regional unit.
Santorini is approximately 198.4 kilometres away from Crete. Many people choose to travel to Santorini because of the stunning views and beautiful tourist attractions it offers. If you want to learn how to get from Crete to Santorini, keep reading. We have here all the information you need to know!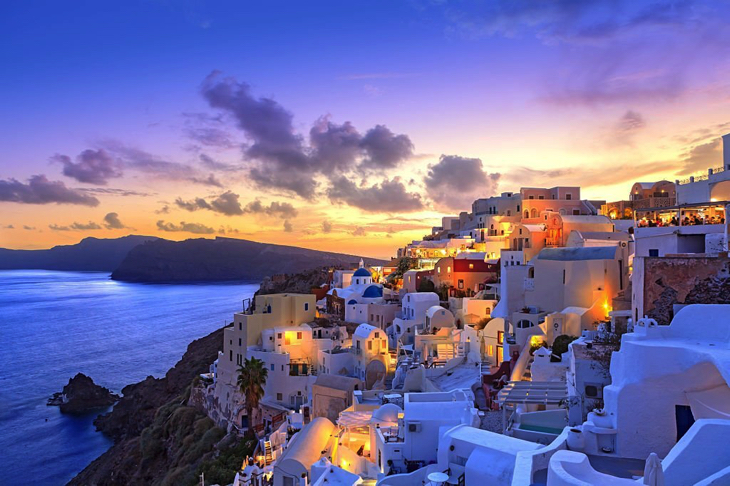 Getting from Heraklion to Santorini
Heraklion is the capital of Crete and is the largest city on the island. People who travel to Santorini usually travel from Heraklion because it is the most convenient option. Both ports and airports can be found in the region, making it easy to get to Santorini.
There are two ways to travel from Heraklion to Santorini: by ferry or by plane.
Is there a ferry from Heraklion to Santorini?
Yes, there are ferries that travel from Heraklion to Santorini. During the summer, there are at least two ferry departures per day from Crete to Santorini., Minoan Lines, Seajets, Aegeon Pelagos and Golden Star Ferries are the main operators on this seasonal route from Heraklion. Please keep in mind that ferry schedules can change depending on the season. Therefore, it is best to check the schedules in advance.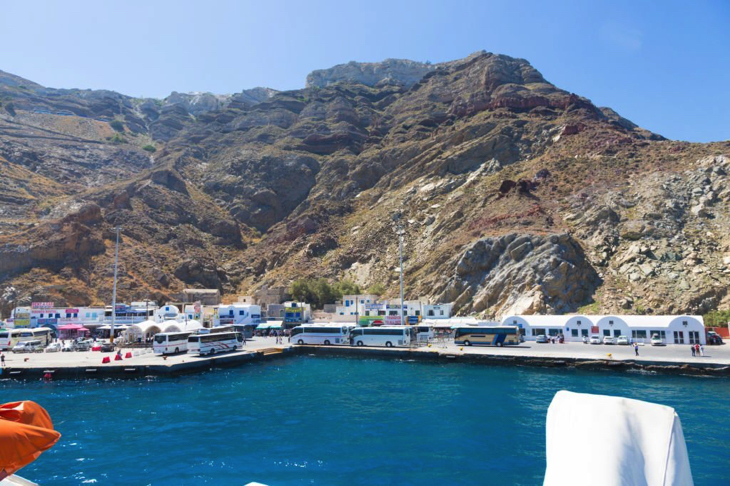 How long is the ferry ride from Heraklion to Santorini?
The boat ride from Heraklion to Santorini takes between 2 and 6 hours, based on the type of ferry you choose (conventional or high-speed). If you're in a rush and have more money to spare, you can take a high-speed ferry (Seajets & Minaon), which will get you to your destination in approximately two hours. If you're looking to save some money or don't mind taking your time on the water, then a conventional ferry (Anek / Superfast) is the way to go.
What's the ferry schedule from Heraklion (Crete) to Santorini?
The first ferry from Crete to Santorini leaves Heraklion at 08:00 and arrives at Athinios at 10:00. This route is operated by Seasets. There is also Anek / Superfast lines, which operates a much slower route twice a week that departs late in the night from Heraklion and arrives at Santorini port very very early in the morning.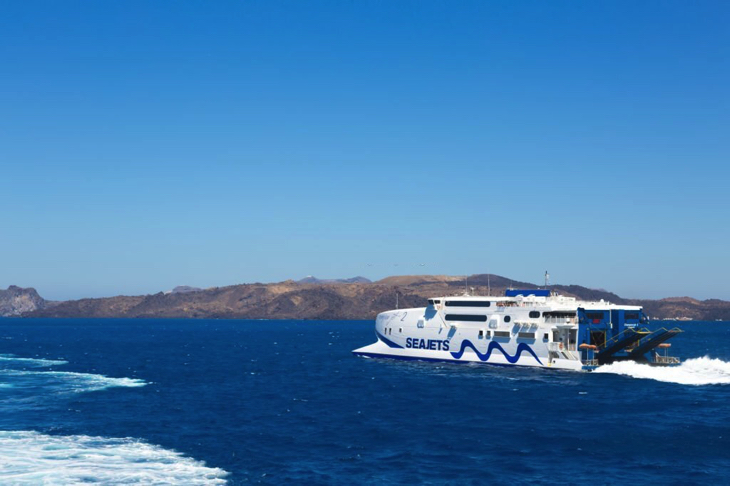 How much is the ferry from Heraklion (Crete) to Santorini?
The cost of a ferry from Heraklion to Santorini ranges from €25 to €85. Depending on the available discounts, the type of seat, and vehicle choices, the final ticket price may be greater or lower. It's good to know that there are usually discounts for online bookings, as well as for seniors and young children.
How much is the fast ferry from Crete to Santorini?
The fast ferry (Seajets, which is a catamaran) from Heraklion to Santorini takes roughly 2 hours to arrive. The cost of a slow ferry (Anek / Superfast) trip to Santorini is 40 euros (based on the seat you choose). The price of a fast ferry ticket to Santorini, on the other hand, is 80 euros (also depending on the seat you chose).
Flying From Heraklion to Santorini
Although the flight time from Heraklion to Santorini is only about 2-3 hours, you will require additional transfer to and from the airports. Flying takes about the same amount of time as taking the ferry, but it is more expensive and emits more damaging pollutants to the environment.
It is much more expensive to fly from Heraklion to Santorini than to take the ferry. This route does not have a direct flight, and all planes stop in Athens before reaching Santorini. Although this is a beautiful way to traverse this trip, we believe short flights like this are not worth the extra cost or environmental damage.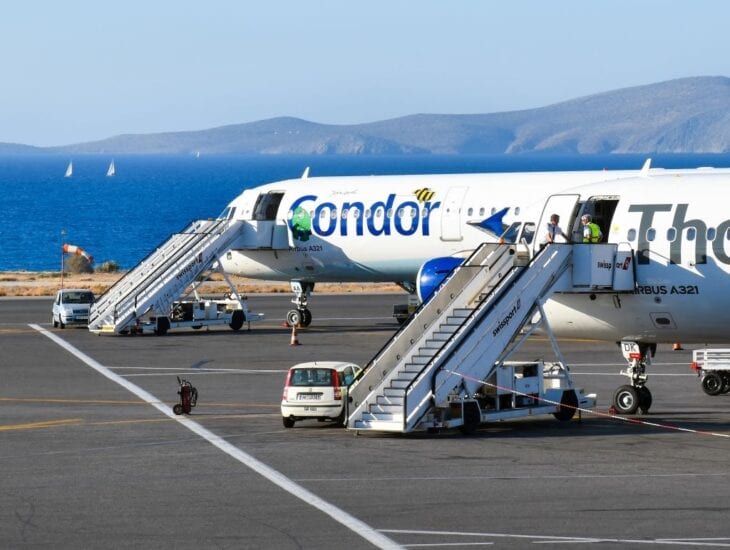 How much is a plane ticket from Heraklion to Santorini?
If you wish to fly from Heraklion to Santorini, there are two airlines to select from: Sky Express and Aegean. This itinerary is served by both airlines on a daily basis
The shortest flight duration could range from 2-3 hours depending on the length of the layover in Athens. A flight from Heraklion Airport to Santorini may start at €180 for one-way flights and €250-300 for a round trip.
Getting From Chania to Santorini
Chania and Santorini are separated by 100 miles (162 km). Although there are no direct ferry or aircraft links from Chania to Santorini, there are several options for getting there. Flying from Chania to Santorini is the most convenient option since it'll get you to Santorini quicker. However, because there are no direct flights between the two Greek islands, you will need to have a layover in Athens.
Can You Travel From Chania to Santorini by Boat?
Unfortunately, no ferries from Chania to Santorini are available. If you want to travel by boat, you'll have to drive to Heraklion (a journey of about two hours by car) and take a ferry from there. The National Road (E75), which is a basic "island-sized" roadway, will take you to Heraklion. The journey from Chania to Santorini by car and boat is long but scenic, as it takes you through some of Greece's most beautiful countryside. You can stop to explore ancient ruins or enjoy delicious local food along the way. The journey takes about 8 hours in total, including the drive from Chania to Heraklion and the ferry crossing from Heraklion to Santorini.
Can you ferry a rental car from Crete to Santorini?
No, you cannot ferry a rental car to Santorini. Is not allowed by any car rental company policy. In some international companies, you can request a special permission to ferry the car, in 99% of the cases your request is denied.
What can you do instead?
Instead of ferrying your rental car from Crete to Santorini, you can park it at Heraklion (or Rethymno) port, embark to the ferry and book another one to wait for you at Santorini Port.
Getting From Rethymno to Santorini
Rethymno is a region in Crete that's not too far from Heraklion. Crete and the Cyclades Islands are connected by the Rethymno – Thira ferry route. This ferry service is presently operated by only one ferry operator, which is SeaJets. The crossing is available up to three times every week, with sailing periods starting at roughly 2 hours and 20 minutes.
Sailing lengths and frequencies on the Rethymno – Thira may change from season to season, thus we recommend making a live check. This is to ensure you get the most up-to-date information. You'll avoid surprises such as longer-than-expected wait times at the port.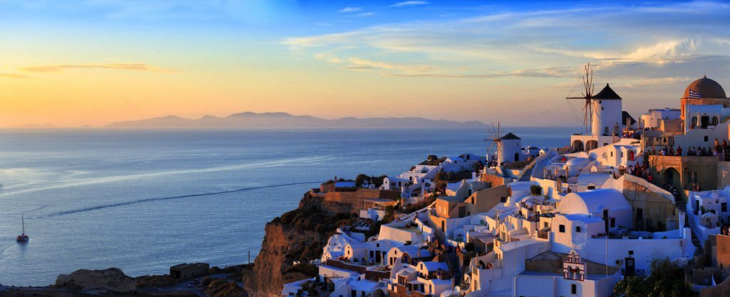 Can You Travel From Rethymno to Santorini By Plane?
Unfortunately, Rethymno doesn't have an airport. The region only has a seaport, so the only way to get from Rethymno to Santorini is by boat. Fortunately, you can travel to Sitia, Chania or Heraklion if you want to fly to Santorini from Crete. Chania Airport (CHQ) is the closest airport to Rethymno, followed by Heraklion Airport (HER). Sitia Airport (JSH). Both Heraklion and Chania airports are about an hour's drive away from Rethymno, in opposite directions.
Once you arrive in one of these airports, you can take a domestic flight to Athens and then connect to a flight bound for Santorini. The journey from Rethymno to the airport will take about an hour by car. You can enjoy the scenic route as you drive along the north coast of Crete.
Ferries to Crete and Safety Measures
Crete, Greece's largest island, is very easy to reach. Ferrying to Crete is by far the most authentic way to reach the island. Crete has several ports, including the Port of Heraklion. In high season, you can reach Crete from the major islands daily. The Cycladic Islands have great connections to Crete. It is advisable to check ferry connections prior to making travel plans. Ferry travel to Crete is 100% safe. All the Ferry Companies have implemented the strictest measures of safety. Demand is one factor, and also other unforeseen factors can affect the ferry schedule. For example, on account of the pandemic, some routes have been temporarily suspended. Not only are measures enforced for the health and safety of all, but there is always ample hand sanitiser available.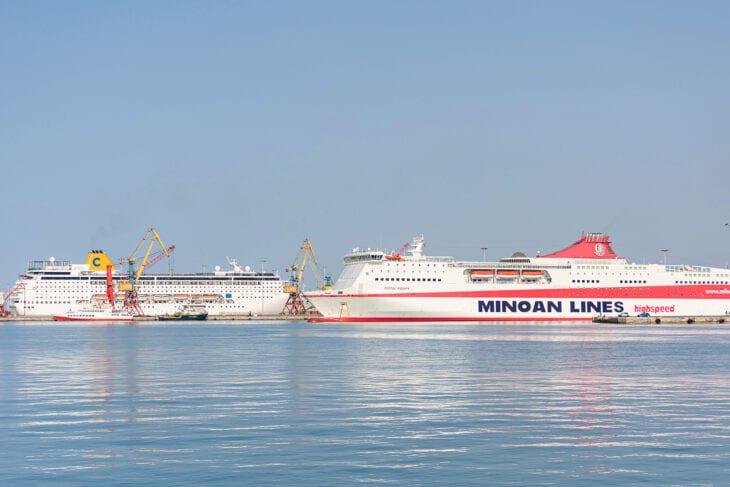 What are the ports of Crete?
The largest cargo and passenger ferries go in and out of the ports of Crete. The ports of Crete are: Heraklion Port, Chania Port, Rethymno Port, Agios Nikolaos Port, Sitia Port, Makry Gialos Port, Ierapetra Port, Tymbaki Port, Paleochora Port, Sfakia Port, Kissamos Port. Heraklion Port is the most busy one and connects Crete with Piraeus, the port of Athens, daily, plus many island of the Cyclades. Chania Port is located directly next to the city. From Chania port you can easily reach Piraeus port daily plus Kithyra island.