Locals and visitors love the cheerful atmosphere of Georgioupolis. A place where there is always something happening, day and night. The main quaint square is lined with cafes, local tavernas and souvenir shops. Arrive here early enough to savour a delightful cup of coffee under the shade of eucalyptus trees while you soak in the beauty of the local morning routine, just as the village wakes up and prepares for the day.
One of the most important wetlands of western Crete, Georgioupolis is famous for its natural water lake, Kournas which is home to many unique and endangered species of birds and aquatic plants. Georgioupolis offers a warm and relaxing holiday experience for all ages, where guests can enjoy authentic Cretan hospitality in a laid back and inviting environment. Read our guide to everything you need to know about Georgioupolis to help you plan your perfect Cretan holiday.
Where is Georgioupolis located?
Georgioupolis lies on the border between east of Rethymnon (24 km) and west of Chania (38 km). Part of the Apokoronas municipality in Chania, characterised by a wide, verdant plane with rolling hills which graciously extend from the foothills of the White Mountains (Lefka Ori) towards the Sea of Crete.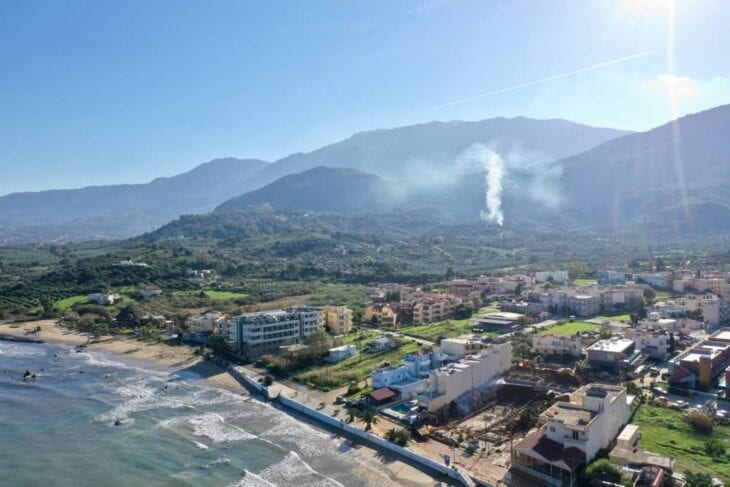 How to get to Georgioupolis
Access to Georgioupolis is fairly easy. It is approximately a 20 minute drive from Rethymnon following the National Road. From there take the Episkopi exit which leads to Georgioupolis. Chania International Airport is 50 kilometres away from Georgioupolis therefor either a rental car or a taxi is advisable. Taxi will cost somewhere around €60 one way.
Buses from the centre of Chania and Rethymno run on a frequent basis, all year round.
For those of you who wish to explore the island further, renting a car is the easiest and most affordable solution. You can pick up your car rental at Chania International Airport or use our local car rental in Georgioupolis with free pickup/drop off service from any hotel within Georgioupolis city limits.
The history of Georgioupolis
Georgioupolis once a 19th century landscape dominated by an abandoned marsh and malaria prohibited systematic habitation, was as a result transformed into an area of exceptional natural beauty and a flourishing tourism destination.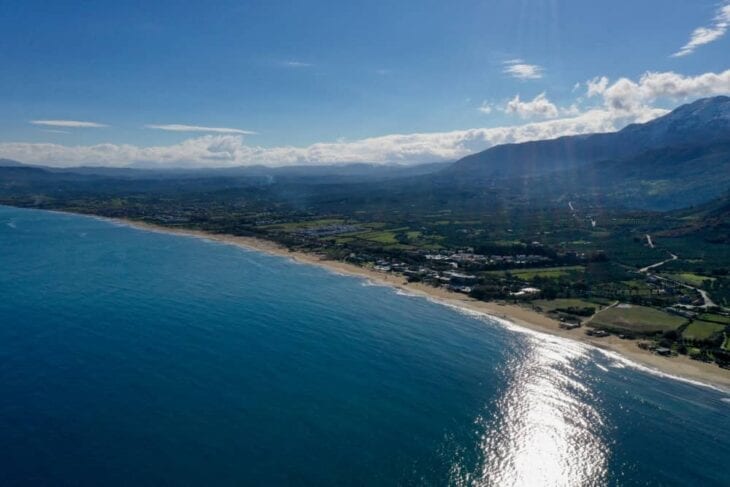 The marsh was drained and eucalyptus trees were planted to control the moisture and the mosquitoes that had extensively occupied the space. The history of Georgioupolis is directly linked to River Almyros which lies at the mouth of the village's harbor. Founded in 1893 it was named Almyroupoli, translating as the Town of Almiros. In 1899 it was officially named Georgioupolis in honour of Prince George of Greece and Denmark, who played a crucial role during the Ottoman occupation.
What to see and do in Georgioupolis
This small, seaside town offers an idyllic setting lined with abundant eucalyptus trees that greet visitors with their dominating presence. In fact, they are strongly rooted in the villages history. Small in size but blessed with natural wonders, Georgioupolis is home to many birds and animals. Here is everything that you can do in this charming part of the island.
Stroll around the harbor
Take a leisure walk along the harbor and sit down for a delicious meal in one of the traditional tavernas and restaurants, which offer scenic harbor views. Time moves slowly here, enjoy the slow pace of this delightful village as you sip raki and snack on meze. From here watch the fishermen go out to sea and return with a boat full of seafood treasures. They surely have many tales to share.
Inhale the smell of the Eucalyptus trees
One can't help but take deep breaths of its refreshing scent, imagine feeling its powerful properties by walking under the eucalyptus trees. You will find many of them right at the entrance of Georgioupolis.
Soak in the lively atmosphere of the main square
The liveliest part of Georgioupolis is its main square, in fact it is considered to be one of the pretties village squares of Crete. Perfect for people watching, it is one of the top things to do in Georgioupolis for those seeking an ultimate local experience.
Visit the Church of Agios Nicholas
The Church of Agios Nicholas, dedicated to the patron saint of sailors is one of the most popular sights located in the harbor. The picturesque white chapel sits gently on a manmade rock jetty with mesmerising sea views as a backdrop. During rougher weather conditions, the breaking waves add to the magnificence of this gorgeous landscape. This is definitely one of the most photographed attractions in Georgioupolis, and a popular wedding photography spot.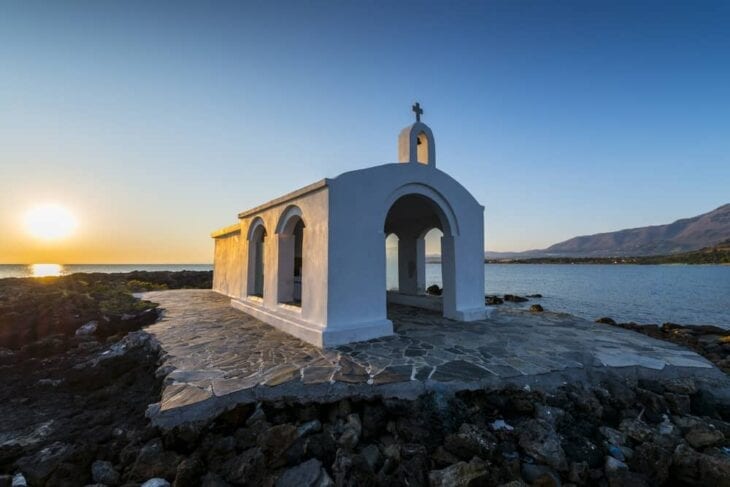 Explore Lake Kournas
The only fresh water lake in Crete is a fantastic site to visit. A gorgeous lake with its mesmerising waters and impressive mountain peaks, offers visitors a spectacular display of eye-catching contrasts. For an active day in the sun, you can rent some paddle boats to explore the lake at your leisure. Or simply relax on the beach while the sun's rays are kissing your body. There are umbrellas and sunbeds available for rent. Aside from swimming you might also enjoy a leisurely hike around the lake. The terrain is easy and great for all levels.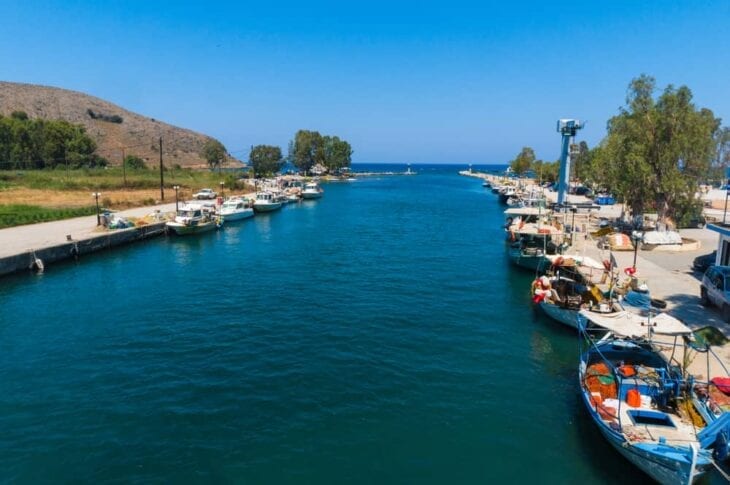 There are also several tavernas and cafes located right by the lake, where you can enjoy a delicious meal while admiring the scenery. The sunset hour is definitely a highlight. Lake Kournas is also one of the top sites for bird watching in Crete.
The beaches of Georgioupolis
Both sides of the harbor are lined with a stretch of coastline. Kalivaki beach, situated to the west of the harbor has shallow waters and spectacular dunes. It is here that the River Almyros flows directly into the sea. Here, you will also come across sea turtles basking in the sun and occasionally geese pay a visit to this part of the village. The beach is protected from the winds making it the ideal choice for families with children. There are organised facilities on the beach as well as a few tavernas serving snacks and seafood dishes. Georgioupolis Beach is a 10 kilometer stretch of beach, awarded with a Blue Flag certification. An organized beach where you will find an array of water sports facilities including scuba diving. There are also several tavernas and cafes serving fresh, local cuisine.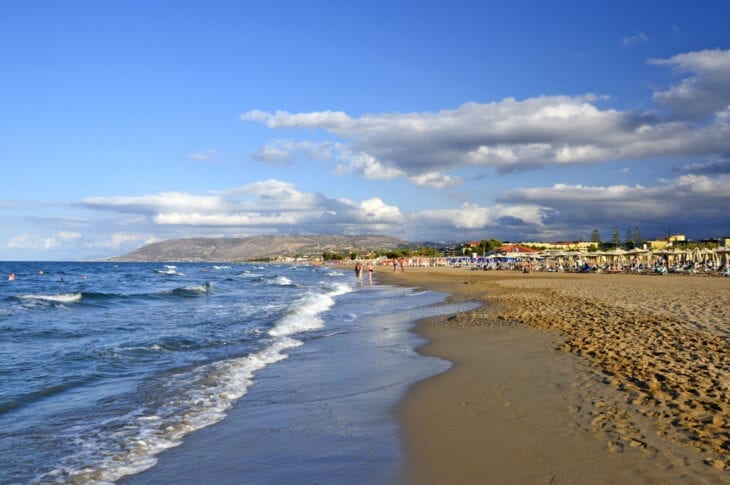 Where to Stay in Georgioupolis
From budget-friendly, comfortable accommodations to luxury resorts, Georgioupolis has a variety of options for any traveler. You'll never have a hard time finding the perfect place to stay. With that said, here are the top ones worth considering:
Georgioupolis Beach Hotel
Among the most preferred accommodations in Georgioupolis, the Georgioupolis Beach Hotel is a charming resort that offers guests beautiful views of the Aegean Sea. Along with elegantly designed rooms, this hotel also provides swimming pools and sports facilities, including a tennis court and ping-pong table, a bar, and a restaurant serving excellent meals. Plus, it's located only 10 meters away from the beach in Georgioupolis.
Address: Georgioupolis, Apokoronas, Crete
Website: https://www.gbhotel.gr/
Contact: +30 2825 061056
Pilot Amphora Boutique Hotel
Despite the affordable price, this hotel never fails to impress its guests with the wide range of amenities it offers. From an outdoor swimming pool to rooms aesthetically designed with wooden furniture and floor, all areas of this hotel are homey and comfortable. The hotel is situated in the heart of Georgioupolis, Crete, about 2 kilometers from Pilot Beach Resort, with convenient access to local attractions and sights.
Address: Georgioupolis, Apokoronas, Crete
Website: https://www.pilot-amphora.gr/
Contact: +30 2825 061901
Vantaris Palace
When traveling with family, you could never go wrong with Vantaris Palace. The hotel provides visitors with a variety of facilities, including air conditioning and a fridge, as well as complimentary internet access. In addition, you can take a dip in their on-site pool, which is surrounded by rich vegetation. Not to mention that the hotel also has a restaurant serving delicious food made from fresh ingredients.
Address: Georgioupolis, Apokoronas, Crete
Website: https://www.vantarishotels.gr/
Contact: +30 2825 061783
Where to Eat in Georgioupolis
Exploring Georgioupolis can make any traveler hungry. Luckily, the area is flocked with restaurants serving delicious local and international dishes. To get the most of your experience, try these best places to eat in Georgioupolis:
GB Rooftop Food Lounge
GB Rooftop Food Lounge is a must-try restaurant in Georgioupolis with a stunning view overlooking a church and the blue Cretan sea. Not only does the restaurant provide deliciously prepared dishes, but it also provides entertainment, including relaxing music. The rooftop lounge also offers cocktails and beers made from local ingredients that are highly recommended to any visitor.
Address: Georgioupolis, Apokoronas, Crete
Website: https://www.gbhotel.gr/GB-Rooftop-Food-Lounge.html
Contact: +30 2825 061056
Gyropolis
Filled with a cozy and laid-back ambiance, Gyropolis is an ideal restaurant to have a relaxing lunch with friends and family. They offer all sorts of dishes, including kebabs, pasta, and even desserts. In addition, the restaurant also provides a variety of drinks so you can enjoy your meal with ease.
Address: Georgioupoli, Georgioupolis, Apokoronas, Crete
Website: https://www.facebook.com/Gyropolis-1448415438739792/
Contact: +30 2825 061448
Rodaria
If you're craving pizza, Rodaria is the best place to be. The restaurant offers a wide variety of pizzas, pasta, and salads that are freshly made daily. Not only is the food delicious, but the service is also worth mentioning as all waiters are attentive to your needs.
Address: Apokoronou, Georgioupolis, Apokoronas, Crete
Website: https://www.facebook.com/grodaria/
Contact: +30 2825 061360
One of the most charming coastal villages, Georgioupolis is a must visit for those who find themselves in this part of the island. Enjoy reading our guide to everything you need to know about Georgioupolis, and we look forward to welcoming you to Crete.