The village of Paleochora is situated on a long, narrow peninsula that extends into the Libyan Sea on the southern tip of the island of Crete. It features two distinct beaches on either side: sandy on the western side and pebbly toward the eastern one.
Paleochora is known as the Bride of the Libyan Sea because of its glittering beauty and profusion of gifts. The town of Paleochora features stunning secluded little anchorages, well-maintained beaches, and crystal blue seas. Many hotels, restaurants, taverns, cafés, bars, and nightclubs service the area, making it a very convenient place to stay. It also has a unique history, making it a great destination for those who are fond of it. It's one of the best towns to stay in Crete, with access to beaches, challenging hikes, and mouthwatering local cuisine. Do you still need more reasons to visit Paleochora?
To make your trip even better, make sure you opt for a car rental in Paleochora. This way, you can enjoy your time here to the fullest. By renting a car, you can take advantage of everything the little town has to offer without sacrificing your comfort.
What Is The History Of Paleochora?
Paleochora was not actually a town in ancient Greek history, which is why it does not have any ancient historical significance. The peninsula on which it is now located was once completely submerged in the ocean. Its highest point—where the remnants of the Venetian fort formerly stood—jutted upward like a little island. The peninsula of Paleochora rose from the sea's depths as a result of an earthquake.
However, in ancient Greek times, the region was home to a city named Kalamyde, which was situated just to the north of where Paleochora is now. Not much is known about this ancient city, but it was presumably the port city for Kandanos, which thrived throughout the Doric and Roman eras, along with the nearby cities of Tara, Lissos, Poikilassos, and Syia.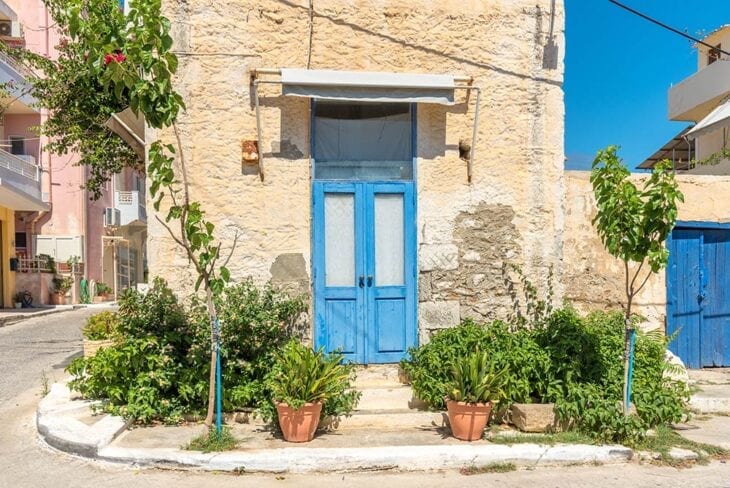 The Venetians erected Castel Selino in Paleochora in 1278 because it was a key location for administering southwest Crete and its sea routes. The entire region, which was previously known as Orina, was then renamed after the fort and is today referred to as Selino.
Numerous revolts against the Venetians took place throughout Selino and Southwest Crete's history. Later, in 1653, the Turks took control of Castel Selino and used it for their own gains. The village was later abandoned when the Turks were later compelled to evacuate the fortress. When the British traveller Robert Pashley arrived in the region in 1834, he only discovered the remains of the city.
However, a place with so many benefits throughout the course of history could not stay deserted for very long. People began returning to their homes and starting new lives there in 1886. This also explains the origin of its name, Paleochora, which derives its meaning from two different words. Palio, which means old, and chora, which means a place or a city. This means that the town's foundation is an old city's ruins.
When talking about the weather, the town of Paleochora is shielded from strong seasonal winds. This is because of its special location, being sandwiched between the Eastern and Western gulfs. Paleochora's consistently pleasant climate makes it a great place to travel, not just in the summer but even in winter.
Where is Paleochora located?
The town of Paleochora lies on the southern coast of the island of Crete, located on its western side. It is approximately 210 km away from Heraklion, the island's capital. The city of Chania is much closer, which is at a distance of 70 km. However, if you plan on visiting Paleochora and need the coordinates, note them down. The town is located at 35°13'46.06 "N and 23°40'54.89 "E.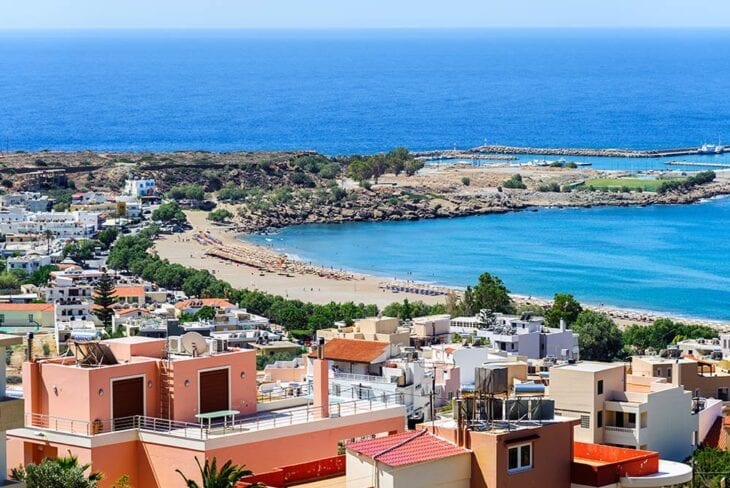 How many people live in Paleochora Crete?
According to the census conducted in 2011, the town of Paleochora only has 1,675 permanent residents.
What to know before going to Paleochora?
Whenever you're travelling to a new place, it is always a good idea to do all of your homework beforehand. This way, you will be prepared and will not have to worry about anything once you get there. When it comes to the temperature in Paleochora, it varies around the year, so pack accordingly. Ideally, you should be visiting in the summer, so you'll need breathable and light clothes and a swimsuit for your time at the beach.
Regarding time at the beach, remember to pack flip-flops, but don't restrict your shoes to them or sandals. Since you will probably be walking a lot, it would be a good idea to pack a good pair of comfortable sneakers. Oh, and don't forget the hiking shoes because you will not want to miss out on the hikes near Paleochora.
You won't have to worry about food while you're there since there are a lot of options to choose from. Of course, we will always recommend trying out the local cuisines. What's the purpose of visiting a new place and not eating their most famous dishes?
What are the facts about Paleochora?
Health and Safety: Verify your travel and health insurance coverage before you leave for Paleochora. If you are travelling from another European country, getting a free European Health Insurance Card (EHIC) before visiting Greece is also a good idea. This, however, does not take the place of health insurance. You will then have the right to receive any necessary medical care while you are travelling. However, the EHIC won't pay for ongoing medical care. Make sure to bring sufficient medication for the duration of your vacation if there are medicines you need to take on a regular basis.
Police and security: If you have any questions or concerns regarding potential security issues, get in touch with the hotel's front desk staff. To find out if the hotel has its own security staff, inquire in advance. Call the neighbourhood police station at +30 2823 041111 if there is a major problem.
ATMs: Several ATMs can be found in Paleochora, but you should first find out how much your bank will deduct once you withdraw money in another country. This is due to the fact that most ATMs charge a transaction fee. Some bars, restaurants, and nightclubs will accept your card for payment, but not all of them will. Therefore, we recommend that you always carry cash and a credit card.
Is Paleochora safe?
Yes, Paleochora is as safe as a tourist destination can be. So if you're planning to visit this beautiful little town, safety is something you will not have to worry about.
What is the best season for visiting Paleochora?
Since Paleochora is a beach town, it only makes sense to visit during the summer. The best months to visit it would have to be May through October. During these months, you will get to experience both lively evenings and mild weather. From June through October, sea temperatures are consistently above a pleasant 20°C, with August being the hottest month. Therefore, these months are also great for swimming.
How to get to Paleochora?
Paleochora is closer to Chania than it is to the capital Heraklion, and this is why it is always a good idea to land at Chania airport and go from there. You can reach Paleochora by taking a bus, renting a car, or hiring a taxi.
By Bus
If you're exploring Crete without a car, regular buses that leave from Chania (and Heraklion) make Paleochora a fantastic place to visit. Plus, taking the bus can save you some money as well. Just ensure you check the bus timetables in advance to avoid inconvenience.
During the peak tourist season, there are three daily bus trips from Chania's center to Paleochora. You can purchase the tickets online or at the Chania bus station for €7.60 one way, and it will take you around two hours to reach your destination.
By Taxi
While you may save some money by taking a bus from the airport to Paleochora, it can also be a pain at times if you miss out on a bus or it is too crowded. By taking a taxi, you can rest easy knowing that your entire journey will be comfortable and at your own pace. Once you land at Chania airport, all you have to do is get a taxi since many will be standing there. Or better yet, you can even reserve one ahead of time online from the many companies offering their services.
By Car
Perhaps the best option is to rent a car. Not only will it be comfortable and hassle-free, but you can also stop along the way to Paleochora. The 70 km drive will take you only one and a half hours, allowing you to enjoy the true beauty of Crete.
How to get from Chania to Paleochora
Once you leave the airport, follow the main road to the left. Turn right toward Chania after 2 kilometres. At the roundabout before the town of Pithari, make a left turn toward Souda. Next, continue the downhill road that has a view of the Souda Port. Soon, after travelling for around 5.5 kilometres, you will get to a traffic signal where you turn right towards Chania.
You will reach a major crossroad after 100 metres, where you must now turn left. Once you reach the intersection with the highway, which is one kilometre away, turn right in the direction of Kissamos-Kastelli. After 25 kilometres, turn right towards Paleohora at the exit to Tavronitis/Paleochora.
After 62 kilometres on the main road, you will pass through Voukolies, Dromonero, Kakopetros, Floria, Kandanos, Plemeniana, Lithia, and Kalamos before reaching Paleochora. Depending on the number of stops you make along the way, the trip from Chania might take anything from one to one and a half hours.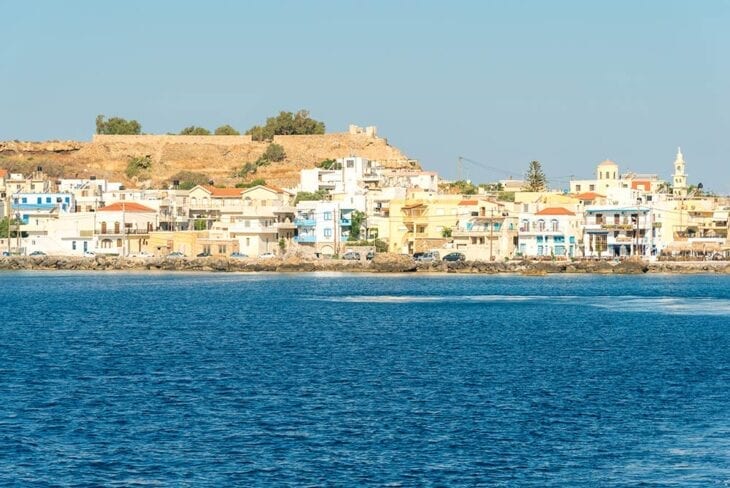 What are the best things to do in Paleochora
Paleochora is a modern town featuring numerous shops, cafes, and local tavernas, as well as coffee bars which remain open until early hours. It is a paradise for all types of holiday seekers: from adventure lovers to night owls, as well as families seeking a relaxing holiday in Crete.
Explore the Castle Selino
Visit the famous Cretan Fortress built by the Venetians to protect themselves from the many rebels who once dominated the area. The fortress, which was almost square in shape, was equipped with two towers, the ruins of which are visible until this day. The name Selino, which translates as celery in Greek, was presumably given due to the abundant growth of the plant in the area. The province was later given the same name and is still used today.
Hiking in Paleochora
Paleochora is blessed with both coastal and mountainous activities. Those who wish to spend time away from the beach can also discover the area on foot by following one of the numerous hidden paths which lead to charming villages, passing through the rich olive groves that dot its spectacular rugged landscape.
Hiking enthusiasts might enjoy the most walked route in the area — the E4 path, which leads from Sougia, passing through Lissos all the way to Paleochora. It is 16 kilometres long, takes approximately 5-6 hours to complete, and can be walked either way. For the most popular route, you can hop on a ferry that takes you to Sougia in the morning and make your way back to Paleochora.
Another famous hiking route in Paleochora is Azogires to Anydri Gorge. This 16.4-kilometer out-and-back hike takes an average of 5 hours and 12 minutes to complete. This route is typically regarded as a fairly difficult one. Although this is a well-travelled and popular hiking trail, you may still find some peace and quiet when it's less busy. It is always great to hike on this route, which is open to the public all year round.
Perhaps the most difficult hiking route would have to be the Paleochora – Sougia – Chora Sfakion – Frangokastello route. If you feel like challenging yourself, explore this 69.8-kilometer point-to-point track in the area of Paleochora, Crete. It requires an average of 22 hours and 18 minutes to finish and is typically regarded as a very difficult route. Although this is a well-known path for trekking, camping, and hiking, it does not mean that you will not find some peace during the slower periods of the day. The route is lovely to explore at any time of the year and is also open all year round. Dogs are permitted on this route too, but they must be leashed.
Visit the Paleochora Waterfalls
The landscape surrounding the waterfalls changes throughout the seasons. If you visit the Paleochora Waterfalls during the summer, you can also enjoy a refreshing swim under the cascade. In winter after the heavy rainfall makes the whole scene more dramatic. There are four rivers that flow into the sea close to Paleochora,
If you visit the landscape during the winter, you will see waterfalls in each of the four areas — some do dry up after May.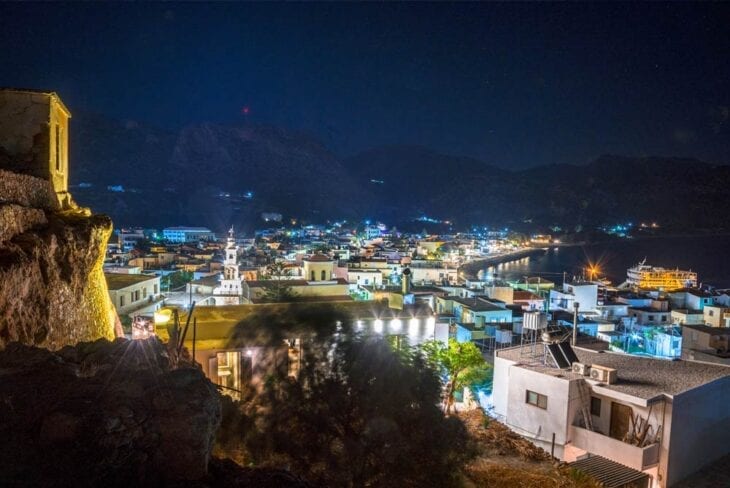 Discover the beauty of Pelekaniotis Gorge
You will come to the well-hidden river of Pelekaniotis in a secluded corner of the Selino district in South Chania. The river in Selino receives the highest water flow, and since it is so significant, the entire municipality of Paleochora is named Pelekanos. It has water all year long and, at the Macherota site, it makes a lovely green valley as it exits. Numerous species of birds live in the steep canyon cliffs and follow the hiker around the entire time.
To discover the gorge's exit, follow the dirt road that begins at the beach Grameno at Paleochora and travels along the river's west bank. Unfortunately, this path travels through a tiny region filled with trash and waste. Luckily, after passing this landfill, the landscape soon changes to a beautiful Cretan forest. Around 2 km later, you will come upon the Agios Mamas chapel, which has outstanding paintings. Apart from this, the historic Saint George church is located across from Agios Mamas. Unfortunately, this is devoid of paintings.
After about a kilometre, the dirt road comes to a tank that has drinkable water and stops here. When the water level is not as high in the summer, you may hike in the gorge from there. If you are really fond of hiking, you should go to Pelekaniotis Gorge during the winter months when a 25-metre-tall waterfall cascades into the river from the sides. This creates a beautiful and unforgettable view.
Horse riding in Paleochora
Discover the wonders of Paleochora on horseback. Select one of the three designed routes which offer scenic tours of the villages, charming alleyways, gorges, and mountains, as well as the historical Castello, which offers staggering views of the Libyan Sea and the Paleochora peninsula.
Visit Gavdos Island
One of Crete's best-kept secrets is the little island of Gavdos, which is located in south Crete, close to Paleochora. Gavdos is a lovely treasure of the Libyan Sea, but people tend to forget it while planning their trip to Crete due to its seclusion and distance. But let me mention it here, you shouldn't. Gavdos is special for a number of reasons. It has a distinctive aura, so much so that adding it to your list of Crete attractions to see might be the difference between a decent trip and an exceptional one. The natural arch known as Tripiti, which is located in a somewhat remote area on the eastern shore, is one of Gavdos' most well-known attractions. Coming all the way to Paleochora and not visiting Gavdos island will surely be something you will regret in the future.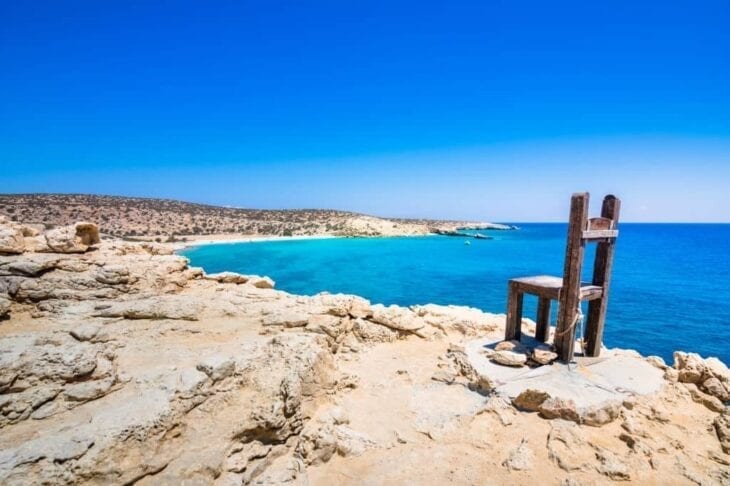 Beaches in Paleochora
The south coast, which runs from the village of Anydri towards the village of Kountoura, is dotted with countless sandy and pebbly Paleochora beaches. In summer, these sandy beaches are ideal for people who love to lay and relax in the sun. Apart from this, you can always take a swim in the sparkling water or go windsurfing. Most of the beaches in Paleochora are also nudist-friendly. Below is the list of the best beaches of Paleochora:
Gialiskari or Dialiskari
It is located close to the village of Anydri, these have been voted as some of the most stunning beaches of West Crete. A cluster of several smaller adjacent beaches — the Gialiskari are located at the exit of Anydri Gorge (east of Paleochora).
The beaches have small pebbles and deep waters; the sea is usually calm, with little crowds, and there are organised facilities such as umbrellas and showers.
To get here, follow the dirt road. Getting here with a car is recommended — otherwise, you will have to walk for 4 km to the beach.
Karavopetra Coves
It a complex of coves that begins at 1.5 km west of Paleochora and extends all the way to Cape Grammenos (2.5 km west). Here you will find gorgeous crystal-clear waters and beautiful pebbles. A great place for snorkelling among the spectacular rocky bed. Recommended beaches to visit: Kalamia, Psilos Volakas, Trohalou, Karavopetra (known for the large stone rock resembling a ship found in the middle of the beach), and Plakaki. It is advisable to explore these beaches by car.
Pahia Ammos
Pahia ammos beach is located on the west side of Paleochora, this is the town's central beach featuring organised facilities and water sports equipment. A 500-metre stretch of sand and shallow waters make it an ideal beach for families with kids. The beach gets affected by westerly or southerly winds, in which case the waves are quite high and not ideal for children. The nudists highly prefer the western part of the beaches.
Grammeno beaches
Grammeno beaches is 5km east of Paleochora, the peninsula of Grammenos is set on the exit of Pelekaniotis River. The peninsula consists of three individual beaches (Alonaki, Votsalo, or Gialos) that have fine and coarse pebbles and clear blue waters. They have also been awarded a Blue Flag. Two of these beaches are organised and offer sunbeds and umbrellas. There is also a camping site nearby with several tavernas along the coast.
Keratides beach
Keratides beach is located just 1 km west of Paleochora this beach is ideal for nature lovers. Featuring larger pebbles and stones, the beach is less crowded. Features a camping site and is a popular area for campers. This beach is also easily accessible by foot.
Volakas Beach
Psilos Volakas is among the most magnificent beaches in the Paleochora area. From the town, it is a 5-minute drive to the west. Volakas is a little cove with sand and tiny pebbles. Snorkelling is made possible by the wonderful hue of the seas. Locals use the well-known Volakas Beach for recreation or diving from the large rock that rests on its side. Since the beach is still completely undeveloped, you must carry your own drinks and umbrellas. Have fun swimming at Volakas.
Plakaki Beach
Plakaki is one of the last and smallest beaches located close to Paleochora. It is situated just before the Grammenou peninsula, three and a half kilometres west of Paleochora. You will undoubtedly love swimming at this pebble beach along with the water activities because the water is beautifully crystal-clear. Even though it is close to Paleochora, one of Chania's most well-known tourist spots, Plakaki beach is not one of the area's organised beaches. Therefore, you will need to bring many things along with you, like all of the necessities. However, there are lodging options and bars nearby, where you can unwind, enjoy traditional Cretan food, and sip raki.
Krios Beach
You'll find the beautiful Krios Beach on the east side of Krios Cape, 10 kilometres west of Paleochora and 90 kilometres south of Chania city. It is a remote beach one kilometre long and separated into three bays, and it is well-known for its fine and coarse sand.
Since it is rockier than the other two bays, exposed to south winds, and poorly structured, the first bay, which is located on the easternmost portion of the beach, is not a good choice for swimming. The busiest portion of the beach is the central bay, which also has a parking lot, a small cafeteria, and umbrellas. The third beach is found on the western border of Krios in a charming little cove that is nicely concealed by a big rock.
Elafonissi Beach
One of the most beautiful beaches on the island of Crete is Elafonissi. Hundreds of tourists come here to enjoy the area's crystal-clear seas, pink beaches, and distinctive landscapes each year. According to rankings, it is also one of the most beautiful beaches in the world. It is a part of the Natura network together with the nearby shorelines because of its distinctive natural beauty. Elafonissi beach was not all that well-known a few years ago, and few people were aware of its existence. Back then, a few people would come to enjoy the sound of the cicadas singing, the lovely wind, and the water. Today, it is well-liked and a must-see for all travellers to Crete. You won't even have to worry about taking things along since the beach is set up with loungers and umbrellas that you can rent for a reasonable fee.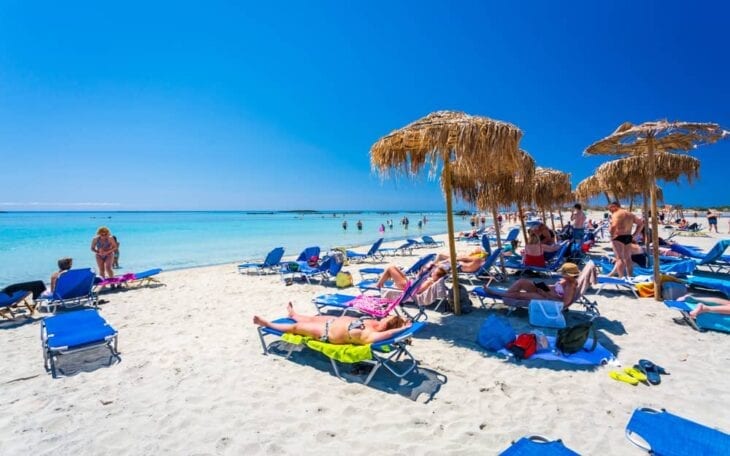 Do you need to book in advance to visit Paleochora?
Paleochora is becoming more and more popular with time, which is why finding a place to stay can be difficult, especially if you are travelling in high season. To stay on the safe side, it would be a smart move to book everything in advance. This way, you'll avoid any inconvenience and won't have to pay extra money to get something at the last moment.
What is the best vehicle for visiting Paleochora?
The Toyota Yaris or the Volkswagen Polo are the best options for commuting to Paleochora. You can fully explore Paleochora if you drive a smaller vehicle. Its small size makes sightseeing in the city more fun. Since you won't be bound by timetables, you'll have more time to see historic sites and old villages if you rent a car. Crete Car Rental is one of the many rental car companies that offers the best rates. They have a website as well where customers can easily book a car by following a few easy steps. Car Rental Crete provides a range of options for anyone who wants to rent a car to travel the island.
Can you rent a car to go to Paleochora?
You can, indeed! You may rent a car from one of several rental car agencies. All you need to do is fulfil the minimal requirements listed below.
What are the factors to consider before renting a car in Paleochora?
These are the most important factors to consider before renting a car in Paleochora:
Insurance
Luckily, rental cars come with collision damage waiver insurance. However, remember to ask about complete insurance, which you can also get at an extra fee from many Crete car rental providers. But you must remember that neither form of insurance will pay for damage to mirrors or glasses. Another thing that you need to know is that a driver with a credit card is required as a guarantee when you get your car rental. If there is an accident, you should contact the rental car agency as quickly as you can. Additionally, be sure to hang around until a representative shows up.
Driver's Age
To rent a car in Crete, you will need more than just a driver's licence. The driver also has to be above 21 and should have had their licence for at least a year. However, this can be different for different rental car companies. Make sure to ask the company about the requirements if you are between the ages of 21 and 23 because some require that the driver be at least 23 years old.
Required Documents
Vacationers who want to rent a car typically run into trouble because they think that a driver's licence is the only requirement. However, keep in mind that you must also have a credit card in your name in order to provide a guarantee. If you forget your licence, you can still rent a car using your credit card, but another driver with a valid licence will only be allowed to take the wheel. Just to avoid any inconvenience, make sure you take both your licence and your credit card with you.
Car Type
The majority of rental car agencies in Crete offer vehicles with manual gearboxes. If you are comfortable driving them, this won't be a problem, but many individuals are unable to operate a manual transmission. Rental car companies may charge more for automatic cars. In addition, there are fewer of them. Therefore, be sure to book your reservation in advance.
How much does a car rental in Paleochora cost?
The cost of your rental car will be significantly influenced by the company you choose and the vehicle you rent. The price may vary depending on how many days you use the car. Furthermore, often the most popular travel times are more expensive than off-peak times. So overall. The average cost will vary between €15 and €22 each day.
A small car may be rented for as cheap as €14 per day, while an economical car runs between €7 and €9. Remember, there are often some extra charges as well, so be prepared for that too. Normal cars typically cost €26 per day to rent, while intermediate models commonly start at €19.
SUVs and minivans are more expensive, with average prices of €23 and €34, respectively. Initially, renting a full-size SUV may cost up to €45, whilst renting a premium car can cost up to €75 each day. A convertible normally begins at around €31 on average, while a minivan may be rented for as little as €7.
The cost you pay will depend on a variety of variables, including the company you choose to rent your vehicle from. If you rent a car for a week or more, your daily rates will end up being less. Regardless of which car you choose and how many days you are renting it for, make sure to book in advance from a reliable rental car company in Crete and Paleochora.
Where to eat in Paleochora?
Almost every kind of cuisine you can think of is available in Paleochora since it has numerous tavernas and restaurants. From traditional Greek food to international dishes, you can find it all. Here are a few of our favourite places to eat in the area.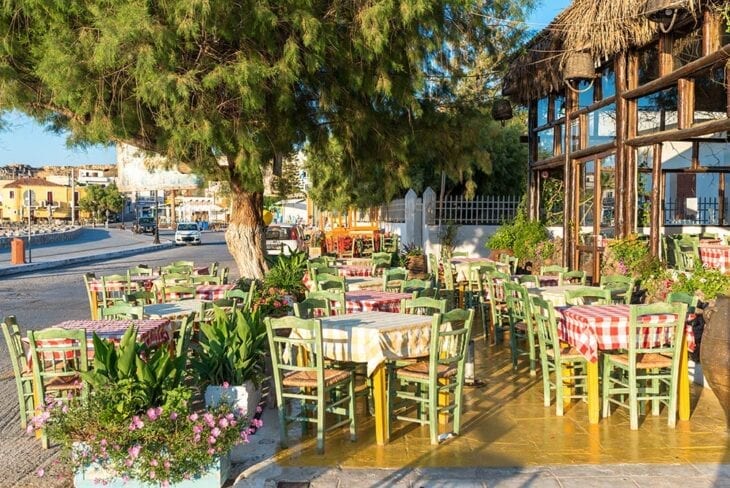 MasaSoura
Perfect for a dinner out with friends, MasaSoura offers a wide range of delicious dishes and beverages that'll make your tastebuds go crazy. Some of the food you can expect to find here are fish seasoned with lemon, pasta, and even lamb chops.
Address: Palaiochora, Crete 730 01 Greece
Website: https://www.facebook.com/MasaSouraPaleochora
Contact: +30 2823 041151
Portofino
Overlooking the beautiful sea, Portofino is the ideal place to have a romantic dinner. All sorts of food are offered here, from main courses, light snacks, desserts, and even pizzas. Portofino is quite popular with the locals, so you can expect a lively and fun atmosphere.
Address: Eparchiaki Odos Tavronitis-Paleochoras 31 East Beach Promenade, Palaiochora, Crete
Website: https://www.facebook.com/PizzaPortoFino.gr/
Contact: +30 2823 041114
Pizzeria Odyssey
Pizza is a dish that's loved by people all over the world, and Pizzeria Odyssey is one of the best places to get your hands on some. Not only do they have a wide variety of pizzas to choose from, but there are also salads and desserts available for those with a sweet tooth.
Address: East Beach Promenade, Palaiochora, Crete 73001 Greece
Website: https://www.facebook.com/pizzeriaodyssey
Contact: +30 2823 041137
Nightlife in Paleochora
While Paleochora is a relatively peaceful place, this does not mean it does not have nightlife. Its nightlife is defined by local cafes and bars serving raki spirit along with delicious snacks. Later on, after midnight, the different nightclubs around Paleochora get the night started with their sweet cocktails, music, and unforgettable experiences. The following are our top picks for bars in Paleochora.
Monica's Garden Wine Bar
If wine tasting is your thing, this is one bar you surely must visit. It is a wine bar with a warm, inviting ambiance that's perfect for learning about the greatest Cretan wines. It is known for its kind and very professional employees who make sure the experience is even better. A wide variety of Cretan wines are available in the bar, and the knowledgeable staff can provide suggestions based on your preferences. The bar has an indoor space as well as a courtyard, so you can sit whereever you feel you can enjoy wine tasting even more.
Contact Number: +30 2823 041150
Address: Palaiochora, Crete 73001 Greece
Website: Tripadvisor
Alaloom Cocktail Bar
This is a great place to visit if you want to have a nice night out without spending too much money. The Alaloom cocktail bar offers great drinks, coffees, and shakes at a rather affordable price. Apart from this, it has a great ambiance, making it worth your visit.
Contact Number: +30 697 671 5678
Address: Main Street, Palaiochora, Crete 730 01 Greece
Website: Tripadvisor
Agios Bar
If you're looking for a bar that has a unique vibe, then Agios bar is the place to go. Other than this, there is always something different to try out here. The cocktails are quite creative and delicious, made by using different spices, fruits, and of course, raki. Those who wish to dance the night away will also enjoy the music inside.
Contact Number: +30 2823 041258
Address: Venizelou 1. Paleochora Chania, 730 01, Crete, Greece
Website: https://agiosbar.gr/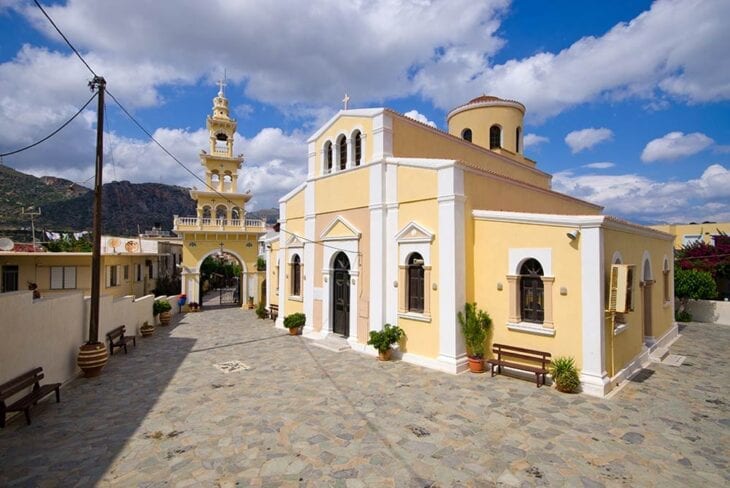 Accommodation in Paleochora
If you're looking for a place to stay in Paleochora, you'll be glad to know a wide range of accommodation options are available. These include hotels, villas, studios, and apartments. Rest assured, there's something for everyone.
Libyan Princess
Libyan Princess is the place to stay if you're seeking a romantic hotel in Paleochora. The Libyan Princess has a wide range of accommodation facilities, including a flat-screen TV, conditioning systems, a refrigerator, as well as complimentary WiFi access. A pool, restaurant, and bar are also found in the area.
Address: Palaiochora, Crete 730 01 Greece
Website: https://libyanprincess.gr/
Contact: +30 2823 042030
Haris Studios
If you want to save money but still prefer to stay in a hotel, Haris Studios is the perfect option for you. It offers cosy yet aesthetically designed rooms equipped with all the necessary amenities for a comfortable stay, such as air conditioning and a refrigerator. Plus, a swimming pool is found on-site.
Address: Palaiochora, Crete 730 01 Greece
Website: https://paleochora-holidays.com/?p=152
Contact: +30 2823 042438
Oriental Bay
The Oriental Bay is a three-story structure located approximately 20 metres from the lovely beach of Halikia and 200 metres from Paleochora. There are twin and triple rooms available at the hotel, so it's ideal for those travelling in large groups. It's a family-owned business, and customer assistance is accessible 24 hours a day, seven days a week.
Address: Palaiochora, Crete 730 01 Greece
Website: https://www.orientalbay.gr/en/
Contact: +30 2823 041076
Is there a shopping center in Paleochora
Unfortunately, Paleochora doesn't have a mall, but that does not mean there is no place for you to go shopping. There are many local shopping centres and mini markets from where you can get your basic necessities. Apart from that, make sure you visit the local markets so that you can take back souvenirs from your trip. There are a lot of things to choose from, including elephant pants, handmade jewellery, eclectic hats, and handmade beach bags.
What are the Archaeological sites near Paleochora?
Visitors to Paleochora can explore the nearby archaeological sites of Kapsa Monastery, Lissos Archeological Site, and Archaeological Site of Irtakina. These sites provide a glimpse into the island's rich history and diverse cultures, from the Eastern Orthodox Kapsa Monastery, to the ancient city of Lissos, to the Hellenistic ruins of Irtakina. Read below about these archaeological sites and what you can expect to see when visiting them.
Kapsa Monastery
On Crete's southeast coast sits the Eastern Orthodox monastery known as Kapsa Monastery. It is situated on a steep, rocky mountain top that overlooks the Libyan Sea and is close to the Perivolakia Gorge's exit. The Kapsa Monastery was most likely founded in the fourteenth century, while its precise foundation date is unknown. Ottoman pirates invaded the monastery in 1471 and largely destroyed it. Joseph Gerakiontis, a well-known monk who spent his latter years in a nearby cave, renovated it in 1841. The monastery also provided sanctuary to Greek partisans and Allied forces during the Axis occupation of Crete.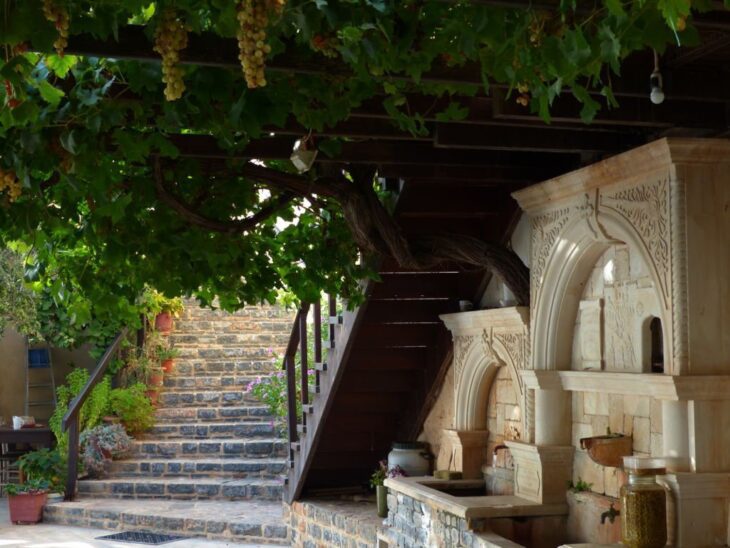 Lissos Archeological Site
On the southern shore of Chania Prefecture, between Paleochora (west) and Sougia (east), are the remnants of the ancient city of Lissos. The Dorian city of Elyros had a harbour called Lissos near the present-day village of Rodovani. Both Elyros and its two harbours, Sougia and Lissos, were destroyed by the Saracen Arabs, who came in great numbers from Spain. Elyros prospered during the Hellenistic, Roman, and First Byzantine eras.
Ancient people travelled from all across Crete to Lissos' famed Temple of Asklepios (Aesculapium) to be healed by the area's waters. A huge earthquake destroyed the temple. However, the mosaic floor's animal and geometric pattern images were not lost. You can see the Temple of Asklepios in the morning, but don't stop there. As you continue your journey through the Lissos Valley, you will also come across column capitals tucked away in the undergrowth and the Roman cemetery's chamber tombs.
Archaeological Site of Irtakina
The ancient city of Irtakina, located near Selinos close to the town of Temenia, was constructed at the height of 900 metres above sea level. It was a stand-alone city that experienced tremendous Hellenistic prosperity. Later on, it began to deteriorate throughout the Roman Empire.
The remains of a double fortress that once encompassed the city may still be seen in Irtakina. You can also see the remnants of the structures that were a part of the old city in the ruins of this double fortress. An outdoor shrine to the deity Pan was also discovered at the excavation site. The temple was built between the Hellenistic and first centuries BC. Demetra was also worshipped in Irtakina, and the temple of Hera is mentioned in an inscription.
Paleochora On the Map