Among the many towns and cities in Crete, Rethymno is undoubtedly a popular destination for many tourists. However, despite having various things to do during the day, it is not short of activities to do at night. From relaxing beautiful cafes to bars and clubs that get livelier as the hours get late.
Diving Into the Night Life
Rethymnon at night can be an experience in itself. The streets are filled with people who are all out looking for some excitement and entertainment. It is pretty common to find tourists roaming around the streets of Rethymno even after midnight, especially on weekends.
After spending a long day exploring the city, here are the top things you should do once the sun goes down:
Beach Strolls in Rethymnon
If you think the beaches in Rethymnon look beautiful during the day, wait until you see them at night. The dark ocean water accompanied by the glimmer of the moon is surely a sight to behold. When a relaxing stroll is your cup of tea, why not take a walk on El Venizelos street and just look at the view?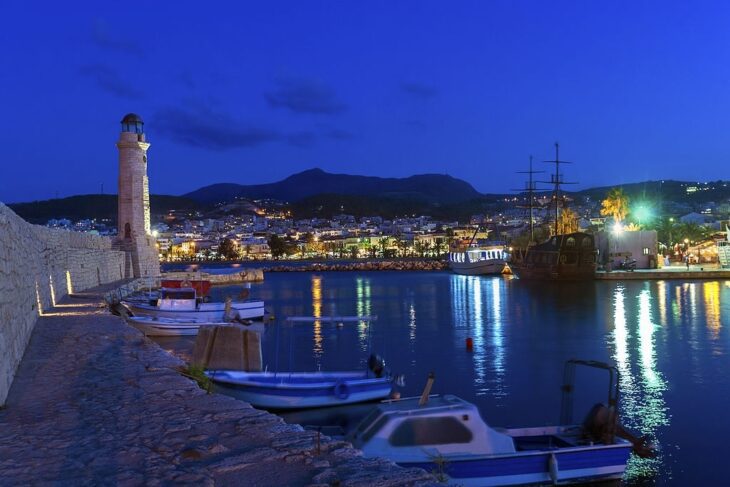 You may start your journey from the old harbor and, all the way up to Plateia Agnostou Stratioti, a square in the city where various bars are located. The seaside is an excellent spot for a romantic night walk, showing you another angle of Rethymnon that you usually won't see during the day.
Throughout the summer, the street is full of restaurants, cafes with open doors, and bars clustered closely together. At night the square turns into an attraction for travelers to dance and drink while watching live entertainment.
In winter, the bars are still open on this side of the beach. Even though cars are permitted here at night during this time of year, excellent pedestrian crossings can be found on both sides of the road, which is great for those who would rather walk than drive.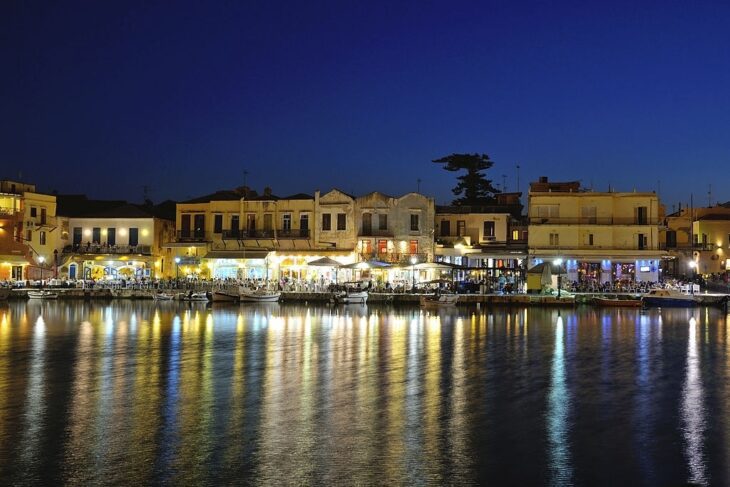 Once you're done exploring the beauty of the square, you can make a final stop in Rethymnon Marina. This is a perfect place that gives you access to the sea, as well as various taverns and restaurants. Marinated with the smells of fresh seafood, the Marina is ideal for all you foodies out there who are looking to end your night on a happy note.
Night Clubs Escapades
You'd be surprised to know DJs, music producers, and party-goers from all over the world have been known to visit Rethymnon's nightclubs. If you're not one to stay indoors once the sun has set, then head down to these spots in Rethymnon to get a taste of this exquisite escapade.
In Rethymnon's Old Town, you can find some of the high-class nightclubs in the city. The Ice Club has a name for having some of the best DJs with powerful music, making it a popular spot for many party-goers.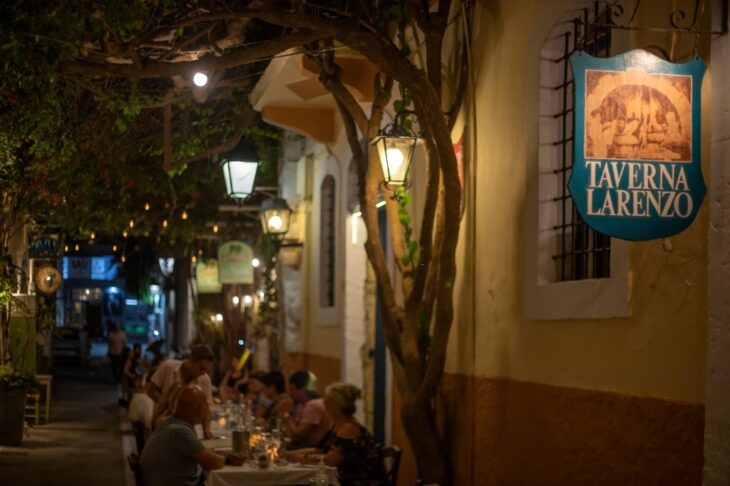 Metropolis and Fortezza Night Bar & Club are other well-known clubs located in the Old Venetian Harbor. Both clubs are open until the wee hours of the morning, catering to tourists who are on a tight schedule and those who want to party all night long.
Wonders of Rethymnon's Old Town
Don't be fooled by the seemingly quiet streets of Rethymnon's Old Town after the clock strikes 10. Even when the crowd has diminished, and the shops close, you can still find life in the streets, if you look closely, that is.
Secret bars hidden in Rethymnon can be found in old buildings, gardens of houses, and even lonely alleys. If you are adventurous enough, doing a little bit of exploring can lead to stunning discoveries.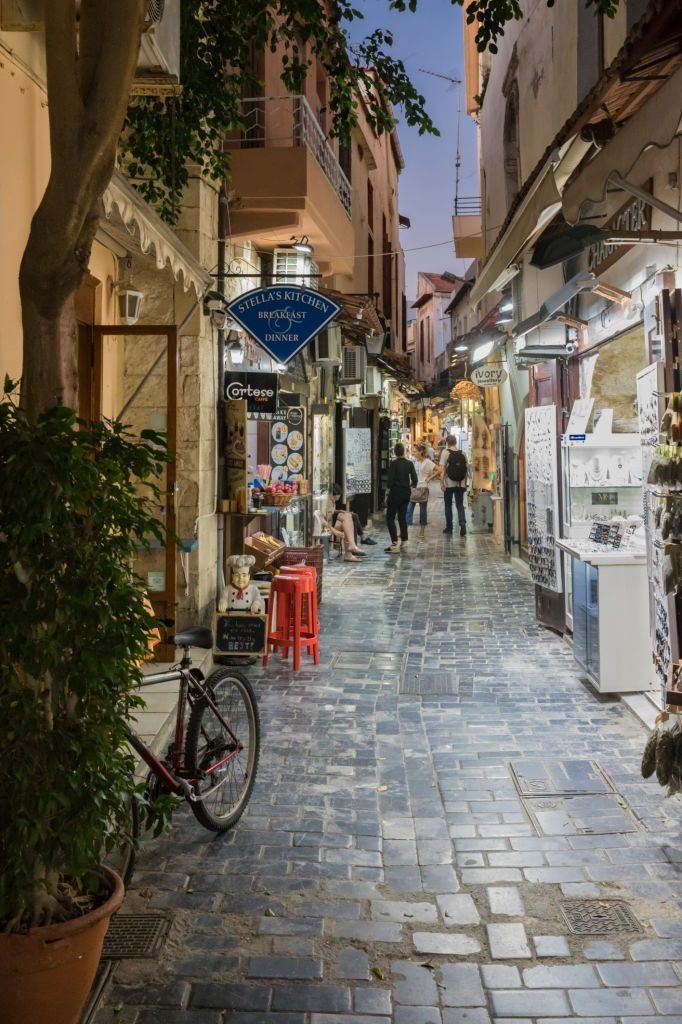 In addition, you can enjoy yourself at traditional taverns that offer unique Cretan dishes and even live music. Whether it's a fancy lounge bar or a live performance of Cretan bands in an open garden, there's always something going on when you're in Rethymnon.
If this doesn't seem enough, you can always visit Rimondi Fountain square. Beautiful lights that illuminate the water of the giant fountain make it a significant spot for photo taking.
In any case, no matter what time of the night it is, you can always find a place that will let you continue your journey of exploration and excitement in Rethymnon.
Enjoy Greek Nights
Several taverns in Rethymnon organize Greek nights, an evening event that features traditional dishes such as pork and lamb cooked in open-fire. This is also an excellent chance to learn about Cretan dance and music, as dancers in vibrant costumes perform a variety of traditional dances, encouraging you to get on your feet and join the party. These gatherings usually start at 9 PM and last until midnight.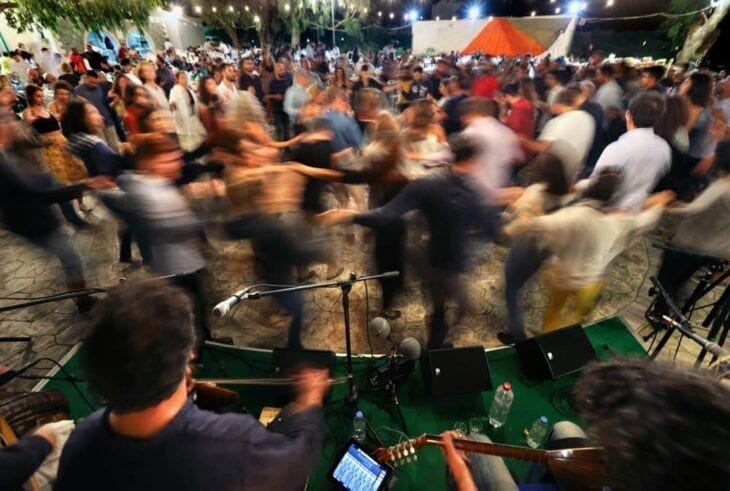 What makes this event even more special are the various live music performances taking place throughout the night. Guests can enjoy modern remakes of traditional songs that often leave audiences with goosebumps.
If you're looking for an even more spectacular experience, you can always visit nearby villages that host such events.
One village, in particular, is Argyroupoli village, which is only 30 minutes away from Rethymnon. Every Friday and Saturday evening, Argyroupoli village square hosts traditional Cretan music and dance shows.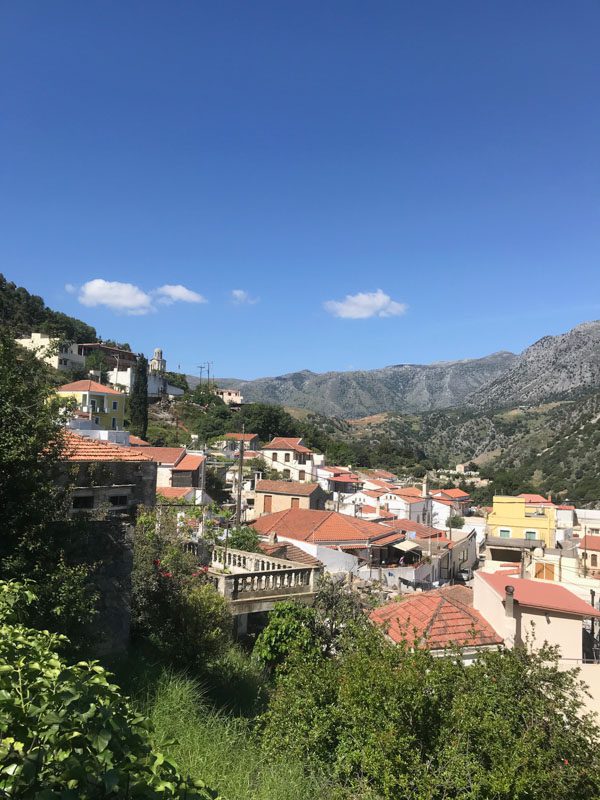 However, what makes this place extra special is the fact that taverns are surrounded by breathtaking water springs and lush green gardens.
Another good example would be the mountain village of Axos, located just an hour's drive away from Rethymnon.
The village is home to various taverns that serve excellent traditional Greek dishes made with fresh ingredients that'll make your mouth water. You can also enjoy live music performances in multiple bars and restaurants located in this lively village.
Beach Party Frenzies
Although Rethymnon isn't as well-known for beach parties like Malia or Hersonissos, the city still offers an incredible nightlife experience that's unlike any other.
Many bars and pubs in the city beach of Rethymnon often hold special events that involve drinking, dancing, and partying. Events with live DJs and unique thematics are also common here, so you certainly have the freedom to explore your taste of fun that suits you.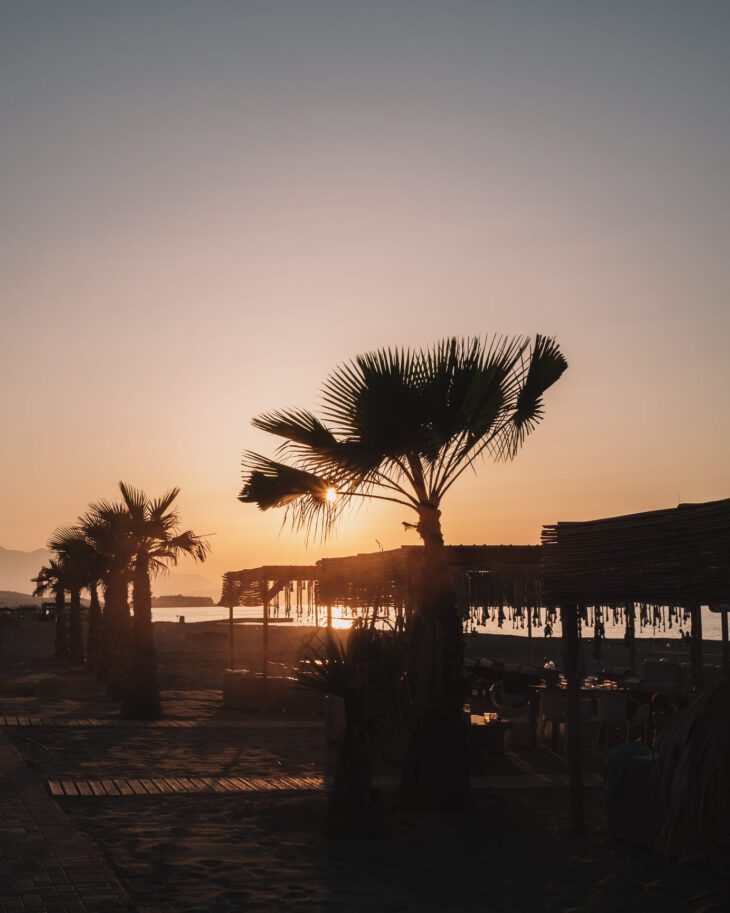 Moreover, you can find the best places to party in Ari Velouchioti Street, a pedestrian street full of unique bars, pubs, and restaurants. Many people who are visiting Rethymnon come here after dinner to drink, socialize with friends, and enjoy the vibrant nightlife the city has to offer.
If you want to take things to the next level and try out more prominent venues, renting a car to head to Adelianos Kampos is a good idea. This area is also packed with clubs and beach bars that provide various kinds of entertainment.
Indulge in Fun & Festivities
If you're visiting Rethymnon during the summer months, then don't forget to attend the annual festivities that celebrate the city's local and religious identity. During this time, every street and village square in Rethymnon will be decorated with traditional Cretan flowers and plants, while visitors can enjoy various cultural events such as art exhibits, dance shows, concerts, and sometimes, even fireworks displays.
Tasting Exquisite Wine In a Castle
When it comes to festivities, one event you should never miss out on is wine tasting.
Once a year, at the beautiful castle of Forteza, wine organizations and the Rethymnon municipality organize unique wine tasting activities. It usually takes place in the evening, in the latter days of June.
This event highlights famous wine-producing regions in Greece, while renowned winemakers share their knowledge about the different aspects of wine production. Visitors are also encouraged to participate in fun contests that involve identifying various types of wine by taste or smell.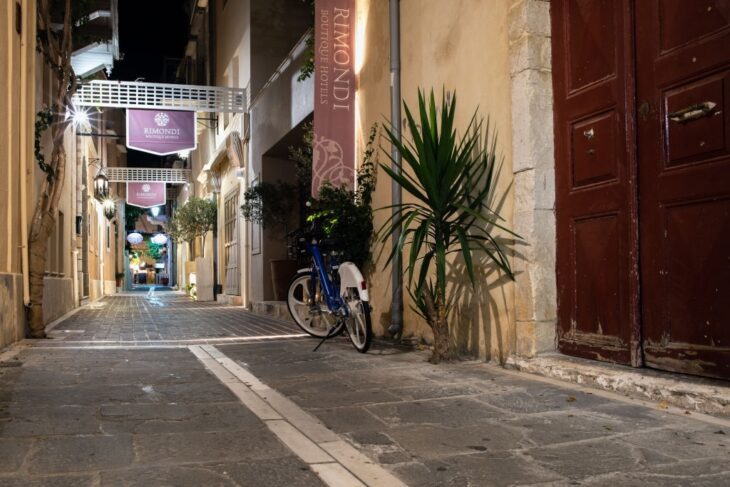 The best tasting wines from over 26 Cretan wineries are the highlight of this tasting event; a professional sommelier can also be found to help you pick out and discover new flavors that will suit your preference.
Bonus Info: The event usually begins at 8 pm and continues till 11:30. The admission cost is 7 to 10€ per person and includes a mesmerizing wine glass that you can bring home.
Enjoying Renaissance Festival of Rethymnon
During the summer, every month of June, Rethymnon hosts an extraordinary festival that's dedicated to art, poetry, dance, music, and theatre. It commemorates the Cretan Renaissance era and seeks to rekindle it through a series of cultural festivities. The interconnection of various artistic fields shows that the Venetian period was influential and pushed art to its height with the spiritual aspects.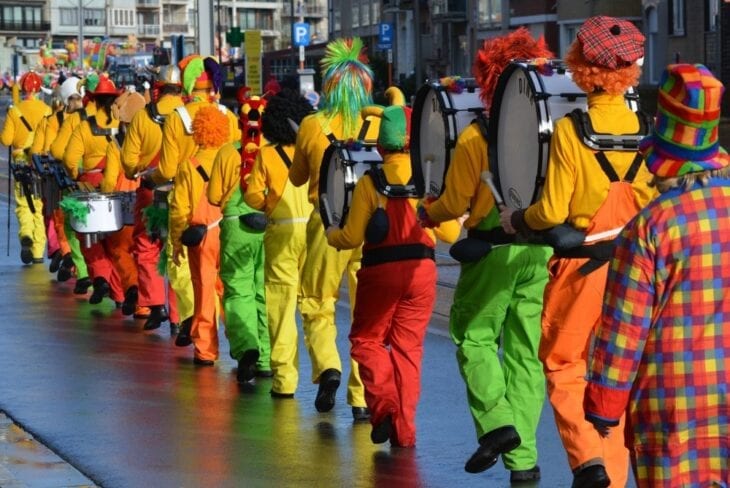 Each night, the Fortezza fortress surprises you with ballet performances, theatre plays, and soap operas featuring classical music. Make sure you arrive in time, as the event begins at 8 PM and ends around 11 PM.
The nightlife in Rethymno is nothing short of amazing
As you can see, the nightlife scene in Rethymnon is nothing short of amazing. The city sees thousands of visitors every year eager to experience unique events and festivals that reflect the Cretan culture. From drinking at local pubs to wine tasting at Fortezza castle, Rethymnon certainly has it all.
With a wide variety of bars and restaurants, as well as cultural activities that celebrate the city's rich history, you're sure to have a night that is truly unforgettable.