The city of Rethymnon is among the most popular regions in Crete. Its rich culture, history, and charm, combined with the beautiful tourist spots it offers, make it a perfect destination for many visitors. However, with hundreds of hotels available in the city, choosing one may be a bit of a challenge.
To help you with your search for the best Rethymnon hotel on your next vacation in Crete, we prepared a list of some of the finest hotels in the area. From luxury hotels to small yet cozy inns, you are sure to find the accommodations you need. Take a look!
Rethymno Hotels For a Romantic Getaway
If you're looking for a romantic getaway with that special someone, then staying in a hotel that is a bit on the luxurious side is a must. An ambiance that sets off the mood for love and great views to enjoy during breakfast or a glass of wine in the evening, these hotels will certainly meet your expectations.
Caramel Grecotel Boutique Resort
A hotel situated right by the sea, the Caramel Grecotel Boutique Resort is an excellent option for a romantic escapade. In addition to the wonderful location, this resort also offers impressive views of the Cretan Sea and the surrounding area from its private balcony and terraces.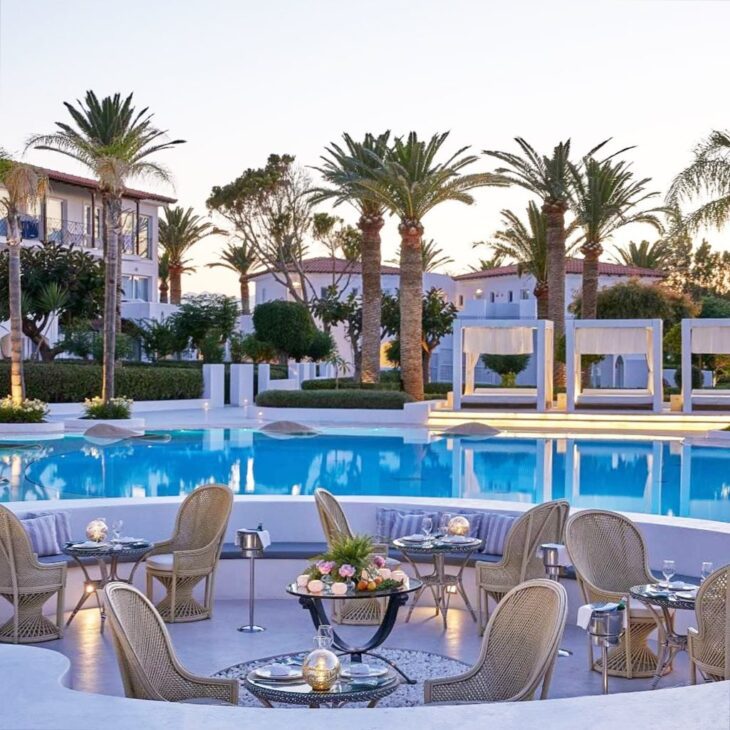 Each room is themed in white, neutral colors, and light wood accents to give it a fresh and elegant look. You can experience mesmerizing sea views from your room while relaxing in their private balcony or grab a drink from their minibar and enjoy it with your loved one during a romantic sunset.
In addition, the resort has a gorgeous pool that's surrounded by palm trees and sun loungers for ultimate relaxation. After a long day, you can enjoy a glass of red wine in their lounge area while listening to jazz music.
Address: Adelianos Kampos, Grecotel Karamel, Platanias, Rethymno
Website: https://www.facebook.com/GrecotelCaramel
Contact: +30 2831 071803
Melrose Hotel Rethymno
Despite being budget-friendly compared to other hotels in this section, the Melrose Hotel Rethymno still manages to impress. The hotel is located in a quiet area, just a few meters away from a sandy beach and only 800m from Rethymnon's old town.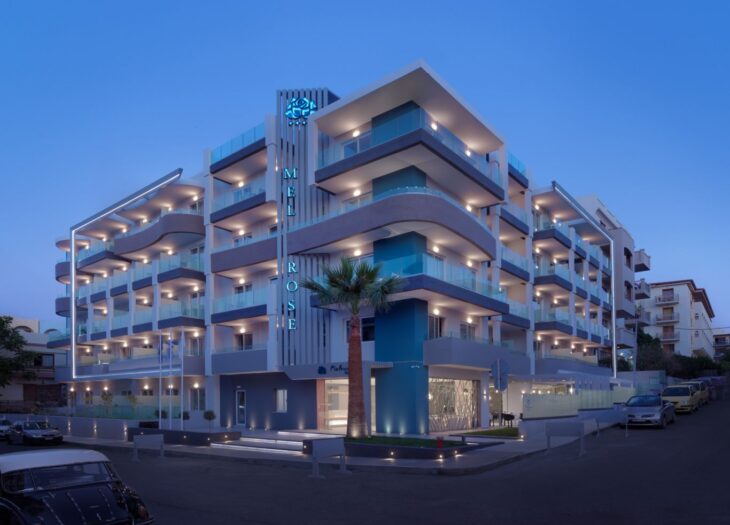 The hotel's exterior has a traditional style, while the interior is decorated in warm, neutral colors that give it an elegant feel. In addition, each room also features free Wi-Fi and air conditioning for your convenience.
If that's not enough to make your romantic holiday something out of a fairy tale, then their lovely pool will. They have both outdoor and indoor pools with a matching jacuzzi that's certain to make your stay feel like a dream. Once you're done taking a relaxing dip, head to their restaurant bar "Amelia" for a delicious meal or drink to enjoy with your loved one.
Address: Machis Potamon and Kapetan Lemonia 74100 Rethymno, Greece
Website: https://www.melrosehotel.gr/
Contact: +30 2831 035494
Casa Dei Delfini
A hotel that will make you feel as if you're in an old castle, Casa Dei Delfini is a great option for those looking for a unique romantic experience. Their stonewalls, vaulted ceilings, and traditional furniture give the place a charming old-world feel that you'll love. The marvels of this beautiful ancient palace, reminiscent of a historical museum, are shown all throughout the area. Beautiful stone mosaic, old wells, and secret alcoves are just some of the things that make it look like a fairy tale place.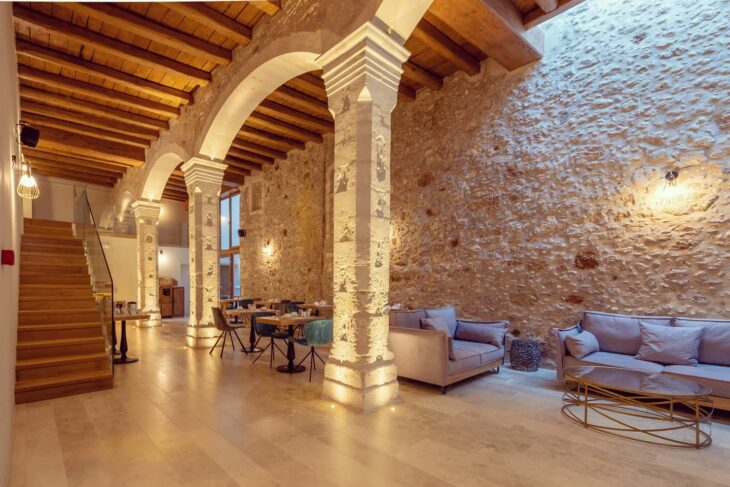 Another thing you'll love about this hotel is its location. It's found right in the center of Rethymno old town, making it an ideal place to stay for those who want to be near restaurants. In addition, you'll find a wide variety of shops and taverns nearby for your convenience.
Although they may not have a pool, it's an excellent choice for those who plan to spend most of their time exploring the beautiful city of Rethymno. Many beaches and tourist spots are just a short drive away from this hotel.
Address: Nikiforou Foka 70, Rethymnon
Website: https://casadeidelfini.com/
Contact: +30 2831 055120
Top Hotels For Families
One thing that makes Rethymnon the most incredible spot to stay in Crete is the wide variety of hotels they offer. Cretan hospitality is present throughout each accommodation, promising your family a memorable stay. Hotels such as Club Marine Palace & Suites, Aquila Rithymna Beach, and Aquila Porto Rethymno Beach are just some of the best family-friendly hotels you'll find in this city.
Best Rethymno Hotels For People on a Budget
Are you on a budget but still want to enjoy a luxurious holiday? Then don't worry because Rethymnon has plenty of affordable hotels for you! Budget-friendly accommodations are found scattered all throughout the city, but these definitely deserve a mention:
Faros Rooms & Suites
Faros Rooms & Suites is located in Rethymnon's Venetian Port, with views of the beautiful Lighthouse and the city beach. Although the neighborhood may get a little rowdy at night, nothing matches the convenience of hundreds of pubs and taverns just meters from your hotel.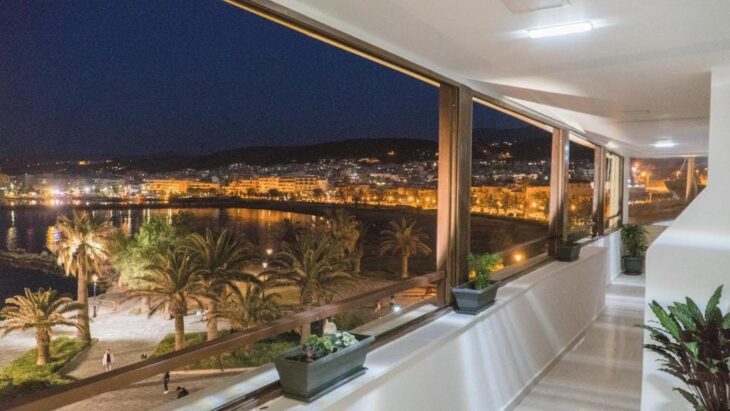 Despite the affordability, quality is guaranteed. Their rooms are very comfortable, equipped with air conditioning, TV, fridge, and free Wi-Fi. It's also a plus that certain rooms have beautiful balconies that give you a remarkable view of the city and its bustling streets.
The hotel is also close to top tourist spots, such as the gorgeous Municipal Garden, the Loggia, and even famous museums in Rethymno.
Address: 88 Eleftheriou Venizelou Venetian Harbor, Rethymnon
Website: https://farosroomsandsuites.gr/
Contact: +30 694 769 0494
Atelier
Atelier is a modest studio located in the center of Rethymnon Old Town, close to major attractions such as the Rethymnon Archaeological Museum and the Fortress. It's a superb place for people to crash in after a long day of exploring the city.
Contemporary and stylish, Atelier promises a wonderful stay for those who appreciate cleanliness and aesthetics. It offers a charming view of Rethymnon's iconic Venetian Fortress from their windows. In addition, it comes with modern amenities such as a flat screen TV, an air conditioning system, and even a coffee maker. Also, a kitchenette is included in each room to make your stay extra convenient.
Their room's balcony shows the picturesque view of the old town alleyways and is ideal for relaxing with a morning coffee. You're sure to enjoy a wonderful holiday in this hotel!
Address: 25 Chimaras, Rethymnon
Website: https://www.booking.com/hotel/gr/atelier.en-gb.html
Rethymno Hotels for a Luxury Break
One way to boost your overall experience in Crete is to stay in an upscale hotel. With lavish accommodations, a luxurious setting can really make a trip memorable. Rethymnon is home to some of the best luxury hotel resorts in Crete; here are just some of the finest:
Atlantis Beach Hotel
A 5-Star luxury hotel less than 2 km from Rethymnon's Venetian Port, Atlantis Beach Hotel is within easy reach of Rethymnon's top attractions and landmarks.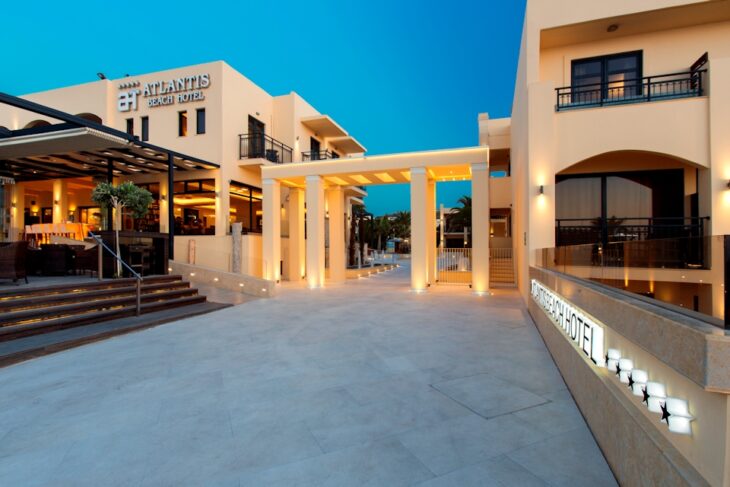 The hotel's guests have access to secluded beautiful blue-flag beaches with lounge chairs and canopies, allowing a comfortable space for anyone to enjoy. There's also a large pool encircled by lavish trees and a green garden. A sauna and a fitness facility are among the best amenities available for ultimate relaxation.
If you're traveling with your family or your friends, you'll love staying at Atlantis Beach Hotel's spacious rooms and suites. These are equipped with modern amenities that guarantee an outstanding stay, including a satellite TV, fridge, air conditioning system, and free Wi-Fi internet connection. A beautiful balcony is also featured, which allows you to enjoy views of the gorgeous beach and the Aegean Sea.
Address: Ari Velouchioti Street 28, Rethymnon
Website: https://atlantisbeach.gr/en/
Contact: +30 2831 051002
Macaris Suites & Spa
Known to be a hotel for those who have a taste for luxury, the Macaris Suites & Spa provides premium accommodations that are worth every penny. You're certain to have a memorable stay with amenities that will take your relaxation to the next level.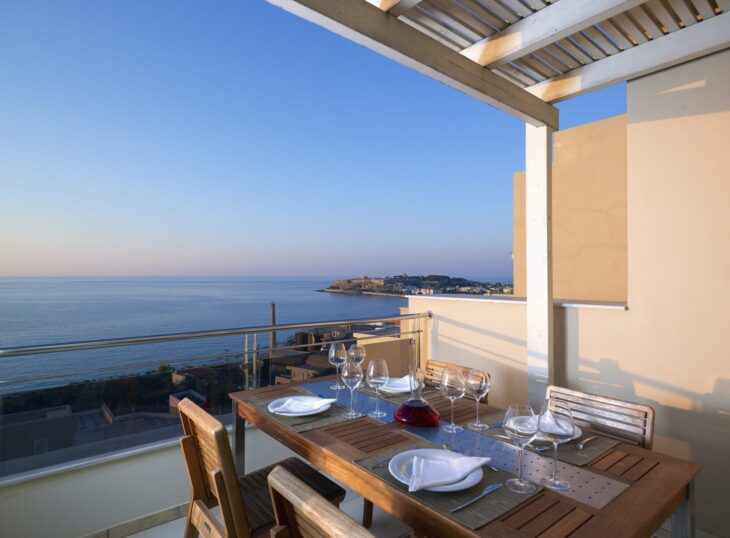 The hotel's guest rooms are simply astonishing, decorated with chic modern pieces and other elegant fixtures. Each room comes with a balcony where you can enjoy views of the breathtaking city shoreline or have an afternoon cocktail while waiting for the sunset.
A beautiful garden, Jacuzzi, sauna, gym, and massage rooms are just among the amenities you can find at Macaris Suites & Spa.
Address: Odyssea Elyti 8 74100 Rethymno
Website: https://www.macaris.gr/
Contact: +30 2831 054280
Rimondi Grand Resort & Spa
Sitting right on the hills of an olive tree plantation with an exquisite view of the stunning Cretan Sea, the Rimondi Grand Resort and Spa is an excellent example of extravagance and luxury. Providing 5-Star accommodations and amenities, this hotel is perfect for those who want to have an unforgettable holiday under the Greek sun.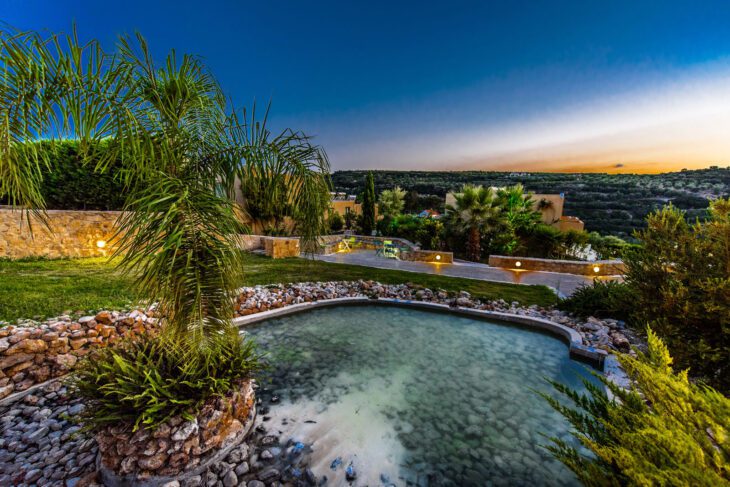 Rimondi's guests have access to world-class facilities, including a pool with infinity edge, hot tubs, sauna, gym room, and even a spa center. If you get hungry, head to their restaurant, which serves a wide range of Cretan dishes. The service is top-notch as each staff member goes above and beyond to ensure that your needs are met to the fullest.
The hotel's guest rooms and suites epitomize class, offering amenities such as a large balcony, where you can enjoy the fantastic view of Cretan blue waters while sipping on a glass of wine. A modern TV and air conditioning system are also standard in each room/suite.
Address: Old National Road Rethymno – Heraklion, Rethymnon
Website: https://rimondigrandresort.gr/
Contact: +30 2834 095110
Rethymno Hotels that History Buffs Will Love
Rethymnon is known to be a region full of history and culture. It's one of the few places in Greece that has preserved some Venetian architecture, making it an excellent destination for history buffs. Many hotels in Rethymnon are located near traditional sites. Some are even housed in ancient buildings. If you're more of a fan of exploring places where history was made, these are the perfect hotels for you:
Veneto Boutique Hotel
Veneto Boutique Hotel is a beautiful Venetian mansion built in the 15th century in Rethymno's Old Town. Not only is the hotel near shopping districts and restaurants, but it's also a few minutes away from the Historical and Folk Art Museum of Rethymnon.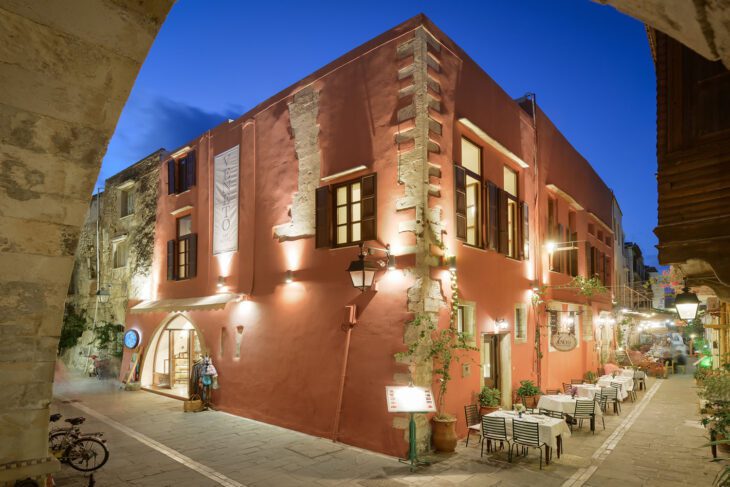 Veneto Boutique Hotel's guest rooms are decorated with chic Venetian-style furnishing, and they're sure to make you feel like royalty. All rooms come with a private bathroom, a TV set, a fridge, and a minibar. Stone walls and flooring add a touch of authenticity and old-world romance to the hotel.
Even though Veneto is a boutique hotel, it indeed provides premium service. As a result, your stay here is assured to be memorable.
Address: 4 Epimenidou, Rethymnon
Website: https://www.veneto.gr/en/
Contact: +30 2831 056634
Casa Moazzo Suites & Apartments
In the center of the old town, a restored Venetian manor house stands out among the other buildings. Casa Moazzo Suites and Apartments has six luxurious rooms, each with a different style. Some are decorated with traditional Venetian furniture, while others have an urban chic vibe.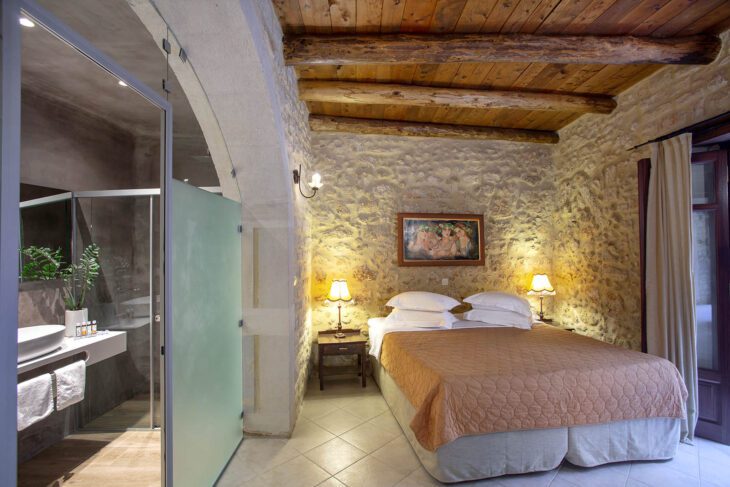 Each room comes equipped with amenities such as air conditioning, a private bathroom, and free Wi-Fi. However, what adds to this accommodation's charm is the coffee maker that comes along with a selection of coffee and teas. The hotel also provides full-body massage services as well as car rentals upon request.
The place is ideal for those who want to explore the city. All of Rethymno's main sites are within walking distance or a short bus ride away. It is also near restaurants, cafes, and shops.
Address: Tobazi Str. 57, Rethymnon
Website: https://casamoazzo.gr/
Contact: +30 28310 36235
A Treat For Nature lovers
Agrotouristic hotels are the perfect destination for those who love exploring nature and experiencing life in a traditional way. These hotels can be found outside of cities, on top of mountains, or along Crete's beautiful coastline. If you're someone who enjoys fresh air and admiring natural beauty, these are the hotels in Rethymnon for nature lovers:
Enagron Ecotourism Village
Situated right at the holiest and highest mountain in Crete, Mount Ida, Enagron Ecotourism Village is a green oasis surrounded by beautiful trees, gardens, and flowers. Guests can happily enjoy the fresh air and even go for walks, hikes, or cycling rides in the surrounding area.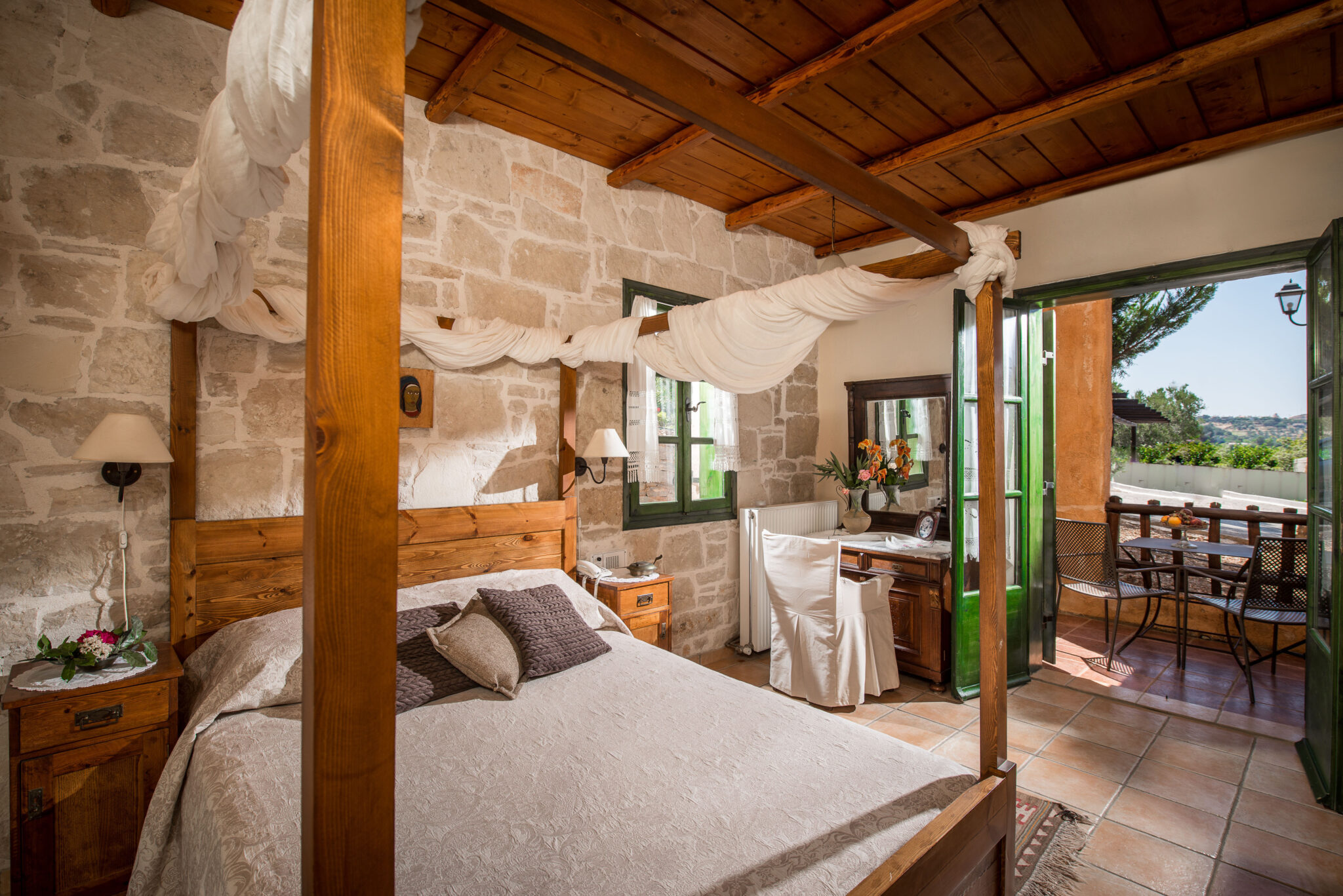 The rooms are designed to give you the feeling of staying in your own house with better comfort and commodities. Although simple, the space is tastefully decorated with traditional furniture and bright colors. In addition, each room comes with a private bathroom, air conditioning, kitchenette, and even a coffee/tea maker.
At Enagron, guests can enjoy traditional Cretan delicacies at the on-site restaurant along with Crete's famous wines. What's more, different animals such as donkeys and goats can be seen around the area. So if you love animals, this place is perfect for you!
Address: Axos, Crete 740 51 Greece
Website: https://www.enagron.gr/
Contact: +30 21 1198 3431
Kapsaliana Village Hotel
Kapsaliana Village Hotel offers you a stay that's both authentically Greek and luxurious. This simple yet elegant accommodation is set in the midst of lush nature, making it a fantastic destination for nature lovers. In Kapsaliana, you can experience a vacation in a community that has been meticulously renovated while paying homage to the land's architecture and history.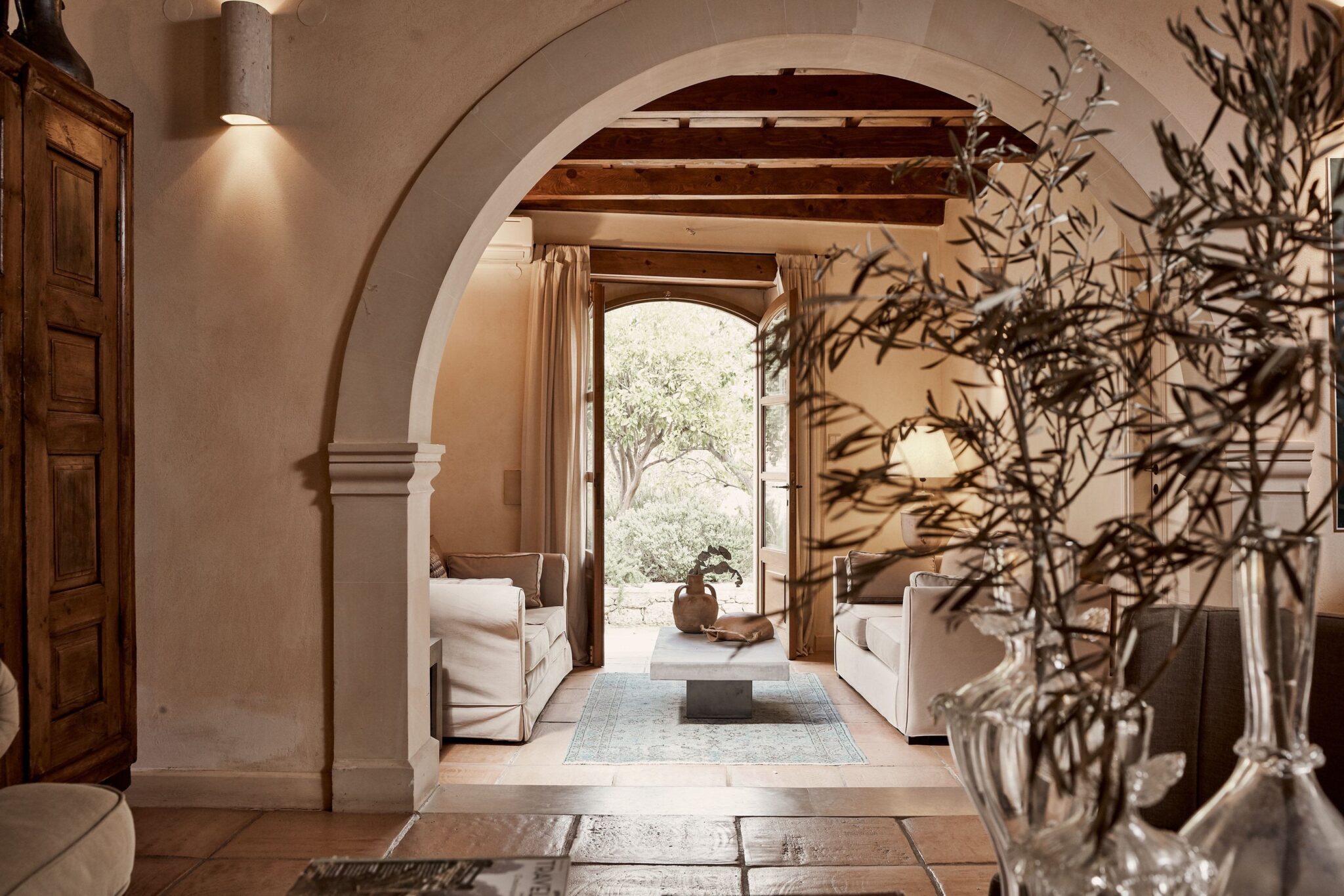 The hotel has a variety of rooms available to suit different needs. From studios to duplexes, you can choose depending on your budget and plan of stay. Each room comes equipped with the basics needed for a comfortable stay, including air conditioning, free Wi-Fi, a TV set, minibar, refrigerator, and more. In addition, the rooms are decorated with stone walls, wooden beamed roofs, and cozy furnishings.
If you wish to have a relaxing day in the hotel, you can do lots of things. For instance, guests can have a dip in their relaxing pool, or they can go for a walk along the surrounding garden paths. Overall, Kapsaliana is an ideal destination for those who wish to explore the beauty of Crete in a peaceful and serene environment.
Address: Kapsaliana, Adele, Crete
Website: https://www.kapsalianavillage.gr/
Contact: +30 2831 083400
Villa Avra
Villa Avra is a newly built villa in the beautiful fishing village of Panormo. It offers a breathtaking view of the sea and mesmerizing sunsets. You can even spot a few islands from here!
The interior is made up of rustic and modern style furniture to ensure that you feel at home while having the chance to admire the scenic views of the Cretan horizon on their balcony. All rooms are air-conditioned, and they come with kitchenettes, a TV set, and private bathrooms.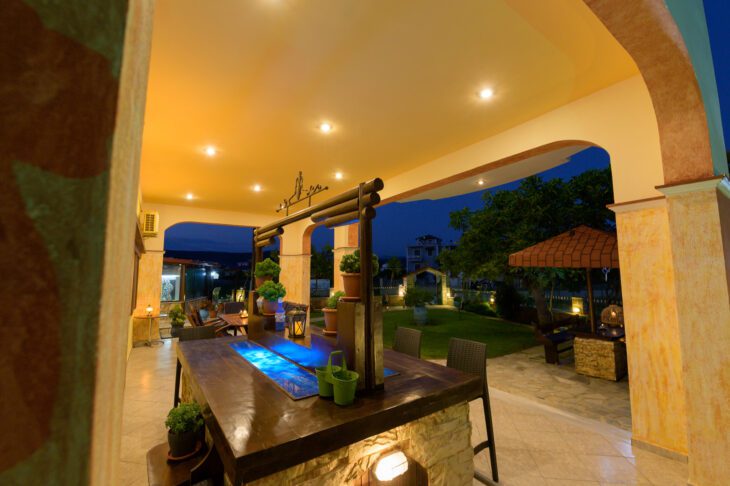 It's clear that this hotel is perfect for those who want to relax by the sea while admiring natural beauty. The pool is a great place to take a swim and lounge around, escaping the bustle of everyday life. Though the hotel is far from Rethymno's city center, it still provides an exquisite and calm getaway for nature lovers.
Address: Panormos, Rethymnon
Website: https://www.facebook.com/VillaAvra
Contact: +30 2684 041336
Kouriton House
Located 25 km away from Rethymnon in the historical village of Tzanakiana Margarites, Kouriton House is a magical escapade built purely for lovers of nature. The breathtaking landscape that surrounds the hotel consists of ancient trees and wildflowers. Moreover, stonewalls, stone paths, and arched entrances contribute to the traditional style of the hotel.
All rooms here are unique, and each one has an antique style with hand-crafted furniture and traditional ornaments. In addition, each room comes equipped with standard amenities such as a refrigerator, TV set, seating area, and private bathroom. At night, you can enjoy a drink on their terrace while admiring the stunning view.
You can either explore the area or relax in this hotel's tranquil environment. Though this hotel is far from Rethymno's city center, it's fantastic location makes it perfect for those who want to be away from crowds but still close to beaches and natural attractions.
Address: Margarites 740 52
Website: http://www.kouritonhouse.gr/framesetenglish.htm