Are you going green and have fun on holidays by renting a Prius hybrid car? Rental-Center-Crete.com has gone green, and offers hybrid car rental crete by popular demand of client. Save on gas and get low online rates and convenient Prius rentals
If you are looking to rent the greenest car in Crete, the Toyota Prius hybrid is the best choice for you. Other models offer better power and acceleration but higher emissions.
The number of people driving hybrids is increasing steadily and they are likely to account for a much higher proportion of vehicles on the nation's roads in coming years. Also, manufacturers are constantly exploring new ways to fuel hybrids more efficiently and to reduce emissions further, so they will only get better. Expect to see vehicles using hydrogen fuel cells and bio fuels and various other combination on the roads in the near future.
Built with lightweight materials. The engine is built to be very fuel efficient. When the vehicle stops at a traffic light, the engine with automatically turn off and restart whenever the car if put into a gear.
These cars have the benefit of being run by a gasoline engine and an electric motor which exists for acceleration.
The batteries of the electric motor get recharged themselves by utilizing the kinetic energy generated during braking.
Hybrid vehicle engines generate fewer emissions, provide good mileage, idle less, and are very fuel efficient. These hybrid vehicles can help save planet.
The aerodynamic architecture lessens drag and the tires are built with a unique rubber which lessens fiction.
The battery which is inbuilt has huge competence and is composed of nickel-metal-hydride.
The power-train equipment permits utilization of a couple of power sources and improves mileage.
Driving a hybrid implies that you are dynamic in guaranteeing the environment is clean and that you care for your planet. It also indicates that you are a responsible citizen who wants to save fuel which is valuable.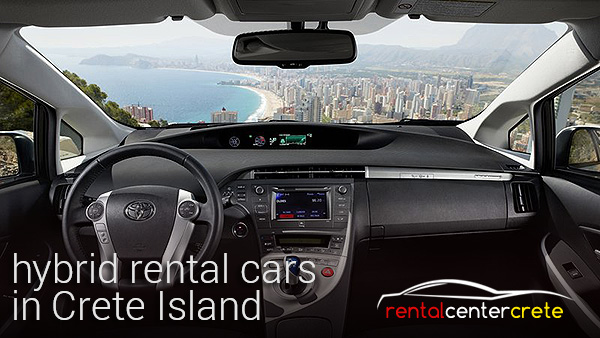 If you need a hybrid car hire crete , but are also care about the environmental polution and high petrol prices, a Prius hybrid rent a car is ideal. The Toyota Prius is a hybrid vehicle with both an electric motor and a gasoline engine for greater fuel economy. It is a 5-door hatchback with seating for 5 people. The Prius is available at more than 33 locations all over Crete, so check with us about availability, or reserve online today.