1901 Clients voluntarily reviewed our Car Hire Company in years 2013 and 2014
A day after their rental was completed, many clients of our firm received an e-mail with a kind request to participate to our reviewing process. 1901 of them replied positively and took part. You can see the result below!
Some of the questions asked were:
How did you find our Employee/Staff Service?
What was your overall impression of the vehicle?
How was our prices?
How was our insurance coverings?
Would you choose us again for your next visit
Overall impression of Rental Center Crete
What did you like most at Rental Center Crete? Find all the comments in our detailed review page
Our Locations/Stations in Crete and how our customers rated our car rental services
As the following infographic shows, we did best in Rethymno Region and scored 4.86 out of 5.00 with a 100% Repeating Rate. All clients who chose Rental Center Crete for the last 18 months in Rethymno City and nearby areas, would book a vehicle again from us for their next trip to Crete.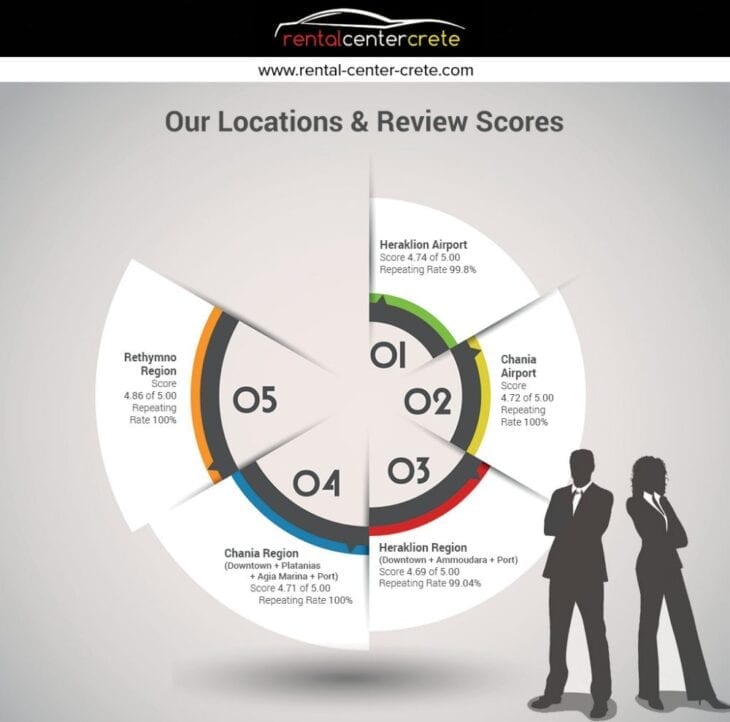 Heraklion Airport station scored the second best with a 4.74! Chania Airport did 3rd with 4.72! Chania Region including the popular touristic towns of Agia Marina, Platanias & Souda Port scored a good 4.71 of 5.
In Heraklion Area, which is the largest part of our study, we performed a 4.69 with a 99.04% of repetition rate.
Our clients were asked 12 questions. Among others they were asked to rate the condition of the rented vehicle, the staff's attitude and the insurance coverings that came with their booking
Best Reviewed Car Groups: A Guide to choose your next car rental model
Our company has 53 different car models distributed in 22 car groups. Our best reviewed car group is Group E. Sedan with a 4.57 of 5 and our most reviewed car group with 571 reviews is Group A. Economy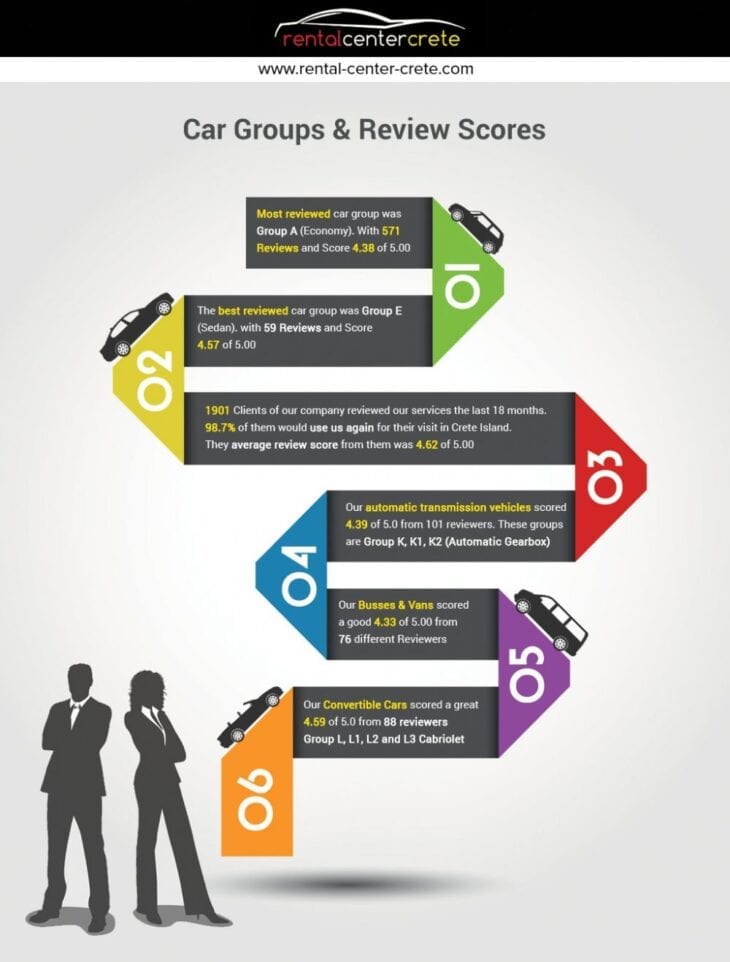 You can read and get updates about what our customers write about us at our special online review page and access the review form right after you rental end with Rental Center Crete.