Crete is an island recognized for its beautiful beaches and stunning coastlines. Thousands of tourists visit Crete each year, all of which are in awe of the island's lovely landscape and admirable culture. However, one of Crete's most well-known features is its vast array of ancient archaeological sites, each with a unique story to tell.
From the Bronze Age to the Roman Period, the history of Crete is a rich tapestry that has been uncovered through archaeological investigation. Many of these sites have survived for thousands of years, which has allowed them to retain a rare beauty that is unlike any other. If you're planning a holiday in Crete, don't forget to check out the following archaeological sites for an even memorable experience.
The 4 Minoan Palaces
Crete has been inhabited since the Neolithic period and was home to one of the most advanced civilizations in history, the Minoans. During their reign, they built large palaces that have since been uncovered by archaeologists. The four Minoan Palaces in Crete are Knossos, Phaistos, Malia, and Zakros. Each of these places stands as an example of how far Minoan architecture had come, along with providing insight into the political structure of their societies.
Knossos Palace
The palace of Knossos is located in the south of Heraklion. It covers over 150,000 square feet and was once the largest Bronze Age palace of Crete. The Minoans of Knossos had a very sophisticated society, complete with a grand library and impressive drainage system. They were quite popular due to their advanced civilization but were eventually overtaken by the Achaean invaders from mainland Greece in the 15th century BC.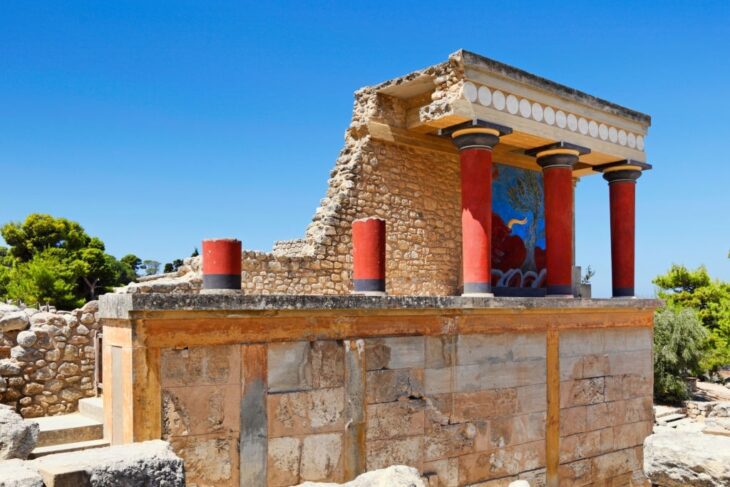 What to Expect in Knossos
Today, the palace of Knossos is open to the public and many people visit it every day. If you're planning a trip to Knossos, there are many things to see. The ruins of the palace consist of:
Throne Room
A beautiful stone seat surrounded by magnificent frescoes and paintings can be found inside this room. It is believed that King Minos sat on this throne himself while ancient traditions were performed. In the center of the room, a sunken bath that's not connected to the palace's drainage system can also be viewed. Rituals and religious ceremonies are thought to have taken place in the throne room.
Central Court
Among the most impressive features of the palace is the central court. It consisted of a rectangular stone base containing various pillars and was once surrounded by four columns that supported a roof. Archaeologists have suggested that this area was used for public gatherings.
Queen's Megaron
It is possible to access the queen's Megaron through a stairway in the main court. Frescoes of dolphins and other paintings can be seen here. You can appreciate the craftsmanship of the Minoans by admiring their stonework and detailed paintings.
How to Get There to Knossos Palace
If you're in Heraklion, head to their old bus station (right across from the Megaron hotel) and take bus number 2 directed to Knossos.
Entrance Fees
Standard ticket price: €15
Reduced ticket price: €8
Special package: €16 (the entrance to the Archaeological Museum of Heraklion is included)
Opening Hours
Knossos Palace archaeological site is available for visiting all year long. From 8 am to 5 pm in winter and 8 am to 8 pm during the summer. However, it is closed on these specific dates:
January 1
March 25
May 1
Easter Sunday
August 15
December 25 & 26
To be sure, give them a call at +30 2810 231940 before planning your trip.
Tips For Visiting Knossos Palace
It's surely exciting to imagine the wonders that await you in Knossos Palace, but it's important to know some important tips to make your visit as enjoyable as possible.
Wear appropriate footwear: You may slip if you wear flip-flops, so be sure to bring along walking shoes or sneakers.
Bring water with you: Staying hydrated on warm summer days is very important, especially if you plan on walking around the archaeological site for a long period of time.
Set aside at least 2 hours for the trip. The palace is quite huge and exploring it can take a while.
Take a guided tour: If you're not sure where to start or want a deeper understanding of what you're seeing, then consider taking a guided tour. It will also give you more information on the history of the site and some interesting facts.
The Palace of Phaistos
Phaistos (or Festos) is another important Minoan palace that was built around 2000 BC. The site is situated on top of a beautiful hill overlooking the vast Messara plain. It's estimated to be 18.000 square km and has a structure that is more simplified than Knossos. The palace was destroyed countless of times before but was rebuilt in 1700 BC. Til this day, Phaistos is one of the most visited archaeological sites in Crete.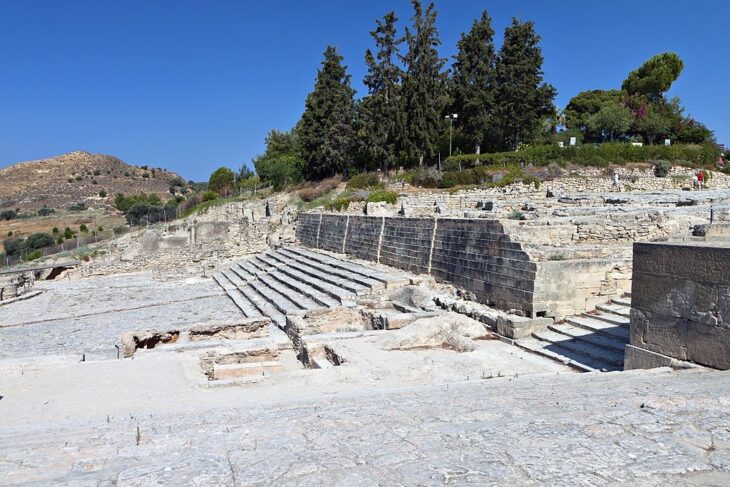 What to Expect in Phaistos Palace
Phaistos is another palace located in the region of Heraklion. It is a home to beautiful architecture that's decorated with wonderful paintings and murals. Visitors can admire various stone staircases, steps, and rooms while observing the intricate carvings of the Minoan civilization. Different terraces, hidden chambers, and living spaces are scattered throughout the place. You can also see different architectural elements such as reliefs, pillars and religious symbols. You'll have an out-of-this-world experience as you soak in all the splendor that awaits you.
How to Get to Phaistos Palace
Head on to Heraklion KTEL central station and book a ticket heading to Phaistos. Once you reach Moires, you'll have to change to another bus for Matala. Phaistos is on the way to Matala.
Entrance Fee
Standard ticket price: €6
Reduced ticket price: €3
Special package: €8 (access to the Royal Villa of Agia Triada is included)
Opening Hours
Phaistos Palace archaeological site is available for visiting all year long. From 8:30 am to 3 pm in winter and 8 am to 8 pm during the summer.
Tips For Visiting Phaistos Palace
If you're traveling by bus, be sure to check the schedule for summer and winter since changes in departure times might occur.
Wear appropriate footwear. Make sure to bring along comfortable walking shoes for this trip since the site is pretty big and you'll be walking up and down hills as well.
Allowing 2 hours for the trip is a good idea. Doing so will give you enough time to explore the site thoroughly.
If you want to know more about what you're seeing, then book a guided tour. They are usually available upon request.
The Archaeological Palace of Malia
The Malia Palace Archaeological site is located on Crete's north coast, east of Heraklion. It is the third biggest of the Minoan palaces, measuring 7,500 square meters. The Palace's Minoan name is unknown, however, it gets its name from a nearby town. Remains of the Minoan palace are what's left of the civilization.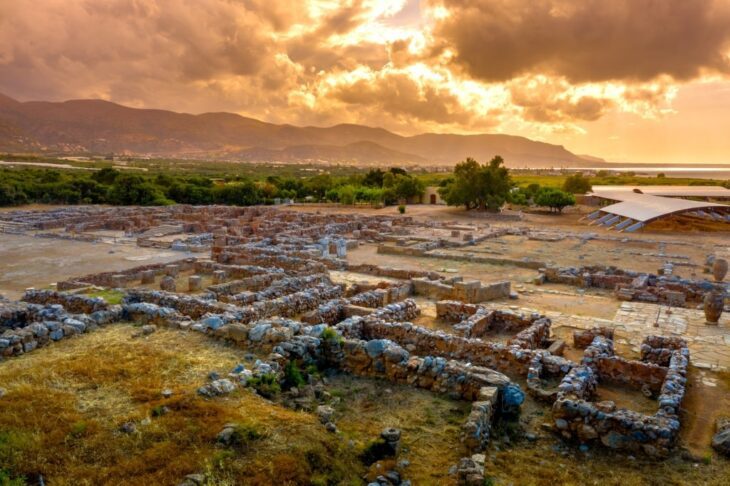 What to Expect by visiting the Malia Palace Archaeological site
The Malia Palace Archaeological site is not nearly as popular amongst tourists compared to Knossos and Phaistos, but it's still worth a visit. The palace has many amazing features and this includes:
Museum
The small museum found just right after the entrance houses some of the palace's artifacts and exhibits. You can expect to see old coins, stone tools and vases.
Architecture
Beautiful stone staircases are found within the palace. Despite being in ruins, you can still see how amazing they were
Kernos
A small circular table with a center cavity and holes around the periphery. It is believed this is where the Minoans would place seeds as a sacrifice to the gods in exchange for a bountiful harvest.
How to Get to the Archaeological Palace in Malia
There is no public transport available for Malia. However, you can get there by rental car via Greek National Road, 30 minutes away from Heraklion.
Entrance Fee
Standard ticket price: €6
Reduced ticket price: €3
Opening Hours
The Malia archaeological site is available for visiting all year long. From 8:30 am to 3:30 pm. However, it's closed on Tuesdays.
Tips For Visiting Malia
Using a rental car than a taxi will be much easier and more convenient for this trip. You can spend as much time as you want exploring the site without worries of transportation.
The nearby village of Malia is a great after-destination you can check out. Its filled with beaches, taverns, shops, and more.
Bringing a hat and sunglasses is highly recommended since finding shade will be hard and the sun can be quite harsh during the daytime.
The Palace of Zakros
Last but definitely not least, the Palace of Zakros is another site you should check out. Despite being the most isolated, the Palace of Zakros is a beautifully preserved Minoan palace that attracts tourists all year long. It is located on the east coast of Crete, just south of Palaikastro. Because of its location, the palace is protected against strong winds from the nearby coastlines. It was believed to be built in 1900 BC and was destroyed around 1450 BC.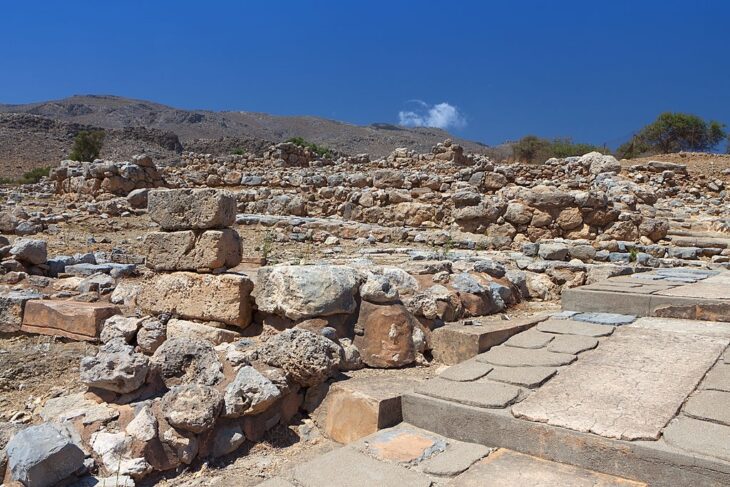 What to Expect in Palace of Zakros
The palace of Zakros has a large central courtyard where a lot of artifacts from the Minoan civilization were found. Thus, you can expect to see a lot of pottery and frescos here as well as remains from the palace. The Minoan architecture this palace possesses is also very impressive since the palace was built using ancient stone blocks. Excavation works began in 1962, where the beautiful artifacts placed in the Archaeological Museum of Heraklion were found.
How to Get to the Archaeological Palace of Zakros
You can reach the palace by taking the bus from Sitia to Kato Zakros. The route is 45 kilometers long and takes around an hour.
Entrance Fee
Standard ticket price: €6
Reduced ticket price: €3
Opening Hours
The archaeological site is available for visiting all year long. From 8:30 am to 3 pm in winter and 8 am to 6 pm during the summer.
Tips For Visiting Zakros
Wearing appropriate attire is a must since it can get pretty hot during the summer months. You should wear loose and light clothes as well as hats and sunglasses.
Visiting during the early hours of the day or late afternoon is advised to beat the heat. The palace is exposed to the sun throughout the day so it can get pretty hot there.
Other Archaeological Sites in Crete Worth Mentioning
Although the 4 Minoan castle is the top choice for tourists, there are still other ancient ruins and historical architectural structures worth mentioning. Here are some of them:
Ancient Aptera
The historical site of Aptera located in Chania, overlooking the beautiful bay of Souda is an impressive spot you check out. The site dates from the Minoan period (3500-1000 BC) and was positioned between two significant ports: one on the bay, which is known today as Minoa, and the other near the village of Kalyves, called Kissamos.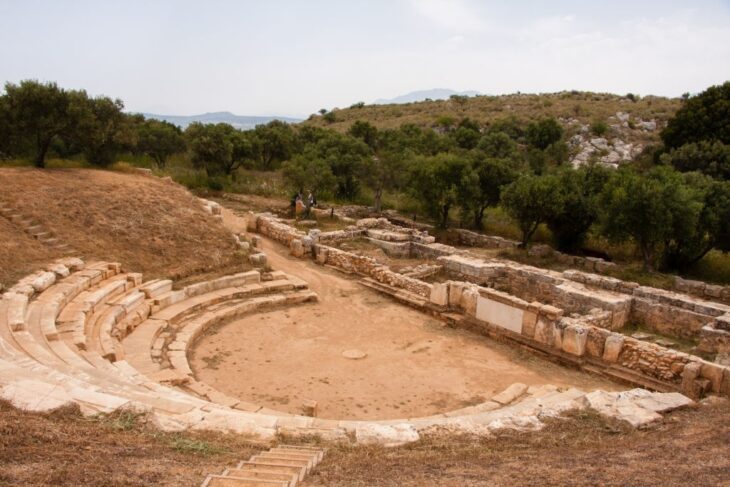 The ancient city of Aptera was popular throughout the Minoan times up to the Hellenistic period. Today, visitors can see the remnants of stone buildings, an ancient wall that surrounds the settlement, and staircases that lead to the upper levels of this antique city. There is also a restored theater inside the site. If you're up for more adventures, the Ottoman fortress is just a short stroll away
Entrance Fee
Standard ticket price: €6
Reduced ticket price: €3
Special package: €8 (gives you access to Archaeological Museum of Kissamos and Archaeological Museum of Chania which lasts for 3 days)
Opening Hours
Ancient Aptera historical site is open from 8.30 am to 6 pm. It is closed on Tuesdays.
Archaeological Site of Lato
Lato was a city-state that prospered during the Dorian period (4th–5th century B.C. ), however, earlier civilizations are thought to have been in the area as well. The site is located 3 kilometers away from the village of Kritsa, found between two hills surrounded by vegetation.
The Archaeological site of Lato was known to be one of the strongest in Crete and it was able to maintain its status for centuries. Today, visitors can see the ruins of this historical site with stone buildings and passages. In addition, Lato once had a port named Lato Pros Kamara, which was established where the modern Agios Nikolaos now sits.
Entrance Fee
The admission is free for entering the Archaeological site of Lato.
Opening Hours
Winter: 8.30 am – 3 pm
Summer: 8.30 am – 6 pm
Ancient Falassarna
Another site worth mentioning in our list is the Archaeological site of Falassarna. Located in Chania, it once was a flourishing city used as a trading center during the Hellenistic times.
Many important artifacts with inscriptions were found here including coins, jewelry, and jars. However, the harbor, which was linked to the sea by manmade channels, was the ancient city's most significant feature. Falassarna was perched atop a cape roughly a hundred meters above sea level.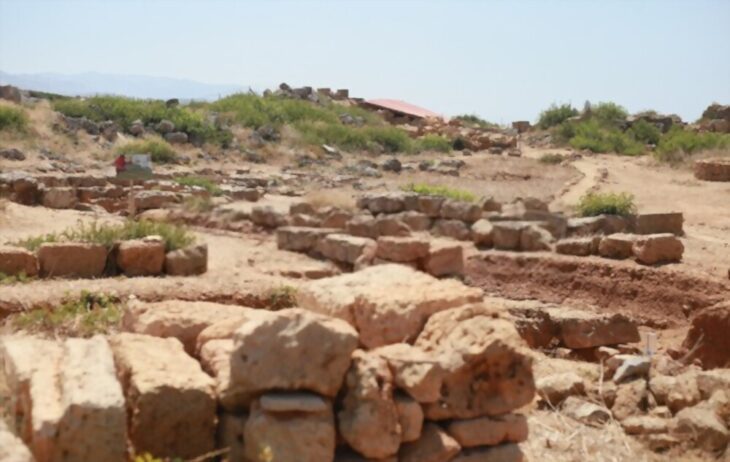 According to some historians, the city began to deteriorate slowly due to a Roman invasion during 69 BC, while according to others, the true reason for Falassarna's fall was a catastrophic earthquake.
Entrance Fee
Admission is free but they accept donations.
Opening Hours
It is open from 9 am to 3 pm and closed on Tuesdays.
Ancient Eleftherna
A beautiful ancient town located in Rethymno, Eleftherna was established in the 9th century B.C. It was inhabited for hundreds of years up until the Byzantine era. The site contains the remnants of structures from Hellenistic and Roman times. An Early Christian Church and even an Archaic cemetery can also be seen in the area.
Historical stones, jars, and passageways were also found in Eleftherna. However, if you want to see more findings of the ancient city, visiting the Archaeological Museum of Eleftherna will be a wise decision. The museum is situated in the city of Rethymno and provides visitors with ancient artifacts that were discovered at Eleftherna.
Entrance Fee
Archaeological site: Standard – €4 / Reduced – €2
Museum: Standard – €4 / Reduced: – €2
Opening Hours
Winter: 8.30 am – 3 pm
Summer: 8.30 am – 6 pm
The Sunken City of Olous
If you want to try something unique, visiting and learning about the sunken city of Olous will be a gamechanger. During the Minoan period, this amazing city was one of Crete's most significant Ancient cities. It produced its own coins with depictions of the Greek gods Artemis and Zeus grasping an eagle or a dolphin.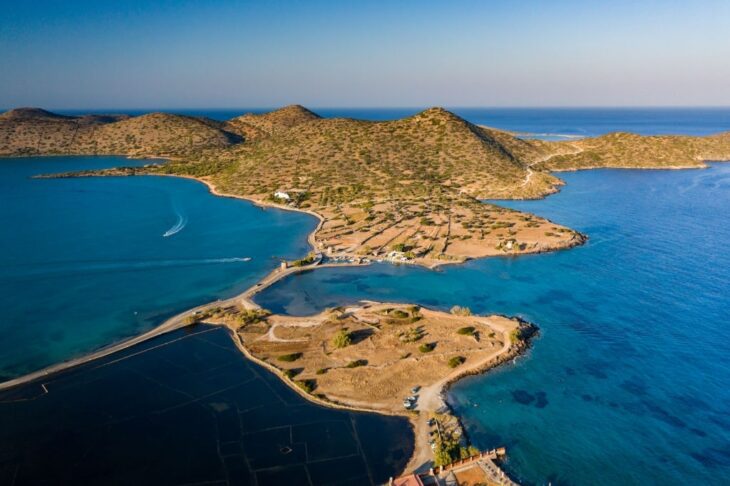 Researchers believe the settlement was submerged as a result of a local shift triggered by an earthquake in the second century AD. Today, the remains of the city is still underwater and is seen along the route connecting Elounda and the Kolokitha peninsula.
Going snorkeling in Crete or scuba diving is a great way to explore the sunken city of Olous. Entrance is free and it's a rare opportunity for you to see underwater ruins that will make your visit an extraordinary experience.
Archaeological Ruins of Itanos
Itanos is an archaeological site of an ancient harbor town located 25 kilometers east of the village of Sita, in the region of Lasithi. The town thrived from the Minoan period up to the Byzantine era, owing to its strategic location as a port. It also established the development of trade with Egypt, enhancing the town's wealth.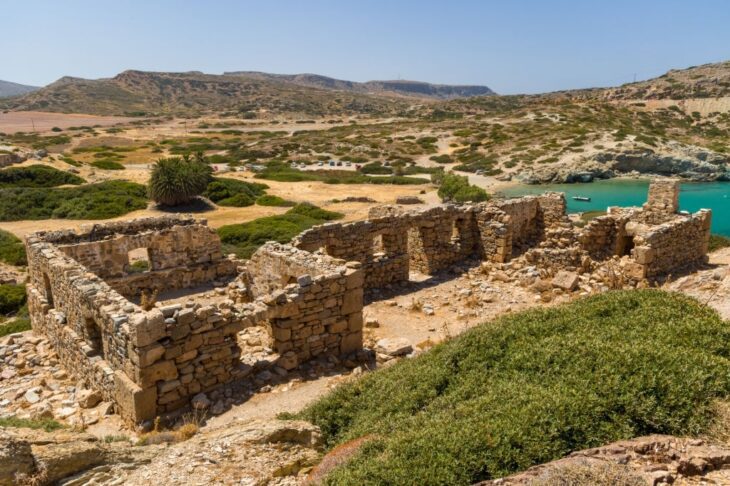 While some of the remains of Itanos can be seen beneath the sea level, visitors can observe the remnants of buildings as well as the city walls. Based on the discovery of historians, Itanos was occupied from the 10th Century B.C until the 6th Century A.D. Excavations and research of the town's ruins as well as its surrounding area continue to be done.
There is no cost for visiting the historical site so tourists can freely explore the ancient town's ruins.