We all need a break from the stress of everyday life. Some enjoy going to the beach, while others love exploring villages. However, whatever your preference may be, the village of Kalyves (or Kalives) in the northwest of Crete is definitely worth a visit.
Kalyves is designed in the shape of an amphitheater that hugs the seashore. Kalyves is known as a fishing village and offers a wide range of natural sports, including fishing, kayaking, windsurfing, hiking, and so on. The river Xydas divides the settlement into two parts, providing beautiful scenery with trees and rich flora, making it ideal for nature enthusiasts.
Where is Kalyves Located?
Kalyves is a lovely beach village in Apokoronas, 19 kilometers east of Chania, on the highway that connects all four prefectures of Crete. The most popular resorts on Cape Drapanos are found in Kalyves, Almyrida, Gavalochori, Vamos, Kokkini Chorio and Plaka, which are famed for their sandy beaches. Apokoronas is also recognized as one of Chania's greenest neighborhoods, offering breathtaking views of hills, forests, mountains, beaches, and traditional buildings.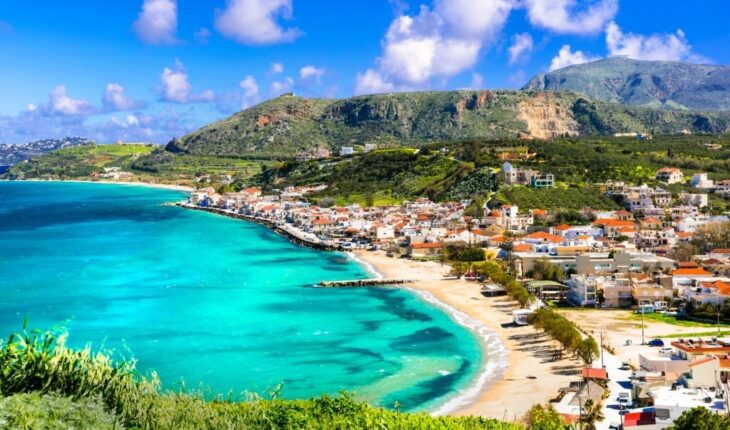 Things to Do in and Near Kalyves
Of course, each traveler is different, and each person will have their own ideas of what they want to do on vacation. However, there are some activities that are popular among visitors to Kalyves.
Visit The Chania Museum
Since Kalyves isn't too far from Chania, it's easy to visit the Chania Archaeological Museum. The museum is dedicated to the history and culture of the area and houses a collection of artifacts from the Bronze Age up to the Roman period. It's a fun way to learn about the history of Crete and Kalyves as well as the surrounding area.
Visit Plaka
Plaka is a settlement on the northwest coast of the Greek island of Crete, in the Apokoronas district. It's part of the Chania regional unit. Plaka is two kilometers away from Almirida, a resort on the outskirts of which it looks out. The views from the top of the hill across the Mediterranean Sea are breathtaking. If you want to experience your Kalyves trip to the fullest, then taking the time to visit Plaka is something that you definitely won't want to miss out on.
Take a Trip To The Late Minoan Tholos Tomb
The Late Minoan Tholos Tomb is a late Minoan burial place situated on a gradual hill in a tiny, calm forest of wild oak trees right in Kalyves. The linear development of burial rites from the Dorian age to the Mycenaean age – circa 3000 BC – may be seen inside the underground tomb. The tomb is open to the public and is home to a violent colony of fleas that can sting and leave wounds on visitors, therefore it's advisable to dress in pants when visiting.
Go Wine Tasting At The Winery Dourakis
This 5-star winery, located near Kalyves has been in operation since 1988. You can visit the stone winery at any time of year for a tour and tasting of the wine produced there. If you are an art fan, you can visit the facility's museum and art gallery to examine the works of various painters.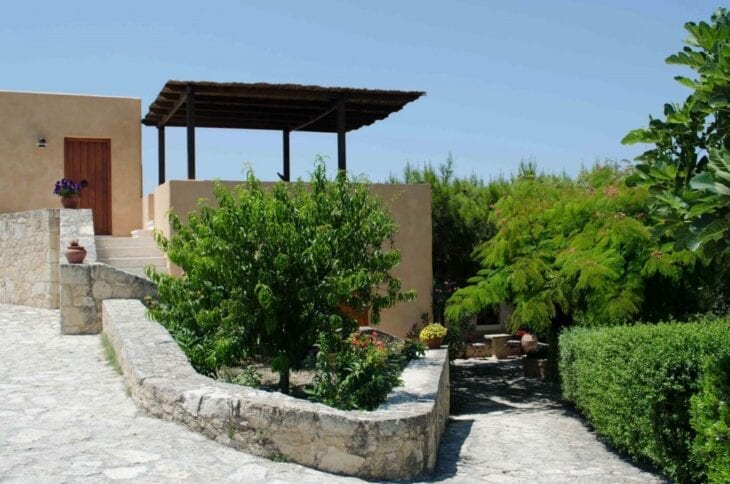 Visit Almyrida
Almyrida is a coastal resort found in the Apokoronas district of the northwest coast. The village is located in the Chania regional unit, around 20 kilometers from Chania. Almyrida is a traditional fishing community with a lengthy beach that is popular with families. If you've got time to spare, you may visit Almyrida since it isn't too far from Kalyves. You may spend your day exploring the village and its beach.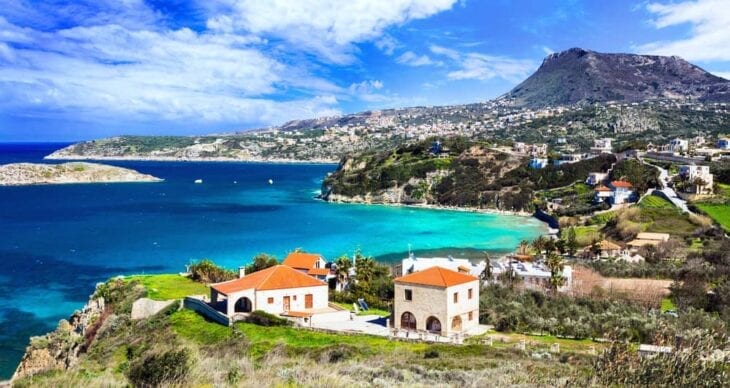 Beaches In and near Kalyves
Taking a refreshing dip in the ocean is one of the best things to do in Kalyves, or anywhere else in Crete for that matter. Fortunately, there are plenty of beaches to choose from in and around Kalyves. Here are some of the most popular beaches near Kalyves:
Kalyves Beach
The main beach of Kalyves, this wide and long beach is perfect for swimming, sunbathing, and enjoying the views. The sparkling ocean water is clean and clear, and there are plenty of beach umbrellas and sun loungers available for rent.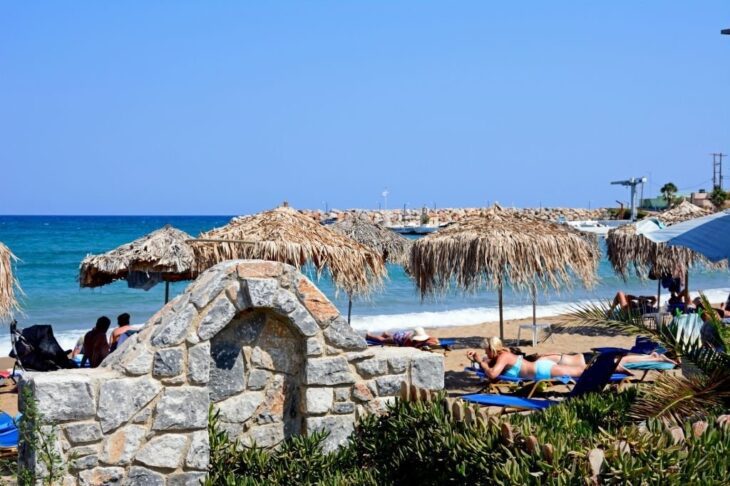 Kera Beach
Kera Beach is about 20 kilometers east of Chania, on the coast of Souda Bay, near the lovely villages of Kalyves and Plaka. The beach, which has soft sand and occasional pebbles in spots, is set in a beautiful setting surrounded by tall cliffs. The water is shallow and transparent. It is not well-organized, yet there are various lodging and dining alternatives in the surrounding area. You can spend your day in peace and tranquility, enjoying the sun and sea.
Almirida Beach
The village of Almyrida, designated as a place of infinite beauty in 1977, features two excellent sandy beaches with shallow water that are safe for children on calm days. A little rocky pier-peninsula with a modest white chapel separates the two beaches. It is organised and popular among water sports enthusiasts and windsurfers. Fresh fish and tasty traditional Cretan cuisine are famously served at beachside taverns.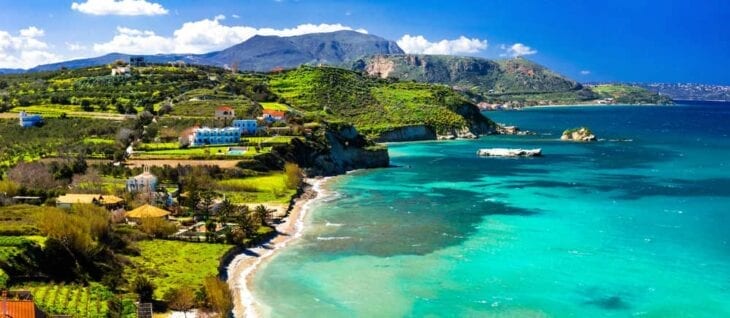 Getting to Kalyves
By car
Driving through the streets of Crete is truly an experience. The island's winding roads offer stunning views, making the drive both enjoyable and memorable. As such, the best way to reach Kalyves is by renting a car. Car rentals provide you with the freedom and flexibility to explore at your own pace. You can get a rental car in Chania Airport, which is the nearest pickup point to Kalyves. The trip will take you around 29 minutes in total.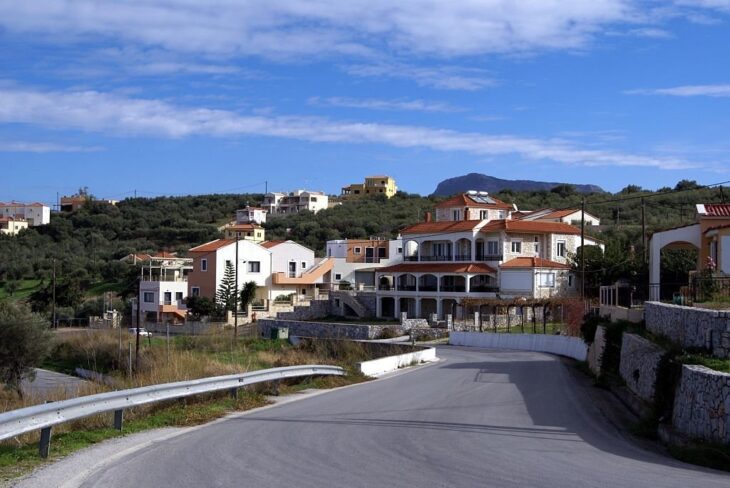 By Taxi
Another way to get to Kalyves is by taking a taxi. This is a convenient option if you don't want to rent a car or if you're not comfortable driving on Crete's winding roads. The fare from Chania to Kalyves should cost around 30 EUR and will also take 29 minutes to complete, depending on traffic. To get to Kalyves by taxi, just hail one from the street or find a taxi stand in Chania.
By Bus
The cheapest way to get to Kalyves from Chania is by taking the public bus. The ride will take slightly longer than 30 minutes but only costs 5 EUR per person. To get to Kalyves by bus, just go to the Central Bus Station in Chania and board one going to Kalyves. There is a direct bus service from Chania to Kalyves. Services depart three times a day and operate every day.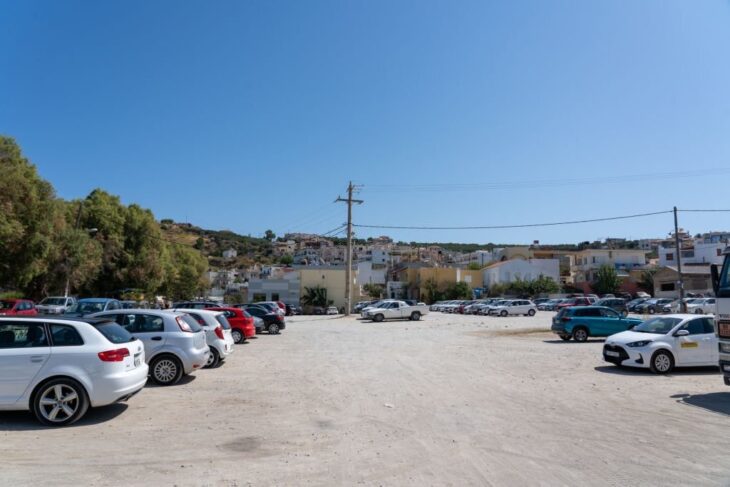 Where to Stay in Kalyves
Finding the perfect hotel can be a challenge, but in Kalyves there are plenty of options to choose from. If you're looking for a luxurious or budget-friendly hotels, give these a try:
Sunrise Suites
Sunrise Suites is a fantastic alternative for tourists visiting Kalyves, providing a romantic setting as well as a variety of useful services to make your stay more enjoyable. The hotel rooms serve as your "home away from home," with a flat-screen TV, a kitchenette, and a refrigerator, and complimentary internet makes getting online a breeze. While staying at the hotel, guests get access to a rooftop terrace, sun umbrellas, and beach chairs.
Address: Kalyves Apokoronou, Apokoronas, Crete 730 03 Greece
Website: http://www.sunrise-suites.com/
Contact: +30 698 108 6966
Kalyves Beach Hotel
The Kalyves Beach Hotel is located on the beach in the center of Kalyves, near to the river Xydas. Their setting combines the award-winning blue flag beach's crystal clear waves with the lush splendor of the neighboring Greek landscape. Each room is designed to provide the perfect mix of luxury, convenience, and comfort with a private balcony or terrace.
Address: Kalyves Apokoronou, Apokoronas, Crete 730 03 Greece
Website: https://www.seacretehotels.com/kalyvesbeachhotel/
Contact: +30 2825 031285
Christi Apartments
Christi Apartments is located at the entrance to the picturesque village of Kalyves. It is a family-run business with a welcoming atmosphere where you can relax and enjoy your trip. The Christi Apartments is found on the seaside, and each apartment has a breathtaking outlook. The rooms are equipped with a TV, air conditioning, wireless internet, kitchenette, refrigerator, toilet, safe, free parking, and balconies with stunning views of the sea.
Address: Palea EO Chanion Rethimnou 3, Kalyves 730 03, Greece
Website: https://www.christi.gr/
Contact: +30 2825 031010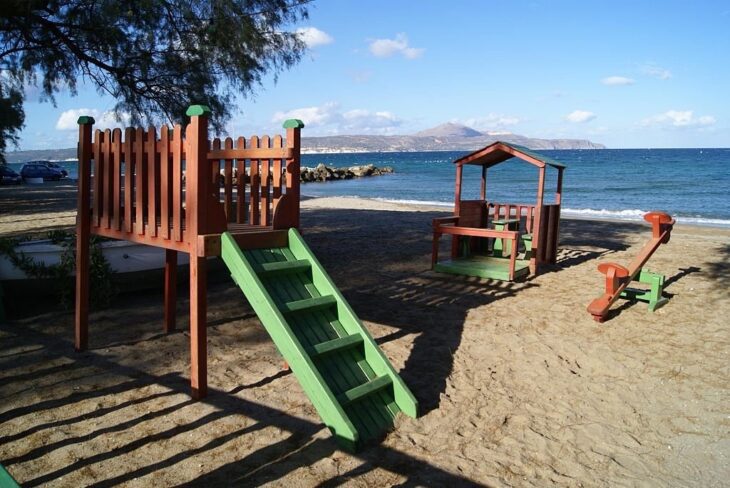 Where to Eat in Kalyves
Feeling hungry after a day of exploring Kalyves? There are plenty of great places to eat, whether you're looking for a quick bite or a sit-down meal. Here are some of the best restaurants in Kalyves:
Souvlakerie Gyrofolia
Gyros and chicken have never tasted so good! This is one of the most popular fast food places in Kalyves, and for good reason. The chicken and gyros are cooked to perfection, and the pita bread is soft and fluffy. There are other dishes in their menu too, if you're looking for something different.
Address: Apokoronas, Crete 73003 Greece
Website: https://www.facebook.com/SouvlakerieGurofolia/
Contact: +30 2825 083162
Simon's
If you're up for pizza or anything Italian, Simon's is the place to go. The pizzas are huge and delicious, and there's a wide variety to choose from. They also have other Italian dishes such as pasta, lasagna, and more.
Address: Palea Ethniki Odos Chanion Rethimnou Kalyves Square, Apokoronas, Crete Greece
Website: https://www.simons.gr/
Contact: +30 2825 031506
Mistrali Restaurant
Seafood is the specialty at Mistrali, and they definitely do not disappoint. The dishes are all cooked to perfection, and the service is excellent. Make sure to try their grilled octopus – it's one of the best in Kalyves.
Address: Kalyves -chania, Apokoronas, Crete Greece
Website: https://www.mistrali.gr/index.php?ID=Restaurant
Contact: +30 694 429 6630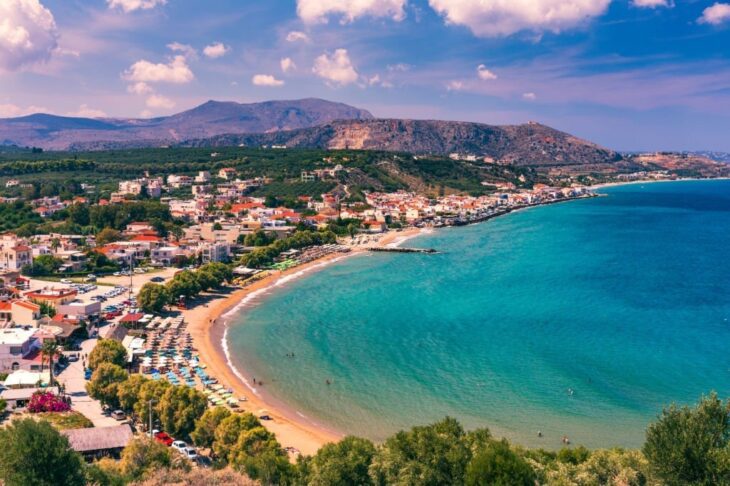 Best Time to Visit Kalyves
The best time to visit the village all depends on your preference. If you don't want to deal with the crowds, then you should visit during the offseason (April to June, and September to October). The weather is still pleasant during these months. If you don't mind the crowds and want to experience the lively atmosphere, then visit during the peak season (July and August).