Famous for its unspoilt natural beauty, Almyrida is one of most popular resort destinations for holidays with kids. Its close proximity to some of Crete's most sought out attractions, makes it the perfect home base to explore the island.
Everything You Need to Know About Almyrida, Crete
Where is Almyrida located?
Almyrida is a seaside resort located on the northern coast of Crete in the Apokoronas region. It is about 25 km east of Chania, and very close to Souda Bay. This is a lovely stretch of the island. It has plenty of unspoiled natural beauty as well as easy proximity to every urban convenience.
How to Get to Almyrida, Crete
Almyrida is only a little over a half an hour's drive from Chania International Airport. You can pick up your rental car at Chania Airport and hit the road in no time.
If you are arriving by ship, you'll find Almyrida less than half an hour away. A rental car in Chania can be waiting for you at Chania / Souda Port when booked ontime.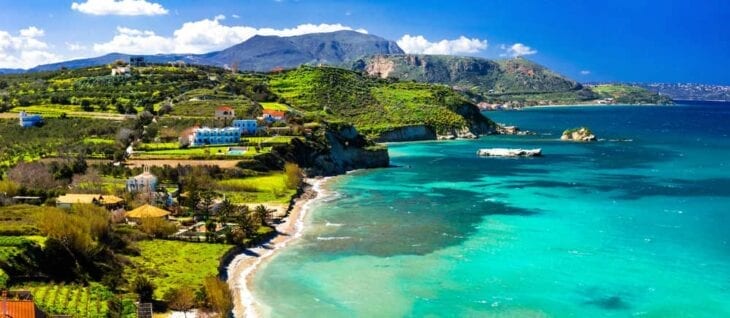 To reach Almyrida from the airport, you can take the public bus service KTEL. You will need to take two buses- one from the airport to the KTEL station of Chania, where you will transfer to a bus for Almyrida. For more information, check here.
The History of Almyrida, Crete
Like most of Crete, Almyrida has been inhabited since ancient times. The area was certainly inhabited during the Minoan era (the Minoans were an advanced Bronze Age civilization that flourished in Crete from around 2700 BC to 1450 BC). However, it is thought that Almyrida was inhabited not by the Minoans but rather by the Phoenicians, who had friendly relations with the Minoans and also had colonies elsewhere on the island.
Almyrida has been home to other civilizations throughout the history of Crete. Ruins of the Greco Roman era have been found, as well as early Christian ruins. Cretans also battled the Ottomans near Almyrida for their independence.
What to See and Do in Almyrida
This is really a great destination if you are looking for a variety of experiences on your holiday, and want a beautiful and welcoming home base. This is a part of Crete that is particularly well-suited to families looking for a combination of good tavernas and places to stay by pristine beaches, but also all the services and conveniences one might need on a holiday with kids.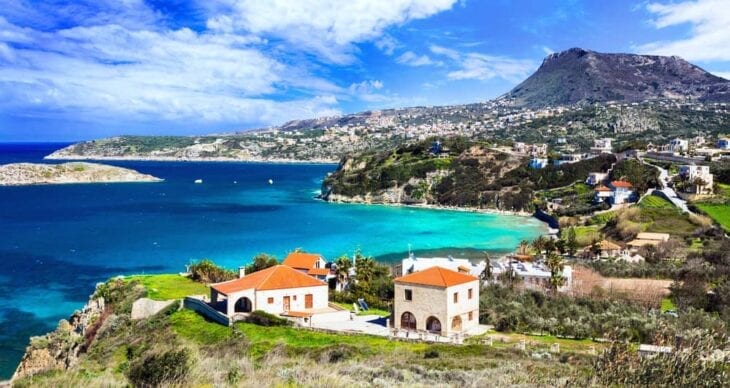 The beaches of Almyrida are indeed quiet and lovely. And for a different type of nature, you can visit the many picturesque villages inland to cool off in the shade under plane trees in a town square. The village of Vrysses – just 25 minutes away by car, is one such example. Of course, a stay in Almyrida is not complete without a visit to Chania, the capital of the region and largely considered the loveliest city of Crete.
Gorgeous Beaches near Almyrida
Apokoronas and in fact much of the coast both to the east and to the west of Chania is studded with Blue Flag beaches – a designation that means not only pure waters but excellent upkeep and a commitment to the environment.
Children love Agios Apostolous. This sandy beach, just west of the town of Chania, is actually two braces in one, on either side of a sandbar. That means that whatever way the wind is blowing, you can enjoy a swim in calmer waters.
Chryssi Akti means golden beach. This is near Agios Apostolous. This larger beach is fully serviced with sunbeds and umbrellas and also water sports activities. The waters can be less calm than Agios Apostolous.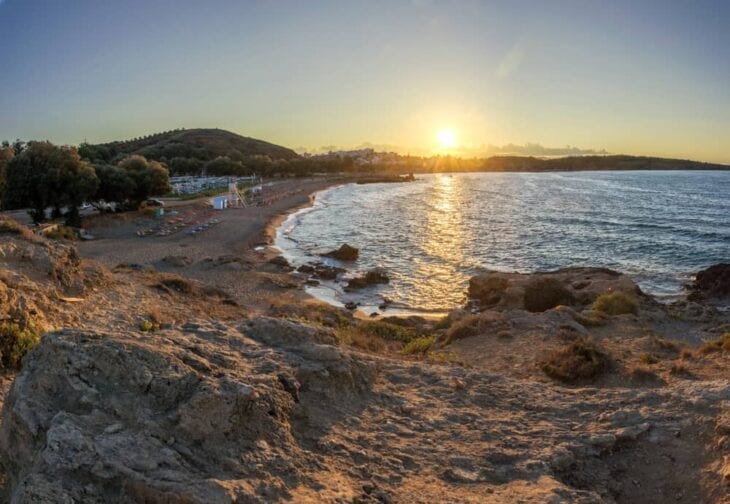 Stavros, about a 45 minute drive from Almyrida, is perhaps one of the best known beaches of the Akrotiri peninsula- the landmass just west of Apokoronas – is famous as some of Zorba the Greek was filmed here. It has become a more deluxe beach – and some say pricier. Beautiful though.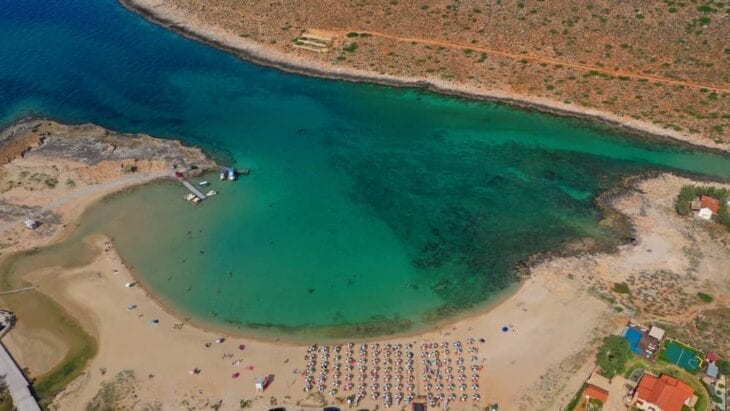 Seitan Limani is at the very tip of the Akrotiri peninsula, about a 50 minute drive from Almyrida. To reach the beach you need to hike down – the hike is not long but can be steep. But the view is incredible – Seitan Limani is a bay shaped like a lightning bolt. It's like a beach on the moon.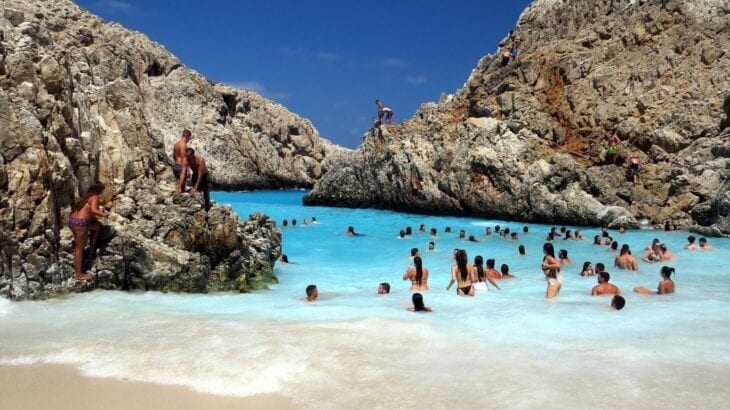 One of the most famous beaches in the world is less than two hours drive from Almyrida. Elafonissi, in the southwest corner of the island, is known for its pink sands and beautiful waters. The open sea is rough and lovely, while the enclosed lagoon makes a gentler swimming spot. The island of Elafonissi is covered with wildflowers and is a natural habitat of the Caretta Caretta sea Turtle and other creatures. This is protected as part of the Natura 2000 network.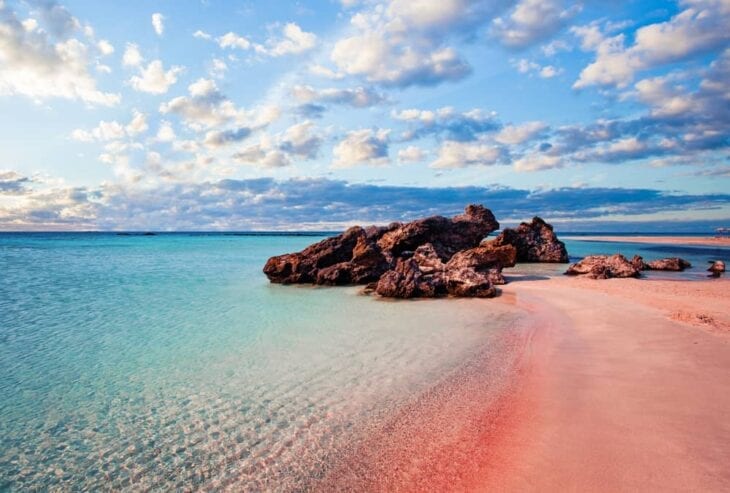 If you want to drive further – discovering Crete by car is such a pleasure – you'll find the glorious beaches of the south coast on the Libyan sea. Among them is the famous Sougia, about an hour and 45 minutes away by car.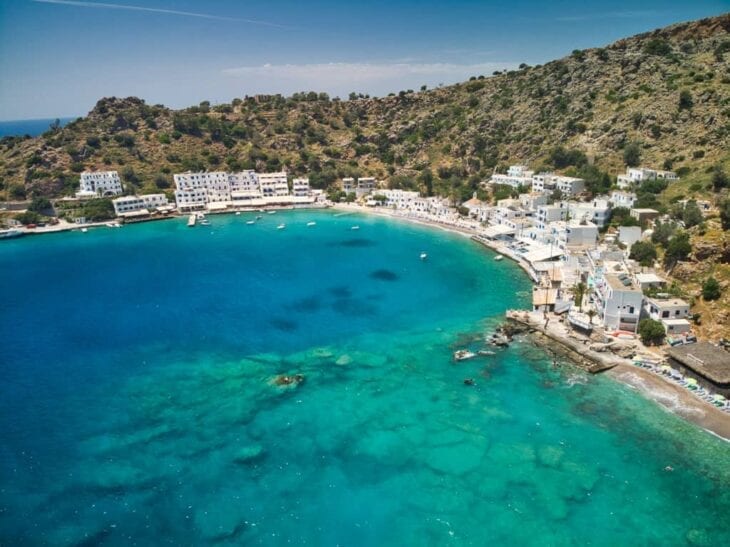 Going straight down to the south from Almyrida will bring you to Chora Sfakion. This is a glorious drive. From Chora Sfakion, a very short boat ride takes you to Loutro – a magical village you can reach only by boat. Here is also a quiet beach. To the east of Chora Sfakion is Frangokastelo, a magnificent Venetian fortress set on a beach.
Activities Near Almyrida
People traveling with children might want to treat them to a day at Limnoupolis, Chania's waterpark with a view of the White Mountains. It's just over half an hour's drive.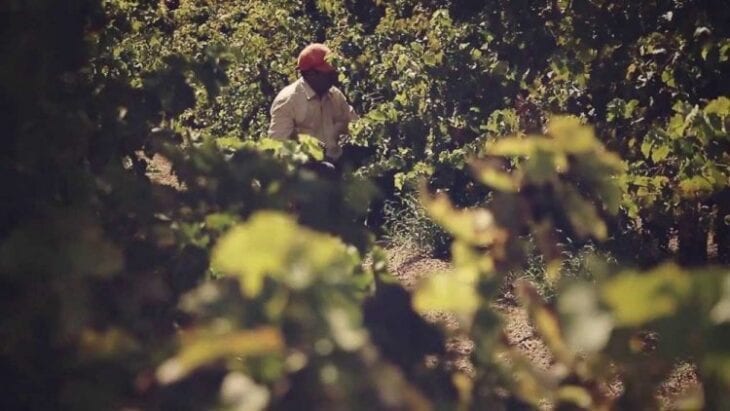 You do not need to be a serious oenophile to enjoy a visit to the wine center of Crete. At this tasting center located in a wine store in the town of Chania, you can become acquainted with indigenous Cretan grape varieties. After this introduction, you may find you want to know more. The wine center can direct you to vineyards in the area, which will mean not only delicious and unusual wines but drives through beautiful scenery as well.
Cultural Excursions Near Almyrida
Just outside of Chania is a fantastic gorge called Therisos. The drive through this gorge – not half an hour – is one of Crete's loveliest and most dramatic. The drive ends in the Village of Therissos. This is an important historic village for Cretans. You can visit both the Museum of National Resistance, and the Historic folklife museum. Therissos is also famous for its meats. Families from Chania love to drive here for a fine meal of grilled goat chops, fresh fried potatoes, local cheeses, and garden fresh salads. A drive and a meal here are a wonderful activity. Therisos village is a little over 45 minutes from Almyrida.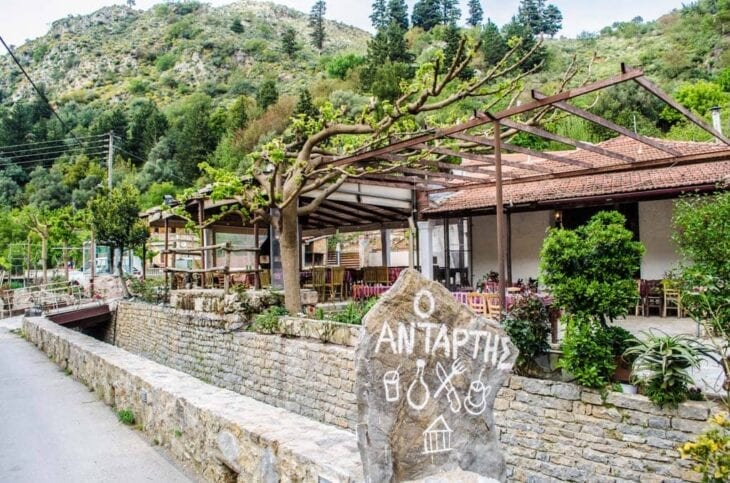 Chania itself is not to be missed. This magnificent gem of city gets its charms from the Venetians, plus the Egyptians (the famous lighthouse), and the Ottomans (The Mosque of the Janissaries on the harbor), plus – first and foremost – the Cretans themselves. The alleys of the old town and Splangia are romantic and enchanting, with cascades of bougainvillea and jasmine covering the old houses. And you can look long and hard before you find a more picturesque waterfront and harbor anywhere in the world. Chania's waterfront is lovely with its Venetian shipyards and marina to the east, and the Nautical museum and elegant Venetian facades to the west.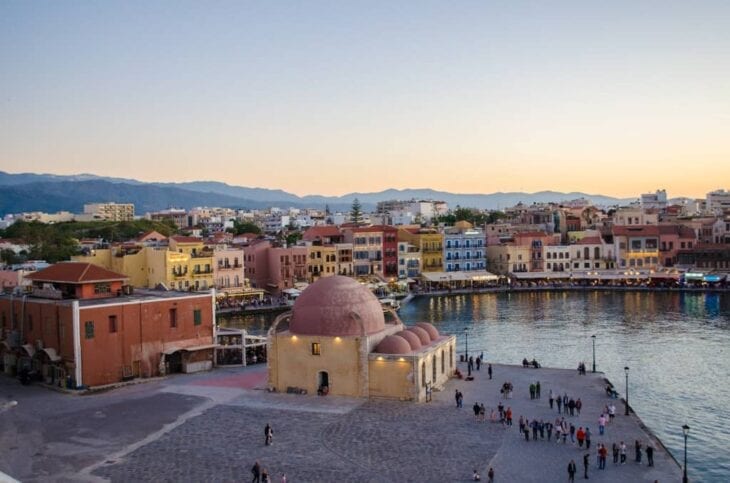 Chania is also great for culture. Some of the old Venetian shipyards are now dynamic exhibition spaces, and so is the former Mosque of the Janissaries. There is always something of cultural interest going on in Chania, especially in the summer months.
Exploring Almyrida
Almyrida – besides being a lovely destination itself – is central and convenient. This is a perfect place from which to explore Crete by car.