Have you ever dreamed of taking a break from life and retreating to a peaceful seaside village? If the answer is yes, then consider heading to one of the most stunning Greek islands: Crete. Home to spectacular beaches, enchanting small towns, gorgeous mountains, and delicious Mediterranean cuisine – what's not to love about this island paradise?
Crete's most beautiful seaside villages
From traditional fishing ports to paradisal coves and chic resorts, each village has its own unique character and something special to offer when it comes to the sun, sea, sights, and sounds. Here are just some of the top seaside villages in Crete that are worth visiting for an unforgettable holiday experience. Read on for all the details!
Elounda
Come to Elounda Village, a spectacle of nature on the north coast of Crete! Pull up a sunbed and sip a cool drink while you watch Kalydon Island protecting the tranquil clear waters of the bay. If swimming isn't your thing, take in the lush mountain scenery or simply relax with a stroll along one of the many beaches and bays nearby. It's certainly worth an 11km drive from Agios Nikolaos for this Mediterranean show-stopper.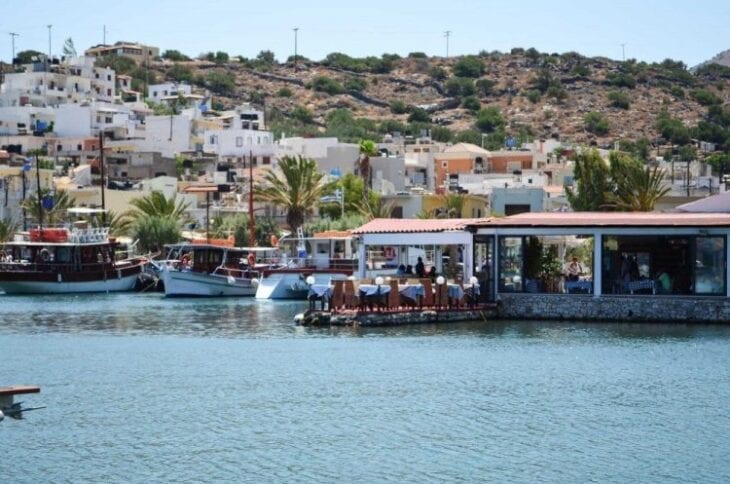 Elounda is like something out of a movie – it's no surprise that it has been the backdrop for films and TV shows! Its tranquil waters, surrounded by mountains, beaches, and bays, make it truly an idyllic destination. You can take a dip in the inviting clear waters, relax on one of the many beautiful beaches or spend a night at one of the luxurious resorts nestled along the coast. Famous folks from all around have basked in this little paradise – even BBC set their classic Who Pays The Ferryman here back in the 70s! So for a unique holiday experience, Elounda should definitely be your number-one choice!
Sissi
Nature lovers looking for some tranquil beauty should look no further than Sissi! This picturesque fishing village is situated 45 kilometers east of Heraklion. It is the perfect escape from nearby touristy spots like Malia and Hersonissos. Indulge in the gorgeousness of olive groves, sun-kissed vineyards, small churches, and whitewashed houses as you take the serpentine coastal route to get there! Believe it or not, this charming place was once an important strategic location for uploading guns and munitions during the Cretan Revolution about 150 years ago. Nowadays, though, it's a must-visit destination if you want to soak in its unique traditional charm.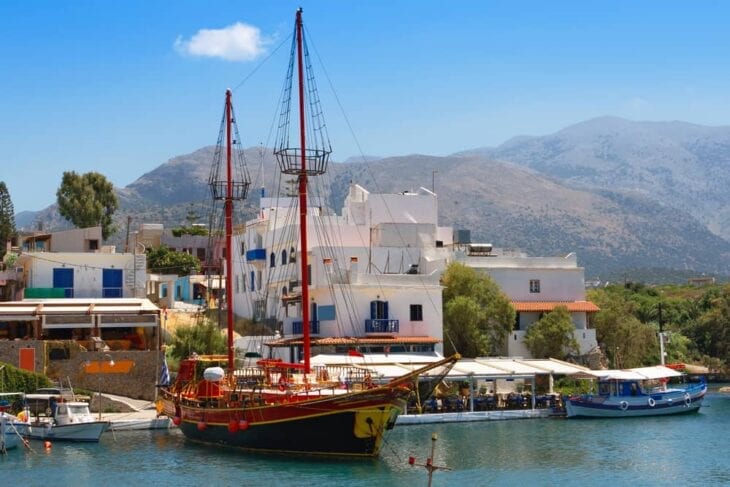 Not only does it have small sandy beaches to relax and bask in the sun, but a short 3.5-kilometer drive away is the Monastery of Agios Georgios (St. George), located in the lush gorge of Selinari. This ancient site has two churches dedicated to the Epiphany and Resurrection and was established during the second Byzantine era. But wait, there's more: the small 16th-century chapel houses a miraculous icon of St. George – protector of travelers who pass by! In addition to that, you should explore west to Sissi to check out Malia Palace Archaeological Site, which is one of the the Minoan palaces of Crete? Come for some relaxation at Sissi's beaches, and don't forget to visit these historical sites, all within just 4 kilometers.
Milatos
It's the east coast of the island for you! Milatos is a fantastic destination offering much more than just rolling waves and lively beach bars. You can experience traditional stone houses in the village itself, take your pick from some scrumptious seafood tavernas, or chill out and appreciate the beauty of its fishing port. Of course, if you do feel like a party, then head to nearby Malia – we won't judge! But if it's peace and relaxation you're after, then Milatos is where it's at. One visit, and you'll be falling head over heels for its rustic charms.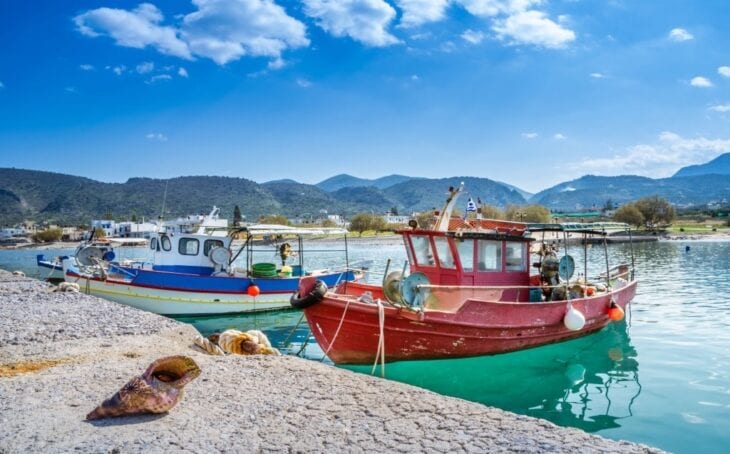 When in Milatos village, take a walk or hop around to soak up the tranquil yet lively atmosphere of real Crete. Admire the traditional village architecture and imagine the stories that it has to tell throughout the years. Take your time strolling through the charming streets until you reach your destination: Milatos beach! Dip in its crystal clear waters while admiring a picturesque view at the small fishing harbor and seafood tavernas nearby. To top off an unforgettable experience, why not visit the stunning Milatos cave, located east of the village? A sight worth beholding, with its entrances ranging from 9 meters wide and 2 meters high for those who prefer openness. Plus, inside, you'll find the Chapel of Saint Thomas and an ossuary containing bones from Cretan martyrs killed during the siege of 1823. It's time to let go, relax, and explore all this amazing place offers!
Myrtos
Have you ever wanted to see the breathtaking beauty of a pristine Greek island? Well, with Mirtos in Crete, your dream can come true! Located 50 km away from Agios Nikolaos and 15 km from Ierapetra in Lassithi Prefecture, you will be enchanted by the dazzling whitewashed houses all around. When there, take time to explore its narrow lanes or have an authentic Greek coffee in one of its traditional cafés. What's more; Mirtos also offers cultural attractions such as the little church of Agios Antonios (St Antony), now restored, and the old school next to it that is home to the Mirtos museum. With Minoan finds and local folk art and implements, this quaint village should be on anyone's travel bucket list.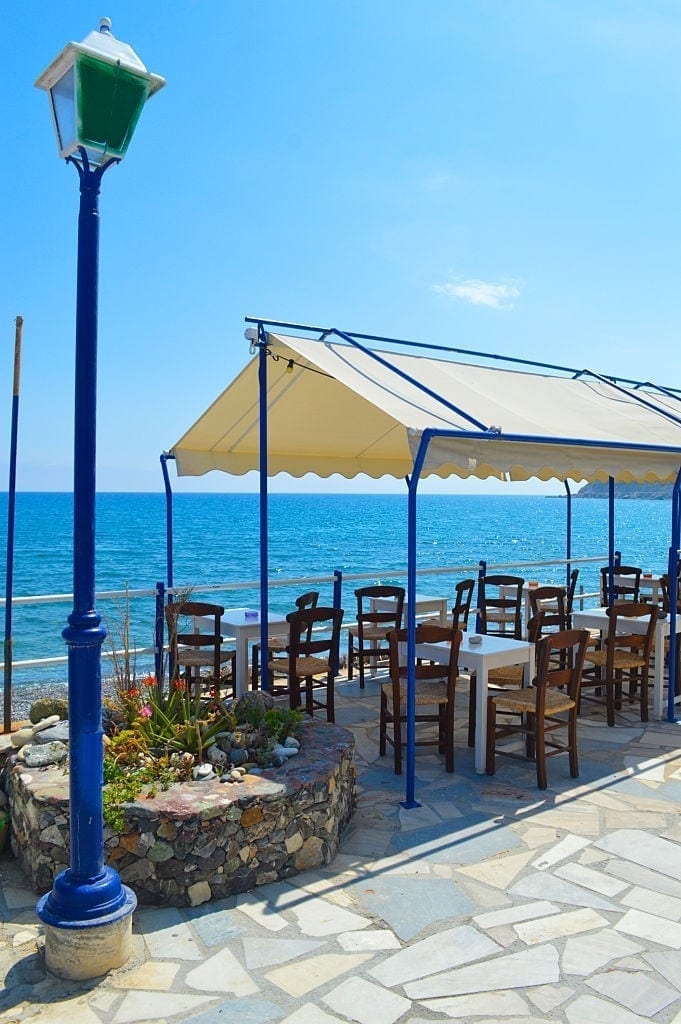 If you want a break from the hustle and bustle of Mirtos, switch off your car's engine and take the footpath that runs near the river. Stroll through the picturesque villages of South Dikti mountain, Pefkos, and Simi (or Symi), surrounded by lush pine forests. But no trip to Crete is complete without taking a dip in its mesmerizing blue waters! Luckily for you, Mirtos beach boasts one of the finest beaches with its ash-grey sand and clear water – perfect for a fun day out by the sea! What's more, since this area is spared from fierce winds like most of Crete's south coast near Ierapetra, you can swim peacefully in crystal-clear waters.
Mochlos
Mochlos is a must-visit destination if you're looking for the perfect seaside getaway – with its stunning sights, excellent resorts, and glistening bays, Mirabello Bay can't be beaten. Those who love learning about history should also check out this destination; within the area are fascinating relics from the Minoan era. This area of Crete is home to one of the oldest settlements in Europe, dating back to 3000 BC. Here, visitors have the chance to explore two stunning Minoan Palaces, Knossos and Kato Zakros – both promise plenty of insight into the ancient civilization, making Mochlos an incredibly rewarding place for history buffs and blissful beach dwellers alike.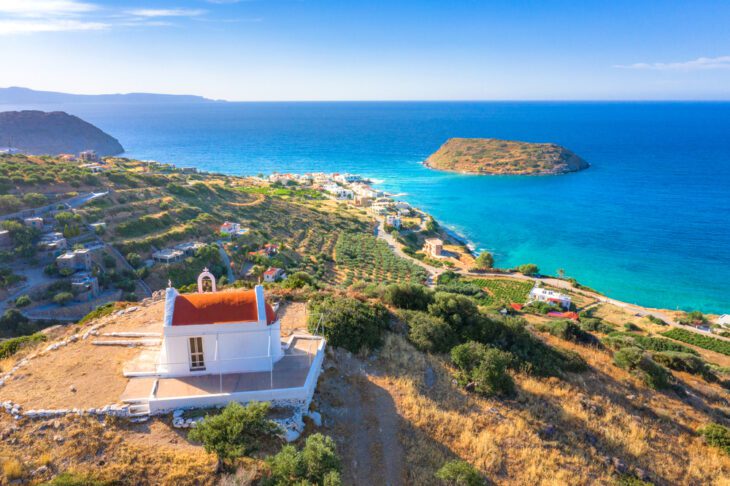 With activities on the beach and plenty of exploring opportunities to be had at Sitia Geopark, your next vacation will have plenty to offer. Why not check out Agios Nikolaos' two scenic harbors or perhaps visit Sitia Geopark, where you can explore 500 square kilometers of nature preserves? You'll find ravines, gorges, and even waterfalls as part of your journey. And if all these adventures have you tuckered out, just pop back over to Mochlos and relax on the convenient beach right in town which is a bit more isolated. So why wait? Pack your bags – Mochlos awaits!
Makrigialos
The 35km getaway from Sitia and 29km away from Ierapetra boasts its namesake – a long sandy beach with crystal clear, shallow waters perfect for the whole family. Whether you're an experienced swimmer or simply dipping your toes, you'll have plenty of time to explore the area and its amazing spots. And don't worry about getting hungry – there's a good variety of tavernas in the area that are sure to satisfy any appetite! Prefer something more picturesque? Then visit the fishing port, where you can even take a boat to Koufonisi island – just make sure to get back before afternoon rolls in! There are also many other shops and watersport facilities if you want to keep your adventure going. Oh, and don't forget about the Monastery of Kapsa. Come see why visitors of all ages seek Makrigialos.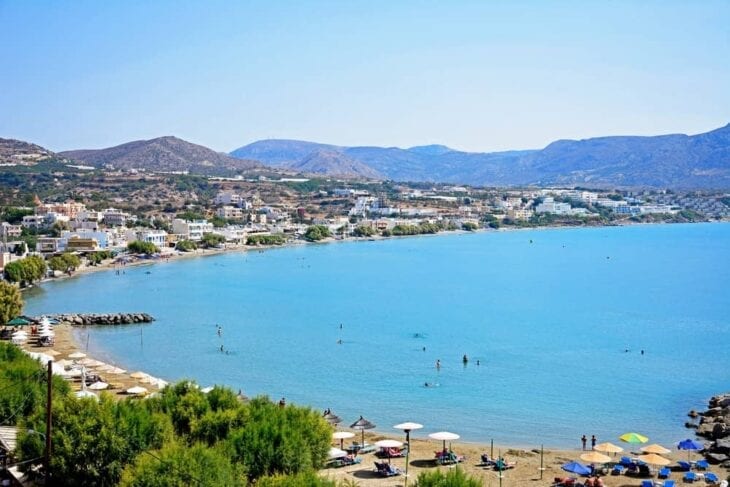 It's not long ago that Makrigialos was just a quiet little harbor with minimal storage facilities, and now they have uncovered a Minoan villa as well as one from the Roman period. With its surrounding mountain villages rich in history and enchanting stone houses accompanied by beautiful pops of color from Geraniums, Bougainvillea, and vines, you can't help but feel like you are time-traveling to centuries past. If you fancy taking a leisurely stroll here, 7km away from the sea are Agios Stefanos and Pefki – both perched 420m above ground level, connected by an asphalt road. Who knows what more surprises this land has in store?
Koutsounari
Picture stunning white sandy beaches and hidden coves surrounded by lush pine trees and olive groves. Located just 1 km north of the South Cretan Sea, this 5 km long beach is one of the longest in Crete and is perfect for those seeking a peaceful getaway. The beach's grayish sand, characteristic of most southern Cretan beaches, provides a unique atmosphere with plenty of room to relax and explore. Whether you want to try watersports or just dip your toes in crystal clear water, you can find something fun to do in this unique area. With over 437 inhabitants and located 8 km east of Ierapetra, Koutsounari offers an ideal place to get lost and enjoy the moment.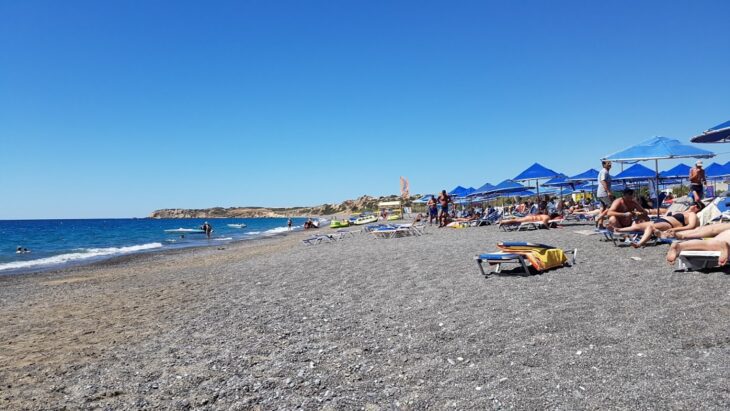 Everything you need for a perfect stay is available here, from delicious taverns and bakeries to mini-markets and some truly unique sights. Make sure you make time for the Waterfall of Milonas – it's an unforgettable experience. It's only a short hike, but don't forget to wear your sun protection and bring plenty of water so you can appreciate the incredible surroundings in all their glory.
Ferma
Located about 10 kilometers east of Ierapetra and 45 kilometers south of Agios Nikolaos, it's a small seaside community that sits just 4 kilometers south of Agios Ioannis. Plus, its dense forests and lush vegetation are like an idyllic green oasis in Eastern Crete. And don't forget to take your sun protection — there are several picturesque bays along the coast that you don't want to miss! The longest is probably Livadi Beach (known as Ferma Beach or Xerokamara), where you can marvel at the towering smooth rocks and cliffs while taking a dip in the crystal clear water.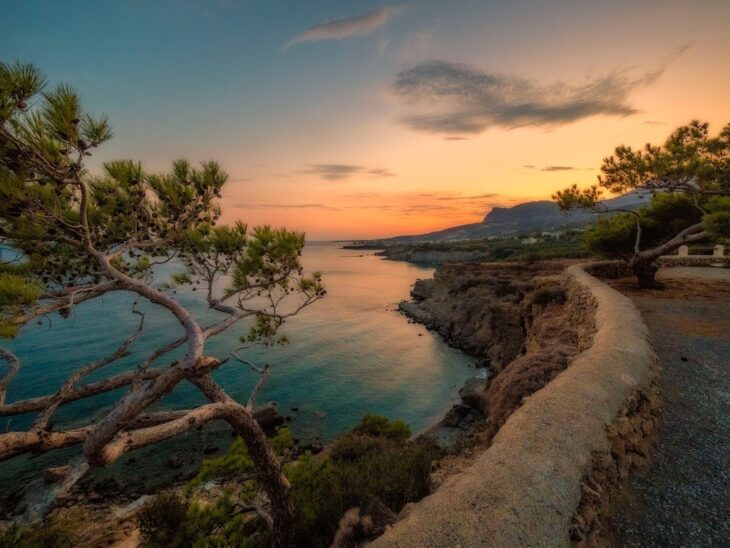 Visiting Lake Voulismeni is a must if you're ever close to Ferma. This ancient saltwater lake has been around since Minoan times, so you know there's plenty of history to explore. After you've had your fill at the lake, why not take a look at the Archaeological Collection of Ierapetra? It's crammed full of fascinating finds, including super old Cycladic figurines, imposing Roman lamps, and quirky figurines. What better way could there be to spend an afternoon than exploring cultural relics in a stunning location? Get ready for epic sunsets, stunning views, and relaxation.
Palekastro
Located 20 km east of Sitia, this quaint town is the economic hub of a wide and rich region with historical, archaeological, and naturalistic sites. It's full of history and surprises – in 1989, the Folklore Museum opened its door with an array of old objects from all over Crete – utensils, furniture, household goods, and more! You can explore what life was like in Crete in the past. Epic adventures await as you continue your expedition to Moni Toplou, what Cretans refer to as a fortification rather than a monastery. It is one of the historic landmarks in Crete that boasts incredible grandeur and beauty. One of its most famous attractions is the "Lord Thou Art Great" icon, a stunning collection of icons created by Ioannis Kornaros, a beloved Cretan artist.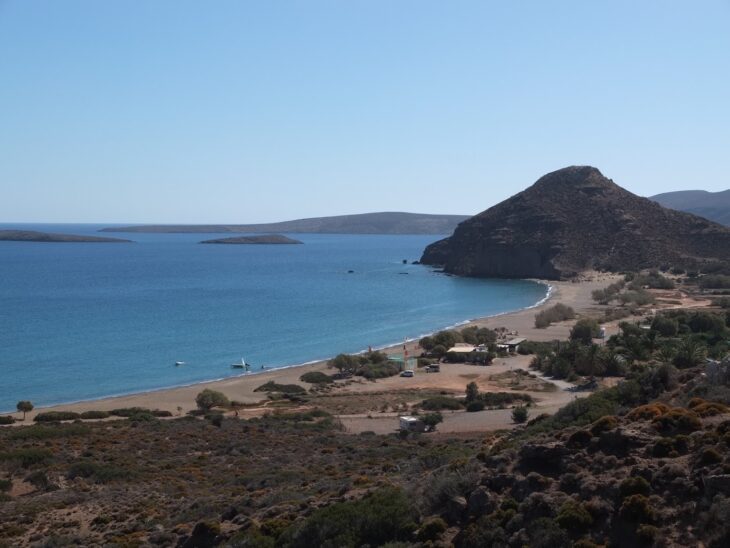 If cycling around the charming town of Palekastro sounds like fun to you, then why not take it a step further and explore one of its most untouched areas, Zakros Beach? Nestled on the east coast of Agios Nikolaos and near the small fishing village of Kato Zakros – about 107 kilometers away from Agios Nikolaos and 40 kilometers from Sitia – this beach is a little piece of paradise. Combining a massive protected harbor with pebbly sand, huge boulders, and unbelievably calm waters, Palekastro is the perfect spot for anyone looking to soak up the peace and quiet nature offers. It's also perfect for avid fishers due to its stony seabed! No matter when you visit, there's always something special awaiting you here.
If you're looking for an adventure, Palekastro is the place to kick off your vacation. Whether you're out for a hike or looking to explore some stunning sights. Trekking extravaganzas can take on a piece of the E4 European path along this gorge. If you turn towards Sitia, you'll be able to wander through ancient sites like Itanos and rolling hills that come with plenty of rugged terrain for adventure seekers. Plus, the views along this section are unforgettable. From massive rock formations and wide open valleys to adorable villages and lush beaches, there's no doubt that Palekastro has something amazing in store.
Loutro
Loutro is an idyllic little fishing village and truly Honeymoon-worthy; what could be more romantic than a bay dotted with white paint and cyan windows, contrasted by pink bougainvillea cascading down the terracotta roofs? A unique cocktailing of the Cycladic landscape with the charms of Crete makes this destination even more memorable. Located in the Chania region of West Crete, you'll find Loutro a comfortable hour away from Chania town. Why not wander westward to visit the most touristy village in all of Sfakia (which locals will tell you isn't quite as peaceful as it once was), situated some 10km from Chora Sfakion? This charming little enclave on the south coast of Crete is sure to have you reminiscing for years to come.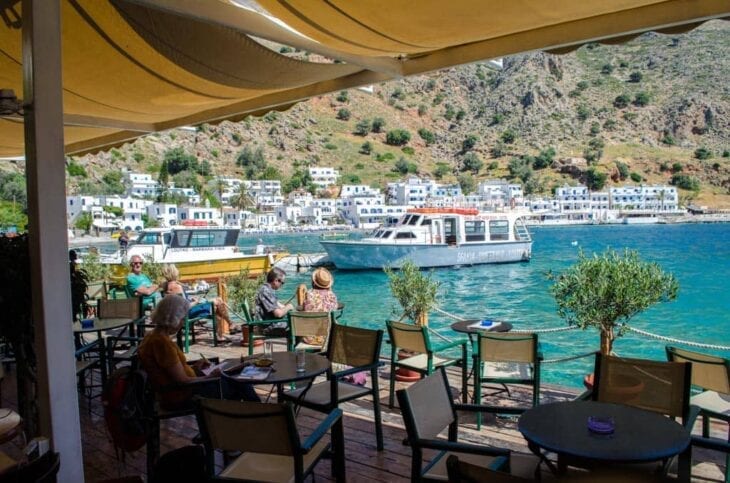 One of the best reasons to visit Loutro is to escape the rat race and relax. What better way to take in all that crystal-clear sea than sailing around in a boat? Plus, this sweet little village can be traversed on foot, so it's simple to see everything. You'll soon notice how wee and wrapped-up it is – perfect for really taking in your surroundings. If you have the energy, trek up from the waterside towards an ancient Venetian Castle which put up its flag upon a hilltop. The views from here are quite something – you won't forget them all your life.
Chora Sfakion
The picturesque town of Chora Sfakion, otherwise known as Sfakia, is just 75 km from the city of Chania. Home to the proudly rebellious inhabitants of Sfakis district, this lively village has seen more than its fair share of insurrection against invaders, most recently having taken part in the Battle of Crete during World War II. Famous for its rugged terrain and wildflower-strewn countryside, a visit to Chora Sfakion will provide you with an unforgettable experience. With plenty to see and do on offer, a stop to this historic capital is definitely worthwhile.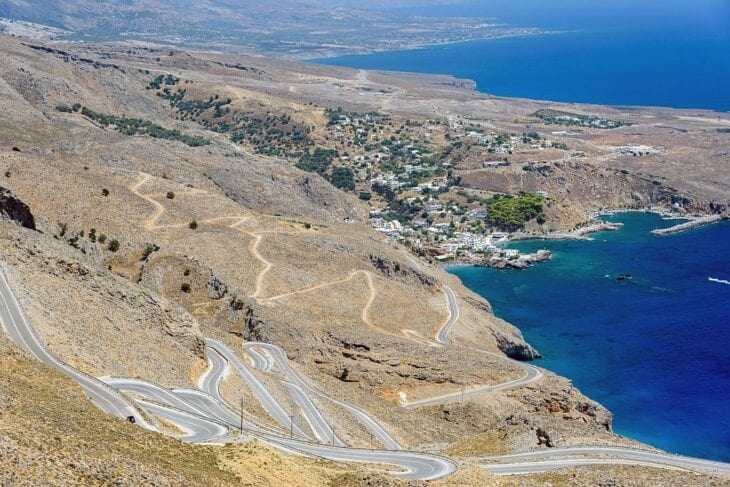 If you ever want to hear about a real-life Greek hero, look no further than Anopolis! Daskalogiannis – the famous Cretan resistance leader – was born right in this village, giving all its locals a reason to boast. Turning away from grandiose castles and postcard-perfect views, brave hikers looking for a unique adventure come to Sfakia instead. But don't worry; despite the wild, rugged landscape, you'll still get all the hospitality and warmth that Greece is famous for. Whether it's an honest plate of moussaka or good conversation over some ouzo, the locals here never let visitors leave without a smile on their faces.
There are so many beautiful and untouched beaches waiting to be explored near Chora Sfakion – it's the perfect place for any beach lover! You can start by exploring Vrissi, only a small town beach. If you go westward, you'll get to Ilingas Beach after a 20-minute scenic walk along the coastal footpath – a must-see. Even further west lies Glyka Nera Beach, where you can have a delicious meal at the taverna. If none of these beaches spark your interest, then maybe hopping on one of the daily water taxi boats will satisfy your cravings. Whatever option you choose, there are plenty of beaches in this area, such as Amoudi, Filaki and Frangokastello. Of course, no visit to this region is complete without admiring its wonderful natural landscapes – Lefka Ori – White Mountains, Samaria Gorge, Imbros Gorge, Aradena Gorge, and Omalos Plateau and Askifou Plateau are all around!
Daratso
Kato Daratso is the perfect spot for a vacation and history lesson all in one. The town has plenty of classic Greek charm, with its picturesque shops and bars dotting the major streets. Not only that, but there are also some gorgeous beaches and hidden coves right on your doorstep – what more could you ask for? For a bit of historical context, don't forget to check out the Fallschirmjäger Memorial, otherwise known as the 'German bird' or 'Evil bird.' It memorializes the German parachutists who perished during World War II in the ten-day Battle of Crete. Kato Daratso is located three kilometers west of Chania along Agioi Apostoli Road, it's a great opportunity to learn more about this heartbreaking event while honoring those who were lost in battle.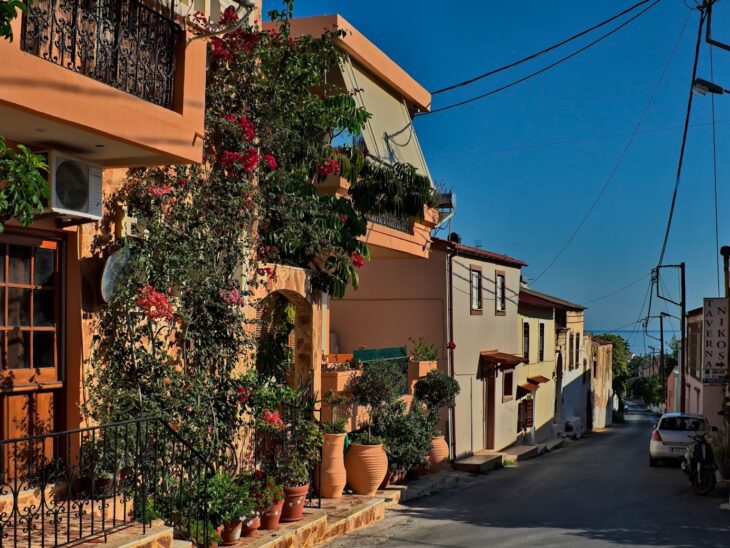 If you're looking for a romantic day trip spot for you and your other half, look no further than Chania, which happens to be nearby. It's the perfect mix of gorgeous sites and quaint hospitality. Start at the Old Venetian Harbor – in all its old-timey glory; it is a sight to behold. Don't forget to snap a photo with the iconic lighthouse as well! Once you finish taking in the sights, take a leisurely stroll through the bustling market of Daratso. Locals are sure to make you feel welcome, so don't be shy to say hi. If souvenir shopping is more your scene, check out the village of Daratso for quaint boutiques selling fine jewelry and fresh produce. Then grab a bite at one of the many cafes or stop by the farmer's market for some delicious regional specialties.
Platanias / Agia Marina
Agia Marina, located 10 kilometers from Chania Town, is easily one of Crete's most popular tourist villages. With nearby towns of Stalos and Platanias, it is the perfect location for those looking to get away to a tropical beach paradise. It is also in a prime spot, giving tourists access to some of Crete's best natural attractions! Guests can explore the hidden caves, hike deep gorges, visit Agia Lake and observe the abundant amount of local flora and fauna the island has to offer. Truly, Agia Marina is a haven for travelers who are looking for an unforgettable experience in Cretan nature.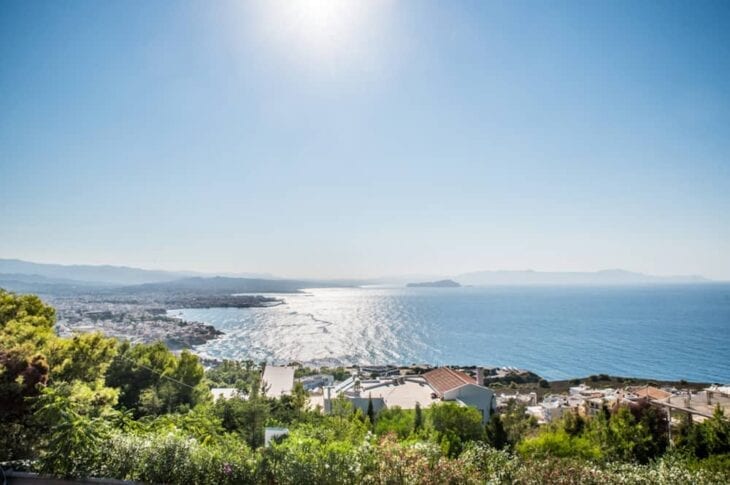 After a leisurely stroll through the narrow streets and turning each corner, admirers are able to view old houses constructed in traditional Cretan architecture. Whilst wandering, be sure to visit the old school and church dedicated to Saint Spyridon. For those seeking a unique experience, take time out and explore the Folklore museum or one of several local taverns offering an array of Cretan dishes. The Manolis Taverna is a prominent establishment in the heart of this village, having been around since 1978. It boasts an extensive menu featuring all revered appetizers, salads, meat, and fish dishes – truly satisfying any palette with its delectable selection! Provide yourself with an unforgettable encounter by visiting this extraordinary village on your next holiday adventure in Crete.
The Folklore Museum of Agia Marina, located in a traditional Cretan rural house, was established in 2014 with the purpose of housing an array of everyday items donated by local families. This museum is just one of the many great draws to this small village and its surrounding area. There is no better place than here for those looking to reconnect with nature. Inland trails weave their way through the landscape, and if traveling far enough, you can reach sights such as Nerospilia (Water Cave), 12 kilometers from Chania, or the nearby Theriso Gorge, situated 15 kilometers away from Agia Marina. Exploring these areas will give you a newfound appreciation for Crete and all it has to offer visitors.
Kalyves / Almyrida
Located in Apokoronas, 19 kilometers east of Chania, Kalyves is a beautiful beach village conveniently connected to the other four prefectures of Crete by the highway. For a day in the sun and sand, visitors can explore the resorts of Cape Drapanos – renowned for their sandy beaches, such as Almyrida, Gavalochori, Vamos, Kokkini Chorio and Plaka. However, beyond its stunning natural beauty, travelers will find an incredible opportunity at the Chania Archaeological Museum, which is close by. Here they can discover the ancient history of Crete and learn about its culture spanning from the Bronze Age up to the Roman period. By visiting Kalyves and The Chania Museum, anyone can experience all that this incredible part of Greece has to offer, both now and from centuries past.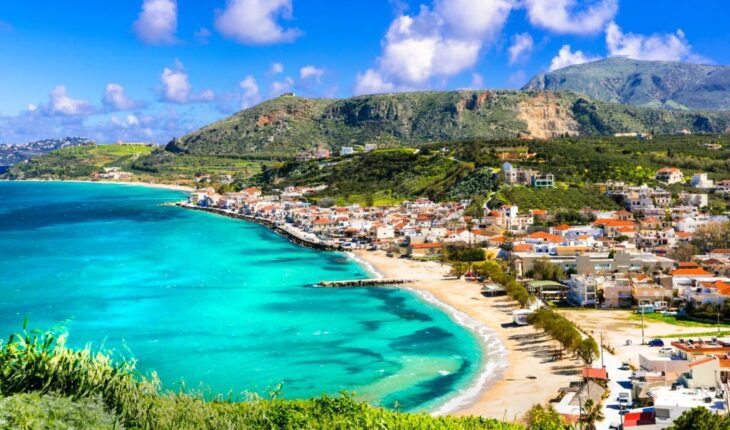 Kalyves is a settlement located on the northwest coast of Crete, Greece. It is part of the Chania regional unit and lies close to Almirida, where it overlooks the Mediterranean Sea. When making your trip to Kalyves, you must find the time to visit Kalyves. The stunning views that can be experienced from its peak are unparalleled. For those interested in learning more about ancient civilizations, there is one site you must visit: the Late Minoan Tholos Tomb. Located on a gradual hillside with a quiet forest nearby consisting of wild oaks, this tomb testifies to the changes in burial rites between 3000 BC through to the Dorian and Mycenaean ages.
If you're ever visiting Kalyves, make sure to add a wine-tasting experience at Winery Dourakis to your itinerary! Their 5-star rating speaks for itself; here, you can sample the finest wines in town, produced since 1988. Think of it as a mini art pilgrimage, too – the facility houses a museum and art gallery where you can admire stunning works from prominent painters. It's time to swirl, sip and absorb the creativity.
Plakias
Perched on the south coast of Rethymnon and just 30 kilometers from town, Plakias village offers visitors a unique combination of beauty and convenience. It's the ideal jumping-off point for discovering Prevelli, Kourtaliotis, and Kotsifos gorges. If you're feeling adventurous, a trip to Spili is only a short drive away. And let's not forget those gorgeous traditional villages that dot the hills all the way to Sfakia! As you make your way towards Plakias, be sure to admire the majestic mountain peaks and dramatic gorges before being met with breathtaking views of the sparkling Libyan Sea – what could be better? We don't know about you, but we're ready to start exploring.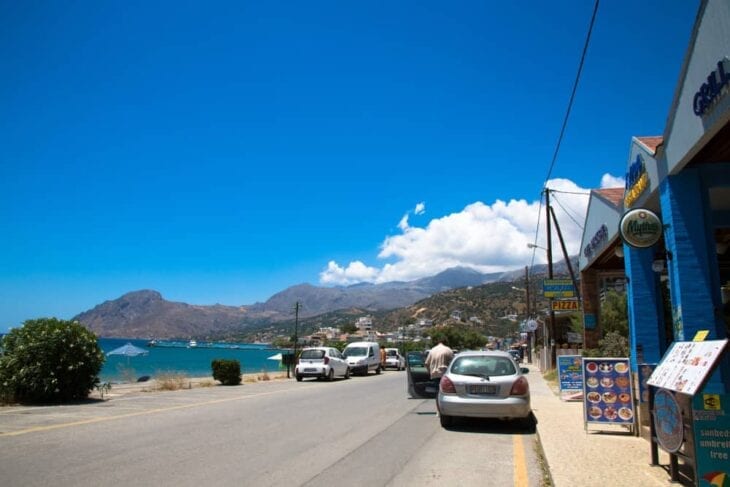 With its unspoiled, breathtaking landscape, this picturesque village makes the perfect getaway for those looking to unwind and just relax. What's more – aside from endless opportunities for rest and relaxation on a stunning 1300m stretch of the golden sand – there's plenty to keep even the most active holidaymakers entertained. You can also soak up the sun at eight other nearby beaches, each with its own character, or stay in one of the many accommodation options ranging from luxurious hotels to cozy apartments and a youth hostel.
Plakias is truly a hiker's paradise! With fifteen walking paths ranging from easy to difficult, outdoor lovers of all levels should check this place out. It's the perfect spot for those looking to get away from the hustle and bustle and enjoy some fresh air in natural surroundings – explore olive groves and gorges, discover historical landmarks like Preveli Monastery, take a stroll through picturesque villages….the possibilities are almost endless! But if that doesn't quite cut it for you, why not try something more adventurous and go diving instead? Plakias has three super active diving schools that will help you on your underwater journey – from certifying new divers to taking experienced divers around their existing haunts. So if you're looking for an unforgettable beachside break, Plakias is just perfect.
Bali
Bali, one of the most picturesque villages on the north coast of Crete, is situated between Rethymno and Heraklion, at a comfortable distance of 30 km from Rethymno and 45 km from Heraklion. This makes it easy to get to from any island corner. However, what sets Bali apart is its dreamlike setting in an eastward-facing cove – an enchanting spot for all visitors regardless of their destination! With its strategic location, Bali serves as a great hub for many adventures and explorations in nearby areas. So come over and experience firsthand all that the village has to offer – you won't be disappointed.
Visit the Monastery of Atali in the south of Bali, which has been dedicated to St. Ioannis since the 17th century. It's an impressive historic building that's steeped in tradition, so make sure you don't miss it! If you go east, check out the village of Sises, which is about 13km from Bali. This picturesque spot has plenty of natural beauty and local charm to explore – a great way to get a glimpse into real Greek life. Lastly, there's also the church of Panagia Charakiani on the eastern side of the gulf. This attractive architecture captures the crisp blues and whites of Greek culture.
In addition to enjoying the tasty local dishes in restaurants with a great view of the gulf and spending pleasant nights out in small romantic bars, visitors can also experience a glimpse into traditional entertainment through one of three local festivals annually. The festival of Agia Triada is held during the week before Easter, while the festival of Panagia Charakiani takes place on 15th August, and the festival of Agios Ioannis at Atali Monastery on 29th August. For those looking for a unique cultural experience, this is certainly one way to make memories that last a lifetime.
Georgioupolis
Nestled between Rethymnon and Chania on Crete, Georgioupolis is a picturesque town surrounded by rolling hills that stretch from the White Mountains to the Mediterranean Sea. Popular among visitors for its dense eucalyptus groves, these trees have been part of the village's heritage since its founding. Aside from their aesthetic charm and historical significance, these majestic trees provide shelter for the many bird and animal species inhabiting the area. Given its peaceful environment and pleasant climate, Georgioupolis makes an ideal holiday destination all year round, allowing travelers to experience firsthand Cretan beauty in all its splendor.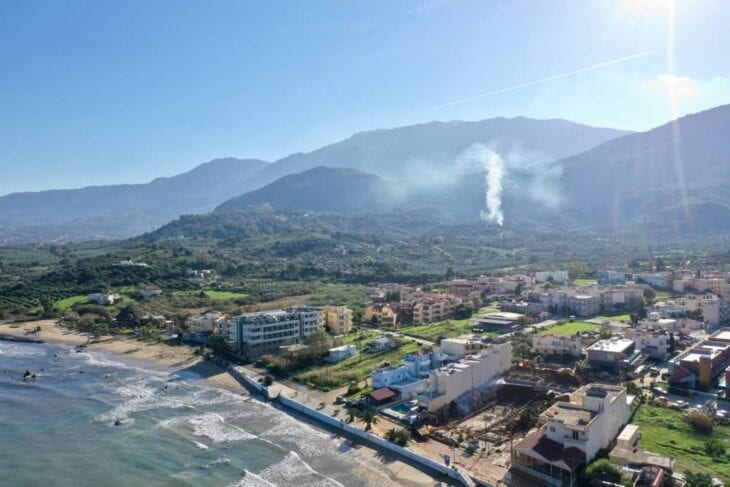 Georgioupolis is known for its lively and picturesque main square. It's one of the prettiest village squares in all of Crete, full of local vendors, taverns, and restaurants, making it perfect for soaking in the culture or just people-watching. Moreover, the lively atmosphere continues onto the harbor, where you can find Agios Nicholas; an impressive white chapel dedicated to the patron saint of sailors that overlooks the sparkling blue Mediterranean waters. Another incredible sight to behold is Lake Kournas, Crete's only freshwater lake surrounded by a gorgeous forest and striking mountain peaks that reflect into its mesmerizing pristine waters.
Each side of the harbor is lined with a stretch of coastline, offering visitors two pristine beach destinations – Kalivaki Beach and Georgioupolis Beach. Kalivaki Beach, located to the west of the harbor, boasts shallow waters and spectacular dunes perfect for swimming in the summer months. It is here that visitors have an opportunity to observe sea turtles basking in the sun or geese flying by. Continuing eastwards down the coast brings you to Georgioupolis Beach, a 10-kilometer stretch beach awarded with a Blue Flag certification ideal for water sports activities such as scuba diving. You won't struggle to find something delicious to eat either, with several tavernas and cafes serving fresh, local cuisine throughout the area. Whether visiting Georgioupolis for a day or planning an extended stay, this destination has something special to offer all its visitors regardless of age.
Agia Galini
Agia Galini is a charming village located on the southern coast of Crete in the Rethymno region. Getting there from the capital of Heraklion is an easy 70 km drive. In recent years, this idyllic location has been catching the attention of more and more travelers who come to experience its authenticity and beauty. There are many sights in the area to keep you busy – one of the most popular spots is east of the port, where a tranquil beach sits against a backdrop framed by River Platis Potamos flowing into the sea. A visit here can easily become an unforgettable holiday experience.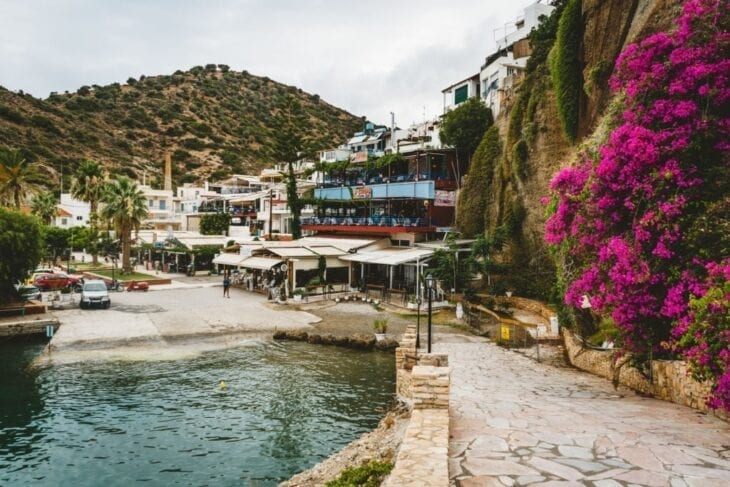 The harbor is filled with boats offering stunning excursions along Crete's southern coast to explore beaches and other attractions. Further, the village was built over the ancient Minoan city of Soulia, and the ruins still bear witness to its past. The lovely Byzantine church of Panagia stands tall inside the cemetery. It overlooks the sea – a must-see for any visitor. With loads of accommodation options as well as great taverns in the area, Agia Galini is an ideal base for any traveler looking to explore the central part of Crete's southern coast.
Close to Agia Galini, you will find Gortyna Archaeological Site, Visiting the Gortyna Archaeological Site is a unique opportunity to explore ruins from 1050 BC, offering visitors the chance to marvel at ancient artefacts such as the old citadel, an agora, and diverse statues and figurines. On your journey to Gortyna, you can also choose to check out the Phaistos Archaeological Site, located just 20 minutes from Agia Galini. Phaestus was an important settlement in Crete during antiquity, featuring two palaces and varied other structures which have been excavated for us to explore today. Whether you are a history buff or just curious about ancient civilizations, Gortyna and Phaistos represent great destinations for uncovering some of Crete's most remarkable archaeological finds.
Matala
Nestled along the coast of the Libyan Sea in Crete, Greece, lies Matala village. The village is just 75km south of Heraklion and provides many great opportunities for exploration, from discovering its interesting history to taking magnificent views. Explorers will be captivated by its unique sandstone rock cliffs that jut out into the sea at an angle, creating a picturesque backdrop for stargazing and watching mesmerizing sunsets.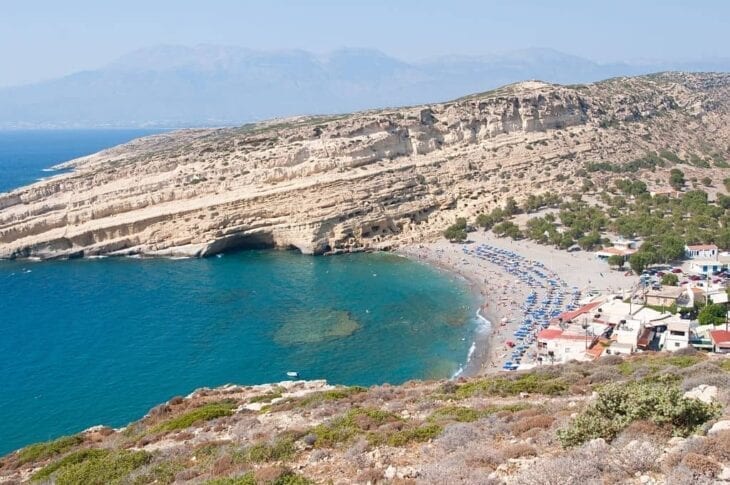 This area served as a port town for the Minoan palace of Phaistos between 2000 BC and 200 BC. After its conquest by the Roman Empire, Gortys was established in its stead within the fertile Messara valley – but not at the same site as Phaistos. As a result, Matala Bay is a historical hotspot, with caves and tombs used by Minoans, Romans, and later Christians all in one place. It wasn't until the early 20th century that Matala Bay became known as a humble fishing village – but it remains one today due to its safe harbor amidst the clean waters of the bay, which are jam-packed with fish life.
Ligaria
Ligaria is ideally located in the Gulf of Heraklion, just 20 minutes northwest of Heraklion town. Its charming beach is situated between the two towns of Agia Pelagia to the west and Ammoudara to the east. It benefits from a sheltered east-facing bay that avoids the often harsh northwest winds found on the northern coast of Crete. This region boasts an incredibly rich history spanning Minoan times through to more modern periods, such as the Venetian and Ottoman eras, right up to the proud history of modern Greece we witness today. It really is a perfect spot for visitors wanting to explore a destination steeped in culture and beauty.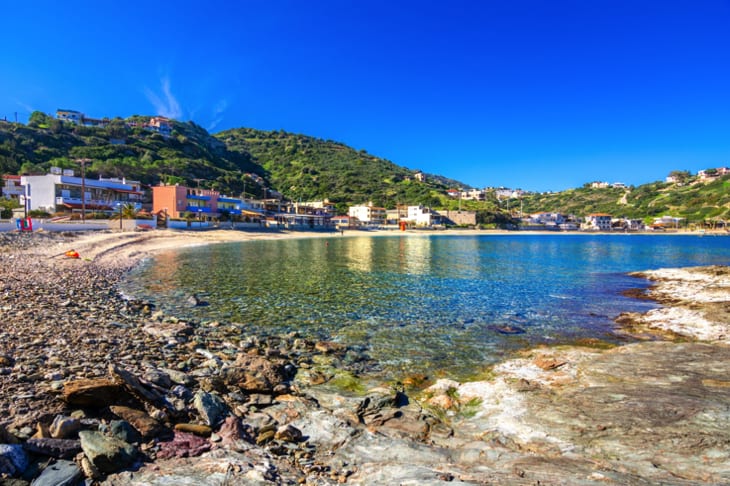 A day at the beach doesn't get much better than Ligaria, a Blue Flag Beach complete with picturesque views and usually calm waters. But if you're looking to explore something new, why not try Fodele Beach, which is just a 10-minute drive down E75? It's another one of Crete's most popular beaches, boasting crystal clear waters, sunny weather, and its own special charm—ideal for swimming, kids' play time, or just soaking up the sun. It won't take long for you to see why it's earned an impressive reputation among locals and tourists alike!
Agia Pelagia
Agia Pelagia is a beautiful haven, just 23 km west of the bustling Heraklion with its vibrant airport. Settled quietly beneath Cape Souda, it has developed a tranquil atmosphere nurtured by the wind's embrace. Agia Pelagia is part of the Heraklion prefecture and provides an exquisite alternative for locals living in the city to spend a day indulging in sheer relaxation and quality time with family and friends.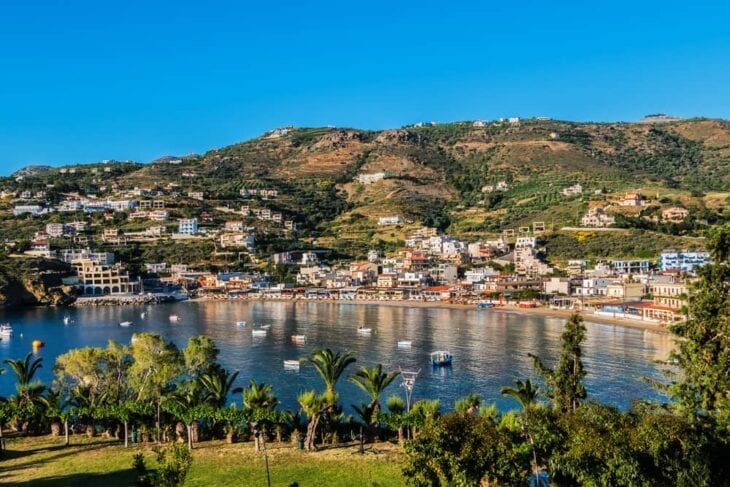 Its past has clear ties to the grandeur of ancient Minoan civilization; Greenchist rock was extracted from its land, which helped establish an economically viable market during the Venetian rule. Monasticism also became an active practice in the area. Though it suffered from destructive earthquakes and tidal waves that caused great devastation throughout its history, it now serves as an idyllic destination to observe breathtaking sights such as dreamy sunsets and crystal clear seas.
Visitors to Agia Pelagia must go to the Monastery of Savvathiana can discover its spiritual side and learn more about its history which dates back to the 1600s. This monastery is part of a greater number of monasteries built during the Venetian period. To further enhance their experience, travelers should stop by El Greco's house in Fodele, a nearby village. Even though none of his original works are located there, visitors can stroll through a variety of his most renowned pieces. Spending time at Agia Pelagia and exploring El Greco's house will make for an enriching experience during one's visit to Crete.
Kalamaki
Kalamaki is a hidden gem of Heraklion Prefecture, located south of Crete, off the beaten path. It is part of an amazing community with Agia Galini and Matala, facing the beautiful Libyan sea. Tourists can take day trip packages from one of the many tour companies to explore Kalamaki and the surrounding towns and villages in the area. This is a great way to dive into local culture and history and learn more about this incredible place.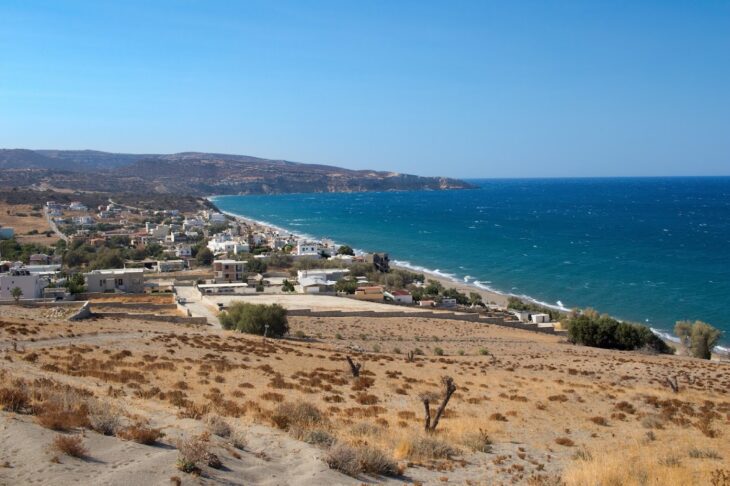 Even though it has only 450 people, it offers an incredible amount of sightseeing opportunities at good value for your money spent! From the Messara valley to the ancient archaeological sites and monuments, there are activities for all ages and interests. Being far but still close enough to nearby towns like Timbaki (6 kilometers away) or Mires (15 kilometers away), Kalamaki is a must-see destination while visiting Crete.
Kalamaki beach is the perfect place to relax and soak up some sun. With a long stretch of sand, there's plenty of space to spread out and enjoy. Whether you're looking for a spot to swim and sunbathe or just take a walk along the edge of the water, you'll have no trouble finding something to fit your needs. Families will be happy as well, as this beach is known for its safety and shallow depths. If at any point throughout the day you get hungry, there are also a few beach bars and restaurants to satisfy your cravings – definitely a nice touch!
Analipsi
Analipsi is the perfect central location for exploring Crete, especially when traveling by car. Located just east of Heraklion, the capital of the island on the north coast of Crete, Analipsi can be easily reached and provides a great home base for further exploration. In addition to its lively restaurants, tavernas, cafes, and bars, it's worth noting that within a seven-minute drive from the bustle of Analipsi, you can reach Gouves – an entirely different world. This quaint village offers shade-covered coffee and snack spots in the village square and picturesque ending alleys with traditional houses and old churches as you stroll around. Visitors are sure to delight in this unique slice of traditional Cretan life.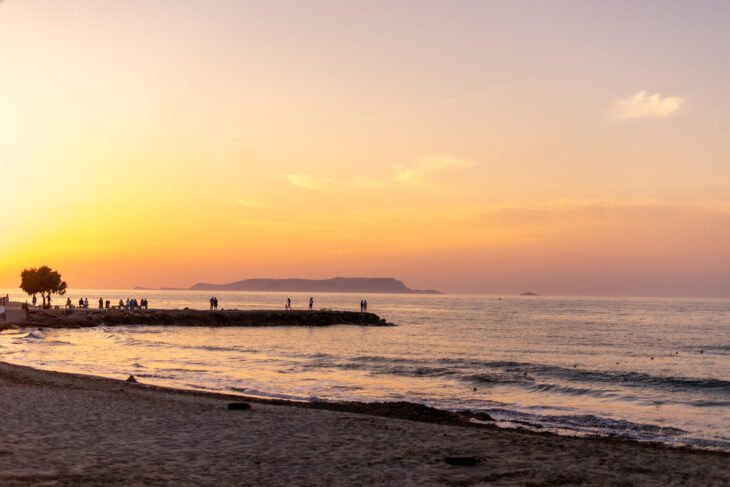 No matter your desired beach vibe, Analipsi has something for everyone. While the in-town beach is full service with sun loungers and umbrellas that provide a convenient spot to relax, exploring the surrounding area via car can provide ample opportunities for travelers looking for a less crowded experience. Those looking to test their skills against the famous Meltemi winds of the northern coast can head east and find the neighboring beach at Anissaras, only 4 minutes away by car. Further west lies Bali Beach, where its eastward-facing coves offer some protection from the elements. With such a wide range of beaches on offer, Analipsi is an excellent choice for those wishing to experience sand, sea, and sun in Crete.
Anissaras
Anissaras is ideal for those looking to enjoy a taste of luxury on their trip to Crete. Located just 24 km east of Heraklion, Anissaras is a small area north of Hersonissos situated around Malia Bay with rocky coastlines and some developed sandy beaches. Easily accessed from the Heraklion port or airport, visitors can rent a car and arrive at their destination in just a few minutes. Once there, they will find an impressive selection of luxurious resorts and hotels with private swimming pools and top-notch services. With so many places offering high-quality accommodation, visitors to Anissaras will be spoilt for choice.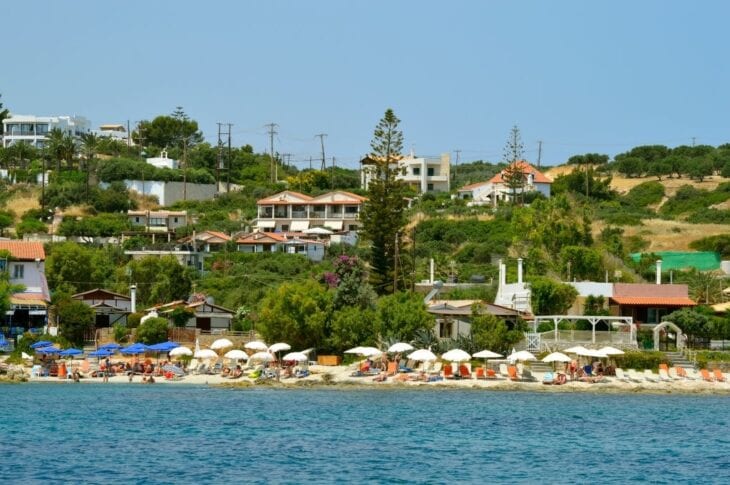 Anissaras' beaches have something for everyone. While the main beach is located on the northern shore, its fine sand and crystal-clear water make it the perfect spot for a relaxing day. If you're in pursuit of something more adventurous, you can find smaller coves along the eastern shore, complete with rocky landscapes and narrow pathways. You'll still get a stunning view of the area here; just take special care to enjoy its beauty. Whether you're looking to take a leisurely dip in the sea or participate in some thrilling water activities – such as jet skiing and windsurfing – Anissaras' beaches are sure to satisfy your needs.
Beaches of Crete
The beaches of Crete offer white sand stretching for miles, shimmering aquamarine water and unbeatable weather year-round, a trip to Crete is just what your summer needs. Whether you're looking for a private retreat in blissful isolation or want to explore the vibrant towns and lively nightlife scene with friends and family, the beaches of Crete have something for everyone. So don't let another day pass without booking that ticket—you owe it to yourself!
Discover the beaches of Crete in greater detail:
How easy is it to get to these villages?
If you're planning a visit to Cretan villages, there's only one surefire way of getting around – renting a car. Whether or not you can get to the villages depends largely on where they're located and what sort of transportation is available – and if they're nestled in the countryside, it may be tricky to get to them without your own set of wheels! You might need to take the bus or train before hopping into a taxi or car hire. Either way, having access to your own car will make the journey there much more convenient. So forget about buses – renting a car is a way forward!
How would you define a "best" seaside village?
A great seaside village is one where you can never get bored. It should be bustling with activity and full of life. With a range of attractions, restaurants, shops, and services, there's something for everyone. Whether you enjoy exploring the sights or prefer sitting down to a good meal with family or friends, it's all here in your village. You should also look for a variety of activities to keep you entertained throughout your stay – whether it's beachfront restaurants, water sports, or simply relaxing on the shore – so you can make the most of your time here. But don't forget about transportation options! A village that offers public transportation and plenty of parking makes it both easier and safer to enjoy the atmosphere of your perfect seaside town.
What are the best activities to do in these villages?
Coastal villages offer a unique and exciting way to explore the nearby beaches, coastline, and ocean. You can choose the activity that fits your interest and the available time – want assurance of a good catch? Potentially get your hands on some of the freshest seafood around? Go fishing! Feeling competitive? Hit up a kayaking race, or just take one out for leisure. Prefer to dip your toes in? Head to the shoreline for a swim in calmer waters. If you're looking for more of an ocean view, tour operators typically provide boat excursions up and down the coastline with knowledgeable guides that can point out wildlife, give you stories about the archaeological sites, and help recommend other sites worth visiting. No matter what experience you choose, coastal villages have something for everyone, regardless if you come for adventure or relaxation.
Seaside or Mountain Villages?
When choosing the perfect destination for your next vacation, it can be hard to decide between a seaside or a mountain village. Seaside villages often evoke feelings of relaxation, as sounds of crashing waves and smells of salty ocean air are known to create a peaceful atmosphere. There are also plenty of activities to explore, such as swimming in the ocean, fishing, boogie boarding, and simply walking along the shoreline. Crete's Mountain villages also have unique charm – think beautiful landscapes filled with thick forests and picturesque views topped off with fresh mountain air. Activities more suitable for this terrain include skiing and snowboarding, hikes, and exploring hidden trails. Though both provide an excellent getaway experience, you can't go wrong either way!

Old and traditional villages
As, Crete is an island that is full of history and tradition, one of the best ways to experience these cultural elements is by visiting one of the many old and traditional villages on the island. These villages offer visitors a glimpse into the island's past and the way of life of the locals.