Vathi Beach is a prime beach destination in its own gorgeous cove. In the Lasithi prefecture, conveniently located just south of Agios Nikolaos, Vathi beach is beautiful and luxurious. A "new" beach, it was created in 2010. The silken white sands and blue waters are, however, timeless.
Vathi Beach is operated by the luxury hotel Daios Cove, ensuring the best in service and infrastructure. This is the ideal destination for full-service relaxation, with plenty of adventure and culture within an easy distance.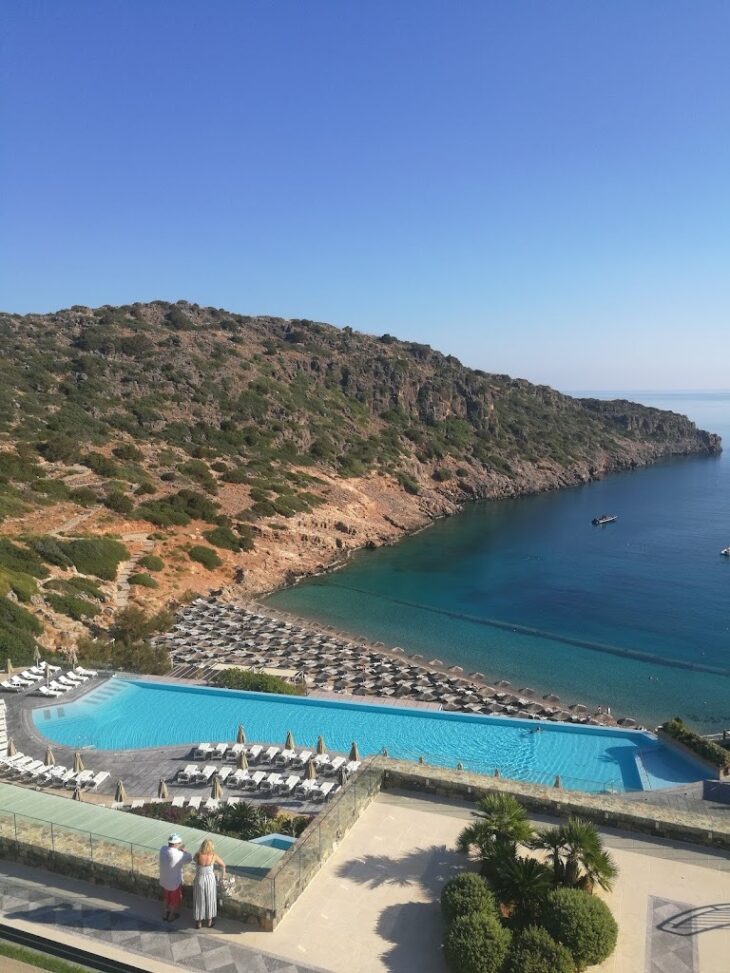 Where is Vathi Beach Located?
Vathi beach is just 10 kilometers south of the charming port city of Agios Nikolaos. It faces east, on the famous Mirabello Bay and near the small village of Vathi, from which it takes its name. Maps sometimes list the beach as Daios Cove. (There is another beach also called Vathi on the south coast of Crete, difficult to reach by car. For a fantastic remote south coast beach experience, try Listis beach).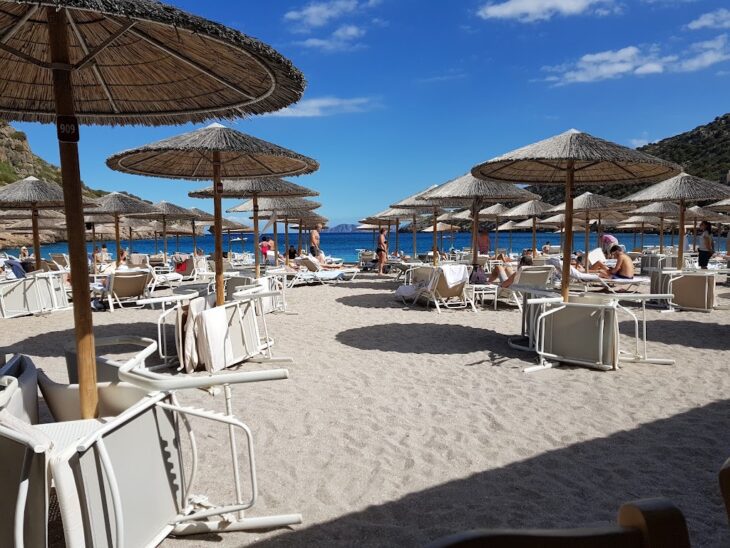 How to Get to Vathi Beach
Vathi Beach is extremely easy to get to by car. Moreover, the drive is absolutely gorgeous. If you are arriving at the Nikos Kazantzakis International airport of Heraklion, you'll find a car rental office directly at Heraklion airport. The airport has easy access to the national road that runs along the northern coast of Crete, and the drive takes an hour.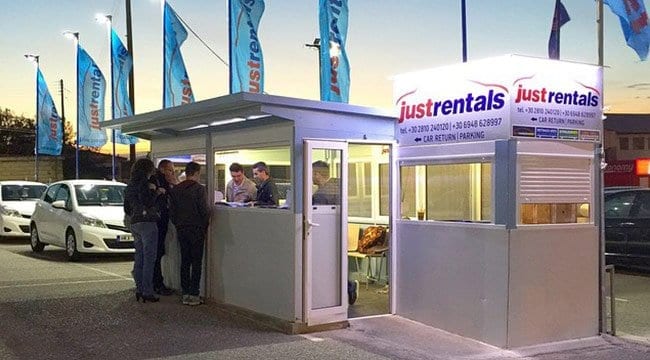 If you are arriving at the port of Heraklion, a car can be waiting for you as soon as you disembark. Either way, you can be at Vathi beach shortly after you arrive.
If you would prefer to take public transportation, there is a KTEL public bus service in Heraklion, and there are frequent departures throughout the day for Agios Nikolaos. From here, there will be more options for destinations along the north coast to the east. Schedules can be found here.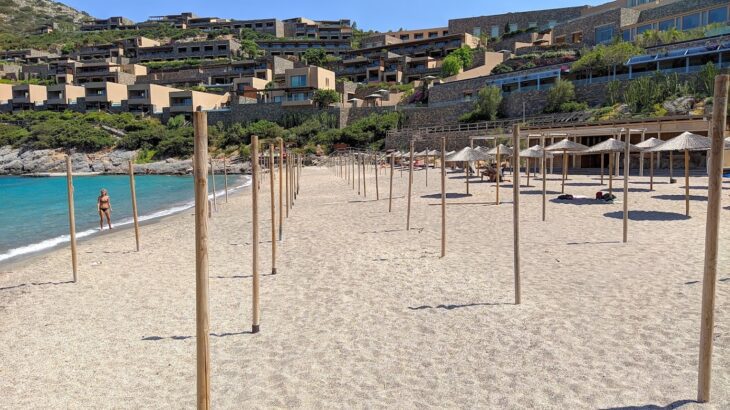 The History of Vathi Beach
The history of Vathi Beach is a short but interesting one. This gorgeous bay was always here, but it was a rocky one, and not suitable for swimming. The bay was transformed into a gorgeous beach in conjunction with the construction of the Daios Cove hotel. Developers filled the area with lovely coarse white sand. The effect that the white sand has on the intensity of the color of the waters is simply stunning.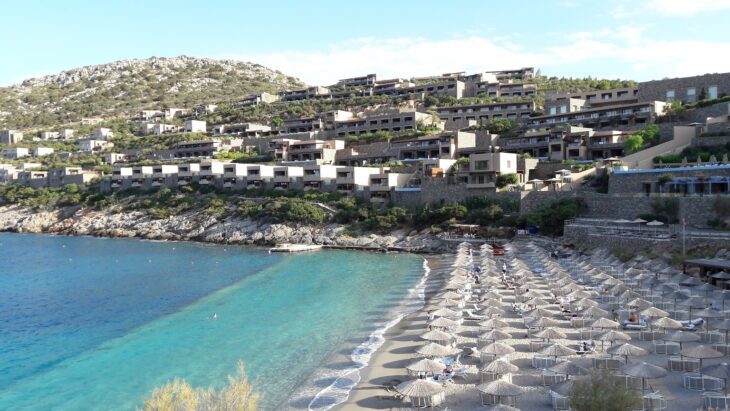 What to See and Do by Vathi Beach
The region of Mirabello bay is an absolutely fantastic destination whatever your interests may be. Within an easy distance of Vathi beach, you'll find wonderful historic and cultural sights, charming authentic villages, stunning hiking paths, and fun day trips by car and by boat.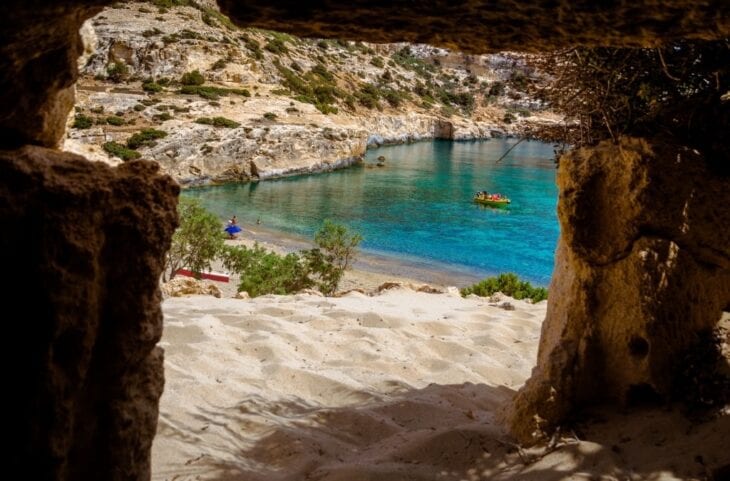 Beaches near Vathi Beach
If you have come to Crete primarily with a beach holiday in mind, then you are in the ideal place. Dreamy Mirabello Bay is home to some of the loveliest beaches of Crete. Much of the coast of the bay faces east, sheltering the beaches from high winds.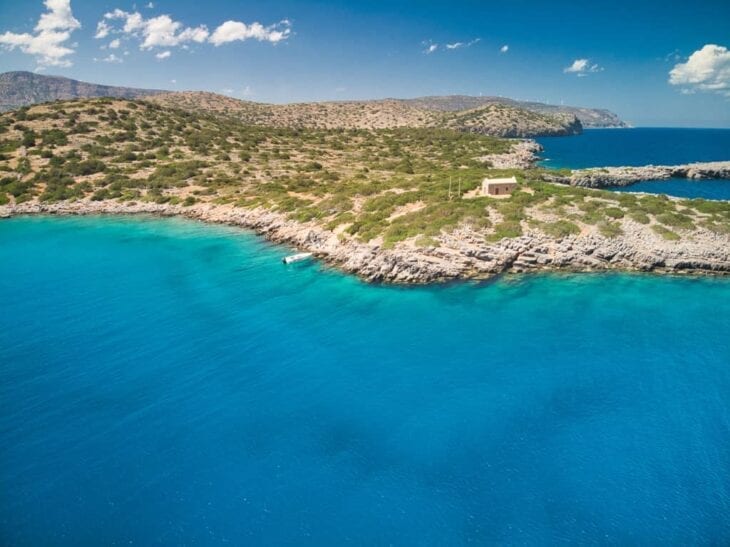 Here are a few of the other great beaches nearby, as well as a fantastic day trip beach destination:
Ammoudara – This smaller beach that is closer to Agios Nikolaos and north of Vathi Beach is often crowded and lively, and has good water sports facilities.
Istron – A very short drive south of Vathi Beach is the famous beach Istron, which actually is two beaches, both famously lush and lovely. There is one sandy beach with sun loungers and umbrellas for those seeking some full-service comfort, and there is another pebble beach that is often more quiet for those seeking solitude.

Pachia Ammos – another 15 minute drive brings you to Pachia Ammos – which means thick sand. This lovely sandy beach is in a protected bay and has a charming fishing harbor.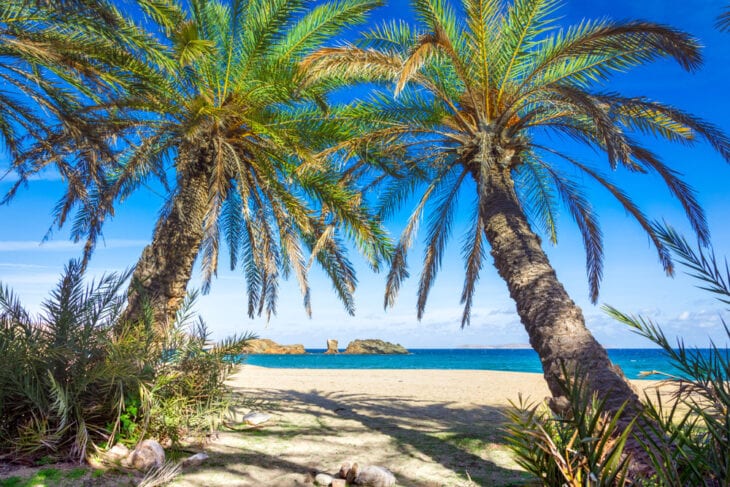 Vai beach – If you keep driving on the main road that brought you to Istron and Pachia Ammos for a little over an hour, you will be well rewarded. Vai, on the northeastern tip of Crete, is simply spectacular. This is not only a superb beach destination but also a natural wonder, featuring the largest date palm forest of Europe, a unique and amazing experience of nature.
Activities Around Vathi Beach
Besides the fantastic beaches, there are wonderful things to do in eastern Crete's Lasithi region. Nature lovers will be delighted with the Sitia UNESCO Global Geopark. Covering 500 square kilometers, this amazing preserve contains several unique ecosystems and a great variety of terrain. There are over 170 caves, gorges, waterfalls, and meadows to explore. This is a haven for serious cavers and for hikers – there are hikes of varying skill levels.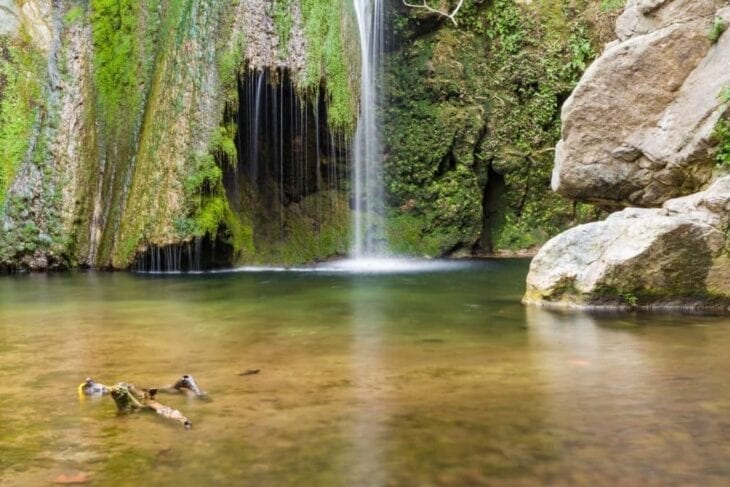 The south coast of Crete is a stunning destination. The coastline of the Libyan sea is dramatic and beautiful. Also, this is a much less traveled region of Crete, giving your explorations an added sense of adventure. It's particularly easy to reach, as the island is at its narrowest point by Vathi beach.
The town of Ierapetra is only a short drive away, just a half an hour, through scenic countryside.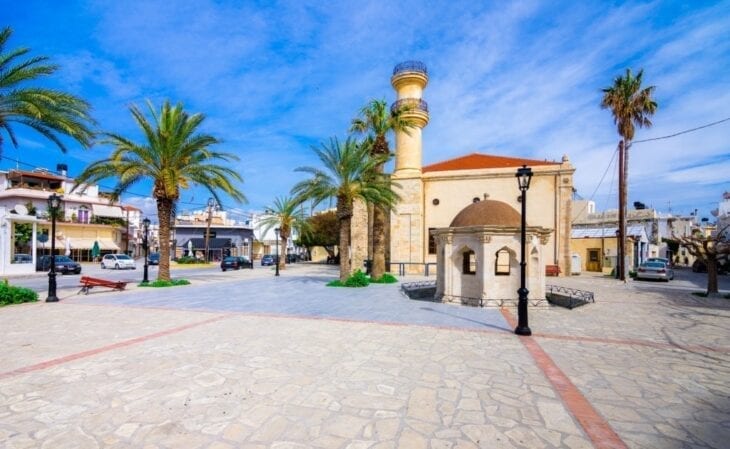 Ierapetra makes a fantastic destination. This section of the coast is full of blue flag beaches like Makrigialos, Agia Fotia, and Koutsounari. Ierapetra itself is a charming town to visit. Stroll by the Kales fortress, built by the Venetians, and enjoy the charm of the old town, where you'll see an Ottoman fountain and mosque, as well as the churches of Agios Ioannis and Agios Giorgos, and the house of Napoleon – yes, that Napoleon; he stayed here briefly 1798, while conducting a campaign against the Mamluks of Egypt to protect French trade routes. And, if you want a classic Greek taverna meal complete with really good homestyle moussaka, try the taverna that bears his name – it's a local favorite.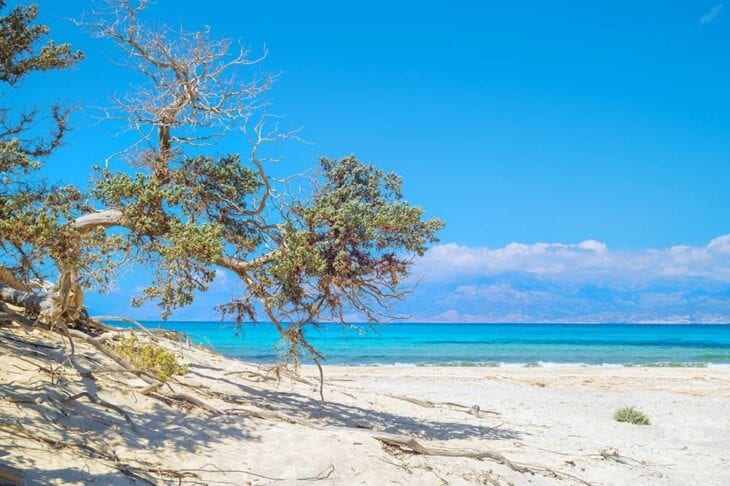 But perhaps the best reason of all to head down to Ierapetra is offshore. From here, you can catch a boat to the glorious uninhabited paradise of Chrissi island, a tiny haven of rare Lebanese Cypress trees and silky white sands. This is a wonderful place to swim, with some of the prettiest waters of Crete.
Cultural Excursions Around Vathi Beach
This area of eastern Crete is very rich in history and culture. Whatever your interests, you will find plenty to see in Lasithi.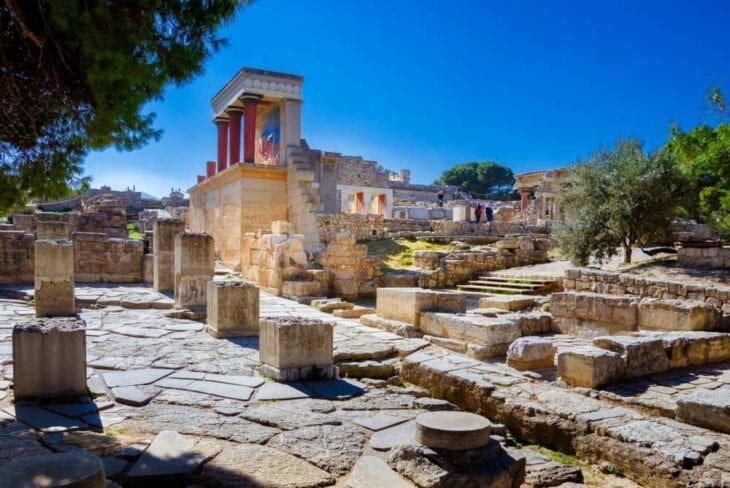 Dating back to the Bronze Age, Crete's advanced and sophisticated Minoan civilization fascinates us still. One of four great palaces on the island (along with the main palace of Knossos, Phaistos, and Malia) is the palace of Zakros, in the gorge of the dead. This magnificent location, despite its foreboding name, radiates a positive energy. Hikers and historians equally will love exploring this unique archaeological site, and hiking through the gorge, where the Minoans laid their dead to rest in the caves high along the gorge's walls.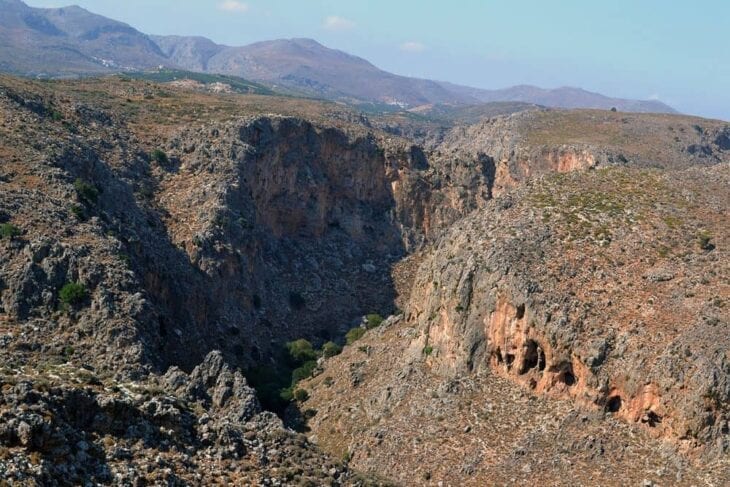 The island of Spinalonga, in Mirabello Bay, is another fascinating destination. First of all, one can see the ruins of ancient Olus on the floor of the sea near Spinalonga island. Spinalonga was first fortified to protect ancient Olous. Because of raids of pirates, this lovely area was eventually abandoned. But then, in the 15th century, the Venetians revived it, first building great salt pans.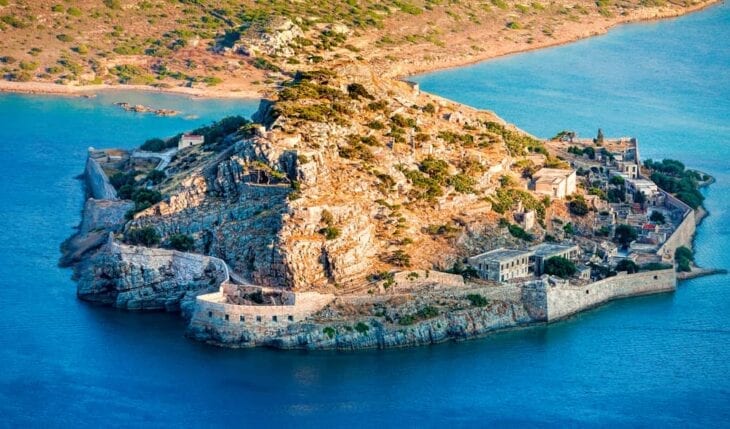 They fortified Spinalonga island in great style, and it's now one of the most important and impressive fortresses in the whole of the Mediterranean basin. Spinalonga is also important in more recent history – this was a leper colony in the earlier part of the 20th century, and its poignant history is explored in a museum on the island, among the ruins.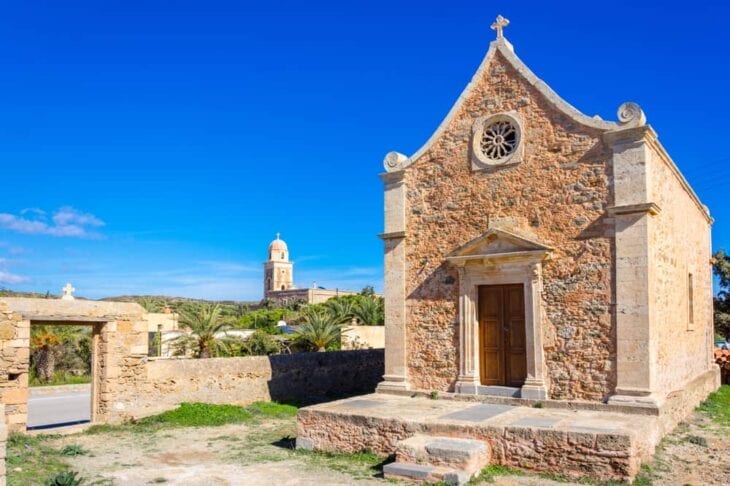 Oenophiles and gastronomes as well as those interested in sites of religious and cultural interest will enjoy a visit to the Toplou monastery. Close to the palm forest of Vai, this 15th century monastery has a wonderful collection of fine Byzantine icons. You can conclude your visit with a wine tasting – the monks are skilled vintners of organic wines and special indigenous Cretan grapes, like the liatiko. This is the perfect place to try the pure and bold spirit of Crete – tsikoudia – and pick up some delicious indigenous products, such as honey and extra virgin olive oil.
Enjoying a Visit to Vathi Beach
Vathi Beach is a fantastic base for exploring this wonderful region of Crete by car. Whether you just want a relaxing beach holiday, a cultural and historic exploration, or a challenging and action-packed holiday of watersports and hikes, you'll find plenty to do around Vathi beach.