Kritsa, situated amphitheatrical on a rock cliff, is one of Crete's top gorgeous villages. The people of Kritsa uphold historic Cretan customs and traditions. Kritsa is considered one of the most important centres of Cretan folk and weaving art. If you plan to visit Kritsa, here are some essential things you should know.
The famous Byzantine Church of Panagia Kera
One of the highlights you can expect to see in Kritsa is the Panagia Kera Church. Thousands of tourists visit the church every year to take in its religious and historical significance. The church is located in Logari, which is just one kilometre east of Kritsa village, and is one of the most popular Byzantine monuments in Crete (13th-14th A.D.). The Virgin Mary's Assumption, Saint Anthony, and Saint Anna are all honoured in this triple-nave Byzantine church.
The church features antique wall paintings and relics. Each aisle features paintings from various periods depicting different religious themes. The oldest paintings, which exhibit a variety of styles, are found in the center aisle, which is devoted to the Assumption of the Virgin. The addition of the other two aisles was added later on.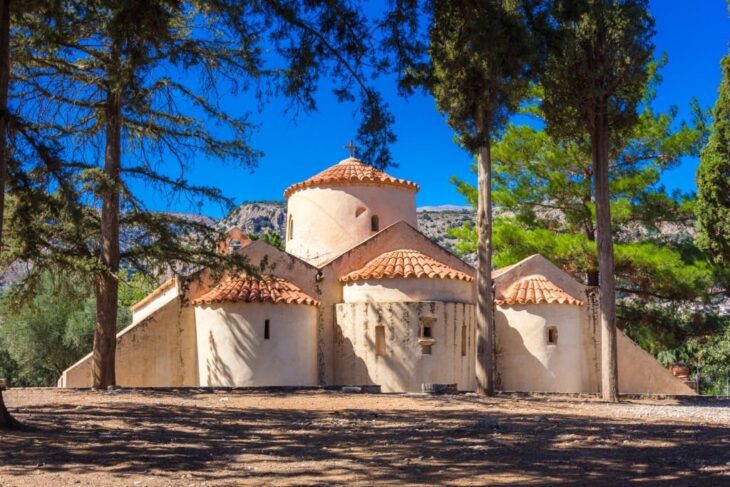 The paintings on the south aisle are the best maintained. In contrast to the more stylized paintings of the time, these paintings portray the narrative of Anna, the Virgin Mary's mother, with sensitivity and empathy. The north aisle is dedicated to St. Anthony and depicts the Second Coming of Christ.
Where Is Kritsa Located?
Kritsa lies 11 kilometres inland from the large town of Agios Nikolaos, in east Crete. It is nestled on top of a plateau in the foothills of Lassithi's mountains which are characterised by rich vegetation and wildflowers.
How to Get to Kritsa?
By Car
Among the best ways to get to Kritsa is by renting a car. Renting a car allows you to travel at your own pace without being stuck to a bus schedule. When going by car, you can visit many great places of interest in the area as well, making your trip much more than just a visit to Kritsa. In addition, rental cars are often cheaper than travelling by bus or taxi since you won't have to constantly pay for public transport.
If you're planning to visit Kritsa, car rentals are available in Agios Nikolaos too. Once you get your rental car, just follow Epar. Od. Agiou Nikolaou-Prinas.
By Taxi
If renting a car isn't possible or if you don't plan to travel around, getting a taxi ride can be a good choice. Taxi services are available throughout the center of Agios Nikolaos, and you can schedule a trip whenever it suits your needs. The average cost of a taxi ride to the village of Kritsa is 9-10 Euros while the trip will take you around 11 minutes, depending on traffic.
By Bus
Another option available if you are planning to visit Kritsa or the surrounding area, is the bus. There are buses that lead directly to the village of Kritsa from Agios Nikolaos. Therefore, finding a ride shouldn't be a problem. However, take note that delays due to stopovers may occur, so if you're in a hurry, it might be best to opt for the mentioned alternatives above. To get to Kritsa by bus, head to Agios Nikolaos Central Bus Station. You may purchase a ticket at the ticket booth before boarding your respective bus. The cost of a ticket going to Kritsa is around 2-3 Euros while the travel time could be about 15-20 minutes, depending on the traffic and stops.
Things to Do in Kritsa
Although Kritsa is a small village, there are numerous things to do there. Whether you're travelling with family, friends, or your significant other, you won't run out of things to do in Kritsa:
Enjoy the Mountain Views
The views this mountain village has to offer are beyond amazing. With an old village kept in its original state, Kritsa has managed to retain its charm throughout the years. Just wander around, and you'll be able to see for yourself why many visitors fall in love with this Cretan beauty. Rock formations, stone-built houses, pretty little alleys, traditional churches, and stunning vistas are just some of the things that await you.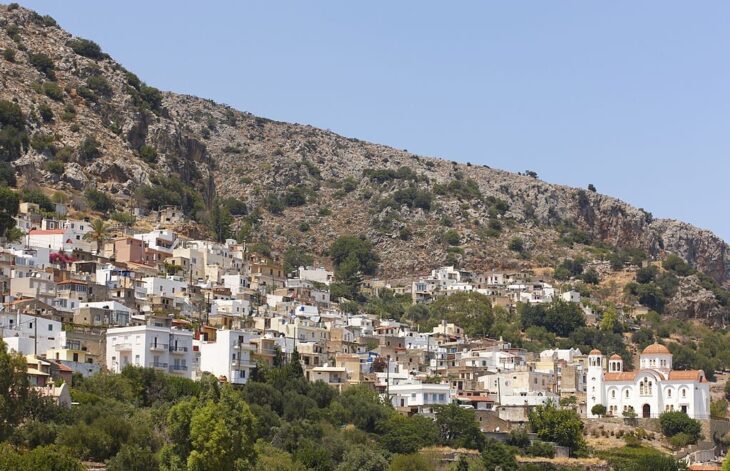 Shop for traditional handicrafts
You'll be surprised to know that the village of Kritsa has several little shops around. One shop you may check out is Nostiman, offering Crete delicacies and traditional products. If you're looking for souvenirs, there are also plenty of shops that sell traditional handicrafts and weaving art, like the Jenny's Shop. You can enjoy getting lost in the small alleys of the village, where you'll find charming stores that sell beautiful mementos.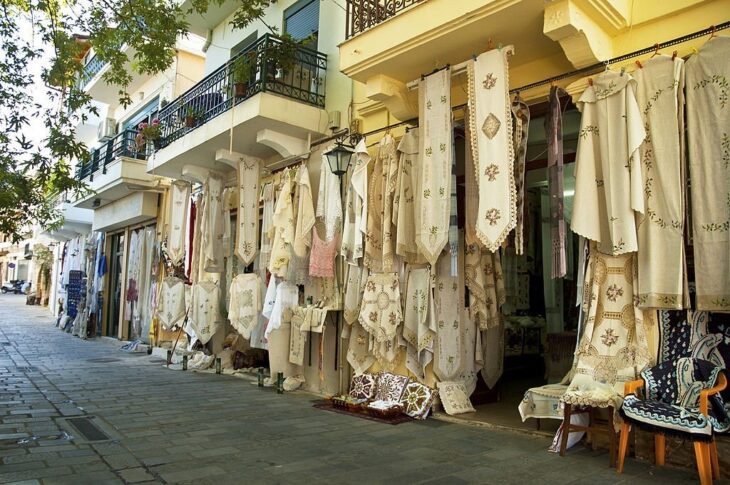 Visit Rodanthi Museum
For wildlife enthusiasts, Rodanthi Museum is a small gem and a must-visit in Kritsa. Giorgos, the heart of the museum, has amassed a remarkable collection of dried plant specimens, as well as plant and animal fossils, which are on exhibit. You'll even be able to learn about the traditional way of life in Kritsa and see artefacts from certain eras.
Hike the Kritsa Gorge
If you're feeling adventurous, make your way down to the Kritsa Gorge and explore. This gorge is located a few kilometres away from the village, and it's worth a visit. The narrowest part of the gorge is only 90 centimetres wide. In addition, both sides have towering cliffs, allowing you to take some fantastic photos. The gorge of Kritsa runs in a circle, so you'll return to where you started.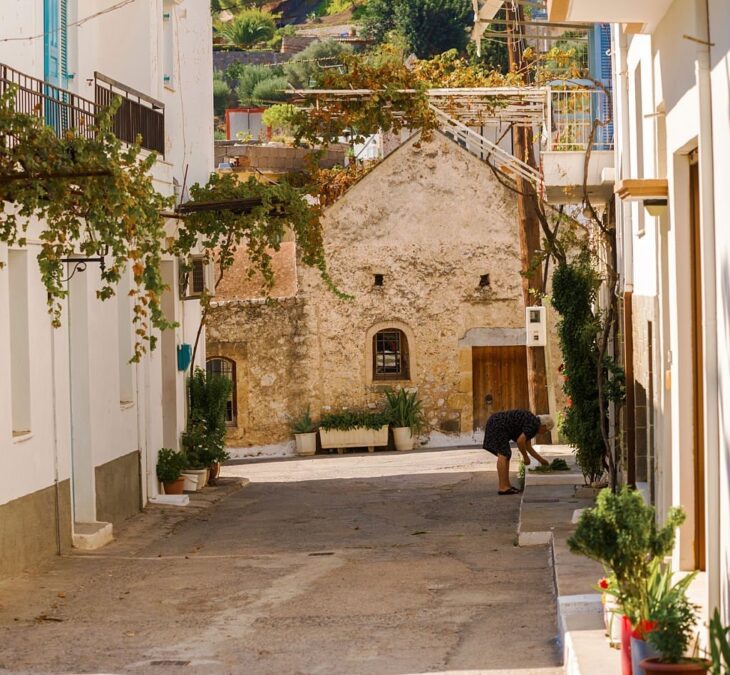 Other things to do near Kritsa
Although Kritsa itself is already a beauty that's worth exploring, there are also other attractions in the area that are worth checking out. If you're looking for a place to spend a day by, check these places out:
Visit Lake Voulismeni
Located in Agios Nikolaos, not too far from Kritsa, is the picturesque Lake Voulismeni. This sweetwater lake is the town's main attraction, and it's worth a visit. Take a walk around the lake, enjoy a meal by the waterfront, or just relax and take in the view.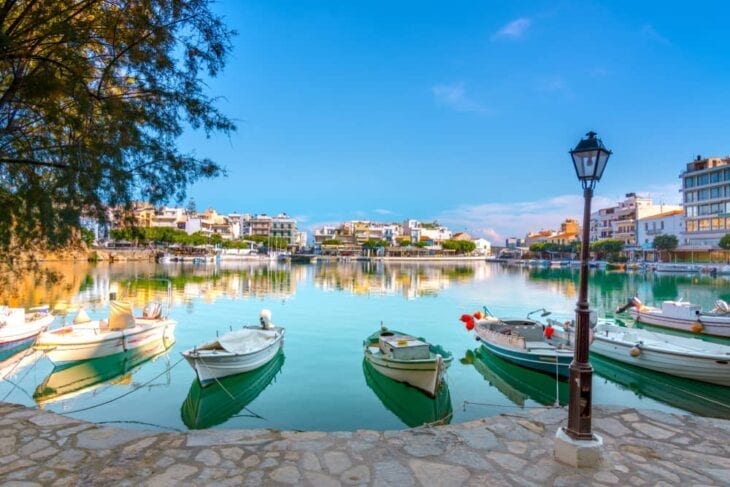 Visit The Archaeological Museum of Agios Nikolaos
If you're a lover of history, you'll want to visit the Archaeological Museum of Agios Nikolaos. It has a comprehensive collection of exhibits that depict the life and culture of the Minoan civilization, which once flourished in the area. You'll also find exhibits from other ancient civilizations that have inhabited Crete.
Discover Monasteries and Churches nearby
In Agios Nikolaos, you can visit 7 monasteries and 28 historical churches. The majority of them are available to the public and house remarkable icons and frescoes.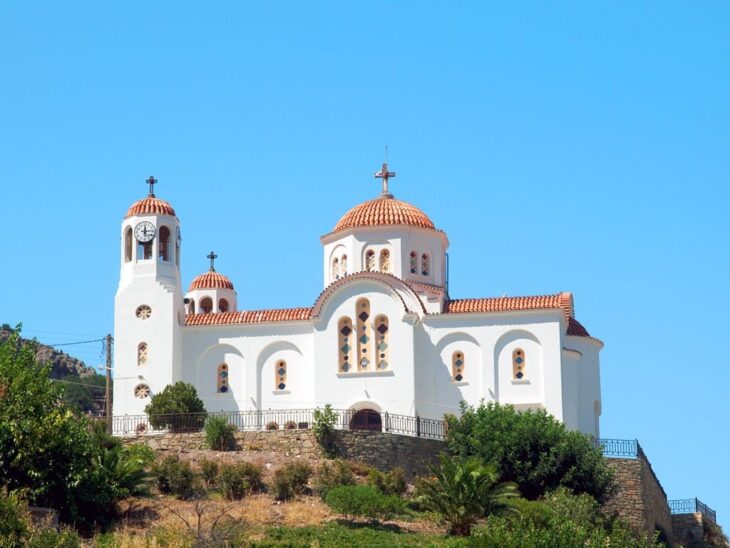 Where to Stay In Kritsa Village
Whether you're looking for something affordable or something a little more luxurious, Kritsa has several options for you to choose from. Here are some of the best places to stay in Kritsa village:
Villa Dio Petres
A place that offers both accommodation and philosophy, Villa Dio Petres (translates as "Two Rocks" in Greek) provides you a unique opportunity to enjoy the best of both worlds. Nestled in the picturesque village of Kritsa, surrounded by lush vegetation, and stunning mountain views, the Villa combines traditional Cretan hospitality with a modern, innovative approach to learning. Villa Dio Petres offers a range of courses in philosophy, history, art (Evdaimomia – Academy in Crete), and culture, all taught by experienced professionals in an intimate and welcoming setting. Plus, their offered apartments and studios provide the perfect place to relax after a long day of learning. If you're looking for an unforgettable experience in one of the most beautiful places in Kritsa, look no further than the Villa Dio Petres!
Address: 72100 Kroustas, Lasithi, Greece
Website: https://www.villadiopetres.com/en/
Contact: +30 2841051877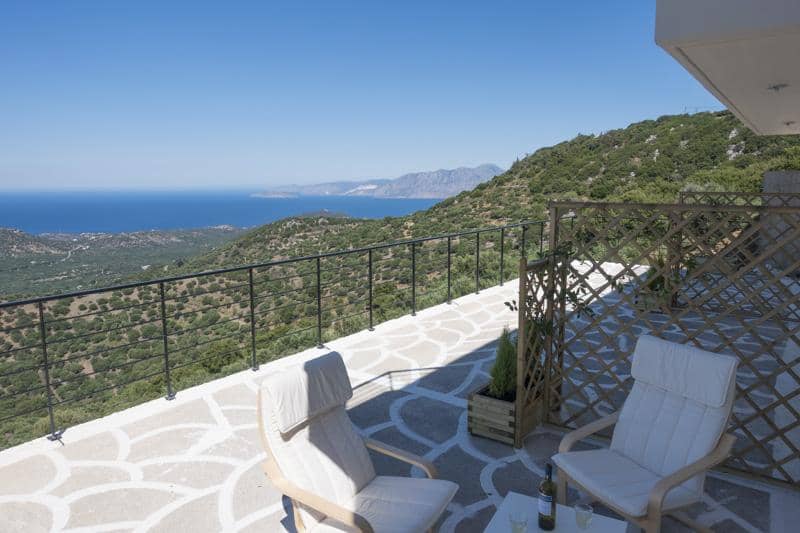 Argyro Rooms
In the historic village of Kritsa, Argyro Rooms is a modest family-run hotel that's popular with visitors. It blends harmony, calm, and quality in a carefully designed home-like ambiance with friendly and polite hospitality. In the area, there is a small restaurant serving outstanding Cretan cuisine prepared by home cooks.
Address: Kritsa 720 51, Greece
Website: https://www.argyrorooms.com/
Contact: +30 2841 051174
Tsiboulas Cretan Cottage
Tsiboulas Cretan Cottage is an accommodation in Kritsa that offers free WiFi and mountain views. Ierápetra is 30 kilometres away from the air-conditioned lodging, so visiting the city won't be a problem. This apartment comes with one bedroom, a living room with a flat-screen TV, a fully furnished kitchen with a dining area. Plus, their bathroom comes with a bidet and a washing machine.
Address: Kritsa 720 51, Greece
Website: https://www.airbnb.com/rooms/32153333
Alonaki House
Alonaki House in Kritsá has a garden and a patio, as well as free WiFi and views of the landscape. This vacation rental has two bedrooms, a kitchen equipped with a microwave and a refrigerator, a flat-screen TV, a living area, and two bathrooms with a bath or shower.
Address: Kritsa 720 51, Greece
Website: https://alonaki-house-kritsa-gr.booked.net/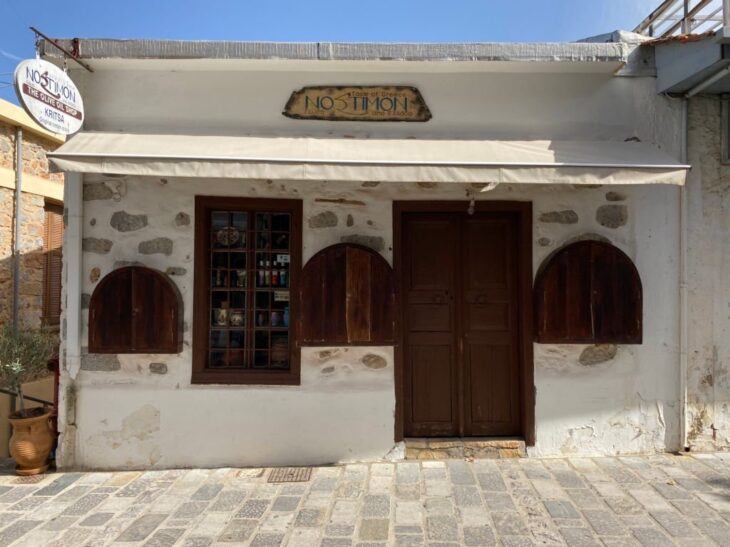 Where to Eat in Kritsa
If you're feeling a bit hungry after exploring the village of Kritsa, eating at one of these mentioned restaurants will satisfy your cravings.
Kastellos
A little oasis right in the heart of Kritsa, this family restaurant serves homemade dishes with a creative flair, using only the best local ingredients. You'll find all your favourite Cretan dishes here, made with love and care. Plus, their coffee and desserts are a must-try.
Address: Main Square, Kritsa, Crete 72051 Greece
Contact: +30 2841 051254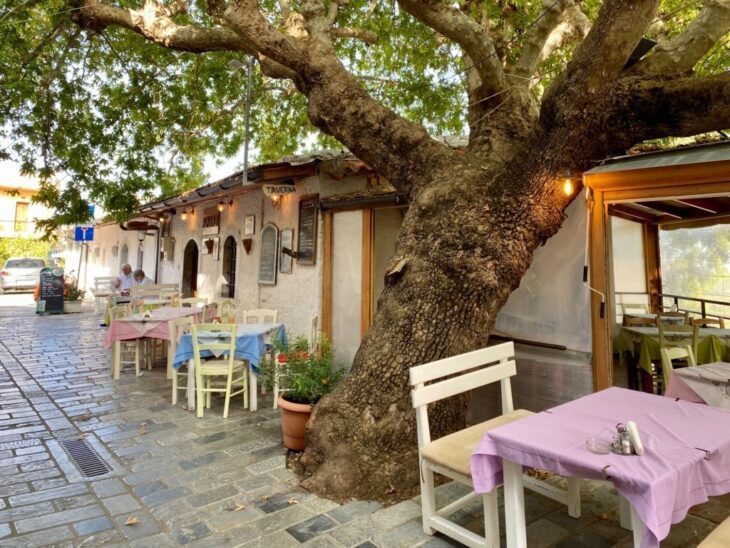 Taverna Aristidis
Breakfast in Taverna Aristidis is a real treat. Start your day with some delicious authentic Greek food made with fresh ingredients. They have a wide variety of dishes to choose from, such as dolmadakia, salads, souvlaki, and more.
Address: Central Place, Kritsa, Crete 721 00 Greece
Website: https://www.facebook.com/RestaurantAristidisEstiatorioAristeides/
Contact: +30 2841 051967
Paradeisos Taverna
From Calamari to Moussaka, from Saganaki to Pastitsio, Paradeisos Taverna has all your favourite Greek dishes. They also have a great beverage list and a lovely outdoor seating area. It is a classic favourite of both locals and tourists alike, so be sure to give it a try.
Address: Kritsa, Crete 721 00 Greece
Website: http://tavernaparadisos.blogspot.com/
Contact: +30 2841 051635
Best Time to Visit Kritsa
You can visit Kritsa any time of year, but the best time to go is during spring (March, April, and May) or autumn (October and November) when the weather is mild. The village comes alive with music and festivities during the summer months (June to September), so if you're looking for a more lively experience, that's the time to go.