The island of Crete is Greece's largest and its capital city, Heraklion, demands your attention. Inhabited for over 130,000 years, Crete was at the center of the birth of Western civilization.
In modern times, the island and its citizens have only been part of the Greek state for just over 100 years, yet its complex history and rich culture are the reason so many tourists make their way to this great place every year.
Most travellers will arrive at Heraklion airport and, for ultimate flexibility, rent a car to get around the island. By far the best way to get to major destinations outside the city and along its periphery, renting a car in Heraklion is a great idea for the preferable rates (close to the airport) and plentiful municipal parking options.
Heraklion's history and culture is more than just minotaurs and raki! To discover the city in the most appropriate fashion, you'll need to stay there in style. As such, we put together a list of the five best hotels in Heraklion for travelers to stay in. Whether you are a fan of luxury or are operating on a tight budget, there is something in here for everyone.
Where to stay in Heraklion
Infinity City Boutique Hotel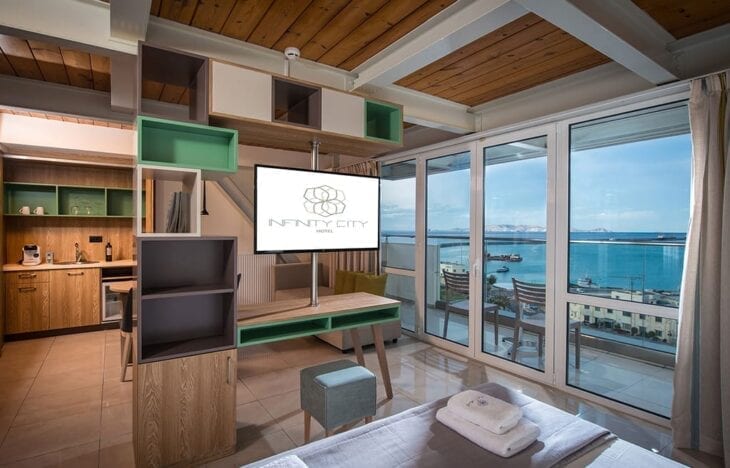 Infinity City Boutique Hotel is small, unfussy, and family run. There are 29 rooms in the small building, all of which are kept in immaculate condition.
Every room makes perfect use of space and has exactly what you will need to make your stay a pleasant one. The decor is modern with exposed steel beams supporting the wood paneled ceiling. The beds are slightly softer than firm and the pillows are plush and spot the Infinity City logo.
You'll find a mini bar, coffee maker, and safe in each room. Sea view rooms are available with a great vantage point from which to watch the ships pull into the port. For travelers on a budget, the economy single room is sparse and more dorm-room like, yet still provides access to all the necessary amenities.
Plus, you can't go wrong with an American breakfast in the hotel lobby!
Link to their site: https://infinitycityhotel.gr/en/home/
Capsis Astoria Heraklion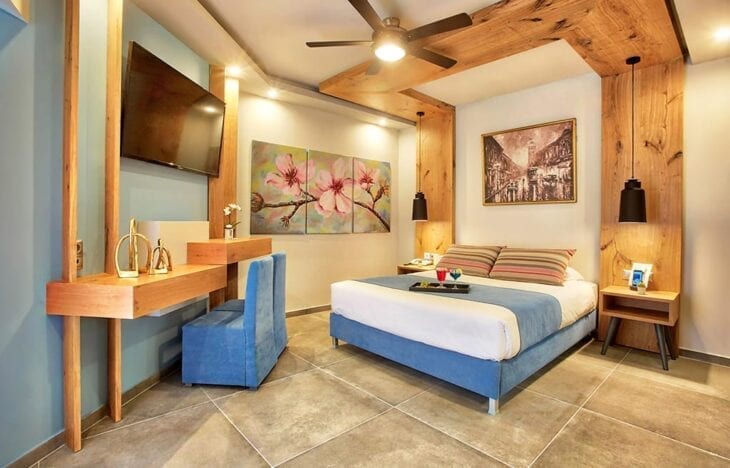 Only two minutes from the Heraklion Archaeological Museum stands the impressive four-star Capsis Astoria Heraklion. The hotel is centrally located on a bustling Heraklion street with plenty of side-street and municipal parking if you plan to rent a car for your trip.
Cafes and shops are steps away, with entertainment in the form of a convenient movie and play theatre on the ground floor.
Far larger than many of the city's boutique hotels, the 131 contemporary guest rooms on premises are packed with comforting details. Light sleepers can rest assured that the windows are completely soundproof, so no ambient noise from the busy street outside will make its way into your room.
Whether your windows face the sea or the city, the views of the Cretan sunset are stunning. However, they are better still from the roof-top pool. Open every summer, the pool boasts of a large deck with loungers, a bar serving appetizers and drinks, and most importantly, a 360 degree view of Heraklion.
Link to their site: https://capsishotels.gr/astoria/en/
GDM Megaron – Historical Monument Hotel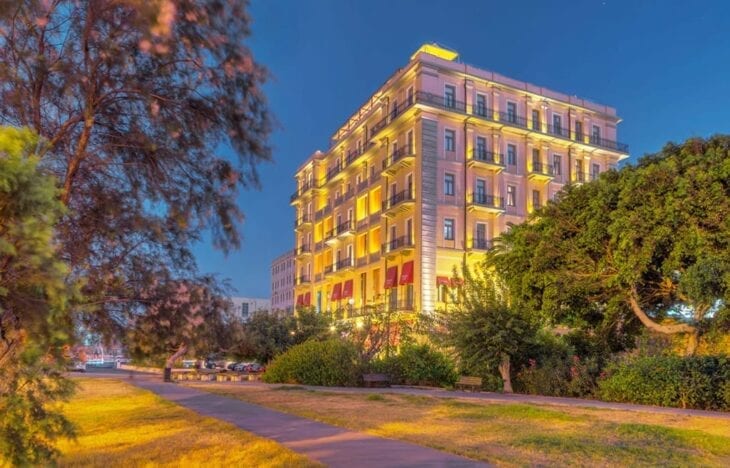 The historical monument hotel, GDM Megaron, claims to be Heraklion's sole luxury historic hotel and we believe them. Built in the 1920s, but only recently converted into a hotel, this 58-room five-star accommodation is just what you need for a comfortable stay in Heraklion.
The guest rooms are tastefully decorated with off-white walls, blue fabric accents, and light-colored wood furniture. Luxury pillows and mattresses adorn the bed for a comfortable sleep after a long day of exploring Crete's largest city.
The hotel has two types of rooms: city view and sea view. While both are delightful, the sea views from a junior suite are a preferred choice. Rooms come complete with flat screen tv, bathtub with jacuzzi, and all the extras you expect like mini fridge and appliances.
The hotel's attention to detail is pristine, with Korres bath amenities that smell of fresh citrus refreshing even the drowsiest or stressed guest.
Link to their site: https://www.gdmmegaron.com/
DOM Boutique Hotel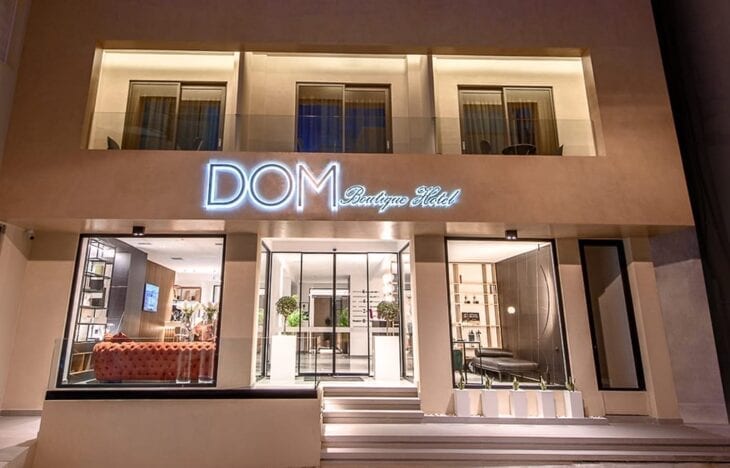 In the running for the most chic hotel on the island of Crete, DOM Boutique Hotel is an oasis in the city. The operators of the DOM Boutique Hotel clearly care for the details, all of which is evident in the vision of interior designer Valia Lemonaki's selected artworks and aesthetics.
Each guest room, from the lowest category to the top suite, sports smart technology, a nespresso machine, and modern bathrooms made with Carrara marble. The beds, wrapped in high-quality linens, are wonderfully comfy.
One of the highlights of the hotel is the hotel lobby breakfast area. Served buffet-style, the small restaurant is a delight and has exceptional coffee to get your day started. Parking for your rental car can be found on the side streets near the hotel.
Link to their site: https://domhotel.gr
Metropole Urban Hotel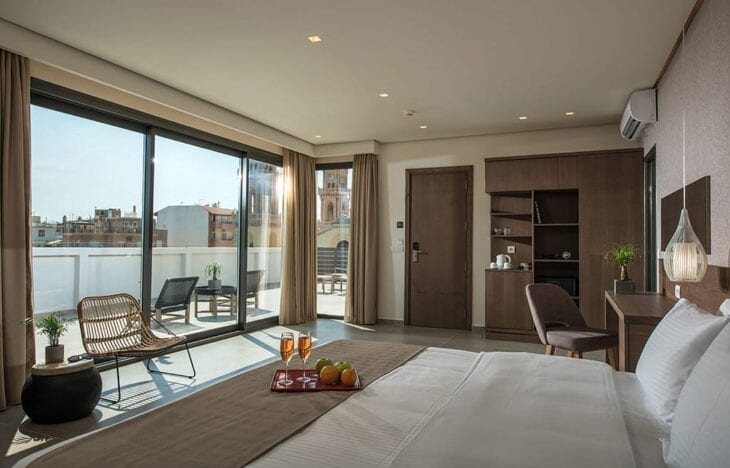 Near the periphery of the main city drag, the Metropole Urban Hotel is nestled between cafes and boutique clothing stores. This 4-star hotel quite possibly has the best city views in Heraklion with Saint Catherine's Square and Agios Minas Cathedral clearly in view from most windows.
Metropole Urban Hotel is fresh and caters to the discerning travel. The guest rooms look like they are directly out of a Crate and Barrel catalogue; modern, minimalist decor, with luxury textiles and cool sheets on hot summer days. Don't worry, the air-conditioning is strong and the temperature is easily adjusted.
Mornings are time for the most important meal of the day, and the Metropole does it perfectly. Guests can enjoy fresh fruit, pastries, kalitsounia, and omelettes galore.
Link to their site: https://metropolehotel.gr/
Take in the sights outside of Heraklion
We hope you enjoy your time in Heraklion. There is much to do beyond the confines of your guest room; from delicious cuisines to cultural institutions and civic spaces. However, remember that there is more to Crete than its capital city!
Be sure to take your rental car in Heraklion beyond the border to neighbouring Knossos for the largest Bronze Age archaeological site on Crete.
Better yet, take advantage of the island's beaches, scenic coasts, and campgrounds. Wherever you go, enjoy your time in Crete!