If you want to get a chance to dive into the history of Crete, along with seeing some of the most beautiful and well-preserved pieces of art from the island, then the Archaeological Museum of Heraklion is a site you don't want to miss. This is a place that brings to life the amazing variety of cultures that were involved with Crete throughout history, allowing you to take a glimpse of the Neolithic, Minoan, and even Roman eras.
Whether you love art, history, or are just curious about the past, visiting the Archaeological Museum of Heraklion is a must for anyone spending time in Crete.
Heraklion Archaeological Museum
The Archaeological Museum of Heraklion is one of the most significant museums in Europe. The building was designed by Patroklos Karantinos and built between 1935 and 1958 on the site of the Venetian monastery of Saint-Francis, which was wrecked in 1856 due to an earthquake.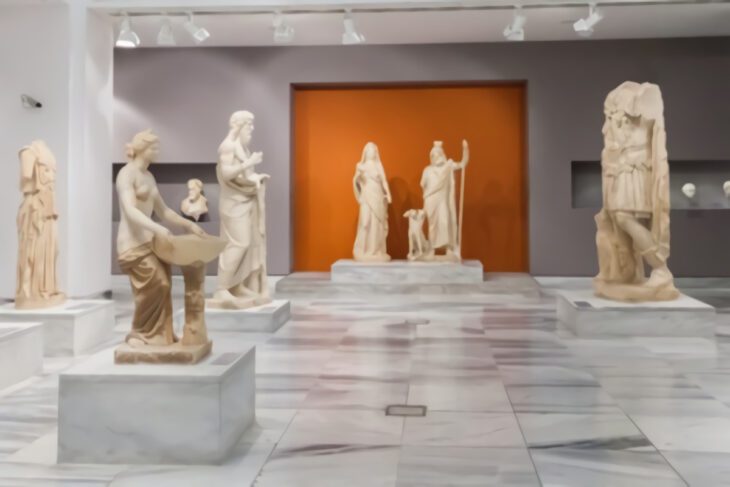 Location
It is located in the historical center of Heraklion, making it a popular attraction for the people of Crete and tourists alike. The structure itself has two floors and twenty-seven galleries, all of which cover over 5,500 years of Cretan history.
It's place in history
From the Neolithic period (7000 BC), all the way up to Roman time (200 AD), you can find prehistoric objects and Minoan artifacts that give you a unique look into these eras. Exhibits dedicated to trade, death, religion, and even settlements can also be seen, providing a well-rounded perspective of not only the diversity of Cretan art but also its people.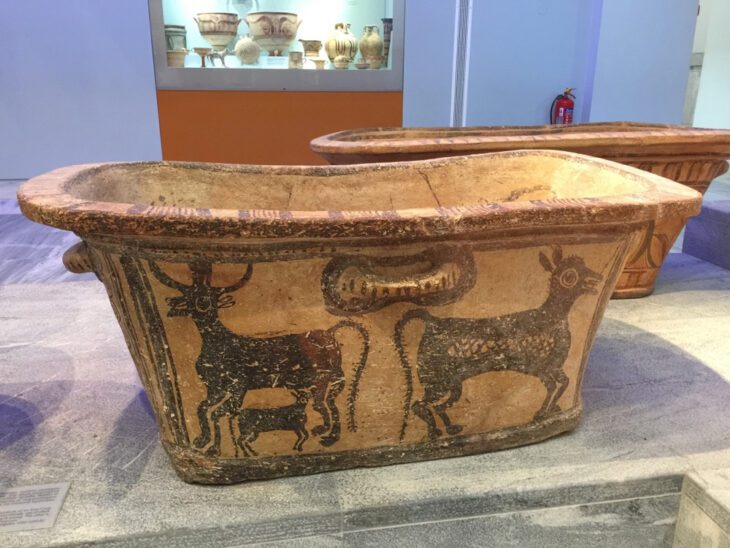 The museum has been renovated in recent years and provides a well-light interior space filled with stunning works of pottery, incredible jewelry, sculptures, seals and metal artifacts that are arranged in accordance with a coherent narrative that takes visitors through the many themes presented by these extraordinary collections.
Ground Floor Exhibition
The ground floor features an amazing collection of Minoan prevalence in the Aegean world. Here you can see various items that were used for everyday life, rituals, and even burials. There are ceramic jars and other pottery with exquisite detailing. They range in size from small vases to those massive pithoi (a type of storage jar for wine, olive oil, and grain)
In addition, labrys (double-headed axes), which are among the oldest signs of civilization in Greek, can also be seen on the ground floor. These items are associated with the Minoan mother goddess, who was worshiped all over the island. Knives, daggers, and swords are also displayed here.
Many believe these artifacts were used for hunting, but several researchers think they were actually utilized during sacrificial rituals and religious ceremonies.
Phaistos Disc
Another exhibit to check out on the ground floor is that of a clay disc from Phaistos. It has been dated to the second millennium BC and displays an incredible amount of detail. On its surface, there are various symbols that have not been deciphered by researchers, making it a well-known archaeology mystery.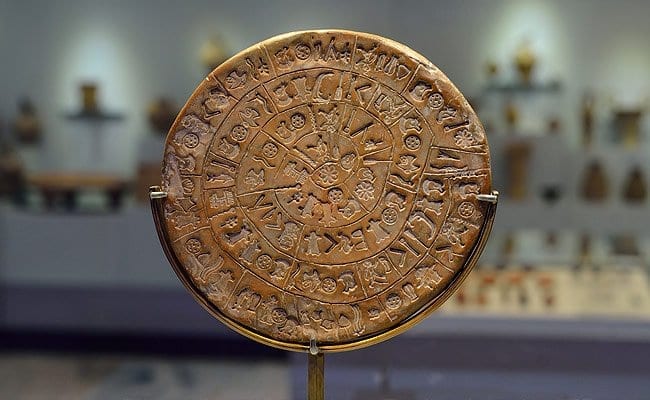 This object was found in 1908 by Luigi Pernier inside a building at Phaistos (a Minoan palace that is a few kilometers away from Heraklion) It was excavated for the first time at the beginning of the 20th century by Joseph Hadzidakis and Federico Halbherr, who were Italian archaeologists.
Few people have actually seen it as it has been locked away for many years due to the high levels of moisture present in this area of Crete. In recent times though, you can view this disc through glass panels so you may admire it without damaging the artifact itself.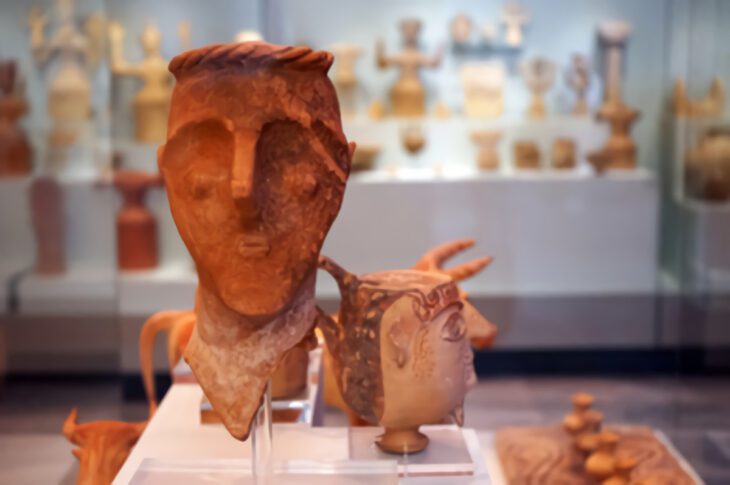 Minoan Jewelry
Another extraordinary element that is worth seeing are pieces of jewelry from the Minoan era. They include necklaces, pectorals, earrings, diadems, and more that display a significant amount of craftsmanship.
These jewelry pieces will make you appreciate the skill of these ancient artisans, which many believe were influenced by the Egyptians in the early stage of their development.
Necklaces are made from gold, bronze, silver, and semi-precious stones such as carnelian, jasper, amethyst, lapis lazuli, and turquoise. Intricate details have been carved into the jewelry, so they display a great deal of beauty.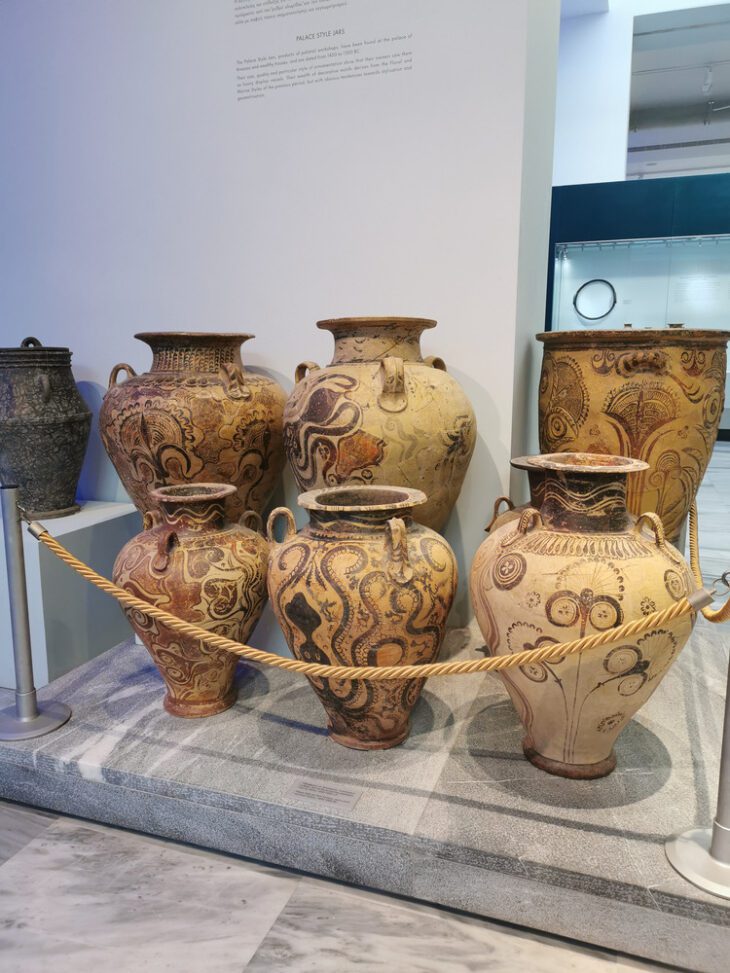 Kamares vessels can also be seen in this section. They were used for drinking and cooking and can be recognized by their distinct shape and vibrant color.
These vessels are considered the best works of pottery from Minoan times, and they even spread throughout the Eastern Mediterranean, where they influenced other cultures.
The Snake Goddess
Among the most notable exhibits at the museum is a figurine portraying a Minoan goddess. The Snake Goddess is shown with two snakes in her hands. Another unique element on the little sculpture is the knot between her breasts, which is considered by some to be a sign of holiness.
In addition, many believe that the snakes represented either wisdom, renewal of life, or fertility in Minoan culture. They were also considered to be protectors of the home.
1st Floor Exhibition
The first floor welcomes visitors with a wide range of Minoan mosaics and frescoes found in various archaeological sites in Crete. It's considered to be the 'Hall of the Frescoes,' which depicts Minoans' love for nature and vigorous colors.
The frescoes in the museum showcase the palace of Knossos, giving you a glimpse into the old days when people were still living in this magnificent structure.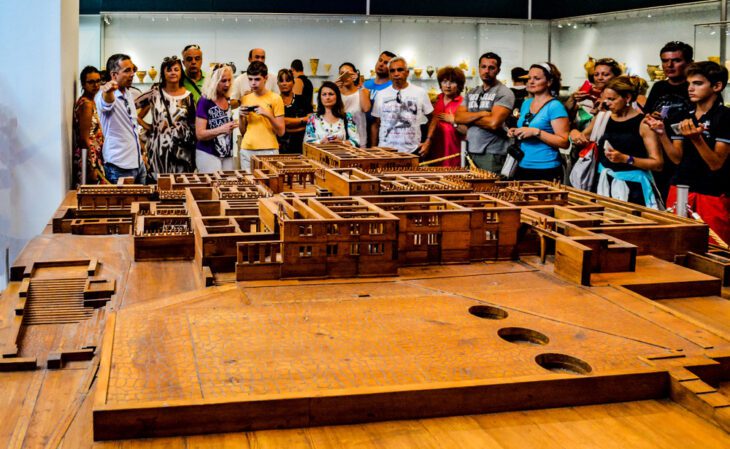 Additionally, the galleries on this level emphasize the city-state's growth from the Iron Age period to the Roman era, an important period in Crete's history. The Minoan civilization frequently overshadowed this historical moment, but you can now see for yourself how it impacted and shaped modern Crete.
Can you visit Heraklion Archaeological Museum with Kids?
In addition to being a paradise for adults, the Heraklion Archaeological Museum is also a fun place for kids. There are numerous exhibits that will fascinate them and spark their imagination. From the daily lives of the Minoans to their art and culture, kids will surely be immersed in the world of the ancient Cretans.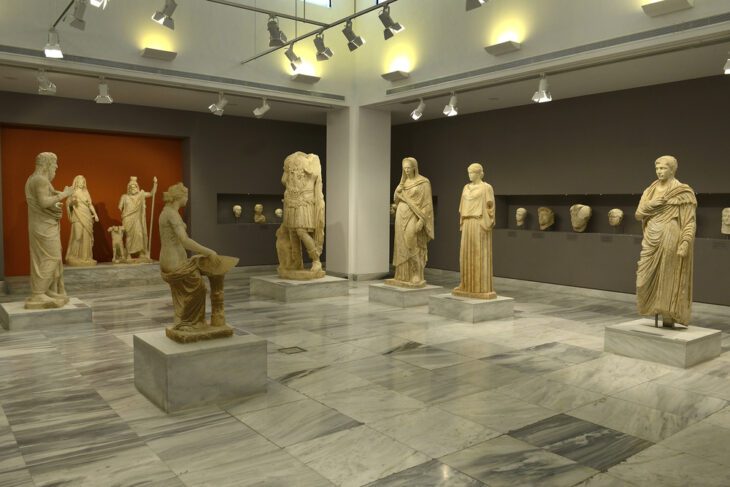 There is also an entertainment area where kids can play, rest and discover some astonishing symbols of the Minoan era. This place is located right before reaching the stairs, and it's ideal for your children to play and wait while you rest after a long tour.
Tickets
Full ticket is priced at €10 and reduced ticket is only €5.
Special ticket package
Full package is priced at €16. / The reduced package is €8.
The full package is valid for 3 days and already includes entry to the Heraklion Archaeological Museum and also the Palace of Knossos.
Address
📍 Stefanou Xanthoudidou & Chatzidaki 1, Iraklio 712 02, Greece
Phone
✆ +30 2810 279000
Email
Official website
http://odysseus.culture.gr/h/1/eh152.jsp?obj_id=3327
What other museums are there in Heraklion?
Other than the Archaeological Museum of Heraklion, there are also the Historical Museum of Crete, the Municipal Museum of the Battle of Crete and the National Resistance, the Rocca a Mare Fortress (Koules), the Lychnostatis Open-Air Museum, the Nikos Kazantzakis Museum, the Museum of Christian Art and the Museum of Ancient Greek Technology of Heraklion Kostas Kotsanas. Read more about the Heraklion Museums here.