One of the things we most enjoy on holiday – and especially a holiday on Crete – is cuisine. The food of a region tells a fascinating story. It incorporates the history of the people – and in the case of Crete these roots are ancient indeed. It also reflects the gifts of the land, the seasons, and the character of the people – their resourcefulness, their ingenuity, the way they celebrate everyday life. Most of all, food expresses culture. In Crete, this story is an unusually rich one.
With unusually fertile soil, seas teaming with seafoods and fish, hillsides covered with silvery olive trees, herbs growing wild, and rocky slopes covered with frolicking goats, Cretan foods are a true celebration of the landscape.
Key Takeaways
The Heraklion Central Market on 1866 Street is a great place to experience the culture and local products.
The Heraklion Fish Market is a separate entity within the Central Market, offering a wide variety of fresh seafood.
Food in Crete is a true celebration of the landscape, incorporating the history of the people and the gifts of the land.
Shopping for food in Crete is a sport, a favorite pastime, a social activity, and a cultural ritual.
Local specialty stores in Heraklion, such as bakeries, charcuterie shops, and cheesemongers, offer artisanal foods and unique local products.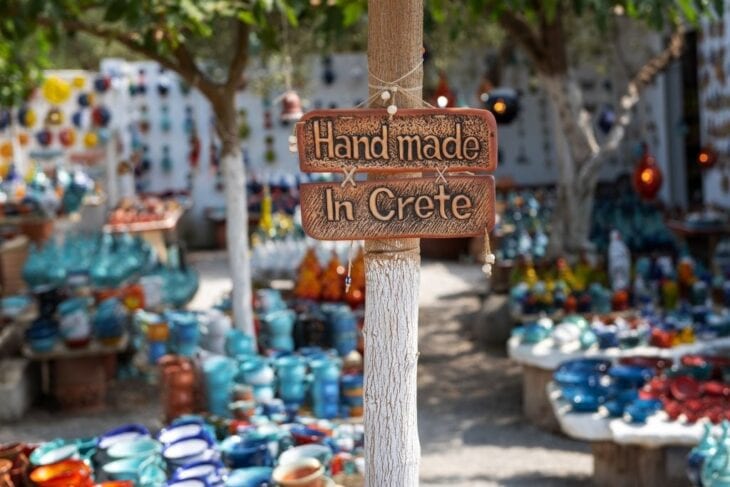 For many travelers, cuisine represents a way to truly connect with a culture. A local taverna is one way to get in touch with the taste of Crete. But a much better way is to go to the source – the local markets. Shopping for food is not a chore in Greece – it's really more like a sport, a favorite pass-time, a social activity, and a cultural ritual. In Crete, especially so.
Even in the main city of Heraklion, this kind of shopping thrives. City dwellers feel an even stronger need to connect with their landscape. Here are a few things we believe you should know about the Heraklion Markets.
Discover the Heraklion Markets
The Heraklion Central Market – 1866 Street in Heraklion
Every city in Greece has a central market – a (usually) covered market crowded with the stalls of individual vendors who specialize in specific products, such as only fruits and vegetables, only olives (so many varieties!), or only local cheeses. There you can also find shops selling souvenirs, cheap clothes and shoes, sandals, leathers, fruit and vegetables, herbs and spices, cheese and meat, along with small cafés and tavernas.
This is the "supermarket" of earlier times – it offers everything you need under one roof. But with a very personal touch – these are all individual family businesses, run with pride for generations.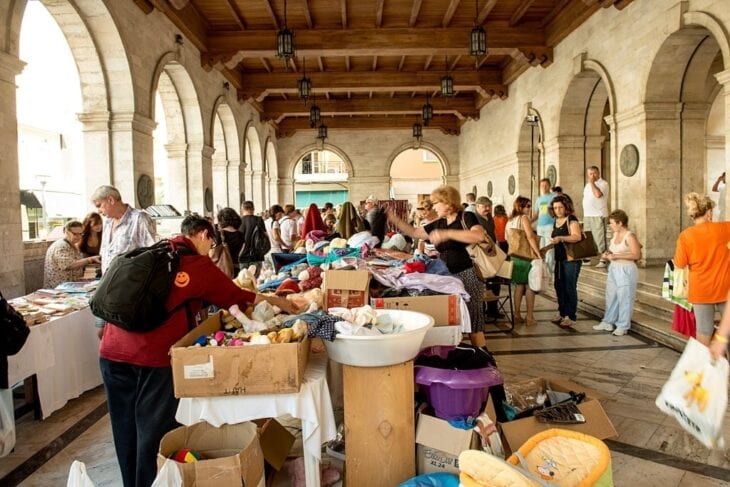 The Heraklion Central Market is a wonderful place to take in the colors and sounds of the city. In the heart of the downtown amongst many more modern stores and cafes is this piece of Heraklion of the past. The Heraklion Central Market is on 1866 Street, running from the Meidani to Kornarou Square. As the name it commemorates the year of a famous Cretan uprising – very close to the famous Lions' Square and the Morosini Fountain. To enjoy the market at its liveliest, join the locals in the morning – most people like to get their shopping done before the heat of the day sets in. And do make time to stop for coffee or a snack amid the cheerful, bustling chaos of the marketplace.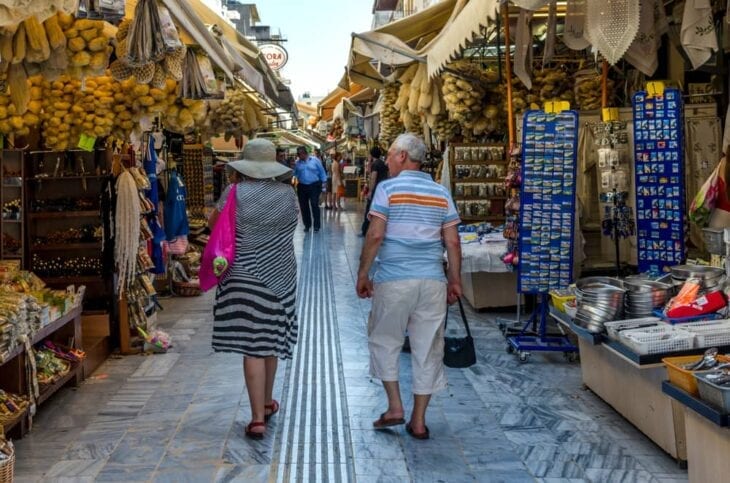 Because Heraklion has so many visitors from abroad, there are also some shops specializing in local souvenirs and gift items, such as packaged dried herbs and hand-milled olive oil soaps.
Local Specialty Stores in Heraklion
Even outside of the central market you will see stores specializing in artisanal foods. Be on the lookout for local bakeries where you can buy "paximadia" – the tasty Cretan rusks of barley. You'll also find various "almira" – salty "cookies" flavored with fresh herbs, spinach, or olives.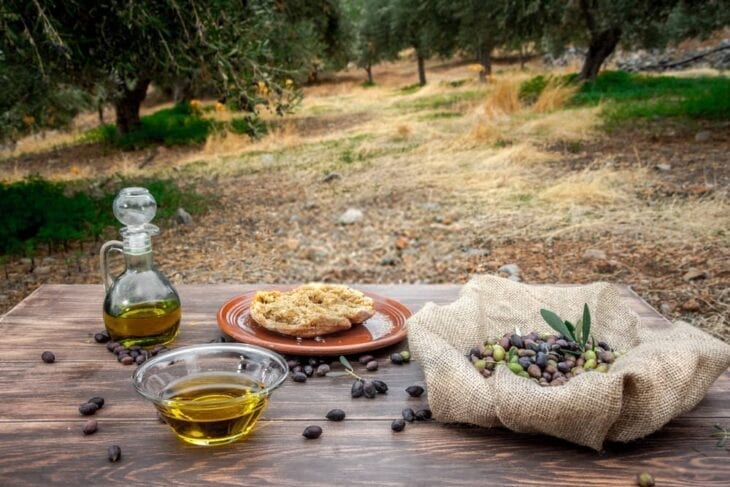 There are charcuterie shops with cured pork specialties like "apaki" and "siglino" or sausages tangy with vinegar. With a stop at a local cheesemonger for some "graviera" or "anthotiro" you'll soon have the makings for a memorable picnic.
The Heraklion Fish Market
The Heraklion Fish Market is part of the Central Market, but it definitely has its own strong identity. Traditionally, fishmongers are an enthusiastic bunch, and also highly motivated – they need to sell their product at its peak of freshness.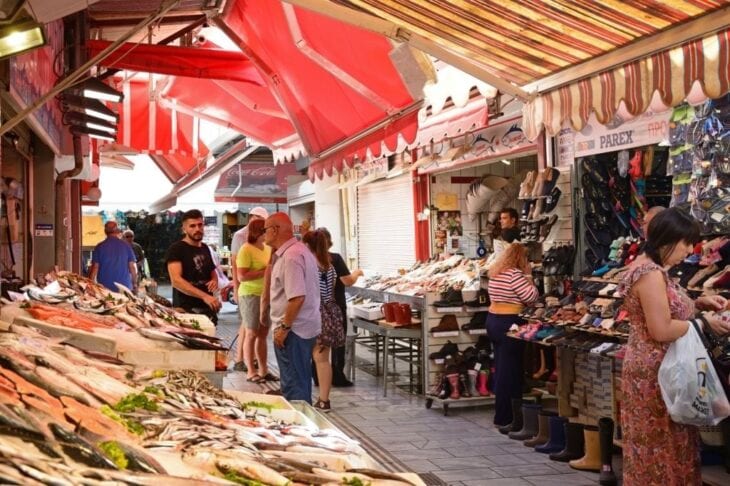 And what product – the fish are beautiful and come in a great variety. Look out for dramatic scorpion fish (ideal for soup), tiny "atherina" (whitebait – made for frying up whole and eating head and all), and fat sea bream (prized for grilling). Also, you may see octopus, shrimp, squid, and even sea urchins – a local delicacy.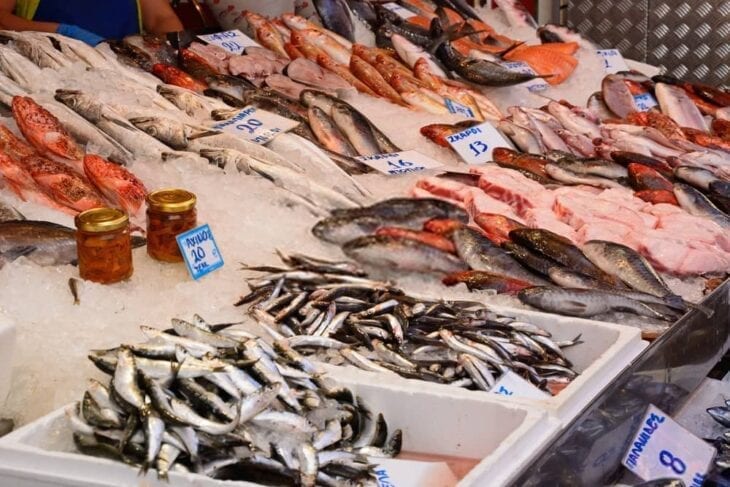 The Weekly Markets of Heraklion – Laiki
While in the heart of downtown you will find tourists as well as locals at the Central Market of Heraklion, the "Laiki" is another story.
"Laiki" is short for "Laiki Agora" – which means "the people's market." It is the equivalent of the farmers' market in other countries, but in Greece the laiki is much more deeply integrated into society. This is where most households do a majority of their weekly shopping.
At the laiki, rather than simply shopping from a family-owned enterprise like at the central market, you are buying directly from the producers.This gives a much closer connection to the land and the culture. Most of the vendors are the farmers themselves, and they take tremendous pride in their produce.
But at the laiki, it is not just farmers, but all artisanal food producers. So, in addition to farmers, you will meet cheesemakers selling magnificent graviera and mizithra – two prized local goat cheeses – as well as other handmade excellent cheeses from local milk. There will be vintners selling their own wine and raki, beekeepers selling their own honey, foragers selling snails ("chochlious" in Crete – a very popular specialty) and wild greens, and even sometimes poultry farmers with live birds and the freshest of eggs.
What to Buy at the Laiki
The laiki is not just for locals, although you will not see nearly as many tourists there. True, you will see shoppers buying tremendous quantities of produce. But it's fine to get just a kilo or two of fruits or vegetables. The selection is astonishing. Not to miss in summer are the fresh figs – nowhere in Greece are the figs as sweet and fragrant of those in Crete, and that is saying a lot.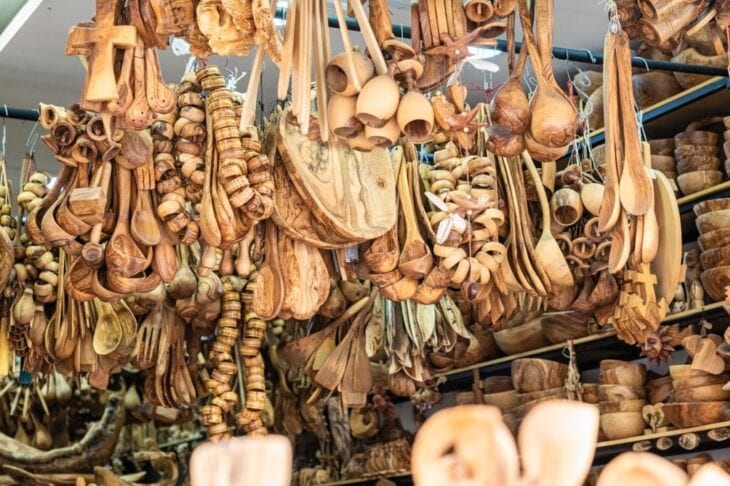 Melons, too, are superb. And Crete also produces most of Greece's avocados. Tomatoes are obviously also the stars of summer, and into the fall. Another item unique to Crete and some other islands are "atzouria". These look like cucumbers but are fuzzy on the outside and have a very pale green skin. They are crisper and more fragrant than regular cucumbers. Another specialty are zucchini blossoms, which the Cretans stuff with rice and fresh herbs.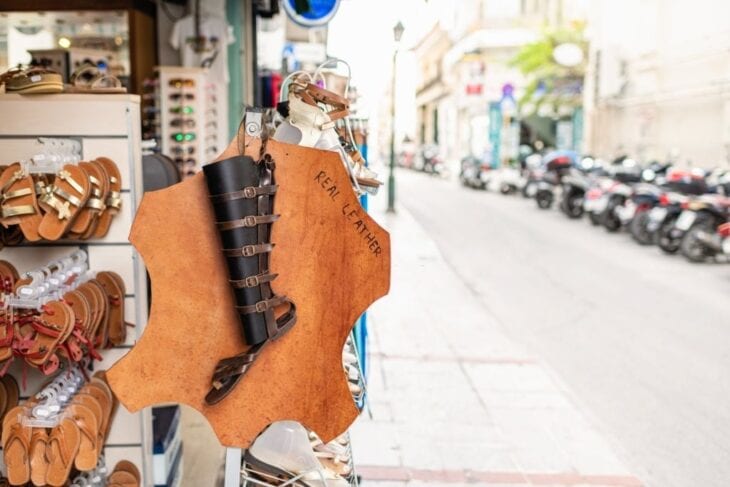 Even if you do not plan on doing a lot of cooking during your stay, you can still get a lot out of your trip to the laiki. Besides stocking up on seasonal fruits (at a very low price), you can even find some special items that you can take home. Try the tiny "tsakistes" – small green olives that are slightly crushed and bathed in fresh lemon juice, or the small black olives cured in salt. You can get an entire small wheel of artisanal graviera. And the honey of Crete is some of Greece's very finest. The bees feast on the local wild thyme. It's like the sweet summer breeze of Crete in a jar.
You can ask at your accommodations in Heraklion where the weekly markets are.
Markets Elsewhere on Crete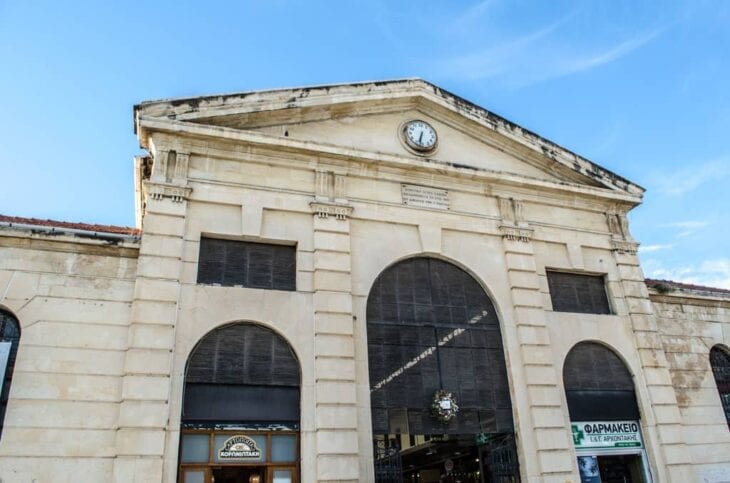 We recommend renting a car from Heraklion to explore more of Crete's many diverse landscapes. As you drive around the island, you'll find other notable markets. The Central Market of Chania is the most impressive of them all. It serves as the heart of the downtown – geographically and spiritually. This historic covered market, built in the shape of a cross, dates from the liberation of Crete from the Ottomans. The main axis features, cheeses, olives, and produce, with attractive tourist items at the far end. At the intersection, you can go one way for fish, and the other for fresh meats. Locals enjoy the casual Heraklion restaurants tucked in among the fish stalls – these have delicious home-style specialties and a lively atmosphere.