When it comes to gay vacations in Greece, the first island that comes to mind may be Athens or Mykonos, but have you considered spending your Gay Holidays in Crete? Crete is one of Greece's most popular islands, and even if it isn't well-known within the gay community, it is well worth a visit. Of course, the greatest time to visit the island is during the summer paired with a rental car in Crete to give you that complete vacation package. Crete is literally flooded with people from all over the world throughout the summer. Therefore, it gives you the opportunity to meet new people and make friends from all over the world.
The people in Crete are more relaxed, and the island is full of life, making your night and day excursions through the Cretan alleyways much more exciting than you could have imagined. Heraklion, Chania, Rethymnon, and Agios Nikolaos, as well as Malia, are the most popular cities and towns for gay vacationers on the island. To learn more about the best places to stay, eat, drink, and visit in Crete, check out our gay-friendly guide to the island below.
Is Crete a Gay-friendly Destination?
As with any vacation destination, being concerned about your safety is perfectly normal. With hundreds of news circulating on the net about gay travellers being harassed, it is only natural for you to think twice about spending your vacation in Crete, especially when the island isn't as well-known within the gay community.
So, is Crete a gay-friendly destination? The short answer is "Yes". However, it does depend on where you go. Religious views are prevalent in the more remote places in Crete. The Greek Orthodox Church wields considerable power, and many locals have traditional views on homosexuality. When touring through these areas or staying in family guesthouses, use precaution. Although locals may not be outwardly hostile, they may not be as accepting as you would like.
Crete, on the other hand, is an LGBTQ tourist hub. Heraklion and Chania, for example, are particularly gay-friendly, with many beaches, even nudist ones, and numerous bars that welcome queer patrons. Thousands of international visitors visit Crete each year, and they (hopefully) carry their open minds with them.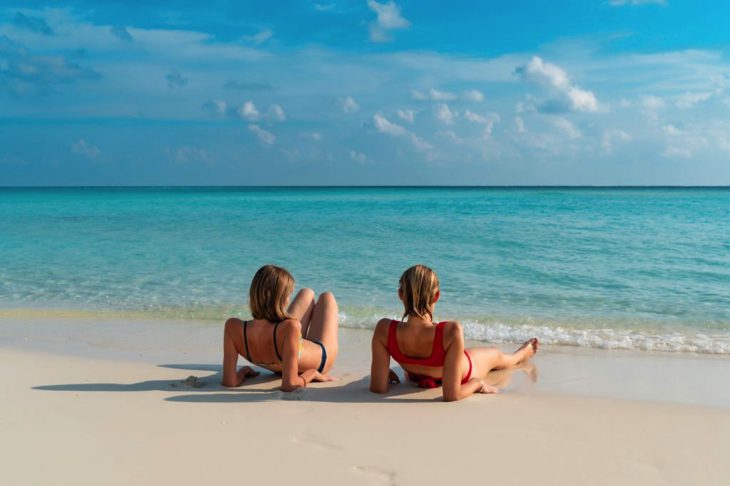 Stay in sophisticated resorts or prominent cities, and you will have the time of your life – whether travelling alone, with friends, or with your partner.
If you do prefer to explore Crete's rustic and more traditional side, you may encounter some lingering stares from inhabitants in some of the smaller traditional villages. But it's nothing serious. You won't be facing anything as long as you don't provoke anyone.
Gay Pride in Crete
Because the gay Pride of Crete is traditionally held in Heraklion, it has been dubbed "HerPride." It is an event that takes place over two days in late June/early July, and blankets the entire town in rainbow hues, glitter dust, and unabashedly camp pop music! Rallies, LGBTQ-themed movie premieres, DJ dance parties, and drag performances are all arranged for the two days. Many people of all sexualities come to join in on the celebration.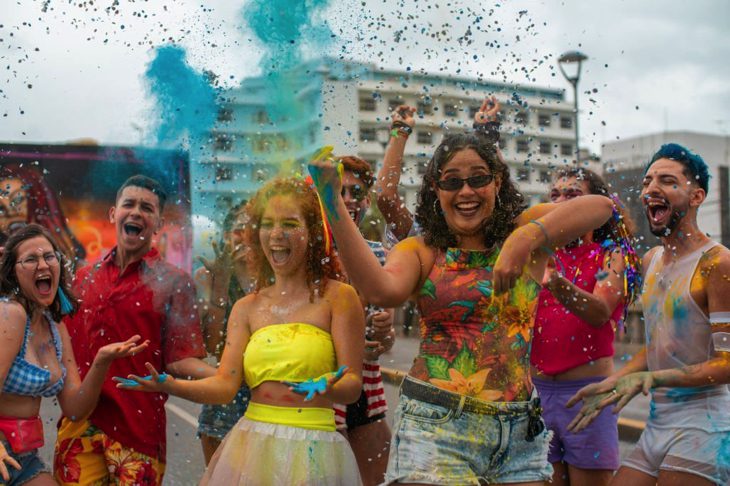 Crete's, unlike other gay Pride events, does not accept corporate sponsorship or commercialisation. Instead, it aims to strengthen the platform of LGBTQ groups and performances in Greece. It returns Pride to its beginnings as a protest, rather than merely an excuse to get wasted on the streets. This makes it one of the most important Pride events in Europe.
So, if you're looking for a gay-friendly destination that has something for everyone, be sure to add Crete to your list! From hiking and exploring ruins to relaxing on the beach and partying at Pride events, you're in for a good time. To make the most out of your trip, book a rental car with us today! We offer a wide range of vehicles to suit your needs as well as prices that fit your budget.
Gay Spots in Crete
No matter what kind of traveller you are, there's a place for you on the island of Crete. From its bustling capital city to its quiet and quaint villages, there's always a treat for everyone on this Greek island. Here are some of the spots you should totally visit:
Heraklion
Make the most of your gay vacation in Crete by staying on the main path and visiting the larger cities. There is a significantly larger LGBT population there, as well as more entertainment alternatives. In Heraklion, you can find all sorts of activities to do, such as visiting the Archeological Museum, taking a tour of the Palace of Knossos, or simply strolling around in the Old Town.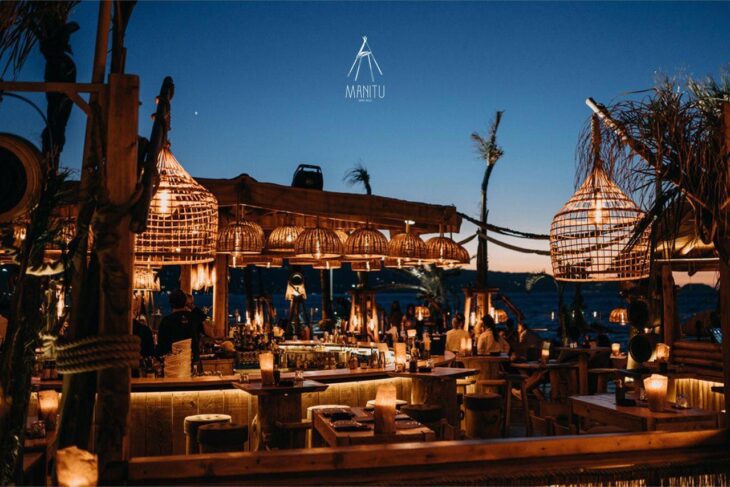 Chania
Chania is the second-largest city on the island of Crete and it's also one of its busiest tourist destinations. This is partly because of its Venetian port, which is a beautiful piece of architecture, as well as its lovely beaches. Travellers can find all sorts of things to do in Chania, from visiting the naval museum to taking a walking tour of the old town. Other popular destinations you can check out in Chania include the lighthouse near the old port and the Botanic Park & Gardens.
Rethymno
If you're looking for a more relaxed and chilled-out atmosphere, but still safe for the LGBTQIA+ community, then Rethymno is the place to be. This city is much smaller than Chania or Heraklion, but it's perfect for those who want to experience a more authentic side of Crete. In Rethymno, you can explore the old Venetian Fortress, take some pictures at the Rimondi Fountain, or just enjoy a cup of coffee in the central square.
The Top Gay Hotels in Crete
If you finally decide to visit Crete, you will want to know about the best places to stay. Although there aren't any exclusively gay hotels on the island, there are many that are particularly gay-friendly. Whatever your budget may be, there is sure to be a place that's perfect for you.
Esperides Resort Crete, The Authentic Experience
Esperides Resort in Crete offers an array of advantages for guests seeking a luxurious and inclusive vacation experience. As a beautiful and expansive 5-star resort, it is proud to be gay-friendly, ensuring a welcoming environment for all visitors. The resort boasts two main swimming pools, providing ample space for relaxation and fun under the Mediterranean sun, while the on-site wellness spa offers a rejuvenating experience for those seeking rest and rejuvenation. Nestled in the charming Koutouloufari Village, Esperides is just a stone's throw away from the vibrant town of Hersonissos, giving guests a taste of traditional Cretan life with the convenience of modern amenities. To top it all off, the resort features four exquisite on-site restaurants, each providing a unique culinary experience for guests to savor during their stay.
Here is the list of Esperides Resort pros:
Beautiful and big gay-friendly 5-star resort
There are two main swimming pools as well as a wellness spa.
Located in the traditional Koutouloufari Village just outside of Hersonissos.
There are four wonderful restaurants on-site.
The Esperides Resort feels like its own little town nestled in the heart of a charming traditional village. You could book yourself in for a stay and never leave, with green landscapes, marble statues, numerous restaurants and pubs, and a pool in the midst of it all. Their rooms scream luxury, with modern amenities and chic furnishing.
It's ideal for couples, with views of the garden or the sea, as well as your own private balcony or patio. Suites with their own pools or Jacuzzis are available if you can afford to splurge.
You'll only be half a mile from the ever gorgeous Hersonissos beach and a breath away from the town's dozens of cafes, pubs, and clubs if you decide to stay in this hotel, right at the heart of Koutouloufari.
Address: Costa Varnali street, Koutouloufari 700 14, Greece
Website: https://www.esperidesresortcrete.gr/
Contact: +30 2897 022322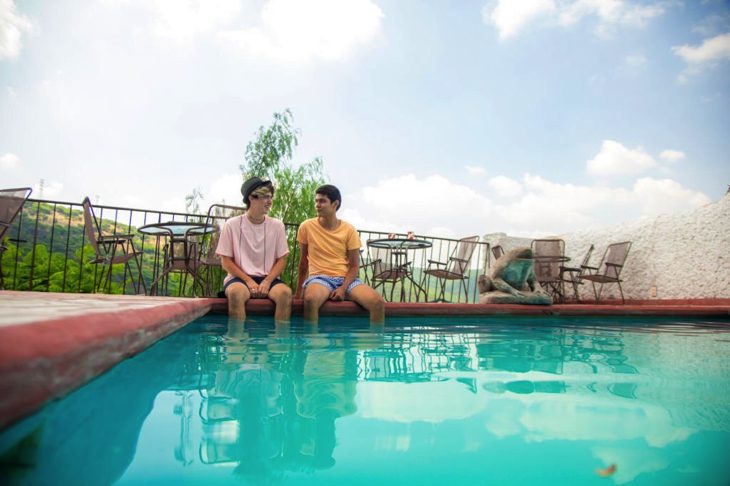 Villaggio Hotel
Villaggio Hotel presents a host of advantages for guests in search of an idyllic adults-only retreat. The hotel offers an exclusive atmosphere, ensuring a relaxing and serene environment for its adult clientele. Guests can indulge in the property's swimming pool, which is complemented by a stunning rooftop bar that affords breathtaking views and the perfect spot to unwind with a refreshing cocktail. Conveniently located near the main square of Hersonissos, Villaggio Hotel enables guests to easily explore the surrounding area and enjoy the local attractions. Furthermore, the hotel boasts a fantastic on-site restaurant, providing a delectable dining experience without the need to venture far from the comfort of the hotel premises. Here is the list of Village Hotel pros:
An adult only hotel
Swimming pool and beautiful rooftop bar
Near the main square of Hersonissos
A fantastic on-site restaurant
An adults-only hotel found in Hersonissos, Villaggio is perfect for queer travelers seeking a quiet and romantic stay. Villaggio is a gay-friendly retreat for couples that is brilliantly modern, sleek, and money-worthy. Every feature of this hotel is sophisticated, from its unique external design to its rooftop bar and swimming pool.
Depending on the size of your group or your travel budget, there are a variety of lodging options. The regular twin room is ideal for budget tourists, as it is simple but includes a private balcony and a full breakfast buffet. A junior suite with its own private pool and spectacular views of the neighbouring mountains, on the other hand, is highly recommended. Ideal for honeymooners staying in the area.
Address: Hersonissos 700 14, Greece
Website: https://villaggiohotel.gr/
Contact: +30 2897 024174
NEMA Design Hotel & Spa
NEMA Design Hotel & Spa offers a plethora of advantages to those seeking a luxurious and indulgent getaway. As a 5-star luxury hotel, it prides itself on providing exceptional accommodations and world-class service. With four on-site restaurants, guests can enjoy a diverse selection of cuisines, ensuring a memorable culinary experience for every palate. The hotel's two bars offer an enticing array of delectable drinks, perfect for socializing or unwinding after a long day of exploration. To further enhance the guest experience, NEMA Design Hotel & Spa features a top-notch spa, pool, and health facility, allowing guests to fully immerse themselves in a world of pampering and rejuvenation. Overall, the hotel's commitment to luxury and comfort ensures a truly unforgettable stay. Here is the list of NEMA Design Hotel & Spa pros:
5-star luxury hotel
Four restaurants serving a variety of cuisines
Two bars that provide delectable drinks
Spa, pool, and health facility for pampering
Whether you have a large or small wallet, your stay at the NEMA Design Hotel & Spa will make you feel like royalty. Even the most basic rooms are tastefully designed and provide spectacular views of the garden or even the sea, as well as a massive flat screen TV to make your relaxation complete.
For a more luxurious experience, book one of the suites which comes complete with its own private pool or Jacuzzi and an in-room mini bar. The Euphoria restaurant and Divine bar, as the name suggests, are a wonderful treat. Expert chefs prepare delectable Mediterranean cuisine, while bartenders deliver exquisite beverages. You can also escape to the golden sands of Analipsi Beach, which is only across the street from this gay-friendly hotel.
Address: Analipsi, Hersonissos Crete
Website: https://nemacrete.com/
Contact: +30 2897 029532
Gay Bars and Clubs in Crete
Sadly, there isn't much of a gay scene on the island. The only officially gay bar/club is the appropriately called Y.O.L.O., but there are plenty of LGBT-friendly venues to visit, all of which attract a diverse, open-minded population. So you can travel anyplace and be comfortable expressing your homosexuality. For larger gatherings, however, Athens or Mykonos are the best options to go for.
Y.O.L.O
Cheap cocktails, attractive bartenders, terrific music, and enthusiastic people combine to make for a fantastic night out. Y.O.L.O is the only gay bar on the nightlife scene in Crete, yet it welcomes people of all genders and beliefs. Spending a night here is a must if you're looking to experience the island's open and inclusive atmosphere.
Address: Limani, Λιμήν Χερσονήσου Πεδιάδος, Kastroy 1, Hersonissos 700 14, Greece
Website: https://www.facebook.com/YOLO.Crete/
Contact: +30 694 556 5304
New York Beach Club
There is only one thing better than a beach, and that is a beach bar! During the day, you can drink delicious cocktails while staring out over the bay's quiet blue waters. By night, it transforms into a club befitting of Manhattan standards, so you can party your heart out! Their drinks include classic cocktails as well as a few originals, such as the Cretan Sunrise.
Address: 30. Agias Paraskevis Street 700 14 Chersoniso, Greece
Website: https://www.facebook.com/NYBCHersonissos/
Contact: +30 698 007 0930
Ababa Bar-Gallery
A somewhat Mexican-themed bar, Ababa is a great place to visit if you want to take a break from the pulsing club scene and just relax with a few drinks. It's also an art gallery, so you can enjoy some local culture while sipping on your cocktail. The bartenders are knowledgeable and passionate about their drinks, so you're in good hands.
Address: Εισοδίων 12 73100 Chaniá, Greece
Website: https://www.facebook.com/ababa.bar/
Gay Beaches in Crete
Finally, done with all that crazy clubbing? Then it's time to hit the beach! Crete is home to some of the most gorgeous beaches in Greece, and many of them are LGBT-friendly or nudism friendly. So put on your sunscreen, grab your swimsuit, and let's head to the beach!
Kommos Beach
Another popular LGBT hangout is located a few kilometres from Heraklion's capital. Every year, thousands of people go to Kommos Beach, which is a two-kilometre sand sanctuary. A nude zone in the midst of the beach is popular with LGBT vacationers of all ages. There aren't any amenities in the area, so you'll have to bring your own food and drinks.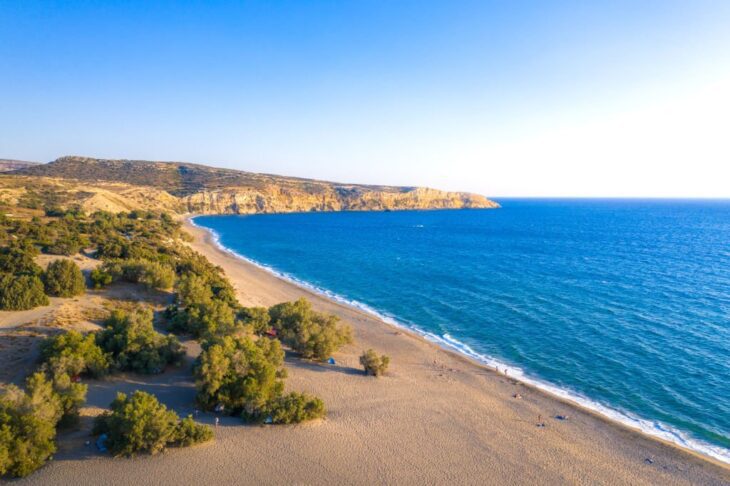 Kavros Beach
The lovely sands, mild ocean, and gay sunbathers of Kavros Beach is what make it well known. You might be surprised to learn that a remote Greek village has become a popular LGBTQ beach resort. It becomes evident why upon arrival. It's basically what every gay man fantasises about while imagining his version of heaven! With clear waters, white sand, and a beach full of hot guys, Kavros is as close to paradise as you can get.
Vai Beach
Vai Beach is a must if you want to experience the full range of Crete. With its palm tree forest, golden sand, and crystal-clear water, Vai beach looks like a postcard comes to life. There aren't any bars in the area but there is a small tavern that serves food and drinks. It's the perfect place to spend a quiet day lounging on the beach with your friends or partner.
Kolokytha Beach
The name of the beach, Kolokytha, has Greek origins, and it means pumpkin. It is believed that this name comes from the pumpkin-like rocks that can be found on its shores. Kolokytha Beach is located on the Spinalonga peninsula s eastern side. The beach offers white sand, turquoise waves, and a few tamarisk trees for shade. It is an unorganised beach with no amenities. The turquoise color of the water is astonishing and varies depending on the sunlight's angle. It is an excellent choice for nudists and those who prefer to avoid crowded areas, especially during peak tourist season.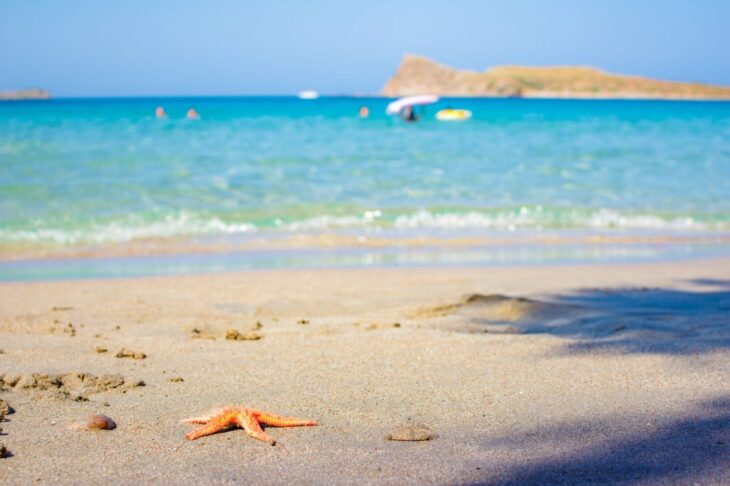 Listis Beach
Listis Beach lies on the shores of the Libyan Sea, on the south coast of Crete. This pristine and untouched part of the island is truly a remarkable place to visit. Listis beach is a little haven of shallow waters and sand for wonderful swimming. The geology is enchanting; there are rock formations both on shore and in the sea. It is a very secluded and gay friendly beach in south Crete.
Gavdos Island beaches
The small island of Gavdos is part of the Chania region of Crete. Only a handful of people permanently live on the island and there are few tourist services. It is a small island of only 32 square kilometers and has few inhabitants. The best way to visit is to hire a car and drive to Chora Sfakion. There are regular ferries from the town of Chora Sfakion to the small port of Karave in Gavdos. The island of Gavdos has been permanently inhabited for about 3 millennia. Roman and Byzantine traces have been discovered on the island. The island was also used as an exile destination. There are several amazing beaches on Gavdos and although most of them are unorganized, they are particularly attractive for people searching for an authentic natural setting. Probably the most beautiful and famous beach is called Sarakiniko, named after the pirates that used to find refuge there. The beaches of Potamos and Pyrgos are also enchanting and quite remote.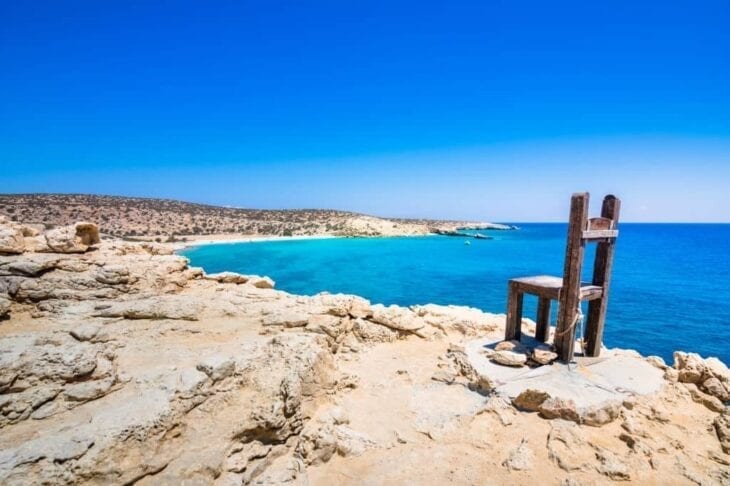 Nudist Beaches in Crete
Check the following map for the most popular nudist beaches in Crete.
Ilingas Beach
Glyka Nera beach
Kalogeros Beach
Domata beach
Sougia Beach
Elafonisi Beach
Chalikia Beach
Falassarna Beach
Choni Beach
Ravdoucha Beach
Agios Pavlos beach
Menies Beach
Triopetra beach
Ligres beach
Pirgos Beach
Gialopotama Beach
Souda beach
Pefkias beach
Trafoulas Beach
Red beach
Psalida beach
Kalami beach
Livari beach
Karoumes Beach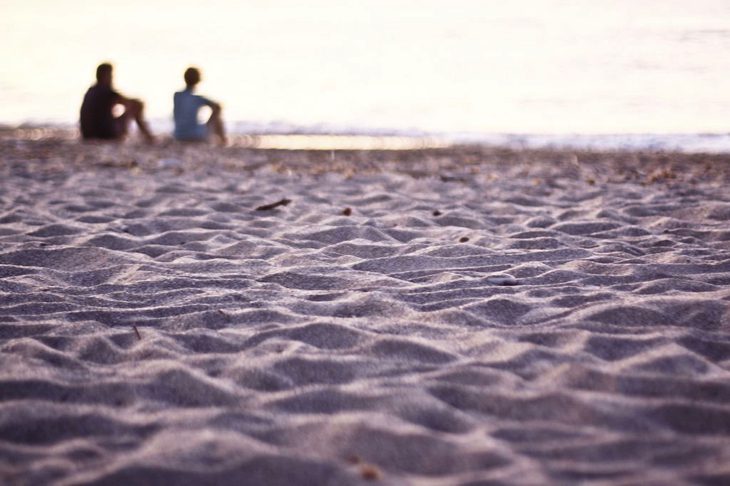 Best Gay-friendly Restaurants in Crete
After some fun in the sun, an empty stomach is inevitable. Luckily, Crete is home to some of the best food in Greece! Whether you're looking for a romantic dinner for two or a night out with friends, these restaurants will not disappoint.
The Five Restaurant
The folks of The Five Restaurant regard food as a holy ritual rather than just another meal. It's no surprise that their crew is so enthusiastic about offering up such great food. The Five brilliantly embodies the taste of Greece in one sit-down encounter, from mouth-watering seafood to delectable falafels. What's more, the arrangement makes excellent use of the stunning Chania backdrop. Their tables stretch out onto the beach, providing spectacular views of the Mediterranean waves and promenade.
Address: Akti Papanikoli 15, Chania 731 36, Greece
Website: https://www.facebook.com/thefiverestaurant/
Contact: +30 2821 086596
Taverna Harakas
For gay couples who want a more romantic dining experience, Taverna Harakas is the place to be. The restaurant is located in the town of Hersonissos, which is just a short drive from Heraklion. It's the perfect spot for dinner before heading out for a night on the town. The food is absolutely amazing, and the service is top-notch. Some of the food you can expect includes traditional Greek dishes like Souvlaki and Mousaka. And of course, no meal is complete without a glass (or two) of Ouzo!
Address: Hersonisos 700 14, Greece
Website: https://www.facebook.com/MarinaFilippaki/
Contact: +30 2897 021815
Elia Traditional Cretan Taverna
Giving off a traditional vibe, Elia Taverna makes you feel as if you're dining in grandma's house. The homey atmosphere is perfect for large groups, and the food is absolutely incredible. The menu features all of your Greek favourites, from Gyros to grilled seafood. Plus, the owner, Nico, is one of the nicest guys you'll ever meet. He's always there to greet guests with a warm smile and ensure that they're having a good time.
Address: Plakias, Sellia 740 53, Greece
Website: https://www.facebook.com/sellia.gr/
Contact: +30 2832 036002
Gay-Friendly Activities in Crete
Crete has so much to see and do that it will appeal to both leisure and adventure travellers. Whatever your interests, there's something for everyone. Here are some of the best activities to check out during your stay.
Hiking in Samaria Gorge
One of the most popular tourist attractions in Crete is Samaria Gorge. The 16-kilometre trek is not for the faint of heart, but it's definitely worth it. The hike takes you through the stunning gorge, and you're rewarded with breathtaking views of the mountains and sea. It's the perfect activity for those who want to get away from the hustle and bustle of city life and enjoy some time in nature.
Spend a Romantic Day at Elafonissi Beach
For gay couples, a beach date is a must. Elafonissi Beach is the perfect spot for a romantic day trip. It's exactly what people imagine when they think of the ideal beach – plus the sand is pink! It's not fluorescent pink, but there's a hint of blush, which makes it a popular beach. The reason for the pink sand in Elafonissi is the dead corals that have been ground into fine sand over time.
Explore the Ruins of Knossos Palace
No trip to Crete is complete without a visit to the ruins of Knossos Palace. The palace was the centre of Minoan civilisation and is one of the most important archaeological sites in Greece. It's also one of the largest Bronze Age archaeological sites in the world. The palace was abandoned after a devastating earthquake in the 14th century BC, and it wasn't rediscovered until 1878. Today, visitors can explore the ruins and imagine what life was like in one of those Ancient cities in Crete.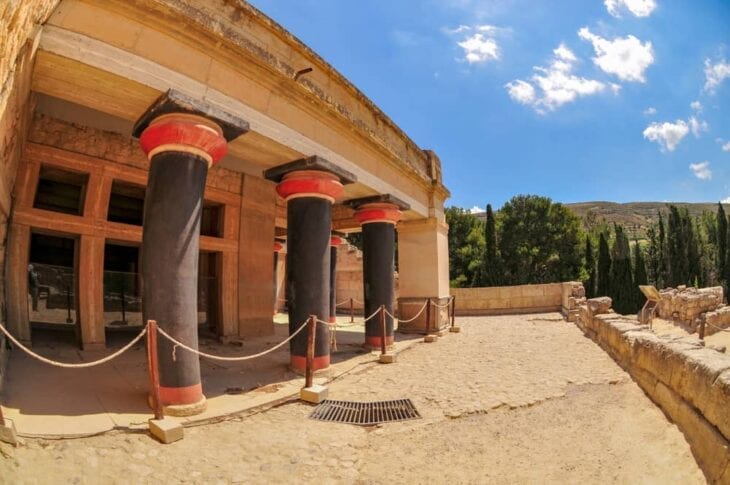 Visit the Arkadi Monastery
The Arkadi Monastery is a must-see for history buffs. Gay couples will appreciate the monastery's role in the struggle for independence from the Ottoman Empire. The monastery was bombed in 1866 during a rebellion, and many people died. The event is commemorated every year on November 8th. The monastery is also famous for its production of raki, a traditional alcoholic beverage made from grapes.