Heraklion is the capital city of Crete and despite appearances, no ugly duckling. The city's Archaeological Museum is one of the finest in Europe, and the greatest repository of Minoan art and artifacts in the world. The city is also a lively place in any season, with a wealth of other cultural attractions such as the amazing Historical Museum of Crete. Within the ancient Venetian bastions which encircle the heart of the city, there is an almost staggering array of restaurants, cafés, bars, boutiques and … boutique-style hotels. You may find that spending just one night in Heraklion isn't enough. If you feel like staying a while (and we think you just might!), we've taken some of the guesswork out of choosing the right hotel for you, below.
When visiting Heraklion, remember that it is a very ancient and compact city. That can mean lots of narrow, one-way streets that may seem most navigable by the locals. But do not be deterred: if you want real peace of mind, remember that Rental Center Crete has a great range of all types of cars, including compact cars. But if you don't want the hassle of hunting down street parking, you can always park at the vast Heraklion Port parking lot—it's just opposite the Megaron hotel and it's only €2.50 for 24 hours!
We've also got some handy hotel parking tips for you, but that said when arriving by car it's always good idea to check with the hotel first.
Galaxy Hotel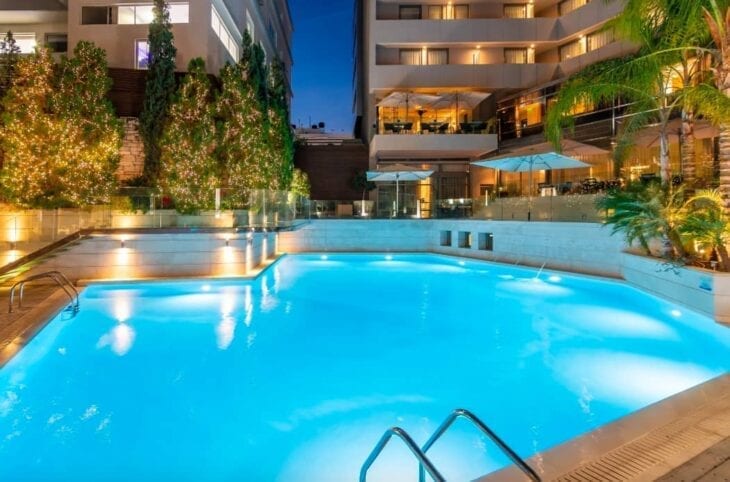 The Galaxy is located just outside the historic center, but don't worry because it's just a short walk from the old Venetian ramparts. The Galaxy looks and feels like a luxurious, modern five-star business hotel, the kind you might expect to find in London or Boston but on a more human scale. The reception desk is run extremely efficiently, meaning you never have to wait very long whether it's to check in or just ask for restaurant recommendations and the breakfast area is in a bona fide restaurant-style space, not an afterthought as in many other hotels. This is just a great place to start or end your Cretan journey. They also have the best hotel breakfast I've ever had at a hotel in Heraklion.
Another noteworthy feature of the Galaxy is its great courtyard swimming pool, which is surrounded by the modern hotel structure but is also open to the sky. Heraklion itself is not much of a beach town, so after a long day of exploring it's nice to go for a refreshing dip just steps from your room. I love this hotel.
Address: Leof. Dimokratias 75
Parking in Galaxy: Hotel staff will find street parking for you.
Capsis Astoria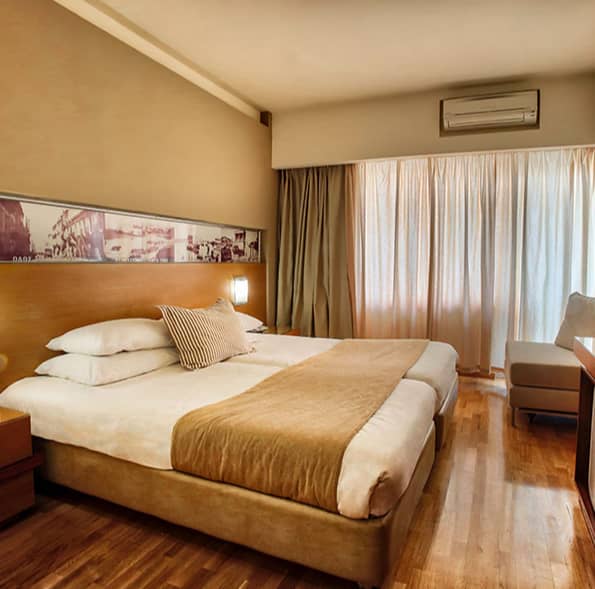 Confession: I only stayed at the Capsis Astoria because I had to. A last-minute change of plans meant I had to be in Heraklion at a very busy time and the options were limited. So the thing about Capsis is that it arguably has the best location in town, across from the Archaeological Museum and facing Eleftherias Square. But a lot of tour groups stay here, meaning it can feel crowded, and the décor is definitely dated. Elevators are slow. But there's late night room service, which is a nice option when you're just too tired to go out. Basically though, there isn't a whole lot of character here; think less fun, more functional.
Address: Eleftherias Square
Parking in Capsis Astoria: The hotel has a cooperation with the Central Parking garage.
Kastro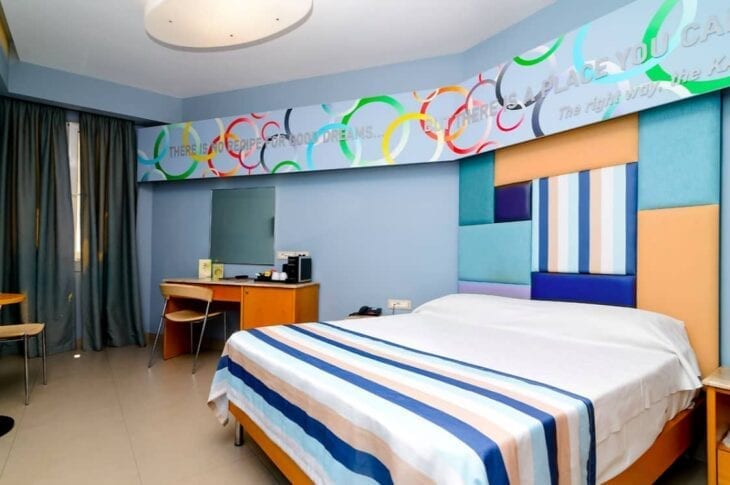 This is a small gem boutique-style hotel located in the center, between Theotokopoulos Park and the Historical Museum of Crete. Kastro may only be a three-star hotel, but in terms of style and service level I'd say it's closer to four-star level. You'll find that the guestrooms have different styles, but you can expect design that is both thoughtful and comfortable. The bathrooms are spot on and the breakfast is a solid, included offering. If you'll be in Heraklion for more than one night, consider booking the fifth floor suite with its great views toward the port.
Address: Theotokopoulou 22.
Parking in Kastro Hotel: Two parking garages are close by the hotel.
GDM Megaron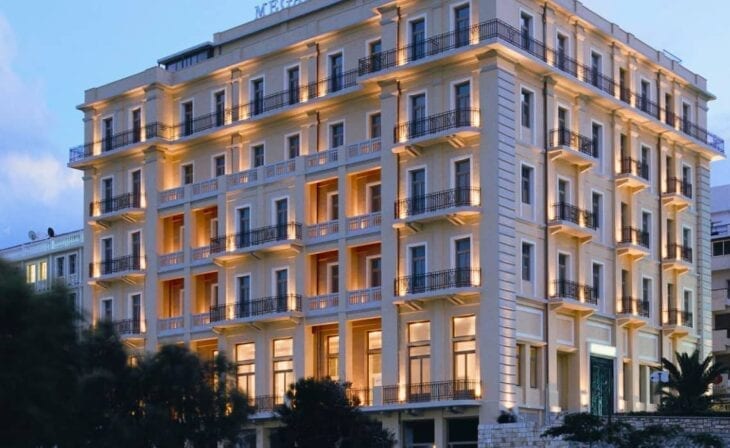 The Megaron is a historical monument hotel and a luxury hotel, and arguably the most iconic Heraklion hotel. It can be pricier than most of the other hotels on this list but for the level of service and the sense of place, it's worth it: in fact, in high season it's not uncommon for the hotel's 58 rooms and suites to be fully booked. The best thing about the Megaron is its location: very close to gorgeous August 25th Street and virtually at the doorstep of the port. The rooftop features both a restaurant and a terrace with a small pool (which unfortunately seems never to be heated), and from the roof you can spot all the planes taking off from Heraklion's airport which is also nearby.
Address: D. Beaufort 9 (across from Port area)
Parking in GDM Megaron: Easy as pie thanks to the hotel's own parking lot right in front of the hotel (just note, there is an exterior staircase to reach the lobby level).
Legacy Gastro Suites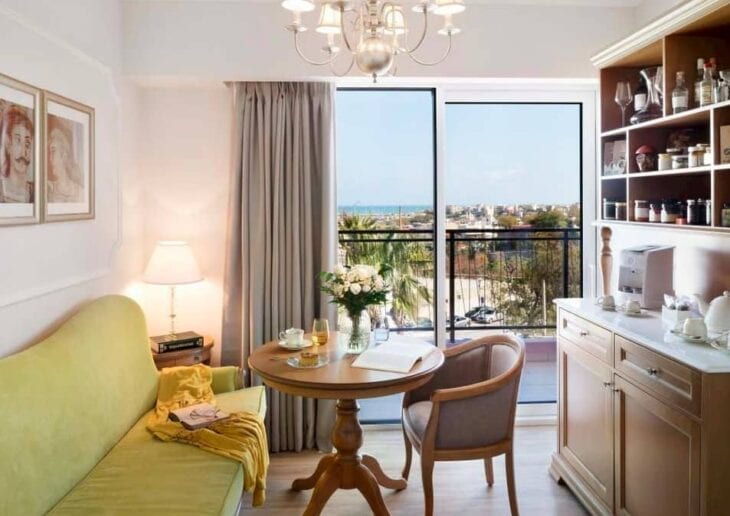 This is an exciting addition to Heraklion's roster of luxury hotels, with (as its name indicates) a unique emphasis on gastronomy. Here, foodies can truly rejoice, because its website reveals, "in each suite-inspired by the iconic Cretan cultural figures of El Greco, Nikos Kazantzakis and Cretan Renaissance poet Vincenzo Kornaros – guests can indulge in a carefully curated range of traditional Greek gourmet products at a special food station, and experience an even wider array of items à la carte. The location is excellent, as the Archaeological Museum is basically at the other end of Eleftherias Square, but even more impressive is the attention to detail both in terms of the retro-chic design of the 12 suites and the way that traditional Cretan and Greek food paths have been seamlessly woven into the guest experience. Legacy is truly exceptional, and unique in Greece.
Address: Eleftherias Square 43.
Parking in Legacy: Challenging, but there's a paid parking lot very near the hotel, opposite the south side Eleftherias Square.
Olive Green Hotel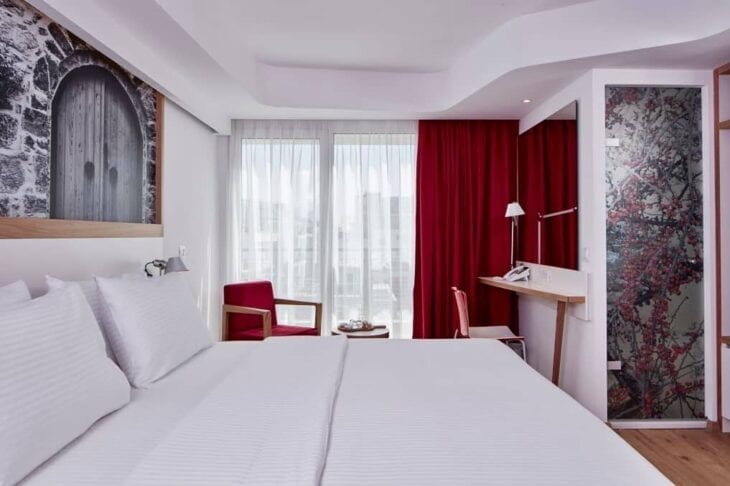 The eco-friendly Olive Green Hotel sits in the compact city center and is actually under the same ownership as the Legacy Gastro Suites. But unlike at that hotel, here contemporary design rules – or as they put it, "greenery is prominent in the property, while the interior design is minimal and yet enchanting. Using wood, metal and concrete, the hotel brings nature inside and the result is mesmerizing, in line with the beautiful landscapes of Crete." I found the fancy lighting system in the guestrooms (which are all bright and airy) to be a little tricky to figure out, but it is very future-forward. There's a very good breakfast buffet served in the basement level, while the 626 All Day Lounge & City Garden restaurant on the ground floor is a popular casual dining spot for both locals and hotel guests.
Address: Idomeneos 22.
Parking in Olive Green Hotel: Difficult. Best bet may to be park at Heraklion Port and make the short walk up Idomeneos Street to the hotel.
Veneziano Boutique Hotel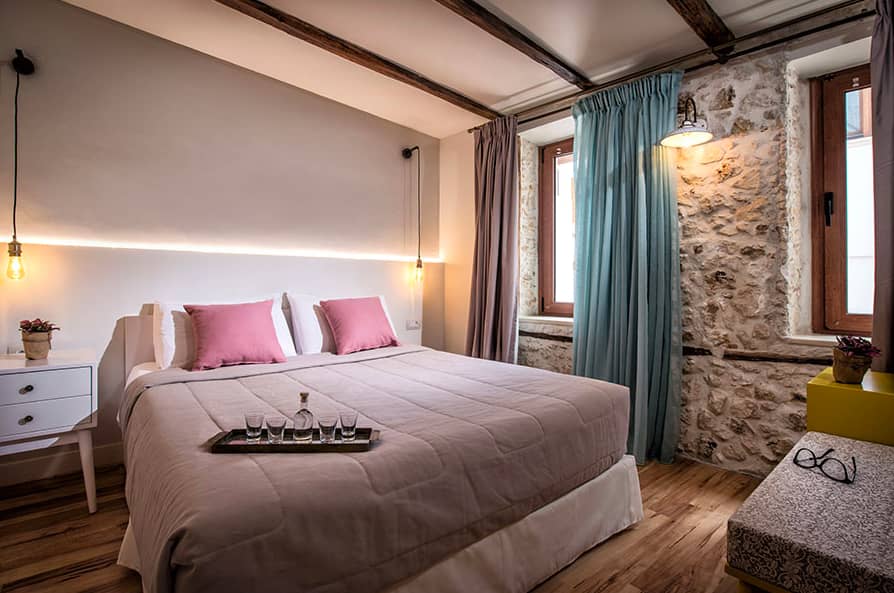 Staying at the Veneziano is like taking a trip way back in time but in a very posh time capsule. Listed as a historical monument and work of art by the Greek Ministry of Culture and Ministry of Public Works, the blend of Venetian and Ottoman architecture has been given meticulous design treatment to bring it forward to modern times. Expect lots of exposed stone walls paired with contemporary furnishings, comfortable beds and modern bathrooms. There are only eight rooms and the look and feel varies from room to room. Breakfast is served in an spacious interior courtyard, and the hotel also has a small coffee bar facing the street. Note that this is a historical structure and some of the rooms are only accessible via stairs.
Address: Nikos Kazantzakis 1
Parking in Veneziano Boutique Hotel: In the congested center of town, parking can be problematic (think compact car!). There is a small lot by the hotel where technically you can park for free, but expect it to fill up fast.
DOM Boutique Hotel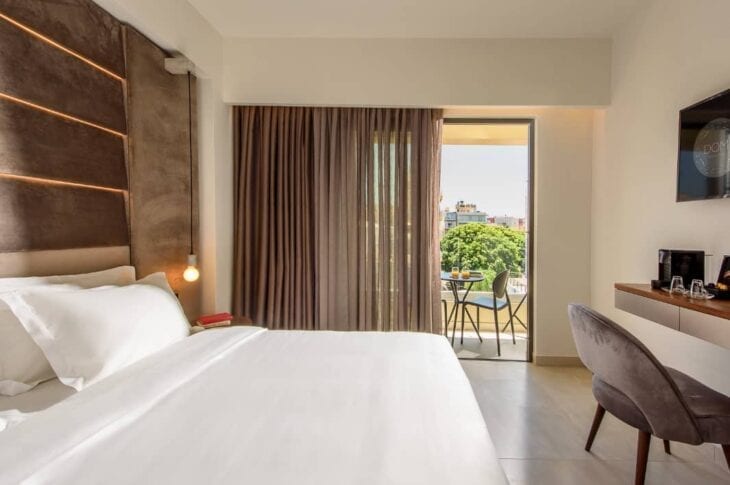 The DOM boutique hotel is a new hotel in Heraklion in a renovated building in a super central location facing Theotokopoulos Park (as well as a convenient parking garage). There are 37 rooms and suites. The design is more current than creative, but after a long day of exploring it's hard to complain about the nice rainbath showers or comfy beds. One thing that bothered me is that many of the rooms on the front side have connecting doors to other guestrooms—and there is no way you can soundproof a connecting door. Helpful hint: ask for a room on the fifth floor facing the back, it will be quieter and you might even get a sea view. Breakfast service was better than the actual breakfast: at boutique hotel prices there should be better coffee than from an airport lounge-style machine, and fresh orange juice would be nice too.
Address: Almirou 14
Parking in DOM Boutique Hotel: There's (thankfully!) a parking garage right opposite the hotel.
Hotel Ibis Styles Heraklion Central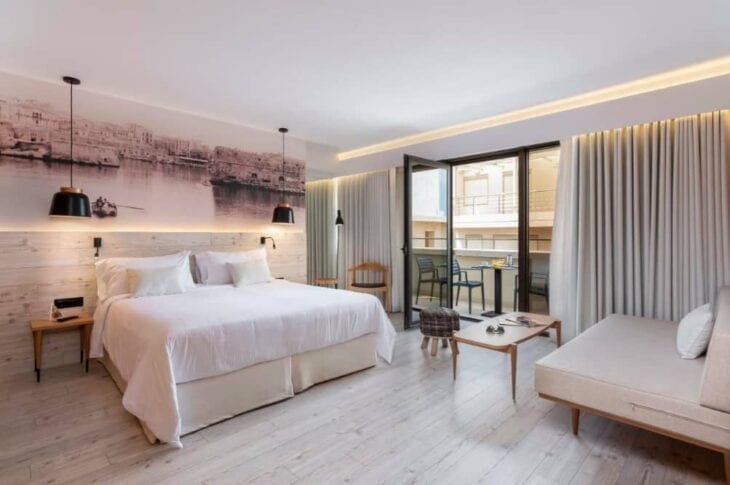 If you're the kind of traveler that likes to see what some of the more popular hotel brands are up to, the Ibis Styles Heraklion Central won't disappoint. If it's the only hotel on this list that I haven't actually stayed at, it's only because every time I wanted to it was sold out! But that didn't stop me from taking a look and indeed the place lives up to its name: it's stylish with nice bright rooms and yes it's central, too. The rooftop space is pretty vast, and the breakfast is said to be excellent.
Address: 26 Koroneou & Agiou Titou
Parking in Ibis Styles: Street-level parking is available.
For the best selection of rental cars in Crete and at the best prices book with Rental Center Crete today!
This post was written by Anthony Grant