Lasithi is one of the best regions to visit in Crete. With its beautiful beaches and crystal blue waters, this part of the island is always flocked by hundreds of thousands of people every year. It's not just a beach destination, though – the whole place has an old-world charm that only Lasithi can offer. The streets, with their white-washed walls and arched passages leading into courtyards, will take you back in time.
However, if you're looking for a place to eat or drink, the capital of Lasithi, Agios Nikolaos, is the place to be. The town has an incredible variety of restaurants and tavernas where you can enjoy local dishes as well as international fare. From traditional Greek food to multi-course meals that will leave you speechless, Agios Nikolaos offers it all!
High-End Restaurants in Agios Nikolaos
When out on vacation, dining in a classy restaurant with a fine-dining ambiance and cuisine is something you shouldn't miss out on. If you're with your significant other or perhaps just want to enjoy a great meal surrounded by a romantic atmosphere, try one of the restaurants found in Agios Nikolaos and other neighbouring areas listed below.
Hire a car in Agios Nikolaos from €14 per day!
Patriko
With mouth-watering dishes that are sure to make you crave more, Patriko is one of the best Greek restaurants on Lasithi. Located in Agios Nikolaos' Amoudi Beach, this is one of the most popular yet affordable restaurants that'll give you a truly authentic dining experience.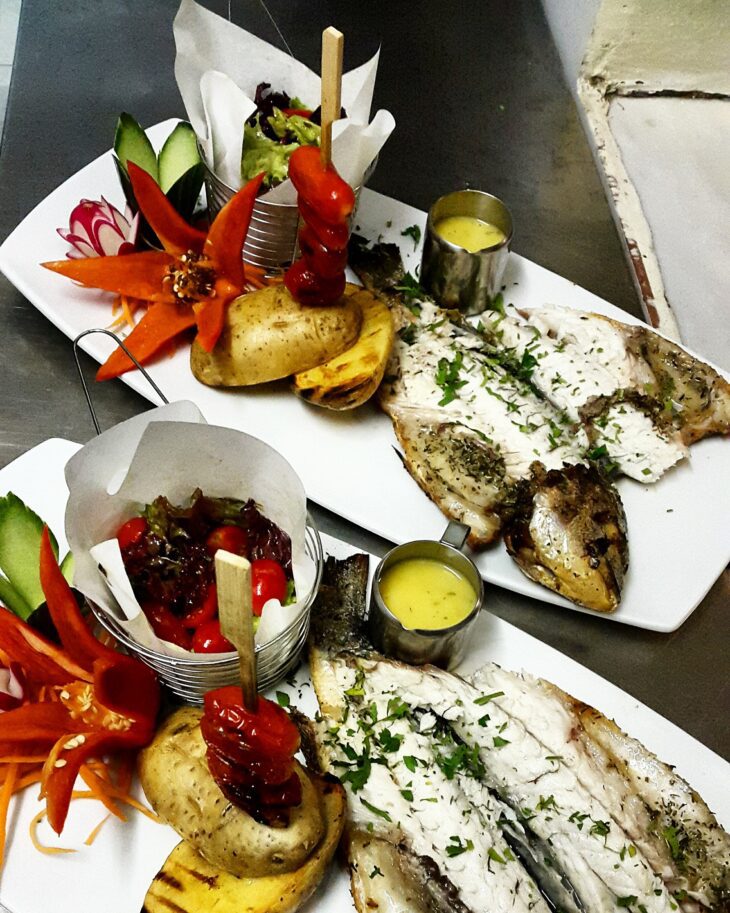 Avra Restaurant
Sophisticated, elegant with a traditional feel, the Avra Restaurant is an exquisite dining establishment located in Agios Nikolaos that serves all kinds of popular Cretan dishes, focusing more on seafood.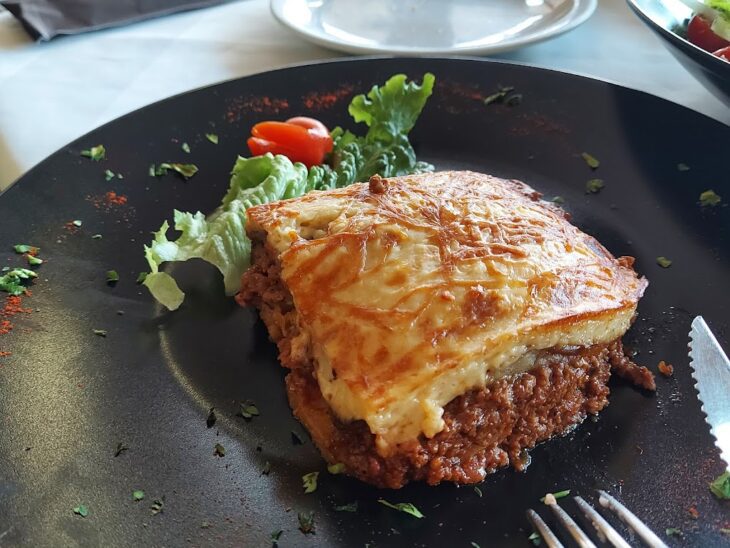 Their menu features appetisers, salads, snacks, meat mains, and many more. What makes this place stand out from the rest, though, is the exceptional service they offer guests throughout their visit.
Avra restaurant has an indoor and outdoor area with all their meals being served in either one. The atmosphere is ideal for celebrations, family dinners, and the overall experience just makes you want to return right away.
Whatsmore, it's settled in Amoudi beach so you can have a nice walk to the seaside after having a sumptuous meal.
Address: Ammoudi Beach, Agios Nikolaos
Contact: +30 2841 022530
Website: https://goo.gl/maps/mymiWDA78ii9kugP8
Piato
Located just near Ammoudi Beach, Piato is an elegant restaurant where you can savour unique Cretan meals. With a classy yet warm atmosphere, there is no better place to relax and have a good meal. The menu consists of dishes that represent the best of Cretan cuisine with a touch of a modern twist. Their meals include meat, poultry, and seafood delights, as well as vegetarian choices. If you're lucky to visit Piato during the day, you might even catch a glimpse of the beautiful blue waters of Ammoudi Beach.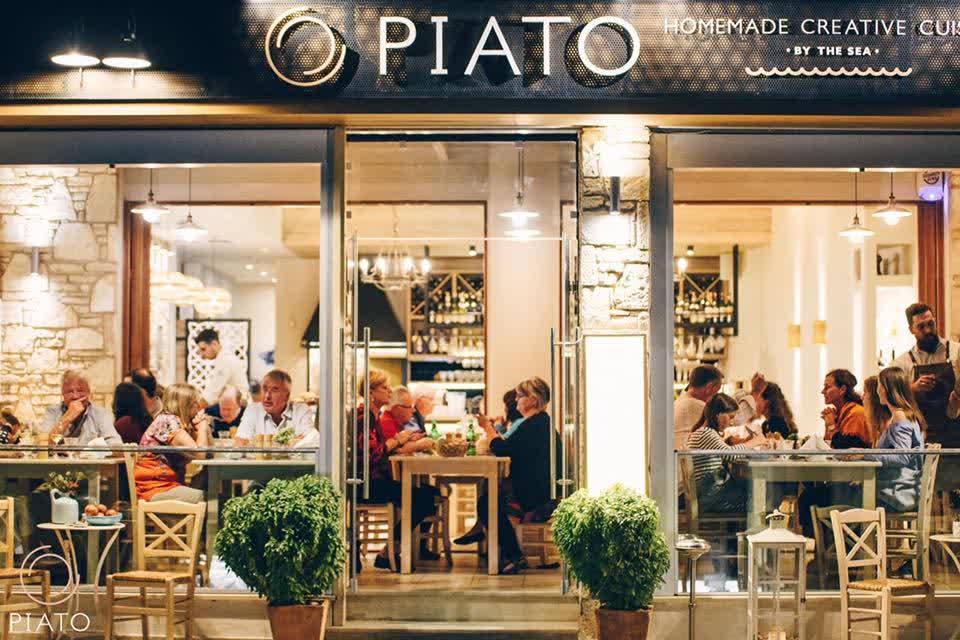 On top of their delicious food, Piato is also known for its excellent customer service. The waiters are always helpful and attend to your every need, ensuring a pleasant overall experience.
Address: 5 Minoos Ammoudi Beach, Agios Nikolaos
Contact: +30 2841 023173
Website: https://www.facebook.com/piato.gr/
Karnagio
If you're planning to have a romantic evening with your significant other without wanting to break the bank, head to Karnagio. This little restaurant has an intimate atmosphere that is perfect for enjoying a delicious meal with the person you love most!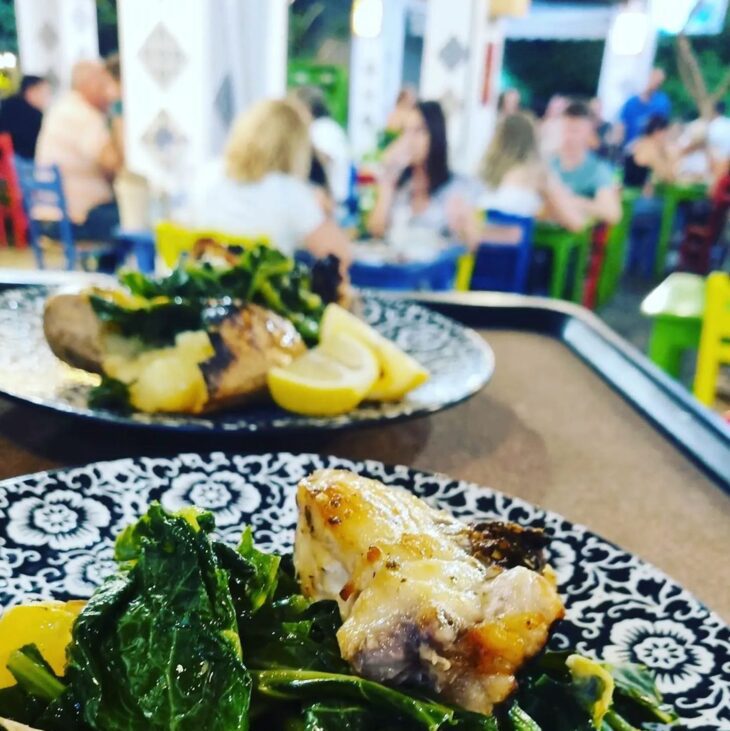 The food at Karnagio is cooked with care and passion using the freshest ingredients. You can taste the uniqueness of their dishes, mostly made of pork, beef, and seafood. They also have salads, pasta, and other choices on the menu if you're craving something different.
The overlooking view of the sea lake of Voulismeni is another thing that makes this dashing restaurant worth the visit. Indulge in authentic Greek food while enjoying a beautiful sunset in a very relaxing atmosphere!
Address: Konstantinou Paleologou 24, Agios Nikolaos
Contact: +30 2841 025968
Website: https://www.facebook.com/lakeofagiosnikolaos/
BLE Katsarolakia
With a classy and elegant interior and a majestic view of the sea, BLE Katsarolakia restaurant is one of the most popular choices for those who want to savour some delicious food accompanied by fantastic scenery. Their menu includes fresh meat and seafood specialties and other tasty dishes that are pretty popular among locals and tourists. However, their scrumptious tempura is everyone's favourite!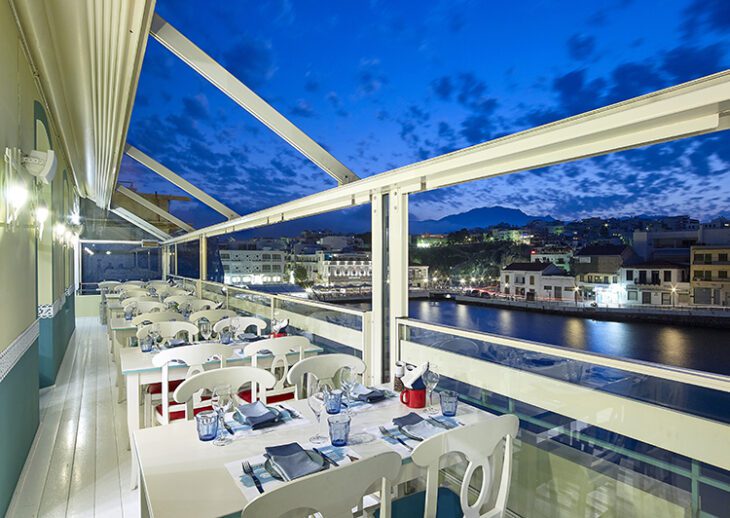 The staff at BLE Katsarolakia will make sure you have a marvellous time while enjoying the delicious food they prepare with great care and attention to detail. In addition, you'll be surrounded by flowers, greenery, and other beautiful decorations that will make the experience truly remarkable.
Whether you choose to dine in their charming inner courtyard, along the stylish footpath right outside the restaurant, or on a more formal but comfortable terrace, you'll never go wrong with BLE Katsarolakia.
Address: 8 Akti Koundourou Iossif 2nd Floor, Agios Nikolaos
Contact: +30 2841 021955
Website: http://www.blekatsarolakia.gr/
Inodion (in Sitia)
With a touch of fine dining ambiance, Inodion is ideal for enjoying some great food in a formal setting. With exquisite interior decoration and fixtures, it's perfect for special occasions like engagements, anniversaries, birthdays, etc.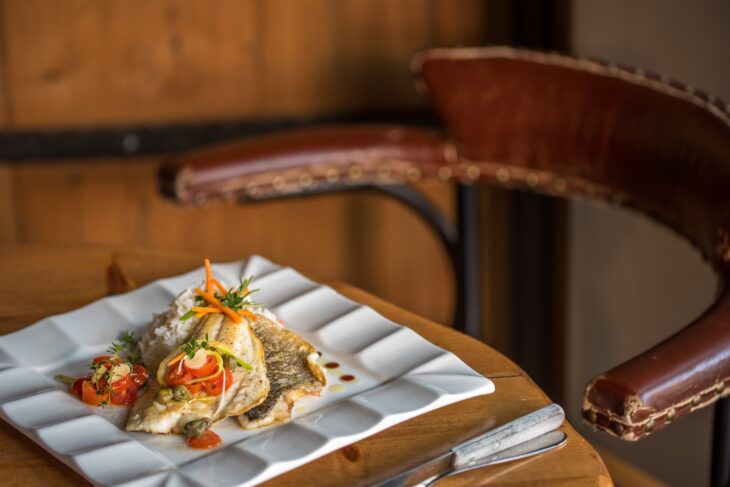 The restaurant is located In the northeastern part of the island, right in the seaside town of Sitia. You may pick from a broad range of classic Greek meals prepared with precision by Sitia's professional culinary staff.
On top of all that, Inodion has an extensive menu that features Cretan dishes made with the freshest ingredients. With Cretan wines and other drinks available, you're sure to have a marvellous time.
Address: El. Venizelou 157, Sitia – Lasithi
Contact: +30 2843 026166
Website: https://www.inodion.gr/
Casual Restaurants You Should Try
Sometimes, we all just want to grab a quick bite to eat in a cheerful and casual atmosphere. A laid-back ambiance with glorious food, excellent service, and affordable prices is what makes a casual restaurant worth visiting.
All of these restaurants provide you with an exquisite food experience that will leave you happy and satisfied! Some offer great views while others are good for families or just hanging out with friends. These casual dining restaurants in Agios Nikolaos and surrounding areas are perfect for informal dates, fun gatherings, and even family dinners.
Fysalida
If you want something more accessible and laid-back, give Fysalida a try. This modern restaurant is found in the heart of the village. The place offers a relaxed atmosphere which is perfect for young adults and families alike. It has a unique menu with all the typical Cretan dishes you can imagine. In addition, people with a sweet tooth will be delighted to find some mouth-watering desserts. You can also try their grilled tuna or their scrumptious salads!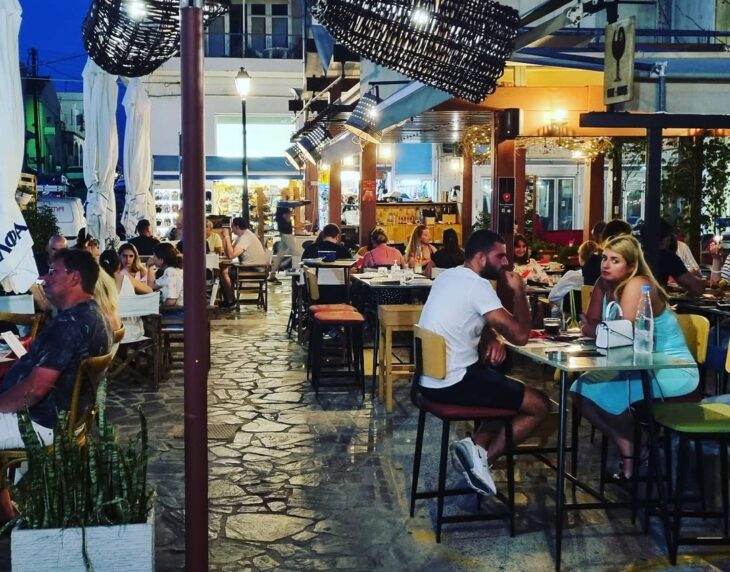 Of course, Fysalida is not only about the food. The restaurant offers a great selection of wines from all over Greece as well as some alcoholic beverages that are perfect for sharing with your friends.
Address: Palaiologou Kostantinou 1, Agios Nikolaos
Contact: +30 2841 025006
Website: https://www.facebook.com/fysalidawinebistro/
Pelagos
A beautiful space surrounded by green trees and plants, Pelagos is the perfect place to go when you want to relax and enjoy a nice meal under the Greek sun. With outdoor seating and a terrace that is ideal for sunny days, Pelagos offers everything you crave in terms of food and drinks.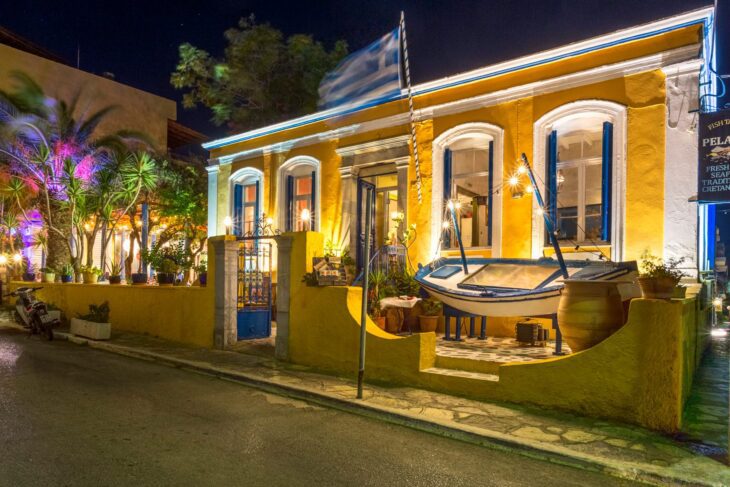 Their menu includes fresh seafood, beef, pork, salads, and other choices. Their signature dish, the seafood pasta, is a must-try. The pasta is cooked with a delicious white wine sauce and melts right into your mouth, bringing out the flavours of the sea in each bite.
Moreover, their friendly staff and skilled chefs will ensure that you have a perfect experience, whether you visit for lunch or dinner. It's undoubtedly a great find for all those who love seafood!
Address: Stratigou Koraka 10, Agios Nikolaos
Contact: +30 2841 082019
Website: https://www.facebook.com/Pelagos-331674793603958
Al Dente
Al Dente, situated close to the little sandy beach of Ammos, is a famous restaurant in the village of Agios Nikolaos. This restaurant offers a wide range of Greek cuisine, including stone-oven pizzas, gyros, and even Greek burgers. Furthermore, the servings are fairly large so you're sure to leave the place with a satisfied stomach.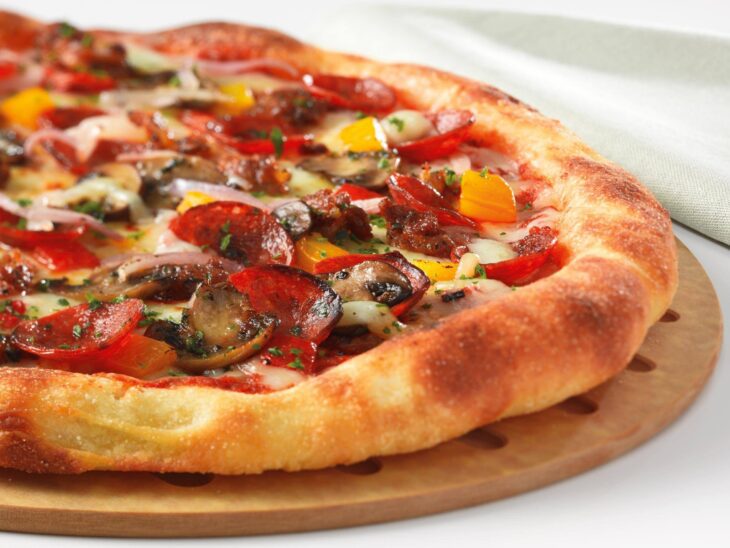 In terms of decor, Al Dente has a beautifully decorated interior. The atmosphere is very modern and relaxing, which makes this restaurant perfect for casual gatherings as well as family dinners.
Address: Akti Atladidos Akti Atlantidos & Sofokli Venizelou, Agios Nikolaos
Contact: +30 2841 022900
Website: https://www.facebook.com/aldenteno1/
Paradosiako
Paradosiako is found right at the heart of Agios Nikolaos, just a few metres away from the local port. This typical Greek tavern serves a large variety of food. From pastitsio and moussakas to fresh seafood and even gyros, you can indeed find every popular and traditional Greek dish here. However, the galaktoboureko is their signature dish and is an all-time favourite of both locals and tourists alike.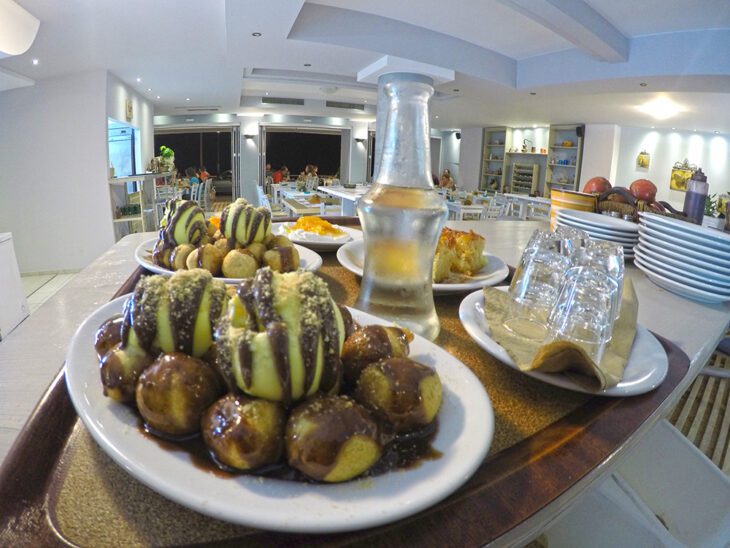 Whether you visit for lunch or dinner, a great atmosphere will surround you as soon as you enter this restaurant. In addition, the view of the sea adds to the whole experience, further making it an unforgettable one.
Address: 9 Akti Themistokleous, Agios Nikolaos
Contact: +30 697 726 6744
Website: http://paradosiako-crete.gr/
Platanos (in Kritsa)
Although this little tavern is not in the heart of Agios Nikolaos, the drive towards Kritsa Village is worth everything. Sitting along a picturesque landscape, Platanos will give you a truly magical experience. It's the best spot if you plan to visit with family or friends.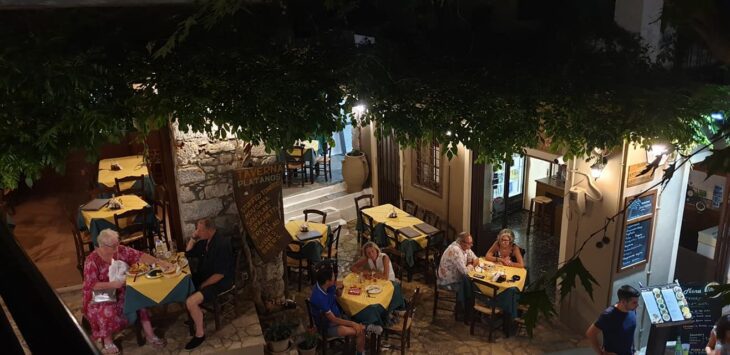 The restaurant has an outdoor seating area that is both lush and beautiful. Framed by trees and lots of greenery, you'll feel like you're in your own little garden while enjoying some mouthwatering dishes.
Their menu includes traditional Greek specialties and a wide range of drinks to make your dish a unique and fantastic experience. You can savor your meal while observing the passers-by. It's a beautiful place to witness how life is lived in a typical Cretan mountain village.
Address: Kritsotopoulas, Kritsa, Ag. Nikolaos
Contact: +30 2841 051230
Website: https://www.facebook.com/TavernaCafePlatanosKritsa/
Miliaras Taverna (in Latsida)
If you want something different other than dining right by the sea, try visiting mountain villages and their unique tavernas. The Miliaras Taverna in Latsida, a village near Agios Nikolaos, is quite popular with locals and tourists for its exceptional menu and cosy atmosphere.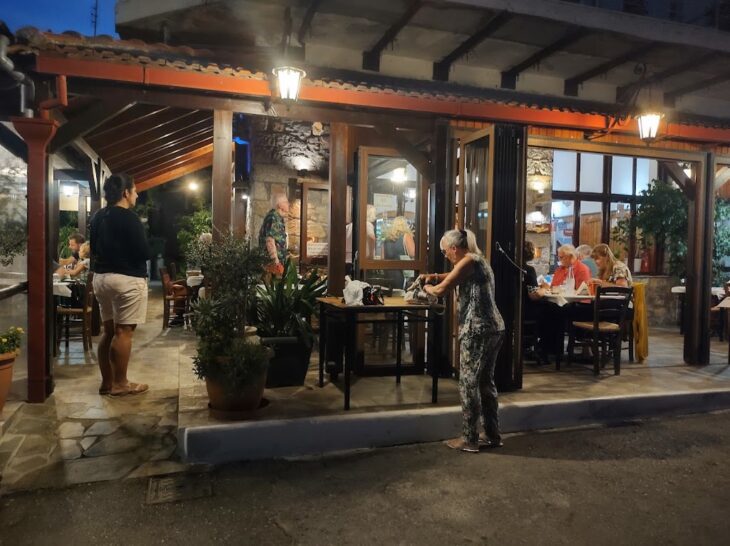 This family-owned business has been around for years, serving authentic Crete dishes to everyone who drops by. Their menu is heaven-sent for meat lovers since all kinds of meat, including goat, are available. Be sure to try their goat spaghetti which is an all-time favourite.
Address: Agios Antonios road, Epar.Od. Latsidas – Lasithi
Contact: +30 2841 031883
Website: https://www.facebook.com/miliaras.taverna
Napoleon Restaurant (in Ierapetra)
Another traditional Greek restaurant found on a beachfront in Ierapetra; the Napoleon Restaurant is the ideal place to spend some quality time with friends and family. Its location is also an advantage since you get to see a breathtaking view of the sea as you enjoy your meal.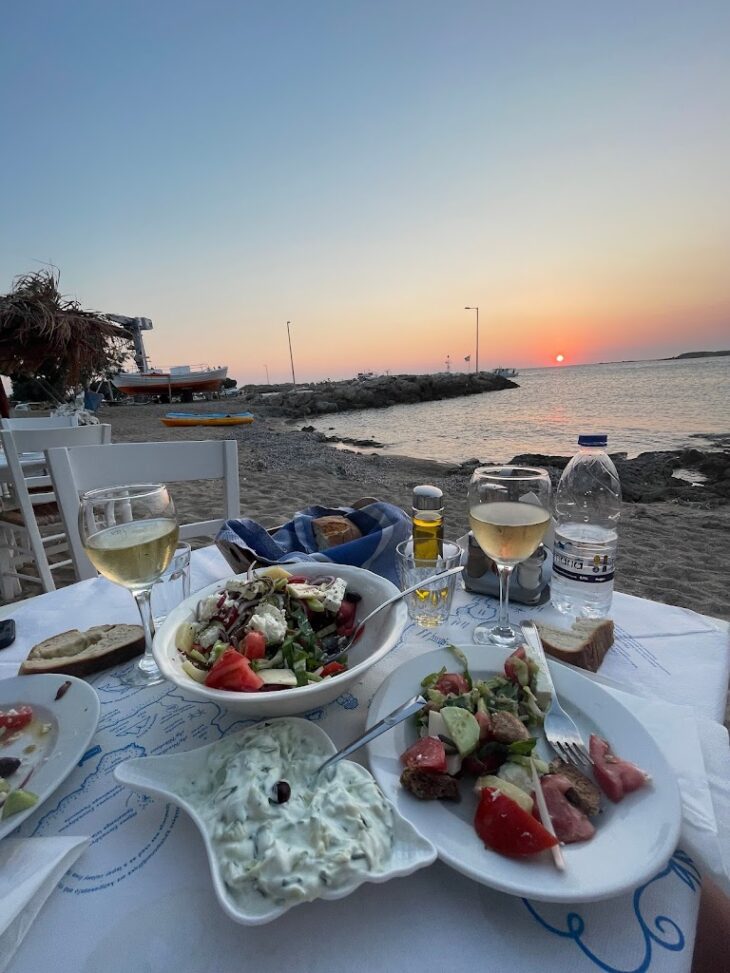 You can choose from different Greek dishes prepared with fresh, high-quality ingredients by skilled cooks who work passionately to make every dining experience extraordinary. From seafood all the way to orzo-based pasta, the menu covers a wide range of options.
Address: Str. Samouil 26, Ierapetra – Lasithi
Contact: +30 2842 022410
Website: https://goo.gl/maps/XFjmbB3kn9UEq49s7
Chrisofyllis
When it comes to local dishes in Agios Nikolaos, Chrisofyllis is definitely at the top of the list. It's a simple restaurant that serves delicious food and has an authentic Greek atmosphere. Plus, the sea view they offer will enhance your experience even more.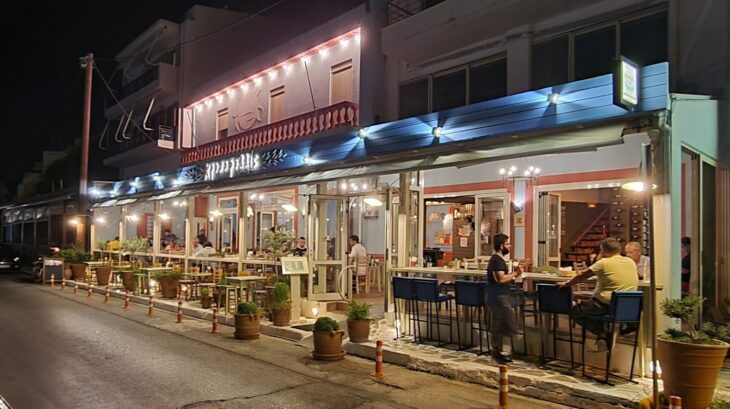 Although they feature a casual menu composed mainly of meat and seafood dishes, there are also several appetisers and desserts to choose from. For flavourful local cuisine without spending too much, this restaurant is your best bet.
In addition, wine and raki are also served here, making it a great place to hang out with friends.
Address: Akti Papa Nikolaou Pagalou, Kitroplateia, Agios Nikolaos
Contact: +30 2841 022705
Website: https://www.facebook.com/Chrisofyllis-805373732929836/