Chania is a city on the northern coast of Crete, Greece. It is known for its Venetian harbour, narrow streets, and delicious food. The city has a rich history and culture, and its culinary scene reflects this. From traditional Cretan dishes to international flavours, Chania has something to offer everyone. With a myriad of dining options to choose from, we have curated a list of the 7 best restaurants in Chania that are sure to satisfy your taste buds and leave you craving for more. So whether you're a seasoned foodie or a curious traveller, Chania offers an array of dining experiences that can satisfy every palate. From bustling tavernas serving traditional meze to chic eateries offering contemporary Greek cuisine, each restaurant tells a unique story through its food. In this guide, we'll explore the 7 best restaurants in Chania: Barraki, To Monastiri Tou Karolou, Well of the Turk, Chalkina, Prassein Aloga, 63 Mezedoscholeion, and Xilouris (Ta Neoria).
A convenient way to explore Chania's food scene is by renting a car. With a variety of car rental options available in Crete to suit your needs, whether you're travelling solo, as a couple, or with family, you can enjoy the freedom to discover these dining gems and more. The process is simple and convenient, with rental services providing excellent customer service to ensure a smooth experience. Most companies, such as Rental Center Crete, include insurance in their rates, and additional services like GPS and child seats are also available. With a rental car at your disposal, the flavours of Crete are yours to discover.
Listed below are the best restaurants in Chania:
Barraki: Barraki, which overlooks the ocean, serves fresh seafood in a casual setting. This restaurant is offering a great dining experience and amazing views..
To Monastiri Tou Karolou: This restaurant is housed in an old monastery and offers a unique blend of history and modern dining.
Well of the Turk: The Well of the Turk offers a fusion of Turkish and Cretan dishes offering a diverse menu that takes inspiration from the island's Turkish cultural heritage.
Chalkina: Chalkina focuses on local produce and delivers traditional Cretan dishes that are rich in flavour. This is the place to be for an authentic Cretan dining experience.
Prassein Aloga: Prassein Aloga puts a creative spin on Greek cuisine. By combining traditional flavours with innovative techniques, Prassein Aloga offers a fresh and exciting dining experience.
63 Mezedoscholeion: 63 Mezedoscholeion is renowned for its wide variety of meze, small plates that highlight the vibrant flavours of Cretan cuisine.
Xilouris: Xilouris is a family-run restaurant with great Cretan tradition. It is known for its home-style recipes.
1. Barraki
Barraki is a seafood lover's paradise situated right on the picturesque Chania Harbor. With its charming waterfront location, Barraki offers breathtaking views and an exceptional dining experience. This restaurant, with a strong 4.5-star rating, offers a unique mix of Cretan and Mediterranean cuisine. Visitors love the late-night charm, appreciating the soothing music and superior service. Its waterfront view leaves a lasting impression, and the restaurant's alluring ambience is frequently highlighted in positive reviews. The menu at Barraki is a treasure trove of seafood delights, featuring everything from the freshest catch of the day to grilled octopus and juicy prawns. Patrons especially rave about the restaurant's signature drink, rakomelo. This unique version of raki, known for its soothing properties for coughs and sore throats, is a favourite amongst visitors.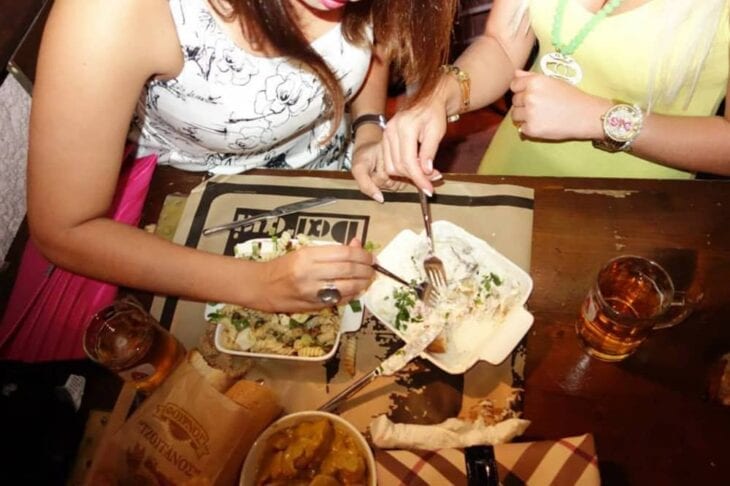 2. To Monastiri Tou Karolou
To Monastiri Tou Karolou is a unique restaurant located in a 16th-century building in the Old Town of Chania, Crete. The building originally served as a Catholic monastery, but it was converted into a restaurant in the 1990s. The restaurant has a charming and inviting atmosphere, with high ceilings, arched windows, and exposed stone walls. The menu features traditional Cretan cuisine, with dishes such as lamb kleftiko, stuffed vine leaves, and moussaka. In addition to its mouthwatering menu, the restaurant offers a carefully curated wine selection to complement the exquisite flavours of the cuisine. Knowledgeable staff members are always on hand to provide insightful recommendations, ensuring a perfectly paired dining experience.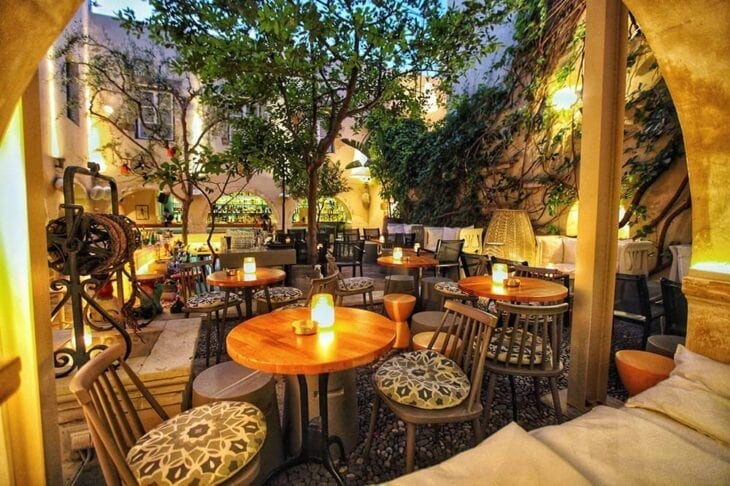 3. Well of the Turk
The Well of the Turk is located in the center of Chania's historic Old Harbor, creating a remarkable culinary experience by merging Cretan and Ottoman flavours. This restaurant has an impressive 4.5-star rating and takes you on a delicious journey that pays tribute to Crete's Turkish roots. The menu at Well of the Turk is a blend of traditional Cretan ingredients and Middle Eastern spices, creating a culinary experience that pays homage to the island's Turkish heritage. Guests often praise the restaurant's tasty lamb dishes. The lamb is cooked just right, leaving a rich and delicious taste that lingers in your mouth. They also have a wide selection of dishes for vegetarians. These plant-based options are just as flavorful, proving that the restaurant can cater to different tastes. The restaurant's focus isn't just on a unique fusion cuisine; it also prioritises atmosphere. Their outdoor seating area allows visitors to enjoy their meals amidst the lively ambience of the harbour.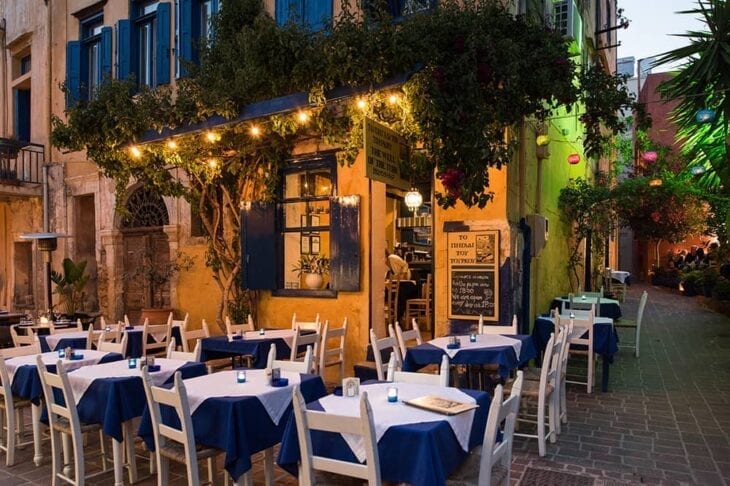 4. Chalkina
Chalkina is another crowd-pleaser restaurant in Chania that serves authentic Cretan cuisine; this restaurant is located in the charming narrow streets of Chania's Old Town and offers a warm and welcoming atmosphere. The menu at Chalkina features a variety of mouthwatering dishes. One must-try speciality is the classic moussaka, which is prepared with layers of eggplant, minced meat, and béchamel sauce. Another popular choice is the hearty souvlaki, made with tender pieces of grilled meat skewered on a stick. The mezes at Chalkina are a treat for the taste buds. Similar to bruschetta and other appetisers, they are packed with flavour and showcase the vibrant ingredients of Cretan cuisine. For the adventurous eaters, hohlioi bourbouristoi, which are Cretan escargot, are not to be missed. These flavorful snails offer a unique culinary experience that will leave a lasting impression. To complement the meal, Chalkina offers raki, a type of brandy digestif made from the remains of wine preparation. In this region, raki is sometimes known as tsikoudia. Rakomelo, a variation of the Raki drink, is also available.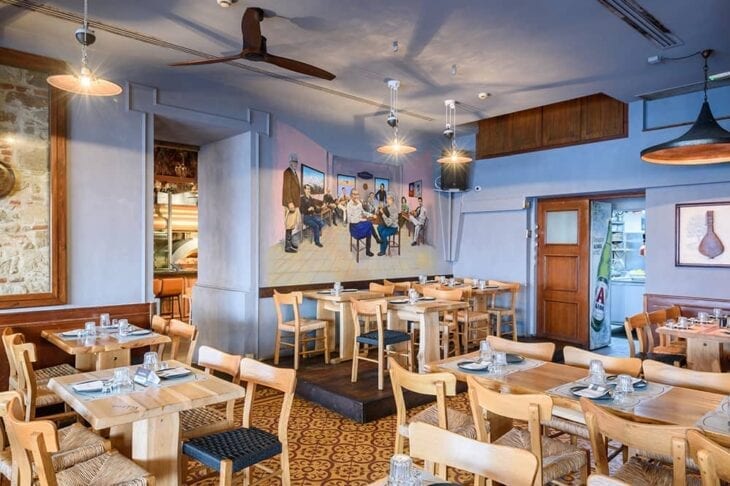 5. Prassein Aloga
Prassein Aloga is located in the lively Halepa neighbourhood, offering a fresh take on Greek and Mediterranean cuisine. The modern interior of Prassein Aloga is sleek and modern, which sets the stage for a memorable dining experience. The menu serves up innovative dishes using fresh, locally sourced ingredients. Prassein Aloga's specialities include their signature lamb dish, slow-roasted in a traditional Greek sauce, and their "Catch of the Day", which is the freshest seafood sourced from local fishermen on the same day. Beyond the food, Prassein Aloga offers a sleek and modern atmosphere that's perfect for a memorable dinner. The bar at Prassein Aloga is also well-stocked, with a variety of cocktails, wines, and beers. There is also live music every night, so you can enjoy a drink and some music while you relax and enjoy the atmosphere.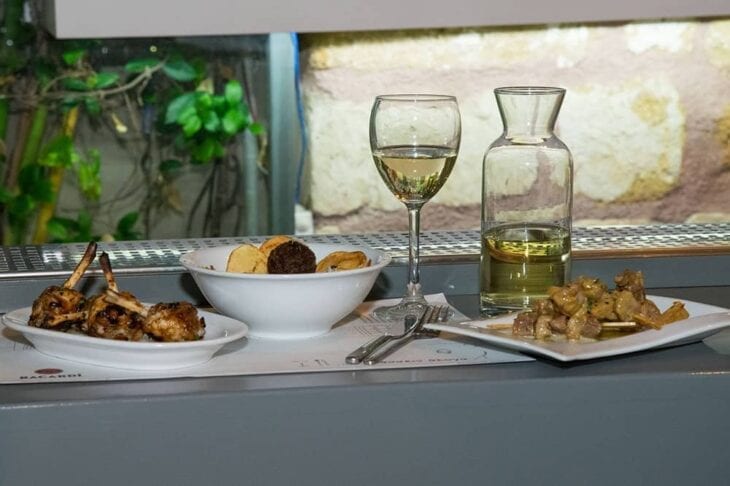 6. 63 Mezedoscholeion
63 Mezedoscholeion is a small, family-run restaurant located in the heart of the Old Town of Chania, Crete. 63 Mezedoscholeion specialises in mezes, small dishes that are perfect for sharing. The menu changes seasonally to reflect the freshest ingredients available, but you can always expect to find a wide variety of dishes to choose from, including grilled meats, seafood, vegetables, and cheeses. From flavorful dips to succulent meats, each dish is packed with authentic Mediterranean flavours. The restaurant's selection of local wines is the perfect accompaniment to the mezes. At 63 Mezedoscholeion, you can enjoy a vibrant atmosphere as you indulge in grilled meats and Cretan specialities such as apaki and kolokithokeftedes (similar to courgette balls). Don't forget to try their special strawberry-flavoured rakomelo, a fruity treat that perfectly complements their aromatic and delicious dishes. If you're looking for a delicious and authentic taste of Crete, then 63 Mezedoscholeion is the perfect place for you.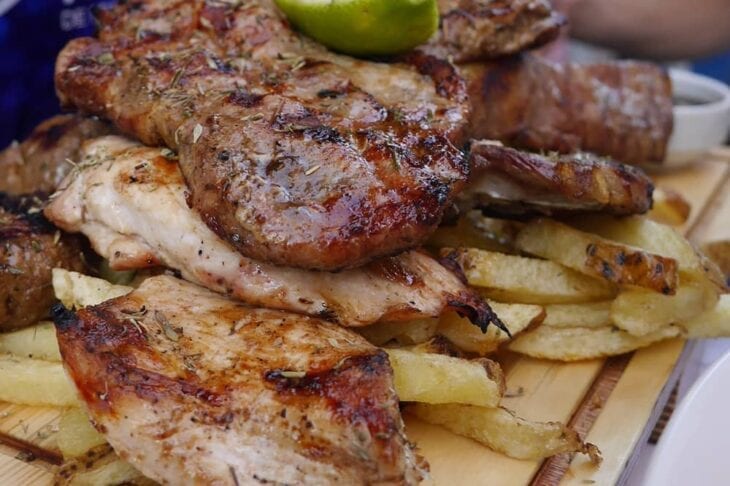 7. Xilouris (Ta Neoria)
Xilouris is located in the lively Ladadika neighbourhood of Thessaloniki. This family-owned restaurant takes pride in serving genuine Greek dishes, where it combines authentic Greek food with live traditional Cretan music, enhanced by the lively performances of local musicians.
Xilouris is an ideal spot to savour the freshest seafood and fish. Both tourists and locals enjoy their menu of tasty options, including classic souvlaki, moussaka, and fresh seafood. At Xilouris, the wine list features a wide selection of local bottles, providing an excellent opportunity to explore regional flavours. And, of course, you can always enjoy tsikoudia or raki, the traditional Cretan spirit. Xilouris is well-known for its flavorful herb-infused lamb and its signature taramosalata. These dishes have received praise for their authenticity and delicious taste.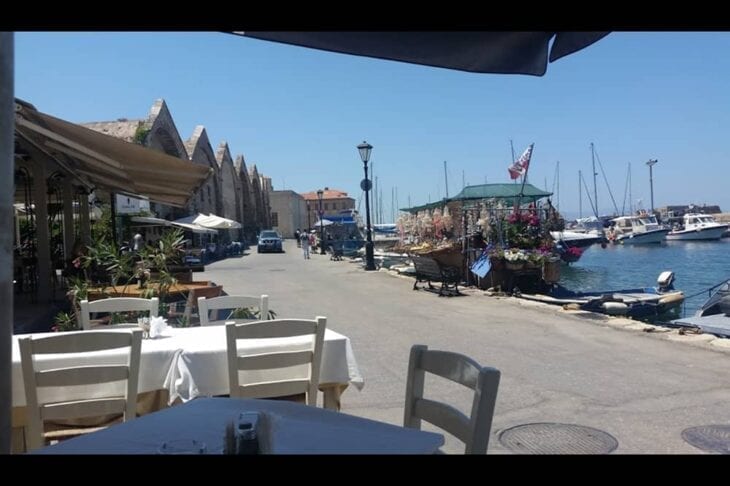 What are the best restaurants in Crete?
Crete is a beautiful island with a rich history and culture. It's also home to some of the best restaurants in Greece. Whether you're looking for traditional Cretan cuisine or something more international, you will surely find something to your taste on Crete. Among the best restaurants in Crete, you'll find Elia Restaurant in Malia, known for its fusion of international, European, and Greek cuisines. Tamam Restaurant in Chania is another standout, serving traditional Greek food with Eastern influences. If you're a seafood lover, Pelagos Seaside Restaurant in Ierapetra and Apostolis Restaurant in Chania are must-visits, offering fresh catches right from the Mediterranean Sea. For an authentic taste of Cretan cuisine, Chrisostomos Restaurant in Chania and Avli in Rethymno are exceptional choices. Each of these restaurants provides unique experiences, ambience, and cuisines. For instance, Dounias in Drakona Village is renowned for its traditional wood-fire cooking, and Taverna Alekos in Rethymno specialises in authentic Cretan meat-based dishes. Alternatively, for a dining experience with a view, Herb's Garden, located at the Lato Boutique Hotel in Heraklion, pairs a panoramic view of the Cretan Sea with Mediterranean, European, Greek, and international cuisines. No matter your preference, these 10 Best Restaurants in Crete offer unforgettable culinary journeys that showcase the island's rich and diverse food culture.
Do restaurants in Chania accept credit cards?
Yes, most restaurants in Chania accept credit cards. Visa, Mastercard, and American Express are the most widely accepted cards. Restaurants that cater to tourists recognise the importance of providing diverse payment options to accommodate their customers' preferences. However, note that not all establishments may accept credit cards, particularly smaller restaurants or traditional Greek taverns. Some of these places may operate on a cash-only basis due to a variety of reasons, such as avoiding processing fees or simplifying their transactions. It is always a good practice to ask the restaurant about their accepted forms of payment before ordering. You can do this either by calling ahead, checking their website, or asking the server before you order.
What are the best restaurants in Chania with a view?
There are 3 great restaurants in Chania that offer visitors the chance to enjoy dinner with a view. The best restaurants in Chania with a view are Thalassino Ageri, Panorama Restaurant, and Theodosi Restaurant. Thalassino Ageri is a seafood restaurant located in the Tabakaria district of Chania. It is perched right on the water, offering diners a stunning view of the Aegean Sea. The restaurant is renowned for its fresh seafood dishes, making it a must-visit for seafood lovers. Panorama Restaurant is located on a hill overlooking the city of Chania. It offers a breathtaking panoramic view of the old town, Venetian harbour, and the distant White Mountains. The restaurant is part of the Panorama Hotel and serves a variety of Greek and Mediterranean dishes. Theodosi Restaurant is located on the hills above Chania. It offers a scenic view of the city below and the sea. While dining, guests will experience the sight of Chania's skyline. The restaurant specialises in Cretan and Greek cuisine, providing a feast for the taste.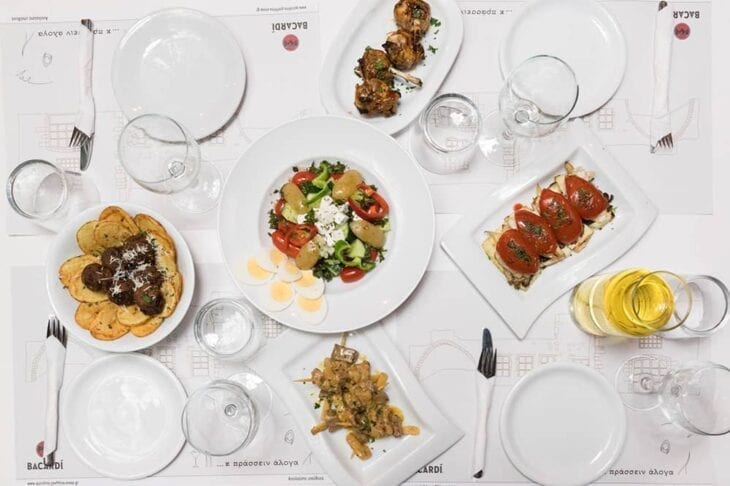 What do you need to know about Chania as a tourist?
While planning your visit to Chania, the following should be considered. The top attractions a visitor should not miss are the Old Town of Chania, the Venetian Harbor, the Nautical Museum and the Archaeological Museum of Chania. For hikers, Samaria Gorge is a must visit. Chania offers plenty of accommodation options and types that cover every budget. A visitor can select luxury hotels, budget-friendly hostels and vacation rentals. The local people are warm and hospitable. It's appreciated if tourists respect the local customs and traditions. Chania is a very safe destination as crime rates are very low in Crete. Common pickpocketing precautions apply in Chania as well. Separate your wallet to your mobile phone and leave your expensive belongings and jewellery at home. Greek is the official language in Chania, Crete and Greece, but English is also widely spoken. Crete's and Greece's official currency is Euro. Credit and debit cards are widely accepted and ATMs available conveniently throughout the city of Chania. If visitors prefer warm, sunny weather, then a Chania visit during the summer months of July and August is advised. For a quieter atmosphere, the shoulder seasons of spring and autumn are ideal, offering pleasant weather with fewer tourists. Chania is served by Chania International Airport (CHQ), with regular flights from Athens and other major European cities. Alternatively, ferries run from Piraeus, the port city near Athens, to Chania. Renting a car in Chania is a great way to explore the city and the wider region at your own pace. Public transportation, including buses and taxis, is also readily available.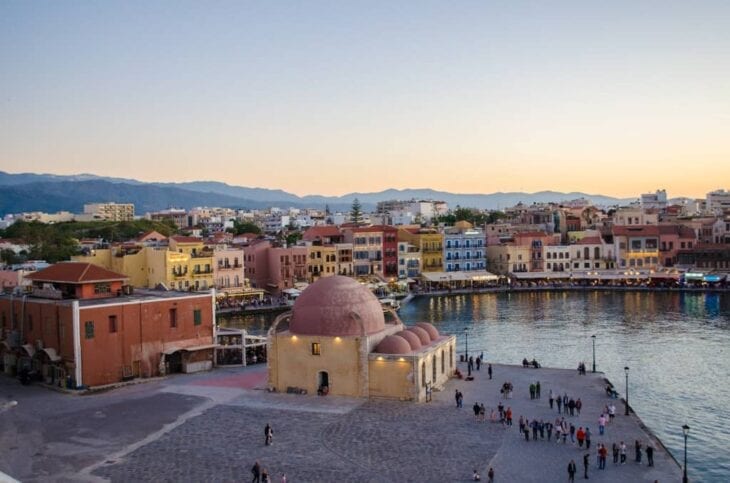 Do you need to rent a car to visit restaurants in Chania?
Yes, renting a car in Chania is recommended. A car rental provides flexibility and convenience, specially if you plan to visit restaurants or attractions outside the city center or in more rural areas. A Chania car rental would allow you to visit these places on your own schedule and potentially discover lesser-known gems that might not be easily accessible by public transport. Additionally, having a car can be beneficial if you want to explore other parts of Crete.
What are the factors to consider before renting a car in Crete?
Listed below are the factors to consider before renting a car in Chania:
Driving Licence: You will need a valid driving licence from your home country. International visitors may also need an International Driving Permit, depending on their home country's agreements with Greece.
Rules of the road: In Greece, as in most European countries, vehicles drive on the right side of the road. Overtaking is done on the left. Seat belts are compulsory for all passengers, and using a mobile phone while driving is prohibited unless you have a hands-free system.
Navigation: While Chania's city center is quite compact and walkable, a car is handy for exploring outlying areas and other parts of Crete. GPS or a good map is recommended for navigating the winding, often signposted roads.
Parking: You will find both free and paid parking areas in Chania. Pay attention to signs and local regulations. In the high season, parking in the city center can be challenging due to the number of visitors.
Car Types: Consider the type of driving you'll be doing. Smaller cars are often better for navigating narrow city streets, while a 4×4 could be useful if you plan to explore mountainous or off-road areas. Learning how to choose the right car to rent in Crete will definitely make the most of one's time enjoying the beautiful tourist spots.
How much does a car rental in Crete cost?
The average cost of a car rental in Crete is €40 per day. This price can vary depending on the type of car, the rental company, and the time of year. For example, the pick-up and drop-off locations are at CHQ Airport. A car rental for a week can cost around €250. For day trips and night trips, the cost ranges from €30 to €40. It is a manual transmission, air-conditioned, has four doors, and the vehicle should be returned with the same amount of fuel as at the start of the trip to avoid charges. When you are renting a car in Crete, you can typically enjoy unlimited mileage for the duration of a week. This means you won't face additional charges based on the distance you cover within the island during that week. Additionally, the cars available for rent usually accommodate four passengers, making them suitable for small groups or families.
Which are the best restaurants in Rethymno?
Rethymno is located on the north coast of Crete, between the cities of Chania and Heraklion, approximately around 65 kilometres (40 miles) east of Chania and 56 kilometres (35 miles) west of Heraklion. It's only about an hour's drive from Chania, making it an easy day trip for those staying there. Rethymno is also known for its long sandy beaches, vibrant nightlife, and, importantly, its culinary scene. The top restaurants in Rethymno are Lemonokipos, CAVO and Avli. Each one is offering a distinct culinary experience. At Lemonokipos, traditional Greek dishes take center stage, utilising fresh, locally sourced ingredients and providing a range of delectable vegetarian options. CAVO stands out for its beachfront location and eclectic fine dining, Greek and Mediterranean cuisine. Visitors should taste the seafood dishes using the freshest catches of the day. Lastly, Avli impresses with its blend of modern and traditional Cretan cuisine, showcasing innovative dishes crafted from locally sourced ingredients. Each one of the best restaurants in Rethymnon provides a unique dining experience, catering to a variety of culinary preferences.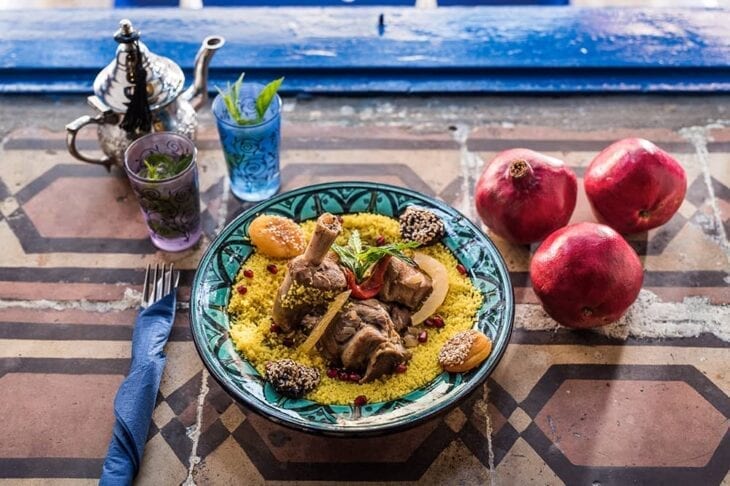 Which are the top restaurants to visit in Heraklion?
Heraklion is the capital city of Crete, Greece's largest island. A two-hour drive east from Chania will take you to this vibrant city, renowned for the Heraklion Archaeological Museum and the ancient Palace of Knossos. For food enthusiasts, Heraklion's vibrant culinary scene is a delightful journey through Crete's traditional food culture. Thigaterra, Ligo Krasi Ligo Thalassa, and Peskesi are among the top restaurants to visit in Heraklion. Thigaterra showcases the best of Cretan cuisine with its emphasis on fresh, local ingredients and traditional cooking techniques. Ligo Krasi Ligo Thalassa is a seafood restaurant that offers picturesque views of the Heraklion port, serving an array of fresh seafood dishes alongside local wines and traditional Cretan specialties. Peskesi is a beloved restaurant known for its authentic Cretan cuisine, using locally sourced and seasonal ingredients to create traditional dishes that are adored by both locals and tourists.
Where to find more information about Chania?
Listed below find more links about Chania: