The eastern region of Crete, Lasithi, is a less-visited area of the island, but it is also home to some of Crete's most spectacular beaches. Clear, blue waters, white sand, and dramatic cliffs make for a picturesque coastline. You can indulge in plenty of activities such as swimming, sunbathing, and even snorkeling. Whatever your preference, we have put together a list of the top-rated east Crete beaches for you to check out.
Best Beaches For Couples
Romantic getaways are always hard to plan. You want to go somewhere that is beautiful but also has things for you both to do. Fortunately, the eastern part of Crete is full of romantic spots where you can enjoy the sun together. Here are the top spots in Lasithi to visit with your significant other:
Elounda Beach (Elounda Village)
When it comes to beaches, couples could never go wrong with Elounda. It is one of the top resorts on the island, and you can find the most luxurious hotels near it. The beach has been a worldwide favorite for years, and it is not hard to see why. With crystal-clear waters and soft sand, you will feel like you are in a dream.
A variety of beach bars, restaurants, and cafes are available if you want to take a break from the sun. You and your loved one can enjoy a hearty lunch, followed by an afternoon of swimming. If you want to see the underwater beauty of Elounda, you can go snorkeling or diving. Different fishes of all colors and sizes roam around the area.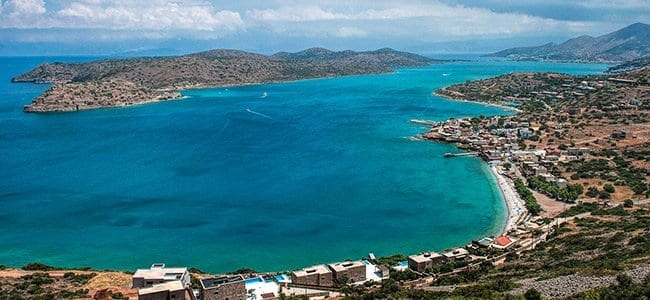 This destination is perfect for couples since it isn't too far away from other tourist spots. One example would be Spinalonga, a little island that is just a boat trip away. This is also a beautiful spot to explore, as it is filled with fortifications from the Ottoman and Venetian periods.
Plaka Beach (North of Agios Nikolaos)
Plaka Beach is known for its smooth, white pebbles and exceptionally crystalline blue waters. The beach is equipped with sunbeds, lounges, showers, and changing rooms which makes spending time here extra comfortable. Plus, tavernas are close by if you want to enjoy an afternoon drink with your partner. Try the local specialty, Raki, an exquisite liquor made from the local grape varieties.
For couples who love snorkeling, this is the best beach to go to. A variety of fish and even turtles can be seen swimming in its waters, allowing for a fantastic experience. Plus, windsurfing is a popular activity here, so you can always try that out if you are feeling adventurous.
Overall, you'll appreciate the beauty of Plaka Beach, with its traditional Greek atmosphere. With easy access to accommodations, great beach bars, awesome sights, and activities for both of you to enjoy, this beach is perfect for a relaxing day with your loved one.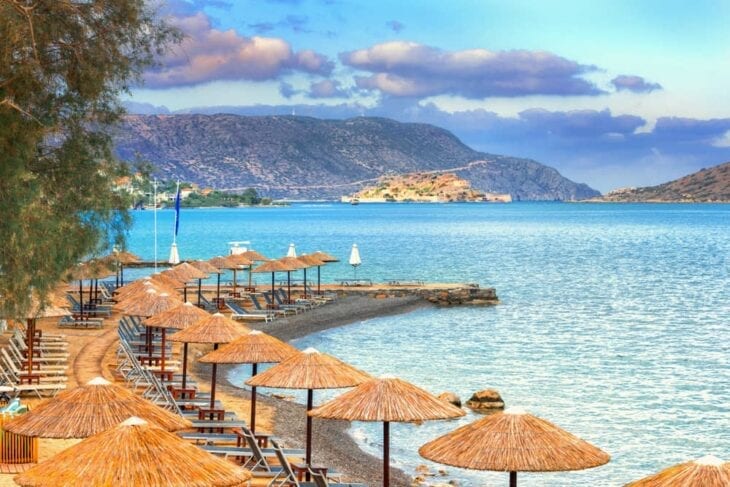 Kitroplatia Beach (Agios Nikolaos)
Kitroplatia is Agios Nikolaos' primary beach, and because it is located in the city center, it is generally highly crowded. However, this does not mean that it is any less beautiful. It is well known for a large number of sun loungers and parasols that are available for visitors, as well as its excellent facilities, which include showers, toilets, a first-aid post, and a changing room.
A beautiful monument is found in the area so you can visit it if you would like. Plus, the restaurants and cafes located around the beach are extremely affordable, allowing you to indulge in local cuisine 'til your heart's content. In addition, choosing a place to stay won't be a problem since various hotels are found right in the area.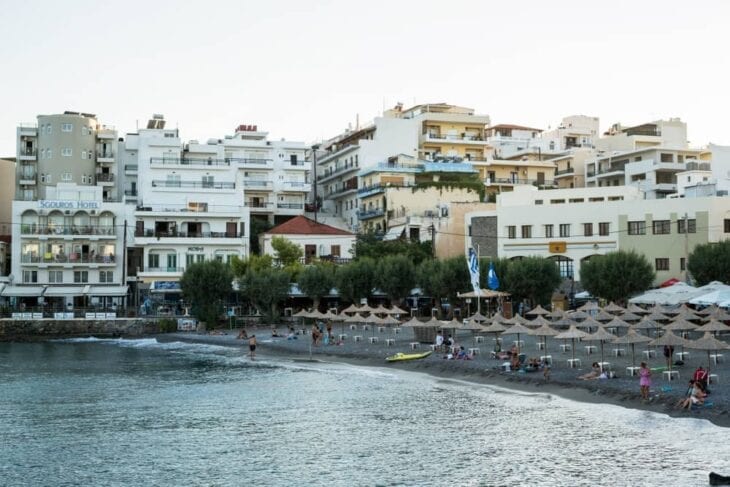 As for its characteristics, the beach's waters are usually shallow with a sandy seafloor, making it an ideal spot for couples with children. The waters are also very calm, which means that you can swim without worrying about rough currents or waves.
Kato Zakros (Zakros)
The location is more renowned for being close to Zakros, which has one of the Crete's four discovered Minoan palaces. The seashore neighborhood of Kato Zakros, on the other hand, features two lovely tiny beaches and a pretty lengthy beachfront.
Resting at this beach after seeing the historic site or hiking down the magnificent Zakros canyon (Gorge of the Dead) is a terrific option. The beaches boast fine, white sand and crystal-clear turquoise water, which is ideal for sunbathing as well as swimming.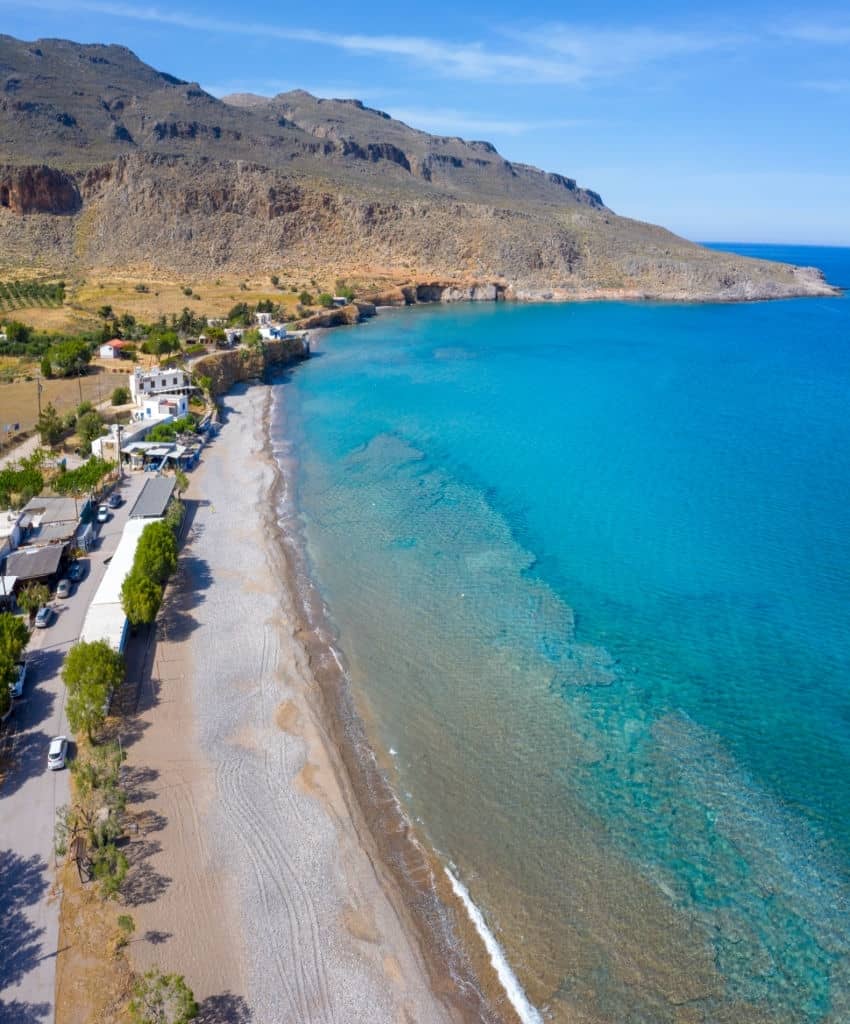 The town's hotels as well as its taverns, offer tasty local meals, snacks, and cocktails that are refreshing after a hot day under the sun.
Makrigialos Beach (Ierapetra)
Makrigialos Bay is a big, sandy beach around 20 minutes from Ierapetra. It's also a lovely seaside village, with tavernas and beach bars surrounding the shore.
Makrigialos' beaches are shallow and peaceful, the sea is clear, and the majority of the coasts are formed of fine sand.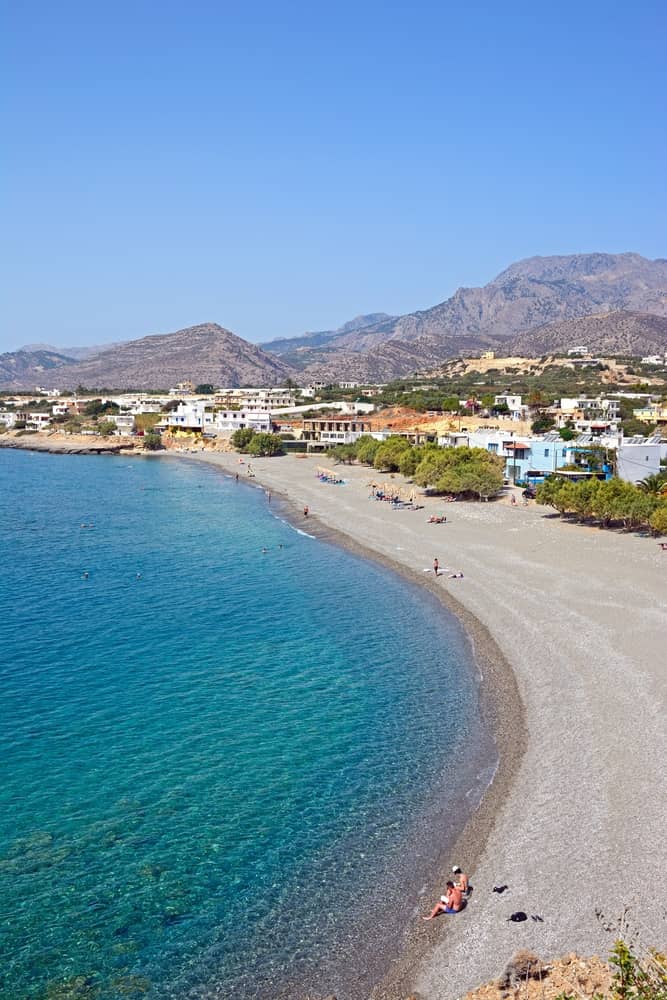 Makrigialos is also one of Lasithi's best beaches, with a gorgeous sandy bay, a quiet ambiance, and several magnificent venues, such as pubs and bars, especially in the evening. There are other high-rated hotels in the vicinity as well, making it a viable option for Ierapetra.
Top Beaches For Snorkeling
If swimming with the fishes is what you are looking for, then visiting these three spots is a must. You'll be surprised by the hidden treasures just waiting to be discovered.
Kolokytha Beach ( Elounda)
Kolokytha is a small island near Schisma, not far from Elounda and Agios Nikolaos. The rugged Kolokytha beach is one of the island's lesser-known snorkeling destinations, reachable through a winding yet picturesque route. To reach the beach, take the road leading east from Elounda town. You'll pass some deserted windmills, farms, and a small bridge along the road, all of which make a lovely panorama.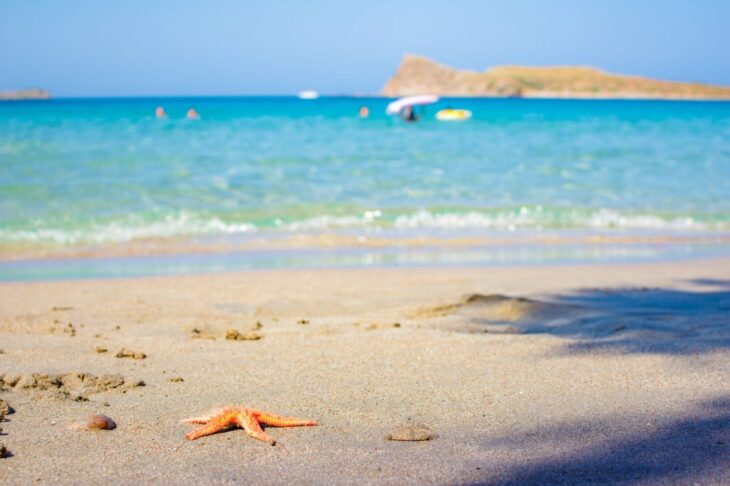 Since the location is secluded and not many tend to visit, marine life is still flourishing here. You can spot a variety of fish, octopuses, starfish, and even turtles while swimming in its clear waters. The beach is perfect for those who love privacy and would like to escape the crowds.
Dragon's Beach (Agios Nikolaos)
Dragon Beach is one of the beaches found in Ammoudi. It's a beautiful spot with crystal-clear waters and soft golden sand. Few rock formations interrupt the shoreline, making it perfect for swimming. The beach is also known for its serenity and tranquility, which is an ideal respite from the hustle and bustle of city life.
Since it faces east, you can enjoy the sunrise while having your morning coffee or tea here. In addition, the beach is great for snorkeling as you can see the many colorful fish and corals found in its waters. There are also a few caves and coves nearby, allowing you to go sightseeing if you feel like it.
Dragon Cave's Tavern is also a must-visit since they serve some of the best fish dishes on the island. The prices are very affordable, so you can indulge in some delicious seafood while enjoying the view.
Chrissi Island (Close to Ierapetra)
Swimming with the fishes could never get any more idyllic than this. Chrissi Island is a remote and unspoiled island that offers some of the best snorkeling spots in Greece. With its white-sand beaches and crystal-clear waters, the island is a paradise for marine life enthusiasts.
Once you get to Chrissi, there are just four sites to visit: a small bar on the north part of the island, a tavern right on the south side, the historical St. Nicholas church, and lastly, a beautiful lighthouse. Each of these locations offers stunning views and allows you to know more about the island's history and culture.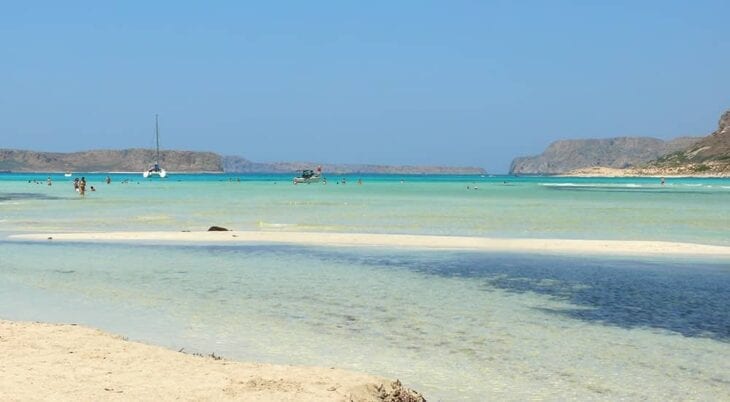 The water is as clear as glass, allowing you to see turtles swimming around. In fact, Chrissi is one of Greece's best places to swim with the creatures from the deep sea. You can also spot a variety of corals and fish, which makes snorkeling here an unforgettable experience.
Beaches Ideal For Solo Travelers
The east part of Crete is flocked with dozens of beaches ideal for solo travelers. Since this area isn't as crowded compared to the west coast, you'll get to enjoy the serenity and natural beauty Crete has to offer. Be sure to check these spots out:
Tholos Beach (Kavousi)
Towards the east of the Gulf of Mirabello, it is possible to reach the relatively undiscovered shore of Tholos, a wonderful secluded beach near the settlement of Kavousi, known for its millennium olive tree.
The beach features sand and tiny stones, and it's mostly peaceful and waveless, making it ideal for snorkeling and diving since it's possible to explore the seabed with no danger.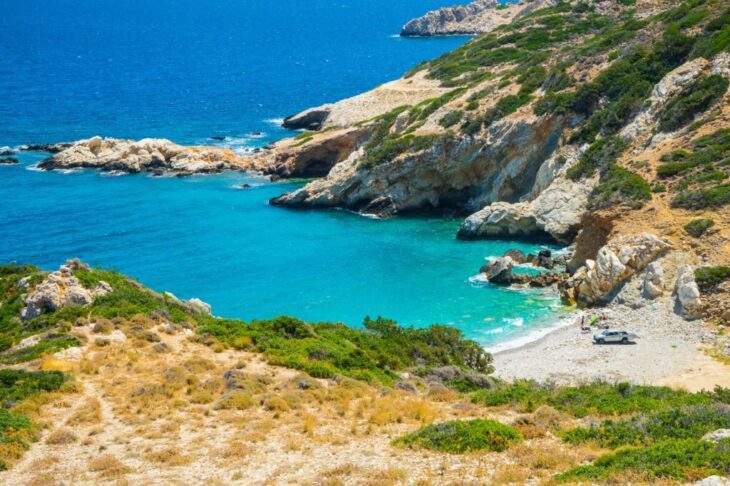 Although this beach isn't as modernized as the others, there is still an onsite taverna where you can get some Greek delicacies and cold beverages. If avoiding the crowd isn't your thing, feel free to spend your time on this wonderful beach.
Itanos Beach (Lasithi Mesa)
Another great beach for people looking for some peace and quiet is Itanos Beach. The beach of Erimoupoulis, also known as Itanos, are a succession of modest yet tranquil shorelines in East Crete. It is only 3 kilometers from the more popular and congested Vai Beach.
This hidden beach is composed of several coves that protect it from strong winds. The sand is white, and the water is crystal clear with a beautiful light blue hue.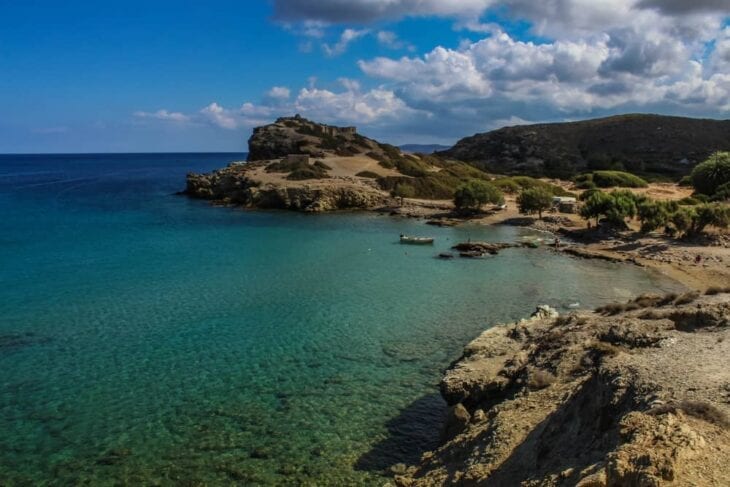 Since there's not much infrastructure on this beach, visitors should come prepared with their own food and drinks. The little Dorian settlement near the beach's entrance is the area's most distinguishing feature; the archaeological site's remains are open to the public. Because some of the ruins of Ancient Itanos still lie beneath the water, the spit is popular for snorkeling.
Chiona Beach (Palekastro)
One of the favorites of naturalists, Chiona Beach, is a secluded beach located in Lasithi. There are several coves to explore in Chiona, which is also near the settlement of Palekastro.
When in Chiona, the beaches feature small pebbles and a shallow coastline, which may make swimming a bit difficult at times. However, this doesn't stop people from spending their days on the beach.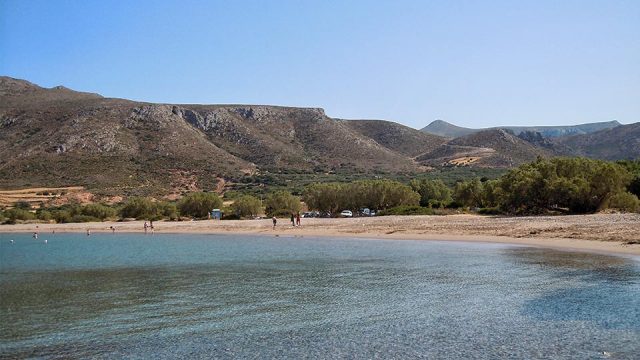 The view is absolutely stunning, and the lack of crowds makes it very relaxing. This area isn't as well developed since different accommodation surrounds the beaches, it's also maintained and clean.
Family-friendly Beaches
Are you traveling with your family? If so, don't worry! Several beaches in eastern Crete offer everything you need for a fun and relaxing time under the sun. Your kids can enjoy the water while you can sit in a quiet and pleasant environment.
Ammoudara Beach (Agios Nikolaos)
Ammoudara, located about 5 kilometers from the city of Agios Nikolaos, is among the most family-friendly beaches in the area. It's an excellent alternative for getting away from the city's congested beaches because it's only 10 minutes away.
This amazing beach with clean, turquoise waters is oriented east; thus it is not influenced by the winds that generally affect Lasithi's northern shore. Plus, the sea is not wavy so snorkeling is an excellent option. Ammoudara's typical beach characteristics make it ideal for little children.
Sitia Beach (Sitia)
Kids all love to play in the sand and swim, and Sitia Beach has all that and more. This beach is located in the town of Sitia, a beautiful place known for its friendly locals and wide range of tourist spots.
Different hotels, restaurants, and coffee shops surround the beach. You can also find water activity centers that offer a range of services, such as windsurfing, canoeing, and sailing.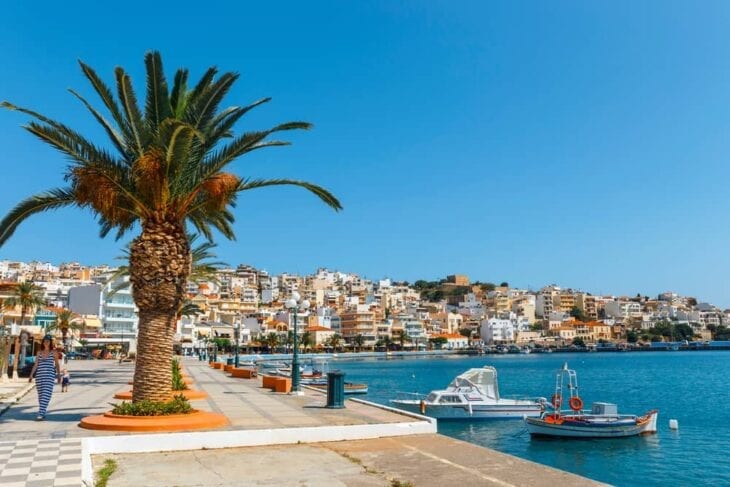 The beach has shallow waters that are good for small kids since you can easily spot them when they're swimming. The sand is white, and various sunbeds and umbrellas are available for visitors.
Voulisma Beach (Village of Istro)
Voulisma, also known as Golden Beach, is a famous beach in Lasithi and one of the best-loved locals and visitors. It's a modernized beach found on the coast of the little village of Istro, just a few kilometers from Agios Nikolaos, with beautiful fine sand and blue waves. In the summer, Voulisma may get quite crowded. However, the beach is big enough to accommodate everyone.
Because it is quite shallow, the beach is perfect for both families and young people. There is a beach bar-tavern, and you may hire umbrellas and loungers for the day.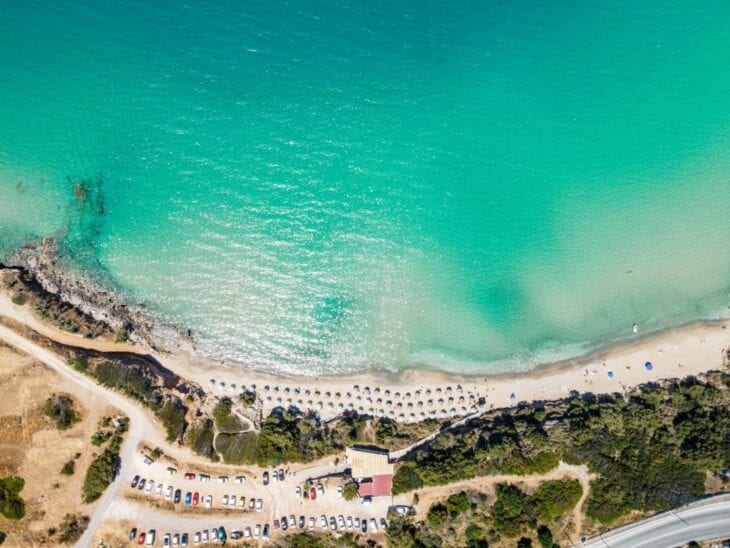 Other beaches in Istro, not far from Voulisma, include the rocky beach of Karavostasi, which is rather broad and has various amenities available, and Agios Panteleimonas, a smaller, orderly bay with sand and stones.
Vai Palm Beach (Finikodasos)
Vai Beach is one of Crete's most well-known and, without a doubt, the most beautiful of the Lasithi beaches. During the prime summer months and until the end of the season, the coastline is generally packed. However, it doesn't mean that the beach isn't worth a visit.
Vai beach is known for its dramatic cliffs, crystal-clear waters, and huge palm trees. It's a great place to sunbathe, paddle in the shallows, and relax. There are also beach bars and restaurants, as well as parasailing, jet skiing, and other water sports on offer.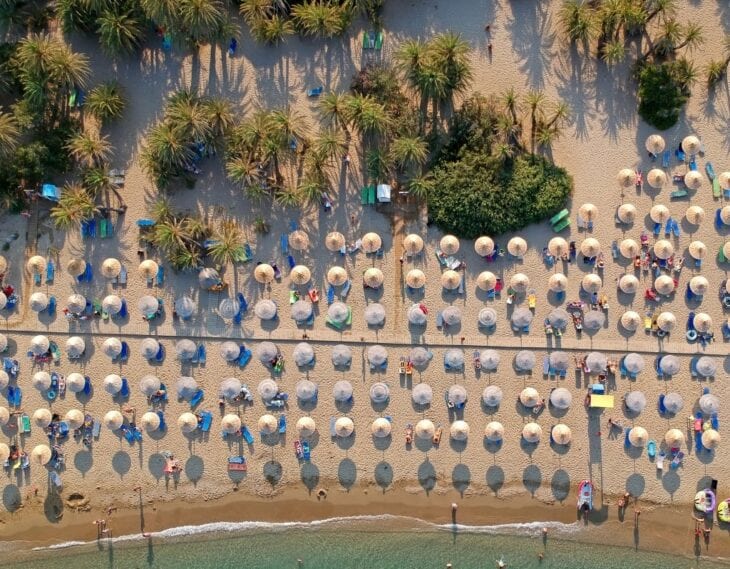 Your kids will enjoy the shallow waters and the long stretch of sand. If you're looking for accommodation, there are various options near the beach. From affordable apartments to luxurious resorts, there's something for everyone.
Goudouras
Although certain people include this beach as part of the Xerokampos beaches, it is definitely a beach in its own right. Goudouras is a picturesque harbor that is calm and remote, like other beaches on Lasithi's southern coast. You can bring your kids here to swim, paddle, and play in the sand.
If you ever get hungry, a small taverna is available on the beach serving fresh seafood and other traditional Cretan dishes. The view from the taverna is simply stunning, as you can see the boats in the harbor and the mountains in the distance.
Overall, Goudouras is a great place to relax and escape the crowds. Whether with your family or alone, you can enjoy the tranquil ambiance this quaint beach has to offer.
Almyros Beach (Agios Nikolaos)
Almyros is a tremendously broad and long beach where everyone can find a spot to stay, especially during the busy summer season. In Almyros, the beautiful sea of Mirabello Bay is at its finest, with colors of green and blue mixing perfect to create a breath-taking view. The beach is small and tranquil, with extremely fine, golden sand, and it's one of the greatest bays to visit if you're in the vicinity.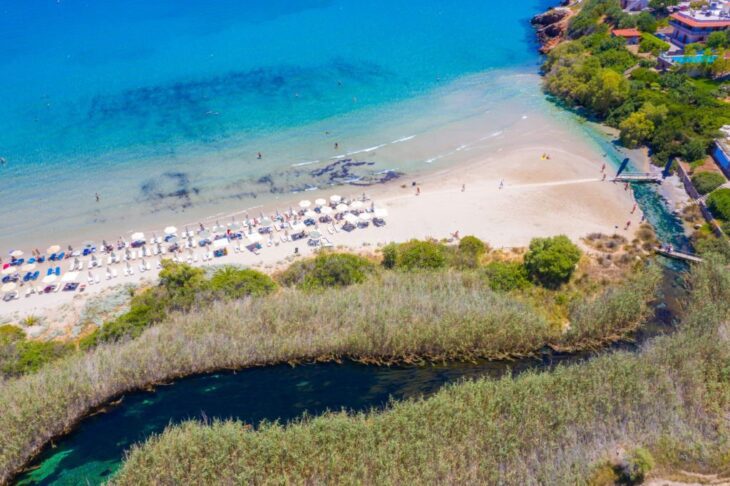 The main feature of the beach is a little stream of water that flows over the beach and ends in the sea, making it an excellent location for photography. Children can have fun on this beach since the waters are not deep and the wind isn't as strong, which helps make it a great family getaway.
Best Beaches Near Major Cities of East Crete
Of course, not everyone likes traveling far. Hours of long rides, traffic jams, and struggling with the rocky terrain to get to a remote place may not be everyone's cup of tea. In that case, you can opt for beaches located near cities or towns that are easy to access by rental car. Here are the top ones you should try:
Paralia Limani (Sissi)
If you're in Sissi, don't forget to check out Paralia Limani. The beach is just located in the town's port which makes it easy to get to. The shore of Sissi is frequently influenced by northern winds, which cause the sea to be highly wavy. As a result, most travelers seek this beach's tranquil waters.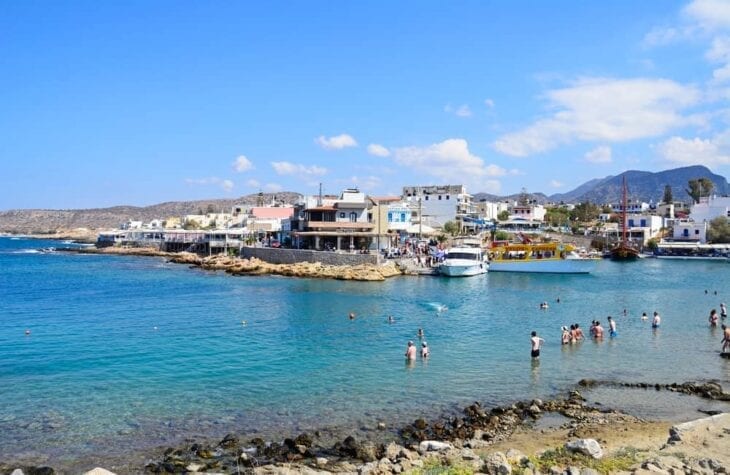 When on the beach, you may choose to sunbathe on the shore or swim, paddle, and play in the shallow waters. There are also restaurants near the beach offering fresh seafood dishes as well as other Cretan specialties. Additionally, there are bars where you can enjoy a cold drink while watching people walk by or boats sailing by.
Avlaki Beach (Sissi)
Another beach in Sissi you're sure to love is Avlaki. It is a beautiful beach located just a few minutes away from Paralia Limani. The beach is known for its clear blue waters, white sand, and rocky formations that surround it. It's a great place for swimming, sunbathing, and simply relaxing.
There are also beach bars located on Avlaki beach where you can order a drink or something to eat. However, the beach is usually packed during the summer season since it is a favorite for locals and tourists alike. If you're looking for some peace and quiet, it's best to go during the off-season or early morning/late afternoon.
Milatos Main Beach (Milatos)
Not far from the port of Milatos, you'll find the Main Beach. It is a long sandy beach with various amenities accessible. Beach bars, restaurants, and accommodation are available on site.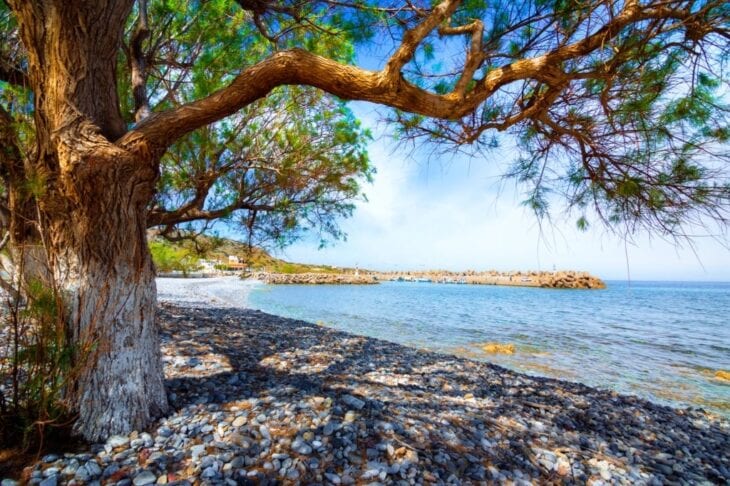 The water here isn't ideal for kids since big waves are prone to the area. However, it's great for people who enjoy swimming or surfing. Although some sections of the beach are rocky at low tide, you can easily walk for some distance along the shoreline to find a sandy stretch if needed.
Ormos Beach (Agios Nikolaos)
Ormos Beach is a fairly tranquil beach not far from the heart of Agios Nikolaos. The waters are generally calm, so it's great for kids too. The shore is also fairly shallow. Unfortunately, it may become a little busy during the high season.
It's simple to get to and one of the nicest beaches for families in the area. You can even find a little playground just for kids. Not far from the coast is an ancient Byzantine church, which gave rise to the town of Agios Nikolaos.
Ammos Beach (Agios Nikolaos)
Because it is so near to the Marina, Ammos beach is known as the Marina's beach. It's not far from Agios Nikolaos' main beach and is popular with residents, especially on weekends. The beach boasts of quiet waters and fine sand.
Various water activities can be done here. If you love diving, this beach is perfect for you. There are also bars, restaurants, and cafes near the shore, which make Ammos Beach a great place to hang around in.
Other Beaches in Lasithi to Visit
Mirtos Beach
Mirtos is another must-see beach in the region of Lasithi. It is an ideal destination for anyone seeking southern tranquillity and uniqueness without feeling utterly isolated. The waters on the beach are clear, while the sand is white, giving the beach an idyllic look.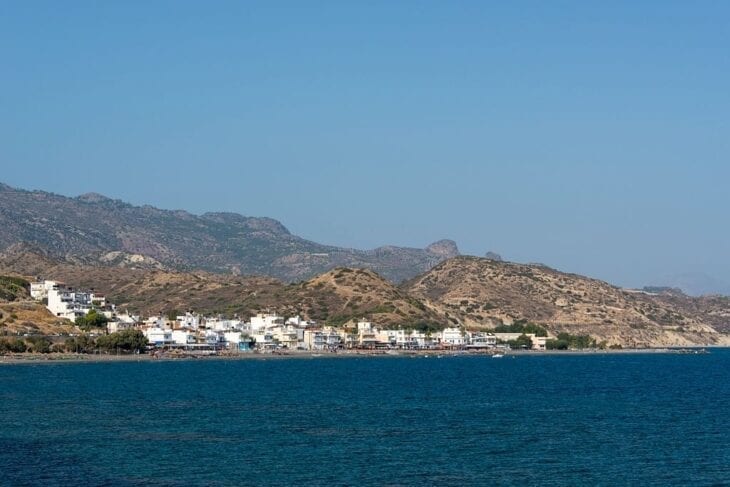 Koufonisi
Koufonisi is a small uninhabited islet three miles south of Lasithi. Boats to Koufonisi leave from Makrigialos, a village near Ierapetra. It's a tiny, deserted island of 5 square kilometers in size. To get there, take a boat from Makrigialos. The islet is mostly made up of fine, white sand beaches and caverns. The islet is disorganized, so plan to bring beverages, snacks, and other supplies if you want to spend the day there.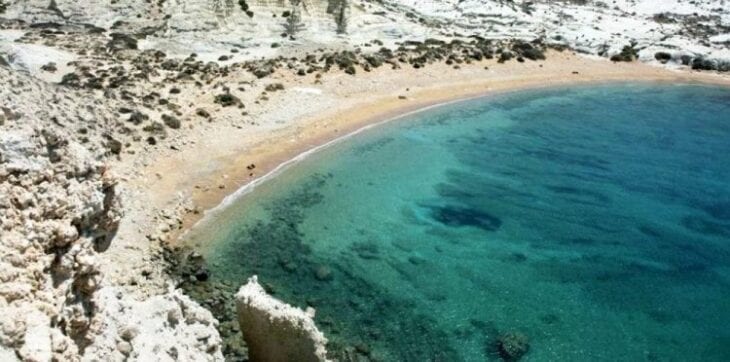 Boufos Beach
Boufos has a well-organized sandy beach with loungers and umbrellas. There's also a bar nearby. Boufos is within a few hundred meters from Sisi's harbor. When on the beach, fine white sand, clear turquoise waters, and small rock formations will make up for a great view.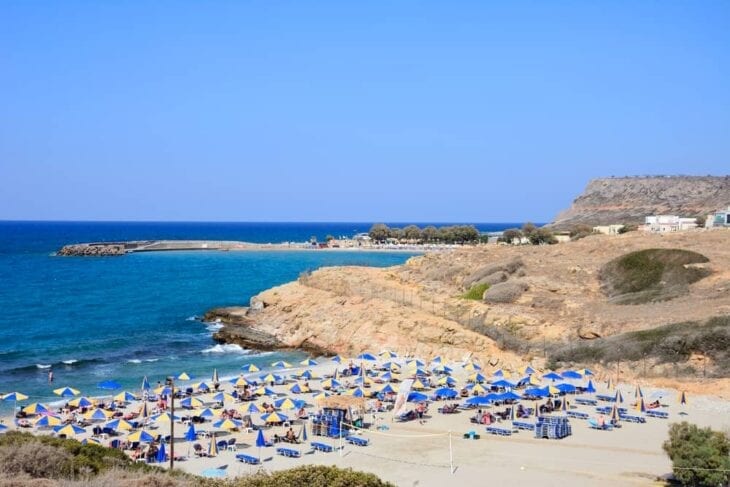 Best beaches near Ierapetra
There are several beaches in Ierapetra, the greatest of which is Megali Paralia. This is a well-kept beach with gritty stones mixed in with the sand. Beaches such as Agia Fotia, Koutsouras, and Ferma Beach, are also great spots found in the area. They are well-equipped, with sun loungers, umbrellas, and water sports on offer.
Mazida Ammos
Mazida Ammos is the largest of Xerokampos' beaches, and it's also one of the nicest bays in Crete, having a really exotic vibe. The sea is aquamarine, while the sand is pristine and very fine. The bay is shielded by the little cape Trachilos, which keeps the water level and tranquil. The little islet of Kavali is located just opposite this coast.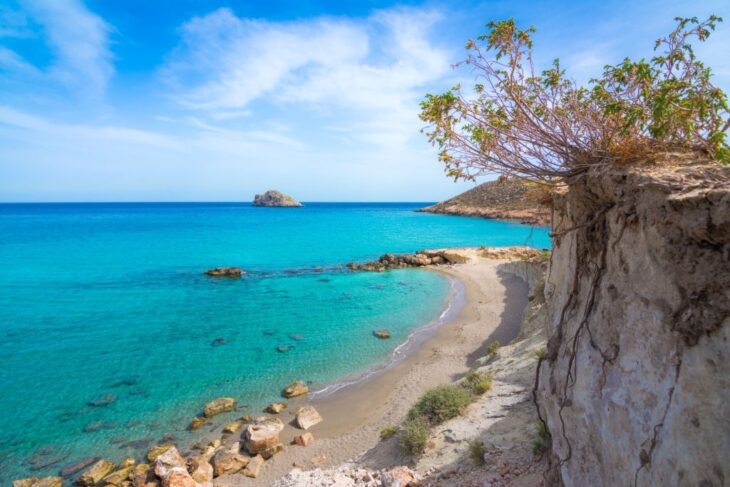 Kouremenos Beach
The beach of Kouremenos is shallow and has fine golden sand, making it perfect for families with children. Kouremenos is over 2 kilometers long and never crowded. Snorkeling is a popular pastime due to its distinctive marine scenery. However, windsurfing is the most popular sport in Kouremenos, as the beach provides great weather for this activity.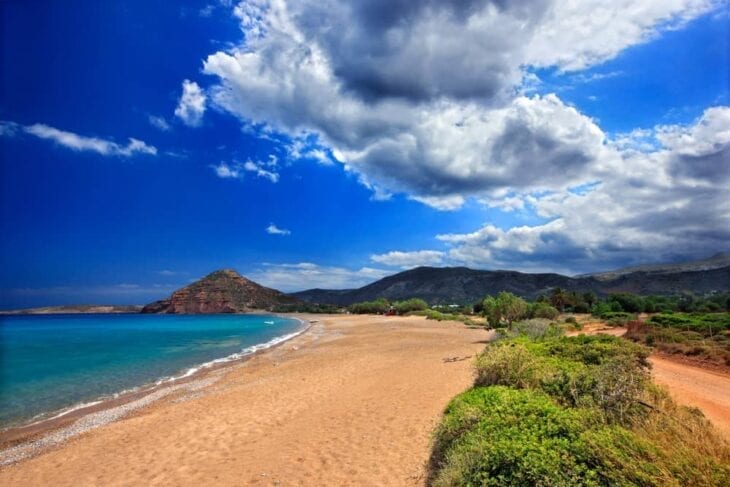 Mochlos Beach
Mochlos, a peaceful seashore and fishing village, is located less than an hour from Agios Nikolaos. The settlement features a relatively modest beach with beautiful seas and a few tavernas in the region. There is a tiny islet just in front of the main beach, as well as many ruins from a former Minoan village. A magnificent rocky beach near the little town of Mochlos is great for spending an afternoon alone.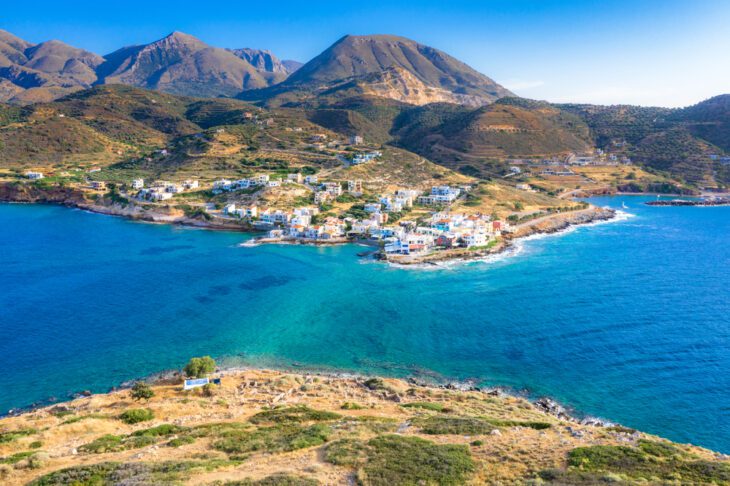 Spiliada Beach
Spiliada, Sisi's easternmost beach, is less busy than the village's other beaches. Spiliada is a sandy beach with tranquil waters and a few trees that give free shade.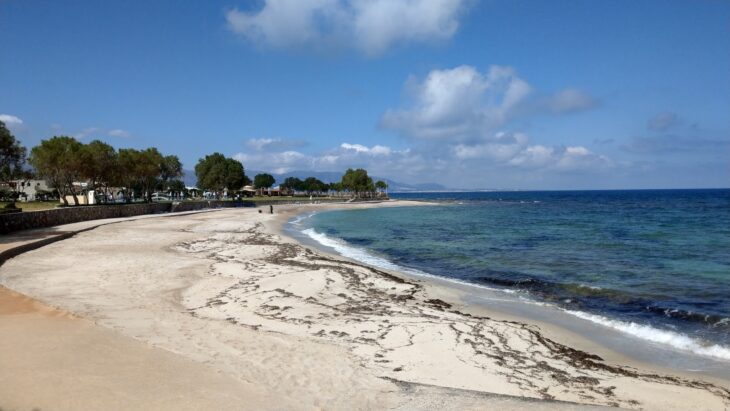 Also Read: