Plakias beach is 40 kilometres from the south of Rethymno town. Hotels are found near the beach. The beach is a known peaceful holiday spot that has a lovely town. The beach is perfect for swimming and snorkelling because of its clear waters. There are different tours including Plakias beach. There are scenic mountains that are available for a full day, including historical highlights. Stop points are St. Anthony Gorge (Gorge of Patsos), Kourtaliotiko Gorge, Spili botanical garden, and the gorgeous Plakias Beach. It is the least visited region of Crete, it is a great place to have quiet and peace after travel. There is an option to take a tour for a private escape to the south of Rethymno. There are 2 hours of hiking in the region of Plakias perfect for adventurous individuals that are game to walk under the Cretan sun to explore the not-so-crowded part of the island. Pass through the Libyan sea and choose the beach to dive in the blue waters. The day ends in the tavern to enjoy a genuine Cretan meal by the sea. The climate in Plakias beach is averaging 19 degrees Celsius each year. Rainy days average only 55 days annually in Plakias. The hottest temperature during the summer reaches 23 to 26 degrees Celsius, while during the winter the temperature drops from 12 to 14 degrees Celsius. Generally, the climate in Plakias is humid, but still, it depends on the proximity of the sea. The location of Plakias is strategically important for tourists and the history of Crete. It is known to have been a seafaring destination for about 5 Million years ago. Plakias was known as a settlement place for the six fishermen in the year 1961. Plakias is known as a fishermen's village, where the primary livelihood is from fishing. There are many shops and supermarkets in Plakias. Car rental services and tour agencies are available as well, however, there are no banks in Plakias. There are small hotels, flats, and taverns to sustain the number of tourists during summer. Visiting Plakias beach and other nearby destinations is best for vacationers who want a serene, quiet and relaxing holiday. The crescent moon shape of the bay makes the place secluded and private, the best place to relax and unwind.
What is Plakias Beach?
Plakias beach is a very well-known tourist beach destination on the South coast of Crete. The beach is 40 kilometres down from the city of Rethymnon. There are known hotels in the area with neighbouring beaches in the western part which are, Skinos beach and Souda beach. The Damnoni beach and Ammoudi and Schinaria are located in the eastern part. Plakias is growing in popularity due to its excellent sand and clear water of the Libyan sea. The Plakias beach has facilities like showers, changing rooms, and sun beds with umbrellas. Lifeguards monitor the beach. The eastern portion of Plakias beach has clothing options for someone who wants to be nude on the beach. Parking spaces are generous with no parking fees.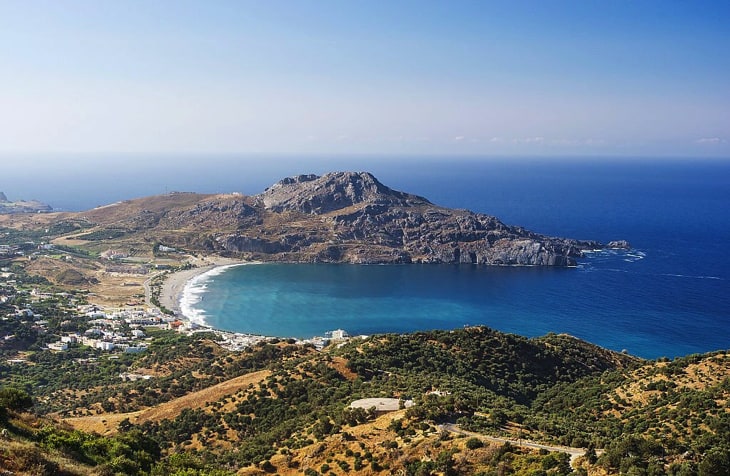 Where is Plakias Beach located?
Plakias beach is situated 40 kilometres from the town of Rethymnon. The beach is between the other popular beaches in Crete, but Plakias has the widest beach size among them all. The Plakias beach has 1.5 kilometres distance, while Damnoni and Souda beaches only have 400 to 500 metres in length. Skinos beach has 300 metres, then the Schinaria and Ammoudi beach have only 100 metres of beach space. The Plakias beach faces the beautiful Libyan sea that has clear blue waters that tourists must experience even just once in their lifetime.
How does the Plakias Beach Map look?
The map is generated through Google Maps. The Plakias beach is situated 40 KM from the town of Crete, which is the Rethymnon. There are nearby resorts as well with near residential areas and places to stay in. Renting a car and navigating these Crete roads are very manageable without having a local to provide guidance. Visiting Plakias area is straightforward after landing at the nearest airport, which is the Chania International Airport. There are only 2 hours of travel by road, satellite maps and mobile maps are manageable when looking for directions. It is ideal to have an itinerary or checklist so nothing is missed out while on the road.
Below is an image of the Elafonissi Beach map.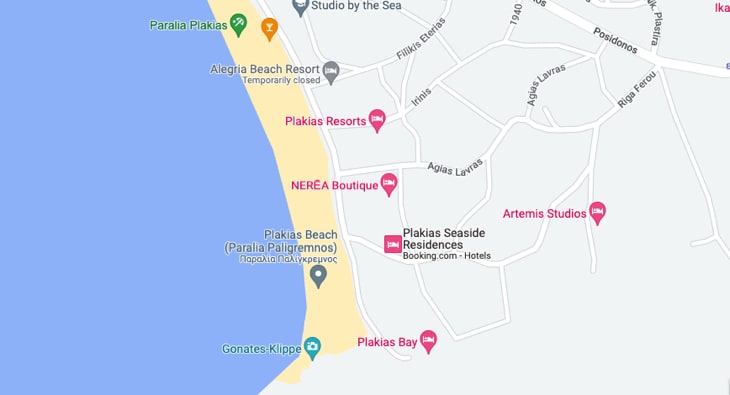 What are the activities at Plakias Beach?
Activities in Plakias start with tour packages if undecided about where to go or do not know what to do. There is a hiking adventure for those who want a non-crowded adventure to Aradena Gorge, Sfakia – Agia Roumeli, and Anopolis – Livaniana round hike adventure. It costs around €145 per destination. There are lots of activities on Plakias beach and near destinations. The adventure starts from the dam and leads to the plant garden of Saint Antonios which has a small church in the rocky cave. Passing through the old villages to have a stop-over for sightseeing and picture taking from the highest point viewing the North and South Rethymno. There are botanic gardens along the way, finding the rare plants and flowers of Crete, known for their healing properties. The adventure continues to Spili known for its natural springs, and then ahead is the folklore museum where the tourist is able to take a coffee. The activity ends at the Plakias beach by crossing the Gorge of Kourtaliotiko where the South Cretan Sea rests. Make sure to have an itinerary, so there are no missed events or activities and the things to do in Plakias Beach
When is the best time to visit Plakias Beach?
The best time to go to Plakias is in the summer, which is from March until December. The warmest months are during the months of June until September, then the driest periods are covered from June to August. It is best to schedule the tours according to the tourist's ideal weather or temperature. For vacationers that want fewer crowds and need a peaceful holiday, the months from April until mid-June are ideal because summer is just getting started, and some tourists like warmer weather for beach activities.
How was the preservation of Plakias Beach?
The Plakias is home to 29 ancient cities including caves and rock shelters and 2,000 collected stone artefacts leading to the Mesolithic and Palaeolithic periods of Crete. The research and findings indicate that for over 5 Million years, the Island of Crete has been the Mediterranean destination for Seafaring. The habitats were well-preserved, including the culture and their activities.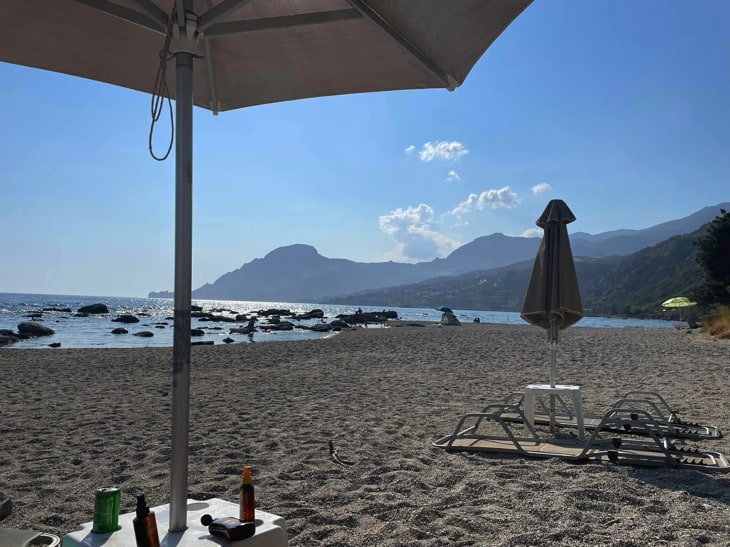 How do you get to Plakias Beach?
The nearest airport in Plakias is the Chania International Airport, about 100 kilometres. The tourist must begin to follow the route to Rethymnon by not trying to get past the town, to get to Plakias. The drive takes 2 hours or less, driving from the airport to Plakias. Renting a car is an ideal way to explore the island more and visit other beaches aside from Plakias beach. Renting cars is possible through airport services in both Chania and Heraklion airports.
What are nearby attractions in Plakias Beach?
Plakias beach nearby attractions include neighbouring beaches like Paligremnos. Just like Plakias beach, it has sandy shores and very clear waters, and it has hotels and restaurants. There is a vertical cliff that attracts most climbers. There is a place where the epic here Digenis kneeled to drink water from the local spring where it is called Gonates. It is best to witness a strange phenomenon during a full moon from the month of September up to January. A magical moonlight is going to reflect in the mirror-like in the towering cliffs, and during this period there are lots of giant squids approaching the shore lines, allowing the fishermen to capture them for food.
What are the factors to consider before renting a car in Crete?
Renting a car is the best option when visiting Crete. Crete is a beautiful island in Greece that must be included on the bucket list. For someone who loves the rich culture and its historical past. One way to enjoy it is by renting a car to explore the majestic island in different ways. Choosing the right vehicle to rent in Crete definitely makes the most of everyone's time enjoying the beautiful tourist spots. Make sure that the plan to rent a car ahead of time is planned before the trip, and research the terrain to determine how to choose the right car to rent in Crete.
Listed below are the factors to consider before renting a car in Crete.
Insurance: Car rental insurance is the primary concern of renting cars, as it is the most important factor that establishes renters to protect them against the cost of damage when renting a car. Crete car rental includes insurance for collision damage waiver and a credit card with the driver's name on it as a guarantee.
Driver's age: The legal age requirement when driving in Crete is 18 years old. The driver must be of legal age with a valid driving licence and essential documents like a local driving licence and a government-issued ID or a passport.
Driver's gender: Women and men are permitted to drive in Crete. As long as they are of the legal age which is 18, regardless of gender.
Car type: Travelling with groups or family members requires a much bigger car. Car rental companies in Crete offer a variety of vehicles to choose from. Selecting a smaller car is best when driving in Crete. The reason for that is that some Greek roads are narrow. Travellers must learn how to pick the right car to rent in Crete to have a smooth driving experience.
Documents needed for renting a car: One important document required for renting a vehicle is a valid driving licence. However, a credit or debit card may be presented as well, including a passport or an ID card.
How much does a car rental in Crete cost?
The car rental cost in Crete averages from €30 to €40 per day. The island of Crete has many beautiful tourist spots that are travelled using a rented car. Crete car rental costs vary depending on the number of passengers, itinerary, car type, location, and duration. A car rented for a whole week costs on average of €250, while renting for the weekend costs around €78. Affordable car rentals in Crete vary depending on the car type. Only four passengers, including the driver, are allowed in cars with up to seven seats. Keep in mind that the bigger the car, the more difficult it is to drive around the Cretan roads. Travellers must know these factors, and it is best to check the Crete Car Rental. Consider the parking spaces as well on the destination if it has enough space for the rented car before taking them on the road.
How much does it cost to get to Plakias Beach?
There are two options for a starting point to get to Plakias Beach after landing at Crete's nearest airport. The first point is the Heraklion International Airport. It depends on the transportation selected, but taxis are the most convenient way and the other one is renting a car for a manageable schedule. Taxi costs around €105 from the airport up to Plakias. Renting a car costs €10 to €20 per day not including the fuel is going to save someone money, especially for 2 to 4 people. Starting from Chania airport. The option is still the same as from Heraklion, but there are other transportation services like buses that are cheaper. Taking the bus isn't the most convenient way to start a holiday. The bus takes 3 to 4 hours of travel but only costs €16 to €27 to get to Plakias town. Taxis cost around €170 to €200 and only take 1 to 2 hours to travel, the same as with renting a car, but rentals are just €30 to €40 per day, not including the fuel.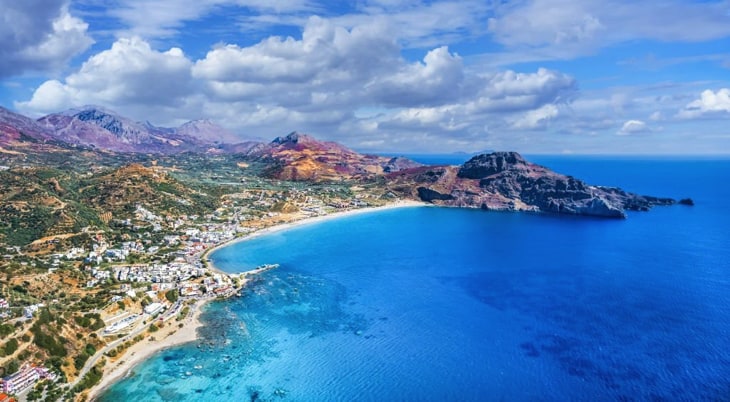 Where to stay near Plakias Beach?
There are many places to stay near Plakias beach. One of them is the Cyano Hotel, just 200 metres from the beach. The hotel has been awarded the blue flag for its tremendous facilities and services. It has fancy rooms complete with entertainment appliances and Wi-Fi services. The hotel has a pool for guests to use. Breakfast is served with traditional delicacies from local producers and other continental choices. Guests are able to request Vegan meals as well. The front desk is able to assist guests in arranging car rentals, airport shuttles, or booking excursion activities. The Cyano hotel is among the top favourite places stayed by former guests, currently rated a 4.8 out of 5 for vacationers or honeymooners finding a place near the Plakias beach. Room rates start at €86, for a Studio, Junior suite, Maisonette, and King suite. The second place to stay is a Villa in Plakias called Villa Velagio, a horizon view holiday home. The place is a complex that has 3 detached two-bedroom luxury villas in Damnoni, Rethymno, Crete. It has private pools and a garden. Villa Velagio is 600 metres away from Plakias beach. It has 4 beds in total and is able to fit 5 guests. There is a courtyard with a balcony to see the mountain views and the sea. The place is perfect for a family that needs a semi-private space that enables each one to relax and smell the breeze, with complete amenities and entertainment appliances ready to use. Former guests of Villa Velagio did not hesitate to give the place a perfect score of 5 for its well-built structure and facilities, not to mention the strategic location as well. The price varies depending on the season or month but is priced at around €180 to start. The third place to stay is called Plakias Bay Hotel. It is so near that it is just a short walk away from Plakias beach. Guests are not deprived of the beautiful, majestic view of the bay. Especially during the full moon phenomenon, guests are able to witness it as a once and a lifetime event while on holiday. The guests are going to enjoy the traditional delicacies prepared by the Hotel and the organic red wine that is served for lunch or dinner. The rooms are complete with appliances with air conditioning, a fridge, Wi-Fi, a telephone, and a private bathroom. The hotel is rated as a 4 out of 5 by former guests. Room rates at Plakias Bay Hotel start at €118, from a standard room with 1 single bed, up to a family room and apartment-type split-level rooms. Searching for hotels near Plakias beach is easy and always available online to do comparisons and measure their distances.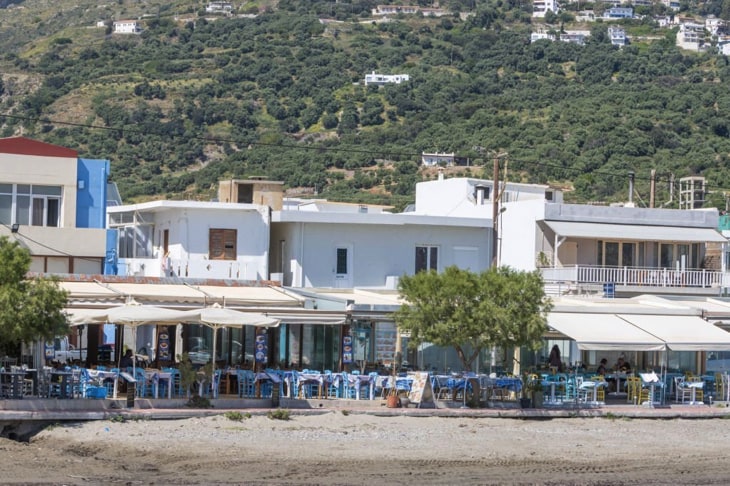 Where to eat near Plakias Beach?
There are lots of places to eat near Plakias beach. One of the top restaurant choices serves vegetarian and vegan delicacies. Paligremnos Tavern is a vegetarian-friendly restaurant that serves Mediterranean and Greek recipes as well. The restaurant is just near the beach and street with a nice garden and trees. It has an accommodating parking space. The people are nice, as described by former visitors, including the food. Overall, the ambience and cuisine are hands down the best for all tourists. Tourists rated Paligremnos Tavern 4.5 out of 5. The second one is the Beach House. The restaurant serves breakfast, lunch, dinner, and even brunch. It is a type of bar café, serving Greek cuisine and healthy meals. They do have a wine bar for visitors that want to taste some local wines and other alcoholic beverages. The beach house is excellent for an afternoon drink, the ambience is pleasant as described by former tourists in Plakias. It has a high rating of 5 out of 5 described as the bar near the beach that has a cool vibe that has great service and drinks. The third spot is Antonis Place. It is just near the beach. It has an awesome ambience that is described by former tourists as being so close to the sea. The restaurant is serving brunch, lunch, and dinner. Their speciality is Mediterranean and Greek cuisine. They are known as vegetarian and vegan-friendly as well, perfect for all tourist preferences. One of the tourists describes the place as just right on the beach and the waiters are very friendly. They serve a good amount of delicious portions as well. Antonis Place has a perfect 5 out of 5 no doubt about it coming from satisfied visitors.
Is Plakias Beach worth visiting?
Yes, Plakias beach is worth visiting. There are lots of activities other than relaxing and unwinding. Trekking and hiking activity is possible as well, climbing the stiff rock is perfect for climbers before ending at the beach. Plakias is the part of Crete that visitors choose after a long journey in Heraklion, it is made as a base for a week to relax. There are plenty of places to eat, drink and enjoy. Though Plakias is quite lively it is still serene compared to the town of Heraklion, being close to nature is what matters most. A drive from the stunning Kouroutis Gorge and the town mountain of Spili has discoverable sights of interest. Plakias beach is known to be one of the best beaches in Crete because of its majestic view and location.
Is Plakias Beach safe?
Yes, Plakias beach is safe. The Plakias beach is open for all ages. The beach is wide and there is room for outdoor activities, even for ball games. Beach waters in general are considered safe because of their clear waters and just small waves. The water has a beautiful turquoise shade, it is safe to go bathing. The resort has to change facilities including showers and toilets. It is possible to rent sun lounges and sunshades.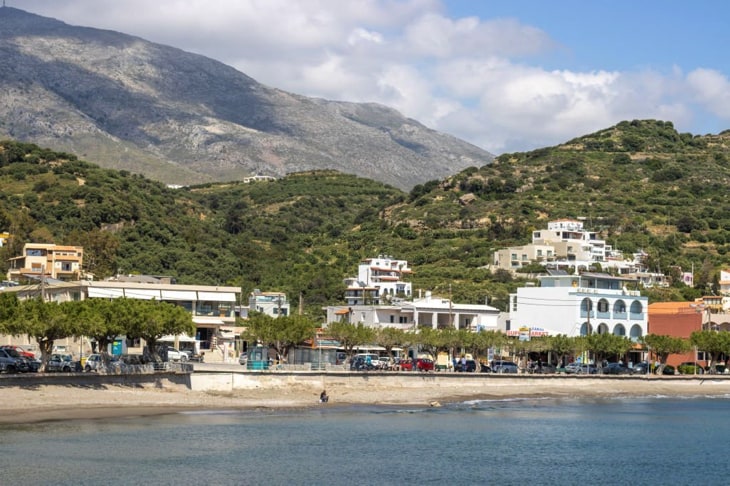 Do you need to book in advance to visit Plakias Beach?
No, booking in advance is not necessary. Though, it is going to be busy for dates that have lots of tourists coming, especially in the months of June to August. It is recommended to book in advance to avoid unscheduled delays because of fully booked tours.
Are children permitted at Plakias Beach?
Yes, children are permitted on Plakias beach. There are rooms for outdoor adventure activities for them. Parents or guardians must be mindful, and always watch them where they go. There are lifeguards present throughout the day securing the vicinity, but self-securing for all things and the kids helps prevent unwanted situations from happening. Plakias beach is considered a child-friendly beach in South Crete, it is known by tourists as one of the best beaches in Crete for toddlers and young kids.