If you think Crete has fantastic beaches, coves, gorges and mountains, just wait until you see the underwater scenery. The underwater world of Crete is absolutely magical. And it's very easy to explore by snorkeling in Crete. You don't need to have a diving license to swim with beautiful exotic fish and marvel at the rich diversity of corals and aquatic flora in the waters of Crete. In fact, all you need is a mask and a snorkel, plus for a more intensive experience some extra equipment that's easy to use even for beginners. And even better, some experienced guides to show you the best places to enjoy the majesty of the underwater kingdom.
Snorkeling in Crete: Exploring the Cretan Seas
The waters of the Southern Mediterranean are enormously hospitable. They are so salty that staying afloat is nearly effortless – in fact, you sometimes might need a weight belt to become more fully submerged – professional diving centers can arrange all the equipment you need for a fantastic snorkeling experience, such as flippers for getting around with ease. They also have underwater cameras to document your adventure.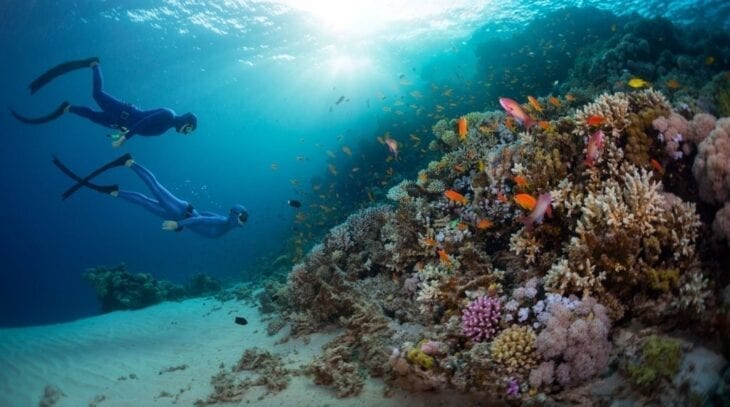 This is an excellent activity for all ages and even for many levels of fitness. Snorkeling is an ideal activity for many who may find a hike challenging – it's easy on the joints as the salty sea water supports you beautifully.
What Makes the Seas of Crete so Ideal for Snorkeling
The famously crystalline waters are not just beautiful from above, but also within. The pure waters around Crete make for some excellent snorkeling because of the superb visibility – up to 30 meters or more.
Another factor is the water temperature. Even in January, you can enjoy average water temperatures of around 16 degrees. In August, you can add another 10 degrees, for a balmy 26 on average. This means you can send a lot of time in the water, whenever you go.
Where You can Snorkel in Crete – Caves, Coves, and Tiny Islands
One of the best things about snorkeling in Crete is that it brings you to some of the most beautiful locations around the island. Rocky beaches will usually provide the most interest to the snorkeler, with the best underwater landscapes and an abundance of sea life to admire.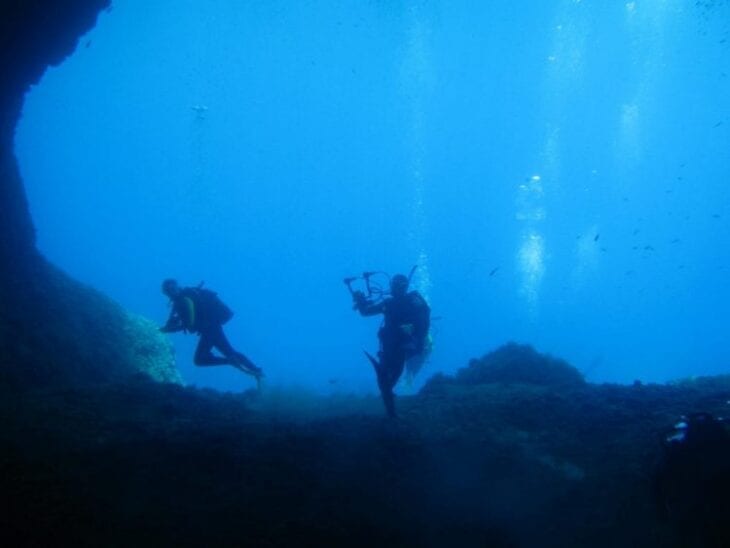 Some of the best spots are, not surprisingly, the more remote ones. These are reached through beautiful drives on small roads through an untouched landscape. And even then, perhaps there will be a hike.
Snorkeling along the South Coast of Crete
Many snorkeling aficionados suggest heading for the more rugged and more rocky south coast of Crete – the lesser explored and wilder side of the island on the stunning Libyan Sea. Here, along the rocky coastline, the underwater landscapes provide more drama and interest.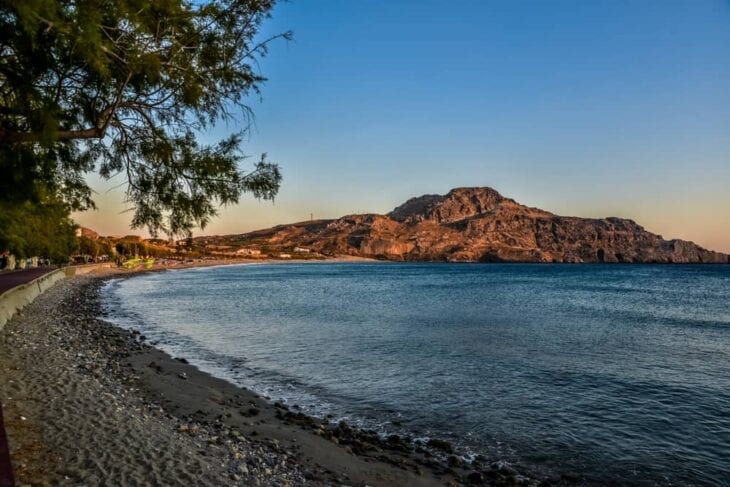 Sougia, on the south coast of the Chania Regional Unit, is one of the more popular beaches on the south coast, both for swimming and for snorkeling. In the Rethymnon Regional Unit you'll find Plakias Beach – also popular with snorkelers.

Frangokastello is another popular beach on the south coast, near the castle for which it is named. Here, there is a choice of three beaches – two are sandy, but the beach farthest to the west is a pebbled beach with good snorkeling.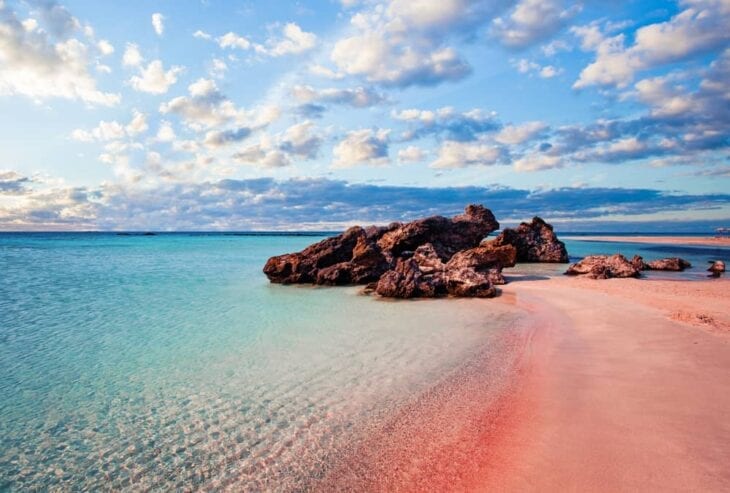 Elafonissi is one of the legendary beaches of Europe. This island covered with rare wild flowers and there is a beautiful lagoon with shores of pink sands. This is a fantastic destination to explore on a snorkeling excursion.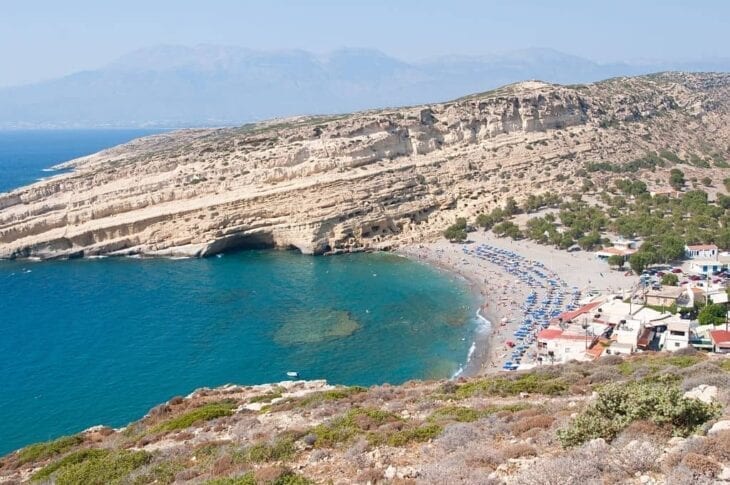 Another very famous beach of the south coast is Matala, whose cliffside caves once hosted a generation of hippies and free spirits – Joni Mitchell among them (she even wrote a song about it). Along this rocky coastline is some excellent snorkeling, where glimpse of the ancient Roman port can be seen under the sea.
Agiofarrago is another stunning snorkeling destination. This is a bay, so it offers calm waters. The stars here – naturally – are starfish, joined by many colorful fish. The underwater topography is also very dramatic.
Snorkeling on the North Coast of Crete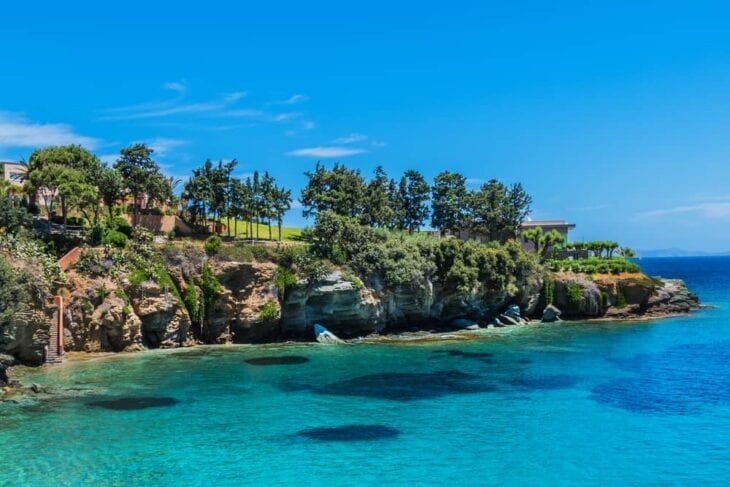 On the North Coast, the stunning Agia Pelagia bay – just west of Heraklion – is another popular snorkeling spot. Near the beach, there are some magnificent blue caves for an exciting snorkeling excursion. The caves are reached by speedboat on private excursions, so you can explore with an experienced guide. Petres Beach, between Chania and Rethymnon, is another spot avid snorkelers enjoy.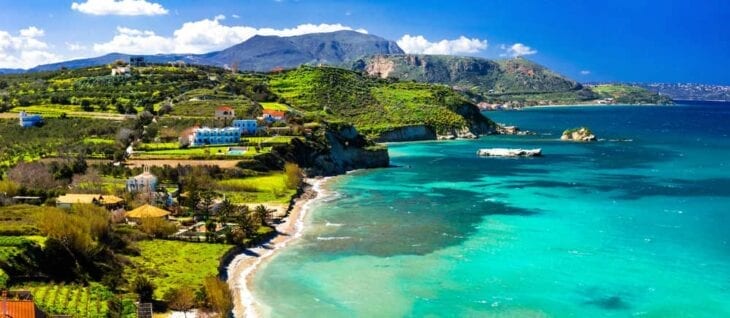 Almyrida, between Rethymnon and Heraklion, is another great snorkeling destination along the north coast of Crete. Voulisma Beach, on the glorious Mirabello Bay is another. But for something extra special, the rocky beach of Elounda offers not just a glimpse of exotic sea life, but also a glimpse into the past – the ancient Dorian city of Olous lies beneath the sea, and the ruins are easily seen.
But really, any rocky beach that you encounter as you explore Crete by car can offer a fantastic impromptu snorkeling experience.
Islands around Crete
Crete is such a big island that it has islands of its own – secret tiny paradises. One such island is Dia – 9 miles off the coast of Heraklion. This small island – just 5 kilometers long – is an extremely popular snorkeling destination. Actually, even the famous underwater explorer Jacques Cousteau was here.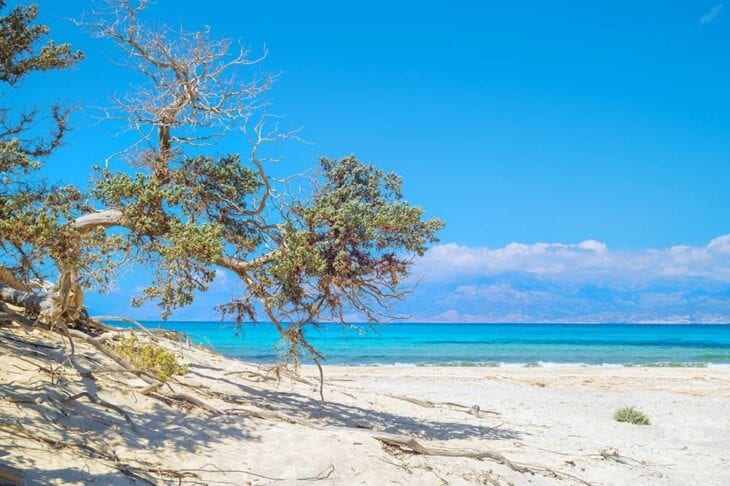 Off the south coast of Crete from Ierapetra, a boat can bring you to Chrissi Island, one of the southernmost islands of Europe. This is one of the most wonderful destinations of Crete. Golden silky sands are shaded with beautiful and fragrant Lebanese Cypress trees, and the swimming here is superb. But there are also three separate spots for snorkeling, where you can meet a variety of colorful underwater inhabitants, enjoying their secret sandstone bays.
Secret Bays ideal for snorkeling
Crete is full of coves known only to a handful of fishermen and other locals, and reached only by boat. You can visit these hidden paradises with local diving and snorkeling excursion companies, who know the best secret spots. Fish can be shy – you can probably see more of them at these out of the way spots with very few people.
What You can See while Snorkeling in Crete
There is a magnificent variety of sea life in the waters of Crete. Amateur oceanographers can get an education as they snorkel – some dive centers offer charts to snorkelers so they can identify the various species they see. And among the fish, make sure to look out for sea horses – they're famously shy but delightful to see. Various anemone and sea urchins, octopi, eels, and many other aquatic species round out the biodiversity of sea fauna. There is also rich plant life. The whole undersea topography is also magnificent, including coral reefs, caves, cliffs and valleys.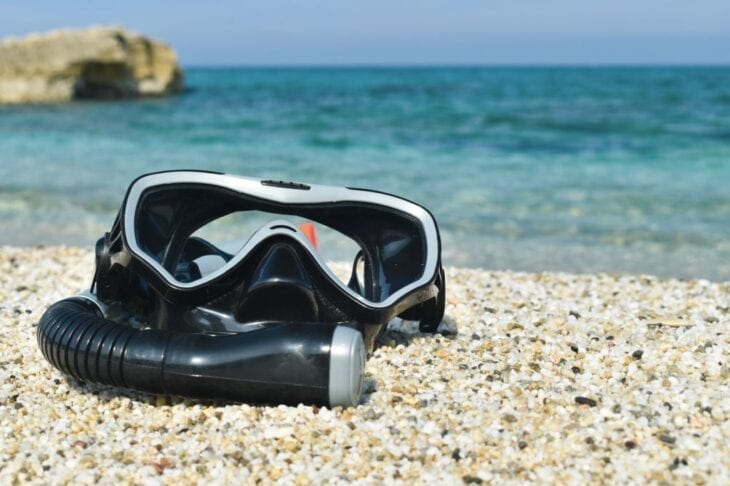 After millennia of civilization, there are also many traces of the past – underwater ruins add a layer of excitement to a snorkeling exhibition.
Snorkeling in Crete – An All-Season Activity
With such mild water temperatures throughout the year, you can snorkel in Crete in any season. And in the cooler months, a diving center can provide you with a wetsuit for extended snorkeling.
In fact, the fall is one of the very best times for snorkeling if you are serious about seeing some fish. In September and October, some species – such a needlefish – come closer to the shores in order to lay their eggs. Predators follow them, making for an abundance of fish to see.
Overland and Undersea – the Complete Crete Experience
Driving around Crete is the best way to really get to know the island – the gorges and the villages, the secret beaches, the mountains. Adding snorkeling to your Crete agenda enables you to really get to know the natural splendor of Crete, land and sea.