Skinaria beach is among the 477 beaches in the region of Crete. Skinaria Beach is among the beaches of the Damnoni settlement. Skinaria is quite a secluded beach popular with naturists. It is a small beach lying in a natural bay formed by two rock formations on each side. What sets Skinaria Beach apart is its crystal-clear waters, frequented by professional divers. Many compared its underwater to swimming inside an aquarium. Several fishes are prominent in the area. The Skinaria beach is slightly organised with few amenities enough for a day tour. There are no massive infrastructures like resorts in the area. The beach is surrounded by rocky cliffs and is accessible by a small footpath from the main road. It is known for its crystal clear waters and peaceful, serene atmosphere. The beach is relatively small, with fine, white sand and a shallow, gently sloping seabed, making it ideal for swimming and sunbathing. The surrounding area is characterised by rugged, rocky terrain. The number of tourists visiting the beach varies from year to year and depends on various factors such as the weather, the season, and the availability of accommodations in the area. Crete is a popular tourist destination in Greece, attracting millions of visitors annually. The island is known for its beautiful beaches, ancient history, and cultural attractions.
Skinaria Beach is not as well-known as some of the other beaches on the island, but it is certainly worth a visit for its serene atmosphere and crystal-clear waters. The climate in Skinaria Beach, Crete, is usually Mediterranean, with hot, arid summers and mild, wet winters. During the summer months, temperatures reach up to 30°C (86°F) or higher, with high humidity levels. The sea is usually warm enough for swimming from May to October. In the winter, temperatures are more relaxed, with an average of around 15°C (59°F) during the day. Rainfall is more common during the winter months, with December and January being the wettest months. Overall, the climate in Skinaria Beach is generally pleasant and sunny, making it a famous destination for beach vacations during the summer.
What is Skinaria Beach?
Skinaria Beach is an idyllic, sun-drenched paradise. Boasting crystal-clear turquoise waters, the beach has soft grey-beige sand and fine pebbles. The north section of the Skinaria beach is sandy, while its seabed is quite rocky. There are tiny ponds on the surrounding beach area with fresh water from springs. Around the ponds is lush vegetation that creates a tropical landscape vibe. It's no wonder why travellers flock to this scenic destination. For the more adventurous type, there are plenty of activities to indulge in, such as snorkelling, windsurfing, kayaking, and scuba diving. Along the shoreline, people are able to indulge in a fine tavern serving up delicious local seafood dishes that tantalise their taste buds. Skinaria Beach is the perfect place for a relaxing getaway or thrilling adventure with its tranquil atmosphere and serene views. The beach is relatively small and does not have all of the amenities one is likely to find at a more extensive, more developed beach. Skinaria is a slightly organised beach with a tavern providing several umbrellas and drinks. People looking for a beach with many restaurants, shops, and other amenities within walking distance, must consider a different beach. There is not much information available about the specific history of Skinaria Beach in Crete. However, Crete is an island with a long and rich history dating back thousands of years. The island has been inhabited since ancient times and has been influenced by various civilizations throughout its history, including the Minoans, the Greeks, the Romans, the Byzantines, and the Venetians.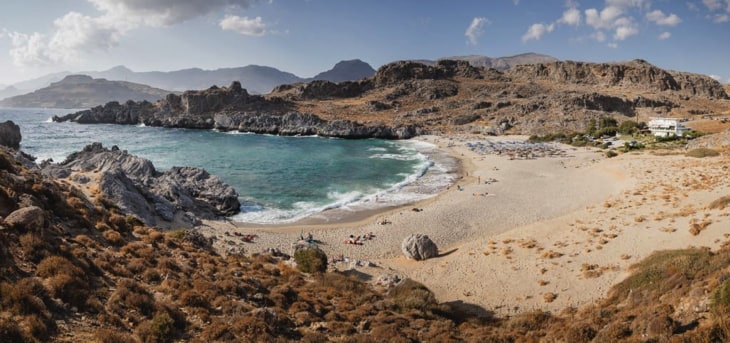 Where is Skinaria Beach located?
Skinaria Beach is situated on the northeastern coast of the island of Crete in Greece. Skinaria beach is 33 km south of Rethymno, and 3 km south of the village Lefkogia. The beach is accessible by car or by boat from nearby ports. The nearest airport is located in Heraklion, which is about an hour's drive from the beach. Driving to the beach is a bit of a challenge because of the narrow road.
How does the Skinaria Beach Map look?
Skinaria Beach is a fine-pebbled beach with crystal clear, calm waters. Visitors must drive a few kilometres from the main highway on a narrow road to access the beach. A taverna is stationed near the beach area to serve refreshments, snacks, and sumptuous local dishes. The parking space is just enough for beachgoers but gets cramped during the peak season. Skinaria beach is the perfect spot for diving and snorkelling. Find below the map of Skinaria beach.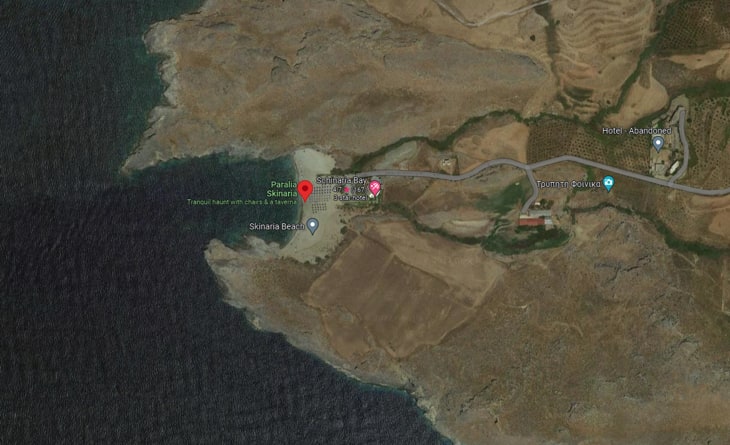 What are the activities in Skinaria Beach?
Skinaria Beach is a perfect spot for divers. Skinaria Beach boasts crystal-clear water ideal for diving and snorkelling. Most divers consider it like an aquarium because of the numerous fishes found underwater. Snorkelling is an ideal activity for children and adults who love to see several fishes in the sea. There are even diving equipment and snorkelling gear for rent in Plakias. There are diving centres that offer guided underwater experiences. A guided course costs around €50-60. A full-day rental of mask, fins, and snorkel costs around €10-20. Skinaria is a well-known nudist beach and is ideal for sunbathing. One of the exciting things to do in Skinaria beach is to dine in the garden taverna near the beach. Most diners have only one thing to say about the food served in the restaurant, delicious authentic Greek dishes at a reasonable price.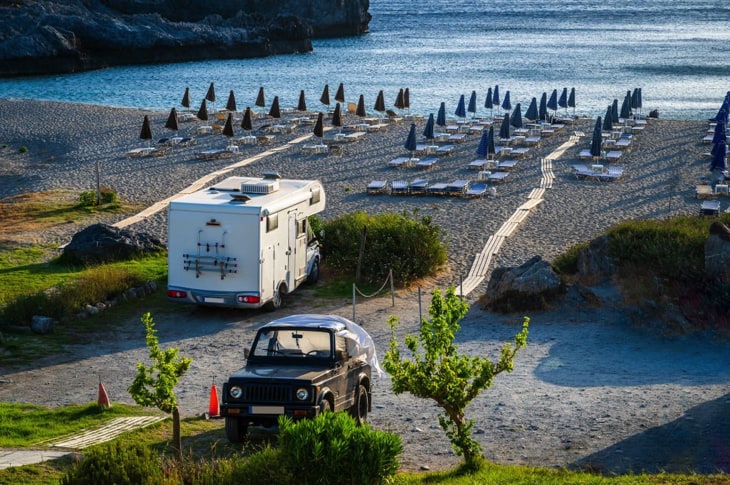 When is the best time to visit Skinaria Beach?
The ideal time to visit Skinaria Beach is from April to October because the temperature is warm and usually sunny. Peak season on most beaches in Crete is during the months of July up to August. Visitors who want to avoid the crowd must visit during May or September. Summer is usually a peak season on most Cretan beaches. Visiting during the shoulder season enables visitors to get reasonable prices on almost all accommodations. During shoulder season, the crowd is lesser, and traffic is bearable when visiting Crete's famous beaches and top holiday destinations.
How was the preservation of Skinaria Beach?
In Greece, the protection of beaches and coastal areas is governed by various laws and regulations at the national and local levels. These laws are designed to ensure the sustainable management and conservation of these essential natural resources. The protection and management of beaches are regulated by the Coastal Law (Law 4463/2017), which aims to preserve the natural beauty and ecological balance of the coast and to ensure the sustainable use of coastal resources. According to the law, all beaches in Greece, including the Skinaria beach, are considered public and are open to the general public. However, certain activities are restricted to specific beaches in order to protect the environment and ensure the safety of beachgoers. For example, it is generally prohibited to construct permanent buildings or structures on the beach, discharge pollutants into the sea, or engage in activities that damage the natural environment or disturb wildlife. The Coastal Law establishes the right of access to the sea and the right to swim, which allows all individuals to use the beach and the sea for recreational purposes. It establishes the right to enjoy the sea view, which means that the construction of buildings or structures obstructing the sea view from public areas is generally prohibited. Furthermore, there are other laws and regulations in place in Greece to protect the natural environment, including the Environmental Law (Law 1650/1986) and the Environmental Impact Assessment (EIA) Directive (Directive 85/337/EEC). These laws aim to ensure that development projects and activities in Greece are carried out in an environmentally sustainable manner.
How do you get to Skinaria Beach?
Travellers who wish to visit Skinaria beach must drive their own cars or rent a vehicle. Another popular alternative is hailing a taxi. There are no bus routes to Skinaria beach. Whether one departs from Plakias or Rethymno, the route to Skinaria Beach leads through a tiny town called Lefkogeia. After turning toward the coast in Lefkogia, the road splits. After that, go right. A small parking lot that caters to 30 to 40 hours is to be seen near the area.
What are the nearby attractions in Skinaria Beach?
Listed below are the nearby attractions in Skinaria Beach:
Preveli Beach: Preveli beach, commonly referred to as Palm Beach, is on the southern part of Crete. The Preveli beach is a gorgeous crescent of sand with turquoise-blue clear water. A river surrounded by palm trees separates the beach from a gorgeous gorge. Preveli Beach is one of Crete's most gorgeous beaches and the most challenging to reach. Preveli Beach is among the top attractions and things to do in Preveli Monastery. Preveli beach is a famous holiday destination and is often jam-packed during the summer months. There are a number of amenities at Preveli Beach, including sun loungers, umbrellas, and snack bars. The beach is also a great spot for swimming, sunbathing, and other water sports.Preveli Beach is located in a beautiful and peaceful setting, surrounded by mountains and forests. It is a great place to relax and enjoy the natural beauty of Crete.
Monastery Preveli Museum: The museum of Monastery Preveli is situated inside the Preveli Monastery. It is the home of a significant compilation of its heirlooms, maintained today. It includes icons from the 17th century, ecclesiastical liturgical vessels, gold-embroidered vestments, and relics of the 18th and 19th centuries. The Monastery of Preveli was established in the 16th century and has a long and rich history. It played an important role in the Cretan War of Independence in the 19th century and has been a cultural and spiritual center for the local community for centuries.
Damnoni Beach: Damnoni beach is a wonderful bay just a short kilometre from the more well-visited resort of Plakias. It is approximately 35 km south of the city of Rethymno, on the island's southern coast. Damnoni Beach is among the most lovely beaches on the island of Crete. The beach of Damnoni is stand by mountains and is closed in by majestic rock formations, with white sand and blue-turquoise waters.
What are the factors to consider before renting a car in Crete?
Listed below are the factors to consider before renting a car in Crete.
Insurance: Car rental insurance is essential, as it protects a passenger against the cost of damage when renting a car. Crete car rental includes insurance for collision damage waiver, and a driver's credit card is required as a guarantee.
Driver's age: The legal age requirement when driving in Crete is 21 years old. The driver must have a valid driving licence and essential documents like an ID or passport.
Driver's gender: Women and men are permitted to drive in Crete. As long as the driver is of the legal age of 21, driving is permitted in Crete, regardless of gender.
Car type: Travelling with groups or family members requires a much bigger car. Car rental companies in Crete offer a variety of cars to choose from. Selecting a smaller car is best when driving in Crete. The reason for that is that some Greek roads are narrow. Travellers must learn how to choose the right car to rent in Crete to have a comfortable driving experience.
Documents needed for renting a car: One important document needed for renting a vehicle is a valid driving licence. However, a credit or debit card must be presented as well, including a passport or an ID card.
How much does a car rental in Crete cost?
The island of Crete is best travelled using a rented vehicle. Visitors get faster to Crete's top destinations using a rented car. Crete car rental costs vary depending on the number of persons, itinerary, car type, destination, and duration. The average cost of renting a car in Crete is around €30 to €40 per day. A car rented for a whole week costs an average of €250. Renting a vehicle for the weekend cost around €78. Crete car rental rates differ depending on the car type. The majority of Crete car rental companies offer a variety of cars depending on customers' liking. Most car rental shops in Crete offer an online booking system, whenever customers want to book a car. Simply follow the process and instantly book a vehicle on their website. Before availing of a rental car service in Crete, check and secure all the requirements.
How much does it cost to get to Skinaria Beach?
Skinaria Beach is a private beach resort, and there is paid access and a relatively large free area. The parking area is within 100 metres of the beach and is free. Some of the amenities at the beach include sun loungers and umbrellas, a beach bar, a shower, toilets, and beach changing rooms.Two footbeds and umbrellas cost 20 Euros a day. There is a tavern near the beach area that serves delectable dishes for a reasonable price. No public buses are going to Skinaria Beach, and the most ideal way to visit the beach is via a rented or private vehicle. An average price of a car rental in Crete is approximately €30 to €40 per day.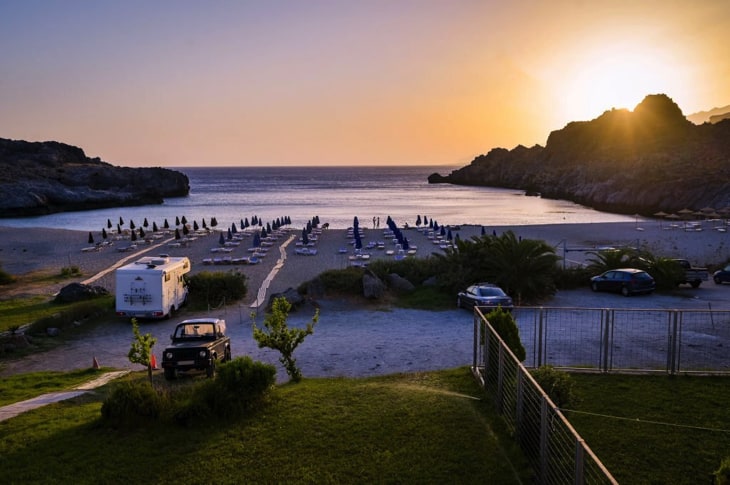 Where to stay near Skinaria Beach?
There are several hotels near Skinaria Beach where guests are able to stay and relax. One of the most visited hotels near Skinaria Beach is the Ammoudi Hotel. Ammoudi Hotel has 20 rooms, and the hotel has a restaurant that serves local dishes. Amoudi hotel provides each guest with free access to WiFi. Ammoudi hotel is pet friendly, too, and provides free onsite self-parking. Mythos Villas is a complex of vacation rentals located in the village of Plakias, on the south coast of the island of Crete in Greece. The complex offers a range of accommodations, including villas, apartments, and maisonettes. Mythos Villas is located in a beautiful setting, surrounded by olive groves and mountains. It is just a few minutes' drives from the beach and the village centre, and offers a range of amenities and services for guests, including a swimming pool, a playground, and a bar. The villas and apartments are fully equipped with all the necessary amenities, including kitchen facilities, air conditioning, and free Wi-Fi. Mythos Villas is an excellent choice for travellers looking for comfortable and convenient accommodations in the Plakias area. It is a popular vacation rental complex that offers a range of options to suit different budgets and preferences. One of the hotels near Skinaria Beach is Sokol Resort. It is a hotel resort located in the village of Plakias, on the south coast of the island of Crete in Greece. The hotel is situated just a few walks from the beach and offers guests a range of amenities and services. Sokol Resort has a range of accommodations to suit different budgets and preferences, including standard rooms, junior suites, and family rooms. All rooms are equipped with amenities such as air conditioning, a TV, a private bathroom, and a balcony. Sokor hotel has a swimming pool, a restaurant, and a bar, and offers a range of activities and facilities for guests, including a playground, a fitness centre, and a spa. The restaurant serves a breakfast buffet, lunch, and dinner. The hotel is managed by a team of friendly and professional staff dedicated to ensuring guests have a comfortable and enjoyable stay. Sokol Resort is a popular choice for travellers looking for comfortable and convenient accommodations in the Plakias area. It is located in a beautiful setting, surrounded by olive groves and mountains, and is a great base for exploring the south coast of Crete.
Where to eat near Skinaria Beach?
Skinaria beach is an ideal beach for ultimate relaxation with its quiet and calm environment. Although there is limited infrastructure near the beach area, there are several restaurants to try within the vicinity. One of the most visited restaurants near Skinaria beach is Mesogeios. Located at Damnoni, Agios Vasileios, Mesogeios is a beautiful restaurant by the sea that offers fantastic food. It is known to serve traditional Greek dishes while using fresh local products. Mesogeios is vegetarian-friendly and serves gluten-free, and vegan options. The restaurant's atmosphere is pleasant, and the service is impeccable. Another best option to eat near Skinaria Beach is Violakis 1967. Located near Plakias, Rethymno, Violakis 1967 is a taverna by the beach with amazing local food. The restaurant has plenty of shade to protect from the heat of the sun. Violakis 1967 serves excellent Mediterranean food, and the service is excellent and fast. The staff are always friendly and attentive. Violakis 1967 provides a homey and authentic Greek atmosphere. Mythos Restaurant is a popular dining spot in the village of Damnoni, Crete, Greece. It is known for its traditional Greek cuisine, which is made with fresh, local ingredients. The restaurant has a cosy and inviting atmosphere, with outdoor seating available in the warmer months. The menu includes a variety of dishes such as grilled meats, seafood, and vegetarian options. Mythos Restaurant offers a selection of desserts and drinks. It is a popular choice for both locals and tourists visiting the region.
Is Skinaria Beach worth visiting?
Yes, Skinaria Beach is worth visiting. Despite its narrow road, visiting the Skinaria beach is totally worth it. It is a secluded beach that offers its visitors pristine clear blue waters. The beach does not have many waves due to the shape of the bay. The beach is quite sandy and has little pebbles. Several divers are taking advantage of its clear water to discover the several fish underwater. Children get to enjoy snorkelling and exploring the marine life beneath the sea. The tavern in the garden is one of the reasons why people keep on coming back. They offer the best traditional Greek dishes, and they even make their own Olive oil. People seeking tranquillity and underwater activities must visit the best beaches in Crete, and on top of the list is Skinaria Beach.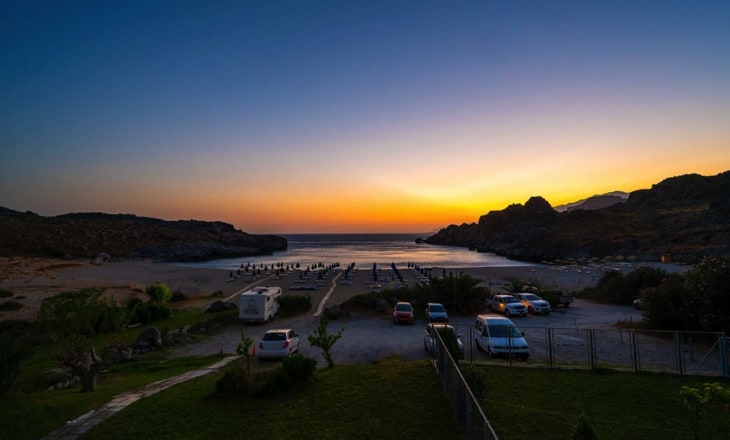 Is Skinaria Beach safe?
Yes, Skinaria is a safe place to visit. Skinaria and Crete, in general, have a very low crime rate. The beach area has rock walls along both sides; because of these rocks, there is less wind and no waves in the water. Swimming is ideal in its clear and calm waters. However, access to the beach is quite a challenge but worth it. People who don't mind driving on a winding and narrow road must visit Skinaria Beach. The sea water is ideal for swimming, and its depth increase is moderate. Skinaria is a dainty beach and less crowded than most beaches in Crete. Beachgoers are able to enjoy its quiet, calm, and relaxing vibe.
Do you need to book in advance to visit Skinaria Beach?
No, there is no need to book in advance to visit Skinaria Beach. Skinaria is a bit secluded, so it is not always crowded. However, there are still tours that offer a day trip to the Skinaria among the itinerary. Compared to other famous beaches in Crete, Skinaria is a charming hidden gem. There are other amazing beaches in the Plakias area that are worth visiting, and they are as beautiful as Skinaria Beach.
Are children permitted at the Skinaria Beach?
Yes, children are permitted to go to the Skinaria Beach. However, since Skinaria is a nudist, beach parents must consider it. The nudists are most likely to stay on the left-hand side of the beach, so parents travelling with children must stay on the right-hand side. There are umbrellas and sunbeds available to rent for just €20. Snorkelling is one popular activity at Skinaria beach because the water is super clear. No trees and natural shading are available at the beach, so visitors must pack their sunscreen for protection. Some of the best beaches in Crete for toddlers and young kids are located in remote areas where the surroundings are still unspoiled.