Hersonissos, one of the most popular Cretan seaside resorts, is one of the top choices in the region of Heraklion when it comes to package holidays, nightlife, good tavernas, and a wonderful, pristine sea.
Along the modern seafront, an endless line of restaurants and souvenir shops give even more life and colour to the village. The modern port of Hersonissos was built over an ancient Roman harbor, while some of its remains are visible in some places under the sea.
The port area is popular among visitors during the sunset hours while long evenings can be enjoyed in one of the many beach bars along the coast. If you're planning a holiday in Crete and Hersonissos is your place of choice, let's take a look at all the things you can do in the area.
Where is Hersonissos
Hersonissos is a village along the North coast of Crete, and it's among the most popular places in Crete for fun seaside holidays.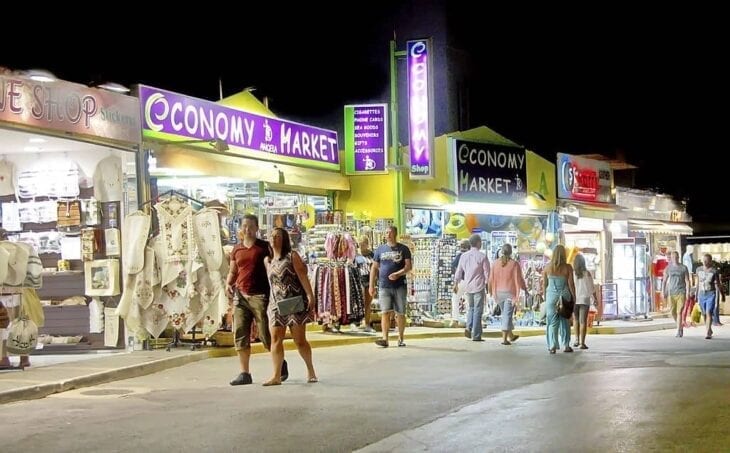 It's conveniently close to Heraklion, the capital of the island. For this reason, Hersonissos is a perfect base to explore this big city as well as to enjoy your days at the beach.
If you're landing in the Heraklion airport and renting a car, you will need to drive only 25 km to get to Hersonissos.
How to get to Hersonissos
Getting to Hersonissos by car
If you decide to explore the island with the comfort of a rental car, you'll be surprised to see how easy it is to reach Hersonissos from the airport of Heraklion.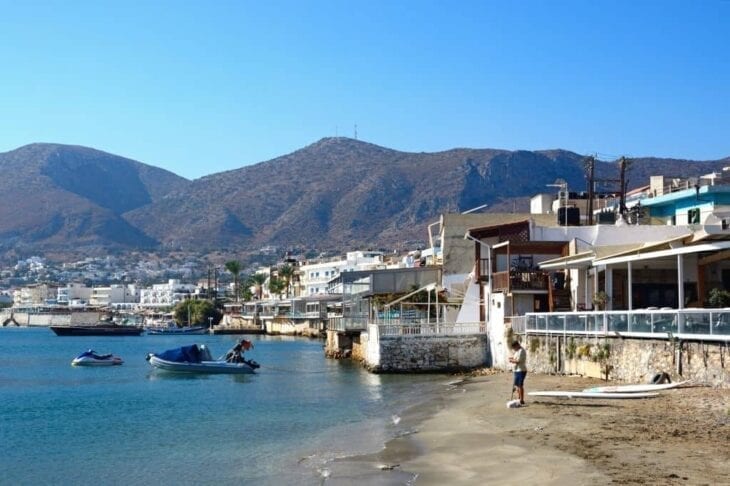 You need to drive east along the coastal road, the trip doesn't last more than 20 minutes and it's quite straight forward. You can't miss the exit.
Getting to Hersonissos by bus
If you are moving around with buses, the trip will take you longer. The ride from the airport of Heraklion to Hersonissos takes about 45 minutes (it can even be an hour in heavy traffic or in peak hours). The ticket is 3 euros.
From the port of Heraklion, instead, you need to walk to the Central Bus Station (about 10 minutes on foot) to take the bus to Hersonissos.
Best things to do in Hersonissos
Hersonissos is the typical holiday seaside resort, with a nice series of beaches to discover, good restaurants, bars, and tavernas, plenty of shops and video game arcades for children, but also with a very lively nightlife.
In fact, Hersonissos is one of the best places to stay in Crete if you want to spend a holiday full of fun, and with things to do every single evening!
You can choose among the several discos and beach bars or you can go for a more relaxed night, picking an Irish pubs, a café, or a speakeasy venue.
Enjoy Sarandaris Coves
There are several beaches you can visit just a couple of minutes away from Hersonissos.
Arguably one of the best shores in the area, not far from the port of Hersonissos, are the Sarandari Coves.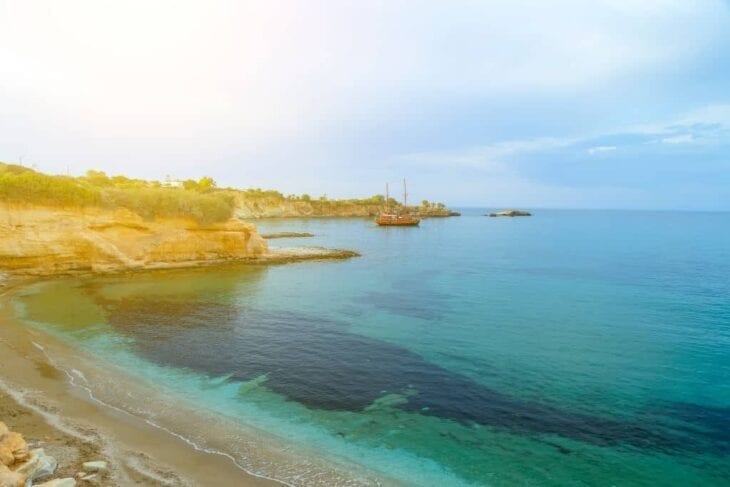 Their main characteristic is the wonderful pristine sea, in some spots shallow enough for small kids to explore.
Besides, the whole series of coves is protected by Cape Sarandaris, which makes the beaches calm and waveless, as the cape prevents the northern winds from affecting the area.
Along the coast, there are several restaurants and bars that allow you to spend a perfect day at the beach without even thinking of packing a lunch.
Explore the traditional Koutouloufari village
If you're looking for more quiet places not very far from the center of Hersonissos, go for a walk in the small village of Koutouloufari. Traditional restaurants, beautiful alleys, and picturesque views are the perfect frame for an afternoon walk or a round of local drinks and delicious Cretan bites.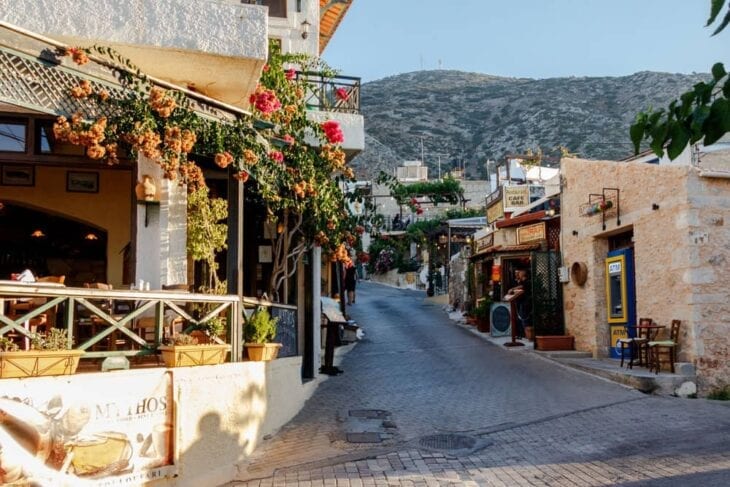 The area of Koutouloufari is also known for hosting some wonderful hotels with great views of the Bay of Hersonissos. The village is also a great place to stay if you want to avoid the noisy center of town, but still be close enough to the sea.
Another gem you can tour not far from Koutouloufari is Piskopiano, just a few minutes away by car. The small village of Piskopiano is another traditional hamlet worth a visit in Crete. Check the main square as well as the nineteenth century church dedicated to the Holy Virgin.
Visit Lychnostatis Open Air Museum
If you're exploring the area with your own or a rental car by Rental Center Crete, take a morning off and devote it to visit Lychnostatis, a wonderful open air museum right in the heart of town.
Here, you can take part in different interactive activities related to the life on the island and the way locals live and work. You can learn how to produce wine, from the vine to the glass, or you can also have a class to learn about cheese making, Cretan herbs, and more.
The exhibitions are also quite unique, including an audiovisual department and a section devoted to the traditional products of the island.
✆ 0030 2897 023660 – website
Spend a day in a water park
Families with kids can have a good day filled with endless fun activities in one of Hersonissos' water parks.
Acqua Plus
This water park also features special areas designed for adults, such as the relaxing lazy river and dedicated pools other than the regular pools for kids. There are also water games, several slides and a playground area.
✆ 0030 694 400 0044 – website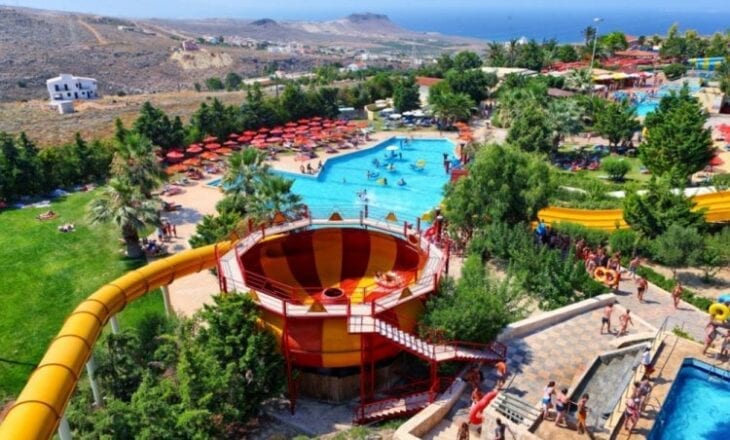 Water City
One more waterpark that's popular in the area is Water City, located in Anopolis, halfway between Heraklion and Hersonissos with excellent views of the sea of Crete thanks to its elevated position.
The theme park develops on an area of about 80.000 square meters and, among the main features, there are as many as 36 different water games for the family to choose from.
✆ 0030 2815 000200 – website
Visit Analipsi Beaches and Village
Other than heading to the beaches in the center of Hersonissos, the best part of renting a car to tour Crete, is the freedom you have to explore places that otherwise you wouldn't be able to visit. Analipsi is one of those spots.
This fairly relaxed village, mostly if you compare it to other bigger and more popular seaside towns in the area, Analipsi is a favorite holiday village in Crete.
It's certainly more quiet than the lively Hersonissos, so it's a great destination for a day trip if you want to have a different and somewhat more relaxing experience. You can explore the small village, stroll along the cobblestone alleys, admire the nice gardens, go shopping for souvenirs, and have a magnificent lunch in any of the local tavernas.
Or you can devote your day to the beach, simply swimming and sunbathing.
Analipsi's main beach is well organized. One of the most characteristic landmarks in town is the small chapel of Agia Marina, located almost on the sand.
The village is, overall, a good place for family holidays, it's also a great place to stay if you're not so much into the nightlife that you can more easily find in Hersonissos, in the center of Heraklion, or in the nearby town of Malia.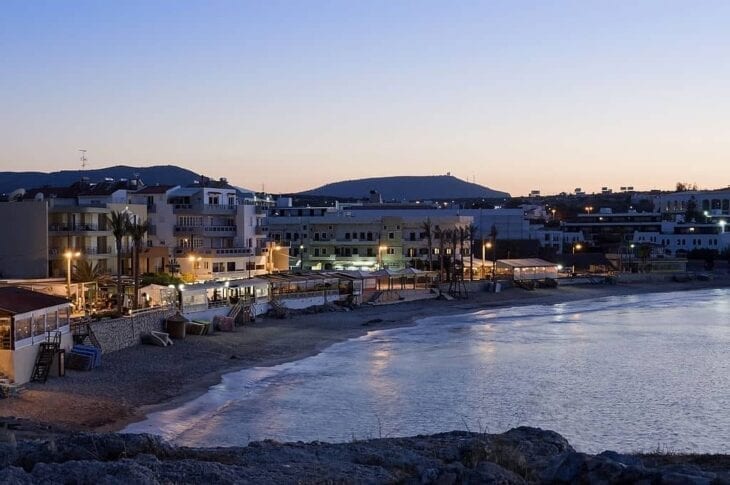 Explore the Theme Parks
Not far from the center of Hersonissos, there are a few interesting theme parks perfect to visit with all the family.
Labyrinth Park
One of the most beautiful parks in Crete that has been thought around the theme of the labyrinth, is the Labyrinth Park.
Spending a day in this venue is great for those families that also plan to take their kids to the Archaeological Palace of Knossos.
In this park, children can discover what a labyrinth might look like, learn about the myth of the Minotaur, and explore different kinds of spaces, including a laser maze. Other activities include pottery workshops, a mini golf course, and archery lessons.
✆ 0030 2897 029297 – website
Dinosauria Park
Just a few minutes from Hersonissos, there are several theme parks you can visit in the area of Gouves. One of them is Dinosauria, a theme park that kids really love… and what kid is not thrilled by dinosaurs?
In this interactive park children have the opportunity to visit a small museum with a fossil collection right before going through a tunnel that travels back and lands directly in a huge green area filled with gigantic dinosaur reproductions.
It's also possible to visit the dino hospital, and to have fun at their 7D cinema.
✆ 0030 2810 332089 – website
Visit Cretaquarium
Also in the area of Gouves, you can find the most important aquarium in Crete, Cretaquarium Thalassokosmos.
No matter whether you're visiting with kids or not, this interesting place is great to discover the different species that populate the Mediterranean sea.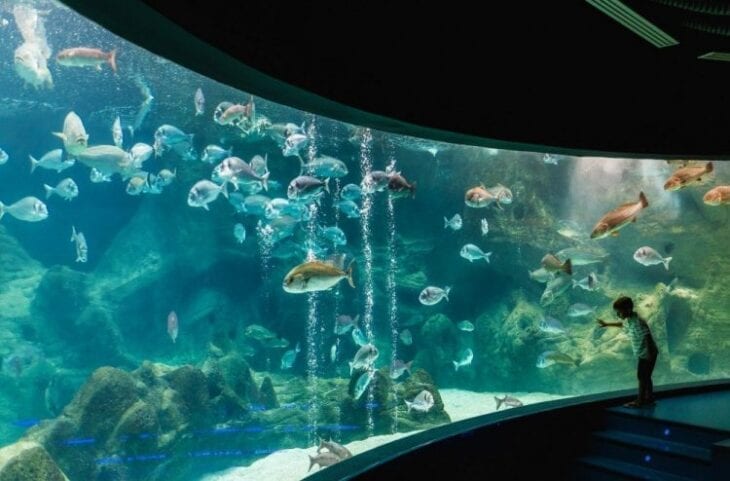 Particularly interesting the sharks, the tropical fish tank, and the octopus tank.
✆ 0030 2810 337788 – website
Discover the Beach of Stalida
Another seaside village worth a visit while in Hersonissos is the tranquil coastal village of Stalida, from ten to fifteen minutes to the East, on the coastal road.
The atmosphere, more relaxed that what you'll find in Hersonissos, makes it a great place for a day of complete relax.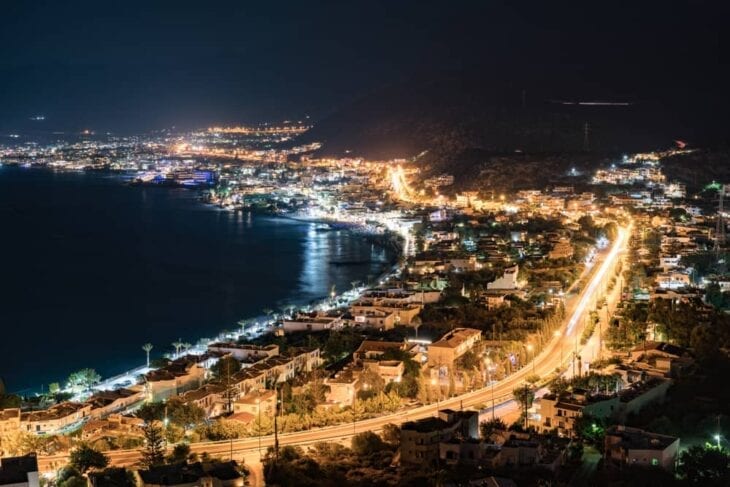 Along the beach, there are several traditional tavernas where to enjoy a light lunch, while the sea is quite shallow and tends to be calm making it a good beach for families with kids.
There are a few bars, ice cream parlours, and souvenir boutiques in the main road of the village, while it's also possible to go for a drink at night in one of the several pubs that serve cocktails right on the beach.
Where to stay in Hersonissos, Crete
Being such a popular resort on the northern coast of Crete, there are endless of hotels to choose from for a stay in Hersonissos.
Anything can be found when looking for a place to stay in Hersonissos, options range from simple rooms to let, family studios, modest 3-star hotels, and top 5-star resorts with swimming pools, spas, and stunning views of the sea.
Those planning their trips for August and September should be aware that it's easy for hotels to be fully booked since quite early in the season. Therefore, to avoid surprises, it's always best to book well in advance.
Palmera Beach Hotel & Spa
This beach is right opposite the sea, a few meters from the main beach of Hersonissos.
There are rooms with sea view and with mountain view as well. It's a comfortable and informal hotel, a few minutes away from Aquaworld Aquarium, and only 24 km from the International Airport of Heraklion.
✆ 0030 2897 022481 – website
Serenity Blue Boutique Hotel
Family atmosphere and and beautiful swimming pool are two of the main characteristics of the Serenity Blue Boutique Hotel.
It's located close to the beach of Hersonissos as well as just minutes away from the center of town.
✆ 0030 2897 501801 – website
Star Beach Village & Water Park
This is one of the most beautiful resorts in Hersonissos and it also features a fantastic water park, ideal for those visiting with kids.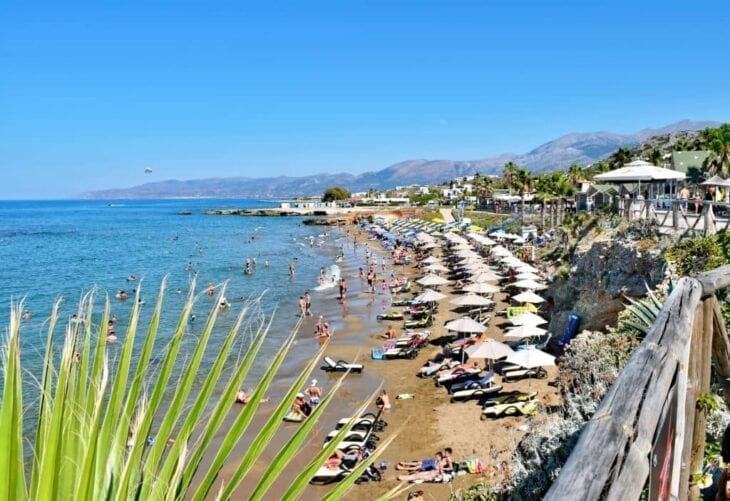 The hotel proposes lots family fun activities throughout the resort as well as a wonderful pool with water games.
✆ 0030 2897 029351 – website
Where to eat in Hersonissos
Saradari Fish Restaurant
This is the best place to go if you're eager to eat fish and seafood cooked in authentic Cretan style.
✆ 0030 28970 25375 – website / bookings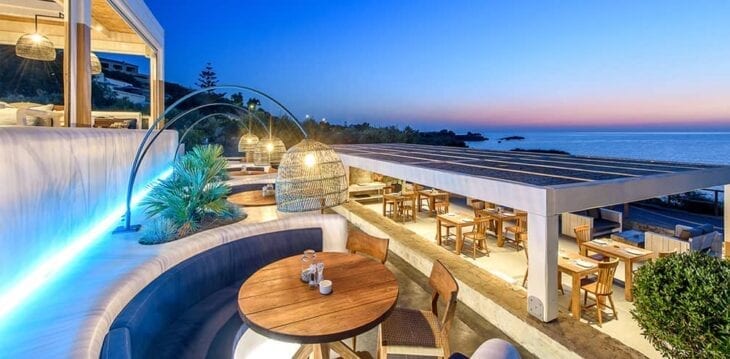 Taverna Harakas
This popular restaurant is in the Old Square of Hersonissos and it has excellent reviews and the staff is truly friendly.
They are known for their meat dishes, especially lamb and the traditional Cretan stifado.
✆ 0030 2897 021815 – tripadvisor link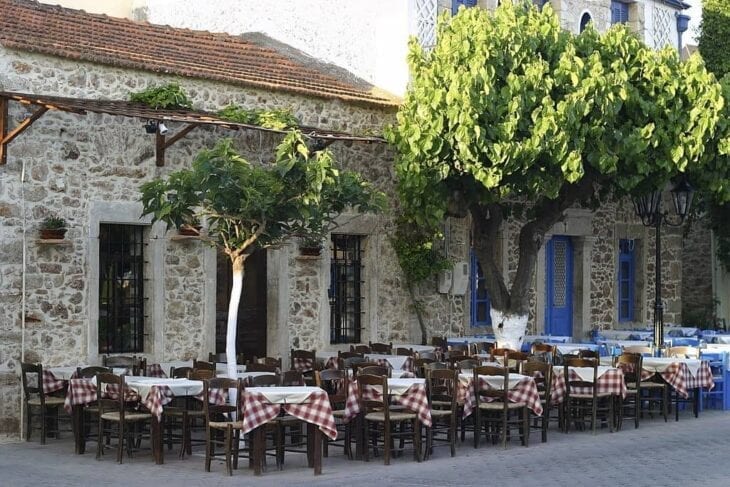 Sofas Taverna
Another favorite in town, Sofas is also in the Old Square.
The place is known for the pork fillet, the homemade dishes and some traditional Greek sweets. Do try their kadaifi!
✆ 0030 2890 025348 – tripadvisor link
Popular Beach Bars and Clubs in Hersonissos
King Skorpio Beach Bar Restaurant
Located right at the Port of Hersonissos is a great place to go for a drink and good music as well as to soak in the views of the magnificent Cretan sea.
✆ 0030 698 180 1051 – website
Anissa Beach Shisha Point
Also on the beach, this beach bar is popular both with locals and with tourists. Great drinks and nice views too.
✆ 0030 697 936 4644 – website
New York Beach Club
One of the most famous beach bars in the port area of Hersonissos. New York Beach Club is a classic place for drinks and good music in Crete.
✆ 0030 2897 023415 – website

When is the best time to visit Hersonissos
Hersonissos is a popular beachside resort, so summer seems to be the ideal moment to visit.
Any time from June to September, Crete enjoys a fantastic weather, there's almost no rain on the island in that period, and the temperatures are ideal to spend your days at the beach.
The northern coast of Crete is also perfect to practice water sports.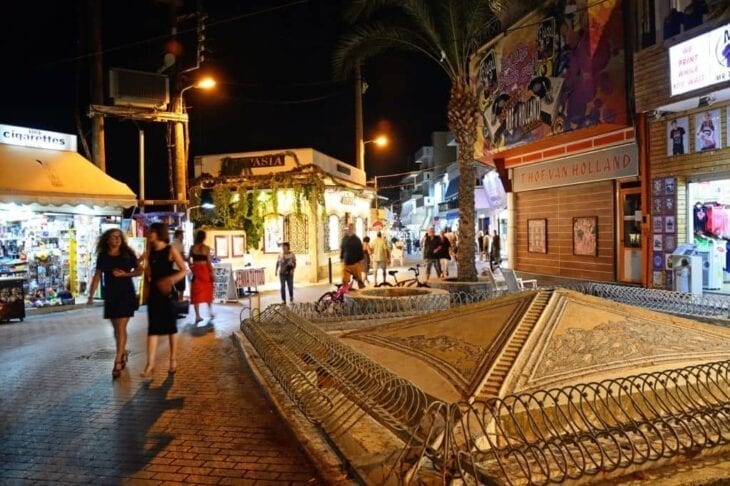 Being so close to the capital of the island, Heraklion, you can also visit Hersonissos during the shoulder season.
Early April and late October allow you to enjoy rather mild temperatures. You can go for long walks on the beach, or you can drive all the way to Heraklion to visit the city museums and other important Cretan landmarks.