If you're looking for a very convenient destination in Crete that is easy to reach and has immediate access to restaurants, tavernas, cafes, and entertainment, as well as a great variety of accommodations, then Analipsi is an excellent choice.
Where is Analipsi, Crete located?
Analipsi is just east of Heraklion, the capital of the island on the north coast of Crete, roughly in the center of the island. It is not just easy to reach, it is also an excellent home base for exploring the surrounding region by car, located directly on the main road that traverses the north of the island.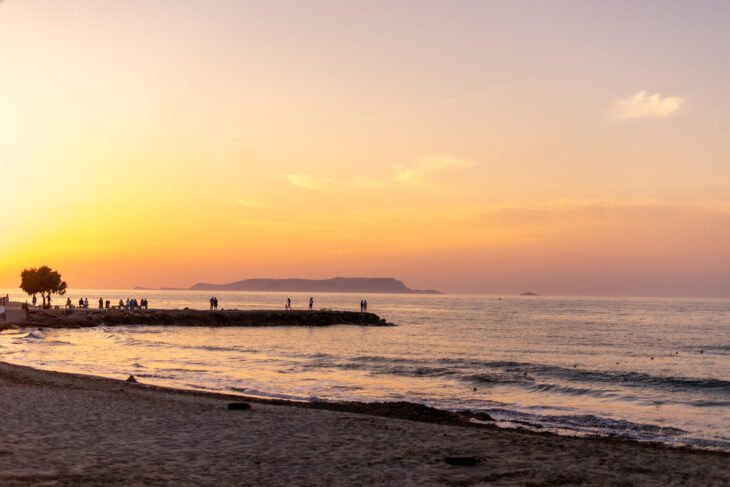 Getting to Analipsi, Crete
Nothing could be simpler – you'll find a car rental directly at the Heraklion Airport, so you can be in your car in no time, and about 20 minutes later you'll be in Analipsi. The drive is along a major road, in excellent condition.
Are you arriving on Crete by ferry? In that case, a car can be waiting to meet you at the port, so you can be on the road as soon as you disembark. In case you would prefer to use public transportation, you can consult the schedules listed here.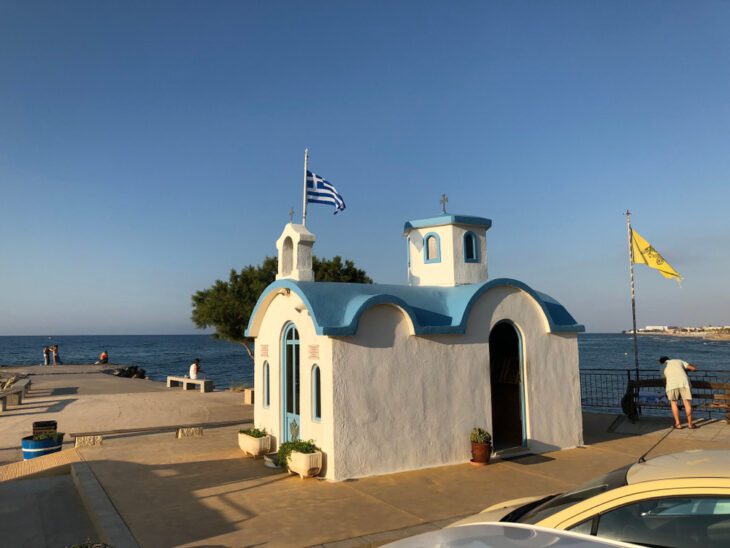 The History of Analipsi, Crete
In Analipsi, we are in one of the richest regions of Crete historically speaking. Less than half an hour away from the Minoan Palace of Knossos, this was a populated region from the Bronze Age.
Neighboring Hersonissos – just five minutes from here by car – was a flourishing port city in both the Roman period and the Byzantine era, displaying its prosperity with its own theater, aqueduct, and public baths. It was also an important center into the Latin era, after the Venetians conquered Crete in the beginning of the 13th century (1212).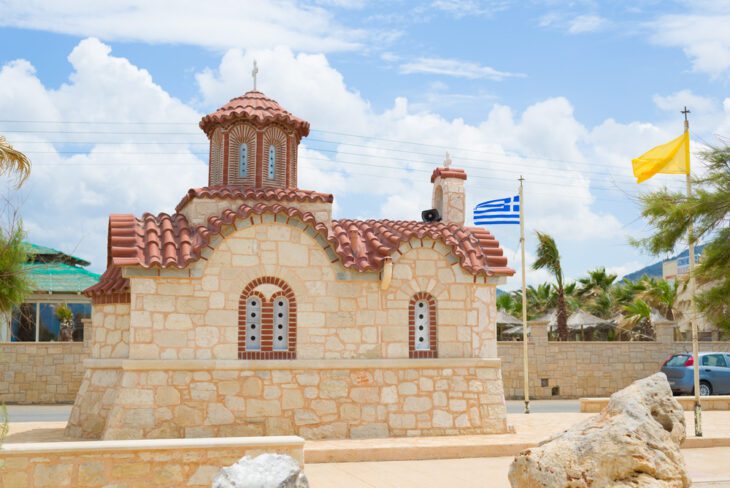 More recently, this section of Crete has grown tremendously as a tourist destination, offering all types of entertainment, accommodations, and dining options.
What to See and Do in Analipsi, Crete
Whatever you enjoy doing, the Analipsi region can offer it. There is no area of Crete with a greater variety of activities and diversions. Starting with Heraklion, the capital. This urban destination, less than 20 minutes from Analipsi, is packed with things to see and do.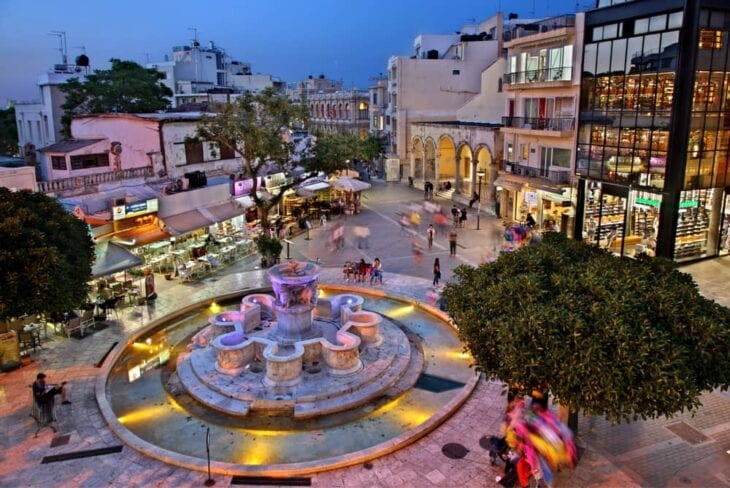 The Venetian era of Crete left its mark in the architecture, and Heraklion is full of important and beautiful examples of the Venetian touch – the Rocca al Mare fortress that overlooks the whole Venetian harbor, from the Venetian Dockyards to the lighthouse. Near the harbor, a grand Venetian Loggia serves now as the town hall, while Lion's Square is graced with the Morosini Fountain – the water flowing from the mouths of the lions is how the square takes its name. The square is lined with charming cafes – a perfect slice of Cretan lifestyle to enjoy.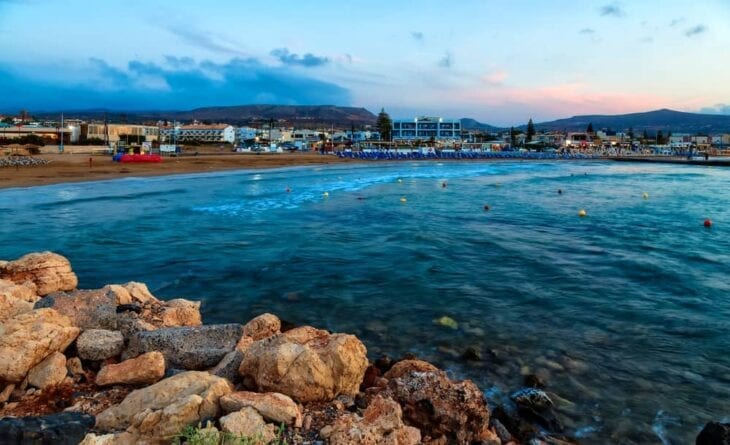 Analipsi itself is full of activities – tavernas and cafes and bars. But if you are looking for something a little more peaceful and traditional, then you need only to get into your car and head for a village inland. In just 7 minutes you'll be in Ano Gouves – a different world altogether. Here you can enjoy a coffee in the shade in the village square and enjoy a stroll in the ending alleys, lined with traditional houses and old churches.
Beaches around Analipsi, Crete
Analipsi itself has a fine full-service beach, with sun loungers and umbrellas and beachside drinks service, as well as plenty of water sports options. But part of the joy of having a car is being able to pick the perfect beach for you, and there are many choices nearby. The famous Meltemi winds sometimes stir the seas of the northern coast.
Heading east you can find both Anissaras beach which is just 4 minutes away with car, and Hersonissos beach a little further away.
But to the west of Analipsi, the eastward facing coves of the famous Bali Beach offer some protection.
Bali is actually a series of little coves and beaches and a cute harbor town – you're sure to find the ideal spot. Gorgeous Bali is an hour's drive to the west, past Heraklion. You won't be bored a minute because the road hugs the sea and the scenery is lovely. Of course, you may decide to just stop at Agia Pelagia instead – it's on your way, just forty minutes from Analipsi. This little bay is also often protected from the winds and offers calm waters, famous for their excellent color.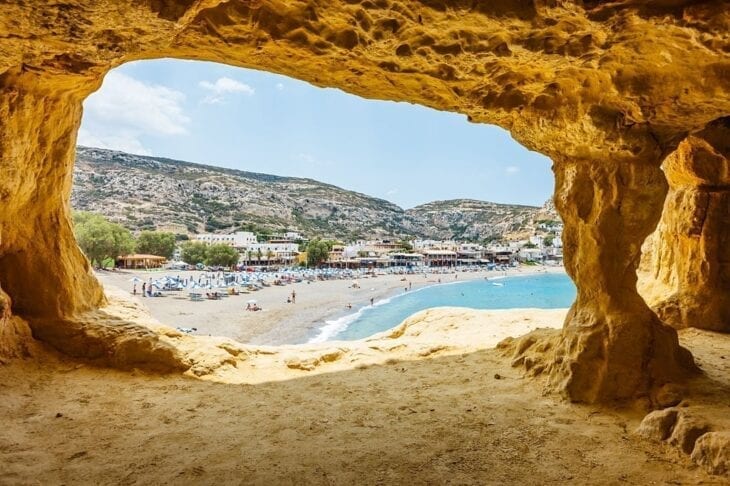 It is also easy to access some of the legendary beaches of the south coast from Analipsi. The world-famous Matala was first discovered by the free-spirited hippies in the late 1960's – Joni Mitchell even wrote a song about it. Some lived in the caves high on the cliff – and they were not the first to do so – the caves themselves were created in the Neolithic age.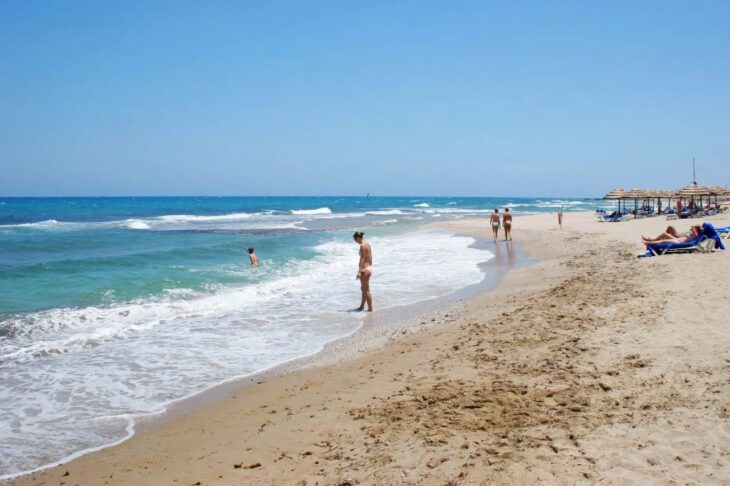 What drew them here in the first place was one of the loveliest beaches of Crete – pristine waters and a dramatic beachscape, plus an authentic little harbor town. Agia Galini is just to the west of Matala and this larger and very charming fishing village – whose name means "Holy Tranquility" – has a fantastic pebble beach. The waters of the south coast are famous for their purity. They are also deeper and a little cooler than those of the north. It is some of Crete's finest swimming.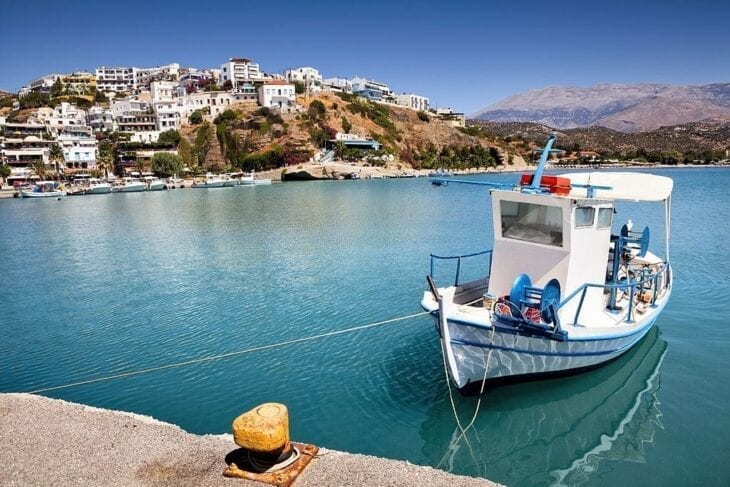 If you are up for a longer drive, then Vai is a dream destination. In addition to being a fantastic white sandy beach, it is also home to the largest natural palm forest of Europe. The drive, nearly two and a half hours, takes you through some of Crete's nicest areas – the beautiful Mirabello Bay with Spinalonga Island and the famous beaches.
Activities Around Analipsi, Crete
Two of Crete's best activities are located just minutes from Analipsi. Whether or not you're travelling with children, the CretAquarium is a wonderful destination. Here you can learn about over 200 species of the majestic Cretan Seas and Mediterranean seabeds. Educational and entertaining, it is also an inspiring destination, due to their excellent work in the study and preservation of the Mediterranean ecosystems. It's a ten-minute drive from Analipsi.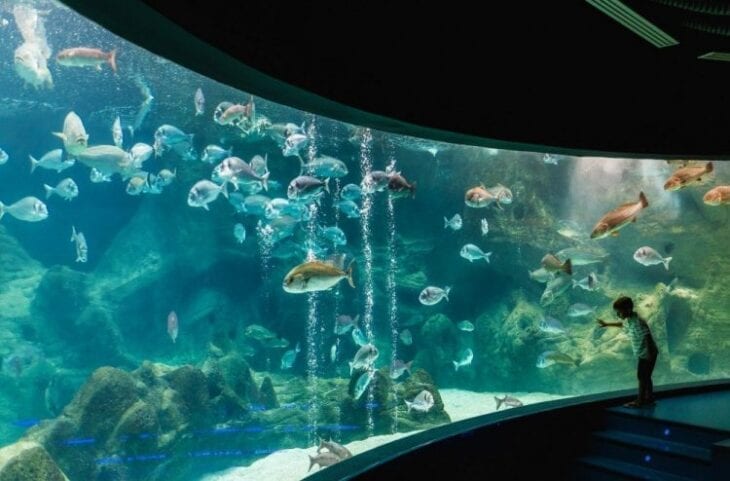 Watersports opportunities abound along this section of the north coast of Crete – you can try your hand at windsurfing, kite surfing, or diving at many watersports and dive centers, offering lessons and equipment. You can learn a new skill and have some fun.
For more adrenaline, you can also head to Crete's largest waterpark, Acqua Plus – it's just 10 minutes from Analipsi.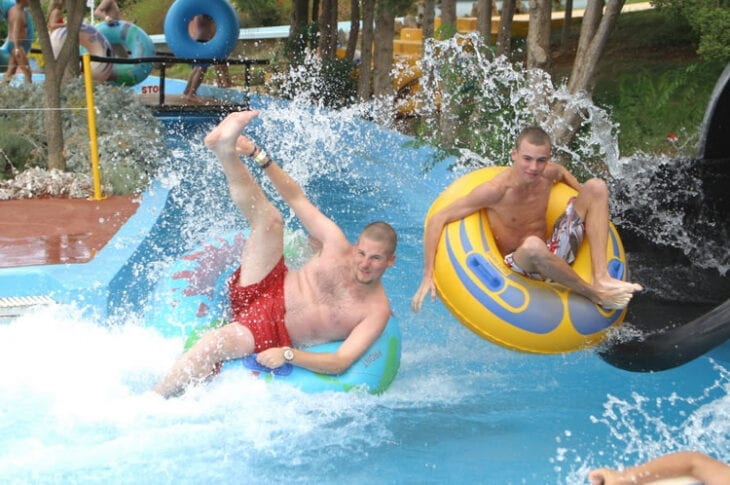 And for some recreation and fun on dry land, you can try experiencing the beautiful Cretan landscape on horseback. There are several stables in the immediate area, including Arion stables and Hersonissos stables. Arion stables even keep a host of other animals – tortoises, goats, rabbits, sheep, guinea pigs, and cats and dogs – a delightful diversion for families.
Cultural Excursions Around Analipsi, Crete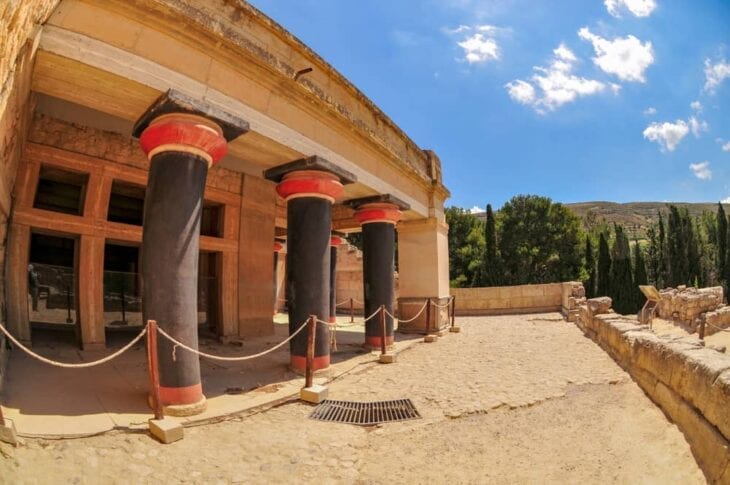 If you make time for one cultural excursion in Crete, then it should definitely be Knossos Palace, the prime Minoan Palace that was excavated and enthusiastically restored by Sir Arthur Evans at the beginning of the 20th century. This advanced Bronze Age culture of Crete comes to life here. The Minoan civilization predates the Golden Age of Athens by more than 1000 years.
It is from the Minoans that we have our Myth of the Minotaur – the monstrous hybrid of man and bull, kept safe in his labyrinth. And that labyrinth was designed by Daedalus, the engineer of legend that we know better from the Myth of Icarus.
Follow your visit by all means with a trip to the archaeological Museum of Heraklion, where some of the most famous findings from the excavation are on display, including the original frescoes.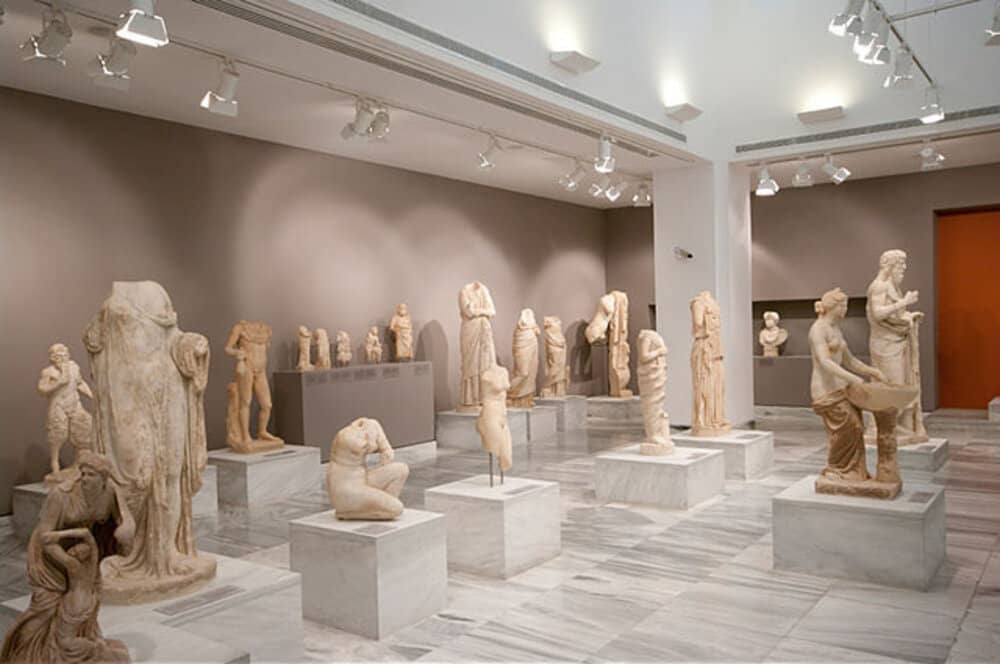 And is wine not culture? In Crete, it certainly is. Relax and learn at a wine tasting at one of the many excellent wineries of the regions, such as Lyrarakis, Paterianakis, and Dourakis. Some of these also cultivate native Cretan grape varieties, such as Laitiko, Kotsifali, and Mandilari.
Where to Stay in Analipsi
Analipsi has all sorts of accommodations. You can find a hotel that'll fit both your wallet and your needs. There are luxury lodgings, boutique hotels, or apartments ideal for families or groups. If you're looking for a place to stay in the area, be sure to give these places a check:
Lyttos Beach
Leaning towards the expensive side, the Lyttos Beach is a luxurious hotel with a relaxed atmosphere. The rooms are decorated in neutral, sophisticated colors and include a safe as well as modern amenities such as air conditioning, balcony, fridge, and WiFi connection. In addition to that, there's a pool, restaurant, and gym in the area. The beach is only a few walks away, too, so it's definitely a place you can feel comfortable staying at.
Address: Analipsi, Hersonissos, Crete
Website: https://www.lyttosbeach.gr/
Contact: +30 28975 02500
NEMA Design Hotel & Spa
If you're on a budget but still want to stay in a nice place, the NEMA Design Hotel & Spa is most definitely your best choice. It offers an outdoor pool with sun loungers and a pool bar, a restaurant, a snack bar, a spa. Their rooms are spacious and aesthetically designed. It is equipped with modern amenities such as air conditioning, a fridge, and a balcony.
Address: Analipsi, Hersonissos, Crete
Website: https://nemacrete.com/
Contact: +30 2897 029532
Golden Star Hotel
Golden Star is situated in the quiet coastal hamlet of Analipsis right in front of the sea. It boasts over 174 rooms, many of which have breathtaking views. Golden Star attains a magnificent combination of comfort and style. You'll also find a restaurant and pool bar in the area, as you would expect.
Address: Analipsi, Hersonissos, Crete
Website: http://www.goldenstar.gr/
Contact: +30 28970 25186
Where to Eat in Analipsi
If you're looking for a place to fill your stomach either before or after a long day on the beach, you should take a look at these places:
Sirtaki
From cocktails to spice up your night to mouthwatering dishes, Sirtaki will ensure you get the most out of every moment at their restaurant. The interior design is traditional but modern. This place boasts a fancy vibe without being too exclusive or expensive even if it's frequently flocked by tourists and locals.
Address: Analipsi, Hersonissos, Crete
Website: https://www.sirtaki-tavern.gr/reserve
Contact: +30 694 266 2051
Taverna Marina
Well-known for its tasty grilled seafood and fish, Taverna Marina is not only one of the best places to eat out in Analipsi, but it's also one of the most preferred. The restaurant has a cozy atmosphere with a twist of traditional flair. The food is always fresh and served by friendly staff members.
Address: Analipsi, Hersonissos, Crete
Website: https://www.facebook.com/TavernaMarinaAnalipsiHersonissos/
Contact: +30 2897 021016
Volkano
If you're craving Italian food, many locals will recommend Volkano. The restaurant's interior is something straight out of Italy, with rustic furnishing. It's located right in the village of Analipsi, so you won't have to wander far for a bite. Other than pizzas and pastas, they also serve delicious desserts.
Address: Central Square Kronou 2, Analipsi, Hersonissos, Crete
Website: http://www.analipsivillage.gr/
Contact: +30 2897 023648
Analipsi, Crete
Analipsi is the ideal destination for anyone wanting a convenient location to experience the highlights of Crete.