Hersonissos is a popular coastal town in the northwest of Crete. It's a place filled with bars, nightclubs, and bustling crowds that are ideally suited to anyone looking for a crazy adventure all night long. However, Hersonissos also attracts its fair share of visitors who prefer to enjoy their time off in a quieter way. Beaches, picturesque villages, and impressive archaeological sites can be found not too far away, offering a more relaxed holiday for families, friends, and couples alike.
On top of all these attractions, a wide range of hotels can be found in this beautiful town. From low budget to luxury 5-star resorts, you're sure to find the right accommodation for your needs. So, here's our guide to some of the best hotels in Hersonissos that are sure to make your stay on Crete an unforgettable one!
Exceptional Budget-Friendly Hotels in Hersonissos
Although Hersonissos is a top tourist destination, there are still low-budget hotels with affordable rates and mesmerizing views available for those who don't want to break the bank when going on a vacation. With that being said, we've compiled a list of the most affordable accommodations to help you make an informed decision when booking your stay. So check out the information below and find the perfect hotel for your next holiday!
Heronissos Hotel
If you want a hotel that's just a few meters away from the beach, then you should try the Heronissos Hotel. Situated in a tranquil area, this budget hotel offers affordable rates and comfortable surroundings that will make your stay as pleasant as possible.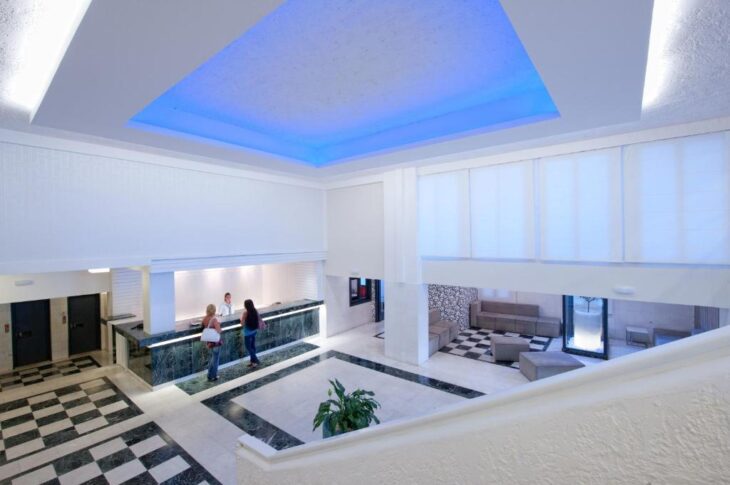 The hotel features ample rooms with balconies that provide you with a great view of the sea and surrounding mountains. In addition, air conditioning and TV sets come as standard for all of their rooms, making your stay as pleasant as possible.
If you don't want to take a dip in the sea, you can always swim in their gorgeous outdoor pool. They also have a bar and restaurant where you can treat yourself to tasty meals and refreshing drinks when you feel like it.
When it comes to food, the on-site restaurant serves buffet-style meals as well as exquisite Cretan wines. Of course, the pool bar offers snacks, beverages, and cocktails too!
Address: Filonidou Zotou 14, Limenas Hersonissos
Website: https://www.heronissoshotel.gr/
Village Heights Resort
Among the top choices of many holidaymakers is the Village Heights Resort. This peaceful and family-friendly resort provides everything you might need for a comfortable and unforgettable stay.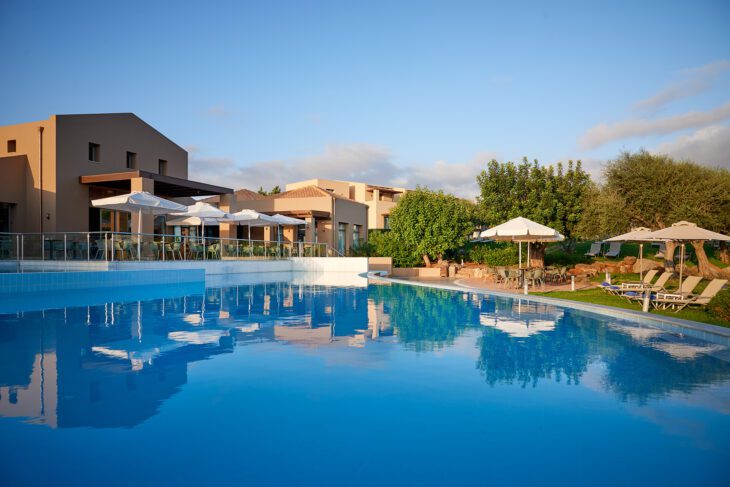 The hotel is just a few steps away from the Crete Golf Club and has a wellness center with a workout area, sauna, and hot tub. Outdoor and indoor pools for adults and children alike can also be found in this resort.
Their villas and studios provide a traditional Cretan theme with mesmerizing views of the sea and even the countryside. In addition, a fully equipped kitchen, satellite TV, and easy-to-operate coffee machine are provided in every room. This way, you can prepare delicious meals and snacks after a long day of exploring Crete.
However, if cooking doesn't interest you, you can head to their restaurant and enjoy a wide range of meals from their extensive menu. A poolside snack bar is also available for light meals and refreshing beverages.
Sports facilities such as a mini-golf, tennis court, and a volleyball court is accessible for your entertainment. If you've got kids, then they'll love this place too, since a mini club with a playground, table tennis, and game room is also featured.
Address: Roussos Lakos, Ano Hersonissos
Website: https://www.villageheights.gr/
Home Suites
This accommodation is located in Analipsi, among the prettiest beaches found in Hersonissos. Home Suites is trendy among tourists who come to this town, especially when on a tight budget.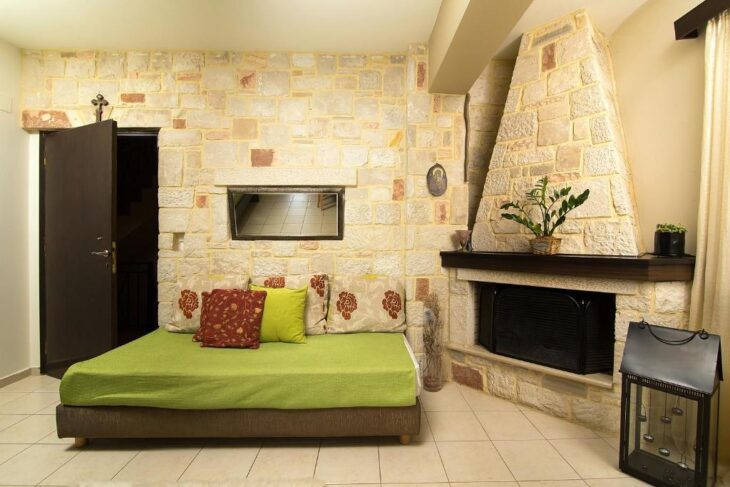 Home Suites is a captivating site with spectacular mountain views enclosed in a lovely garden. The place is approximately 500 meters from the beach and is close to convenience stores and taverns, making it an excellent choice if you do not want to travel around much.
Their apartments showcase a seating area and a well-equipped kitchen. There is also a dining area and comfy bedrooms available for guests.
Address: Kroustalenias Str., Analipsi, Hersonissos
Website: https://goo.gl/maps/5sNrVvFCL2N68DF8A
Asterias Village
Asterias Village, located in the little village of Koutouloufari in Hersonissos, is a very convenient place to stay. This family-run hotel is about 1 kilometer from Hersonissos' beautiful port. You can also find many shops, convenience stores, and food places near the area.
The place is full of homey studios and apartments themed in traditional Cretan style. You're certain to have a relaxing time staying in this resort due to its peaceful environment. Each room comes with air conditioning, a TV set, a refrigerator, and even free WiFi access.
When in Asterias Village, you can dive into their beautiful swimming pool or take a refreshing drink while relaxing in their hot tubs. The Oliva Restaurant found on the site provides a wonderful perspective of Hersonissos while serving genuine Cretan food. Guests may also go down to Cohilia Bar & Grill, the resort's poolside open-air bar, for after-dinner entertainment.
Address: 59, Evropis St., Koutouloufari, Hersonissos
Website: https://www.asteriasvillage.gr/
Kasapakis Hotel & Apartments
Although priced at a low budget, the Kasapakis Hotel & Apartments is a notable choice when visiting Hersonissos. A few meters away from the beach, this resort has everything you need for a comfortable stay in Crete.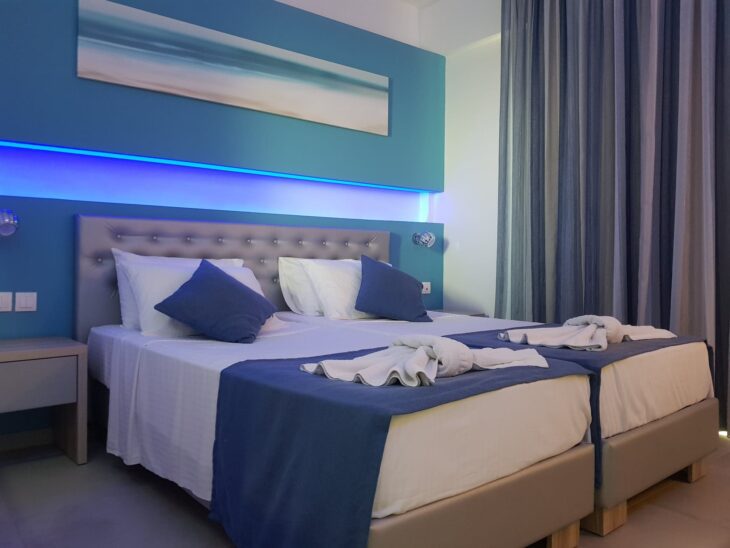 Its studios and rooms are exquisitely decorated with traditional Cretan furniture and accessories. In addition, there is also a private balcony for every room. Adding to the relaxing atmosphere of this place are its swimming pool and kids pool which can be found on ground level. The hotel also has a bar where you can relax with a refreshing drink after a long day at the beach.
Inside the room, a view of either the sea, surrounding garden, and the pool can fascinate you. The breakfast buffet and wide range of Cretan dishes this hotel serve also add to the many reasons why Kasapakis Hotel & Apartments is a favorite for many.
Address: Analipsis 700 05 Analipsis, Hersonissos
Website: https://www.facebook.com/Kasapakis-HotelApartments-318454098248823
Central Hersonissos Hotel
Located right at the very heart of the city, the Central Hersonissos Hotel is ideal for those people who want a comfortable yet affordable place to stay. Although it may not have it's very own beach, the hotel has a beautiful pool that you can relax in.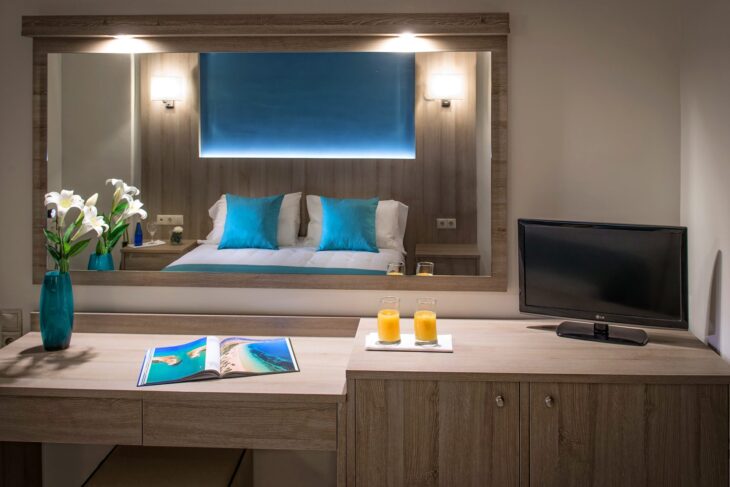 The hotel's rooms and suites are well-equipped with amenities such as air conditioning, a personal safe for valuables, a private balcony, a TV set, and more. You can also have free WiFi access inside the room.
Since it's right in Hersonissos, you can find many shopping centers, restaurants, and bars near the hotel. It's a good place to stay if you plan to go sightseeing in the area.
Address: 11 Antoniou Petinaki Street, Hersonissos
Website: https://www.centralhersonissos.com/
Mid-Range Hotels in Hersonissos Worth Considering
If you've got a more flexible budget but still want to stay in a nice hotel, then you'll be happy to know that there are other options worthy of your attention. These places may not be as luxurious as the hotels found at the higher rank, but they still offer additional services and comforts that can make your vacation even more memorable.
Esperides Resort
With classy rooms, friendly staff, and excellent amenities, this resort is ideal for families who want an affordable yet exceptional experience. In addition, Esperides Resort boasts its own private beach with warm waters that are perfect for swimming.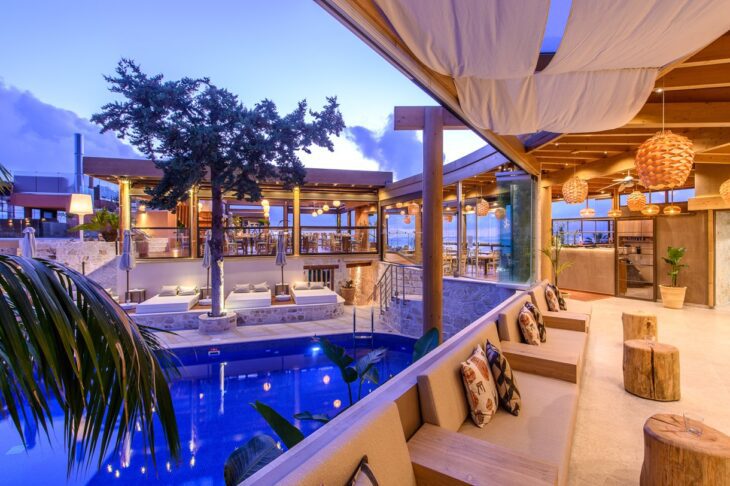 The hotel can be found in the heart of Koutouloufari, only 1 kilometer from Hersonissos. The resort is designed in an amphitheatrical style, with 15 buildings and 105 rooms of various types and facilities such as private pools, hot tubs, and sea view rooms.
What's more, the resort's main pool is heated during certain periods, so if you're visiting during the winter, you can still enjoy a refreshing dip. There's also a relaxing spa, an outside gazebo, and even an open-air mini-gym for your convenience.
There are different restaurants found in the area, all offering Cretan, Asian and Italian dishes. You can also indulge in delicious snacks, refreshing drinks, cocktails, and coffee while enjoying the view from their pool bar.
Address: Costa Varnali Street, Koutouloufari, Hersonissos
Website: https://www.esperidesresortcrete.gr/
Pilot's Villas Luxury Suites
With exceptional reviews, this resort is the place to be if you are looking for a pleasant vacation at an affordable price. Guests appreciate the luxury and seclusion the villas provide, along with the premium service that matches the place's vibe.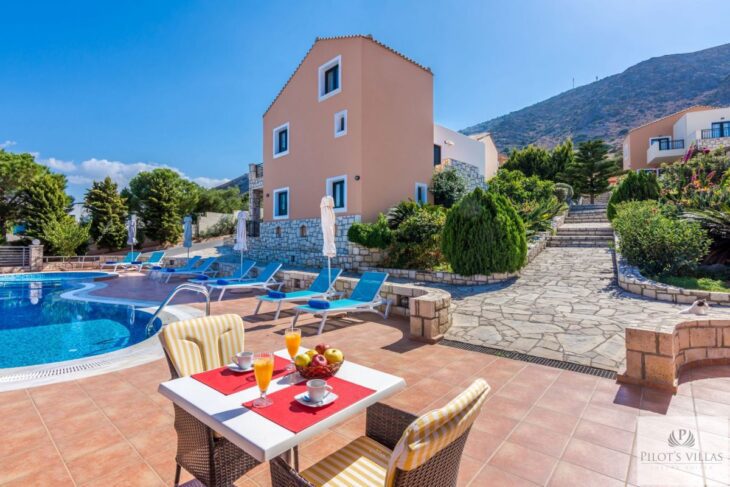 Located in the heart of the popular village of Koutouloufari, it is only a few kilometers from the beach and the many other attractions. The complex incorporates Cretan stone architecture with a stunning view of the tranquil sea and Hersonissos' local harbor.
On the other side, the accessible location allows for adventurous strolls through Koutouloufari's narrow alleyways or even dining in one of the numerous traditional taverns.
Address: Europe Street, Koutouloufari, Hersonissos
Website: https://pilotsvillas.com/
Star Beach Village & Water Park
If you've got kids with you, then they'll certainly love this resort. It is filled with amenities that will make your stay even more enjoyable, like the outdoor pools, water slides, and kids' pools.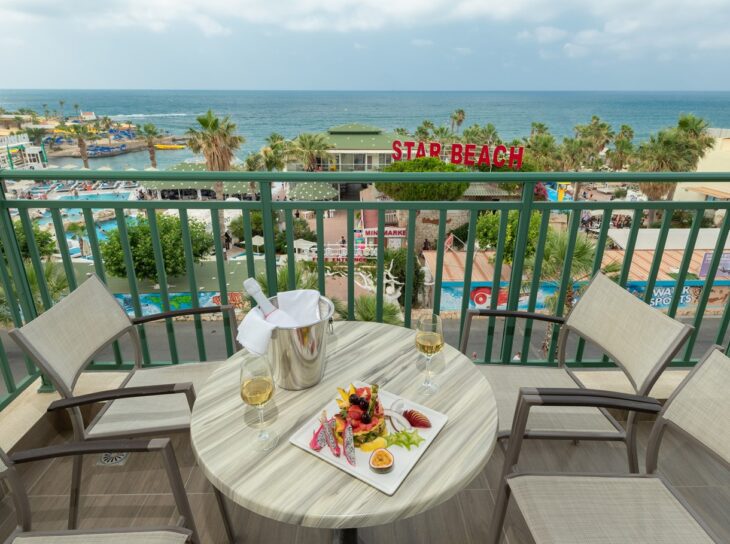 Located near the sandy beach and port of Hersonissos, this resort is a must-visit for families. You can stay comfortably in one of their fully-equipped rooms available in different classes, including junior suite, family suite, and the luxury family villa. All units feature a private balcony or terrace with a sea view too.
If you're feeling a bit hungry, you can always head over to their restaurants and order some of the delicious Cretan food they offer. They have a wide range of dishes made from healthy, fresh ingredients, which will surely be a delight for your taste buds.
Star Beach Village is just a 10-minute walk from Hersonissos' main road, lined with stores, bars, cafes, and restaurants. The ever famous Star Water Park is directly across the street from the property.
Address: Themistokleous 5, Hersonissos
Website: https://www.starbeachvillage.gr/
Grand Hotel Holiday Resort
Offering a luxurious yet affordable vacation, this resort offers beautiful views of the sea and the nearby mountain range. It is ideal for family vacations or even group trips with friends.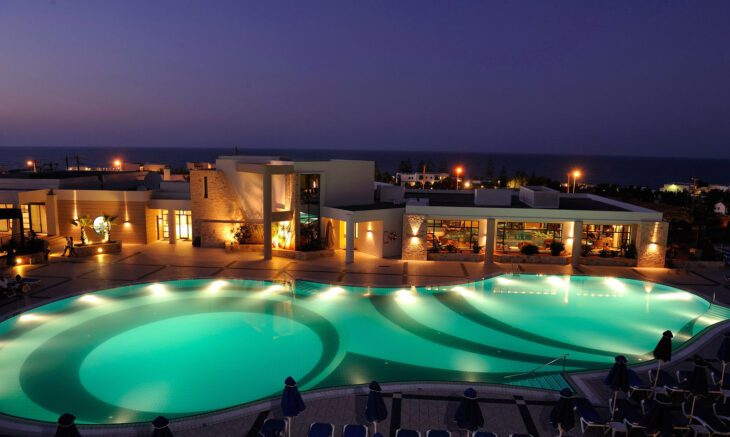 You can enjoy your stay in one of their luxurious rooms and suites, which are equipped with the latest amenities. Large windows offer stunning views of the splendid sea, while the custom decor provides a relaxing atmosphere. In addition, the hotel also features swimming pools that are perfect for day-to-day activities.
Dionysus Restaurant, which can be found in the area, has a dining terrace serving delicious Cretan and international cuisine. There are also poolside bars and cafes where you can grab a drink or two. If you want to have a scrumptious American breakfast, then you're in for a treat because this hotel serves it daily.
Address: Old National Road, Hersonissos, Crete
Website: http://www.grandhotel.gr/
Creta Blue Boutique Hotel
Although this hotel may be a bit small compared to other resorts, it still provides the best service that will exceed your expectations. Guests are treated to a personalized experience which allows them to spend more time enjoying their stay.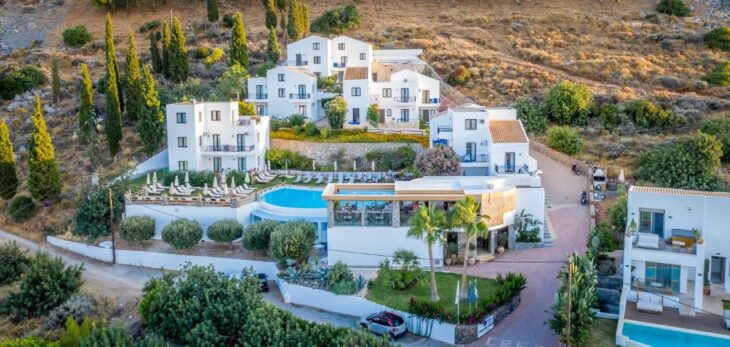 The hotel itself is decorated with Cretan elements like stone walls and luxurious furniture. The rooms also contain furnishings made from local materials, including handmade chairs, unique murals adorning the walls, and amazing sea views. For added comfort, there is free Wi-Fi connection available too.
An infinity pool, a garden, a restaurant, a pool bar, and other services are just some of the amenities that you can avail upon booking this hotel. The pool bar transforms into a gorgeous open-air restaurant in the evening, where visitors are welcome to taste handmade cuisine created with locally produced ingredients in an intimate setting.
Address: Ipsilantou St., Koutouloufari, Hersonissos
Website: https://www.cretablue.com/
Stella Village and Bungalows
A family-friendly resort, Stella Village is perfect for everyone. It offers quality accommodation at affordable rates without compromising the service you deserve.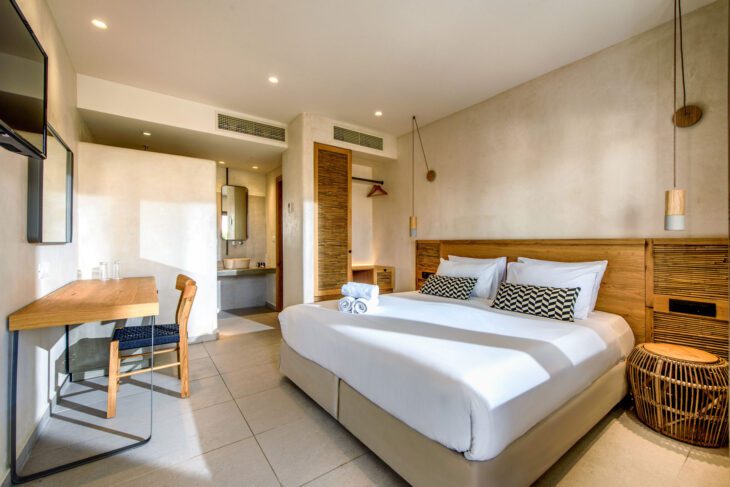 It is located in Analipsi and has its own private beach. The hotel also features two swimming pools with beautiful poolside bars surrounded by stunning gardens. Other amenities include two restaurants, two tennis courts, and even a children's club. The rooms in Stella Village are all air-conditioned and come with private balconies.
Every week, there are unique theme nights for all the guests to enjoy. Elia Restaurant, one of the dining places in the hotel, serves Greek and international dishes. The two pool bars, on the other hand, offer coffee, refreshments, and cocktails.
Address: Stella Village, 70014 Analipsis, Hersonissos
Website: https://stellavillage.gr/
Silva Beach Hotel
Located just on the outskirts of Hersonissos, Silva Beach Hotel offers a plethora of activities for everyone to enjoy. It is the perfect getaway destination if you're looking for relaxation and adventure at the same time.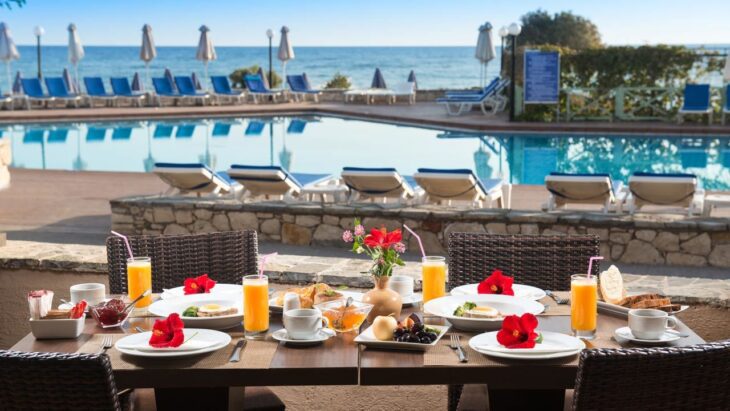 The hotel has beautifully designed rooms that come with its own private balcony where guests can enjoy scenic views of the lush gardens below or even the serene sea in front. Ideal for couples on their honeymoon, there are spacious areas inside each room where they can relax while marvelling at the beautiful surroundings.
There are several amenities available including an outdoor pool surrounded by sun loungers, patio chairs equipped with umbrellas, a restaurant offering mouth-watering dishes, a fitness center, and even a tennis court.
Address: 193, El.Venizelou Street, Hersonissos, Crete
Website: https://www.hersotels.gr/hotels/silva-beach
The Best 5-Star Hotels in Hersonissos
For those who want to go all out, 5-star hotels are the perfect place to stay in. With top-notch facilities, services and amenities, you are guaranteed to have a memorable stay that's unlike any other. You'll definitely feel like royalty staying in these luxurious hotels:
Nana Princess Suites, Villas & Spa
Located on a private beach in Hersonissos, this luxury hotel offers a total leisure experience like no other. Relax and unwind in the beautiful atmosphere of this hotel as you enjoy its first-class service and amenities.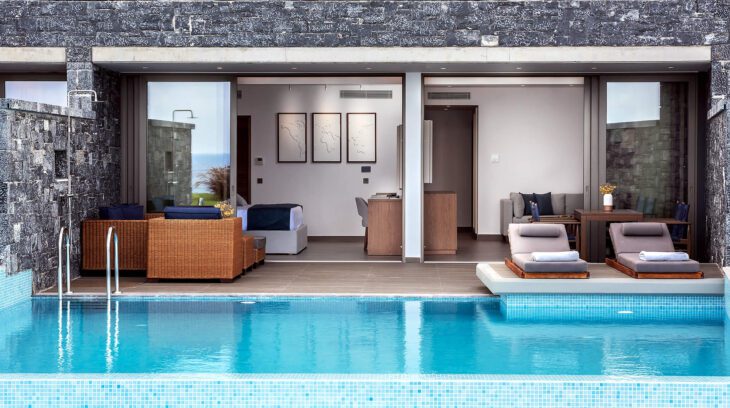 The hotel has a cutting-edge Health Club & Spa, three restaurants, and two outdoor swimming pools. There are over 100 magnificent apartments and villas, each with its own distinct style and many with their personal swimming pool and spacious outside areas. If you want a villa with its own sauna or private gym, you can get it too.
Signature cocktails and beverages of all kinds can be served to you at the poolside bar. For those who want to try out Shisha or even smoke a cigar, you can do so at the Cigar Lounge.
Beauty and hair treatments, massages, or even aromatherapy sessions are just some of the services available at this wonderful 5-star hotel.
Address: Old National Road (El. Venizelou), Drapanos, Hersonissos
Website: https://www.nanaprincess.gr/
Stella Island Luxury Resort & Spa (Exclusively For Adults)
Nothing beats a beach getaway, especially when you get to stay in a luxurious resort like Stella Island. This adult-only hotel is perfect for couples who want some time alone or even for singles who just need to relax and unwind.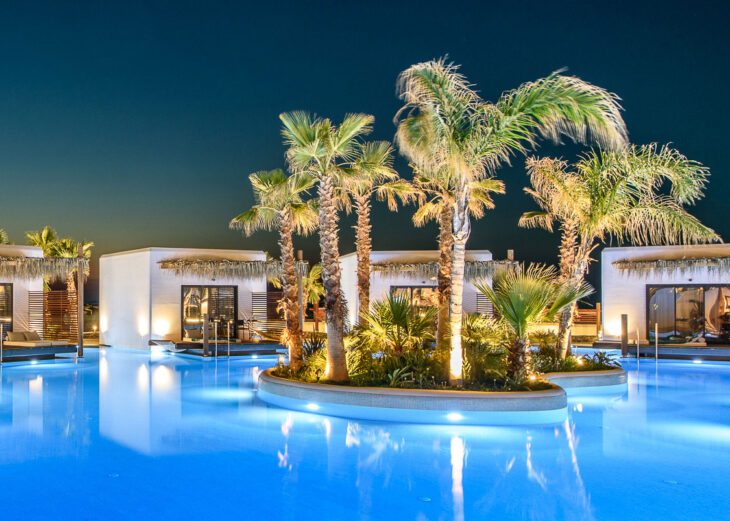 Stella Island has an attractive beachfront location surrounded by the Aegean Sea, giving you the luxury of having the sparkling blue waters right in front of you. The location also ensures that the calm is never too far away, especially with the soothing sound of the waves.
The hotel's amenities and facilities are all top-of-the-line. Each room is fully equipped with the latest technology and gadgets for the utmost comfort and convenience. Get pampered in the hotel's luxury spa, or spoil yourself with a visit to their different restaurants serving international cuisine and buffet.
Address: Analipsis, Hersonissos
Website: https://stellaisland.gr/
Lyttos Beach
Despite the hefty price tag, the Lyttos Beach hotel is a steal for what it offers. This hotel has a beautiful private beach and sea area with crystal blue waters perfect for a relaxing getaway!
This luxurious resort is home to a beautiful spa center where you can enjoy various treatments based on ancient Greek practices. You may also avail of healthy activities such as Pilates and yoga sessions at the luxury gym.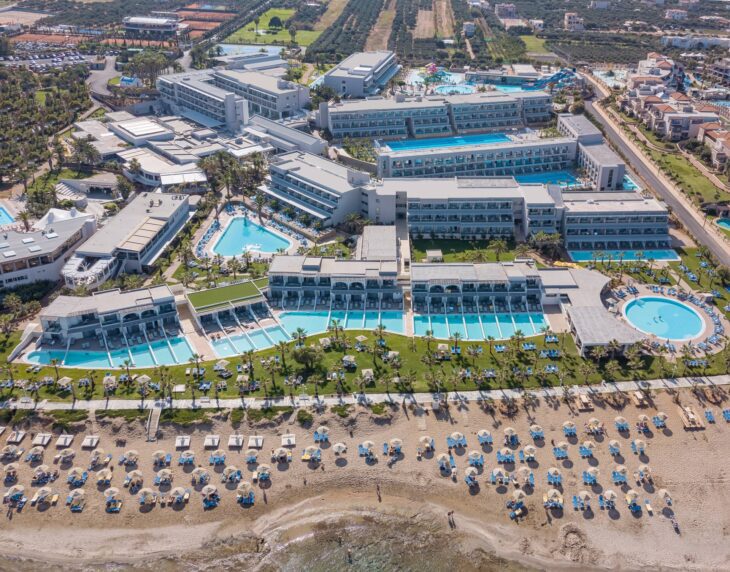 When it comes to rooms, Lyttos Beach never fails to deliver! Their luxurious rooms and suites are equipped with the latest technology to ensure comfort and convenience. There's also a private balcony that provides a wonderful view of the sea.
Lyttos Beach has several restaurants and bars that provide you with a wide range of gastronomic delights and entertainment for you to choose from. You can also relax at one of the bars by the poolside or order beverages at the beach bar.
The resort has been awarded the Blue Flag, showing its commitment to the highest quality of service, environmental awareness, and excellent hospitality.
Address: Analipsi, Hersonissos, Crete
Website: https://www.lyttosbeach.gr/
Mitsis Laguna Resort & Spa
Last but not least is the Mitsis Laguna Resort & Spa. This beautiful hotel is one of the best in the area. The hotel boasts magnificent pools, fun slides, delicious themed restaurants serving international cuisines, bars, sports courts, and even a spa center.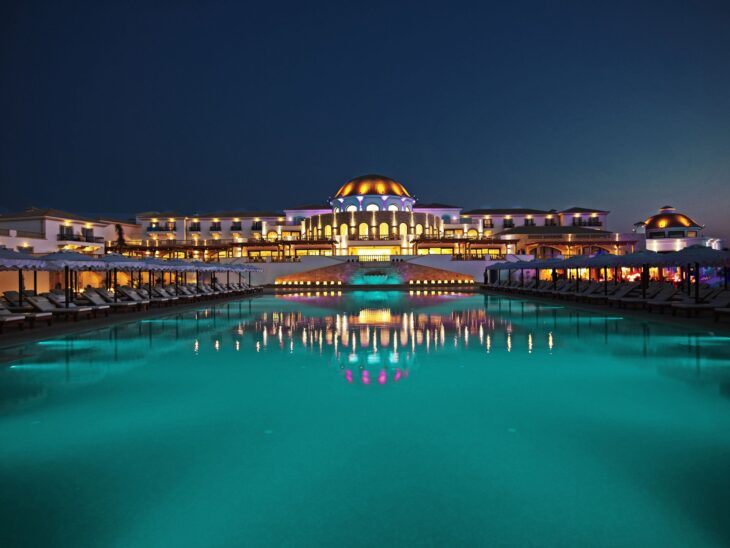 The air-conditioned rooms and bungalows are exquisite and have a highly convenient Nespresso coffee machine to provide you with a daily dose of caffeine. All rooms include a balcony or patio with beautiful views.
At the Mitsis Laguna Resort & Spa, you will enjoy an international menu of cuisine from around the world.
The resort features 7 restaurants, including one main buffet and even an à la carte restaurant where guests can order specific dishes or bring their favorite ones back to share with friends.
There is also a champagne bar, a sushi bar, and a wine bar, giving you a wide selection of drinks and food to choose from.
Address: Anissaras, Hersonissos, Crete
Website :https://www.mitsishotels.com/en/hotels/laguna-resort