A magnificent bay with its own beach, Ligaria is a beautiful place to stay and enjoy an idyllic beach holiday. Conveniently located with easy access to all kinds of facilities and services, this is a particularly excellent choice for families. Ligaria is also the ideal home base for exploring Crete, with easy access to some of the most important attractions of the island.
Where is Ligaria Located?
The location of Ligaria could not be more convenient. This shimmering bay in the Gulf of Heraklion is just 20 minutes northwest of Heraklion town. The charming beach town of Ligaria is between Agia Pelagia to the north and Ammoudi to the south. The east-facing bay is sheltered from the northwest winds that the north coast of Crete often experiences.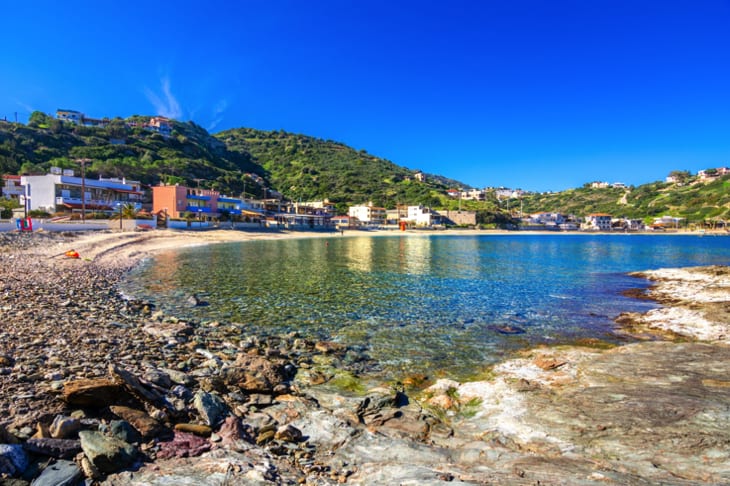 How to Get to Ligaria, Crete
It's extremely easy to get to Ligaria. There is a car rental depot in Heraklion or directly at Heraklion Airport, and from there you have easy access to the E75 national road that hugs the coastline, bringing you to Ligaria in 20 minutes. If you're arriving in Heraklion by ferry, a car can be waiting for you at the port so you can be on the road as soon as you disembark.
If you would prefer to take public transportation, there is bus service with the KTEL to Ligaria.
If you want the car delivered to your hotel book a rental car in Agia Pelagia and Rental Center Crete will bring it to your doorstep.
The History of Ligaria
Ligaria is in the heart of one of the most populated areas of Crete – the beautiful north coast near Heraklion which boasts a string of excellent beaches and charming beach towns. Ligaria is one of the quieter among three and has a relaxed character.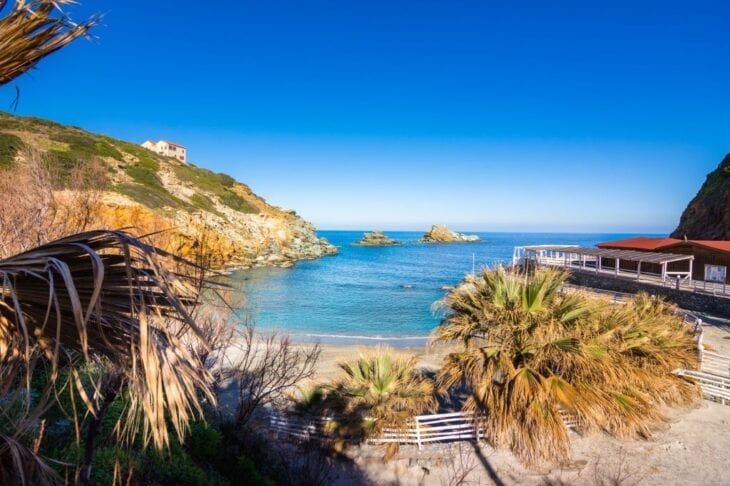 This whole region of Crete is rich in history, from the Minoan times throughout the Venetian and Ottoman eras, to the proud 20th century history of modern Greece.
The name Ligaria comes from the Greek word for the wicker tree, which thrives in this lovely area.
What to See and Do in Ligaria
There is much to see and do in Ligaria itself. The sandy beach, with sun loungers and umbrellas and convenient access for families and anyone with mobility concerns, is of course the main attraction. There is excellent swimming in the calm waters of Ligaria bay. For more action, you might want to try some water sports – there are excellent water sports facilities that provide lessons and equipment. Many good traditional tavernas serving Cretan dishes and the catch of the day provide the ideal setting to dine and unwind after your beach day.
Beaches Around Ligaria
You can't do much better than Ligaria for a full-service and convenient beach day. Not only is it gorgeous, with usually calm waters, but it is also a Blue Flag Beach – a designation that recognises beaches with exceptional cleanliness, pure waters, and a commitment to upkeep and environmentally aware practices.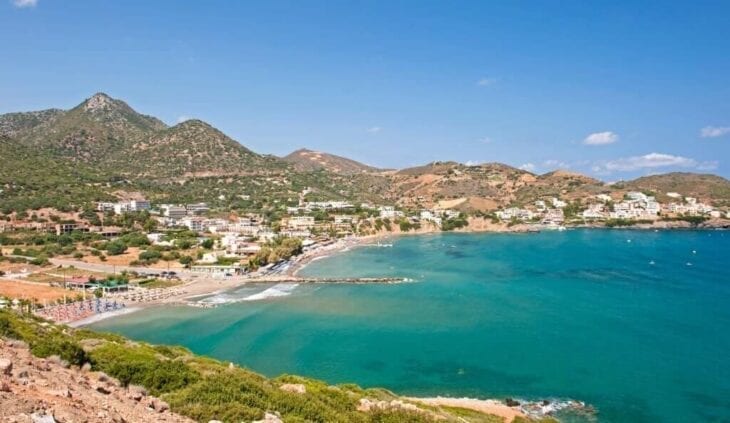 However, why not explore a little? Fodele beach is another popular beach just ten minutes to the west along the E75. But why not drive just a little further to get to Bali – another 20 minutes along that same road brings you to one of northern Crete's most famously lovely beaches. This lovely beach resort is actually a series of beaches along the shores of a pristine bay.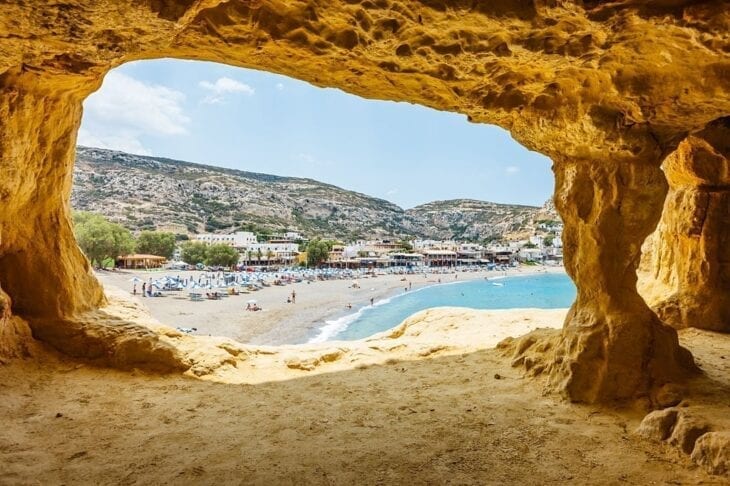 For a completely different beach-going adventure, you can also head to the south coast. Ligaria offers easy access to the stunning south coast of Crete on the Libyan Sea, and the drive itself is absolutely gorgeous. An hour and 20 minutes will bring you to Agia Galini, famous for its emerald waters and interesting caves. A little south of Agia Galini, and just an hour and 10 minutes from Ligaria is the world-famous Matala. See what attracted the free-spirited hippies (and Joni Mitchell, who sang about it) to this pristine beach with its caves high on the cliffs.
Activities Around Ligaria, Crete
There is so much to do around Ligaria, whatever your interests may be.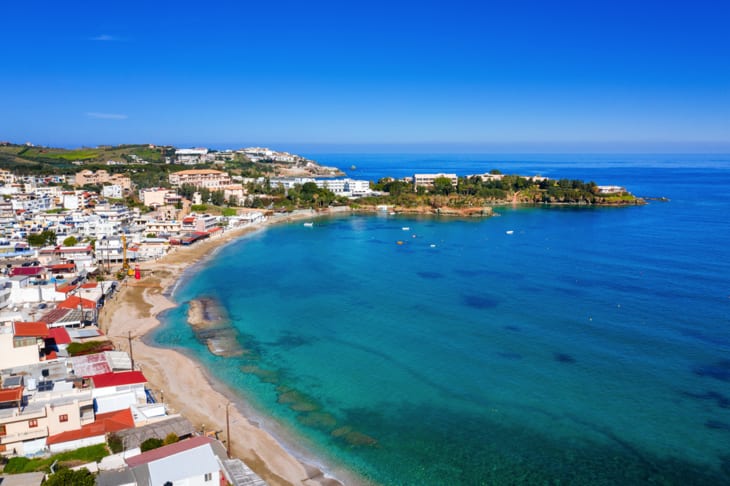 Acqua Plus Waterpark
If you would like an exciting change from the beaches, but still want to get wet, then head to the water park Acqua Plus – the largest water park of Crete. Acqua Plus is just over a half an hour's drive to the east from Ligaria.
Anogia Village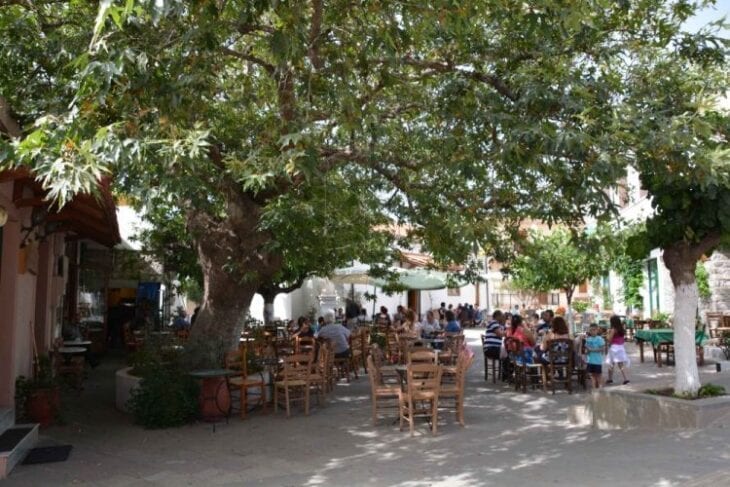 It would be a shame to be in Crete with a car and see only the coastline, as magnificent as it may be. The wonderful culture of Crete really thrives in the villages, and especially in the villages away from the coastline. This is where you can have an authentic Cretan experience. An excellent choice for a village excursion is Anogia, on the slopes of Mt. Psiloritis. This village is famous for the brave character of its inhabitants, and for music – some of Crete's best-known musicians come from here. And a trip to Crete is not complete without hearing some Cretan Lyra-playing – the finest and fastest of Greece. Anogia is a little less than an hour from Ligaria.
Agreco Farm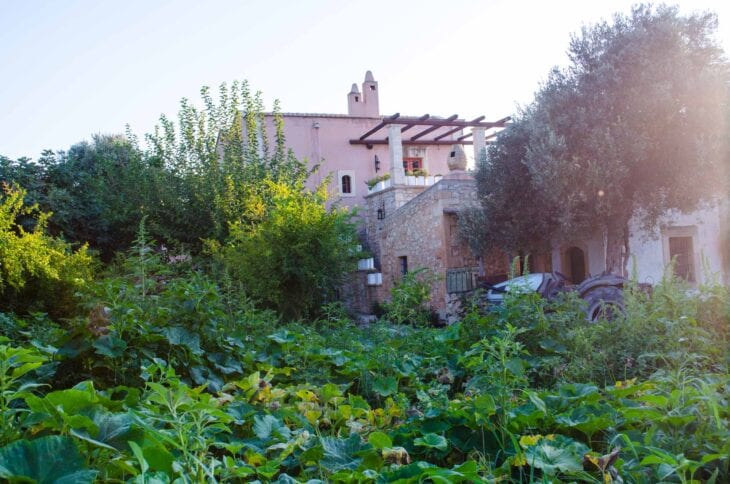 A particularly great destination if you are traveling with children, but also for anyone interested in agriculture and cuisine, Agreco farm is also less than an hour from Ligaria. Enjoy the true taste of Crete with traditional products, as you also learn about production methods and traditional festivals. Dine at the taverna, and treat the kids to a visit to the mini zoo, where they can enjoy an encounter with the fauna of Crete.
Cultural Excursions Around Ligaria
If you are interested in culture and history, then there is no better home base for exploring than Ligaria. This is the heart of Crete's most populous area throughout the millennia, with sights from all the eras of Crete.
Knossos Palace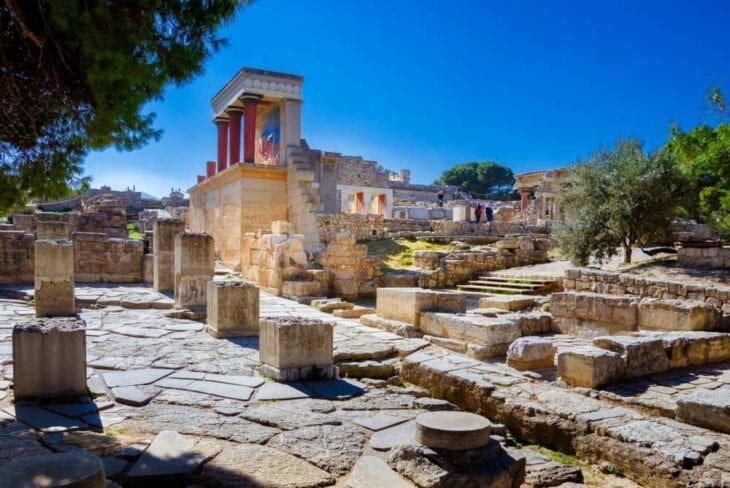 No visit to Crete is truly complete without a visit to Knossos, the main palace of the Minoans, Crete's advanced Bronze Age civilization. This magnificent site was excavated and enthusiastically restored by Sir Arthur Evans in the early 20th century. While by contemporary standards his work may have taken too many liberties, the fact remains that this is one of the most vivid archaeological experiences to be had in Greece – a place where you really can imagine the culture of this ancient civilization.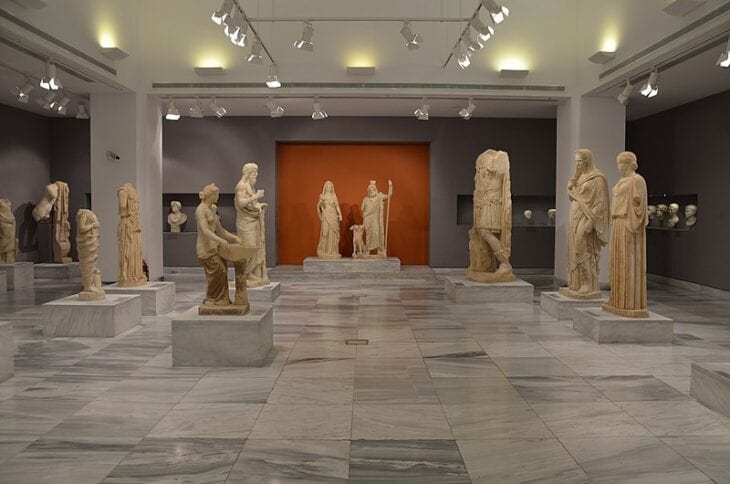 For even more in-depth experience and exploration, visit the Archaeological Museum of Heraklion, filled with findings from the excavation. Knossos is less than half an hour from Ligaria.
Visit Heraklion
Heraklion, Crete's capital, is itself an excellent cultural destination. The Rocca al Mare fortress brings to life the Venetian era of Crete, and it's by no means the only symbol of Venetian elegance and sophistication in this charming town.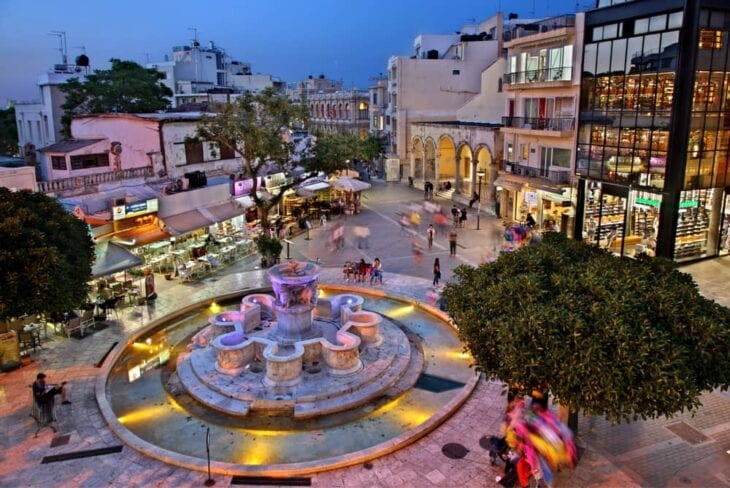 There is also Morosini Lion's Fountain and the Venetian Loggia, as well as the old Venetian harbor. Crete's Natural History Museum and the Historical Museum of Crete are two other worthwhile cultural attractions in Heraklion. Heraklion is also less than half an hour from Ligaria.
Fodele – the El Greco Museum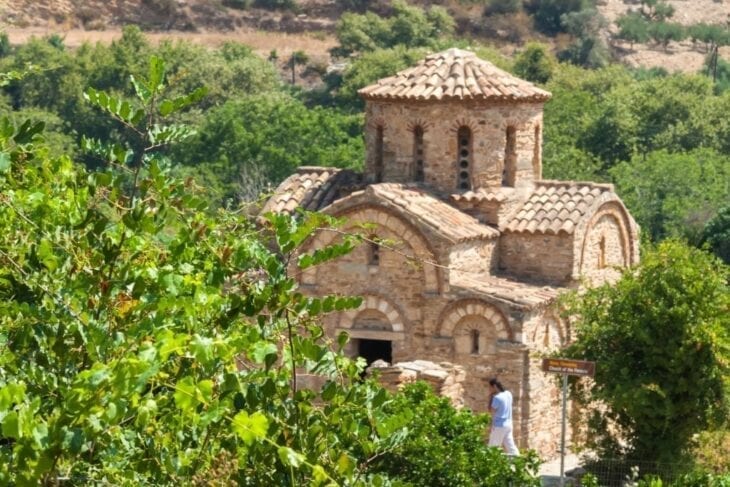 Art fans may know that the famous painter called by his Spanish name "El Greco" was in fact, like the name says, a Greek. Specifically, a Cretan – Domenicus Theotokopoulos was born outside of Heraklion in 1541 and grew up in Fodele – you can visit a museum here dedicated to the painter. This lovely village is just 15 minutes from Ligaria.
Arkadi Monastery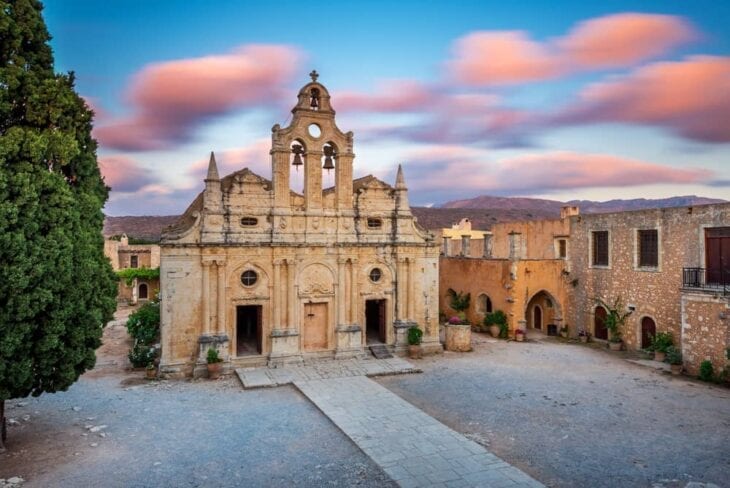 One of the finest examples of the "Cretan Renaissance", and a site of historic importance in modern Cretan history, the Arkadi monastery is an hour's drive from Ligaria. The 16th century Renaissance church within the walled monastery of one of Crete's loveliest. There is also a fine museum.
Exploring Ligaria, Crete
For anyone wanting to combine a convenient beach holiday with all facilities and service and excellent access for families, Ligaria is a great choice. Besides the excellent beach on its protected bay, Ligaria has the advantages of being very close to Heraklion and also of providing easy access to many of Crete's finest attractions and destinations.