Crete, an island of vast beauty, gorgeous coastline and heartfelt hospitality will surprise even the most well-travelled adventurers. If your idea of paradise is relaxing on the beach while the warm wind gently brushes against your cheeks and the sunlight trickles though the palm trees, making the azure waters sparkle, then look no further than Agia Marina Crete. This coastal town is well known for the 2.8 kilometres long, Blue Flag awarded beach with a stunning mix of red and gold sand, fragrant coast lilies and palm trees.

Agia Marina – Chania – Crete
Across from the beach resort of Agia Marina lies the small rocky islet of Theodorou, famous for its rich historical and legendary past. From as early as the Minoan times, the islet served as a sacred asylum and holds tremendous ecologic significance as it is home to the endangered species of the Cretan mountain goat, kri-kri. We've compiled a detailed guide to everything you need to know about Agia Marina in Crete.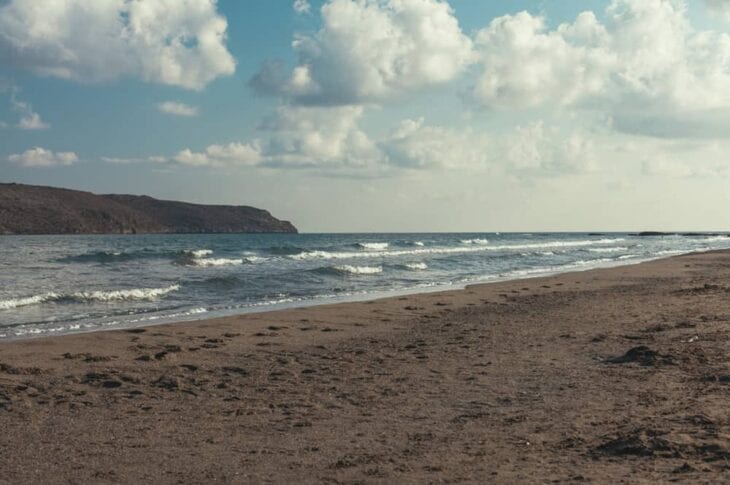 Where is Agia Marina located?
One of the most popular tourist resorts on Crete, Agia Marina is situated 10 kilometres west of Chania town. Neighbouring with Stalos and Platanias it is the ideal destination for those who are seeking a relaxing beach holiday. It's prime location also makes it easily accessible to the most famous Cretan attractions.
How to get to Agia Marina
The closest airport to fly into is the Chania International Airport. It is just a little over 30 minutes drive from Agia Marina. There are two roads which you can take, either by following the fastest route via EO Aerodromiou Soudas and VOAK/E65 or the coastal road EO Aerodromiou Soudas and PEO90/PEO Kissamou Chanion. Taxi will cost somewhere around €30 one way.
Another option is to take a ferry boat which arrives to the Souda Port in Chania.
Buses from Chania Airport to Agia Marina run on a regular basis. You may check all the available options and times here.
If you wish to explore Crete at your own leisure, and visit all the major attractions as well as the most exotic beaches of Crete, we recommend you hire a car. You can pick up your hire car from Chania Airport or use our free pickup/drop off service from any hotel in Agia Marina.
Hotels in Agia Marina Crete
If you are wondering where to stay in Agia Marina, there is no shortage in the choice of hotels in Agia Marina Crete. From luxury 5 star resorts to 3 star accommodation in smaller, family run hotels, seaside studios and apartments.
If you wish to enjoy some quality time with your significant other, the adults only hotel Thalassa Beach Resort and Spa situated on the beach of Agia Marina, offers sweeping views of the Aegean Sea and Theodorou Island. Another great option for a child-free holiday is the Santa Marina Plaza hotel, also set on the sandy beach of Agia Marina.
For family holidays there are plenty of family friendly resorts at affordable prices and for those seeking privacy, can opt for renting a private villa in the nearby areas of Platanias, Nea Kydonias, Maleme and Chania.
What to see and do in Agia Marina
Despite being a popular beach resort destination, Agia Marina is a paradise for nature lovers. Its prime location offers easy access to some of the most renowned natural sites on Crete. From here guests can explore the nearby caves, hike gorges, explore the Agia Lake, visit the top birdwatching sites and learn all about Crete's unique flora and fauna. Discover our guide to everything you can add to your Cretan holiday itinerary.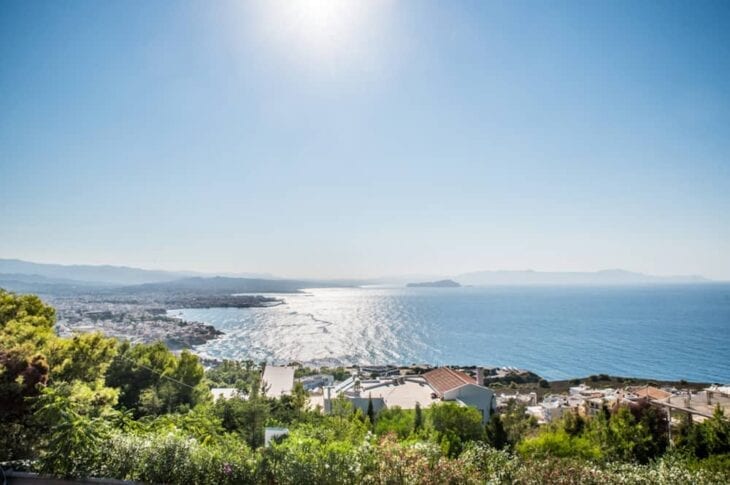 Visit the village of Pano Agia Marina
The traditional village of Pano Agia Marina (Upper Agia Marina) is located a short 500 meters from the beach. Discover the soul of Crete in this authentic village, wander around the narrow streets and admire the old houses completed in traditional Cretan architecture. Here you will find the old school, a typical village square which is the heart and soul of this place, the church dedicated to St. Spyridon, a Folklore museum among several local taverns where you can savor traditional Cretan dishes. The Manolis taverna which has been around since 1978 is set right in the heart of the village. The menu features a selection of meat and fish dishes along with a generous choice of appetisers and salads.
The Folklore Museum
The Folklore Museum of Agia Marina, set in a traditional Cretan rural house was established in 2014. The museum houses a selection of everyday objects that have been donated by the local families. Visitors can get a taste of traditional Cretan life as well as an introduction to the local customs and traditions of making raki and wine. Workshops on traditional olive oil making and weaving art are also held at the museum. If you want to delve deeper into the Cretan culture, mingle with the locals or simply ask for insider recommendations, simply pass by — you are always welcome.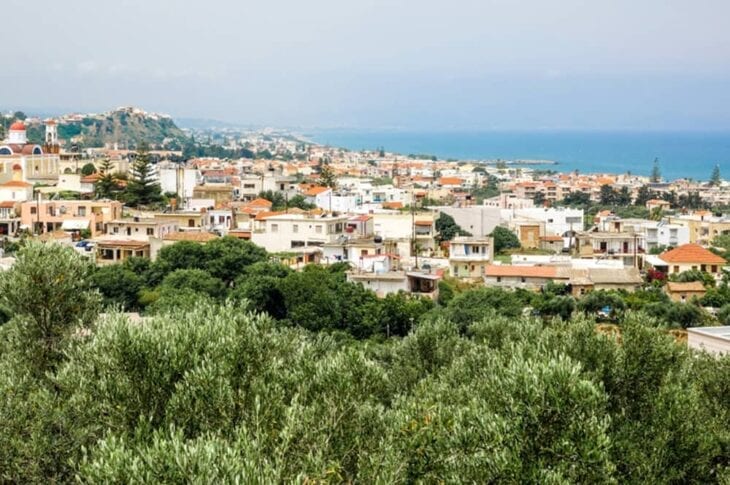 Follow the historical trails
If you are feeling adventurous and want to reconnect with nature, then follow one of the inland trails which pass right through the heart of Pano Agia Marina village. One of the sights worth visiting is the Nerospilia (Water Cave) of Agia Marina, located 12 kilometres from Chania. Following the road that leads from the main square of the village, you will come across a national road bridge which you will have to pass under and follow the signs for another 2 kilometers. The cave features two domes, the second deeper one which is more difficult to access is adorned with beautiful stalactites.
Hike the Therisos Gorge
Therisos Gorge is the closest one located to Chania and can be accessed by car. Located approximately 15 kilometres from Agia Marina it is the perfect place to gain a deeper understanding of Crete. A place of importance in the history of Crete and Greece, the village of Therisos is home to a National Resistance Museum and the Historical and Folklore Museum of Therisos which is in fact housed in Venizelos' former headquarters. Find out more: Day trip to the Therisos Gorge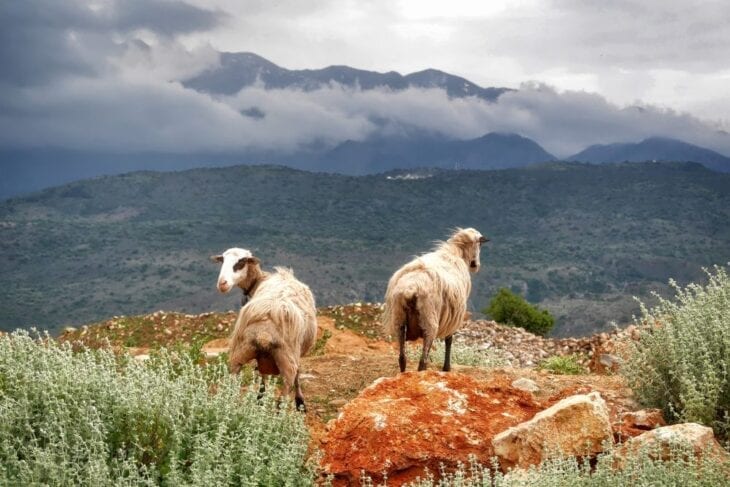 Admire the Magnificent Harbour of Chania
The old Venetian harbour of Chania, one of the most famous and prettiest sights in Crete is a short 9 kilometres drive from Agia Marina. Enjoy an afternoon strolling around the harbour or better still admire the magnificent surroundings from inside of a horse-drawn carriage. Here you can also visit several museums, go shopping or enjoy a relaxing dinner in one of the numerous restaurants and local taverns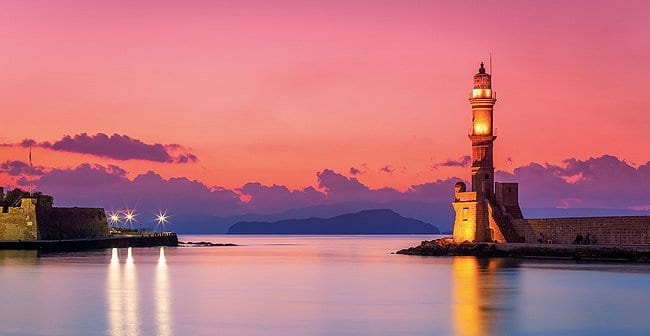 Take a trip to the World War II cemetery
History buffs might enjoy a trip to the nearby beach resort of Maleme, situated to the west of Agia Marina and 16 kilometres from Chania. This is where the "Battle of Crete" took place during the Second World War. The German War Cemetery is located in Maleme and was founded in 1974 by a former German commander, Gericke on a site where 4.465 German soldiers were buried.
Spend the day at Platanias
The coastal village of Platanias is the next village on the way from Agia Marina (approximately 6 minute drive). One of the most liveliest villages in West Crete it offers endless nightlife opportunities. Throughout the summer visitors can enjoy regular beach parties which are hosted during the day and night.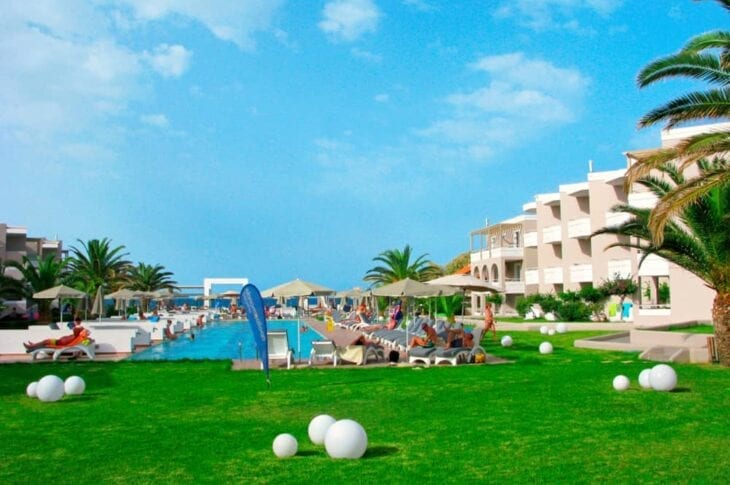 Here you will find plenty of dining options, from cafes to local taverns and restaurants. For families traveling with children, there are plenty of kids activities in the area including mini-golf, trampolines and water sports. The main beach of Platanias is a beautiful sandy beach with sunbeds and umbrellas available for rent. From here you can take scuba diving trips as well as boat trips to visit Balos, Gramavoussa and Samaria Gorge.
To soak in some authentic island charm, visit the old town of Platanias which is perched on a steep hill overlooking the Aegean Sea. Dotted with traditional houses and blooming gardens, it is beautiful sight not to be missed.
Enjoy the beach of Agia Marina
The shoreline of Agia Marina is truly exotic which will make you want to spend most of your days basking under the Cretan sun. The two kilometre stretch of fine sand and shallow waters makes it ideal for families traveling with children. One of the top beaches in Crete, Agia Marina is also the location of some of the most popular beach bars on the island. The beach has organised facilities as well as a wide selection of water sports activities available for all ages. Visitors can enjoy beach volleyball, tennis, windsurfing, kite surfing, jet skiing, parasailing, canoe, banana and much more. Facilities for little guests include bowling, mini-golf and train rides.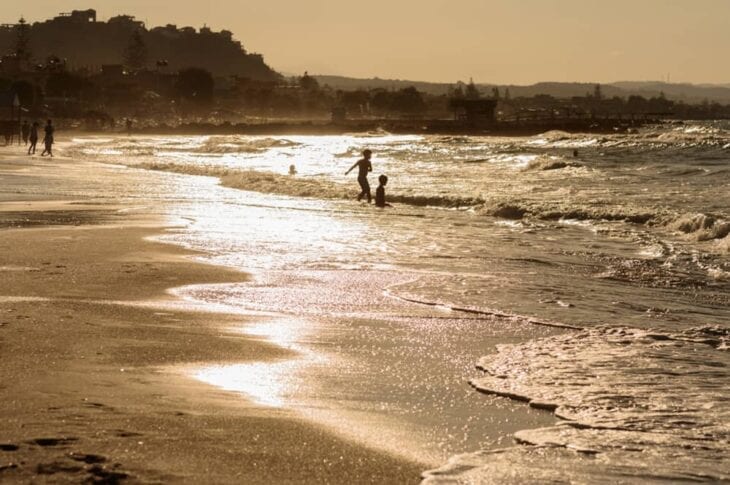 Have you been to Agia Marina? If not, we hope that our guide to everything you need to know about Agia Marina Crete will be of use in planning your summer holiday.