Marmara beach is one of the most beautiful and secluded beaches on Crete. Marmara beach lies right at the end of Aradena Gorge on south coast of Crete. The journey to Marmara beach is definitely worth it. Marmara beach is a white sand beach and turquoise waters are breathtaking!
Marmara in Greek means "marbles" ("Μάρμαρα"). The beach is also called "Dialiskari" by locals. There is one taverna in the area; otherwise, it's mostly just locals and tourists enjoying the peace and quiet. If you're looking for a relaxing day by the sea, Marmara beach is surely worth your time! If you plan to visit the south of Crete island, make sure you add this to your itinerary.
Where is Marmara Beach?
Marmara beach is located along the southern coast of Crete, in Greece. The closest town to this beach is Loutro, which is roughly 3 to 4 km away. Marmara beach is 167 km away from the island's capital, Heraklion, and 94 km from Chania. The most popular coastal cities nearby are Paleochora, Chora Sfakion, and Sougia. If you still have trouble finding the beach, use the following GPS coordinates to get there: 35.1966° N, 24.0582° E.
Things to do in & near Marmara Beach
Just a short walk from the bustling city center, Marmara beach is the perfect place to have a relaxing time and take in the stunning view of the coastline. Situated on the edge of a cliff, the beach offers visitors a chance to relax in the sun or take a dip in the clear blue waters. For those looking for a more adrenalin-filled experience, there are also plenty of opportunities for cliff jumping. Those who want to explore the water can choose from several excellent spots for snorkeling. With so much to see and do, Marmara Beach is the perfect place to spend a day or two.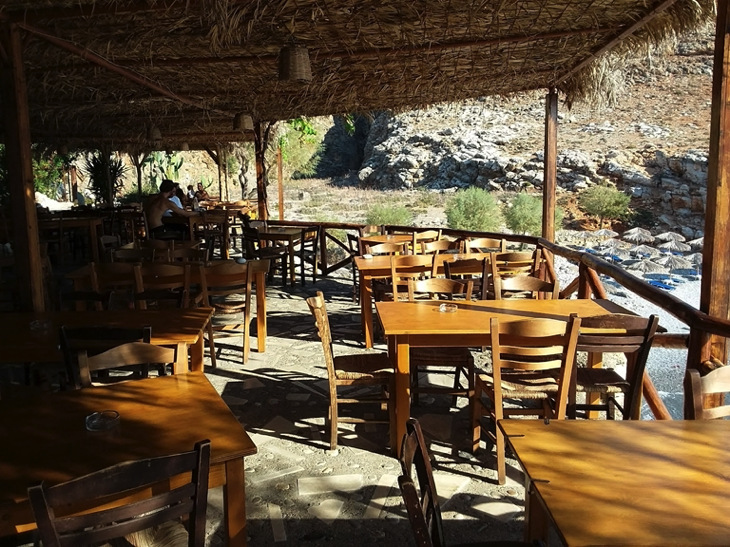 Hike up Aradena Gorge for incredible views of the beach, or go kayaking in the nearby waters. In the evening, be sure to head to Taverna Dialeskari for delicious seafood and live music. With so much to see and do, Marmara Beach is the perfect place to spend a lazy day or an action-packed vacation.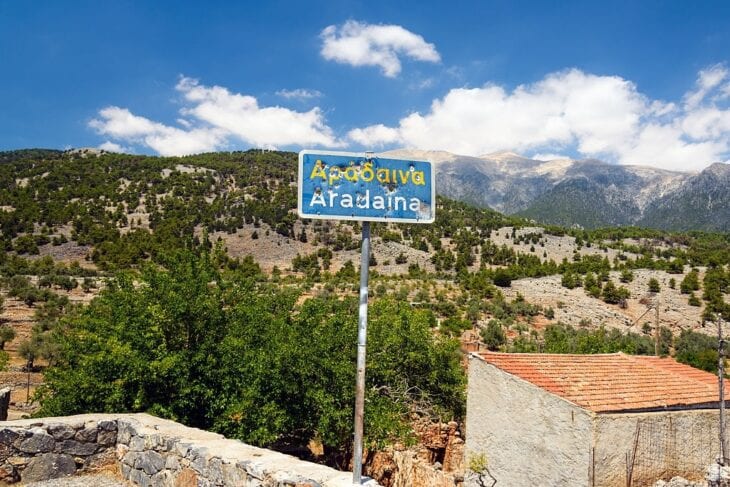 How to get to Marmara Beach
There are many things to consider when you plan a trip, and transportation is one of the most important factors. Marmara has no roads leading into or out of it, and the only two ways to get to the beach are on foot or by boat. However, you can get to the nearby town of Livaniana via bus, car, or taxi. From there, you can take a walk to the beach itself.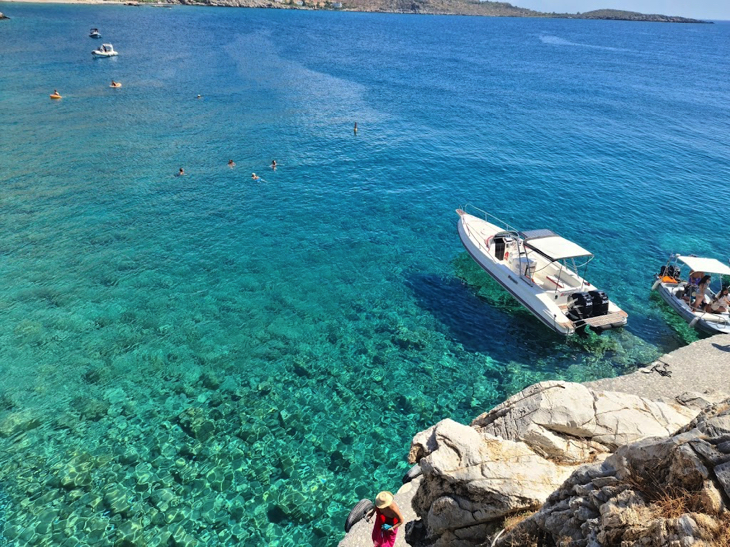 By Bus
If you're traveling to Crete, you may be wondering whether it's better to take a bus, car, or taxi from Heraklion to Livaniana. While taking a bus may seem more economical, it's important to remember that the journey can be quite long and uncomfortable. This is because there is no direct bus going from Heraklion to Livaniana, and you will have to take a bus to Esperos and eventually get a taxi to Livaniana. Why go through all that trouble when you can just get a taxi or rental car from the beginning of the trip?
On the other hand, taking a bus from Chania will bring you to Chora Sfakion. From there, you'll have to take a ferry to Livaniana.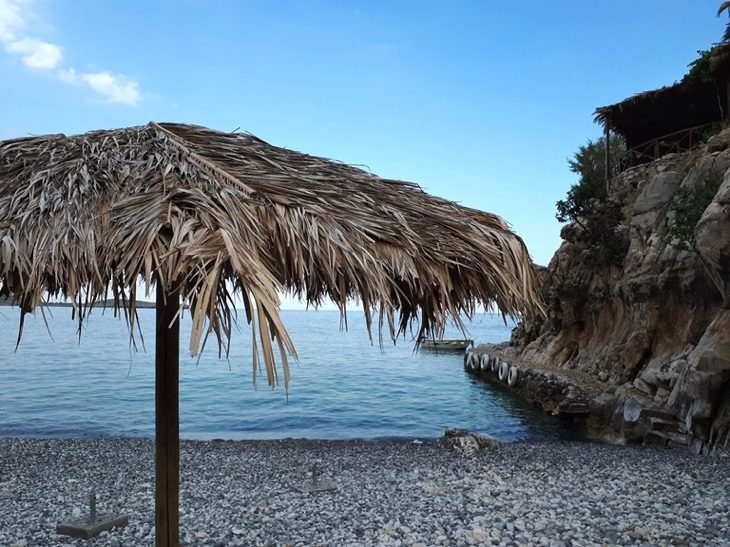 Car Rental
There are many ways to get to Livaniana and eventually to Marmara beach in Crete, but one of the best is by rental car. Not only is this a convenient option, but it also allows you to explore the island at your own pace. When you rent a car, you'll have the freedom to come and go as you please, without having to rely on public transportation. Plus, you'll be able to take in all the sights and sounds of the island at your leisure. So if you're looking for a hassle-free way to get to Livaniana in Crete, be sure to consider renting a car.
Taxi
A taxi is one of the easiest and most convenient ways to get to Livaniana. Taxis are not as expensive as we think they are, and they can be found at most major tourist attractions. You can also book a taxi in advance by calling a local company or using an online service. Be sure to agree on a price before getting in the car, as some taxi drivers may try to charge more than the meter reads. With a little planning, taking a taxi is an easy and affordable way to get around Crete and see all the island offers.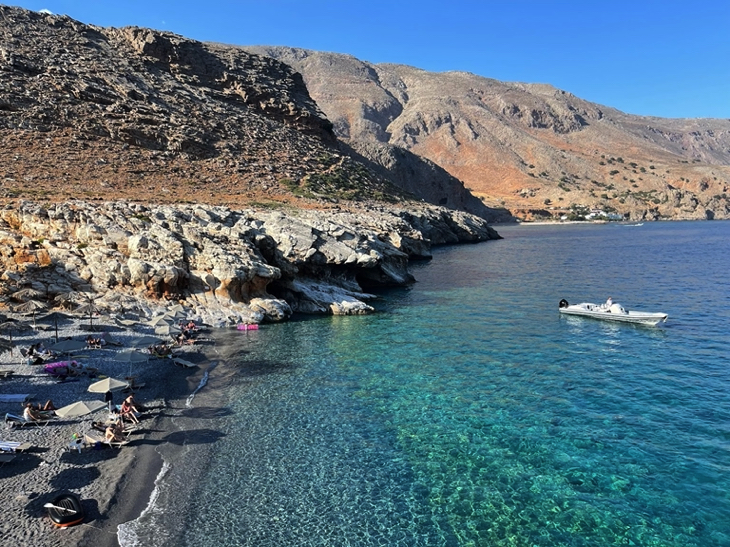 Best time to visit Marmara Beach
If you're looking for the best time to visit Marmara Beach in Crete, you'll want to plan your trip from May to September. These months have the warmest weather and the longest days, making them ideal for spending time on the beach. However, if you're looking for a quieter experience, you may want to visit in April or October. These months have fewer visitors, so you'll be able to enjoy the beach without the crowds. Regardless of when you visit, Marmara Beach is sure to provide a refreshing and relaxing experience.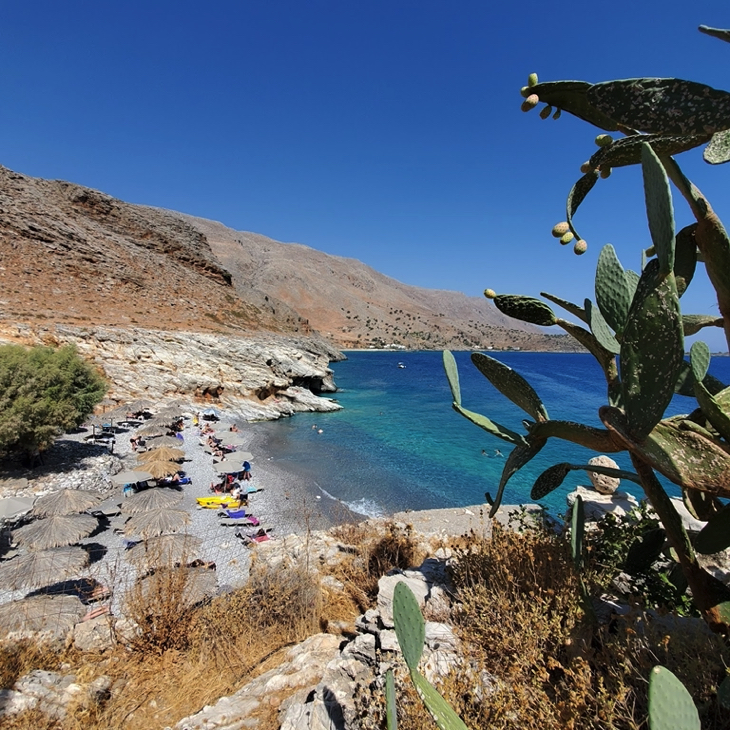 Other beaches near Marmara Beach
Lykos Beach
At the edge of the nearly deserted village of Livaniana, Lykos is a small beach situated 900 meters west of Loutro and 83 kilometers south of Chania. The slightly bigger community of Finikas (Phoenix), which is separated from it by a rocky hill, is located a short distance to the east.
In comparison to Finikas, Lykos' beach is extremely rocky, and it has a tiny pier where boats can dock; however, it is exposed to the southerly winds. Although it is not particularly noteworthy as a beach, the completely calm and rich seabed makes exploring this remote location enjoyable. Traditional taverns with a limited number of rooms are also available where one can get away from the hectic pace of daily life.
Paralia Finikas Beach
A little harbor named Finikas (or Phoenix) may be found in the province of Sfakia, about 700 meters west of Loutro and 83 kilometers south of Chania city. It is named after the historic city of Phoenix, the port of ancient Anopolis, whose remains may still be seen in the vicinity of Loutro. The European E4 hiking trail section connecting Marmara Beach with the village of Loutro passes through Finikas.
The attractive pebble beach is reasonably organized with umbrellas and canoes. You can also go on boat journeys to and from Loutro and Marmara from this location. There is a charming tavern and a number of rooms where one may take in the peace and quiet of the surroundings.
Loutro Beach
At the southernmost point of Cape Mouri, there is a little seaside community called Loutro, some 71 kilometers south of Chania. You can stay in Loutro and use it as a starting point for excursions to neighboring beaches via taxi, boat, canoe, or on foot. If you wish to stay at Loutro, the longer beach directly after the east end of the village, known as Keramos, and the smaller beach in front of Loutro are both excellent choices, particularly when the wind is strong from the south. The ocean is always tranquil, has a wonderful deep blue and green tint, and the beaches are pebbly and well-kept. Additionally, you might take a boat or a stroll to the nearby beaches of Likos, Finikas, and Marmara.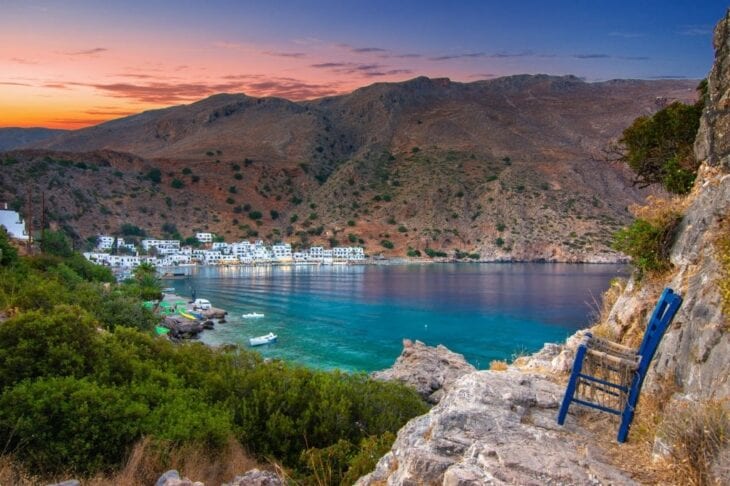 Glyka Nera Beach
Glyka Nera Beach is a remote destination on the southwestern coast of Crete, only accessible by foot or boat. The splendid fine pebble beach is worth visiting for its secluded and romantic atmosphere. Glyka Nera means Sweetwater, its name coming from the clear freshwater springs that flow through the small pebbles and into the sea. The beach itself is truly astonishing, with deep green and blue colors, but also colder waters due to the springs. There is also a small tavern on the beach and a parking lot. The best time to visit Glyka Nera might be during the spring or autumn seasons. There are fewer tourists and the weather might not be as hot as the peak summer.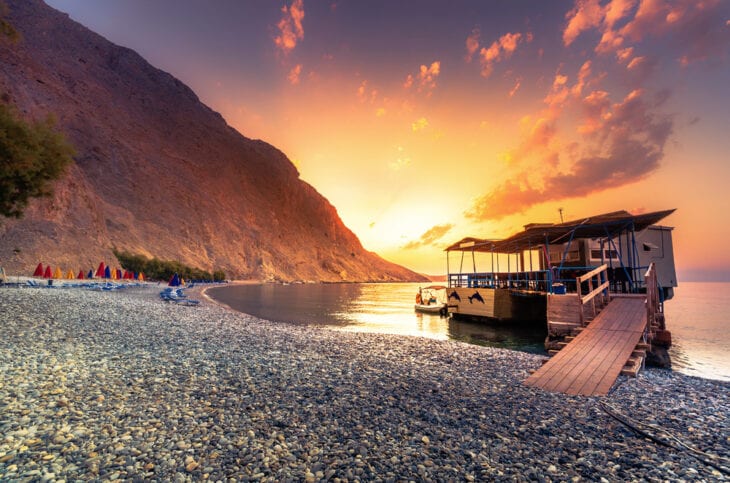 Agios Pavlos Beach
Agios Pavlos is a rather remote, yet splendid beach on the southern coast of Crete, about 60 km south of Rethymno. Agios Pavlos beach is inside a small bay surrounded by rocky capes, you can also find a larger beach to the west known as Alatsogremni. It can be found between the areas of Plakias and Agia Galini. There are several other superb beaches in the area. Agios Pavlos can be reached by car from the main cities of Crete on the northern coast. The fastest route is to drive to the southwest across the island up to Agia Galini and then continue west through Saktouria. There are no direct buses that reach the island from either Heraklion or Rethymno.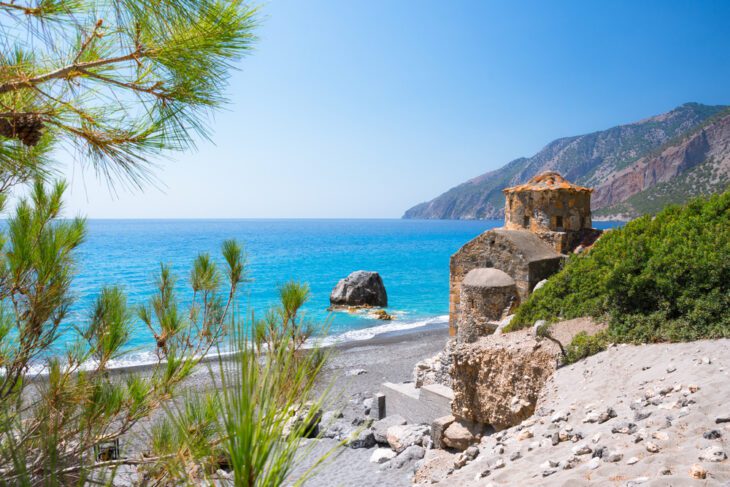 Agia Roumeli
Agia Roumeli is an untouched, quaint village tucked into the picturesque south coast of Crete. The village's dramatic landscape is home to unique flora, rare fauna, and sits at the mouth of a deep gorge. Ferries regularly traverse the bay to take visitors and locals between Agia Roumeli, Paleochora, Sougia, Loutro, and Hora Sfakion. The best way to get to the ferry boat dock is with a rental car. If you prefer to skip the wet months of January, February, March, October, and December, we suggest traveling in May, June, July, August, or September. February is a cold time of the year to travel.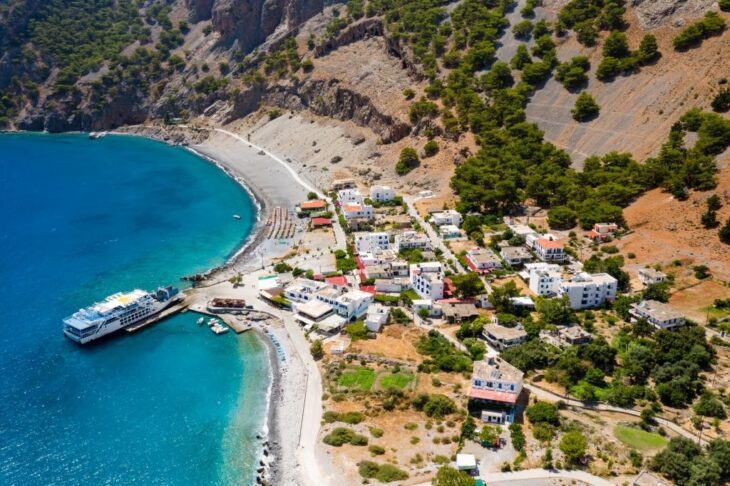 Filaki beach
Filaki beach is a gorgeous pebble beach is one of the official nudist beaches in the island of Crete. It is located 3 kilometers away from the village of Chora Sfakion, this beach is the crown jewel of the south coast of Crete. The beach boasts sheer magnificence with its rock formations found under the water. Filaki Beach is a perfect naturist beach for you to enjoy your day and soak in that sun.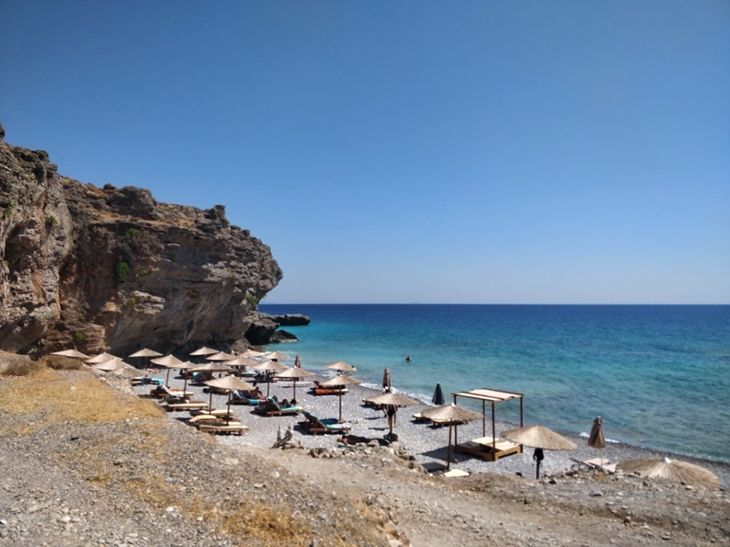 Ammoudi beach
Ammoudi beach offers serenity and basic tourist facilities. It is alternatively called Sfakiano Ammoudi, due to the proximity to Sfakia village. Ammoudi beach is located 75 kilometres from Chania and 1.5km from Chora Sfakion. This area is famous for its several pebble beaches adjacent to each other. If you are staying in Chora Sfakion, you can easily take a small walk to the beach. The second-best option you can go for is calling a taxi. You'll have more time flexibility, and tourists can avoid overcrowded buses, especially during the high season.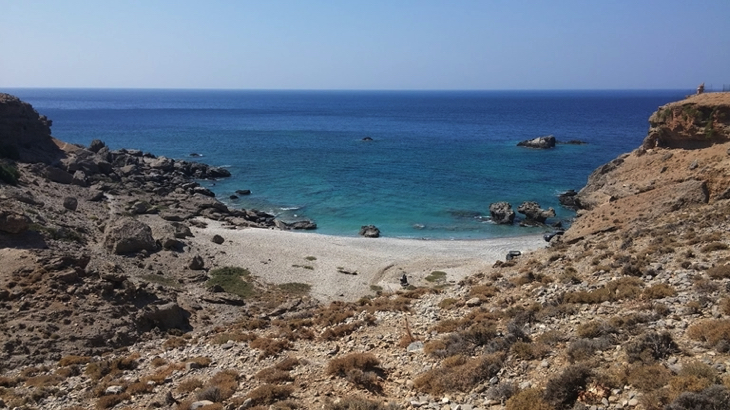 Agios Charalambos beach
Agios Charalambos beach is located on the south coast of Crete, in Chania region. It is a small beach with crystal clear waters and white sand. The beach is surrounded by a small cove and a few rocks, making it a great spot for swimming and snorkelling. Agios Charalambos beach can be found 1.5 kilometres east of Chora Sfakion and 75 kilometres south of Chania. Due to the large number of beaches adjacent to each other in this area, it is easily accessible via public transport too.