For those seeking a quiet and relaxing holiday, look no further than Plakias Crete. The small crescent moon shaped bay in the south of Rethymnon has become a magnet for visitors looking to escape the hustle and bustle of the popular tourist resorts. The gorgeous beaches, stunning mountainous landscape and the inviting waters of the Libyan Sea, are all in all a reason to visit this part of Crete.

All you need to know about Plakias Crete
The name Plakias implies flat, yet you will find more depth in its unique formation. On your scenic drive towards the coastline you will pass a few magnificent mountain peaks and dramatic gorges which hug the village from the north before being greeted by the sweeping views of the Libyan Sea to the south. In our guide to everything you need to know about Plakias Crete, we give you all the insider tips on how to plan your ultimate Cretan holiday.
Where is Plakias located?
Plakias is situated directly on the south coast of Rethymnon, approximately 30 kilometres from Rethymnon town.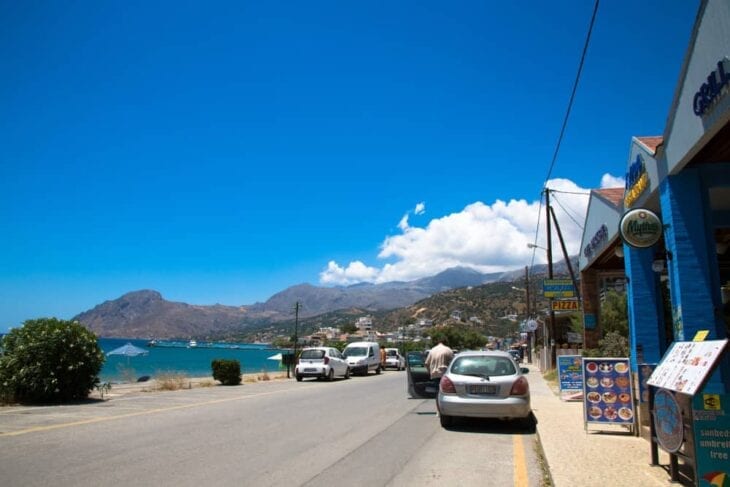 Plakias village enjoys a prime location within close proximity to the gorges of Prevelli, Kourtaliotiko and Kotsifos. From here you can also enjoy day trips to the mountain village of Spili and the small traditional villages which dot the hills on the way to Sfakia.
How to get to Plakias Crete
The closest airpot to Plakias is the Chania International Airport (100 kilometers), the Heraklion International Airport is slightly further (115 kilometres) in the opposite direction.
To get to Plakias from both airports you will have to follow the route towards Rethymnon without having to pass through the town itself.
The drive to Plakias will take a little less than 2 hours.
If you are planning on renting a car, and we do advise you to opt for this option if you wish to explore the island and to visit numerous beaches. You can pick up your car rental in Heraklion Airport or choose to book and rent a car in Chania airport. If you are traveling during high season, it is advisable to book online in advance.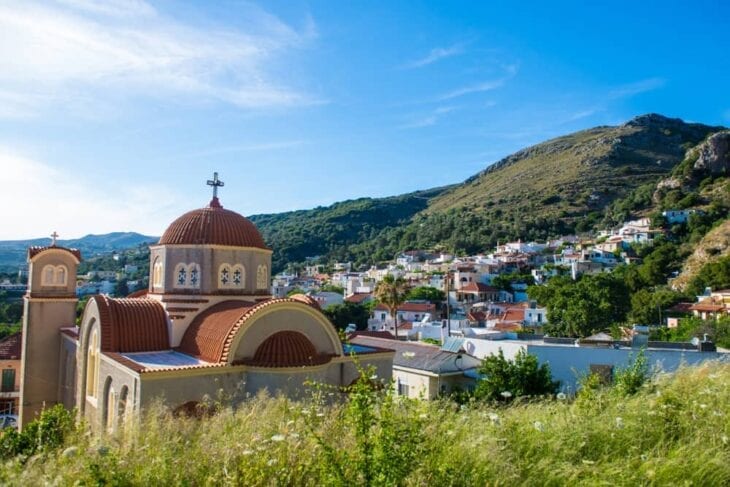 There is a frequent bus connection from Chania and Heraklion airports. An hourly bus runs from Chania — Rethymnon – Heraklion and vice versa. You will have to get into Rethymnon town from where you will have to catch another bus going to Plakias. For the bus timetable click here. If you are traveling from Chania International Airport during low season, you will have to take a bus from Chania airport to Chania town and from there change for the bus to Rethymnon town and then take another bus to Plakias. The journey will take around 2 hours and 15 minutes (not including the waiting time).
There are 5 daily buses to Plakias from Rethymnon town during high season and only 2 during low season. Travel time is approximately 50 minutes.
The taxi will cost approximately 100 Euro one way from Heraklion Airport, 110 Euro from Chania Airport and 40 Euro from Rethymno town. Prices are indicative and may vary.
The history of Plakias
The first mentions of Plakias as a settlement was in 1961 when it was recored as a permanent home to six fishermen. Once a small fishermen town, over the last decades Plakias developed into a popular holiday destination.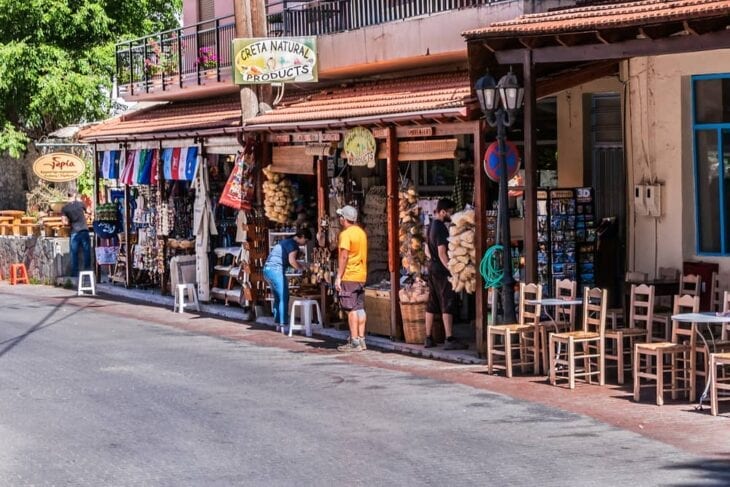 Traces of life in the area surrounding Plakias have been recored as early as the Minoan times. The mountain villages of Myrthios and Sellia were inhabited as early as the 10th century, when the Byzantine Emperor Nikephoros II Phokas (961 AD) had constructed roads and bridges to link the villages. Fragments of a wall from a fortified settlement are visible until this day on a hill just about northeast from the main town.
What to see and do in Plakias Crete
The unspoilt breathtaking landscape of Plakias make it an ideal holiday destination for guests seeking total relaxation. The village provides several accommodation options from hotels, apartments to a youth hostel, which is commonly referred to as the most southerly hostel in Europe. Set on a 1300 meter long stretch of fine, gold-hued sandy beach, Plakias exudes a relaxing holiday setting.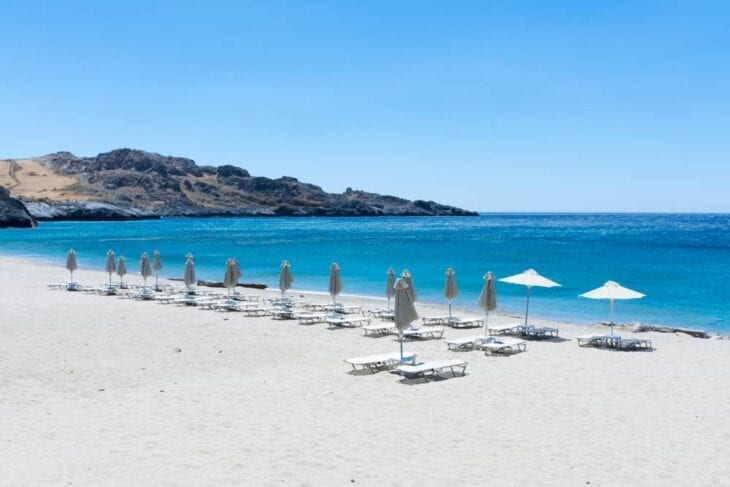 Enjoy an Ultimate Beach Holiday
Plakias and the surrounding area is known for some of the best beaches in Crete. Apart from the main long stretch of beach with fine gold sand there are eight other beaches to choose from. Each beach has its own distinct character. Amoudi and its neighbouring smaller beach of Ammoudaki (3.5 km from Plakias) is quite popular among nudists. Amoudi (5.5 km drive from Plakias) is a sandy beach with several sunbeds and umbrellas available for rent. Alternatively you can hide under the shade of the tamarisk trees that surround the beach. The clear water is ideal for snorkelling and diving. The beach can also be reached on foot.
Damnoni is a large sandy beach located 3km east of Plakias. This is an organised beach which offers several water sports activities such as kayaking, water skiing, peddle boats and tubes. Several local tavernas line the beach where you can enjoy lunch overlooking the sea. There is also a small football/basketball pitch with artificial grass covering.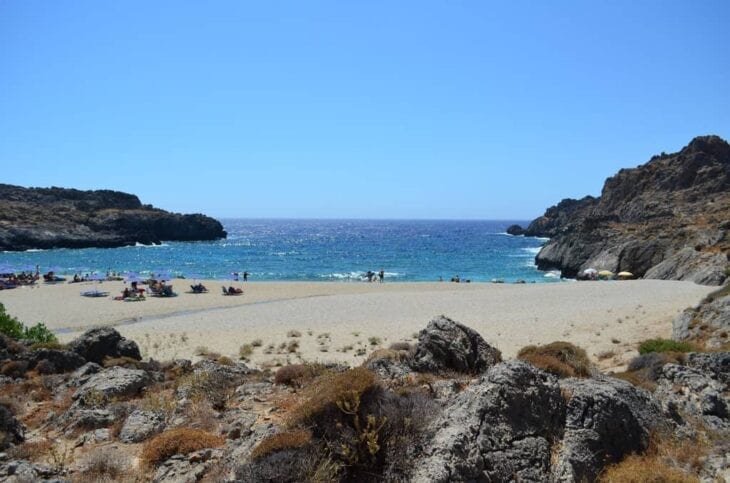 Schinaria (8km from Plakias) is a gorgeous cove with crystal clear waters. The beach is a mixture of sand and a few small pebbles. Here you will find sunbeds and umbrellas. There is also a taverna which provides beach service. The beach is a popular diving spot.
From the west of Plakias you will find the "On the Rocks" Beach which is a mixture of tiny pebbles and mostly sand. This beach is popular among families with small children as the large rocks in the sea act as a protection shield from the waves. The seabed is quite rocky thus is it advisable to wear water shoes. This is an organised beach with sunbeds, umbrellas, several tavernas and cafe/bars. At the end of the cove, 3 km west of Plakias you will come across the sandy Souda Beach lined with Theophrastus palm trees. This organised beach is also a popular snorkelling spot. Here you will find several tavernas and bar.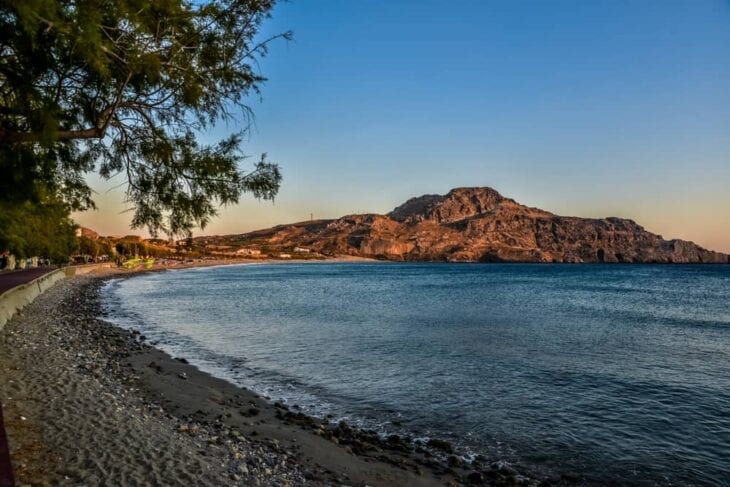 For those who wish to visit other beaches can opt for a day trip to Preveli Beach famed for its breathtaking river lagoon which flows into the Libyan Sea through a dreamy palm forest. Check out our previous post on Preveli Beach. You can also take a boat trip to Preveli Palm Forest and Beach from the Plakias pier (available several times a week).
Walking, Hiking and Biking Paradise
The area surrounding Plakias is truly a hikers' paradise. Those who enjoy spending quality time in pristine natural surroundings will benefit from the numerous marked trails (15 walking paths) that lead through olive groves, gorges, passing by historical landmarks such as Preveli Monastery and picturesque villages. There are walking paths available for all levels of difficulty.
For beach lovers you can opt for the Beach walk that will take you though the stunning coastline (Damnoni, Amoudaki, One Rock and Amoudi to Schinaria) ending at the village of Lefkogia. In the afternoon follow the trail which leads all the way to the village of Myrthios set 131 meters above sea level from where you can enjoy a traditional Cretan meal at sunset. These are just a few examples of the magnificence of this area.
For visitors who enjoy mountain biking can rent a mountain bike in Plakias and explore the surrounding on two wheels.
Stroll along the Plakias Promenade
Come the evening and the atmosphere of Plakias livens up as the visitors and locals leave the beaches to gather in one of the numerous tavernas and bars that line the Plakias promenade. Dining is a favorite pastime on Crete, as you will come to notice, great food and good company are highly valued on the island.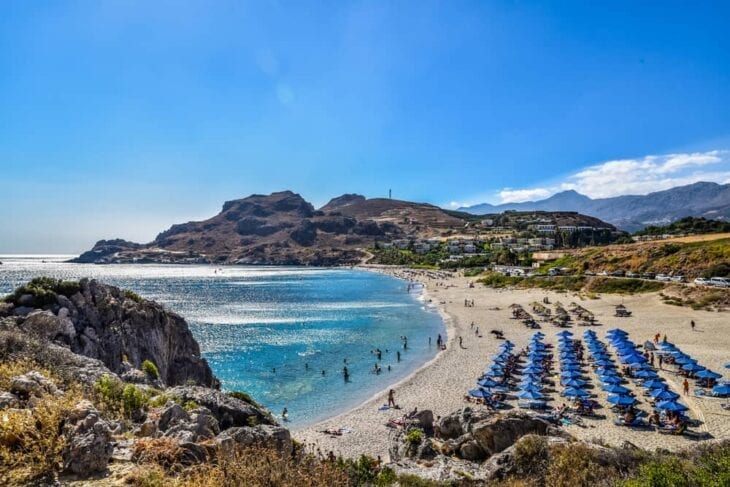 The Korali Tavern is a traditional fish taverna serving a selection of fresh seafood and local Cretan meze. Try their mussels cooked in a white wine sauce, and don't forget to dip some bread in the broth for extra flavor.
Go Diving
Whether you are already a certified diver or wish to get certified, there are three diving schools available in the area of Plakias. The coastline surrounding Plakias is famous for its beautiful seabed, rocky bays, stunning caves and canyons.
Explore the traditional Mountainous Villages
Picture perfect, small traditional villages dot the landscape surrounding Plakias. With their own traditions and unique characteristics, you can spend your afternoons strolling the narrow alleys, admiring the Cretan architecture and end the evening in one of the village tavernas.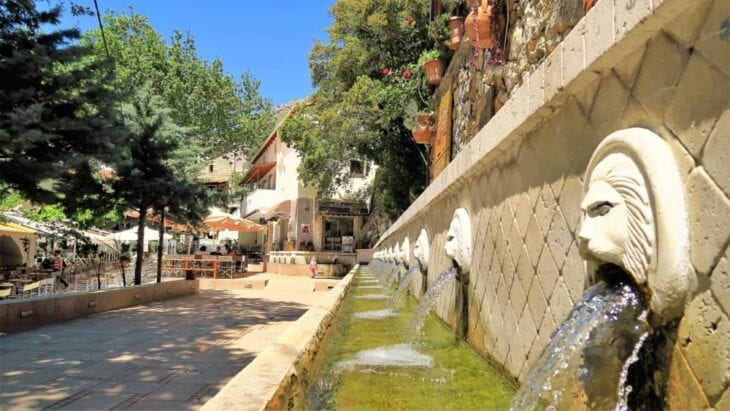 The locals are very friendly, and you are guaranteed to feel like at home. A village worth visiting is Spili, which translates from Greek as the cave. Famous for its picturesque village squares "platies" and the Lions Fountain, which is a series of lions heads with cool spring water gushing out of their mouths.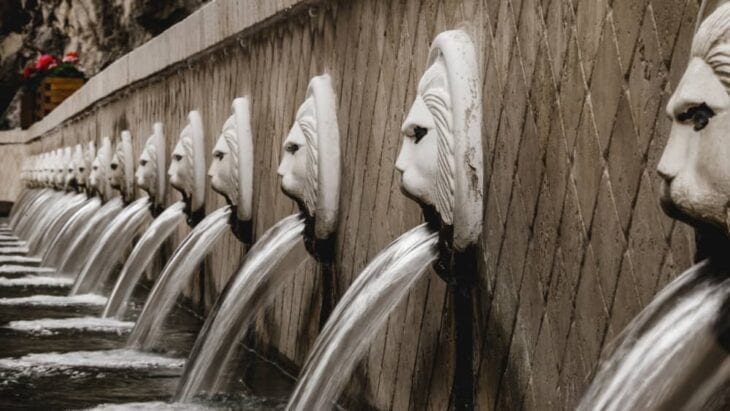 After wandering around, cool off under one of the high rising plane trees and enjoy a coffee or even better a raki with some local mezedes (small bites).
Take a Boat Trip
Plakias enjoys a prime location making it an ideal starting point for taking day trips to nearby pristine beaches and villages. One of the popular boat trips goes to Preveli Palm Forest and Beach, this in fact is the easiest way to get to the beach and the most relaxing. Alternatively if you come here by car you will have to walk down some winding stairs for about 20 minutes, the view is stunning. You will have to take the same stairs on your way back.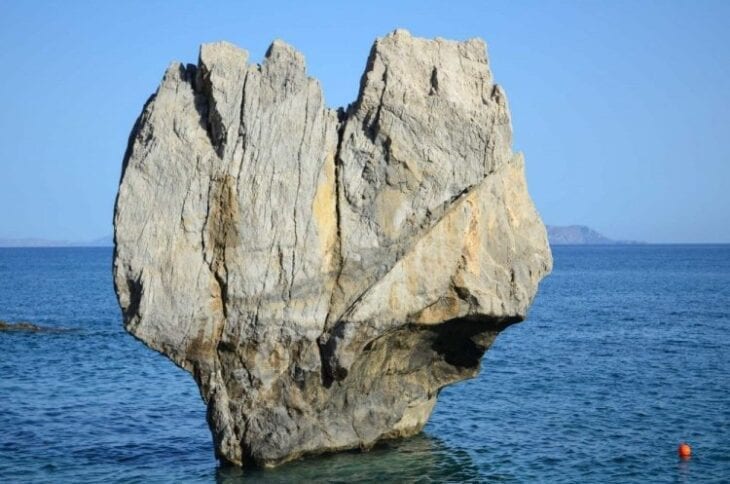 Another wonderful day trip is to Marmara Beach which translates as the marbles, named after the soft colourful rocks which characterise this beach.This secluded small pebbly bay sits near the exit of the imposing Aradena Gorge, in the region of Sfakia. The only way to reach this beach is by a boat.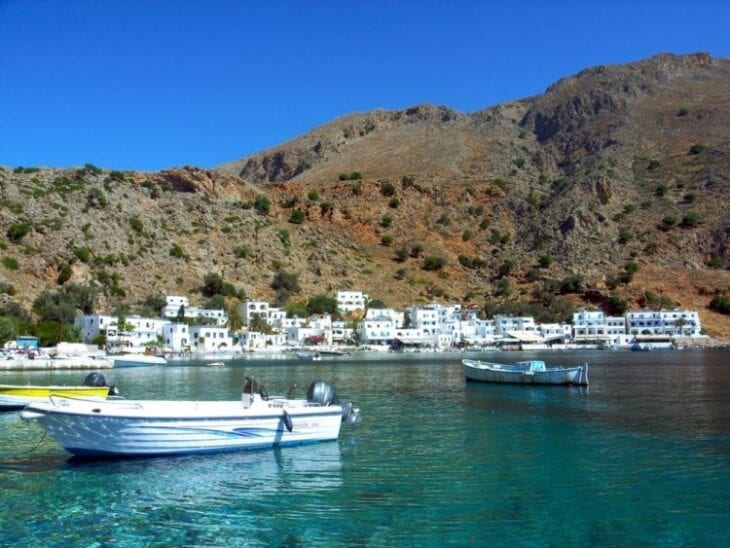 Last but not least we highly recommend that you visit Loutro, a pristine seaside resort only accessible by boat. Check out our post for Loutro. You can catch a boat directly from Plakias pier.
Despite its compact size, Plakias is a wonderful place where you will not only relax but also enjoy endless day trip opportunities around the island.
Where to Stay in Plakias
Since Plakias is a famous tourist spot, finding an excellent place to stay is easier than in other places. From affordable hotels to luxurious villas, you can get them all in Plakias. Here are some of the good-value hotels & apartments that have been recommended by many locals:
Cyano Hotel
The Cyano Hotel boasts a stunning outdoor pool and is located about 200 meters from Plakias' Blue Flag beach. All of the rooms include a private bathroom and a flat-screen TV with satellite channels. A balcony that shows a beautiful sea view is also available in the majority of rooms.
Address: Andrianou 1, Plakias, Agios Vasileios, Rethymno, Crete
Website: https://cyanohotel.com/
Contact: +30 2832 032016
Belvedere Luxury Apartments & Spa
Although this accommodation may be priced affordably, it never fails to impress. It is found in a quiet setting near the sea and offers an outdoor pool, a restaurant with a summer terrace, and free Wi-Fi throughout the whole area. Plus, their spa center offers a variety of relaxing massages.
Address: Poseidonos & Konstantinoupoleos corner, Plakias, Rethymno, Crete
Website: https://belvedereapts.gr/
Contact: +30 2832 020300
Creta Mare
Showcasing rooms with a luxurious yet beachy vibe, Creta Mare is located in a peaceful area just 100 meters from Plakias village. All the rooms include a balcony with a sea view and a private bathroom. There's also a swimming pool if you're too tired to walk to the beach (which is only 5 minutes away). Regardless if you're traveling with friends, family or a loved one, you'll never regret staying in Creta Mare.
Address: Plakias 740 60, Greece
Website: https://www.cretamarehotel.gr/
Contact: +30 2832 032239
Where to Eat in & Near Plakias
Are you looking to have your stomach filled with delicious Greek delicacies? Then the restaurants found in Plakias will be heaven for you. Some of the best taverns in Crete can be found here. Some of the top ones you should try are:
Taverna Manousos
Manousos is a taverna with outdoor seating, good food, and a relaxing atmosphere. It's a favorite among many tourists and locals since the food is served fresh and tastes amazing. In addition, the staff here is quite friendly as well.
Address: Plakias Rethymno Greece, Behind Alianthos Hotel
Website: http://taverna-manousos.gr/
Contact: +30 2832 031313
Damnoni Taverna
If you're looking for a great place to have a romantic dinner by the sea, visiting Damnoni Taverna is a must. It's one of the most beloved restaurants in Plakias, Rethymno, where both locals and tourists gather to have an unforgettable dining experience. They serve all sorts of dishes, including seafood, meat, salads, and vegetables.
Address: Damnoni, Agios Vasileios Municipality, Crete
Website: https://www.facebook.com/TavernaDamnoni
Contact: +30 2832 031222
Restaurant Vrisi
With an aerial view overlooking the sea, eating in this restaurant feels like you're dining with the gods. The food served here is fresh and of great quality, not to mention that it's also great for all budgets. It offers a variety of dishes, including fish, meat, pasta, traditional Greek salads, and even desserts.
Address: Myrthios, Agios Vasileios Municipality, Crete
Website: https://www.facebook.com/vrisirestaurant/
Contact: +30 2832 031399
Have you been to Plakias Crete?