Visiting monasteries in Crete has always been a favourite pastime for tourists and locals alike. Not only do these religious sites offer stunning architecture and breathtaking views, but they also provide a glimpse into a rich history and culture that is unique to Greece. If you're looking for an interesting monastery to visit during your time in Crete, Selinari is definitely worth considering. This historical monastery is found right in the town of Sissi, and it's one of the most popular attractions in the area.
To learn more about Selinari Monastery, as well as how to get there, where to stay and what it offers, read on below.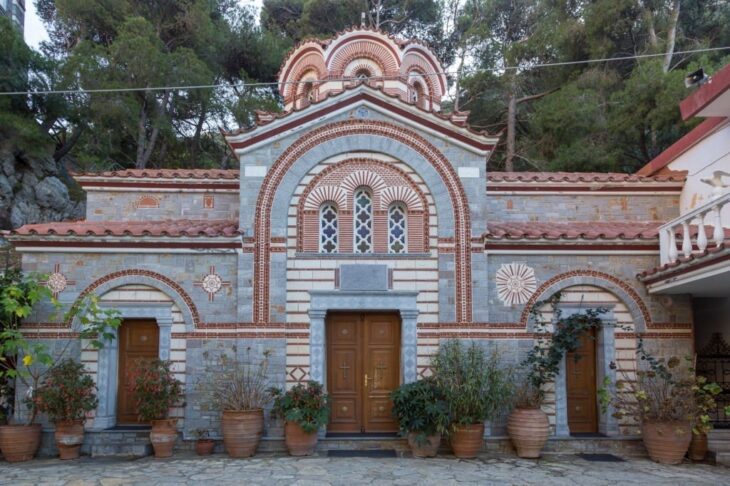 The History of Selinari Monastery
The Selinari Monastery was constructed between 961 and 1204 during the Second Byzantine period. However, pirates burned it down in 1538. As per tradition, a monk from Rhodes, whose name was Nikolaos, discovered an icon of Agios Georgios on the site and decided to build a small church. He lived and died in a rock he carved near the summit of Anavlochos, on the east side of the gorge, where a big cross has now been placed.
According to rumours, whoever passed by Selinary monastery and did not stop to lit up a candle would most likely have an accident on the highway. You need to first say a little prayer before bidding farewell for good luck.
Today, you can find the Monastery dedicated to Agios Georgios, as well as two more temples devoted to the Epiphany and the Resurrection in the vicinity. The monastery is situated between Heraklion and Agios Nikolaos, with a view of Malia Bay. As such, it gives visitors the opportunity to enjoy the natural surroundings of the area.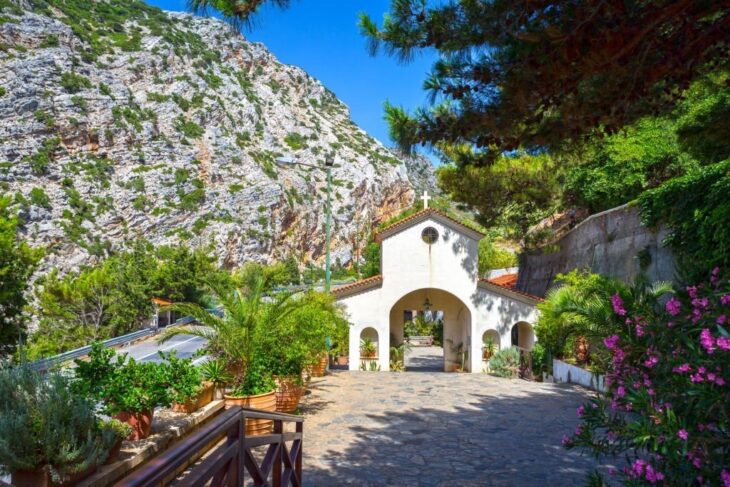 Selinari Monastery is a males only monastery and one of Crete's most well-known. The icon of St. George is regarded as miraculous since it is believed that he protected the monks during the Turkish occupation. There are three bullet holes visible in the icon, verifying its miraculous power. Agios Georgios is regarded as a traveler's protector, and many people come here to pay their respects before heading east.
Where is Selinari Monastery Located?
Selinari Monastery (also known as Saint George Selinaris' Monastery) is located near Vrachasi village and Neapolis, right in the middle of the Selinari Gorge. The National Road connecting Heraklion to Agios Nikolaos runs alongside the monastery, which is the main reason why Selinari attracts many visitors daily.
Things To Do In Selinari Monastery
It'll never be boring to spend the day in Selinari Monastery. From admiring the religious art and architecture to hiking through the stunning Selinari Gorge, there's something for everyone. As such, here are the top things you should try doing:
Admire the Central Church
Decorated in a modern yet simplistic style, the central church is one of the first things that'll catch your eye when you enter Selinari Monastery. This beautiful building dates back to the 10th century, with its walls and dome covered in exquisite paintings and murals. You can take pictures, admire the artwork and even light a candle in prayer.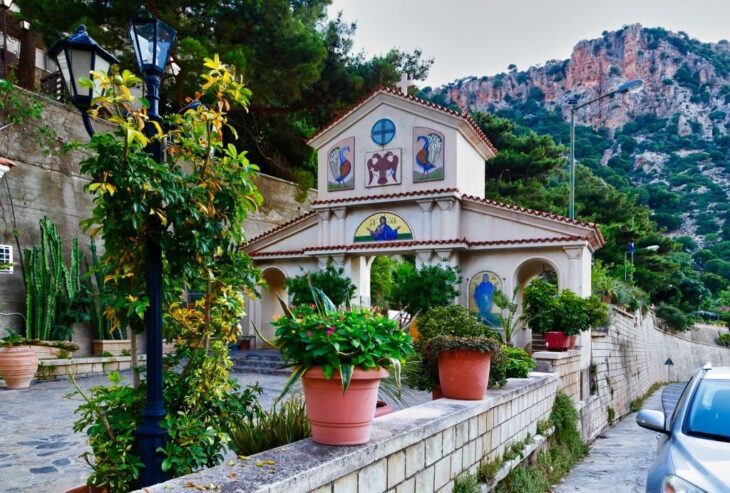 Hike Through the Selinari Gorge
If you're looking for an outdoor activity to do, hiking through the Selinari Gorge is a great option. The gorge is just a few minutes away from the monastery, and it's worth exploring. Lush trees and vegetation, along with the clear spring running through it, make for a scenic hike.
Explore the Nearby Cave
The cave of Anavlohos is nestled on the east side of the gorge, just across from the monastery, and you can find it by looking up the gorge walls and seeing a large cross. The cave can be reached on foot, although the steep journey needs considerable physical fitness.
How to Get to Selinari Monastery
Getting to Selinari Monastery By Car
If travelling without any stress and hassle is what you want, Crete car hire is the best choice to go for. Many rental agencies can be found in Crete, each with its own set of rates and policies. Renting a car allows you to travel at your own pace and visit other attractions in the area. Plus, you won't have to deal with long lines and busy crowds since looking for public transportation is out of the picture.
You can easily rent a car at Heraklion Airport once you arrive. Another option would be to book a rental car in Sissi if that's where you're staying. Regardless, the drive from either one of these locations to Selinari Monastery shouldn't take more than an hour (Heraklion is 35 minutes while Agios Nikolaos is 20 minutes)/
To get there, just simply follow the National Road (E75) until you see the signs for Selinari. You'll pass through Limnes, Neapoli, and Vrachasi villages before finally reaching the monastery.
Getting to Selinari Monastery By Taxi
Another way to reach Selinari Monastery is by taxi. Many taxi services are available throughout Crete, so finding one shouldn't be a problem. If you're in Heraklion, Agios Nikolaos, or Sissi, you can get a cab right at the city's center. You can also ask your hotel to call a taxi for you if one isn't readily available.
Where to Stay Near Selinari Monastery
When it comes to lodging, you will never be short of options near Selinari Monastery. There are plenty of small villages in the area that offer a range of accommodation options, from camping and hostels to luxurious hotels. However, if you're looking for the best ones, here are the top choices:
Angela Suites Boutique Hotel
Painted in modern white, Angela Suites Boutique Hotel offers guests a luxurious and comfortable stay in the picturesque village of Sissi. The hotel has a swimming pool, bar, and a breakfast area, as well as free Wi-Fi. Their rooms offer all the needed amenities, such as air conditioning, a flat-screen TV, and a private balcony with mesmerising views.
Address: M. Sakadaki 120, Sissi, Crete 724 00 Greece
Website: https://www.angelasuites.com/
Contact: +30 2841 071121
Castello Village Resort
If you've got more money to spare, staying at Castello Village Resort is a great option. This resort offers guests exquisite accommodation, as well as first-class facilities and services. From the outdoor pool to the spa and wellness center, there's something for everyone here. It's an excellent option for families with kids since there's a playground and a kids' club on site.
Address: Papatheodorou, Sissi, Crete 72400 Greece
Website: https://www.castellovillage.com/
Contact: +30 2841 071367
Maritimo Beach Hotel
A luxurious yet affordable hotel nestled right next to the beach, you could never go wrong with Maritimo Beach Hotel. This hotel has everything from the outdoor pool and sun loungers to the private beach area. Guests can also enjoy a range of amenities such as air-conditioned rooms, a satellite TV, a mini-fridge, and Wi-Fi.
Address: Sisi, Lasithiou 724 00, Greece
Website: https://maritimo.gr/
Contact: +30 2841 071594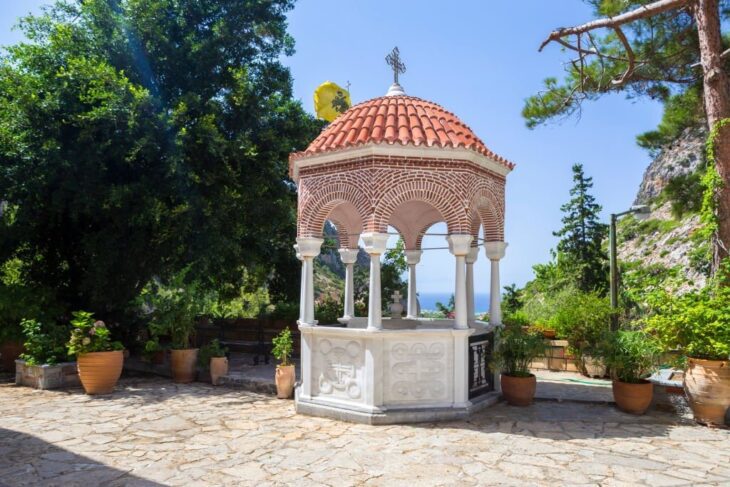 Where to Eat Near Selinari Monastery
If you get hungry after exploring the ever-gorgeous Selinari Monastery, don't worry because there are plenty of places to eat nearby. Whether it's simple taverns or high-end restaurants, you'll be able to find something to your taste. Here are the top three places to try:
Selinari Cafe
For light snacks, quick bites, and hearty meals, Selinari Cafe is the place to go. This charming cafe offers a range of dishes, from salads and sandwiches to pasta and pizza. They also have a great selection of desserts, coffees, and teas. The ambiance is cozy, so you can relax after a long day of sightseeing.
Address: E75, Selinari, Crete 72054 Greece
Contact: +30 2841 071799
Neromilos
If you want to taste authentic Cretan cuisine, Neromilos is a top choice. This family-owned and operated restaurant offers a wide range of dishes, from starters and salads to main courses and desserts. They also have a great beverage list so that you can pair your meal with the perfect drink. There's even a courtyard, in case you want to enjoy your meal outdoors.
Address: Main Road, Sissi, Crete 724 00 Greece
Website: https://www.facebook.com/mixalis.mamaloykos
Contact: +30 697 203 1277
Liofito
Liofito is a restaurant that offers outdoor seating, friendly service, and a laid-back ambiance. The restaurant is known for its fresh seafood, which is caught daily from the local port. You can also try their wines and cocktails, which are perfect for enjoying a warm evening. Home-cooked, traditional Greek food is what you can expect at Liofito, so make sure to give it a try.
Address: Main Street, Sissi, Crete 724 00 Greece
Website: https://www.facebook.com/liofito.sissi/?ref=page_internal
Contact: +30 2841 071039
Best Time to Visit Selinari Monastery
Although you can visit Selinari Monastery any time of the year, certain months will make your experience even better. For example, the months between June and September can be your best time to visit Selinari Monastery since the weather is generally temperate and pleasant. You won't have to worry about heavy rainfall or extreme heat, and you'll be able to enjoy all the sights and sounds of Selinari Monastery.