If you are looking for a beautiful, traditional village with character that is nonetheless very easy to get to and has excellent access to a fantastic beach, Milatos may be exactly what you want.
Where is Milatos, Crete Located?
Milatos is on the north coast of Crete, in the Lasitihi regional unit, the easternmost part of the island. It's by the eastern part of the Bay of Malia, some 45 kilometers east of Heraklion, and 30 km from Agios Nikolaos. While Malis itself, for which the bay is named, may have a reputation for being a party destination, Milatos Crete is altogether different: Milatos beach has a little fishing port with a few good seafood tavernas, and a lively beach. Milatos village – just a kilometer inland – is a haven of traditional stone houses, some restored by foreigners who have fallen in love with the rustic charms of the village.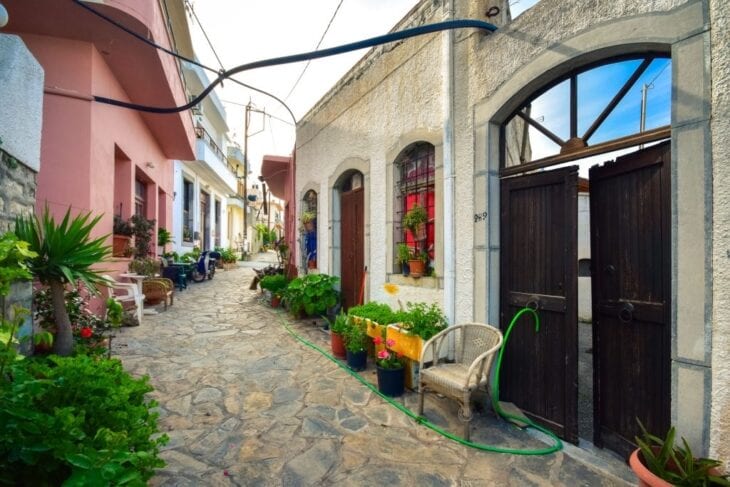 How to Get to Milatos
Milatos is very easy to reach, directly on the E75 road that runs along the northern coastline. To drive there, you can pick up your car at the rental center located right at the airport. You can be on the road in no time, and get to Milatos in just over half an hour. If you're arriving by boat, a car can be waiting for you at the port of Heraklion right where you disembark.
The KTEL Heraklion – Lasithi public bus service also serves Milatos. For schedules, please check here.
The History of Milatos, Crete
This part of Crete is steeped in ancient history. Present-day Milatos is very close to the site of the ancient Minoan city of Milatos, which was destroyed by the ancient city of Lyttos in the 3rd century BC.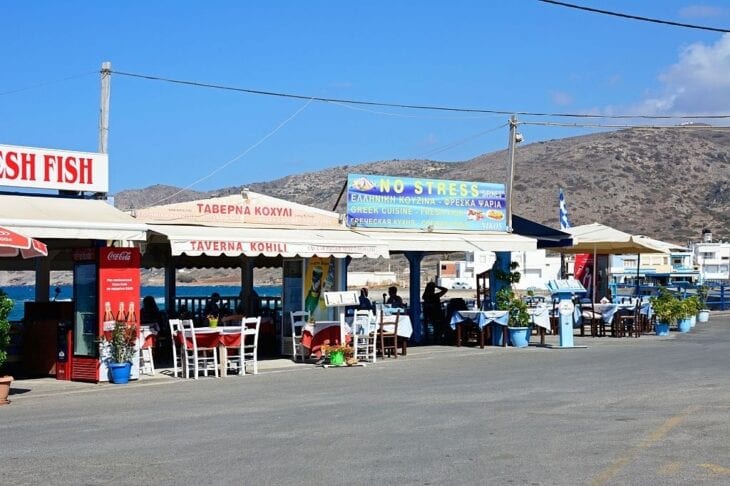 Interestingly Milatos has a tie to a city that is much more famous but with a very similar name – the colony of Miletus of Asia Minor. The name Miletus, according to legend, was the name of a boy who was raised by wolves. He killed the city tyrant when he grew up, then fled to safety on the shores of Asia Minor. The colony he founded there in 1500 BC, Miletus, became famous throughout the ancient world – not least for being the birthplace of several known philosophers, such as Anaximander, Thales, and Hippodamus.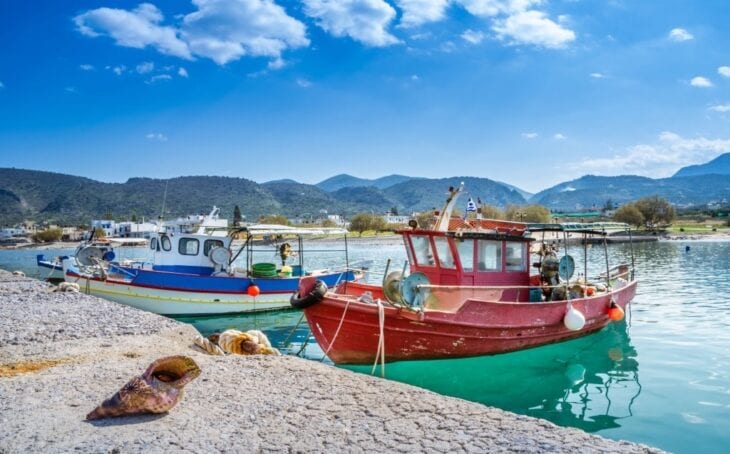 In Homer's account, Milatos was also one of the seven Cretan towns to send troops to the Trojan war.
What to See and Do in Milatos
In Milatos village, you can take in the relaxing and sociable atmosphere of true Crete, enjoying a coffee at a traditional 'kafeneion' (coffee house) in the morning, finding some fresh-baked bread, and wandering the charming streets admiring the traditional village architecture. Milatos beach – the coastal section of Milatos, features a small fishing harbor and a little beach. At the seafood tavernas in the harbor, you can enjoy the catch of the day along with a beautiful view.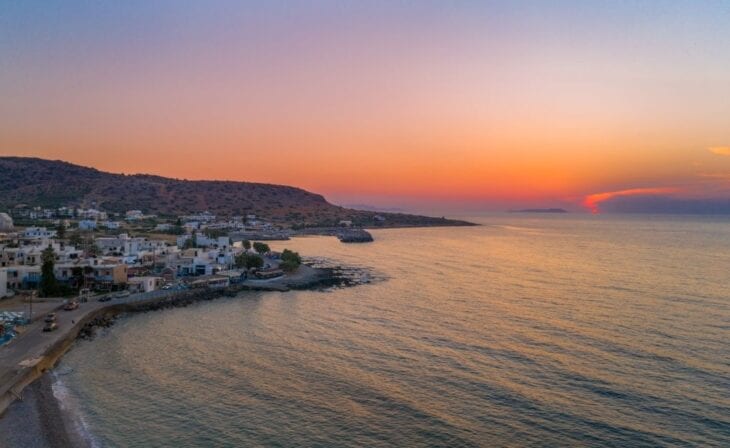 Milatos is actually well known for its excellent cave – this is one of the best things to do in Milatos. The cave is just east of the village. Milatos cave has several entrances, the largest being 9 meters wide and 2 meters high, for those not fond of tight spaces. One can see here inside one of the caves the Chapel of Saint Thomas, as well as an ossuary built near the church, holding the bones of the victims of the Cretan martyrs killed by the troops of Hasan Pasha during the siege of 1823.
Gorgeous Beaches Near Milatos, Crete
The small beach of Milatos itself is sheltered and calm, and a good choice for families. Other beaches nearby, including some little coves separated by cliffs which are just about a kilometer to the east, often have more waves, but they do offer more seclusion.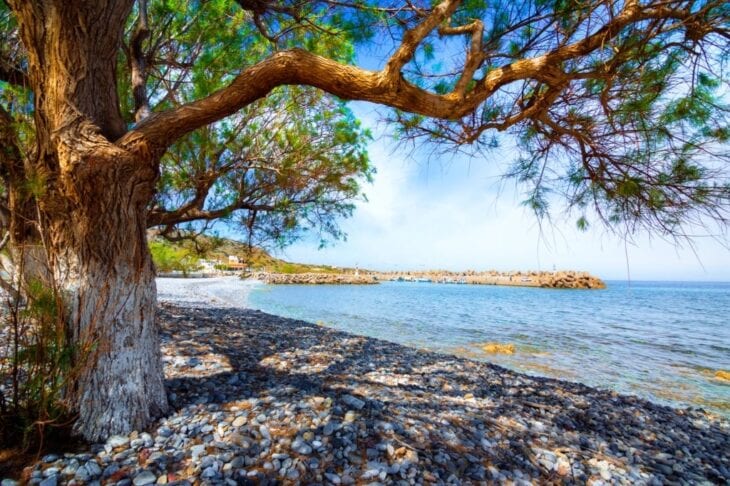 West of Milatos, the Minos Imperial Hotel has created two fine sandy beaches where once were rocks, and one can enjoy an organized beach day here.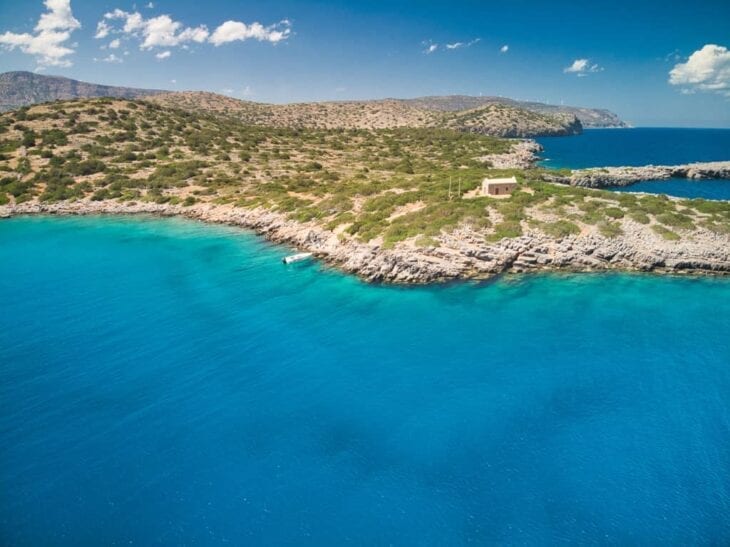 This section of Crete is famous for its excellent beaches, as just on the other side of the cape where Milatos is located is the famous Mirabello Bay. As they say in Greek, "Onoma kai Prama" – This means the name and the thing are one, as indeed Mirabello, as it was named by the Venetians, is a beautiful view. The cape shelters this eastern-facing bay from many of the wounds that the north coast of Crete is known for. It's not by chance that many of Crete's finest luxury resorts are around Mirabello Bay. Here are some favorites, starting from the northern end of the bay:
Havania Beach
This organized beach that sometimes also has a lifeguard has easy access to refreshments and there are also water sports facilities. The combination of gorgeous waters and every convenience makes this a nice choice for families.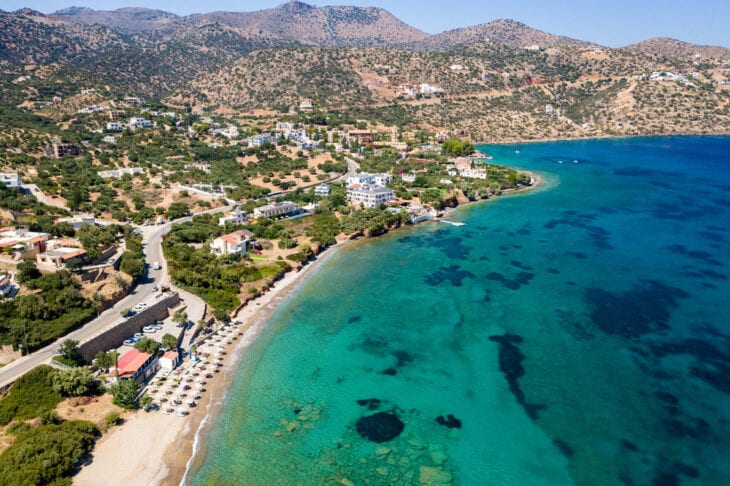 Voulisma Beach
Voulisma beach is famous for its silky white sands and turquoise waters, this beautiful Blue Flag beach also features facilities for boating and other water sports. For a relaxing beach day, they are also sunbeds and loungers. Often there is a lifeguard, and, as at Havania, there are also plenty of refreshments nearby.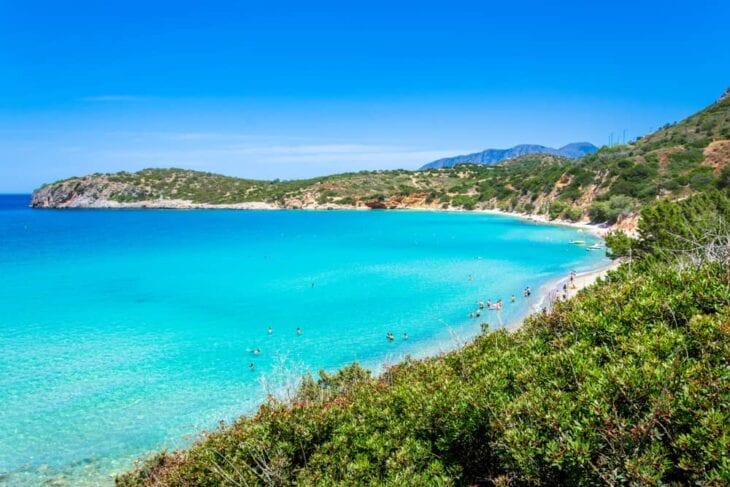 Chartalami Kolymbou
Past the bay and in its own little cove at the tip of the cape, this pebbly beach is more of a local secret.
The Lasithi region has some exotic beaches well worth the gorgeous drive. Here are some of them:
Vai Beach
Vai beach is located at the northeastern tip of Crete, the dazzling beach is actually outshone by the spectacular forest of date palms that lines it – the largest palm forest of Europe. This now famous destination is an exotic paradise, worth every moment of the beautiful two-hour drive from Milatos.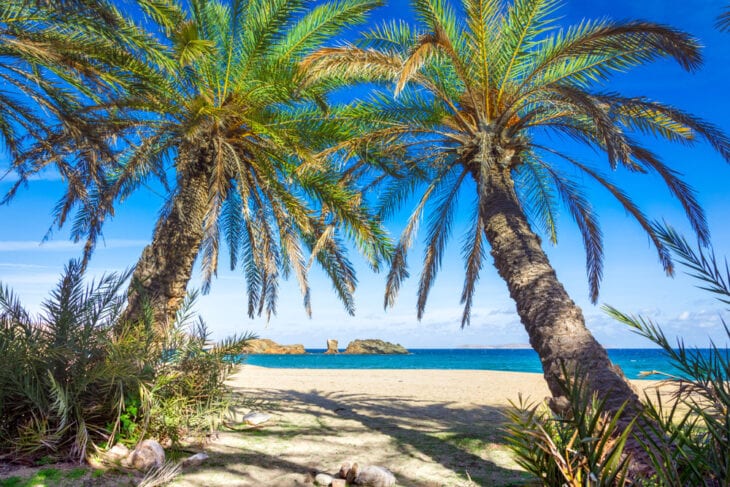 Mazida Ammos
Located at the southeastern tip of the island is the remote and completely unspoiled Xerokambos. Mazida Ammos beach features fine white sands and calm, jewel-toned waters, protected by a cape. Little islets are off the coast.
Activities Near Milatos
Agios Nikolaos
The capital city of the region, Agios Nikolaos, a charming city should not to be missed. A gem of a port town, it also features a lake – once an enclosed harbor. This is a wonderful destination for dining and drinks, and wandering in the lovely alleys.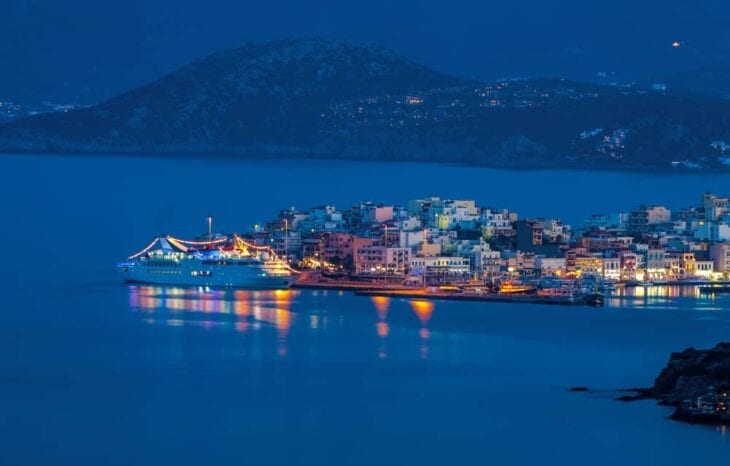 Sitia Geopark
Lasithi is home to the vast UNESCO Sitia Global Geopark, about 500 square kilometers of unique biotopes and ecosystems that encompasses gorges, plains, waterfalls, and beaches. This is a paradise for hikers. The Richtis Gorge is one of the many excellent hikes in the region.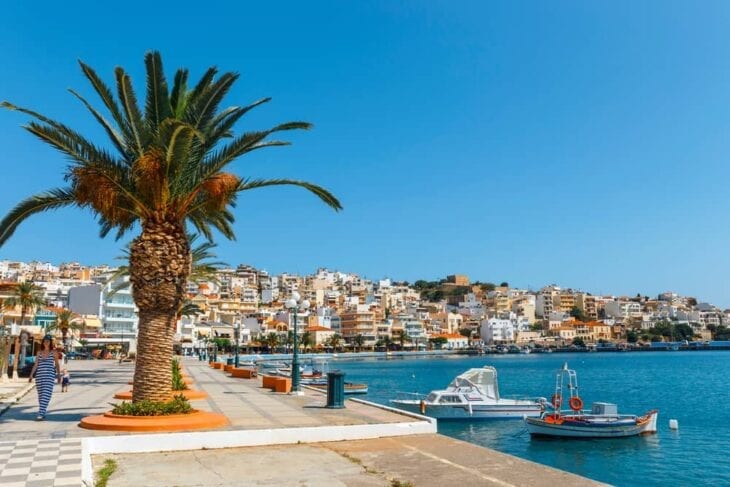 Caving
There are over 800 caves in Lasithi, some 300 of which have been explored. Famous caves include Dikteon Cave / Psychro Cave – which claims, along with the Idaean cave of Mt. Psiloritis, to be the birthplace of Zeus. This gorgeous cave is full of stalactites and stalagmites. The Dikteon cave is in the heart of the Lasithi plateau.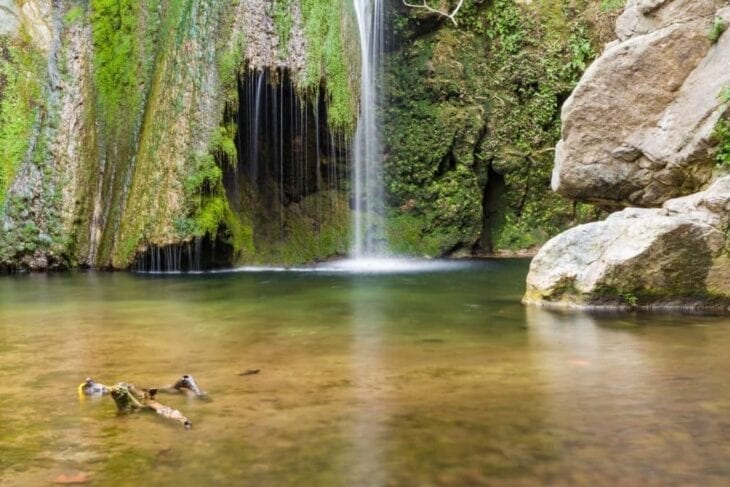 Chrissi Island
A drive to Ierapetra on the south coast takes just over an hour. Enjoy the lovely town then catch a boat to Chrissi Island, an uninhabited and unspoiled paradise of glittering white sands and rare Lebanese Cedar trees for one of the best swims you can imagine, out in the azure waters of the Libyan sea.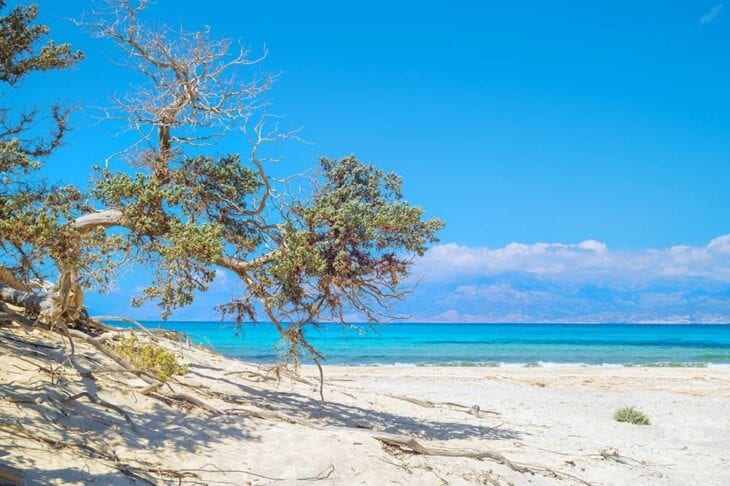 Cultural Excursions Near Milatos
Milatos is near some of the most fascinating historical sites of Crete.
Knossos Palace
The main palace of the Minoans – the sophisticated culture of Bronze Age Crete – Knossos was gloriously restored by Sir Arthus Evans in the beginning of the 20th century. While sometimes thought to take too much liberty, the restoration brings the magic of this ancient culture vividly to life. This is a magnificent life experience when in Crete, less than an hour from Milatos.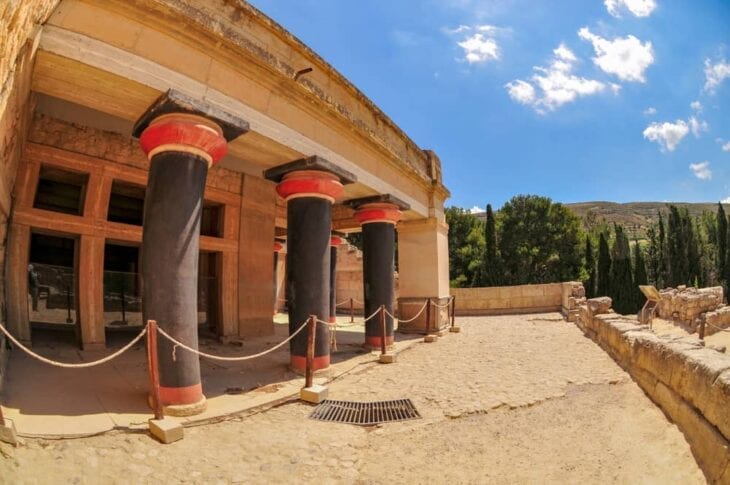 Heraklion – The Capital
Heraklion – Crete's capital city is also a gorgeous port town full of Venetian charm and well worth a day of exploration. Highlights include the Rocca al Mare Fortress, the 17th century Morosini Lions' fountain in Lions' Square and the Venetian Loggia. The treasures of Knossos are housed at the splendid Heraklion Archaeological Museum. Young and old alike will enjoy an afternoon exploring the great marine diversity of the waters of Crete at the CretAquarium.
Where to Stay in Milatos
Whatever your preference may be, you can always find a great place to stay in Milatos. From budget-friendly accommodations to 5-star luxury hotels, Milatos is a favorite among travelers looking for the perfect getaway. With that said, here are the top ones you shouldn't miss:
Angelika Aparthotel
Angelika Aparthotel, located in the picturesque Cretan village of Milatos, provides the ideal accommodation due to its closeness to the most famous landmarks in east Crete. The facility is big and pleasant. There is a pool in the area, and guests can enjoy the spectacular view. This hotel is perfect for those seeking a budget-friendly hotel, as it offers rooms with balconies, satellite TV, and all modern amenities.
Address: Milatos Beach, Milatos
Website: https://www.angelikahotel.com/
Contact: +30 2841 090904
Milatos Village Cretan Agrotourism Hotel
Milatos Village Cretan Agrotourism Hotel is only 1 km from Volia Beach, so if you plan to visit the beach, staying here would be a good option. The hotel features a restaurant, free parking, a beautiful garden, and a bar. Plus, you can relax in their outdoor pool if traveling to the beach is not on your plan.
Address: Unnamed Road, Milatos
Website: https://milatosvillage.com/en/
Contact: +30 694 563 6953
Radisson Blu Beach Resort
An accommodation that's never short in elegancy and service, Radisson Blu is without a doubt a first-rate choice. The hotel features a pool and a garden, as well as a bar and restaurant. Furthermore, their rooms boast wonderful views of the sea. It's a popular choice among travelers who are looking for luxury hotels.
Address: Paraliaki Odos Milatou, Milatos, Crete 724 00 Greece
Website: https://www.radissonhotels.com/en-us/hotels/radisson-blu-resort-milatos
Contact: +30 2841 065000
Where to Eat in Milatos
From leafy greens to seafood, you can find all sorts of food in Milatos. The restaurants in the area offer local Cretan dishes, as well as international cuisine. Here are some of the top choices you shouldn't miss out on:
Meltemi Taverna
A tavern overlooking the beautiful Cretan sea, a meal in Meltemi Taverna is the perfect way to start your day. The food is delicious, and their menu caters to all tastes. Whether you order grilled lamb or pork, seafood, salad, vegetables, pasta, or desserts, you can be sure that everything here will make your taste buds dance with joy.
Address: Milatos Beach, Milatos, Crete
Website: https://www.facebook.com/To-Meltemi-527740750696817
Contact: +30 2841 081286
Socrates Restaurant
If you're looking for a place with a laid-back vibe and good food, Socrates Restaurant is just the place for you. They offer dishes that are made with fresh ingredients, so whether you go there for breakfast, lunch, or dinner, you can expect to dine in a pleasant environment.
Address: Milatos Beach Milatos Lasithiou Crete, Milatos, Crete
Website: http://www.socrates-rooms.gr/
Contact: +30 698 748 5868
Kounali Family Tavern
When planning to eat out with your family, Kounali Family Tavern is a great choice. Although it may be a few kilometers from Milatos, the food is delicious and the service impeccable. In addition, lush plants and flowers decorate their dining area, making it a wonderful choice if you're in the mood for a calm, relaxing experience.
Address: Kounali, Crete
Website: https://www.facebook.com/Μετόχι-Τσιχλής-Kounali-Family-Tavern-101476211763995/
Contact: +30 693 332 9605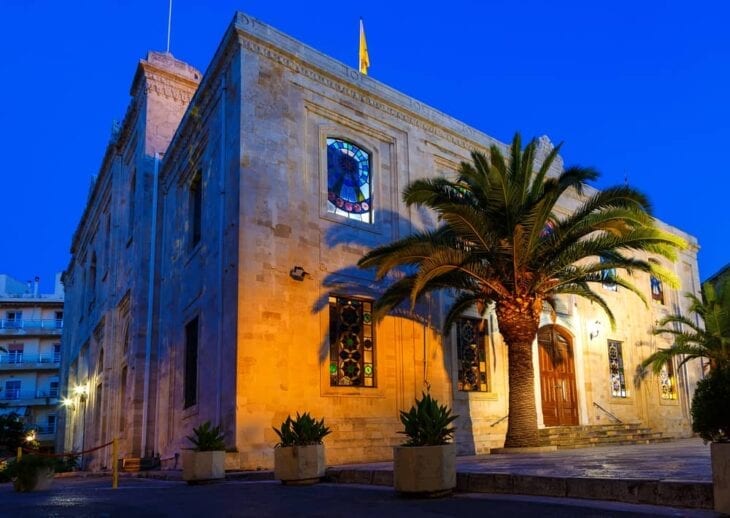 Visiting Milatos Crete
Milatos is a relaxing and beautiful beach destination with authentic village charm, which also happens to be within an easy distance of many of Crete's most beautiful and significant destinations. This is a perfect region to explore by car.