The best region in Crete when it comes to picking beaches is unquestionably Chania. Chania is found in the western part of the island, and it is crammed with stunning coastlines that will leave you in awe. If you're looking for an unforgettable experience, be sure to check these top beaches in Chania
Balos Beach & Lagoon
Georgioupolis Beach
Platanakia Beach
Kalyves Beach
Falassarna Beach
Koutalas Beach
Kissamos Beach
Koum Kapi Beach
Stavros Beach
Elafonissi Beach
Almyrida Beach
Sfinari Beach
Nea Chora beach
Platanias Beach
Agia Marina Beach
Marathi beach
Sougia Beach
Kouloura Beach
Seitan Limania Beach
Agia Roumeli Beach
Kedrodasos Beach
Fragkokastello beach
Aspri Limni beach
Chora Sfakion beach
Marmara beach
Balos Beach & Lagoon
White sand and clear, blue waters
Secluded beach which takes some time to reach
Ideal for snorkeling
Good for families with children since the water is calm and shallow
First on our list is the ever famous Balos Beach. Balos is nestled on the isolated peninsula of Gramvousa, and to get there, you must go with a boat from Kissamos. However, the trouble becomes worth it once you see the beauty the area holds. Balos beach is known for its clear turquoise waters and white sand, making it a perfect place to relax and soak up the sun.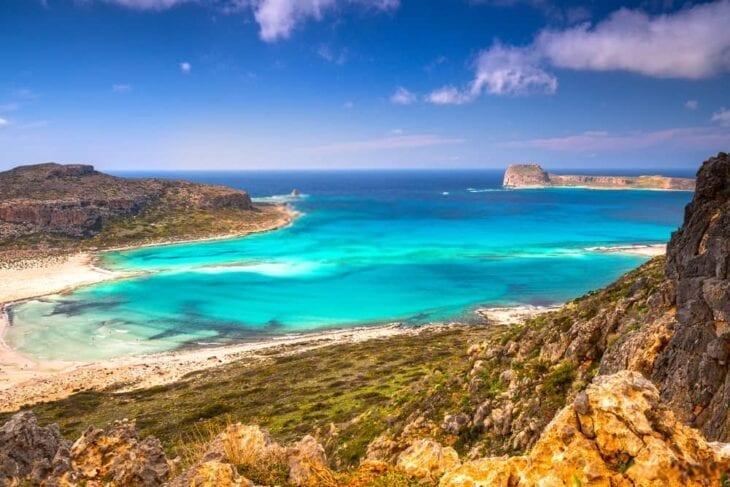 What makes this beach fairly interesting is the lagoon that forms in the middle of the area. Balos' lagoon boasts white sand and blue seas that are enough to make anyone stay. The sea is shallow and calm, making it perfect for small children. Because of millions of broken shells, the sand has a wonderful pinkish tint in several spots. Outside the rocks that mark the lagoon's edges, the water gets deeper and colder, making it excellent for snorkeling.
Georgioupolis Beach
Modernized beach complete with amenities
Lifeguards are always on standby
Clear waters and golden-white sand
Strong currents so keeping an eye on your kids is vital
Another beach in the western part of Crete worth mentioning is Georgioupolis Beach. This beach is located in the town of Georgioupolis, which is only 38 km east of Chania. It boasts a long promenade perfect for a peaceful walk while taking in the amazing view. Lush vegetation surrounds the area, making it look like something out of a picture.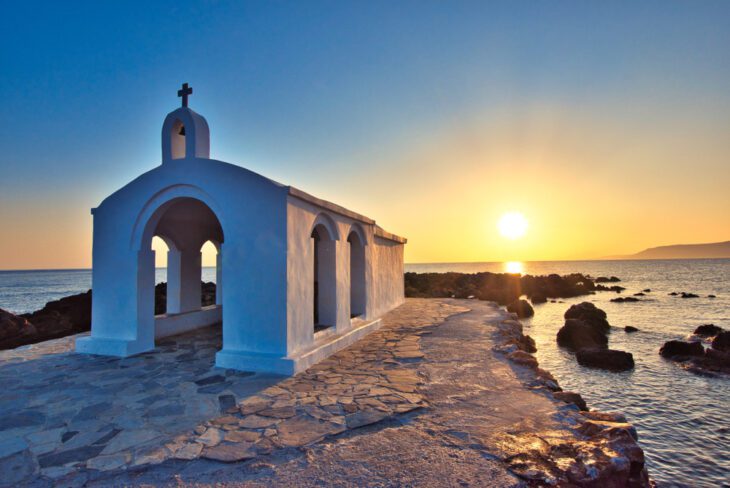 The beach itself is a wide sweep of sand that gradually slopes into the clear waters of the Mediterranean Sea. It extends up to 10 kilometers long so you don't have to worry if it gets crowded since there's plenty of space. Georgioupolis Beach is one of the most popular in the area and for good reason – it has everything you could want on a beach. From sun beds, lounges, and umbrellas to shower rooms, lifeguards, and snack bars, you won't be lacking in amenities.
When bringing children, it's important to keep an eye on them since the beach's waters tend to have strong currents. But overall, Georgioupolis Beach is a wonderful place to go with family and friends.
Platanakia Beach
Secluded beach that's never crowded
Ideal for solo travelers or couples
Stoney beach with some sand in the area
The beach offers no amenities
Platanakia is a little beach on the western coast of Crete. But despite the size, it doesn't disappoint with its brilliant clear waters and beautiful sand. This beach is definitely a hidden treasure waiting to be discovered. Situated 61 kilometers southwest of Chania, the beach is ideal for those who enjoy exploring.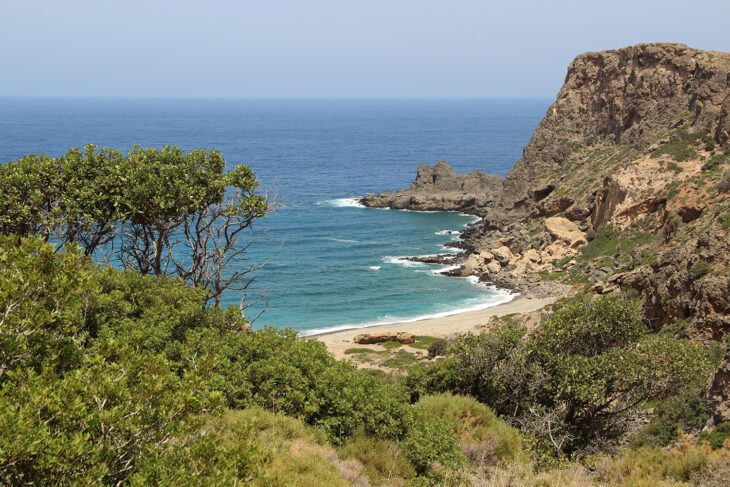 Platanakia beach is a secluded bay sheltered by steep rocks. The beach is sandy in some areas but stoney in most parts. Since not many people visit the beach, you can indulge in some peace and quiet. Enjoy swimming and sunbathing in the calm and tranquil waters. If you're lucky, you might even get to see the turtles that sometimes swim by.
Trees also surround the beach, giving you natural shade to protect you from the sun's rays. But take note, there are no local restaurants or stores nearby, so bringing lunch and enough water to last the whole day is important.
Beach of Kalyves
Modernized beach with amenities
Near the heart of Chania
Exposed to strong northern winds that cause big waves
Water sports and activities can be done here
The town of Kalyves is located in the Apokoronas area, near the heart of Chania, and it is immensely popular with tourists. The village's beach, also known as Kalyves, is extremely well-kept. There are umbrellas and tavernas on site, and you may also participate in various water sports. A rocky formation divides Kalyves' major beach into two main coasts so you can always find a spot without any difficulties.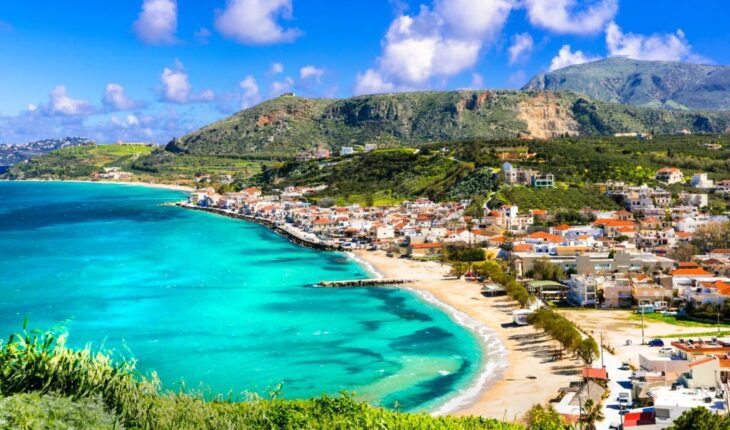 The beach is great for families who want to spend the day having fun. However, precaution is important since the beach is exposed to strong north winds that can cause big waves. There is also a running river near the area which makes the beach's waters rather cool. Regardless, it is still a great place to visit and should not be missed when in Chania.
Falassarna Beach
Rich in marine life which makes it ideal for snorkeling
Rock formations surround the area
Beach houses, umbrellas, and sunbeds are available for rent
Tavernas can be found on site
Falasarna is nestled on Crete's west coast and is famous with day travelers due to its beautiful beaches and lovely turquoise blue water. It consists of multiple sandy beaches of varying lengths, all of which face west, making it an ideal spot to watch the sunset. The water here is very clean and all sorts of marine life can be spotted.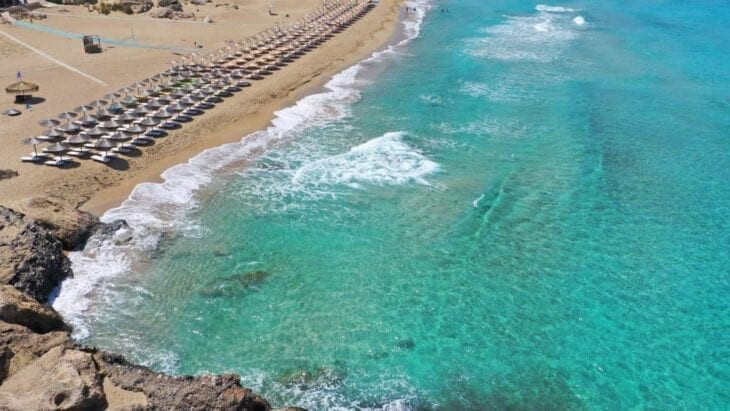 As there is a big amount of flat fertile ground running down the coast, many small beach houses, sunbeds, and umbrellas are available for rent. You can relax with your significant other while you soak up the sun. You can also enjoy the local cuisine and try out some Cretan wines while you're there since several tavernas are situated close to the beach.
Koutalas Beach (Koutalis)
Secluded beach ideal for those who want to get off the beaten path
A scuba diving spot since sea caverns are found here
Rock formations surround the area
There are no amenities available
The beach of Koutalas is a wonderful, relatively undiscovered, rocky coastline located near Cape Drapanos. Koutalas beach is relatively secluded and well known to most scuba divers in the region since they normally begin their exploration of the sea caverns from here. The beach is built at the mouth of a steep valley and within the confines of a tiny bay. It is made up of huge spherical pebbles and stones.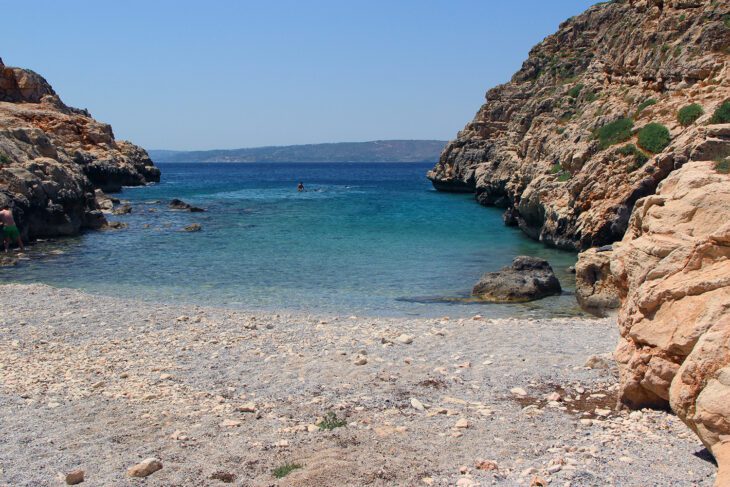 Since the beach is found in a rocky and rugged area, wearing hiking shoes is a must. The beach is also great for snorkeling as the crystal clear water and the abundance of marine life make it an ideal place to explore. There are no amenities at Koutalas, so bringing food and water is a must. Yet despite this, the seclusion of the beach makes it very romantic and relaxing for those who want to be away from the haunts of other tourists.
Kissamos Beach
Modernized beach with certain untouched areas
Fish taverns and hotels for accommodation is available
Clear blue waters and golden sand
Good spot for snorkeling
Kissamos is a well-developed area located midway between Chania and the stunning Balos Beach. It's a popular destination for visitors, who mainly stay here to access the westernmost beaches of Falassarna, or who embark from Kissamos Port for a day excursion to Balos Lagoon.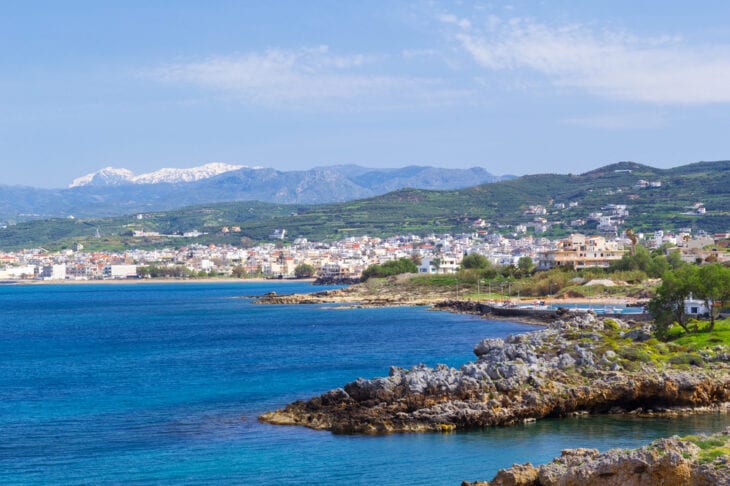 The beach of Kissamos has certain parts that are designed with sunbeds and umbrellas. However, some parts of the beach are not as organized, so you may have to find a spot that suits you. The sand is white and the water is clean with a beautiful blue color. The area is also great for snorkeling since different fishes can be seen. There are also some fish taverns and hotels that can be found close to the beach.
All in all, Kissamos is a great place to spend a day by the beach and enjoy all that it has to offer. You can find something for everyone here, whether you're looking for a relaxing day or an adventurous one.
Koum Kapi Beach
A beach near Chania's old town
Tavernas and beach bars are found in the area
Clear waters and golden fine sand
The water here is shallow which makes it great for kids
The Koum Kapi Beach is located on Akti Miaouli, near Porta Sabbionara, the eastern gateway to Chania's Old Town. The beach is the one that is nearest to the city center. When you're in town, it's ideal for a quick swim.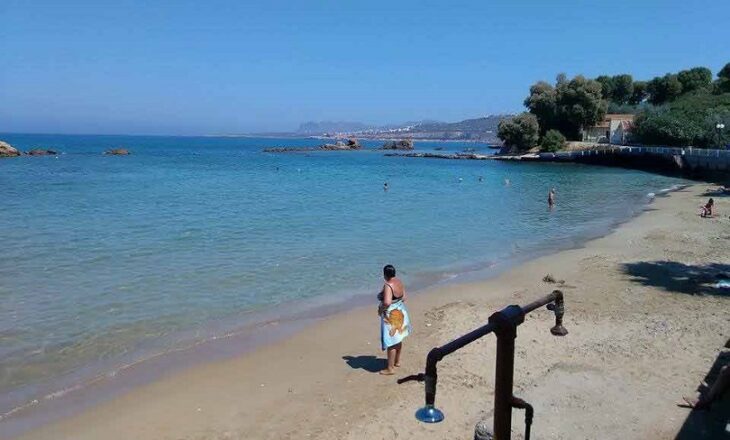 Koum Kapi Beach is a coastline with beautiful blue sea and golden sand, thus no special shoes are required. This beach is appropriate for a variety of individuals, including lonely travelers, relaxation retreat lovers, and so on. Despite being near Chania, the place is not always crowded. Thus, you can enjoy your quiet time here. There are some taverns and bars near the beach, which provide food and drinks for visitors.
Thanks to its shallow waters, kids can swim without a problem. However, some areas of the beach have rocks underwater, so parents have to pay attention to their kids' behaviors when they are in these spots.
Stavros Beach
A lagoon is found in the area
Restaurants to eat in and bars to have a drink is on site
Strong winds may cause big waves so precaution is needed
A beautiful mountain can be seen
Stavros Beach is located east of the village of Stavros, near the community's scenic harbor and at the base of the Vardies mountain. A semicircular lagoon can be found right on the beach, completely shielded by the breezes in the region. The little bay boasts beautiful white sand and clear waters. The contrast between the rugged mountain and the tranquil beach makes Stavros beach a one-of-a-kind swimming spot.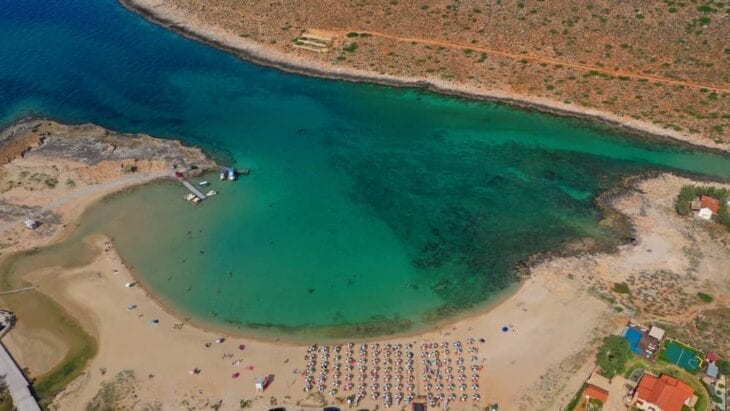 Several amenities are available on the beach such as bars and restaurants, sunbeds, umbrellas, showers, and changing rooms. You won't have to struggle to find a place to relax and recharge, as this beach has something for everyone.
The water of the beach is shallow yet, strong current and big waves may occur since there's no rock formation that helps block the winds. If you've got kids with you, it's best to keep a close eye on them to avoid accidents.
Elafonisi Beach
A top-rated and popular beach in Crete
Blue, clean waters with pink sand
All amenities and accommodation are available
An islet is accessible for exploring
Ranked as the most popular and most-visited beach in Crete, Elafonisi is a spectacular beach that's certain to leave you spellbound. The best thing about this beach, other than its clear blue-hued waters, is the unique pink sand it shows off. The reason behind this phenomenon is actually due to the seashells of tiny creatures that have died and have been broken down over time.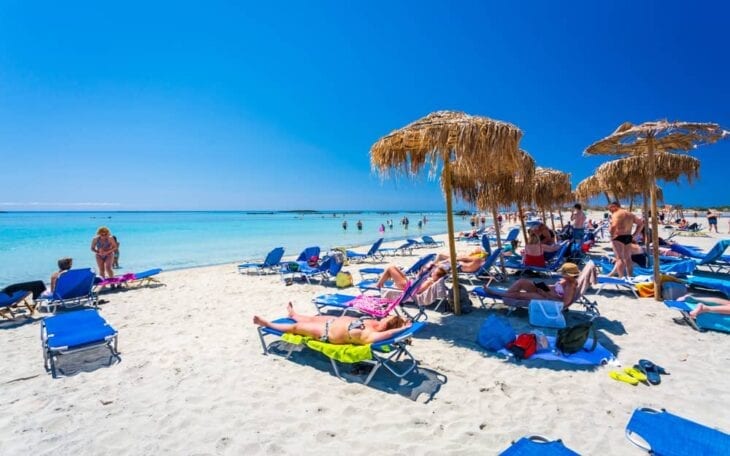 Whatever you're looking for, you'll find it all on Elafonisi. There are several beach bars, cafés, and taverns to meet all kinds of demands, as well as shower facilities, changing rooms, and lockers. No worries for those traveling with children either since there are also hotels with pools close to the beach where kids can play safely in the water.
Diving, snorkeling, and even kayaking are all popular activities on this beach. Plus, There's a certain part of the beach detached from Crete's southwest coast by a shallow, balmy lagoon and a sandbar that is only buried under one meter of water during high tide. The islet doesn't have any structure or sunbeds, unlike the main counterpart, so visitors can only visit the area to swim, sight-see or snorkel.
Almyrida Beaches
Shallow beach perfect for families with kids
Amenities available
Exposed to winds so windy days may cause huge waves
Given the Blue Flag award
Almyrida features two beautiful sandy beaches, both of which are fully equipped with loungers, umbrellas, and even a lifeguard. There is also a pebble beach right before the village. Each year, the Blue Flag award is given to the beaches of Almyrida, indicating that the beach is clean and that they have the requisite safety elements and customer service facilities.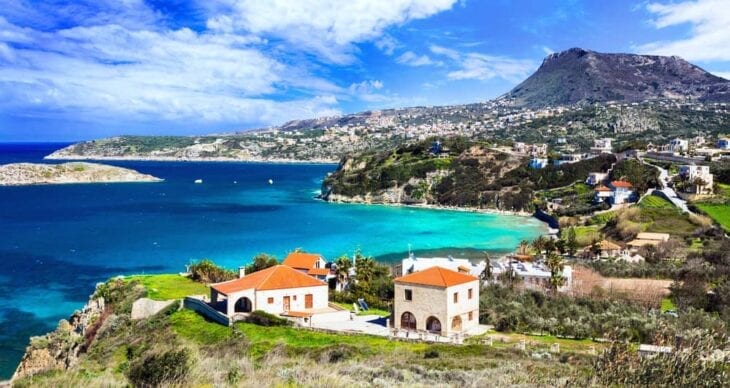 Almyrida's beach and sea are both exceptionally tranquil. The sea is rather shallow, making it a great for spot families with young children. However, beaches in Almyrida are quite exposed to the winds, and huge waves can be expected on windy days.
Sfinari Beach
Sandy beach with some rocks in certain places
Water activities are available
Great place for snorkeling since waters are calm
Tamarisk trees can be seen in the area
Sfinari is a serene setting with a lovely sandy beach and some rocks in certain areas. There are a few lodging and dining options in the area, making it an excellent choice for peaceful family vacations. You can enjoy seafood or any other cuisine of your choice along the beach.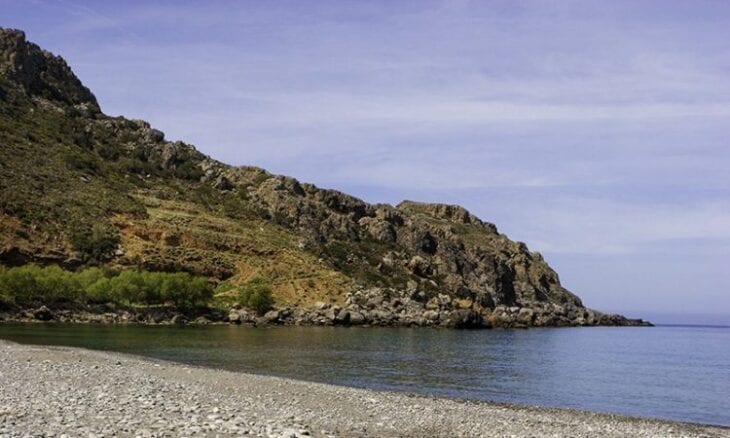 In addition, several water activities are available in Sfinari such as kayaking, and scuba diving. Plus, the beach is good for snorkeling, particularly on calm days with a little breeze. Sfinari beach is lined with tamarisk trees, so if you're looking for a beach with a touch of nature, this is the place for you.
Nea Chora Beach
Lengthy beach so everyone can find a spot for their own
Popular with tourists and locals
Flowers and plants surround the area
Beach bars and restaurants are close by
Nea Chora's lengthy sandy beach runs alongside Chania's western edge. It's a popular hangout for locals and, more recently, tourists. Lush vegetation and beautiful flowers adorn the promenade. Several beach bars and restaurants are found close by.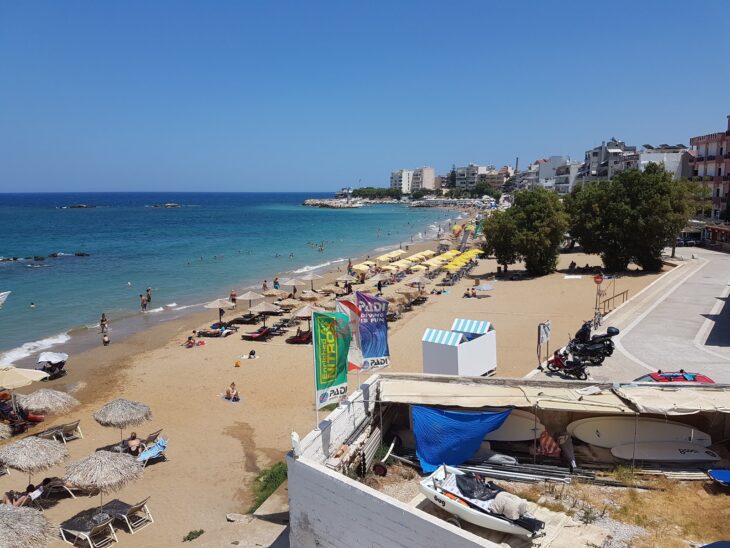 The beach is shallow and safe, so it's perfect for small children who want to have fun swimming. The little islet of Lazareta is located directly across from the beach. This tiny island offers a lovely sandy beach that can only be reached by boat.
Platanias and Agia Marina Beaches
Well-kept beaches with amenities in the area
Hotels can be found on the beach
Long coast that extends to the next village
Strong winds may cause big waves which can be dangerous
Platanias is a large beach and coastal resort that stretches all the way to Agia Marina's next beach. In recent years, both settlements have grown to the point where they now constitute a nearly unique long beach. It's a great place for people who seek to venture out and find a beach that offers everything.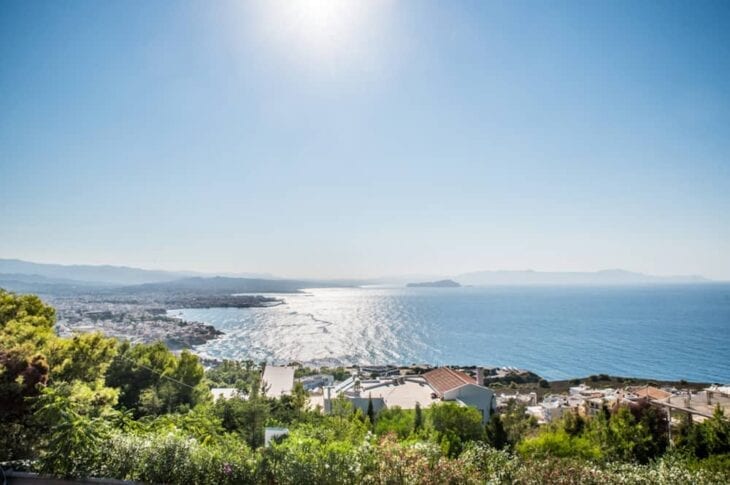 The beaches in both villages are sandy and well-kept. Several amenities are also available, including sun loungers, parasols, and showers. The water is clean and clear with a moderate Mediterranean climate. However, take note that strong winds can have a significant impact on the beach. When this happens, the sea becomes turbulent, wavy, and potentially dangerous.
Marathi Beach
The beach is easily accessible
Restaurants and bars surround the beach
Marathi is a relatively small beach
The waters are shallow and safe for kids
Marathi Beach is located on the Akrotiri Peninsula's eastern edge, directly in front of Chania's principal port, Souda Bay. The beach is tiny but clean, which is a fundamental feature that makes Marathi perfect for families. It's shallow, safe, and sheltered from severe winds for the most part.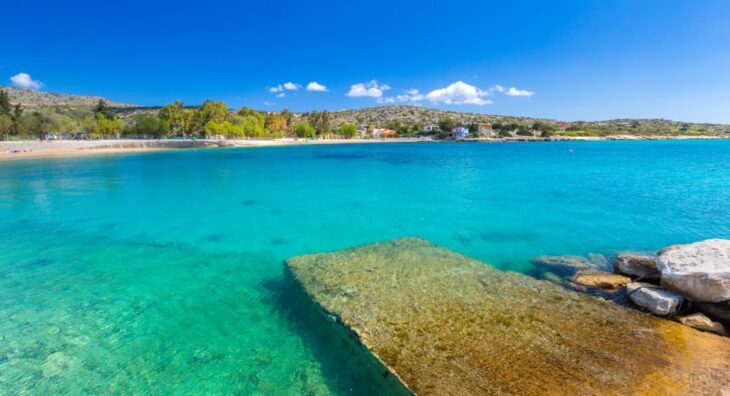 It's best to go early in the morning to get a decent place on the beach. There are various restaurants along the seaside walk that are popular with both locals and tourists. You may also find refreshment kiosks that sell snacks, drinks, and ice-creams.
Sougia Beach
Clear and calm waters good for snorkeling
Unorganized beach ideal for solo travelers
Various water activities can be done here
Stretched shoreline for long walks
In the seaside town of Sougia, the peaceful atmosphere of Crete is at its best. Long, pleasant walks along the stretched shoreline can be enjoyed in the area, with views of the mesmerizing blue sea. This beach is fully unorganized. The steep cliffs and quiet coves are excellent for naturism and privacy.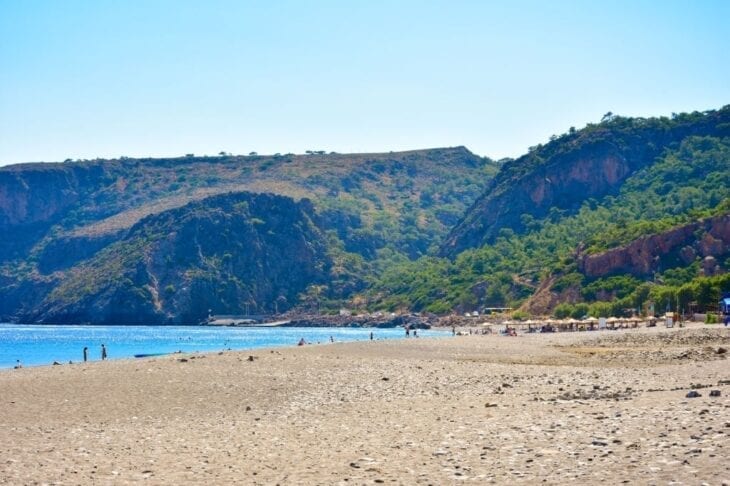 Since the waters are calm and clear, water activities such as swimming, snorkeling, and canoeing are ideal. The beach just across from the village, on the other hand, is well-kept. There's a lovely beach bar, where you can have a freshly made drink, in addition to several restaurants that serve fresh seafood.
Kouloura Beach
Small beach with trees flocking the area
Small boats available for rent
Calm and shallow waters ideal for kids
Hidden coves that can be explored are nearby
Kouloura is a scenic fishing village that's known for its quiet and peaceful ambiance. The village has a beach with a beautiful crystalline bay and a sloping stretch of rich tree forests that distinguish the place from other beaches. There are not many lodging or food options in the area, but that does not take away from Kouloura's attraction.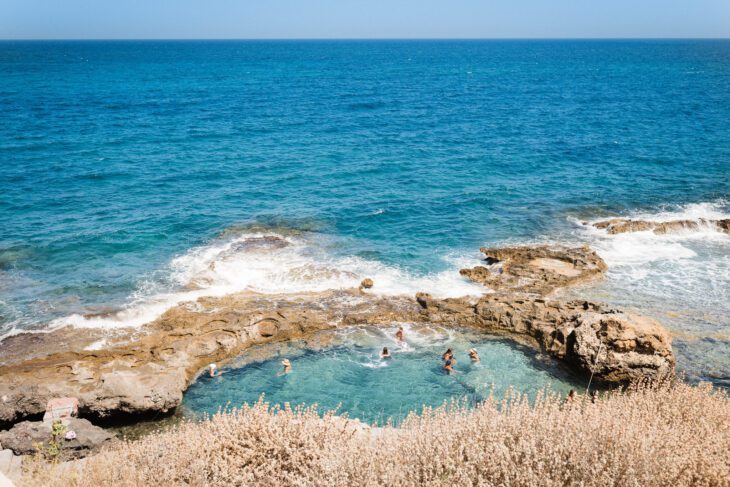 The beach has a unique shape with great scenic views of the sea. The waters are shallow, offering an excellent place for children to play safely. Despite being small, Kouloura's beach is very popular because of its pleasant atmosphere/ Plus, boats are available for rent, too, so visitors can explore the hidden coves of the area.
Seitan Limania Beach
Scenic views that make the beach standout
Entrance to the beach is difficult so wearing the right shoes is vital
No accommodations in the area. Bringing your own food is needed
Calm waters great for snorkeling
Seitan Limania is one of the most famous beaches on the island, with hundreds of tourists visiting each year. The stunning tones of blue, ranging from deep indigo to turquoise, fill the cove in stark contrast to the orange walls of the surrounding cliffs. As a result, it gives out an amazing postcard-like view.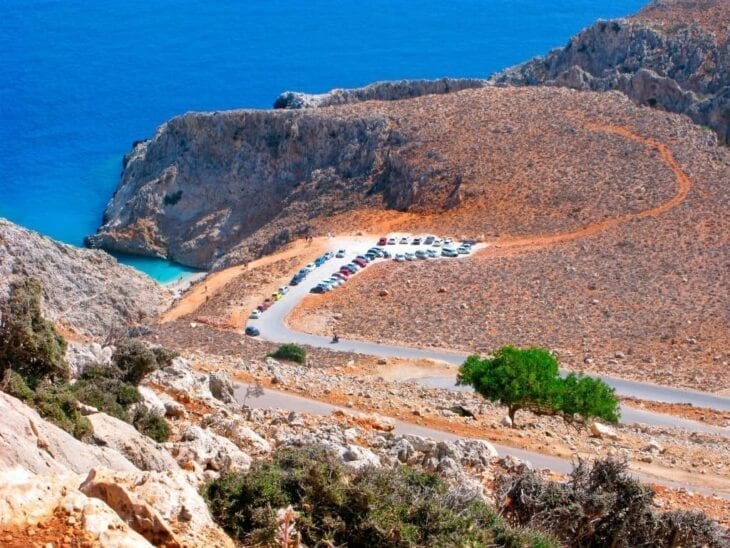 There are no structures available nearby, so you must be prepared for a visit by bringing your own food and drinks, as well as any other items you may require for the day. You should also know the entrance is difficult and hiking is required, it's a good idea to wear comfortable walking shoes for the descent.
Agia Roumeli Beach
High cliffs can be seen in the area
Bars and taverns are nearby
Sandy coast with rock formations
The beach is just a few miles from Samaria's Gorge
The little village of Agia Roumeli is well-known and well-visited because it is only 2 kilometers from the Samaria Gorge's exit. However, the gorge isn't the only thing that draws visitors to Agia Roumeli, for this place has its own beach, too.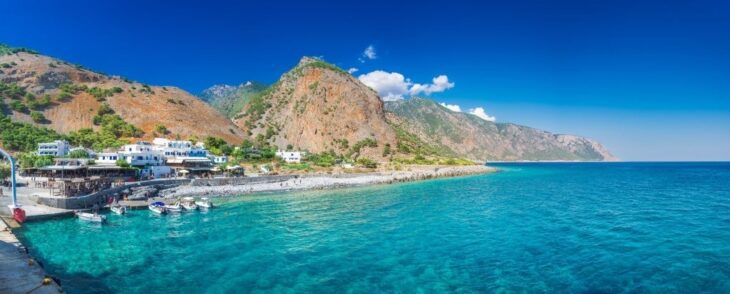 The beach boasts a serene and unspoiled setting with a backdrop of high rock walls topped by lush vegetation. The beach is sandy with some rock formations scattered in the area but it doesn't stop people from swimming. In fact, the locals consider the waters to be therapeutic. There are also a few taverns and cafes near the beach.
Overall, there are many beaches on Crete you can visit, each with its unique characteristics that make them stand out. But of course, Agia Roumeli is one that you must not miss.
Kedrodasos Beach
Sandy beach with clean, blue waters
Lush vegetation surrounds the beach
Ideal spot for various water activities
No accommodations are on the beach
Kedrodasos Beach is situated 76 kilometers southwest of Chania. The area is lined with juniper trees and sand dunes. It's a famous spot for windsurfing since it has a shallow and gentle slope and the breezes that blow across the peninsula, creating perfect windsurfing conditions.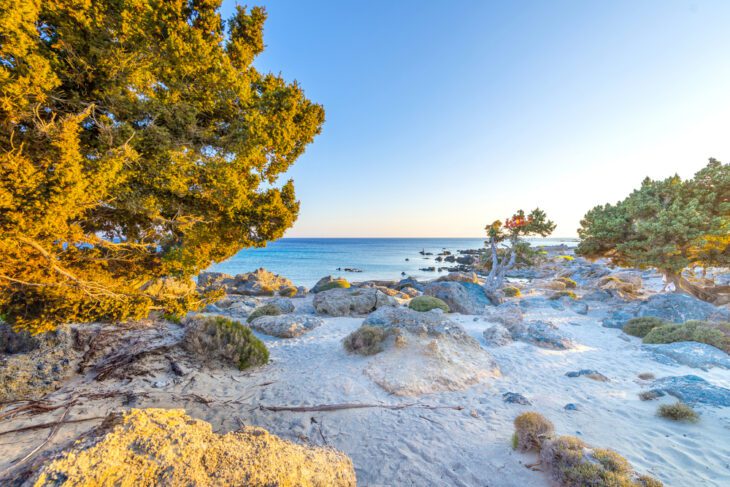 The beach is sandy with clear, blue water. Several small bays can be found on the coastline, providing a bit of privacy for those looking to sunbathe or swim without too many people around. There are no services on the beach so visitors should come prepared with their own supplies.
Frangokastello
Frangokastello is a 14-kilometer-long sandy beach. It's one of the few beaches in Chania with relatively shallow waters, making it ideal for families with kids. The beach is well-organized, with the gorgeous Venetian Castle directly across the sea as its main attraction. The village this beach is in is peaceful and isolated, perfect for a pleasant vacation.

Aspri Limni
Tourists are unfamiliar with Aspri Limni Beach, but locals like the solitude of this small beach near Elafonisi.
The name translates to "white lake", and it accurately reflects the layout of the beach, which is shaped like a swimming pool surrounded by stones and high, pointed cliffs, with crystal-clear waters.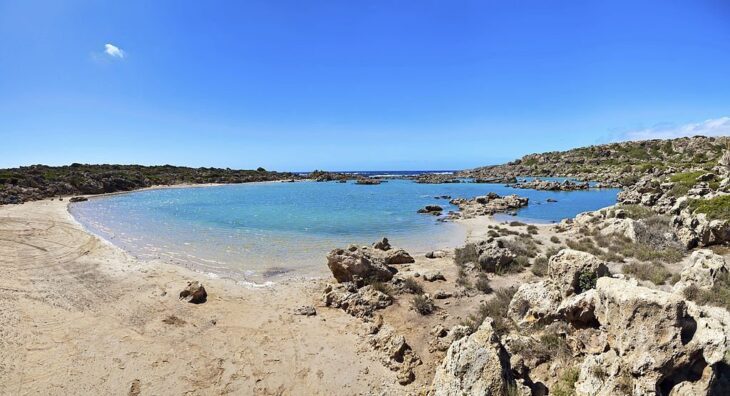 The beach and the surrounding areas are unkempt. Because of its remote location, you'll need to plan ahead of time for food and drink.
Chora Sfakion
Vrissi Beach is the name of the little beach found in Chora Sfakion. It cannot compare to the other beautiful beaches on Sfakia's southern shore, but it is very popular when boats are unable to sail to Marmara, Loutro, or Illingas due to weather conditions. Still, the beach is fairly exquisite with crystal-clear waters and a serene surrounding.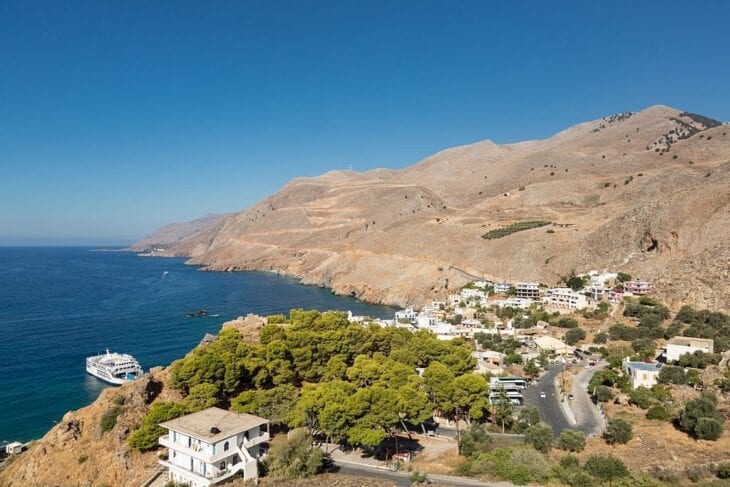 Also Read: