Gavalochori is located on the rocky Cape Drapanos in the Apokoronas area. Situated on the narrow streets of Gavalochori village, the folk architecture carries a classic Greek charm. The locals, like most of Crete's villages, grow their produce. This is why at Gavalochori, you'll find an undeniably rich reserve of herbs, almonds, olives, and figs.

This traditional village may not be buzzing with new businesses, but what has existed for years is still proudly active to this day. You'll find a local pastry shop, bakery, taverns, cafes, grocery shops, an arched olive oil press, old school, and traditional-style homes dotting the small village square and bylanes.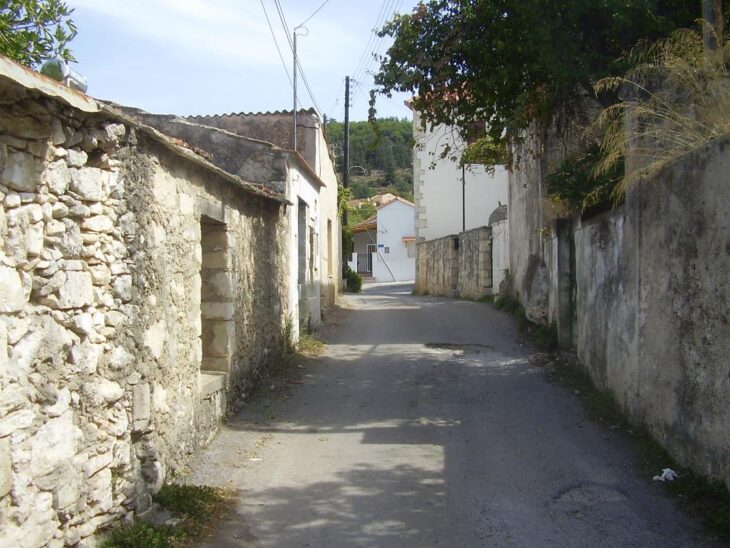 Not many tourists venture to Gavalochori since it has remained a hidden gem for years. So here's your chance to experience the essence of Crete through its rural life. Let's dive into how you can make the most of this lovely village on your visit to Crete.
Where is Gavalochori?
Gavalochori is a well-preserved village that is 26 km to the southeast of Chania town on the northwest coastline of Crete. It is situated in the Apokoronas area's Vamos municipality. Gavalochori gets its names from the Gavalas family, who resided here when the Venetians were in power.
There is much to see and explore in Gavalochori, which we reveal in the coming sections.
How to Get to Gavalochori
Getting to Gavalochori by Car
Taking a rental car from Chania Airport is the best and cheapest way to travel to Gavalochori. You can stay at a close-by accommodation and explore the village during the day. From Chania, Gavalochori is at a driving distance of 36 km.
Getting to Gavalochori by Bus
Public buses are available between Chania and Gavalochori. The ride takes approximately 33 minutes, with transfers, if any, to reach the village.
Getting to Gavalochori by Taxi
Taking a taxi from the airport is an expensive ordeal, given the way prices fluctuate through the year. You can book one from the airport upon arrival. If you plan on visiting Crete by taxi, it may be hard to find one that will take you to certain remote or faraway destinations. Given distances and secluded destinations, it is best to rent a car to get around Crete.
History & Facts of Gavalochori
The traditional village of Gavalochori is a time capsule of historical splendor, as seen in the majestic churches, Venetian stone arches, olive oil factory, and Roman tombs. A complex about 1 km away outside Gavalochori houses 24 Venetian wells surrounded by unusual trees with twisted branches. Locals still socialize at these wells and draw water from them for their animals.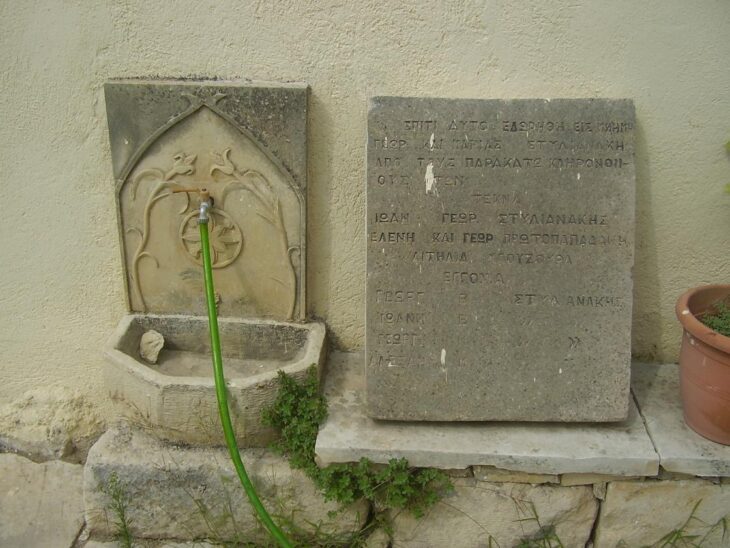 Best Things to Do in Gavalochori
To experience Gavalochori's profound beauty, culture, and enduring traditions, do add these places to your itinerary.
Visit the Folklore Museum of Gavalohori
The museum was founded in 1968 before it opened to the public in 1993. You'll find the balcony, mezzanine, interior yard, and arched house with auxiliary rooms on the ground floor. You're in for a fascinating ride through history with an intriguing display of existing photographs, ancient texts, models, and drawings that accompany new pieces that are updated every year.
Seven rooms make up the bulk of the museum, with each one exhibiting a central theme: silk, history, kopaneli (a lace-making technique that dates back to the Byzantine era), kamarospito (arched house), stone carvings, churches, and wood carvings. You'll be left amazed by the works on display that are symbolic of the village's history.
The arched house is fashioned as a traditional Cretan home with a wine press, dishes, storage space, living room, and bed. In the kopaneli room, you can closely admire the silk costumes and the wedding dress on display made from handmade lace.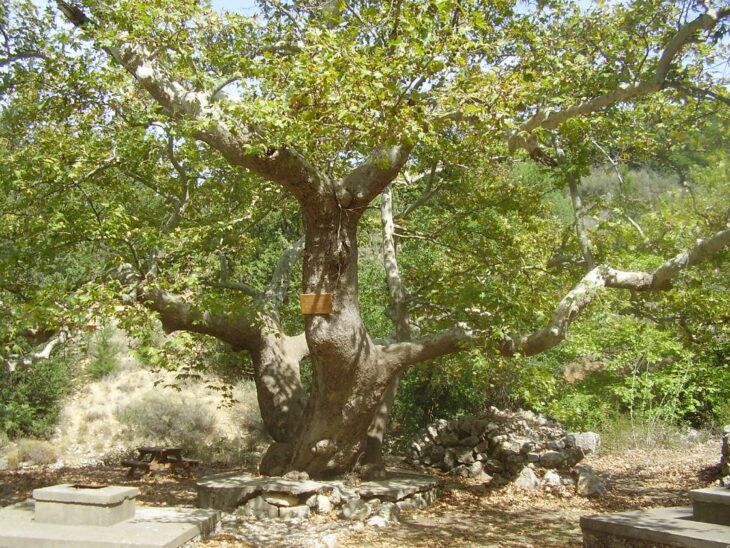 The history room's walkways are lined with lithographs and archaic paintings depicting major Cretan and Greek history events. Swords and guns used in battles are also part of the exhibition. Take time to explore the other rooms at length to peruse the riveting historical artefacts of this museum.
Explore the Local Churches
There are several impressive Greek Orthodox churches in Gavalochori. Cruciform domed rooftops, soaring steeples, ancient bell towers, intricate iconostases with religious imagery, and weathered edifices punctuate the visual beauty of the churches.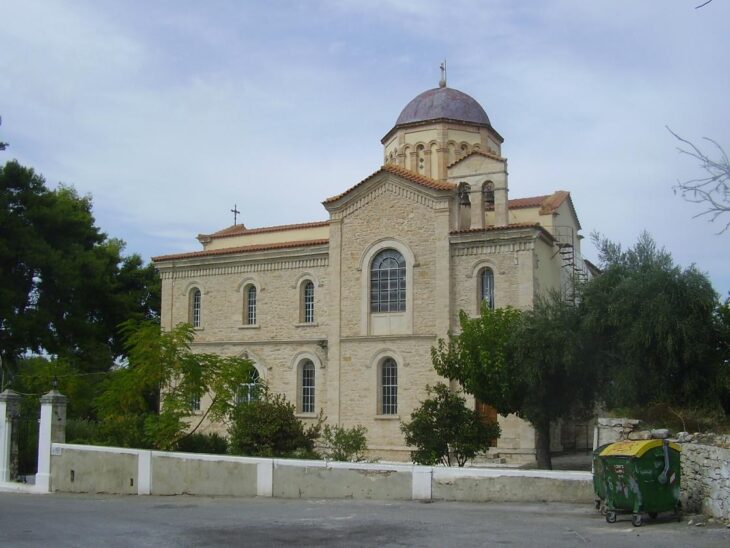 Known as the architectural gem of Gavalochori, the old Church of Saints Sergius and Bacchus is a marvel to see. Work on the church began in 1896, but it wasn't until 1907 when it was finally completed, thanks to architect Palamaras. The following churches are worth visiting to experience the village's prevailing sense of community and spiritual kinship.
Panagia
Agios Georgios
Agios Pavlos
Agios Fanourios
Agios Ioannis
Timios Stavros
Agios Aikaterini
Agios Sergios
Agios Sergios
Church of the Virgin Mary
Swim to Almyrida Beaches
Besides the Akrotiri peninsula, a short drive from Chania with lovely sandy beaches, there is also Almyrida beach. Almyrida sits on the sandy shores of Souda Bay, not far from Cape Drapanos. The region is famous for its resort and untainted countryside of sprawling olive groves.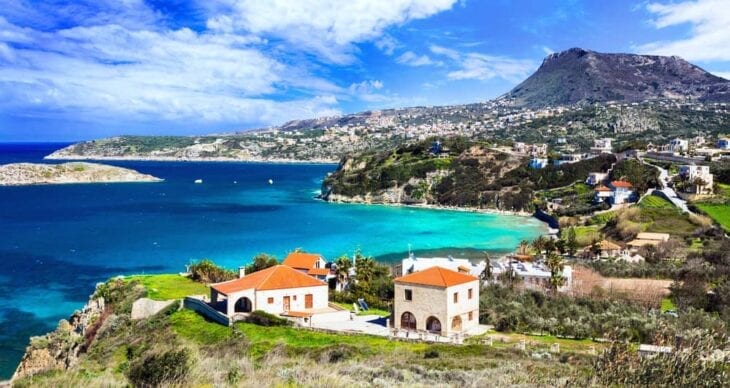 Dip your toes in the crystal blue waters, take a cooling dip, or spend a day lazying in the warm sun. Unlike Greek beaches that are usually filled with tourists, Almyrida will serve as the perfect haven of solitude.
Where to Stay in Gavalochori
There are plenty of places to stay near Gavalochori that will be a welcome comfort after a day of exploration. Your search for the best places to stay in Gavalochori ends here.
Natalie's Houses
This family-run business is located in Douliana, a hillside village surrounded by fascinating buildings and folk architecture. The cottages can comfortably accommodate 4 to 6 people. Every room is styled with a veranda, fireplace, basic amenities, and cooking utensils. Fresh linen and towels are provided and changed every week. It's perfect for city dwellers who need a quiet place to stay.
Website
+30 28250 23356 / +30 699 5981 857
Villa Athermigo
Located in Gavalohori, this fully-serviced villa can accommodate up to 10 people at a time. If you're traveling solo or with a partner, you can stay in quaint cottages. The owners converted an olive oil press into a boutique-style villa, marrying rustic charm with contemporary frills. Stroll through the breathtaking grounds, swim in the private pool, and enjoy a spread of traditional Cretan meals.
Website
+30 698 256 8282
Bleverde Luxury Villas
Citrus trees and lush greenery dot the periphery of this beautiful property. From the terrace of the two semi-serviced villas, you can view the stunning Gavalochori valley and the Aegean Sea. Drink up the beauty of the outdoors from sun-bathing decks and cool off in the saltwater swimming pool. You can stay at either Villa Levanda or Villa Elia for a truly luxurious experience.
Website
+30 2825 022386
Where to Eat in Gavalochori
Experience the thrill of exploring the undiscovered epicurean delights in and around Gavalochori! Be sure to stop by these eateries in the traditional village for the best in Mediterranean food.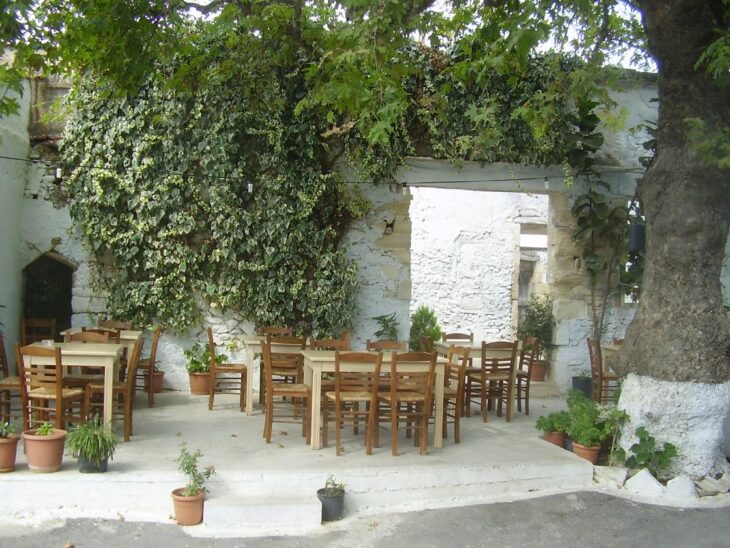 Gavalianos Kafenes
This charming cafe plates a toothsome selection of Mediterranean meals. The gracious staff and lively atmosphere on music nights make this place an excellent eatery for you to enjoy with friends and family. Be sure to dig into the stuffed courgette flowers and mezze platters for a dose of classic Greek flavors.
+30 697 416 2507
Parasia Taverna
Enjoy a generous portion of Greek meals in this quintessentially Cretan tavern. The stone building has a lovely seating area with creepers peppering the rustic property. The succulent meat, vibrant salads, freshly made dessert, and heady raki make this place a must-visit.
+30 2825 083246
Harokopos Tavern
Experience Cretan food at its finest at this traditional tavern located in Plaka village near Gavalochori. Locally sourced ingredients and specialties of the region commingle to create lovely food. The owners run a small farm from where everything is grown and harvested. New Cretan and European meals are cooked every day, and they're bound to delight you with their colors and spices!
+30 2825 032089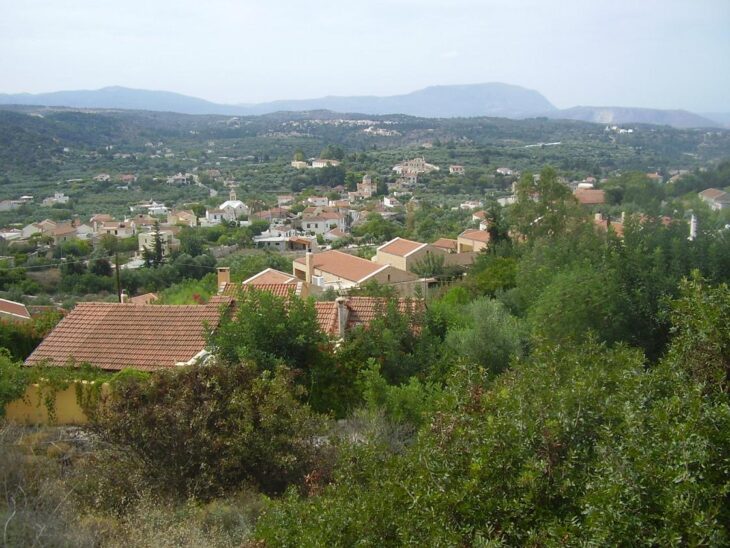 Best Time to Visit Gavalochori
The ideal time to visit Gavalochori is in April, May, and October, when the weather is fairly pleasant. June, July, and August are the warmest months of the year, with July being the hottest and driest time to visit. It can get chilly in February, so it's best to visit when the weather is slightly warm. The wettest month is January and not the best time to venture to Gavalochori.
We hope our guide helps you put together a wonderful trip and an unforgettable vacation to the traditional Cretan village of Gavalochori!