If you're looking for a quiet and relaxing beach town, Rethymno is the best place to be. The region of Rethymno is known for its stunning beaches. There are many different beaches to choose from, each with its own unique charm. Whether you're looking for a secluded beach all to yourself or a spot with plenty of activities and amenities, Rethymno has something for everyone. Here are the best ones you should check out:
Adelianos Kampos
Rethymno City Beach
Kamari Beach
Platanes Beach
Bali Beach
Karavostasi Beach
Livadi Beach
Geropotamos Beach
Spilies Beach
Plakias Beach
Korakas Beach
Ammoudaki Beach
Triopetra Beach
Agia Galini Beach
Episkopi Beach
Preveli Beach
Damnoni Beach
Top 4 Beaches Near the City of Rethymno
If you're not much of a traveler and just want to stay close to the city, staying at one of the beaches mentioned below is a great option.
Adelianos Kampos
White sand beach with clear waters
Bars and restaurants surround the area
Water Sports Centers are available
Kayaking, diving, snorkeling is possible
One of the best places to visit for a day of swimming and sunbathing is Adelianos Kampos. It's a long sandy beach that is perfect for families with children. You'll find plenty of umbrellas and sun loungers for hire, as well as restaurants and bars nearby should you need a break from the sun. Some of the popular bars you'll find here are Siroccos and Roulis Beach Bar, which both have good food that'll make you experience true Cretan cuisine.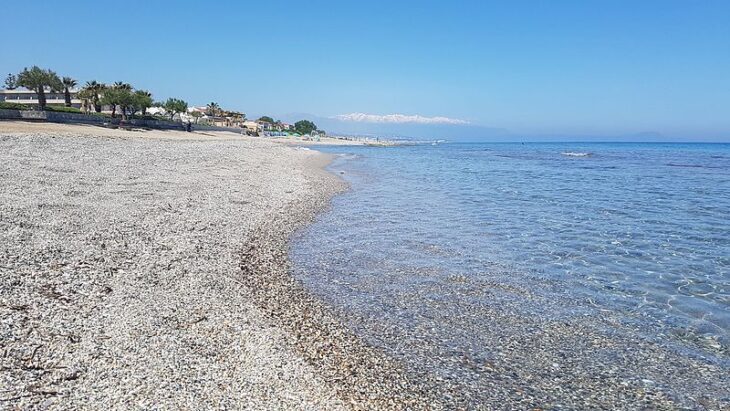 The white sandy beach and clear blue waters are enough to make anyone feel relaxed. While this beach is one of the most popular in Rethymno, it isn't overcrowded compared to other tourist spots. Adelianos Kampos is a good option for those looking to stay close to the city but don't want to be disturbed by surrounding travelers and noisy bars.
If you love watersports, go ahead and check their nearby centers. The Beast Water Sports and Tzagas Water Sports are both located in Adelianos Kampos, and they offer a wide variety of water activities like diving, kayaking, and more.
City Beach of Rethymno
Waters are clear during calm days but may get muddy with strong waves.
White sand with little pebbles
Beach bars are available
Sunbeds and beach couches can be used
The city beach of Rethymno is a 20-kilometer long beach filled with white sand, crystal clear waters, and a few rocks. The beach extends towards the Main Marina, right up to the city suburbs.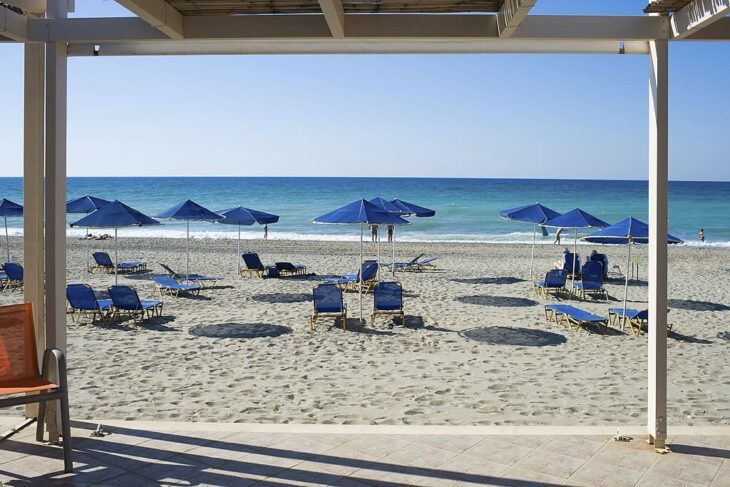 The beach is well-kept and equipped with all of the necessities you may be looking for. It has a range of water sports as well as tennis and beach volley courts. On cool days, the seawater is clear, but on stormy days, it might be a little muddy due to the sand. The beach in Rethymnon is clean and gives easy access to the sea.
The beach is separated into tiny sections that are supervised by private beach bars which are in charge of managing the beach. If you order anything to drink or eat, the sun-beds are usually free. However, for the beach couches, you may need to pay an additional fee. Overall, it's a great place to go with friends or family since it's not only well-maintained but also very accessible!
Kamari Beach
Pebbled beach with rock formations
Shallow waters
Tourist spot and a taverna is found nearby
Not always crowded
Only about 7km from the center of Rethymno, this small rocky beach gives visitors the chance to see the full beauty of the region. With many popular tourist spots in the area, Kamari is a great choice for those looking to explore some of Crete's more untouched features. Different rock formations surround the area, which makes the beach seem like it's hidden away.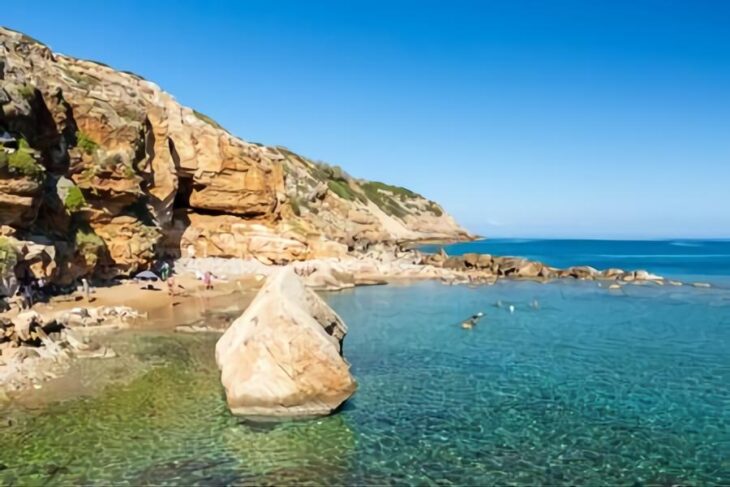 The shallow waters surrounding Kamari is ideal for children since it's very calm. Kamari beach is definitely not for those looking for a sandy beach to relax on, but it's perfect if you're looking for a place to swim and snorkel. Plus, it's not always crowded, so you'll be able to find a spot for yourself.
Next to the beach is a beautiful taverna and the small scenic church of Panagia Kamariani. You can spend a whole day just swimming and relaxing, or you can head out to explore the area.
Platanes Beach
Wide beach with clean waters
Quick access to the sea which is ideal for families
Beach bars surround the area
Turtles can be seen during the summer
Another beach great for avoiding heavy crowds, Platanes is a serene and lightly visited spot found in Rethymno. It has a large area with clean sand and beautiful rocks. Because of the fantastic and quick access to the sea, it is especially ideal for families with children. There are a few places where you may hire a sunbed, too, in case you need it.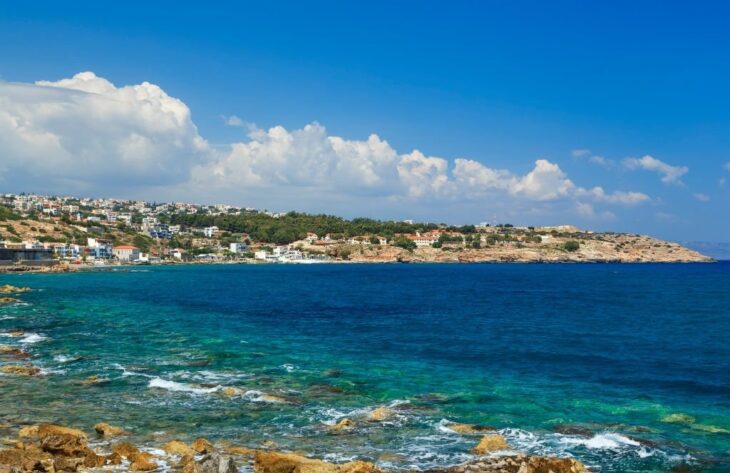 After a long day of swimming, you may order a drink or some food from one of the beachside bars. All kinds of beverages, Cretan dishes, and light snacks are available. You'll never have a hard time looking for something to eat since there are plenty of restaurants and cafes in the area.
If you visit during the summer, you might be lucky enough to spot the Caretta Caretta turtles. The beach serves as a shelter for these beautiful little animals, so you can see them resting around the rocks if you visit during the right time of year.
The Best North-side Rethymno Beaches
The northern coast of Rethymno is definitely best-suited for those looking to explore some of Crete's more remote and immaculate features. With a mixture of sanded beaches and rocky formations, the northern coast is one of the most interesting areas where Rethymno can be seen in its full glory. Here are some of the top 3 beaches you should check out:
Bali Beaches
Tavernas and bars surround the area
Golden sand and clear waters
Water sports are available
A waterpark is found on one of the beaches
Four beautiful bays surrounded by mountains can be found in the village of Bali. The first is Livadi Beach, which is found right as you enter the village. It's a long, beautiful beach with shallow crystalline waters that's ideal for kids. Cafes, bars, and tavernas are found along the shore, giving you a perfect spot to relax and listen to the waves.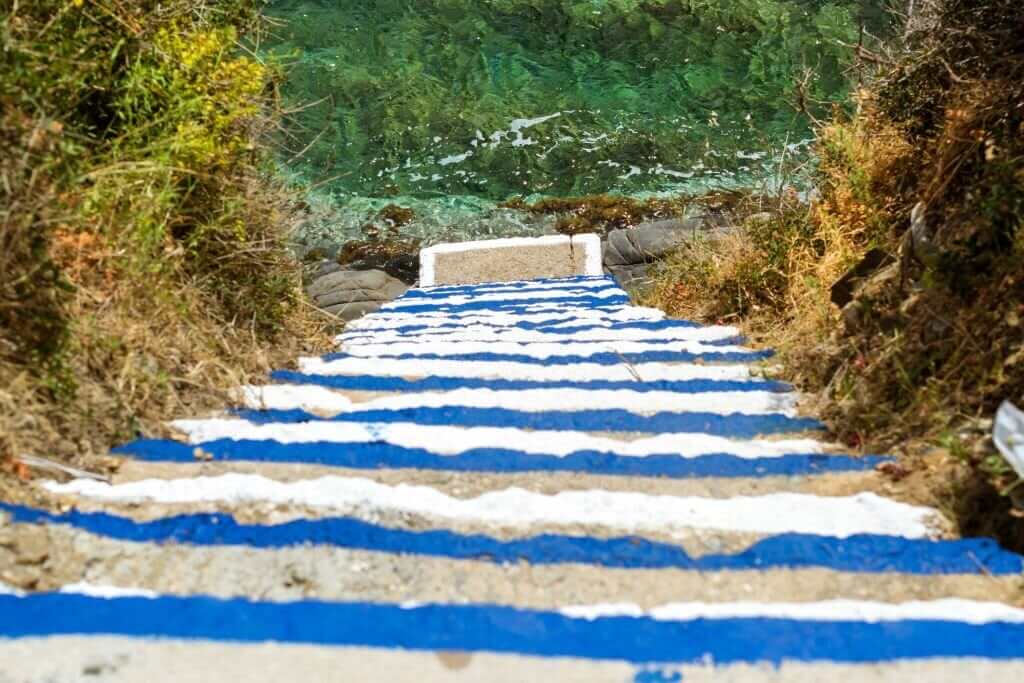 If the first beach doesn't impress you, head towards Varkotopos. It has golden sand and mesmerizing rock formations with clear turquoise waters fit for swimming and diving. There is also an inflatable water park where you can spend the day having fun with friends and family.
Limani Beach, the third beach, is located near the village's main port. It's also sandy, and it gets very busy during the summer. The sea, on the other hand, is pristine and ideal for a leisurely swim. You can indulge in water activities which are available or just relax on this beautiful beach.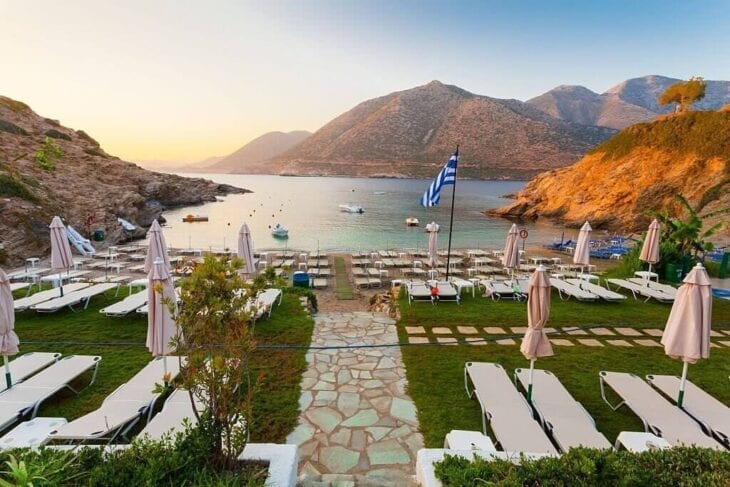 The last beach, Karavostasi, is Bali's most remote and picturesque beach. It's likewise sandy, but it's flanked on all sides by lovely rocks. Sun-beds, umbrellas, and tavernas are available for those who want to stay awhile. You'll definitely feel like you're in paradise when swimming and sunbathing here.
Geropotamos Beach
The sunset view is great for picture-taking
The rock arch on-site makes the beach unique
A beach bar that serves different drinks and dishes is available
Clean, deep, and clear waters
The scenic beach of Geropotamos is hidden between rock formations next to the bridge of Geropotamos. The area is graced with several caves and coves, ideal for exploring. It is a secluded beach, but it makes up for its hidden nature with the stunning views it offers.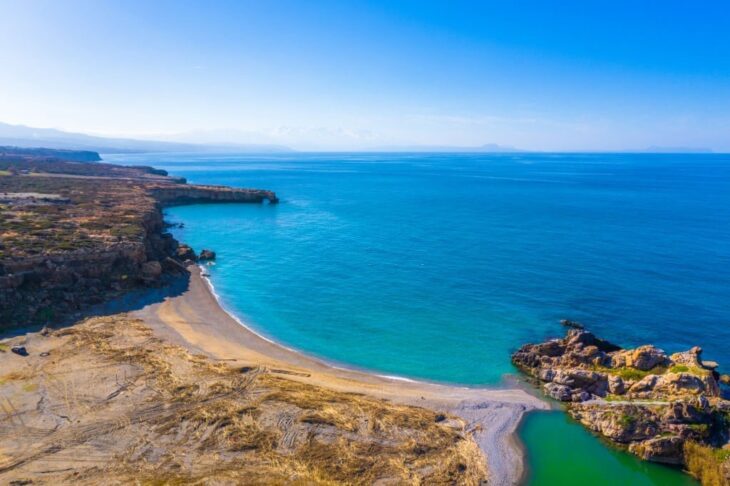 If you want a beach with distinct features, you should check out Geropotamos. The beach has a beautiful rock arch, which you can swim under. You'll feel like you're in a real-life fairytale when swimming underneath its arch and looking up at it from below. The view during sunset is also fantastic as the warm sunlight illuminates the rock arch.
The beach is pristine and includes little rocks, as well as excellent straw umbrellas and comfy loungers. You have easy access to the water, where scuba diving and snorkeling can both be done. If you ever get hungry after all the swimming, you can check out the nearby beach bar that offers mouth-watering dishes. You'll love the friendly and family-oriented atmosphere at this beach.
Spilies Beach (Kitrenosi beach or Sea Caves)
Pebbled beach with deep, clear waters
Sunbeds can be used for free
Rock formations surround the area
A taverna is available on-site
The Spilies Beach is pebbled, while the water is crystal clear. Red and white rock formations surround the area. Free sun-beds and parasols are available for visitors. It makes for a great spot to relax and take in a natural beauty that encompasses you.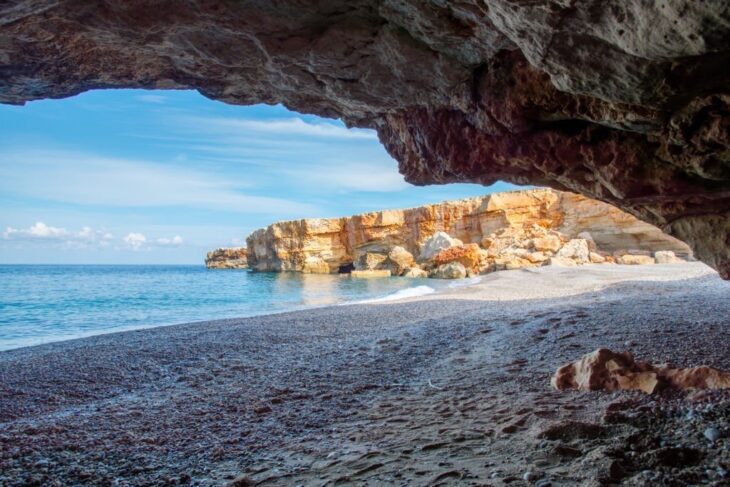 When it comes to the sea, it is a bit deep, so it's not good to leave your kids unattended. However, it's also excellent for swimming and other water activities such as diving and snorkeling. Plus, a beautiful taverna lies near the beach so that you can have a hearty meal after your swim.
Must-visit Beaches in South of Rethymno
While the north-coast beaches are beautiful, the south part of Rethymno has some equally alluring ones that are definitely worth a visit. Be sure to check out these three amazing beaches:
Plakias Beach
Sandy beach with crystal clears
Rock formations surround the area
Diving, rock climbing, and snorkeling can be done
Various tavernas are found on the beach
The village of Plakias is known for its beautiful and long beaches. One beach in particular, called Plakias Beach, is a favorite for locals and tourists alike. It's sandy and has crystal-clear waters, making it perfect for swimming and other water activities.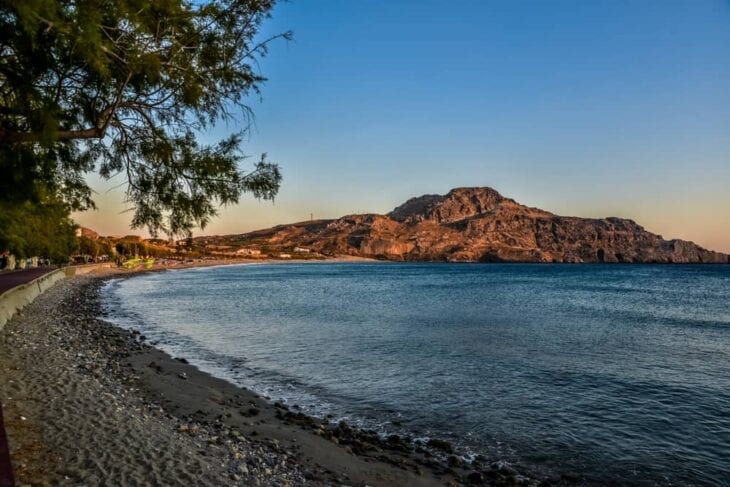 There are loungers with umbrellas available, but you may instead enjoy the natural shade provided by the numerous tamarisk trees that are found in the area. Huge cliffs can be seen on the beach's east side, which is popular with adventurous climbers. Various taverns and restaurants can also be found along the beach so you can enjoy a meal while taking in the incredible views.
Despite the features this beach present, it's is never overcrowded. You'll have plenty of space to enjoy the area, which is great for couples and families.
Korakas Beach
Sandy beach with clear waters
Accommodation and tavernas are available in the area
Marine life is rich on this beach
Rock formations and caves for exploring
Korakas is situated near the mouth of a former river in Rodakino. The beach has crystal clear waters that are both clean and tranquil. There are a few great tavernas and beach bars where you may have snacks and beverages while renting an umbrella for the day to protect you from the heat of the sun.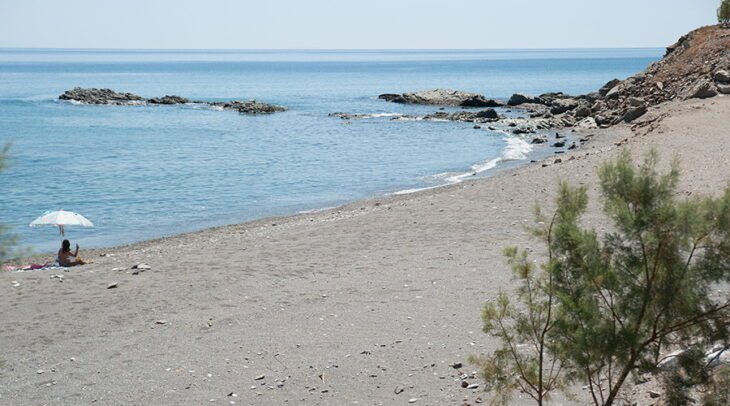 If you want to stay the night, many accommodations and rooms for rent are available in the area, as well as a few apartments. You won't have any trouble finding a place to stay, as Korakas is a tourist-friendly community.
The beach also has some interesting rock formations as caves that make it great for adventures. In addition, the underwater life is plentiful, so you may find yourself face to face with some wonderful fish. Whatever your reason for visiting Korakas, this beach will leave you impressed.
Ammoudaki Beach
A restaurant that offers Cretan dishes is available
Ideal for snorkeling due to its deep waters
White sand beach with rock formations
A diving center is on the beach
Not far from the village of Plakias, we find the beautiful Ammoudaki Beach. Here, we will find a small and serene bay with clear waters and pebbles. The surrounding area provides for great views of the sea as well as an amazing sunset.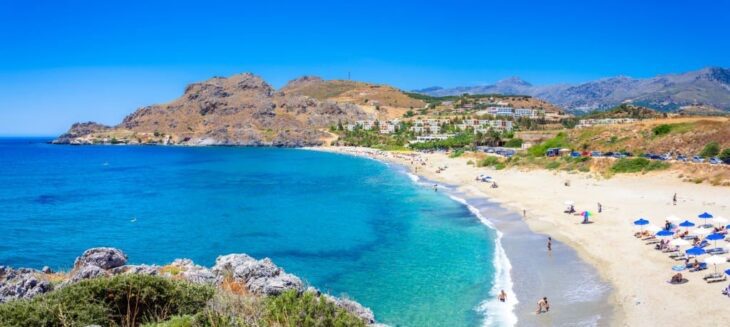 There's also a little restaurant tucked away amid the trees that serves tasty meals and pleasant beverages. You can find Cretan specialties as well as great desserts here, so be sure to stop by. The dishes are priced affordably, so you can have a lovely meal without breaking the bank.
It has white sand and is equipped with sun-beds and umbrellas that cost around €10. A diving center is also located on the beach, allowing you to see various fish, turtles, and other marine life. In addition, the sea rocks give the waters a stunning green tint. Because the water grows deep just meters from the shore, it's best not to bring little children here, or at the very least keep a tight check on them!
Other Beaches in Rethymno to Check Out
Triopetra Beach
Triopetra is Greek for "three rocks". Triopetra beach got its name from three massive unique rocks that stand on the shore's eastern edge. Both beaches have crystal-clear water. The seafloor is incredible, with massive rock formations and beautiful sand. As a result, snorkeling and diving spots are fantastic for those who are looking for some fun.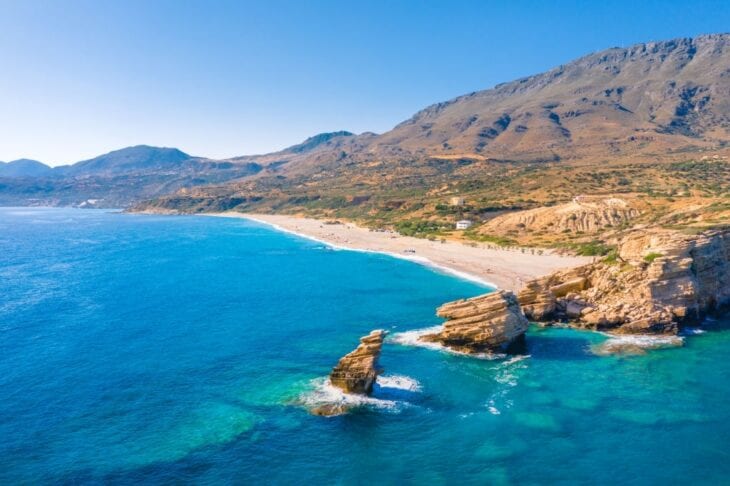 Episkopi Beach
Episkopi Beach is a lengthy beach that stretches for about 3 kilometers, and you may select where you want to spend the day. You can go to one of the established beach taverns with all the essential amenities, or you can enjoy some quiet time on the untouched beach. Either way, clear blue waters and fine golden sand are always present.
Preveli Beach
Preveli beach is next to the well-known Preveli monastery, is 40 kilometers from Rethymno. Preveli beach has a very overwhelming natural beauty, with blue waves for swimming and rich greenery with numerous palm trees around it.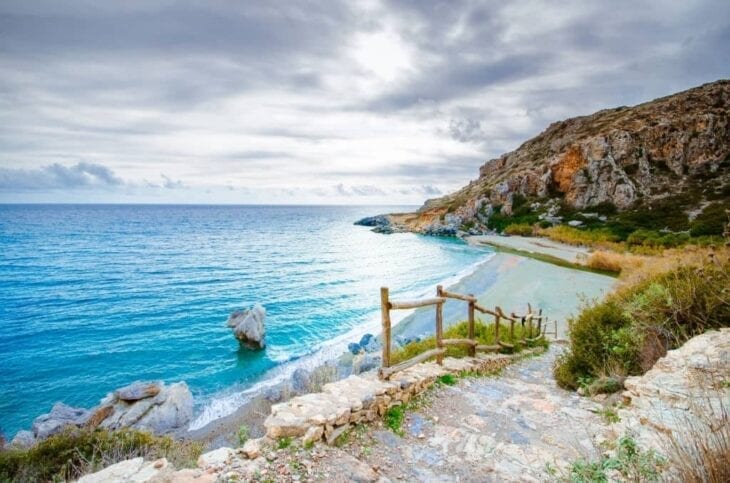 Also Read: