Gouves is not one single destination but rather a small and very lovely region. It's name means something like "a hollow in the earth" .There is Kato ("lower") Gouves, which is the magnificent coastline, and then also the quiet village called "Pano" (upper) Gouves. Pano Gouves is on the slopes of Mt. Ederi, and has lovely views. When people just say "Gouves", they generally mean the beachfront region, as we do here.

In this guide, we'll share all the information and tips you need to make the most of your stay in Gouves.
Where is Gouves located?
Gouves is a stretch of lovely waterfront 18 km east of Heraklion, and very near Gournes. The region features a great selection of beaches, plus a wide range of accommodations. This area, so popular with tourists, has everything you might need- restaurants, cafes, markets, and shopping, plus a medical center. That makes Gouves Crete a convenient home base from which to explore the region by car. Beaches, mountains, and various cultural and recreation activities are nearby.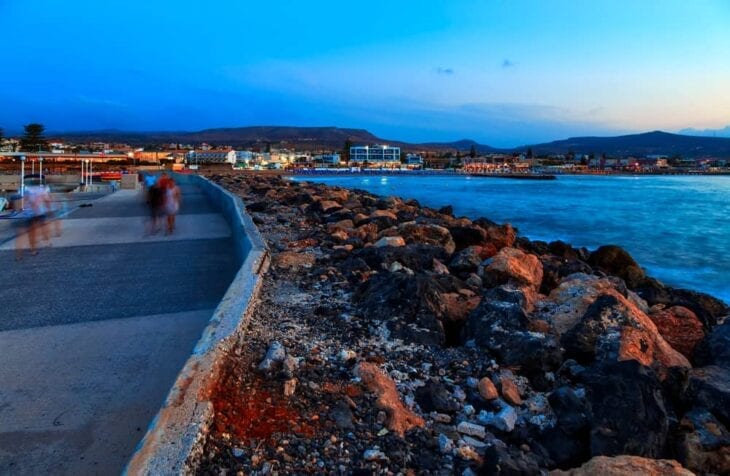 How to get to Gouves, Crete
Gouves is 17 km from Heraklion International Airport, and the drive takes less than 20 minutes. It is a straight route and very easy to get to.
You can rent a car from our Heraklion airport rental agency. It's a good idea to reserve your car in advance by booking on line, especially if you're coming in a busy season.
Renting a car is not only the easiest way to get to Gouves, it's also the best way to explore the region. Crete is full of stunning drives. It is also an island made for spontaneity. Having a car gives you plenty of flexibility.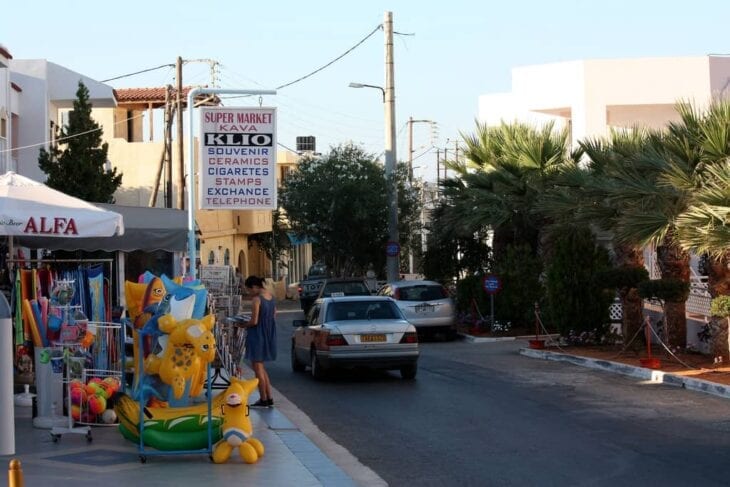 If you want to take the bus, a KTEL bus leaves from the Heraklion bus station for Malia every 30 minutes (find the schedule here), beginning at 6:00 and ending at 22:30. Gouves is en route.
Prices for a taxi from Heraklion Airport to Gouves start from 22 euros, one way.
History of Gouves
Gouves as you see it today, teeming with accommodations, tavernas, and shops, is a relatively recent phenomenon. Since the area has such lovely beaches, it was built developed in response to tourism.
But the whole area is rich in history. The areas that are now the municipalities of Heraklion and neighboring Hersonissos were inhabited by the Minoans, a Bronze Age civilization with a fascinating culture. In fact, the primary Minoan Palace, Knossos, is less than a half an hour's drive from Gouves.
Much closer by to Gouves is the Skoteinos cave, explored by Sir Arthur Evans, the archaeologist who also excavated Knossos. There were findings from the Minoan through Roman periods.
Many Minoan tombs have been found throughout the area.
The Beaches of Gouves
Gouves is all about beach life. There is a tremendous selection of beaches. Rocky beaches are good for more privacy. The flat sandy beaches offer the comfort of being fully developed, with umbrellas and sun loungers, beach bars, and every type of diversion you could wish.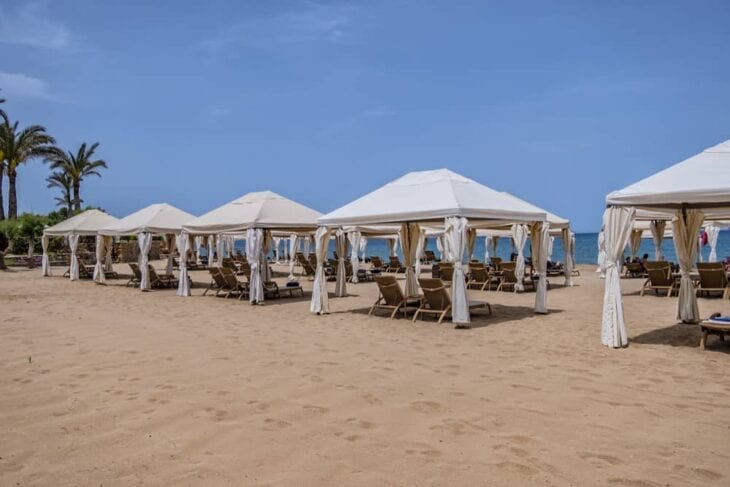 This is a great place to try out a variety of watersports. There are many facilities offering activities like paragliding, waterskiing, and other water sports. There is also a scuba diving center. Since there is a breakwater, the sea here is often calm. However, note that we are on the north coast, and there are sometimes high winds. In this case, you might want to head for one of the more secluded beaches with a cove.
Explore the area to find other excellent beaches in Gournes, Kokkini Hani, and Hersonissos.
Kokkini Hani is a family friendly beach with full facilities and services, and a very popular choice.
Gouves beach is sandy, has a diving club, many watersports facilities, and is also family friendly
Analipsi, just 4 km east of Gouves, is also a fully organized, family friendly sandy beach with water sports facilities.
These are just a few of the many choices.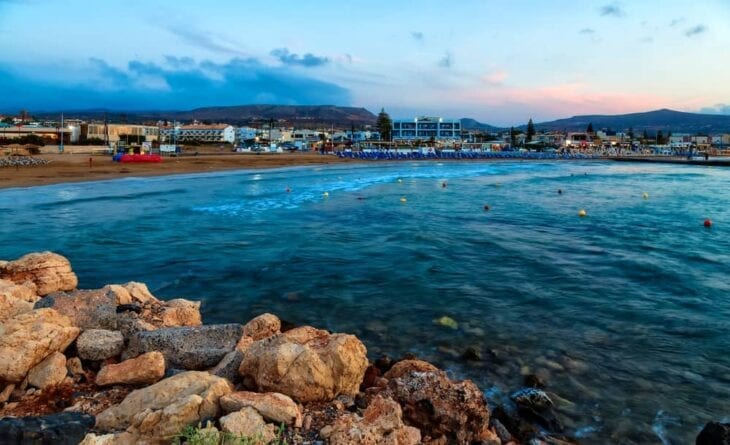 Activities in the region of Gouves, Crete
History and Culture
If you can bear to leave the beautiful beaches, you will find plenty to do.
For anyone interested in Ancient History, Knossos is one of the most important sites in the world, and the best place to learn about Minoan civilization. Knossos was excavated by Sir Arthur Evans with great enthusiasm. The restoration brings the drama of Minoan civilization to life, with the vivid redness of the walls, and reproductions of the most famous murals- the Bull Jumper, the Prince of the Lillies, on the site (the original are in the museum in Heraklion). You will probably have heard about the Myth of the Minotaur– that came from here. Because of the restoration, this is one of the most exciting archaeological sites to visit in Greece.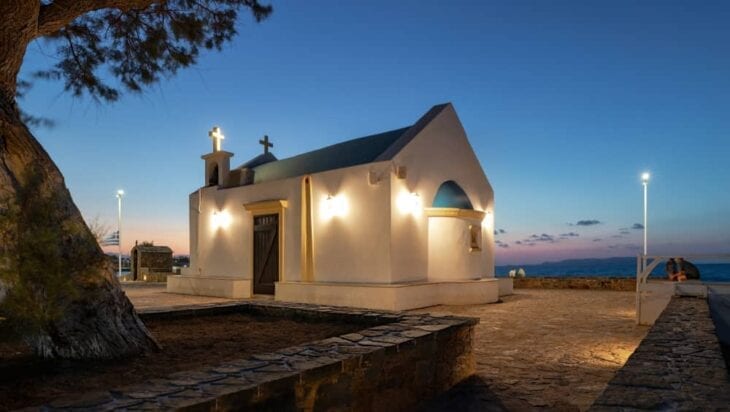 If a visit to Knossos made you curious to know more, then visit the Archaeological Museum of Heraklion, where many of the findings are now housed, including originals of the famous murals.
Exploring nature
The Skoteinos cave, right next to Gouves, is one of the most interesting caves in Crete. The cave is over 150 m deep, and has chambers on four levels. It is a wonder for both speleologists and archaeologists, because of the findings here dating from the Minoans to the Romans.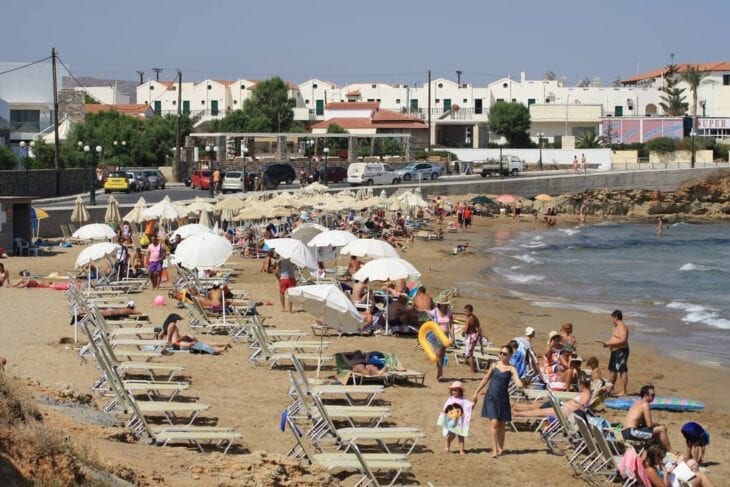 Hikers will love the Aposelemis Gorge. This dramatic canyon has walls sometimes 200 meters high. This 6 kilometer gorge is rated as an easy hike, with an altitude difference of just 100m. The hike takes about two and a half hours and the scenery is wonderful. There is a great variety of trees- plane, oak, and carob, among others, and the ecosystem is home to raptors and waterfowl.
Adventure in the Mountains
One of the fascinating things about Crete is how dramatic and rugged the landscape is. For a taste of the authentic Crete, visit Ano Gouves. This charming village, 300 meters up on Mt. Ederi, has a traditional taverna and cafes and a lovely square. There are also several lovely churches in the area
Just a bit above Ano Gouves is the Village of Skoteino, near the cave. This is also a lovely traditional village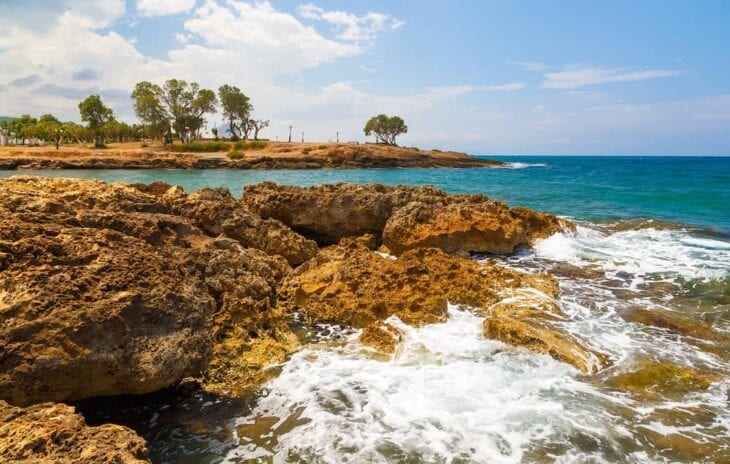 Drive to the top of Mt. Ederi for the wonderful panorama. The road is steep, but well-paved.
Gouves Nightlife
Here is a list of the best bar/restaurants to have a drink and spend a great night in Gouves
Anfield Bar
Wembley Bar Lounge Cafe
Paradise Bar Restaurant
Central Bar
Maria Yannis
KoDimAr Cocktail Bar
Medusa Bar Restaurant
Sirroco Restaurant Bar
Mojito Bar
Baraki Bar
Crazy Beach Bar X Shisha doctor
Yacht Food Lounge Cafe
Senso cafe bar
Isla By 7seas
Gouves with Kids
Are you travelling with children? Then you might want to treat them to a fun day at a waterpark. There is the Anopolis waterpark- Watercity Waterpark Crete, and Acqua Plus, in Hersonissos.
Another activity children – and their parents – will enjoy is a boat excursion. Try a catered sailing cruise from Fantasia Yachting, in nearby Hersonissos, to explore the gorgeous coastline in style.
If you are planning your holiday in this part of Crete we hope that our guide to everything you need to know about Gouves will be useful.