Agia Roumeli is an untouched, quaint village tucked into the picturesque south coast of Crete.
The village's dramatic landscape is home to unique flora, rare fauna, and sits at the mouth of a deep gorge. This gorge is a national park in south Crete, thanks to its astonishing ecosystems and breathtaking beauty, which draws in a fair crowd of travellers each year – many of whom are looking for a holiday off the beaten path.
The steep terrain of the White Mountains runs against the crystal-clear waters of the Libyan Sea. You will love strolling the fine pebble shores while taking in the well-preserved natural surroundings.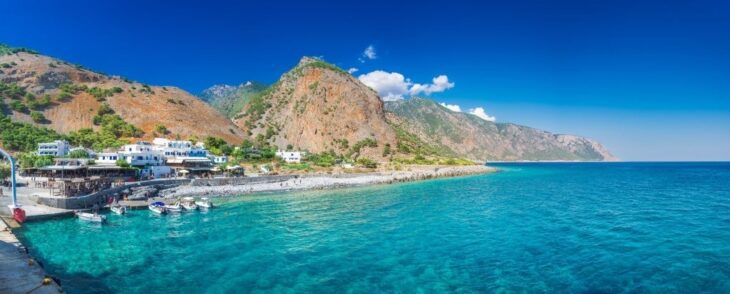 For outdoor enthusiasts and those looking for a reprieve from city life, Agia Roumeli is a haven of unspoiled beauty along the south coast that will take weeks to get over.
This guide will help you navigate through Agia Roumeli and plan a trip that you will fondly look back on for years to come.
Where is Agia Roumeli?
Agia Roumeli is a village located in south Crete, a Greek island that sits at the edge of the Gorge of Samaria. This is the longest gorge in Greece and one of the longest in Europe, making it an attraction that tourists flock to every year. Agia Roumeli is only accessible by ferry boat, which makes this an interesting place to travel to.
Getting here is easy. You can take a car rental from Chania International Airport, which is closer to Agia Roumeli than Heraklion airport. There are different ways to get to Agia Roumeli depending on where you're coming from. Let's explore your options in the coming sections.
How to Get to Agia Roumeli
Getting to Agia Roumeli by Car
The best way to get to the ferry boat dock is with a rental car. It's quicker and easier to get there on your own than with a local transit bus.
Since there are no roads to Agia Roumeli, you'll need to leave your car in Sougia or Paleochora or in Hora Sfakion, where it is possible to park.
Getting to Agia Roumeli by Ferry Boat
Ferries regularly traverse the bay to take visitors and locals between Agia Roumeli, Paleochora, Sougia, Loutro, and Hora Sfakion. Ferries are considered as a pocket-friendly and convenient option for tourists who wish to enjoy their holidays within a budget. A boat leaves the shore and travels to Agia Roumeli after regular intervals. It's best to view the timetable of the ferryboat service since the weather and crowds will determine how soon you can get to the other side.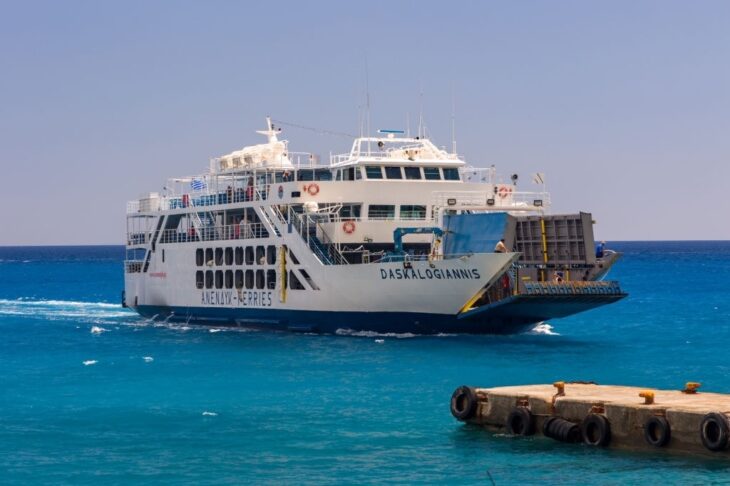 You can also arrange for a private taxi boat that can drop you off or pick you up at/from Chora Sfakion.
Getting to Agia Roumeli by Public Bus
The public transportation system in Crete is well-organized and dependable. You can catch a bus to Agia Roumeli from either Sougia or Hora Sfakion. If you're coming from Chania, take either of these routes to get to the village.
Visitors who come through Heraklion will need to change buses from Vrysses to Hora Sfakion. Check the bus's schedule and choose a ride that stops at Vrysses when heading to Agia Roumeli.
Best Things to Do in Agia Roumeli
What was once a refuge site because of its rugged terrain and fine pebbles, is now a favorite haunt of visitors who enjoy the quiet seaside village life and thrilling nature trek to the Gorge of Samaria. It's no wonder why visitors filter in and out of the village on foot or by boat to experience this slice of paradise.
Here are some cool things that you can add to your bucket list when you arrive in Agia Roumeli:
Agia Roumeli Beach / Libyan Sea
Agia Roumeli Beach is a popular tourist point. Relax and sip on a glass of crisp Cretan wine under a night sky that will leave you breathless. Since the village is dimly lit at night, the skies that cascade over the beaches with fine pebbles are a sight to behold. The brilliant stars twinkle above waves that gently lap the shore, providing the perfect backdrop to a surreal sunset.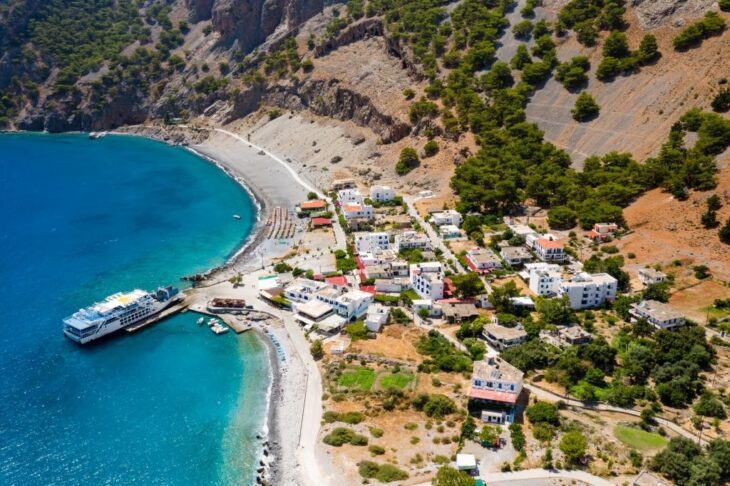 Set up a cozy spot on the pebbly beach and enjoy some much-needed family or solo time. Visitors love walking back to their hotels or homestays in the warm evening breeze.
Visit the Byzantine Chapel of Agios Pavlos
Follow the coastal path towards the east and you'll chance upon the infamous Agios Pavlos chapel. Many believe that St. Paul stopped by this place on his voyage to Greece.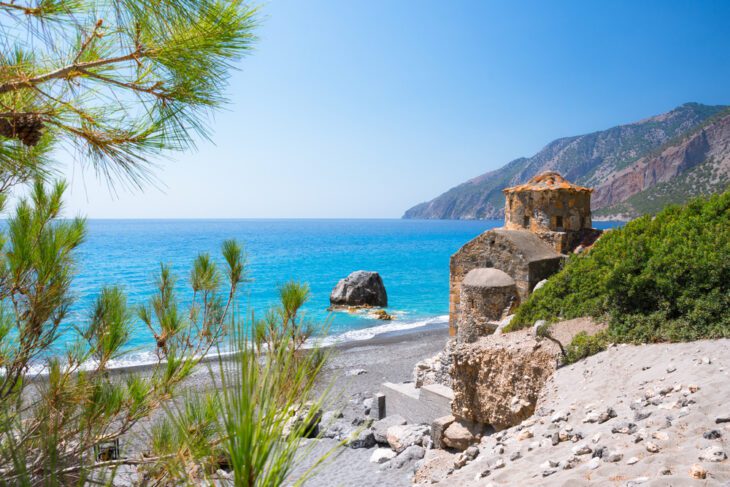 After visiting the chapel, you can tread further to the village of Loutro and Hora Sfakion, both of which are 7 hours away from Agia Roumeli on foot. If you're not up for the walk, simply take a boat back to the village after a day of exploration.
Hike Gorge of Samaria
Hiking to the Samaria gorge commences from the Plateau of Omalos and ends at the Libyan Sea. As tiring and long as the trek is, its unbeatable views will prove to be worth the effort. Be sure to wear and carry sunscreen, drink plenty of water along the way, and wear comfy trek-appropriate shoes and gear.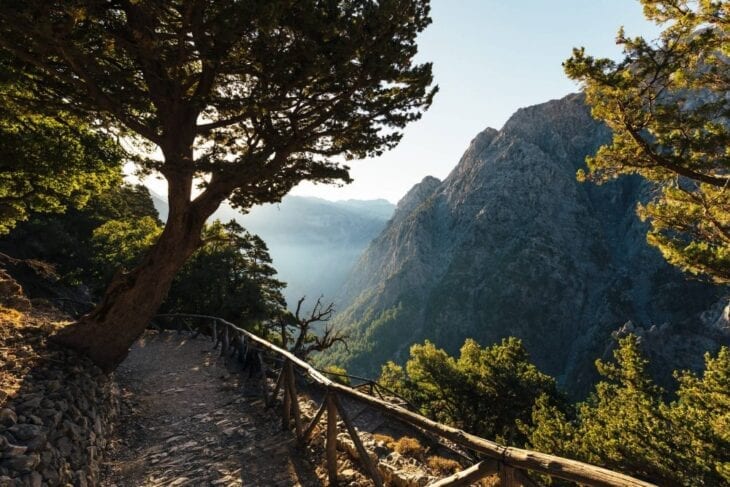 A local travel guide can arrange a day trip to Samaria Gorge and help you navigate the trail along the mountains with ease. The trek will be more intriguing when the gorge's history is shared by the travel guide along the way.
Where to Stay in Agia Roumeli, Crete
Agia Roumeli is a lovely place to stay and enjoy uninterrupted siestas, fresh air, and endless days of sun. Take a look at these perfect stays that promise to make every second in this town memorable.
Artemis Studios
This lovely stay has been in the Viglis family for years and sits on the outskirts of Agia Roumeli. The studio rooms are well-furnished with a double bed, single bed, or twin built-in double beds for more room.
Every space comes with a kitchenette, workbench, air conditioning, and one or two balconies that reveal a stunning seascape.
Website
☏ +30 28250 91377 / +30 6973369373
Gigilos Hotel
This cozy hotel is situated right on the Agia Roumeli beach with riveting views of the Libyan Sea. Enjoy a hearty brunch at the hotel's restaurant-cum-cafe and access free WiFi throughout the property.
The air-conditioned rooms have a private balcony and are furnished with traditional Grecian accents.
Website
☏ +30 2825 091383
Tarra Hotel
This beachfront hotel is located in a picturesque spot that allows you to conveniently walk to Agia Roumeli village and Agios Pavlos beach. For those who wish to stay connected on their gadgets, the hotel provides WiFi throughout the property.
Enjoy a fresh Cretan breakfast, lunch, or dinner with a slew of continental favorites from the hotel's restaurant.
Website
☏ +30 2825 091231
Where to Eat in Agia Roumeli
Treat your tastebuds to gastro delights created from fresh produce from in and around Agia Roumeli by passing by these restaurants.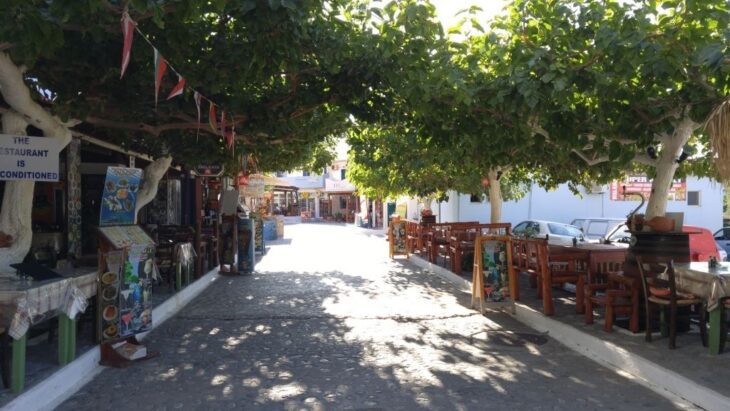 Artemis Restaurant
You will love the unique Greek and Mediterranean food that are served up by an upbeat staff. Pork souvlaki and well-cooked white tuna are some of the flavourful dishes you can expect to enjoy here.
☏ +30 28 2509 3093
Taverna Paralia
Enjoy a round of raki, beer, or wine, which are some of several delicious food items that the restaurant serves its guests. Toothsome broths, divine snacks, and rich meat-based dishes fill the pages of their eclectic menu. Many appreciate the restaurant for its prompt service.
☏ +30 28 2509 1408
Kyma
Dig into a smattering of succulent gyros, grilled meat, crisp, soft baguettes, and cheesy pizzas at this seaside restaurant. This place is famous for serving up a refreshing round of local beer. Kyma's staff is well-known for their hospitality and great food quality.
☏ +30 28 2509 3002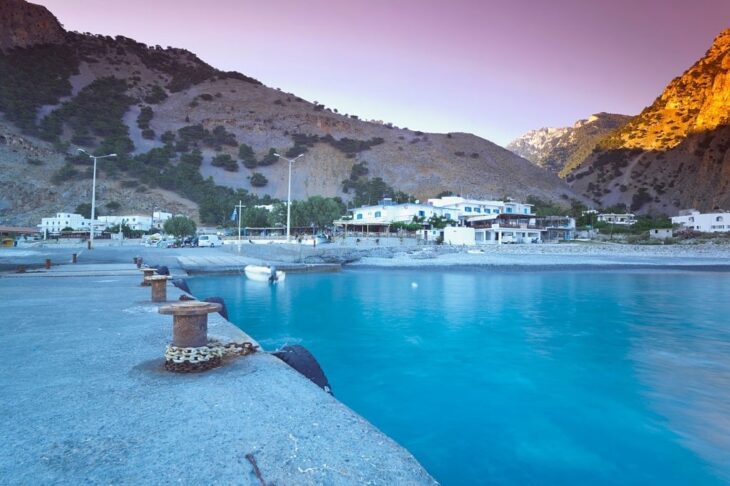 Best Time to Visit Agia Roumeli
The best time to visit Agia Roumeli is in April, May, and October when the weather is pleasant. It can get pretty balmy in June, July, and August.
If you prefer to skip the wet months of January, February, March, October, and December, we suggest traveling in May, June, July, August, or September, when the weather's usually dry. February is a cold time of the year to travel.