The Arkadi Region is named for one of Crete's most beautiful and famous Monasteries. The area is full of historical interest, beautiful nature, and exciting diversions.
Everything You Need to Know About Arkadi, Crete
Where is Arkadi, Crete Located?
Arkadi Monastery is on a plateau, on the lower slopes of Mt. Psiloreitis – also called Mt. Ida. It's near the villages of Margarites and Kapsaliana, about 25 km southwest of Rethymnon.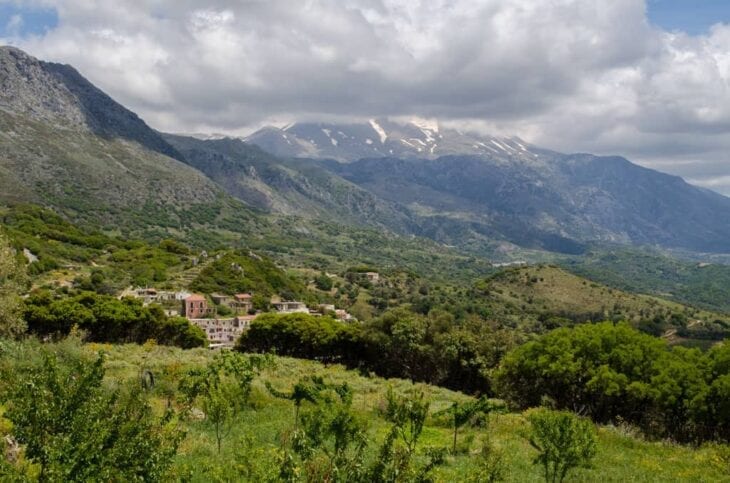 How Do You Get to Arkadi, Crete?
Arkadi is an hour and fifteen minute's drive from Heraklion's International Airport, and a little under an hour and a half's drive from Chania's International Airport. There is a car rental office at Heraklion Airport, so you can get on the road in no time. If you are arriving by boat at either Heraklion or Chania, a car can be brought to you. There are also ferries arriving at Rethymnon, about a half an hour away.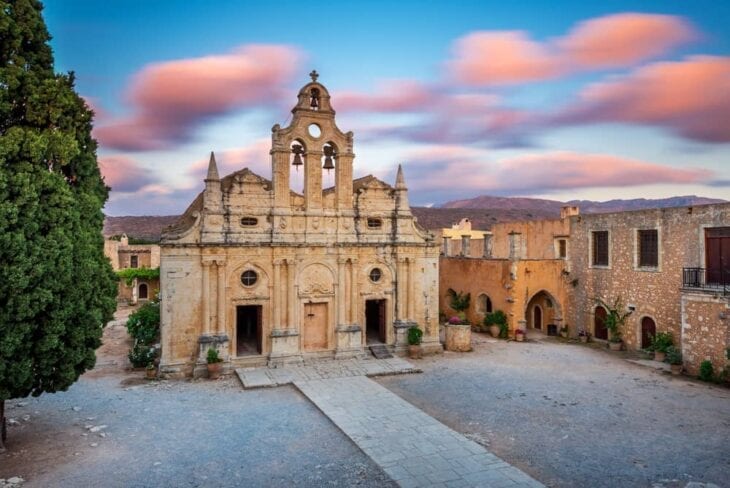 For KTEL bus service from Rethymnon, check here.
The History of Arkadi
This glorious Monastery is not only a spiritual center but also a historic site of great importance.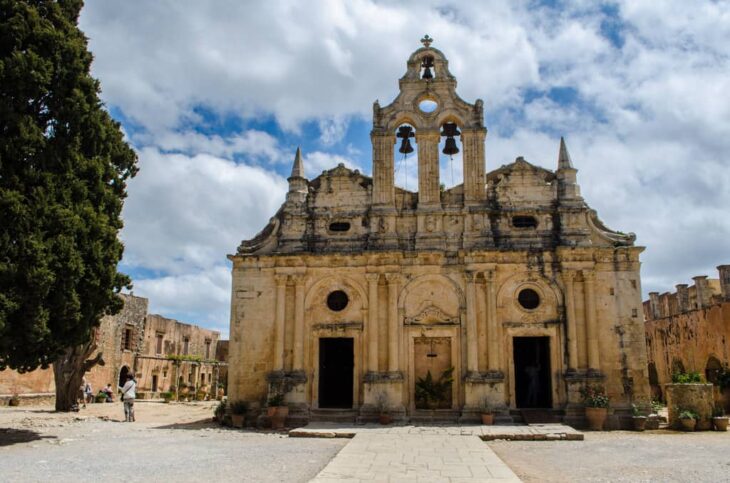 The Moni (monastery) Arkadi itself is thought to date from as early as the 5th century.The origins of the name are also uncertain, with the fact that it was established under the reign of the Roman Emperor Arcadius, who reigned from 385 to 408. Alternatively, like other monasteries in Crete, it could be named after a monk named Arkadios who founded it.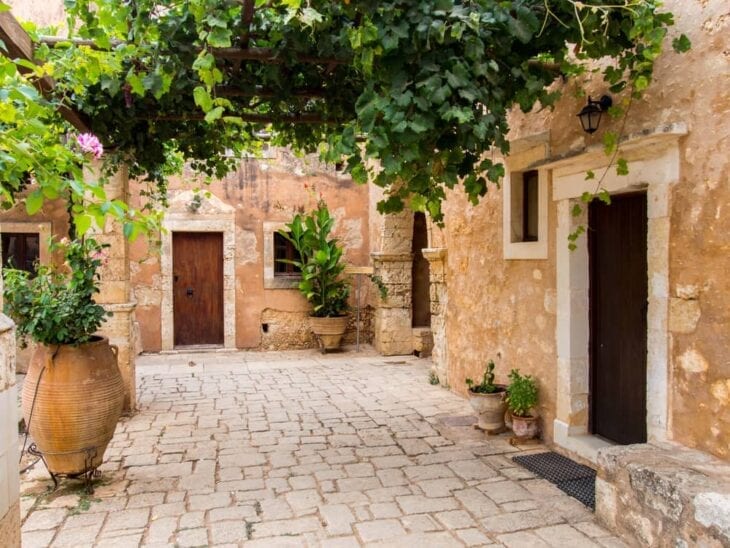 Findings in throughout the area indicate that it was prosperous during the Byzantine era. Another monastery – Moni Arseniou – is nearby.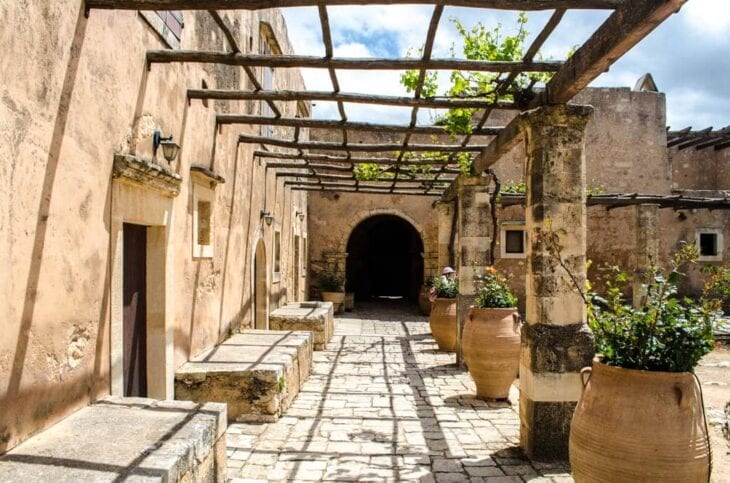 The Arkadi Region is named for one of Crete's most beautiful and famous Monasteries. The area is full of historical interest, beautiful nature, and exciting diversions.
By 1648, the Ottomans conquered much of Crete, but the Arkadi Monastery still continued to prosper, under the name Canli Monastir (the monastery where the bell rings). It supported itself through agriculture – travellers of the day marvelled at its wealth of oil and wine.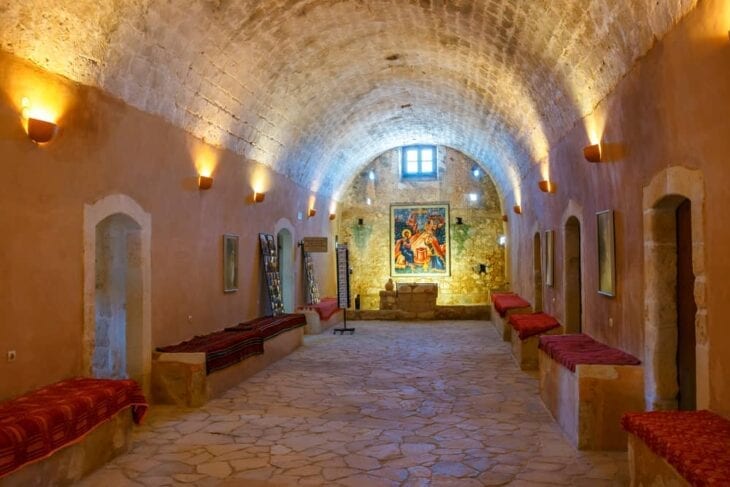 After over 200 years of Ottoman rule, and after the Greek War of Independence that liberated Athens and much of Greece, things came to a tragic turning point. The Arkadi Monastery Holocaust brought the Cretan struggle for freedom to the attention of the world.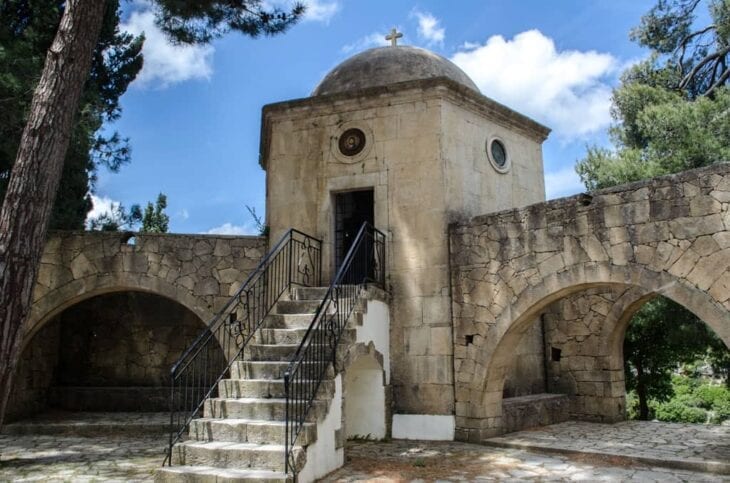 In November of 1866, after the rising of tensions, just under 1,000 people – over two-thirds of whom were women and children – were sheltered in the monastery. Of these, just over 250 were armed. After two days of siege, the Cretan's munitions ran out and many fighters had been lost. The women and children and any other survivors closed themselves into the gunpowder room, and when the Ottoman came, they ignited the powder, sacrificing themselves and killing many Ottomans.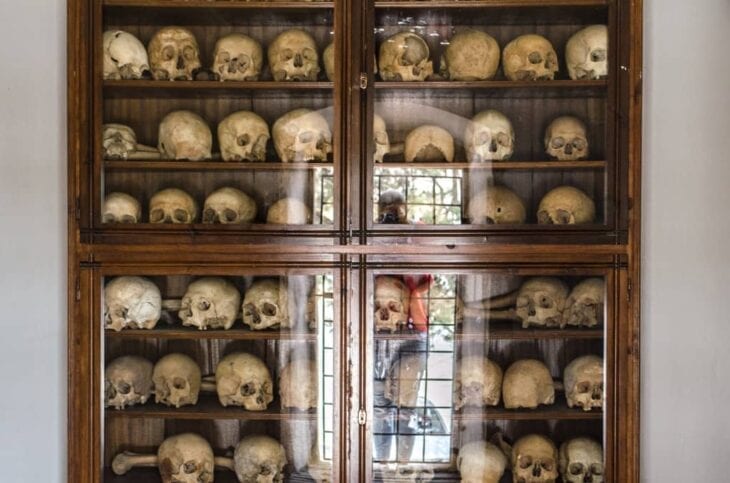 Skulls of the victims of the Arkadi holocaust are in an ossuary outside of the Monastery.
What to See and Do in Arkadi
Besides the Arkadi Monastery, there are many things to do in the region. The neighboring traditional mountain village of Margarites is famous for its pottery. The clay of the town has been famous for its strength since ancient times. In addition to beautiful hand-painted tableware and serving dishes, you can find ancient and very inventive historic pottery designs.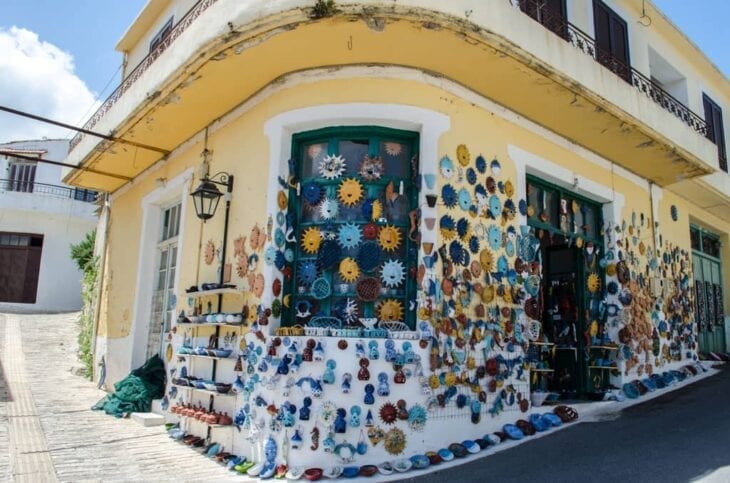 Near the village of Skepasti and close to the sea, the Klados winery is a small, family run winery where you can enjoy the scenery and learn about special Cretan grape varieties, like Liatiko and Kotsifali (red), and Vidiano, Vilana, Plito, and Thrapsathiri (white). The winery is about a half an hour's drive from Arkadi.
Enjoy a Beach Holiday – Gorgeous Beaches Near Arkadi
Crete's north coast near Rethymnon is dotted with many fabulous beaches to suit every taste, many of them fully organised.
The beaches of the south coast are famed for being rugged and beautiful, and are not much farther away.
Geropotamos beach is just over 20 minutes from Arkadi. This is a wild, secluded beach with no facilities, so it is often uncrowded.
The charming town of Bali has several organized beaches, of which Limani- meaning harbor- is the nicest, close to a picturesque harbor where you can find a nice taverna meal. Bali is a 40 minute drive from Arkadi.
The gorgeous sandy cove of Agia Galini beach is on the Libyan sea on Crete's dramatic south coast, surrounded by dramatic cliffs. It's an hour's drive from Arkadi.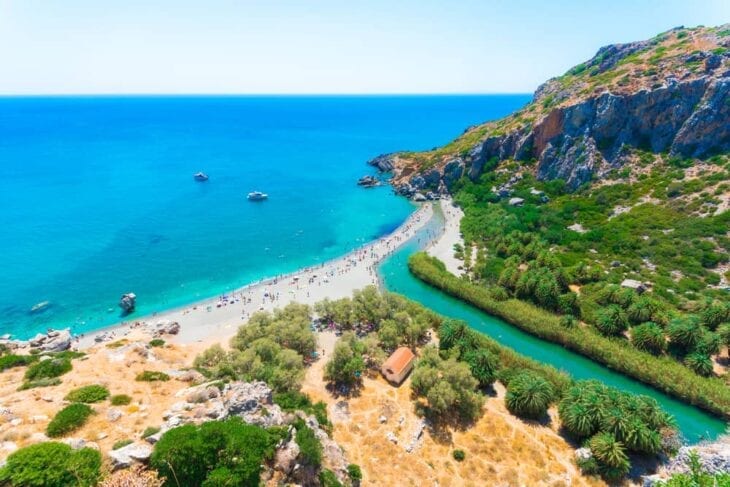 Another beach in the south coast is Preveli – it can be visited by car, with a substantial descent by stairs down a cliff, with magnificent views.
Activities Around Arkadi
Starting just north of the Arkadi Monastery and continuing north for just under 5 km, ending in the village of Pikris, is the Arkadi gorge. There are ruins if the Venetian and Ottoman eras, amid examples of lovely Cretan flora. The hike is rated as an easy one.
A more challenging hike can be found a little less than an hour to the south. The dramatic Kourtaliotiko gorge, named for the "kourtala" – a clapping sound made by the wind as it flows through the narrow passage. The gorge begins in the village of Koxare, and follows the Kourtaliotiko gorge that ends in one of Crete's most famous beaches, Preveli, where the banks are lined with palm trees.
Cultural Excursions Around Arkadi
Arkadi is a grand fortress of a monastery, of great dimensions. The outer protective walls are from 67m to 78m in length, to enclose an area of 5200 square meters. The late 16th century Church is one of Crete's loveliest, a beautiful example of Cretan Renaissance Architecture, with elements of the Baroque.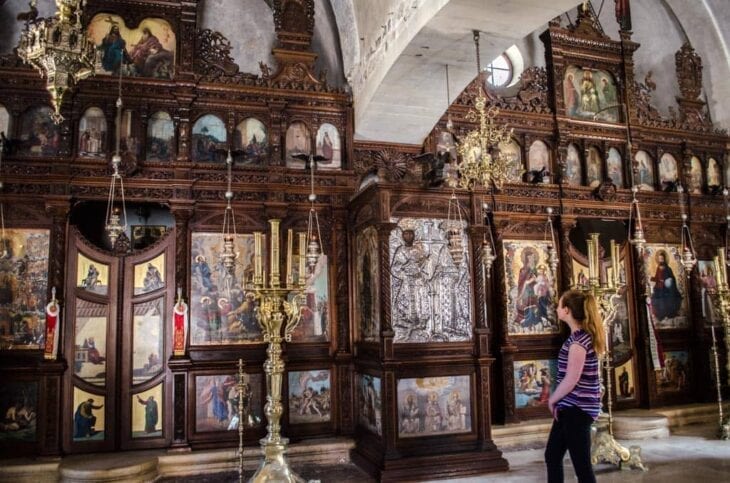 The late 16th century Preveli Monastery makes a wonderful visit, especially if you're on your way to the magnificent Preveli Beach. The monastery, beautifully and dramatically situated high above the sweeping views of the Libyan Sea, is also an important historic monument, known for its active role in the Cretan Resistance during WWII. Preveli Monastery is just over an hour's drive from Arkadi.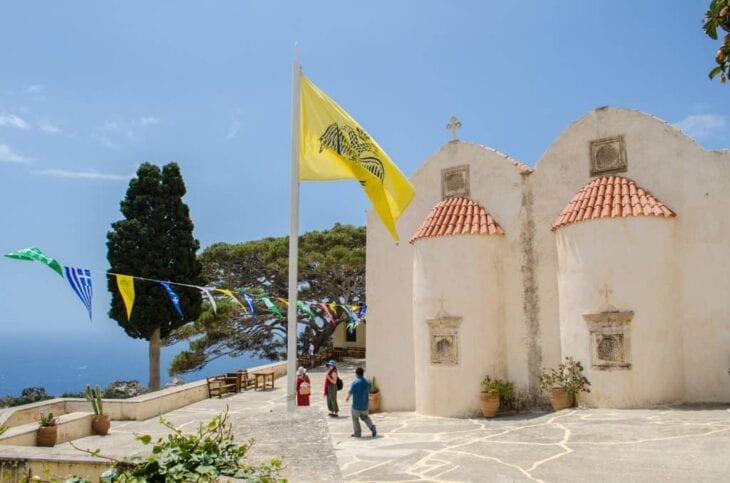 Eleftherna was an important city-state of Ancient Greece, colonized by the Dorians in the 9th century BCE and inhabited until a devastating earthquake in 365 CE. Ruins from the era after the Romans conquered Crete (around 68 BCE) attest to its wealth. Even after the earthquake, a splendid church was built here, in the 7th century. This is an interesting archaeological site with ruins from many of Eleftherna's eras. Eleftherna is 20 minutes from Arkadi.
Where to Stay in Arkadi
The area of Arkadi is flocked with various types and styles of accommodation. Every traveler can find luxury hotels, budget-friendly resorts, and even charming B&Bs. With that said, here are the top ones you should consider trying:
Kapsaliana Village
Kapsaliana Village Hotel in Crete, a part of the Historic Hotels of Europe, offers lodging unlike any other in Crete. A vacation in a community that has been meticulously renovated while paying homage to the land's architecture and history will never disappoint. The hotel features cozy rooms, modern amenities, trademark breakfasts, an outdoor swimming pool with the most magnificent views.
Address: Kapsaliana, Adele, Crete
Website: https://www.kapsalianavillage.gr/
Contact: +30 2831 083400
Loutra Resort
Loutra Resort offers a spectacular view and outdoor pools with direct access to the countryside, mountains, and sea. Free Wi-Fi is available in this accommodation. The air-conditioned rooms boast a balcony: minibar and a flat-screen TV. There is also a fully equipped kitchen with a refrigerator, kettle, and dishwasher.
Address: Loutra, Crete
Website: https://loutraresort.gr/
Contact: +30 6978 110921
Kouriton House
Kouriton House is a 1750 palace in Tzanakiana Margarites in Mylopotamos, a Byzantine village. It has classic stone-built rooms and flats, as well as a huge monastery table where handmade breakfast is served every morning. Your experience here will be enhanced by the peaceful surroundings and views of the mountain, as well as free Wi-Fi.
Address: Tzannakiana, Crete 74052 Greece
Website: http://www.kouritonhouse.gr/framesetenglish.htm
Contact: +30 2831055828
Where to Eat in Arkadi
After exploring the region of Arkadi, you will be sure to have a rumbling stomach waiting to be fed. Here are the best foodie places you should visit:
Yialos Wine Restaurant
If you're looking to have a romantic dinner, look no further than Yialos Wine Restaurant. It is located right on the water front and serves a great selection of Mediterranean cuisine with a fusion touch to it. This restaurant is known for its fresh seafood and local wines.
Address: Akrotiriou 11, Rethymnon, Crete
Website: https://yialos.gr/
Contact: +30 2831 030476
Romeo & Juliet Fusion Cuisine
From meat to seafood to vegetarian dishes, Romeo & Juliet Fusion Cuisine has got it all. This restaurant serves traditional Italian food with a mixture of Crete flavors. If you are looking for an authentic experience that's affordable, then this is the place to go. Many locals and tourists love this restaurant for its good food quality and reasonable prices.
Address: Hamalevri, Rethymnon, Crete
Website: http://romeoandjulietcrete.com/
Contact: +30 694 810 6038
Thavma Coffee Drinks & Cretan food
Coffee lovers, this one is for you. Thavma Coffee Drinks & Cretan food in Rethymnon serves a variety of coffee drinks along with delicious Cretan food. The ambiance this place gives off is laid-back yet modern, allowing you to enjoy your coffee without the hustle and bustle of a busy city.
Address: Near Maroulas village., Rethymnon, Crete
Website: https://www.facebook.com/people/Thavma-coffee-drinks-Cretan-food/100034902407854/
Contact: +30 697 766 0743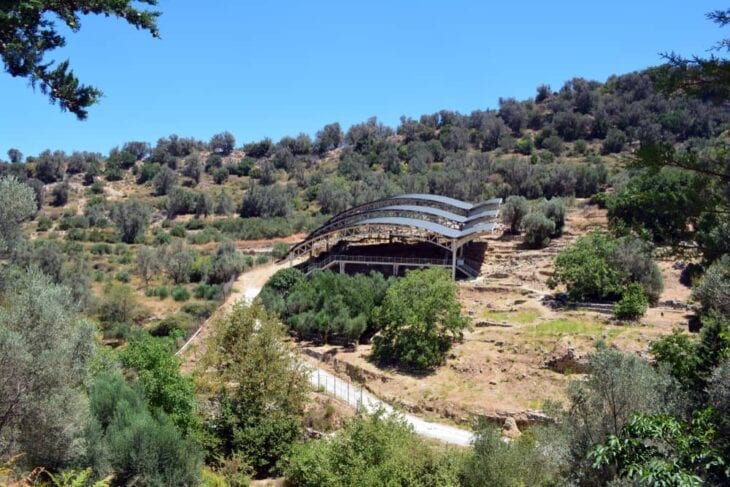 Explore Arkadi
This inland destination in the mountains can make a terrific starting point for exploring this fascinating region of Crete. The drives are absolutely beautiful, part of the pleasure of exploring the island.