Kalamaki is a beautiful seaside resort found in Heraklion Prefecture. The area boasts clear, blue waters, stunning beaches, and lovely restaurants. Whether you're travelling with family or friends, Kalamaki is the perfect place to relax and enjoy yourself. Here are a few things that you should know about Kalamaki.
Where is Kalamaki?
Kalamaki is a small village found in Heraklion Prefecture, south of Crete. It is near the Messara, between Agia Galini and Matala, facing the Libyan sea. Kalamaki, Kamilari and Agios Ioannis comprise a community with a total population of roughly 450 people. Timbaki (6 km) is the closest town, while Mires is a little further away (15 km).
In Kalamaki, you will find everything you require for daily use during your vacation. Mini markets, a bakery, stores, beach necessities, newspapers, and so on are all available. If you need anything specific, Timbaki and Mires have a larger selection of shopping options. There are also pharmacies, a hospital, banks, and a post office.
Things to Do In Kalamaki
There are many things you can do in Kalamaki. You'll never find yourself bored in this beautiful place. Among the activities you should try are:
Day Trip Tours from Kalamaki
What way to make the most of your vacation than to go on day trips? There are many tour companies that offer day trip packages that will give you the best value for your money. You won't only explore the area of Kalamaki but also neighbouring towns and villages. Going on tours will give you more knowledge about the culture and history of Crete. It's a great way to learn more about Kalamaki.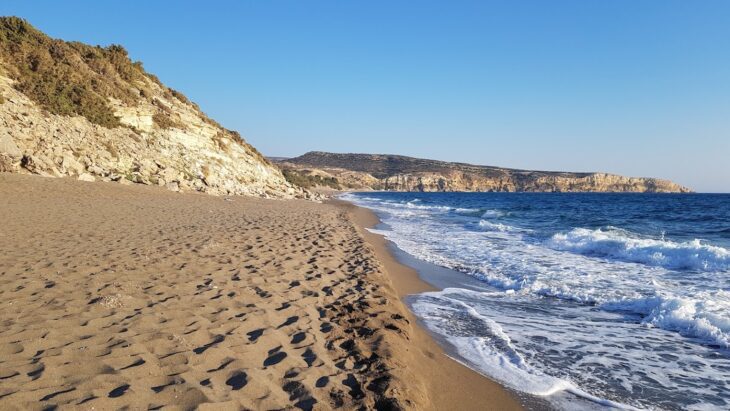 Visit Kalamaki Beach
If you're more into just relaxing and taking in the view, then spend a day or two lounging on the beach. Kalamaki has a long stretch of sandy beach that is ideal for swimming, sunbathing, and simply taking a walk. The beach is popular with families and children since it's safe and shallow. You can also find a few beach bars and restaurants if you get hungry.
Explore the Kalamaki Village
Kalamaki is a small village, but there's still plenty to see and do. Walk around and discover the hidden gems of the town. There are many shops and cafes that you can visit. You can buy olive oil, honey, and other local products.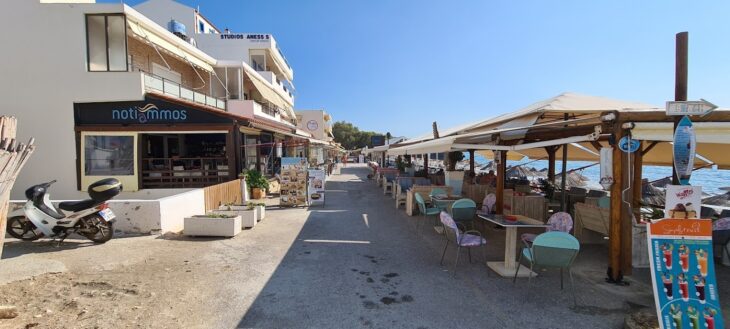 Beaches near Kalamaki
Although Kalamaki itself has a beautiful beach, there are other beaches nearby that are definitely worth checking out. Some of the most popular beaches are:
Kommos Beach
Kommos beach is currently known for its beautiful, long sandy beach, but it was originally a historic town with its own harbour. The Kommos Archaeological Site, about 64 kilometres south of Heraklion, is one of the most significant archaeological sites in Heraklion Prefecture. The beach is sandy with some rock areas and is ideal for swimming.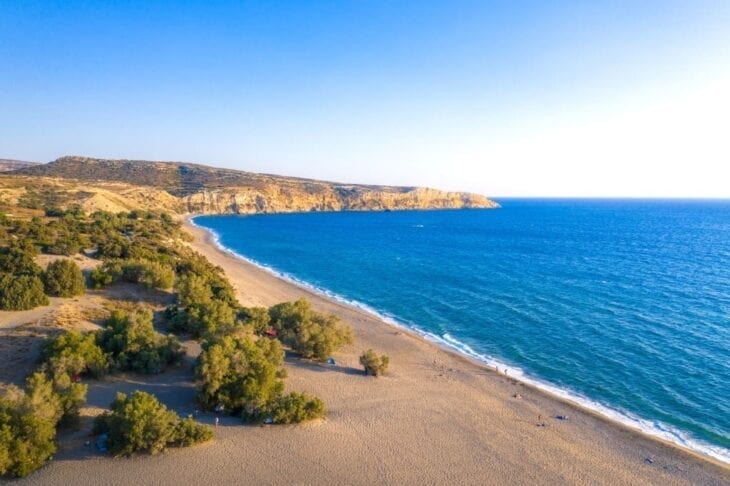 Matala Beach
Matala, located about 11 kilometres from Kalamaki, is a popular beach worth checking out. The beach has sand and pebbles and is great for swimming. It's also known for the amazing view that is found on the cliff nearby. Families can find plenty of activities to do here.
Laganas Beach
If you're in search of a large beach with plenty of activities, then head to Laganas Beach. This beach is located just a few kilometres from Kalamaki and is a popular spot for tourists. The beach has golden-white sand that's ideal for that much-needed sunbath. There are also plenty of restaurants nearby if you're looking to dine.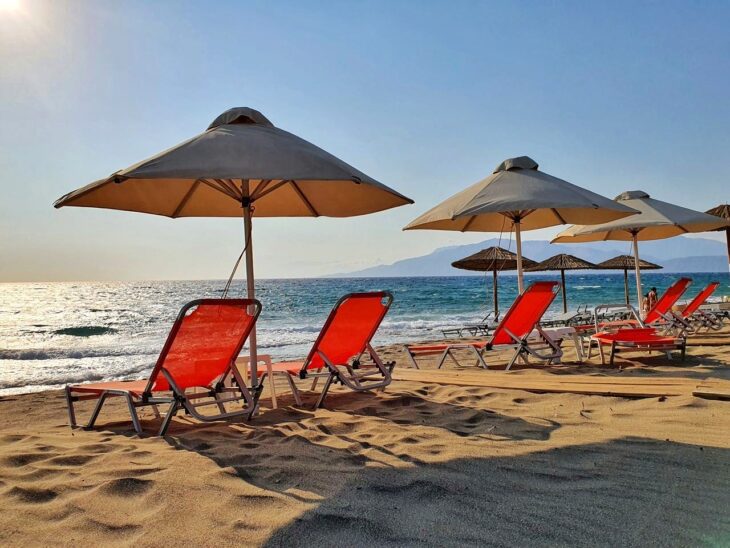 How to Get to Kalamaki
Getting to Kalamaki By Car
The best and most cost-effective way to reach Kalamaki is with a car rental. Other than getting that much-needed privacy, a rental car will give you the opportunity to explore the island at your own pace. You can make stops along the way to take in the sights and sounds of Crete. Plus, you can choose from a variety of rental cars to suit your needs and budget. This is a great option if you're travelling with a group of friends or family.
You can rent a car in Heraklion Airport upon your arrival or book one online before you arrive in Crete. Either way, make sure you have all the necessary documents so you can pick up your rental car without any hassle.
When you get your car from Heraklion Airport, follow the route to Mires and Tymbaki. Turn left onto the road to Kamilari just before you reach Tymbaki. Kalamaki is the harbour of Kamilari and is located about 3 km west of it.
Getting to Kalamaki By Taxi
Another option you can go for if renting a car doesn't suit you is to take a taxi from Heraklion to Kalamaki. This is a more expensive option, but it's still doable if you're in a rush and public buses aren't your thing.
When you exit the Heraklion Airport, there will be a line of taxis waiting to take passengers to their destination. You can inform the driver that you're going to Kalamaki and they will take you there. The ride should only take about 2 hours and 6 minutes and cost around €66. You can always prebook a taxi ride online.
Getting to Kalamaki By Bus
As a last resort, you can take the bus from Heraklion to Kalamaki. This is the cheapest option, but it takes the longest compared to taking a taxi or renting a car since buses tend to make stopovers. You can catch a bus from Heraklion Bus Station to Mires. Once you reach Mires Bus Station, take a taxi to Kalamaki.
There are several buses that operate from Heraklion to Mires every day, which leave every hour. A bus ticket will cost you around €7-8 and will take 1 hour and 37 mins.
Where to Stay in Kalamaki
Accommodation will never be a problem if you're looking to stay in Kalamaki. There are plenty of hotels, apartments, and rooms for rent that will fit any budget.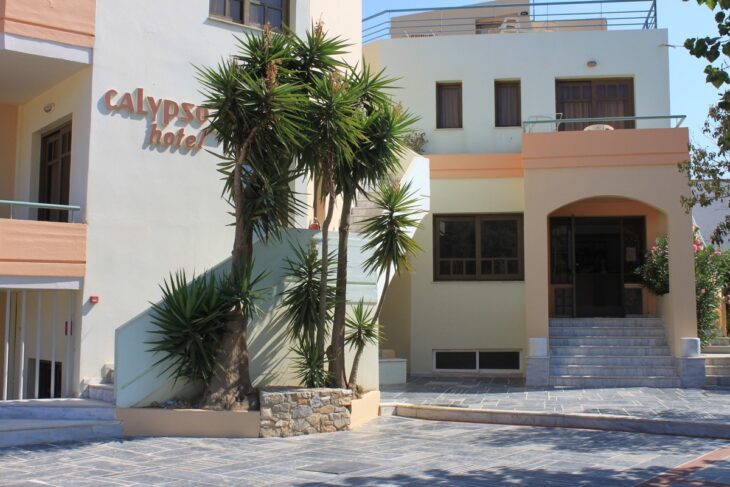 Studio Paradise
Despite the affordability, Studio Paradise offers high-quality services and facilities. Guests can enjoy the beach, sun loungers, parasols, and even a restaurant. The rooms are designed with elegance and provide stunning views of the area.
Address: Kalamaki, Crete 70200 Greece
Website: studioparadise.net
Contact: +30 2892 022919
Philarmonie Hotel
The Philarmonie Hotel is located in the south of Crete with a beautiful garden and pool area on the edge of the idyllic village of Kalamaki. The long sandy beach is only 250m away. Restaurants, cafes, and shops are also within a few minutes walking distance away. Their rooms are spacious, with the latest amenities and free WiFi.
Address: Kalamaki, Crete 70200 Greece
Contact: +30 2892 045797
Kiklamino Hotel
A beautiful accommodation that's known for its affordability, comfort, and stunning location, Kiklamino Kalamaki is the perfect place to stay on your next vacation. It's a family-friendly hotel that offers cosy rooms and a variety of amenities, making it the ideal choice for travellers of all ages. Plus, its close proximity to the beach means you can enjoy days spent lounging in the sun.
Address: Kalamaki, Crete 70200 Greece
Website: https://www.kiklamino-kalamaki.com/
Contact: +30 2892 045259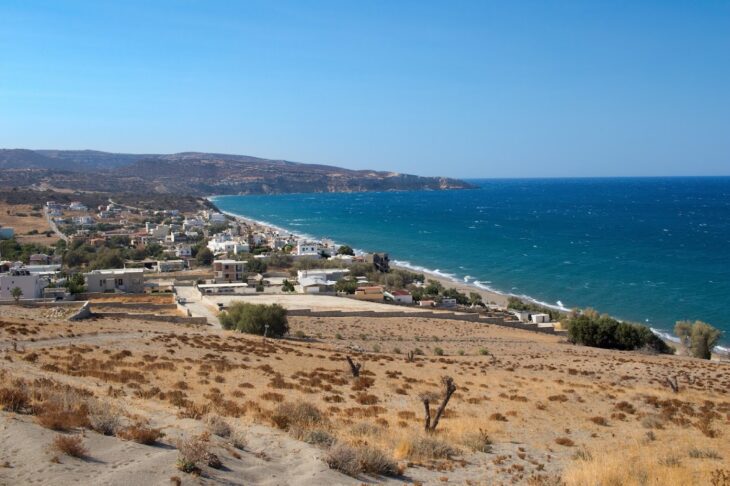 Where to Eat in Kalamaki
You'd be surprised to know that Kalamaki has some of the best restaurants on the island. There are a variety of restaurants that offer both international and traditional Greek cuisine. Some of our favorites include: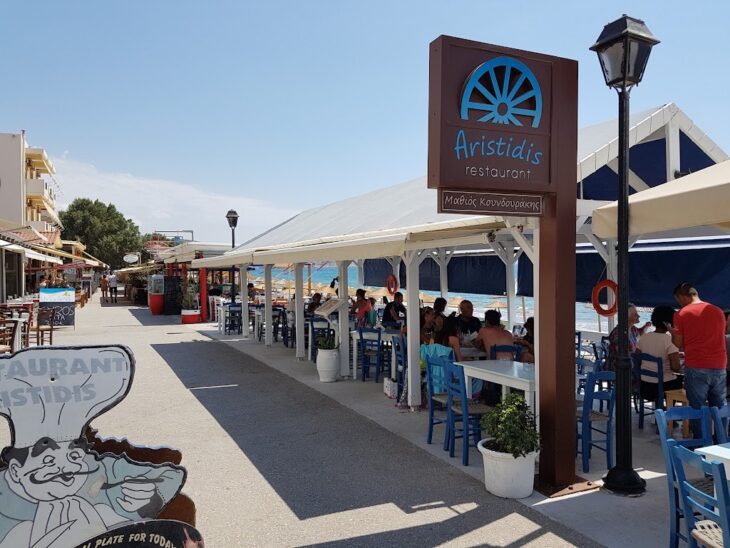 Aristidis Tavern
Aristidis Tavern is perfect for those who are looking for a family-friendly meal. The restaurant has a wide variety of dishes to choose from and offers affordable prices. It's also great for groups, as the restaurant can accommodate large parties.
Address: Kalamaki, Crete Greece
Website: https://www.facebook.com/RestaurantAristidisEstiatorioAristeides
Contact: +30 2892 045606
Giorgos Fish Tavern
You could never go wrong with a restaurant that serves seafood, and Giorgos Fish Tavern is one of the best on the island. The restaurant has an extensive menu that offers Greek cuisine. They're most famous for their delicious seafood, but their fried calamari, tzatziki, zucchini balls, and greek salad are also a must-try
Address: Kalamaki, Crete 70200 Greece
Website: https://www.facebook.com/RestaurantGiorgos?ref=hl
Contact: +30 2892 045311
Best Time to Visit Kalamaki
Although you can always visit Kalamaki throughout the year, the best time to go is during the spring and summer. This is when the weather is at its best and the beaches are packed with people. However, fall and winter can be a bit chilly, so we recommend visiting during those seasons if you're looking for a quieter getaway.