Book with Rental-Center-Crete.com car hire for a hassle-free trip that costs less
The beauty of Heraklion is that it is situated right at the center of Crete Island. Hence, whichever direction you go to, you have innumerable options for sights to see and destinations to explore.
At Rental Center Crete in Heraklion, we will help you get to your desired destination. We have the best facilities and professionally trained crew so you do not have to worry about a thing.
Heraklion Airport is also known as the Nikos Kazantzakis International Airport which is the name of the world renowned Cretan writer and philosopher. This is also recognized as the second busiest airport in Greece, next to Athens International Airport. That is why, it would be much more convenient if you would book for our car hire services so you would not need to endure the hustle and bustle of the airport before you can even get out of there.
Start from Heraklion Airport and explore Crete Island
Getting to various destinations from Heraklion Airport is easy. With our car hire services, you would be travelling the European Route E75 in no time if you would like to get to other major cities like Agios Nikolaos, Rethymno or Chania.
If you do not intend to exit the boundaries of the city, then it is also best to have our car hire which can tour you around. There are too many wonderful sights right at the heart of the city that would make your stay in Heraklion absolutely memorable.
With a car hire that is ready to take you anywhere, you might want to include Ammoudara Beach in your list of spots to visit so you can wash away all your worries and stress. To discover more about the rich heritage of Heraklion, among the spots that you should check out are the Church and Museum of St. Aikaterini, Museum for the Battle of Crete and National Resistance, Venetian Walls and Tomb of Nikos Kazantzakis, Gournia, Loggia and Iraklion Archaeological Museum. These are just to name a few.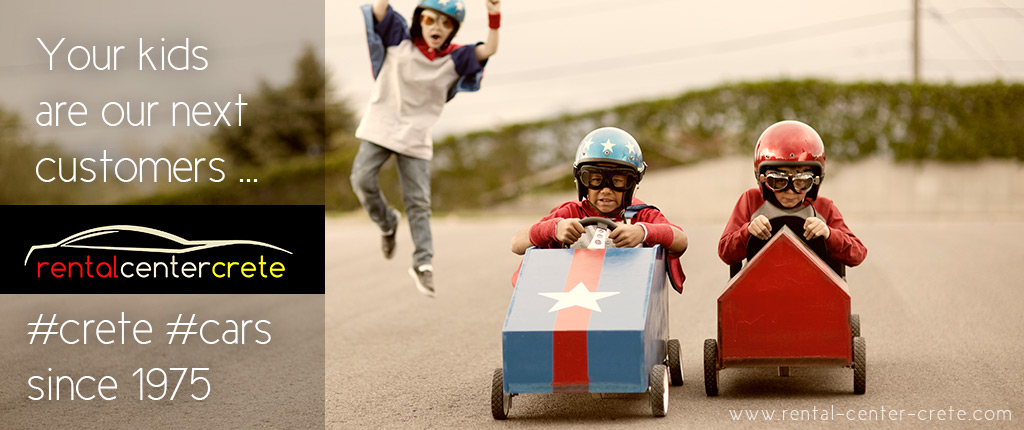 Book now with Rental Center Crete a Rental Car and pick it up in Heraklion Airport
For a more relaxing view, the Cretaquarium Thalassocosmos is a good place to visit because of it is where you can find vast variety of marine species and others. Finish off the trip by relaxing your busy feet in the Doctor Fish Heraklion Foot Spa Therapy. To ensure that you can round up all these destinations without wasting any of you time and energy, book for the car rental by Rental Center Crete. With our services, there is no need to worry about steep fees just to travel around with ease.