When it comes to vacation destinations, you could never go wrong with Heraklion. This city has some of the best beaches you'll ever see. From white sandy beaches that will leave you in awe to cliff-top crags and crystal blue waters, this region has it all. Many tourists flock to Heraklion every year; for this reason, it's easy to understand why.
It doesn't matter whether you are looking for a quiet morning stroll or action-packed days filled with water sports and sunbathing because if you are in Heraklion, you are already on the right track. You will find all kinds of beaches here, with some ideal for families and others perfect for couples looking for a romantic getaway. To make your decision on which beach to visit easier, here are the top beaches in Heraklion you should totally check out:
Red Beach (Matala)
Agia Pelagia beach
Tymbaki beach
Tobrouk beach
Lygaria beach
Ammoudara beach
Amnissos beach
Aposelemi Beach
Vathianos Kampos
Kokkini Hani beach
Tsoutsouros beach
Fodele beach
Psaromoura beach (Agia Pelagia)
Mononaftis beach (Agia Pelagia)
Dermatos beach
Analipsi beach
Gouves beach
Karteros beach
Keratokambos beach
Kokkinos Pyrgos beach
Paleokastro beach (Chelidoni Beach)
Psari Forada (Sidonia) beach
Vathi beach
Linoperamata beach
Gefyri Beach (Hersonissos)
Saradaris beach (Hersonissos)
Beaches Far From Heraklion City Center
If you want to get off the beaten path and be surrounded by nature, some of the best beaches in Heraklion include those located far from the city. The beaches here aren't as crowded as those within the city center, but they still offer all kinds of amenities and activities you can enjoy. You could go swimming, boating, scuba diving, or even parasailing, whatever your preference, you'll find it here:
Psaromoura Beach
Psaromoura is a small beach with an excellent seabed fit for snorkeling. A well-kept beach with blue waters where water sports are available. Distance from Heraklion is 21.8 km.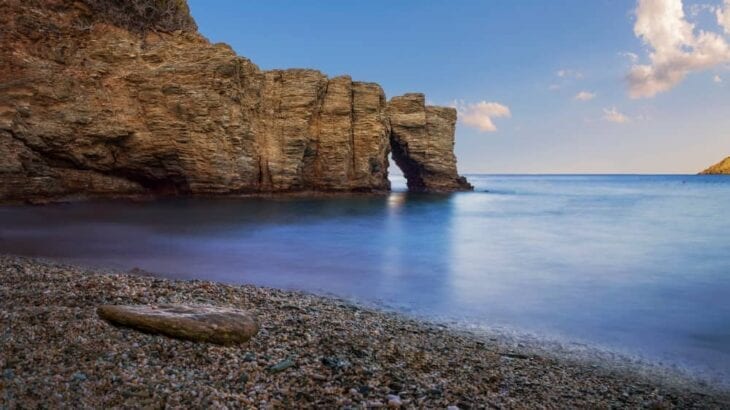 Psaromoura is a little hidden beach found in Agia Pelagia. It is equipped with loungers and umbrellas, as well as a small bar that serves beverages. This place is ideal for travelers since the beach offers some of the most stunning views you'll ever see. The crystal blue waters here are surrounded by jagged rocks, which also makes it perfect for snorkeling and diving.
If you like swimming with the fishes, you'll love the clear waters on this beach. It has a number of rock formations that you can explore with beautiful scenes to behold. Psaromoura Beach is often frequented by scuba divers and advanced swimmers, but it's also ideal for beginners since the waters are mostly tranquil. You can even go for an epic dive since there are small cliffs surrounding the beach.
Overall, it's a great place to unwind and relax with friends.
Fodele Beach
Fodele beach is a long white sandy beach, partially maintained with clear blue waters. Exposed to northwest winds, so precaution is needed. Fodele beach is only 25 km from Heraklion's center.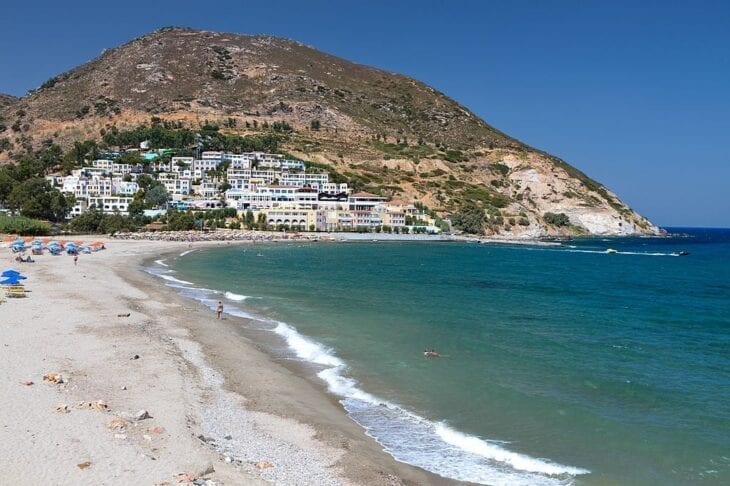 Fodele Beach is another must-visit beach if you want to escape the bustle of the crowds. It boasts stunning landscapes for you to explore, with a well-maintained beachfront that offers everything you need to have the perfect vacation. The western part of the beach houses a large resort with sunbeds and umbrellas perfect for relaxation. On the other hand, the eastern part of the beach is untouched and not always visited, which is a wonderful thing if you'd rather have the place to yourself.
The waters here are clear and perfect for swimming. You'll also see some rock formations as well as brilliant water effects from sunlight, making it a sight worth beholding. Fodele Beach is popular with families thanks to its smooth white sand and relatively shallow seas good for kids. However, because the waters are exposed to strong winds, they are not as calm. If you wish to escape currents and waves, head to the western side of Fodele, near the little pier.
Ligaria Beach
Ligaria is located 21 km northwest of Heraklion. It is a well-maintained beach with sand and pebbles. Rock formations are also found around the area. It has blue waters with rich marine life, ideal for water activities.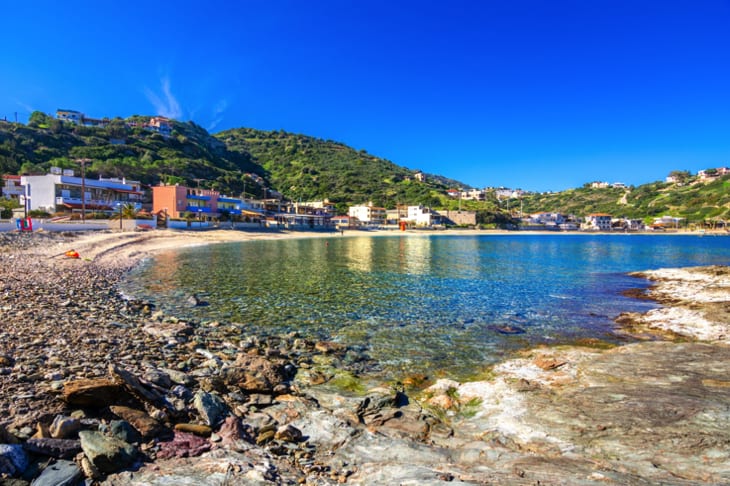 Ligaria beach features a combination of coarse sand and pebbles. The entrance to the sea is a little difficult due to large flat rock formations. However, the view that greets you as you get further into the beach makes it all worth it. Ligaria gives you a relaxing time away from the classic sandy beaches many of us are so used to.
It is a serene location ideal for couples looking for a romantic time alone. When it comes to underwater marine life, you'll be in awe to see a variety of different fishes swimming around. Conditions here are ideal for those who are looking forward to a water sports experience. Plus, octopuses are known to swarm the waters.
Aposelemi Beach
Aposelemi beach is just 25 km away from Heraklion. Secluded fine sand beach with crystal clear waters. Strong winds are present, so surfing and windsurfing are ideal here.
Since this beach is fairly secluded, not many tourists know about it. Compared to its neighbor, Aposelemi is a little more quiet and serene. The beach has a lengthy stretch of excellent golden sand. A beautiful pond, formed by a mountain river, is located just on the coast. Of course, this is a favored spot for birds, giving the region a beautiful natural feel. Because the beach is exposed to the winds, the water is a little rough. This makes it ideal for those looking to try different water sports such as surfing and windsurfing.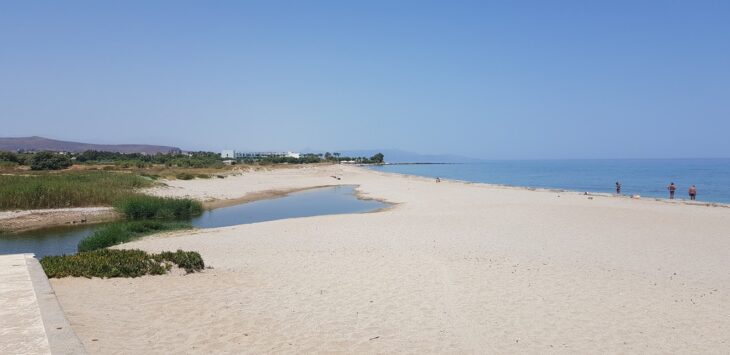 If you're done with your refreshing swim, you may relax in one of their sunbeds while enjoying a nice drink. Overall, Aposelemi Beach is a perfect place if you want to indulge yourself in serene isolation without sacrificing the quality of your vacation.
Agia Pelagia Beach
Modern beach with soft and fine golden sand. The spot is ideal for various water activities such as diving and snorkeling. Taverns and restaurants are available nearby. Distance from Heraklion is 21 km.
Agia Pelagia Beach is one of the finest spots in North Heraklion, Crete. Agia Pelagia's main beach boasts golden sand and crystal blue waters. The beach is very popular with tourists despite being a bit far from Heraklion's city center.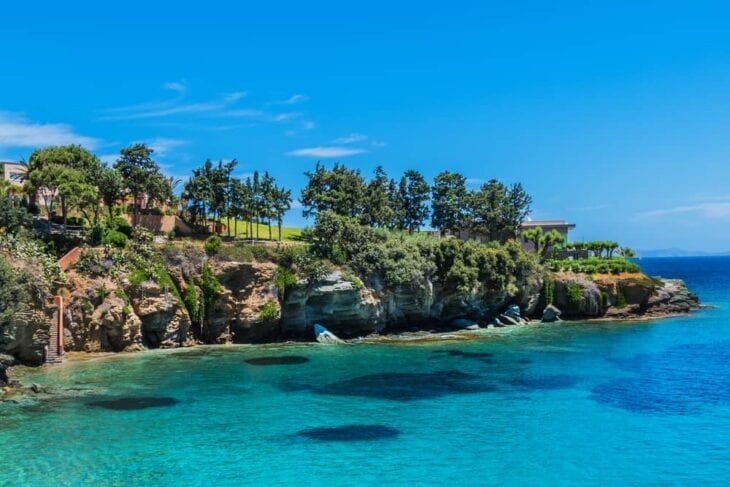 Many families visit the beach during the summer since it is suitable for children. You can also enjoy various water sports activities here, such as jet skiing and banana boating.
This fine strip of golden sand is known to be one of the best in Agia Pelagia. The calm waters are perfect for swimming, while sun-beds and umbrellas are available if you wish to relax by the beach with a drink in your hand. Several tavernas offering food and refreshments are also nearby. This place may not be as secluded as some beaches on Crete, but it will definitely give you a relaxing time away from everything else.
Gorgeous Beaches Near the City of Heraklion
Although it's fun to head out far from the city, it'll be a shame if you miss out on some of Crete's finest beaches near its capital, Heraklion. Many outstanding beaches are located within close proximity to Heraklion. The best thing about these beaches is that you can take a short trip from the center of town and still have a great time.
Ammoudara Beach
Ammoudara beach is located only 7 km from the center of Heraklion. It is one of the most popular resorts in the area. Since the city of Heraklion actually lacks a good beach next to the city, Ammoudara is the first option that visitors have to check the seaside of Crete upon arrival.
Paleokastro Beach
Only 15 km away from Heraklion. It is a secluded golden sand beach with crystal clear waters. It's found beneath the ruins of an old castle and is an exceptional spot for swimming. Tavernas surround the area as well.
This small beach is tucked away in a bay, safe from harsh winds. As a result, the water is calm, making it perfect for swimming. This beach boasts of fine golden sand and crystal clear waters. It is often called "the jewel of the city" since many enjoy its peaceful atmosphere. The beach lies 15 kilometers from Heraklion and is easily accessible from the highway, beneath the ruins of an old castle.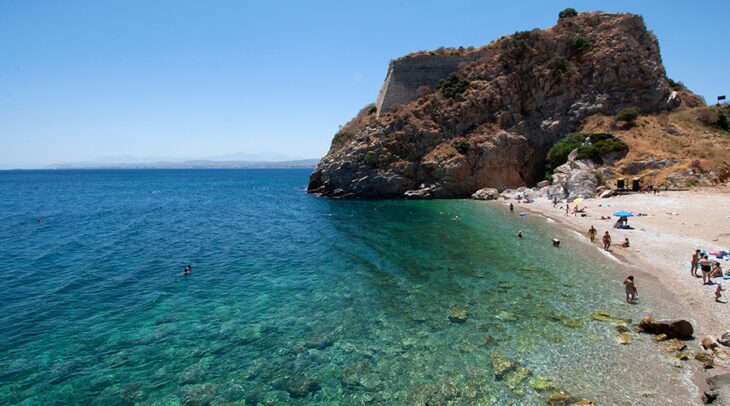 The scenery is breathtaking, with cliffs on both sides. Although there are no sun-beds or umbrellas available, there is a shower where you can freshen up after a swim. Furthermore, the highway bridge on top of the area provides shade to half of the beach.
The waters progressively go deeper and are very clear. A few fantastic Greek tavernas with superb homemade meals are not far away. You can grab a delicious bite to eat and wash it down with a refreshing beverage before going back for another swim.
Vathianos Kampos Beach
A beach with a mix of sand and pebbles. It's only 15 km away from Heraklion and is a popular spot among the locals. The water is clear and shallow, ideal for families with kids.
If you want to try something different, Vathianos Kampos is a great beach to go to. Not only is it located close to the city, but it also has a unique characteristic. The beach contains remains of an antique Minoan shipyard that can still be seen in the sea. When you head to the east, you'll come upon a series of coves separated by little piers. Since the sea is quiet and shallow, it's ideal for a peaceful swim.
You don't need to worry about the sun's heat because there are umbrellas and sun-beds available. This place is perfect for families with younger children, too, as the shallow sea will keep them entertained. Marine life is another highlight, so swimming can be a lot of fun.
Gouves Beach
Sandy beach with shallow clear waters. It's only 18 km from Heraklion and a great spot for families. Rock formations are also found in the area.
This beach is found in the very famous resort village of Kato Gouves, just a few kilometers away from Heraklion. The soft sandy beach runs the length of the village, and various rock formations can be found along the coast. It is a wonderful spot for swimmers and sunbathers who want to relax in tranquil privacy. Although strong winds are present in the area, you can always find shelter in the little piers.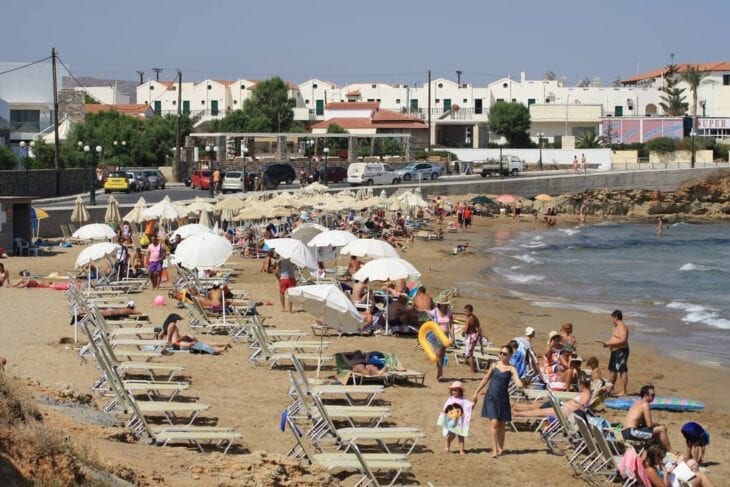 If you are looking for a beach to visit during the summer months, Gouves can't be beaten. The beach is well-organized; you may rent umbrellas and use showers, as well as participate in all of the events offered by local diving centers and water sports. The sea entrance is charming, and the shallow, crystal-clear waves are ideal for small children.
Amnissos Beach
Amnisos beach is a beautiful beach with sand and pebbles. The waters are shallow but get deeper as you swim further, snorkeling is possible. Pubs and tavernas surround the area.
If traveling far isn't your thing, you can go to Amnissos, which is only 9 km away from Heraklion. It's a long sandy beach with calm waters, and it's perfect for both families and couples. The beach might get pretty packed during the peak season because it is fully organized, but you'll have no problems finding a quiet corner where you can relax since there are plenty of them.
The crystal-clear water will draw you in like the Sirens of Homer's Odyssey, and the shallow waves make it an ideal spot for travelers with kids. The waters gradually become deeper, so snorkeling here is possible too. In addition, a wide range of pubs and tavernas can be found right by the beach, so you won't have to go far for a quick bite to eat after your swim.
Kokkini Hani Beach
Kokkini Hani Beach is just 14 km away from Heraklion. It's favored by many tourists and is full of sand with pebbles. Bar, tavernas, and hotels flock the area. Water sport activities can also be done here.
Kokkini Hani is one of the most popular beaches to tourists. Dive into the abyss as you swim in the crystal clear waters. There are also many organized activities to take part in, such as scuba diving classes. Plus, you no longer have to travel far since it's near the heart of Heraklion.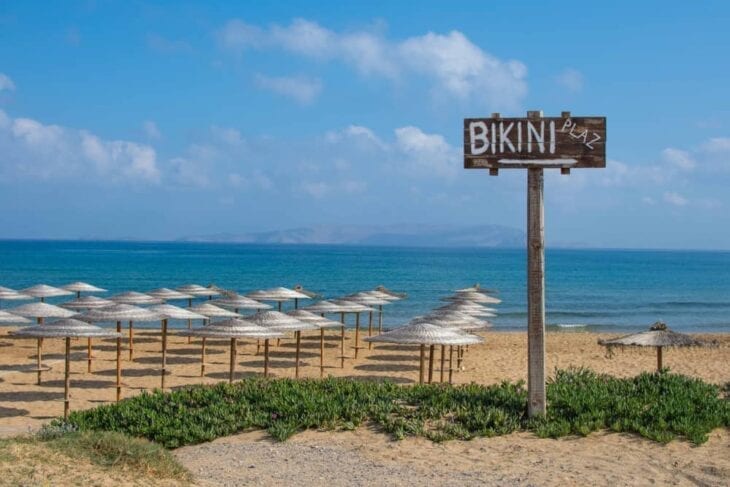 Among the things that make this beach so unique is the fact that it's located in such a prominent spot. Many cafes, hotels, and tavernas are found around the area, which makes your vacation more enjoyable. You can also just sit back and relax on the sand while taking in the beauty that surrounds you if moving around isn't your thing.
More about Heraklion:
Also Read: