Whether you're a fanatic of history, a lover of fine art, or perhaps just someone who's curious about the past, Heraklion is brimming with museums that are perfect for satisfying your interests. With that said, here are the top museums you should certainly visit.
Archaeological Museum of Heraklion
The first museum you don't want to miss out on would be the Archaeological Museum of Heraklion. This museum was built between 1935 to 1958 by the famous Greek architect Panagiotis Kalkos and is located in the city's historical center.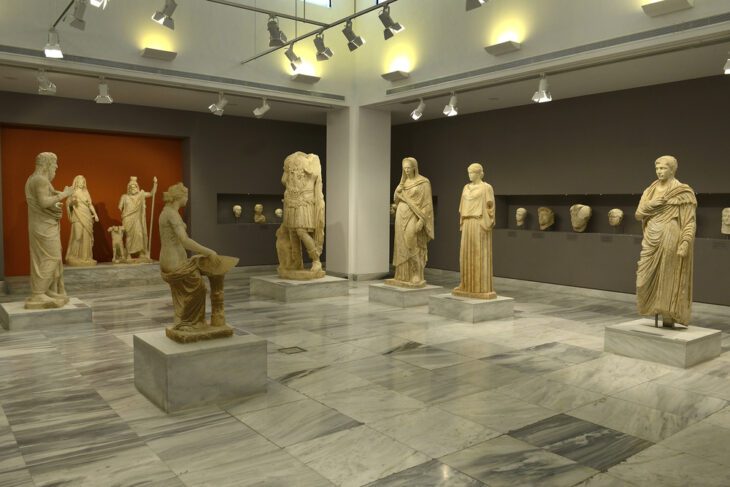 Many people consider the Archaeological Museum of Heraklion one of the best ancient art museums in Europe, not only because it has many pieces on show but also due to its impressive architecture.
The museum houses an extraordinary collection of artifacts that are over 5,500 years old! By visiting this site, you may learn about the social, cultural, and economic elements of life during the prehistoric periods. You can even discover fascinating historical pieces from the Minoan era, such as frescoes, vases, and pieces of jewelry.
If you want to make your experience even better, head on to their audio-visual section to see how some of the historical discoveries looked like in their prime.
The museum showcases 27 galleries where you can explore various items and topics ranging from the Neolithic era to the Late Roman period, providing you with a broad historical view of the region's past.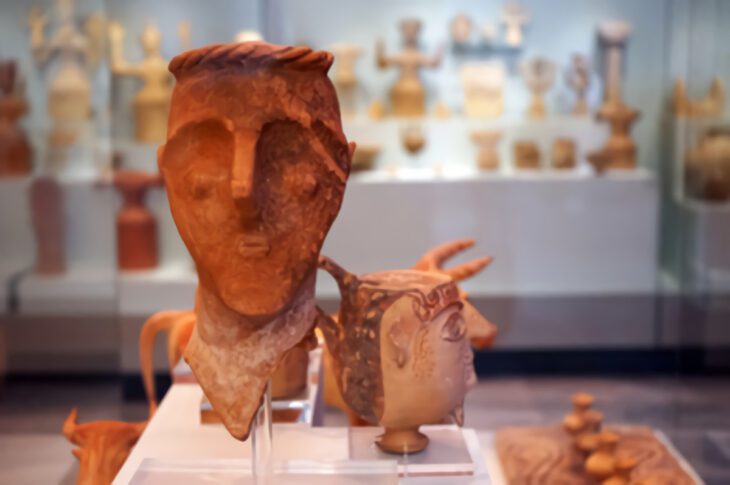 The Heraklion Archaeological Museum is without a doubt one of the best things to see when in Heraklion, so make sure you add this museum to your must-see list!
Location: 2 Xanthoudidou 2 Street, Heraklion
Operating Times:
> Winter: Monday: 9 AM – 4 PM, Tuesday: 10 AM – 5 PM, Wed-Sun: 9 AM – 4 PM
> Summer: Monday: 8 AM – 8 PM, Tuesday: 10 AM – 8 PM, Wed-Sun: 8 AM – 8 PM
Tickets:
> Full ticket entrance price – €12
> Reduced ticket entrance price – €6
The museum's schedule may change, so be sure to check their official website for updates to be sure.
From April 1 to October 31, you can get 3-day access to both the Archaeological Museum and the Knossos Archaeological Site by purchasing a special ticket package for €20. (one visit per site allowed within the 3-day time-span).
The entrance fee to the Knossos Archaeological Site is €15, so you can save more if you decide to purchase the special ticket package.
Rocca a Mare Fortress (Koules)
If you want to try something different from your usual museum visit, you might want to go for an adventure in a classical fortress.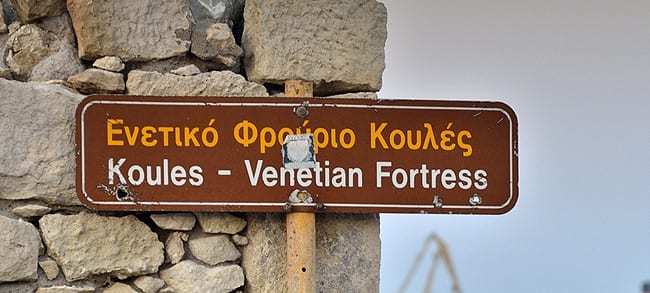 In particular, Koules Fortress is one site that offers excellent views of the sea and the old port that's perfect for a photo-op. This fortress was built by Venetians during the 13th century, designed to strengthen their control over the city's seaport.
For centuries, this was used as a place to store food and supplies for the military and a protection base during sea storms. The Venetian architectural style of Koules has been well-preserved, so you can still enjoy its medieval look even to this day.
Inside the fortress, you can see several artifacts that belonged to the resistance of the Cretans and the Ottoman conquest during the Cretan war in 1645–1669. Old cannons, weapons, and ancient amphorae are just some of the items that are found in this fortress.
You can also visit their shipwreck exhibit, which displays remarkable underwater discoveries made by Jacques Custeau at the nearby Dia island.
Location: Venetian harbor, Heraklion
Operating Times: Mon-Sun: 8 AM – 6 PM
> The opening hours of the fortress may vary depending on the season. To ensure you don't encounter any inconveniences, be sure to verify through their official website for updated information
Tickets:
> The entrance fee to the fortress is €4.
Lychnostatis Open-Air Museum
Lychnostatis Open Air Museum is a museum located in Hersonissos, 24km away from Heraklion. It is a private foundation established in July 1992 and centered on ophthalmologist Yiorgos Markakis' collections.
Mr Yiorgos Markakis, along with other local workers, started building the museum in 1986, eventually turning into one of the most favorite places to visit in Crete. The museum was initially made using basic elements such as wood and stone, without any machinery, making the place truly authentic and unique.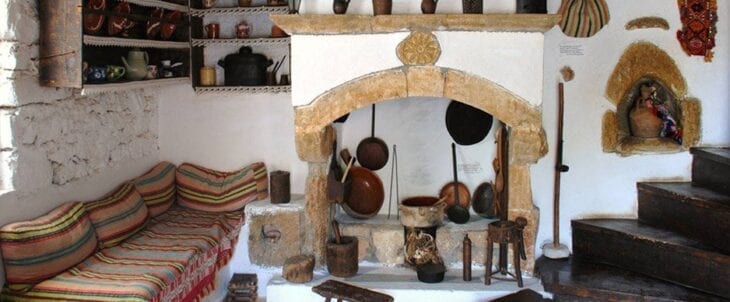 At present, the complex has a variety of exhibitions and open-air spaces where you can enjoy and discover the rich history of Crete. You may learn more about Cretan people's daily life by visiting finely reconstructed rooms and workshops. Tradition, folklore, and ethnological heritage abound in this place, so if you're into learning about Greek culture, this is an ideal place for you.
To make things even better, the museum also offers an audio guide that explains in great detail the history and characteristics of every exhibit in the museum. Kids may also touch the tools found on the site as long as their family members accompany them.
The museum hosts a variety of activities, including traditional dance performances, theater and wine and honey tasting. After you've finished touring, take some time to check out the beach, which is accessed through the museum's back entrance. The beach provides an ideal space to sit and relax with a scenic view of the sea.
Location: Hersonissos, Heraklion region
Operating Times: Monday-Saturday: 9 AM – 2 PM, Sunday – Closed
Tickets:
> Standard ticket price: €6
> With audio guide: + €2 (on top of the standard ticket price)
If you visit the museum a second time, the entrance will be free.
Nikos Kazantzakis Museum
As one of the most prominent writers in Greece, Nikos Kazantzakis' name deserves to be one of the top places to visit in Crete. To honor his talent and give tribute to his life, Heraklion has opened a museum dedicated solely to his collection and personal items.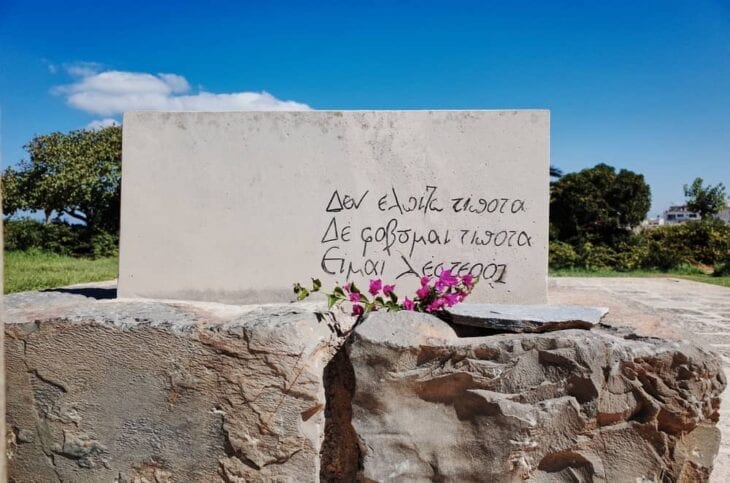 Nikos Kazantzakis was born on the 8th of April 1883, and he died on the 26th of February of 1957 at the age of 74. He was a writer with numerous notable works under his belt, including Zorba The Greek. His works are now recognized as masterpieces all around Europe.
Nikos Kazantzakis Museum is found in Heraklion and is a famous spot for tourists to visit. Inside, you can find his personal items, including manuscripts, letters, photos, and articles related to his daily life.
The museum also displays some of the art pieces that he created during his time in Germany, as well as many exhibits that showcase costumes that were worn by notable actors who performed in theatrical plays written by Kazantzakis himself.
What's more, the site the museum is standing in is a house that belongs to Kazantzakis' relative. It is a preserved building that still has a touch of the famous author's presence. Visitors can genuinely feel his geniality and charisma just by spending a couple of minutes inside or strolling around the museum.
Location: Myrtia village, Heraklion region
Operating Times:
> Winter: Mon-Fri: 10 AM – 3 PM, Saturday: Closed, Sunday: 10 AM – 3 PM
> Summer: Mon-Sun: 9 AM – 5 PM
Tickets:
> Standard ticket price: €5
If you choose to visit the museum, take advantage of the journey and explore the mystical Neraidospilios, also known as the "cave of the fairies". The place is only 5 kilometers from Myrtia village, where the museum is located.
Natural History Museum of Crete
If you're into animals and ecosystems or perhaps have kids that are fond of these subjects, the Natural History Museum of Crete will be a must-visit in Heraklion.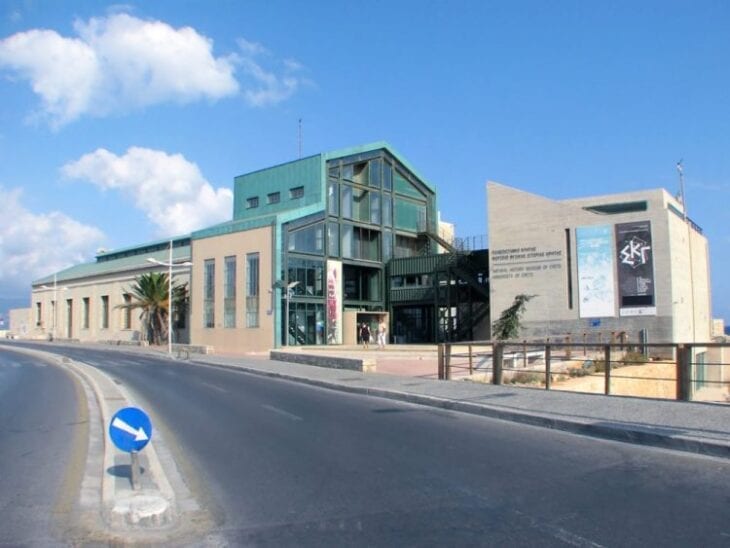 The museum showcases a wide variety of animal species from the Mediterranean region, including Crete as well as the whole of Greece. You can learn about how animals used to live and the differences in their diet and behavior.
Also, don't miss out on the Natural History Museum's exhibit section, which shows many of Crete's endemic species fossils, which are on display for you to check out. Some of the animals you'll come across include bears, deers, and even dinosaurs.
The museum also has an aquarium that displays a wide range of fishes and other marine life that can be found in the Aegean Sea.
Location: Sofokli Venizelou Avenue, Heraklion
Operating Times:
> Mon-Fri: 9 AM – 3 PM, Sat-Sun: 10 AM – 6 PM
Tickets:
> Standard admission price: €7.5
> Reduced admission price: €4.5
Museum of Christian Art
As you visit the 13th-century Monastery of St. Catherine of Sinai, you can get a glimpse of a unique museum that features religious art. The Museum of Christian Art is another must-see in Heraklion.
The museum has a magnificent collection of religious items from Cretan monasteries. When visiting the site, you will witness stunning pieces spanning from the second Byzantine era to the end of Ottoman rule.
Wood sculptures, frescoes, manuscripts, and even metal works are just some of the devotional items you can find in this museum. However, the main attraction would be the works dedicated to Angelos Akotantos, a Cretan hagiographer from the 15th century.
Location: Karterou Street, right next to Agios Minas Cathedral, Heraklion
Operating Times:
> Mon-Sat: 9 AM – 5 PM
Tickets: Standard ticket price: €4
Historical Museum of Crete
With a history that dates back to 1953, the Historical Museum of Crete is another one of Heraklion's best-kept attractions.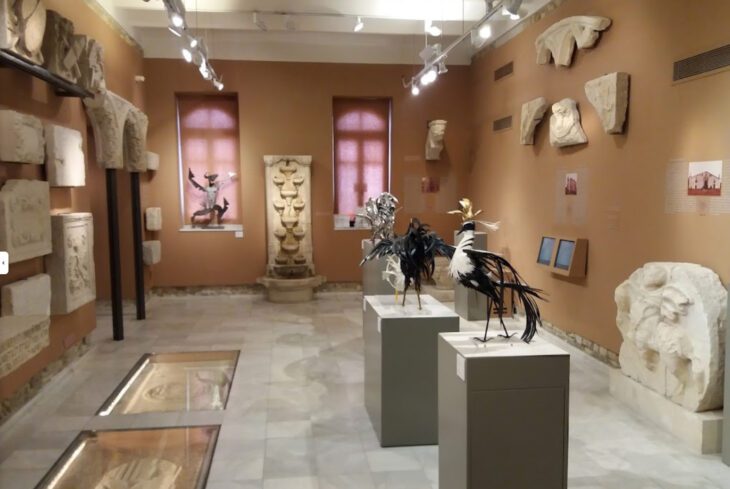 It features artifacts and information pertaining to Crete's culture, traditions, and way of life. A remarkable collection of antiquities dating from the Byzantine era to the 20th century is also on display.
In addition, collections and art dedicated to historical events such as the World War II Crete battles are on display for you to explore. If you're more poetic, the Historical Museum also showcases pieces from famous Cretan writers like Kazantzakis and Elytis.
The museum even features excellent media devices that make it possible to learn about history in a highly interactive way. As you can see, visiting the Historical Museum is indeed an experience that makes you feel you're traveling through time.
Location: Leof. Sofokli Venizelou 27, Iraklio 712 02
Operating Times: Monday: 9 AM – 3 PM, Wed-Fri: 9 AM – 3 PM, Sat-Sun: 11 AM – 4 PM
Tickets: Standard ticket price: €5. The museum is free for children under the age of 12.
Admission is free for everyone every first Sunday of the month.
Municipal Museum of the Battle of Crete and the National Resistance
Established by the Municipality of Heraklion in 1994, the Municipal Museum of the Battle of Crete and the National Resistance is a great place to visit for those interested in war.
This museum serves as a memorial to the events that occurred in Crete during WWII. The extensive collection of newspapers, documents, and photographs will portray the tale of the island's tragic period.
Other items you can expect to find are uniforms, weaponry, and documents that depict the resistance movement during the time of war.
In addition to showcasing a range of materials dedicated to the past, the museum strives to encourage awareness and respect for Crete's history.
Location: Doukos Beaufort and I. Chatzidaki, Heraklion
Operating Times: Mon-Sun: 8:30 AM – 3 PM
Tickets: Standard ticket price: €4
⚠ According to the official website of Heraklion, the museum will be transferred soon to a new venue, so be sure to reach out to them before visiting.
Museum of Ancient Greek Technology of Heraklion "Kostas Kotsanas"
Last but certainly not the least is the Museum of Ancient Greek Technology of Heraklion "Kostas Kotsanas".
Although the museum is a bit small compared to the other ones on the list, it offers a remarkable collection of wondrous exhibits that showcased ancient Greek society's technological advancements.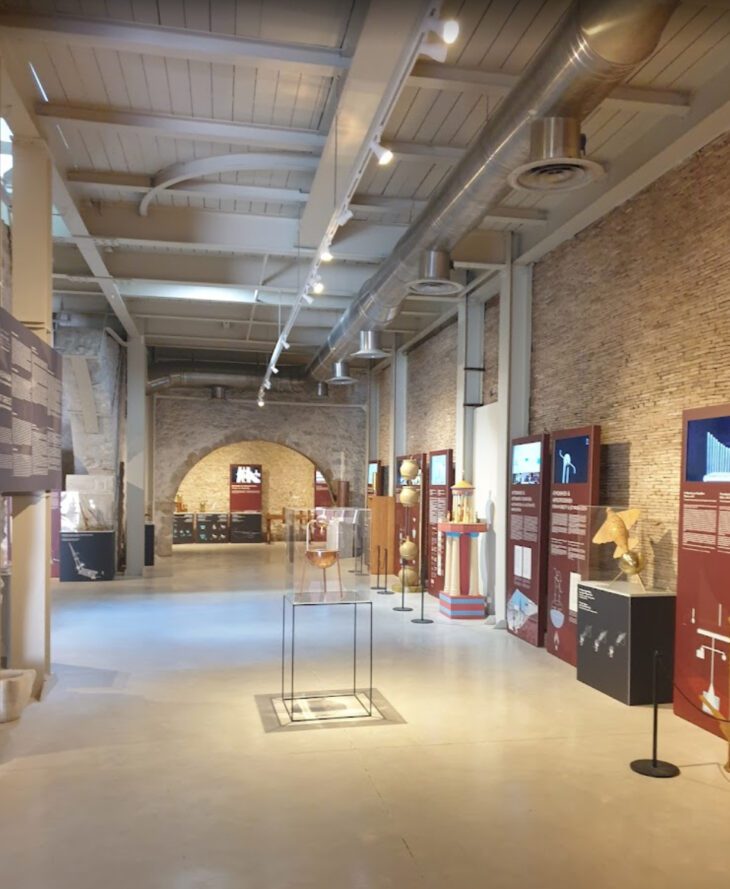 If you're into machinery, technology, and engineering, this museum is for you. You can find some of the fantastic equipment and tools used by the early Greeks to craft metallic materials and solve everyday problems. You can even try out some of these tools, allowing you to get a natural feel of what it's like to be in ancient Greece.
What's more, other than Heraklion, you can also find the museum in various places around Greece, including Ancient Olympia, Athens, and Katakolo.
Location: 18 Epimenidou Street, Heraklion
Operating Times:

Weekdays & Weekends 10:00-18:00 (Summer Season: 01 May-31 October)

Weekdays 09:00-15:00 & Weekends 09:00-17:00 (Winter Season: 01 November-31 April)

Tickets:
Standard ticket price is €7
Reduced ticket price is €5 for children (6-18), students, teachers, multi-child families, pensioners and unemployed.
Admission is free for children up to 5 years old.
If you want to do a guided interactive tour, the cost is €10 per person, with a minimum group size of 4 people. This is an excellent option if you're visiting with friends and family.
As you can see, there are many great museums you can visit in Heraklion. Whether you're into history and culture, art and scriptures, war and weaponry, or technology and engineering, there's a museum waiting for you to explore and discover.