Heraklion is among the best places to visit when you're in Crete. Not only does it provide you with beautiful beaches and monuments to see, but it also offers many fun activities even when the sun has set. For those who don't want to waste the night just staying indoors, a different side of Heraklion is just waiting to be explored.
Whether it's dancing, dining, or simply walking around the town square, this city has all you need for an unforgettable evening. To make the best out of your visit, here are the top things to do in Heraklion at night.
Stroll Around The Beautiful City
If you think Heraklion looks beautiful during the day, you'll undoubtedly be in awe of what the historic city has to offer at night. As the skies start to darken, the lights in the town plaza and along the shopping streets provide a different kind of charm.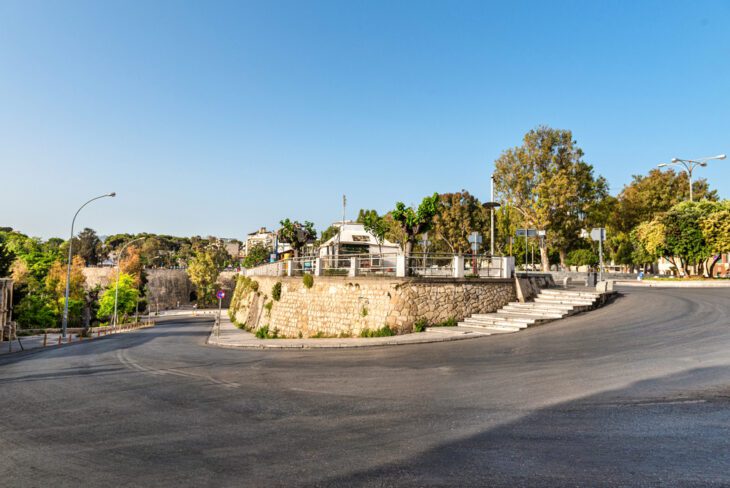 When nightclubs and noisy pubs are not your thing, try to take a nice walk around the city. You can start at Plateia Eleftherias, the main town square in Heraklion. Here you'll find various restaurants and bars that offer live music and entertainment. If you've got some time to spare, you can even try out their delicious cuisines.
Afterward, head to the ever famous Liontaria or, as the locals call it, "The Lion Fountain". This fountain is beautifully lit during the evening, giving it a spectacular appearance. Nearby, you can find many bars and taverns too, perfect for having a drink after your meal.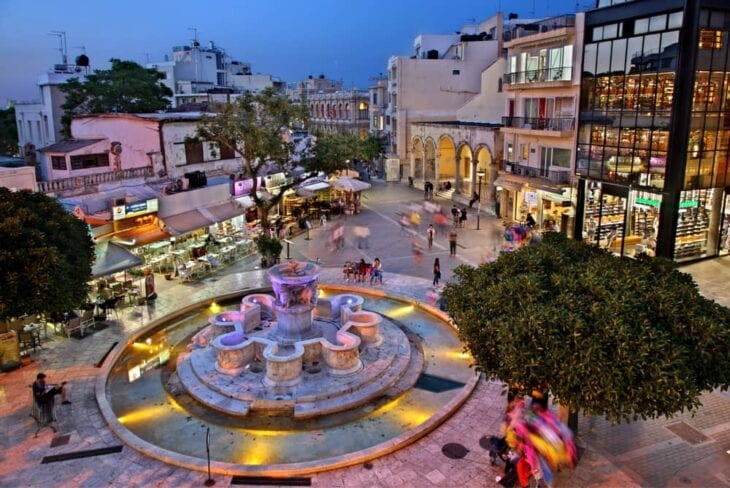 Once you're done exploring the area, make your way to the Church of Agios Titos. This is a popular place for locals and tourists alike, offering a peaceful sanctuary from the chaotic atmosphere outside.
If you want to see something even better, keep going until you reach the Venetian Loggia, a historic building that serves as the town's city hall. Between the Church of Agios Titos and Loggia lies a large square. It's a popular spot for locals to meet in the evenings for an iced brew and a good chat.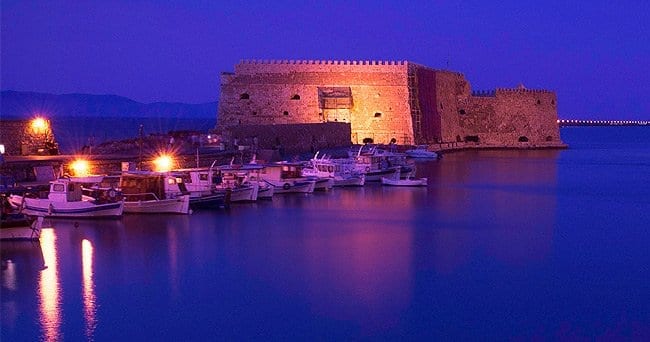 Continue walking towards the sea until you get to the Marina harbour. Take a moment to appreciate the beautiful Koules or Rocca a Mare Fortress, which is significantly more stunning at night thanks to clever lighting. If time allows, you can visit the insides of the fortress and take a look at its remarkable architecture.
Night Drinking in Heraklion
If you're in the mood for a different kind of night, Heraklion is also home to many pubs and bars. You can visit Milatou street to try out some of the best night bars in town.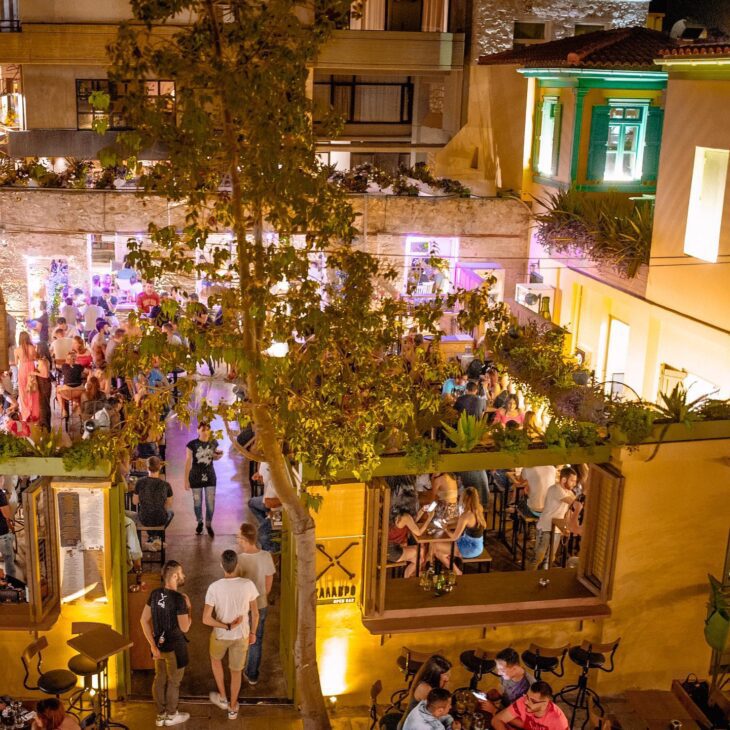 From speakeasy bars with amazing cocktails to elegant wine bars where you can have a taste of the finest Cretan and Greek beverages, you're bound to find a place that fits your preference. Each bar offers different musical genres and ambiance, so you're assured that there will always be something for everyone.
If a cold beer is your drink of choice, there are many pub-style bars scattered everywhere. One notable place to explore is Theotokopoulos Park, a popular hangout spot for the young crowd. The park features nice gardens and a stylish bar where you can drink while enjoying some live music.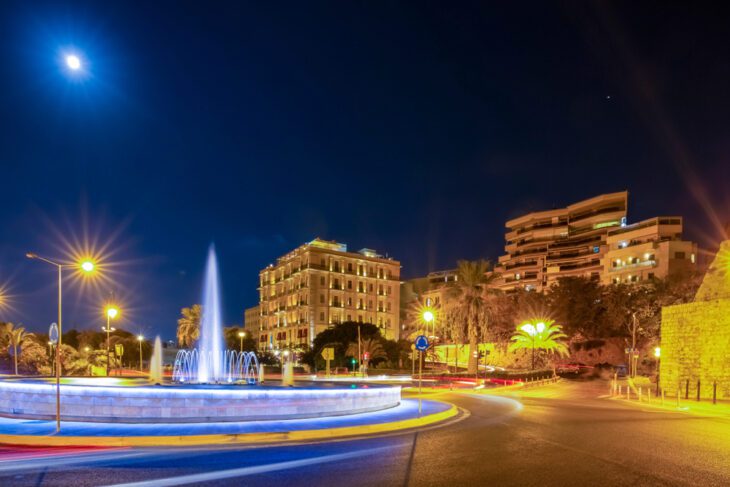 For a more romantic atmosphere, travel to the seaside street of Leoforos Sofokli Venizelou, where you'll find wonderful spots to savour your drink while admiring the view of the beautiful sea. It's good to visit the place as the sun sets since it offers picturesque scenery perfect for taking memorable photos.
Take a Night Dip in The Sea
Heraklion beaches are breathtaking, but if you decide to take a night dip in the sea, you're in for an unforgettable adventure. Diving during the day is already worthwhile, but the experience at night is incomparable.
If you're an avid fan of diving and want to do something different, head on to Staywet Dive Club, located in Mononaftis beach. The club offers night dives twice a week, giving you a chance to view the undersea world of Cretan waters. You'll get to see fascinating marine life, from bright corals to colorful fishes and more.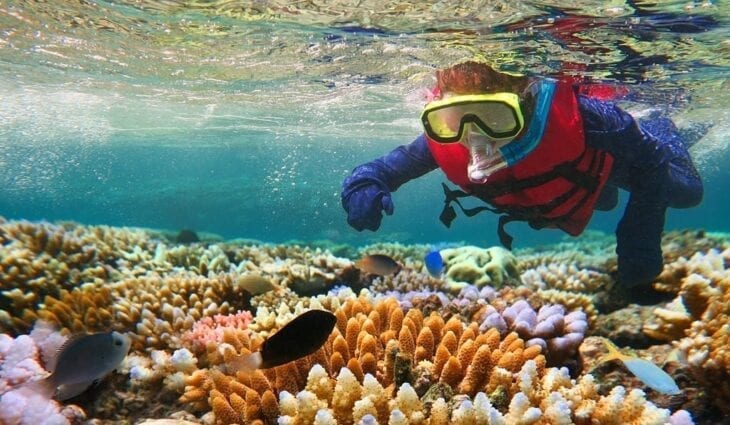 However, take note that Mononaftis beach is 20 km away from Heraklion town. It's best to rent a car to get there since it can be hard to find a bus during the night. The beach itself is stunning and is very popular to many tourists, making the trip worth it.
Go Dancing In Heraklion Night Clubs
Many people all around the globe love to dance and listen to music; Heraklion offers just that! Nightclubs in Heraklion have attracted a diverse crowd, catering to different musical genres from pop, house, and even electronic moods.
Talented DJs, huge lit dance floors, and marvelous cocktails are just some of the things you can expect from Heraklion's crazed nightlife.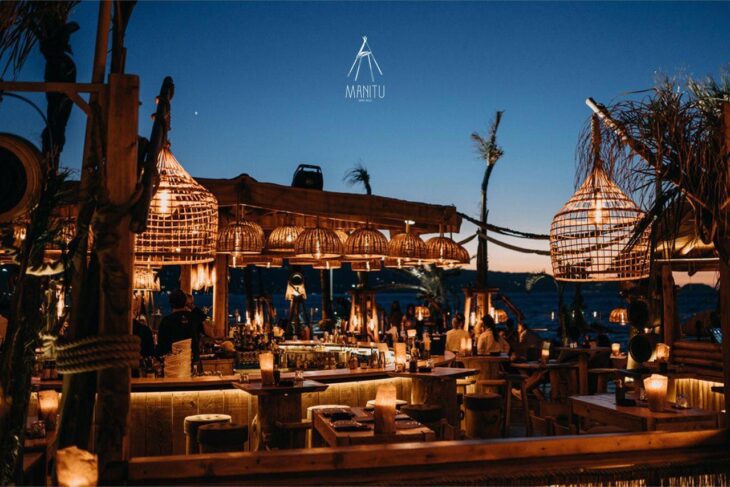 When looking for a place to party, the small alleys in the old side of town hide numerous nightclubs you can visit. Various bars and pubs in the area offer a good mix of Greek and foreign music, making it a favorite nightlife spot for tourists.
If you want to take things to the next level, try something unique, such as glowing, foam, or bubble parties, which are guaranteed to spice up your night.
Even though Heraklion has many to offer, the younger crowd will love a visit to Malia and Hersonissos. These two coastal villages are around 30 kilometers from Heraklion. Both have the best places for the ultimate partying experience.
In Hersonissos, the nightlife is centered around the seaside street. Many clubs organise beach parties that will make you dance until sunrise. The party scene in Malia is more sedate. You can take a break and recharge your energy with some delicious Greek cuisine before hitting the dance floor in one of Malia's nightclubs.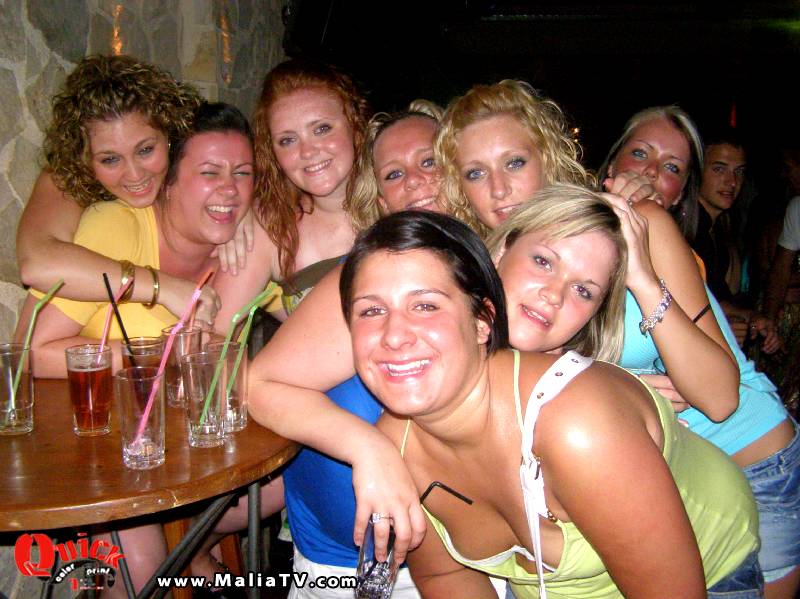 Regardless of your age or preference, you will definitely find a place to party all night long in these places!
Summer Arts Festival in Heraklion
If you're in Heraklion from June to September, you should check out the city's summer arts festival. The event takes place in various outdoor venues, with fantastic shows ranging from theatre performances and artists painting in front of you to jazz concerts and open-air activities of all kinds.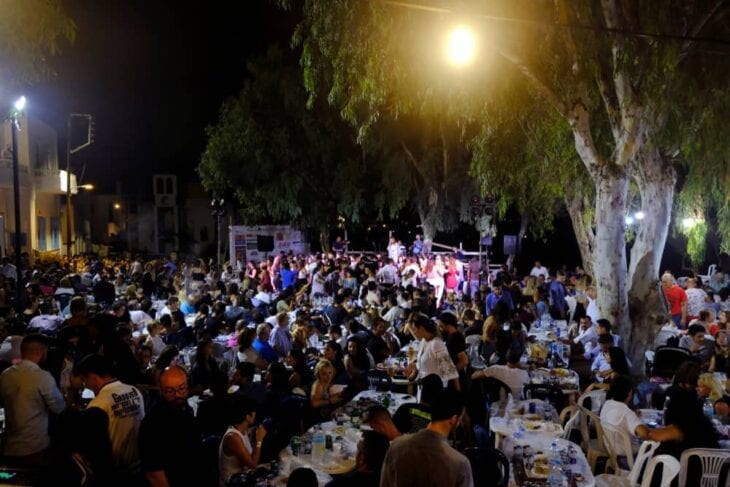 In addition, you'll get to see different Cretan artists and arts. The event is very diverse and provides a variety of interests.
The festival is held until late in the evening, so you're sure to have fun 'til the wee hours of the night. One of the best parts of this summer festival is that most held events have free admission.
Dive Into Cretan Folklore
If you've got a knack for myths and folklore that will keep you on the edge of your seat, then the village of Anopolis is the place to be. Anopolis is 17 km away from Heraklion. It's surrounded by olive groves and stone walls that hide several caves and water sources.
Showcasing Greek and Cretan myths, The Cretan Folklore Night is a must-see folk show in Anopolis. It consists of a theatrical performance and a dance production featuring traditional Cretan music.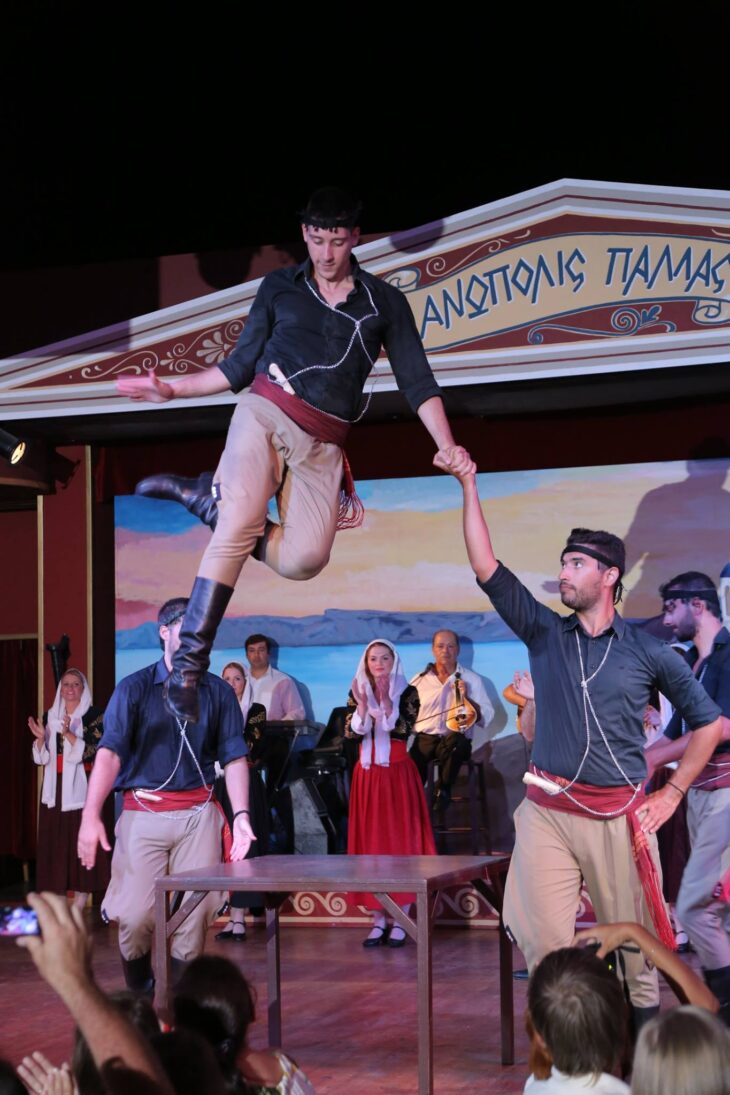 It's a one-of-a-kind event where you can learn about ancient mythical stories, the history of the Olympic Games, and even legends surrounding Greek Gods. In addition, traditional dishes and drinks will be served.
The show usually begins at 7.30 p.m and lasts up to three hours, allowing you plenty of time to enjoy the event. If you're worried about getting to the village, don't be! The organizers provide convenient return-trip transportation from certain points in town.
Taste Savory Dishes in Heraklion
Heraklion is known for many things, but it's delicious Cretan dishes are definitely something to write home about.
Places such as the Plateia Eleftherias and Liontaria, for instance, provide a wide range of options for both traditional Greek food and foreign cuisines. You can try anything from souvlaki to seafood or even have a drink at one of the bars that line up around these areas.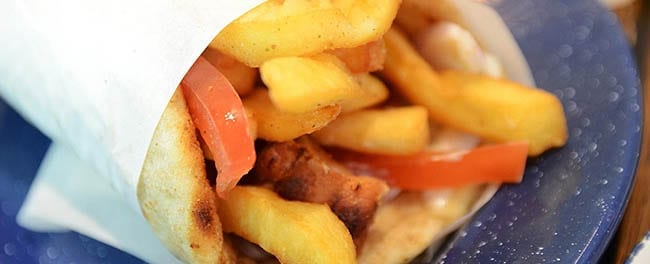 On the other hand, if you're looking for somewhere quieter where you can enjoy authentic food, check out the streets near Liontaria Square (lion square). You will discover small taverns with homemade dishes, giving you a true taste of Crete.
Here, you will also see some rakadika, a traditional venue where you can have a taste of Cretan raki and other local finger food such as mezedes.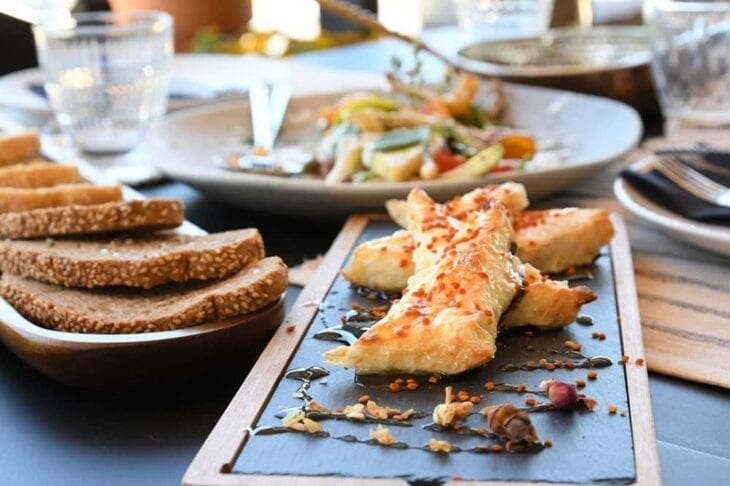 Often than not, the taverns and restaurants in Heraklion feature live music, ranging from jazz blues to ancient and contemporary Greek melodies. These places also hold events such as Greek nights where people can enjoy Cretan signature dishes and watch live performances that highlight the country's rich culture.
Explore the Karavolas Park
With a rich history and a strong tradition in literature, it's safe to say that Crete can provide you with a lot of cool things to see.
One of these is Karavolas Park, one of the largest parks in Heraklion. In this lush green area, you'll find several statues spread throughout different locations on its outskirts.
The park also has a huge skating area and a children's playground, making it a perfect spot for families with kids.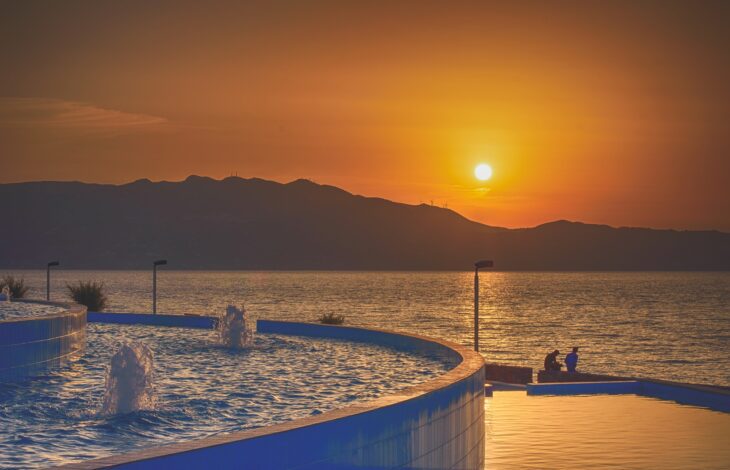 However, the best feature this park has to offer is its fountain. A beautifully illuminated water fountain that stands out even in the dark. You can visit this park during the day, but nothing compares to the experience of seeing it at night.
As you can see, there are a lot of things you can do in Heraklion at night. The possibilities are certainly endless, from visiting open-air festivals and strolling around the streets to going on a Cretan food adventure. With everything this lively city has to offer, there's no doubt you'll make the most of your stay.