The town of Rethymnon is one of the most popular tourist destinations in Crete. This southern city has a lot to offer, with beaches on both sides of the island and lush green mountains surrounding it.
However, one thing that sets this city apart is its food scene; there are fantastic restaurants with unique dishes, each more delicious than the next. So, if you're looking for some great places to eat while you're in the area, then look no further! Here's a list of the top best restaurants in Rethymno that will make your experience in Crete even more enjoyable.
Lemonokipos
With a name that translates to 'Lemon Tree Garden,' this restaurant is the perfect place to dine with loved ones who want to enjoy delicious food and premium service. It features a beautiful garden that overlooks the Mikrasiaton Square in the Old Town.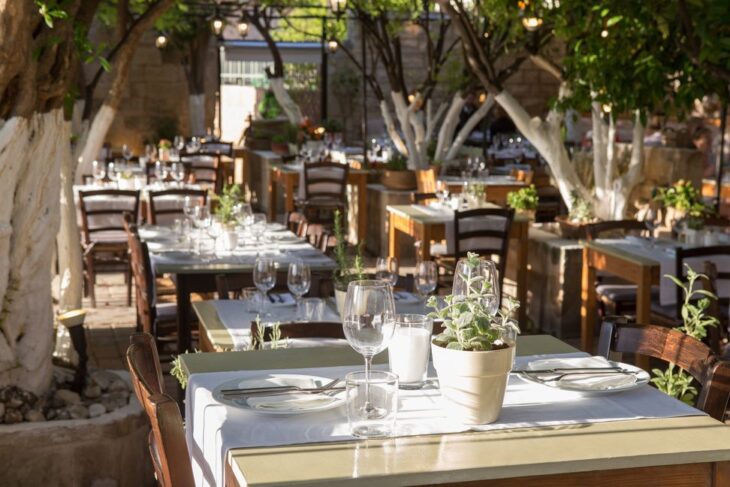 You can have a seat at one of their wooden tables while admiring the mesmerizing lemon and pomegranate trees, just purely taking in the atmosphere. The restaurant itself is very charming, with a rustic vibe and a wide range of tasty dishes.
Lemonokipos offers Cretan and Mediterranean dishes made with the freshest local ingredients, giving you the best of Crete in every bite. However, if you're just here for the drinks, then don't worry! Their coffee and wines are also exquisite and will definitely get you in the mood for a day of exploring Rethymnon.
Address: 100 Ethnikis Antistaseos Street Old Town, Rethymnon
Website: https://lemonokipos.com/
Contact: +30 2831 057087
CAVO
Cavo is a beautiful restaurant in Rethymnon placed right on a cliff overlooking the Aegean Sea. It's a gastronomic restaurant with a very intimate vibe which makes it ideal for a romantic dinner.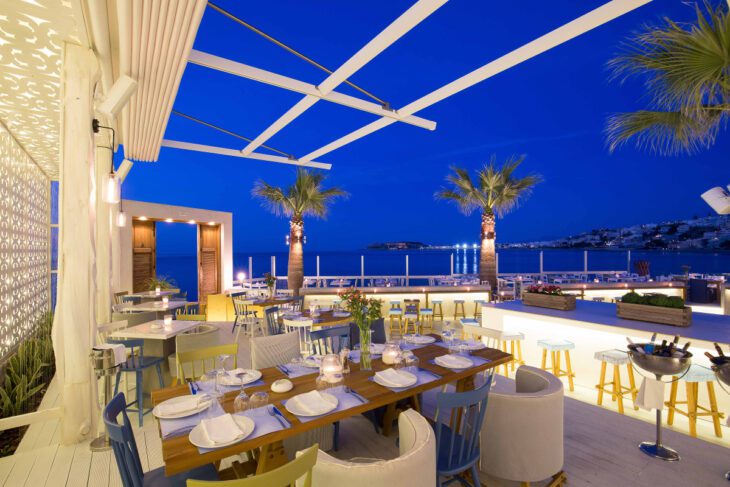 Savor your meal as you listen to the sound of the sea's waves splashing nearby and take in the breathtaking view of Rethymnon harbor and the fortress.
Their menu offers a wide variety of Cretan dishes, both seafood, and meat. All meals are made with locally sourced ingredients, giving you the best Crete has to offer.
Cavo's Graviera cheese and grilled fish is every visitor's must-try, along with their cocktails and wine that perfectly go with a meal by the sea.
Address: Akrotiriou 13, Rethymnon
Website: https://cavorethymno.gr/
Contact: +30 2831 036700
Avli
If you want to dine in a place that makes you feel one with nature, then you should check out Avli. This restaurant is encircled by a lush green garden and is the perfect place to relax and enjoy some delicious, fresh Cretan food.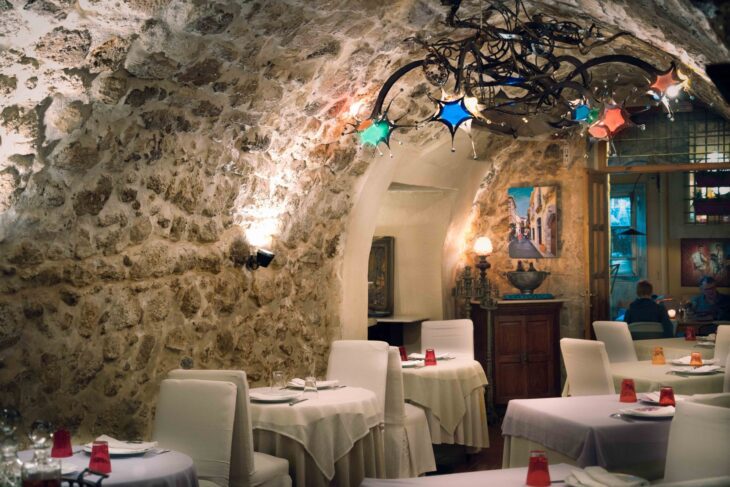 Their menu features the best of Cretan cuisine, with a focus on meat and vegetarian dishes. You can indulge in one of their mouth-watering food while sitting outside, enjoying your meal with a view of the garden, or you can also eat inside the restaurant. The stone walls surrounding you will surely give off a cozy and authentic feel.
Regardless of what you choose, Avli is a restaurant you must visit if you're in Rethymnon.
Address: 22 Xanthoudidou Radamanthios, Rethymnon
Website: https://www.avli.gr/
Contact: +30 2831 058250
Asikiko
While strolling through the small alleyways of Rethymnon's old town, you will come upon one of the city's oldest restaurants, "Asikiko." If you want to try out savory local dishes, you'll fall in love with their grill mix meat platter served on a wooden board, as well as a carafe of their trademark Rakomelo.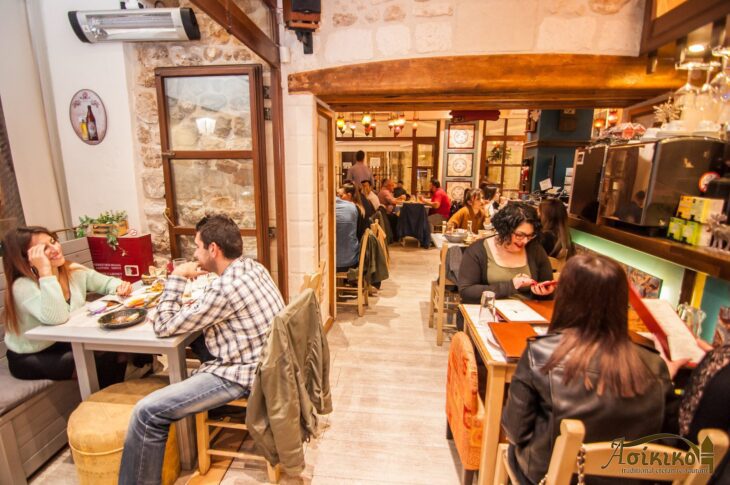 The restaurant offers inside and outside dining that makes you feel as if you've taken a step back in time. It gives off a rustic charm with its cozy, carefree atmosphere. If you're in the mood for some great food and a relaxing night out, then Asikiko is the place to go.
When in the restaurant, you'll be given a choice to try out local, Greek, and even vegetarian dishes, so there's surely something for everyone.
Address: Em. Vernadou 13 Plateia Mikrasiaton, Rethymnon
Website: https://www.facebook.com/Ασικικο-Ασικικο-526167697535961/
Contact: +30 2831 042496
7 Thalasses
If you want to try something different, you should check out 7 Thalasses, a beautiful restaurant overlooking the sea.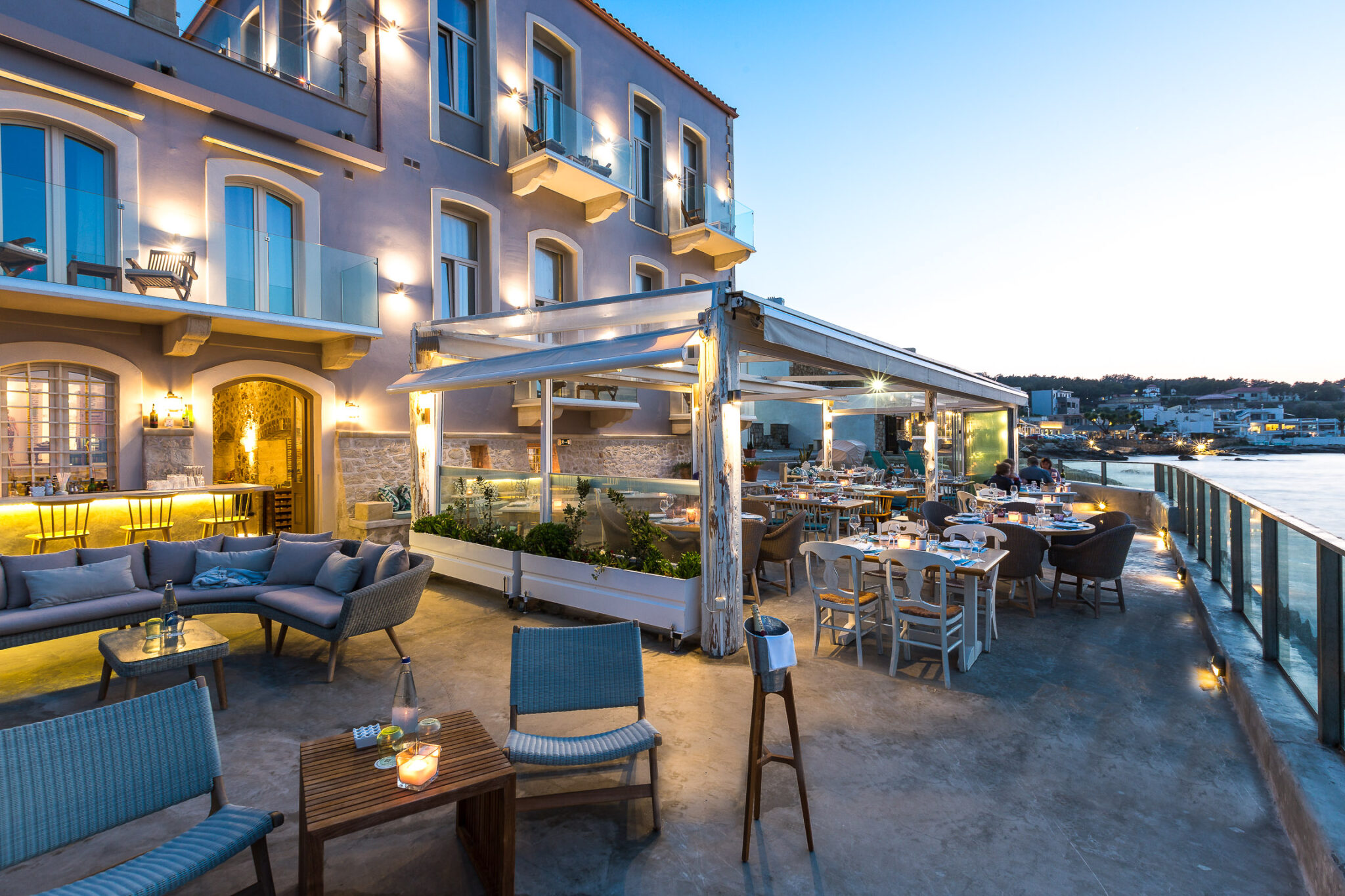 7 Thalasses is a beachfront taverna in Rethymnon that will give you the chance to enjoy your meal in one of the most picturesque places in town. Their menu offers traditional Greek dishes with an emphasis on seafood and local wines.
It's an excellent place to spend a romantic night with your loved one. You can enjoy a meal by the sea under the stars while listening to great music.
If you want some great food and some unforgettable memories, this is positively a place worth trying.
Address: Stamathioudaki 89, Rethymnon
Website: https://7thalases.gr/en/
Contact: +30 2831 058000
La Boheme
If you're searching for an inspirational spot to spend a spectacular dinner, visit La Boheme restaurant in Rethymnon's Old Town. It's a beautiful restaurant with a fantastic menu and traditional decor, giving off a relaxed atmosphere.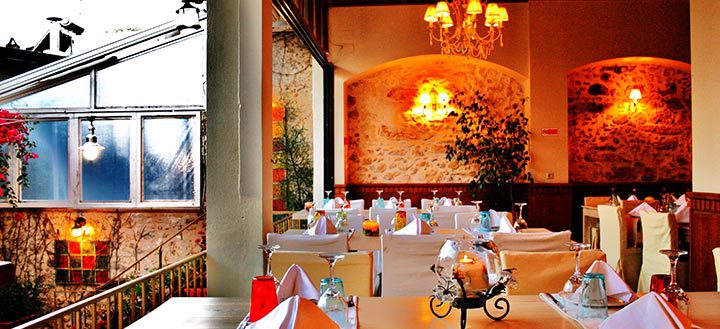 Baked veggies, excellent meat, and a beautiful range of wines are just a few of the delights available in La Boheme's exquisite menu. In addition, their staff is friendly and attentive, assuring that you're in good hands during your dining experience.
Address: Souliou 15 Old Town, Rethymnon
Website: https://www.facebook.com/LaBohemRethymno
Contact: +30 2831 500881
Prima Plora
Finding its place in our list is Prima Plora, another beautiful restaurant by the sea. This lovely restaurant offers everything you'd expect from a traditional Cretan taverna, with a refined selection of fresh seafood, ranging from sushi to more traditional options.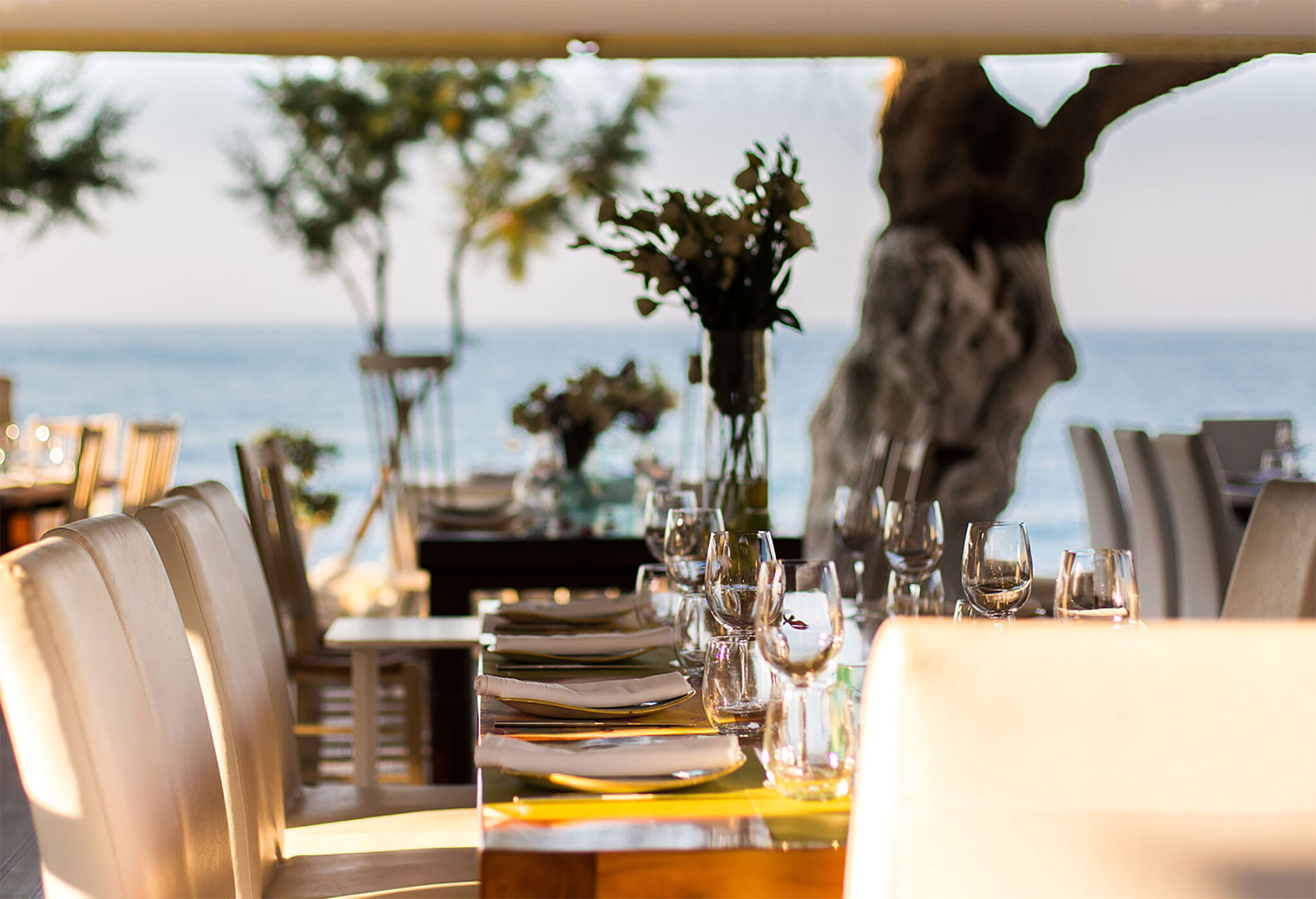 The feel of the sea breeze while enjoying the best of Cretan food is really something special. With a modern ambiance and friendly service, this restaurant will offer you an unforgettable tasty experience.
Address: 4 Akrotiriou, Rethymnon
Website: https://www.primaplora.gr/en/
Contact: +30 2831 056990
Derlicatessen GrillHouse
Derlicatessen GrillHouse is a small restaurant located in the Old Town. The place is known to serve the best gyros in Rethymnon and is a local favorite due to its affordable prices. All their dishes are cooked right before you and come with a generous portion that'll satisfy any foodie.
Try their grilled options such as lamb chops or whole chicken and experience the taste of genuine Cretan cuisine. Of course, if you're a vegetarian, you can find an ideal dish on their menu too!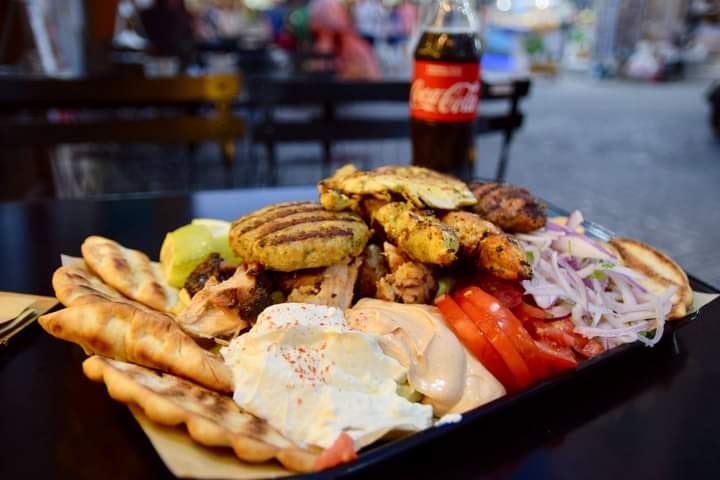 In addition, you may either order food to go or eat outside at one of their tables, taking in that bustling Old Town atmosphere. A perfect place to visit for a quick snack or drink before going for a night out in the city, Derlicatessen GrillHouse never disappoints.
Address: Eth. Antistaseos 8,, Rethymnon
Website: https://www.facebook.com/Nterlikatesen.GrillHouse/
Contact: +30 2831 030646
Thalassografia
Thalassografia is a great place to eat if you wish to be surrounded by a unique ambiance and the breathtaking scenery of Rethymnon's Fortezza. Dining in this restaurant-bar will make you feel like a true traveler.
The food is delicious, and the service is outstanding, making it one of the best restaurants in Rethymnon. In addition to this, they serve breakfast, lunch, dinner, and drinks all throughout the day.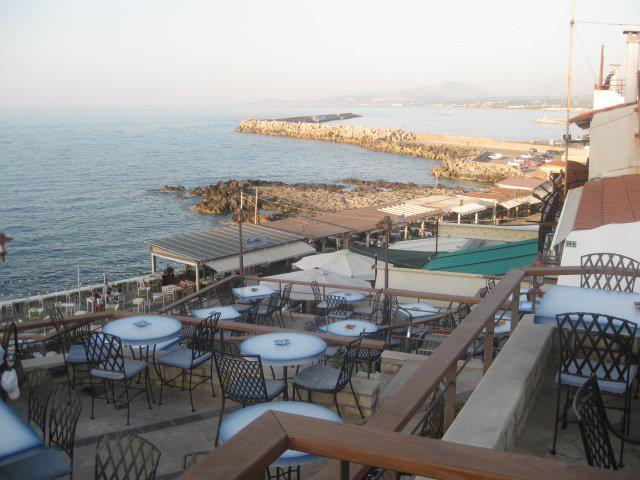 Other than the dining experience, the scenic view of the sea will complete your meal along with the classical music that plays in the background. Their delicious dishes and their extensive range of cocktails and beer certainly make it a perfect restaurant to visit.
Address: 33 Kefalogiannidon Fortezza, Rethymnon
Website: https://www.facebook.com/thalassografia
Contact: +30 2831 052569
La Casa di Hari's
Although you're in Crete, this restaurant will ensure that you experience authentic Italian dining. In La Casa di Hari's you can taste the best pizzas in Rethymnon accompanied by some tasty Cretan dishes.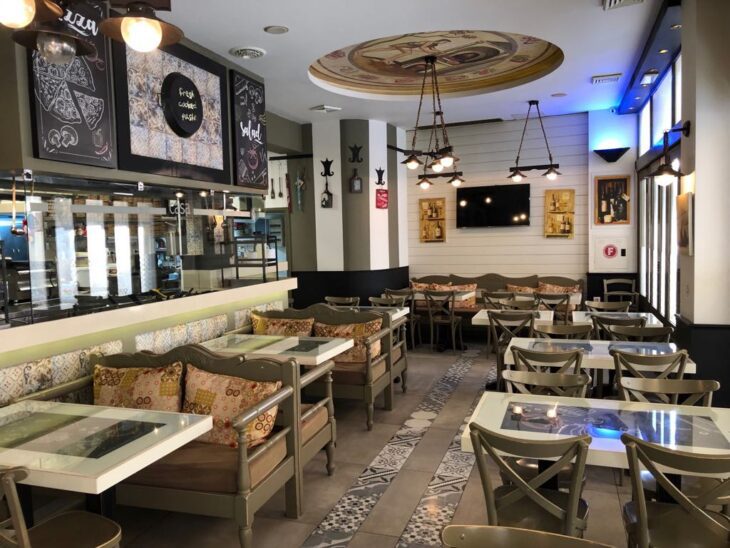 In addition to their mouthwatering pizzas, they also have a wide range of salads, pasta and meat dishes which are sure to surprise your palate. The restaurant has a great atmosphere with a friendly staff and interior design that will make you feel as if you're in Milan.
Address: 22 Messologiou Old Town, Rethymnon
Website: https://casadiharis.gr/home-en.html
Contact: +30 2831 026266
Bankery
You can't miss this lively place, which is right in the heart of Rethymnon. A contemporary café-restaurant that can truly cater to whatever you're looking for.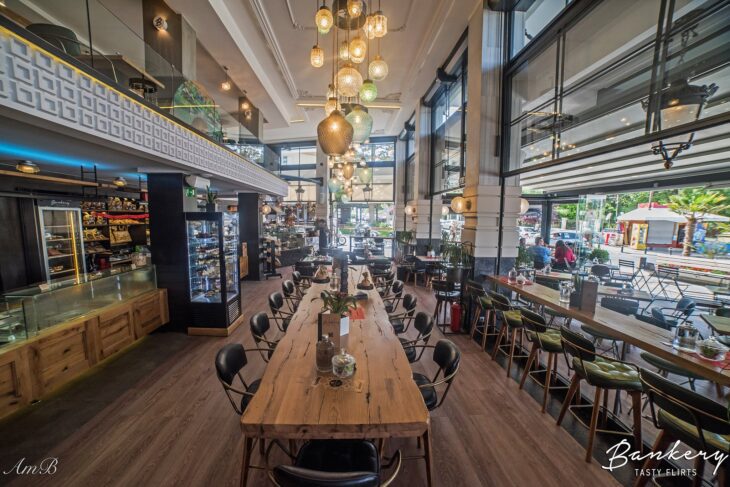 Whether you're in the mood for a hearty breakfast, fast-food option, or an elegant dinner, Bankery has it all. Moreover, they offer a fantastic bar with skilled bartenders that provide high-grade coffee and excellent cocktails.
When it comes to interior design, this place is entirely unique and stands out from other restaurants in Rethymnon. Try their food and drinks, visit the bar and relax with a panoramic view over the bustling town!
Address: Dimitrakaki 2 Square 4 Martires & Public Garden Across, Rethymnon
Website: https://www.facebook.com/bankery.rethymno/
Contact: +30 2831 047900
1600 raki baRaki
A contemporary take on the original Cretan Rakadiko is a fantastic place to eat small plates and enjoy a glass of raki. 1600 raki baRaki is one of the many restaurants in Rethymnon that will most likely be a part of your list if you're looking for a typical Cretan dining experience.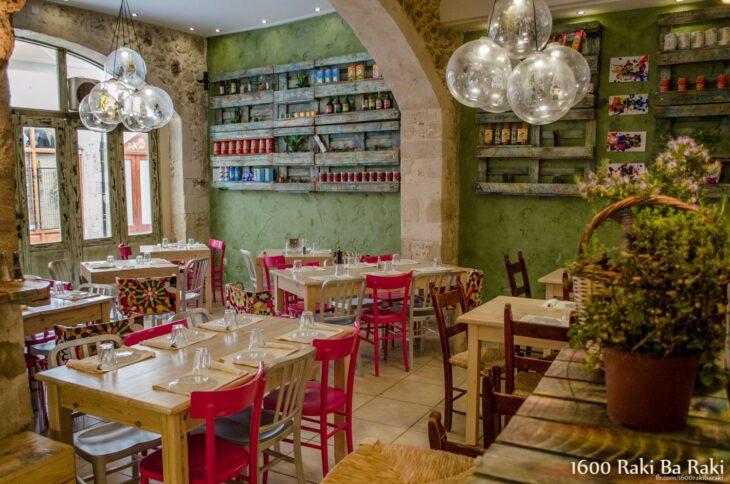 With a broad menu that offers the best Cretan dishes and pastries, you'll be satisfied with the quality and quantity of their food. In addition, this vibrant yet homey restaurant has a large outdoor area that is perfect for a relaxed meal, making it the ideal spot to visit on a sunny day.
Address: 17 Arambatzoglou Old Town of Rethymnon
Website: https://www.facebook.com/1600RakiBaRaki/
Contact: +30 2831 058250
Mojo Burgers
We all deserve a good burger, and there's no better place in Rethymnon to enjoy an American meal than Mojo Burgers. This is perfect for those travelers who are on the hunt for amazing burgers and onion rings.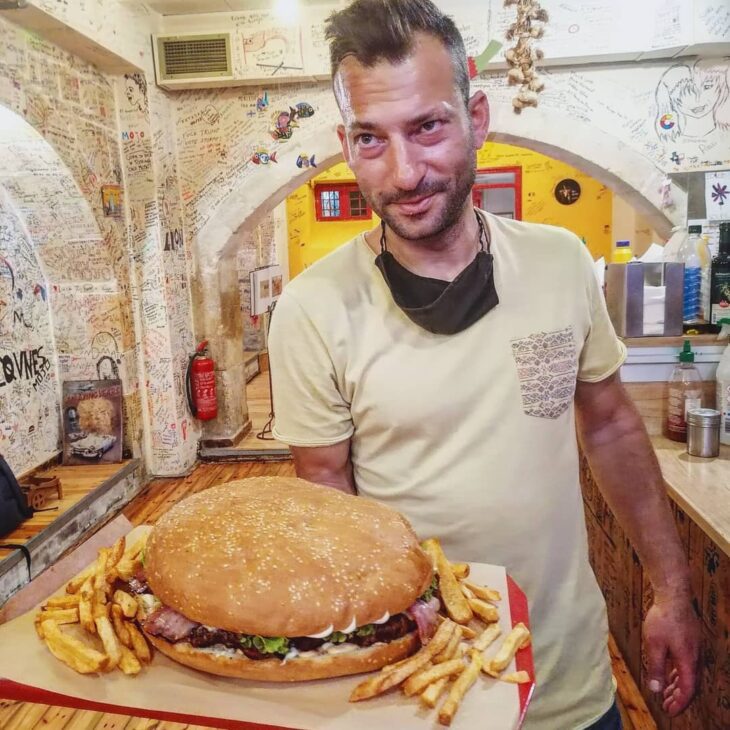 Not only do they offer some classic burgers, but they add up a touch of Cretan ingredients that will make your meal unique. The place is located in a small alley right next to Rethymnon's port and is decorated in a homey way that will make you feel relaxed. If you're looking for a great burger in Rethymnon, this should be your first choice!
Address: 38 Damvergi, Rethymnon, Crete
Website: https://www.facebook.com/mojoburgers/
Contact: +30 2831 050550
Taverna tou Zisi
Among the most popular restaurants in Rethymnon, Taverna tou Zisi is a great place to enjoy traditional Cretan dishes with an excellent view of the town.
This restaurant has been around for years, and it's known as one of the best places for vegetarians or anyone who enjoys healthy food. You can taste their rich homemade dishes, which are prepared with the freshest ingredients.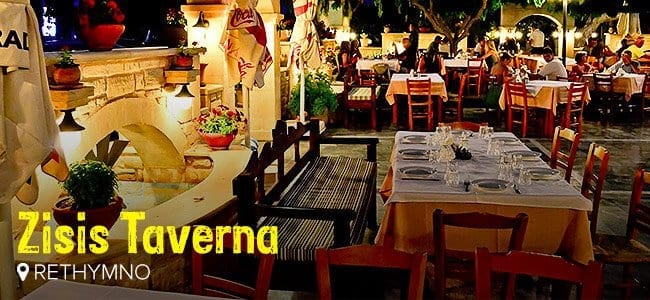 If you're more into meat, you can also try a wide range of fish, pork, and chicken dishes that will take your breath away. The ambiance of this place is truly unique, with trees and flowers by its outdoor seating, which makes it even more welcoming.
Address: Machis Kritis 63 Missiria, Rethymnon
Website: https://www.taverna-zisis.gr/
Contact: +30 2831 028814
Veneto Wine Restaurant
Check out this fantastic spot in the center of the old town, which has received rave reviews for good reason! The Veneto Wine Restaurant is a classic Cretan establishment that offers some of the best wine in the city along with excellent food.
The menu has a great selection of pasta, meat, and fish dishes that are all prepared with top-quality ingredients and a creative twist! So if you're looking for a fun night out with friends or family, this restaurant is perfect for an evening over good food and drinks.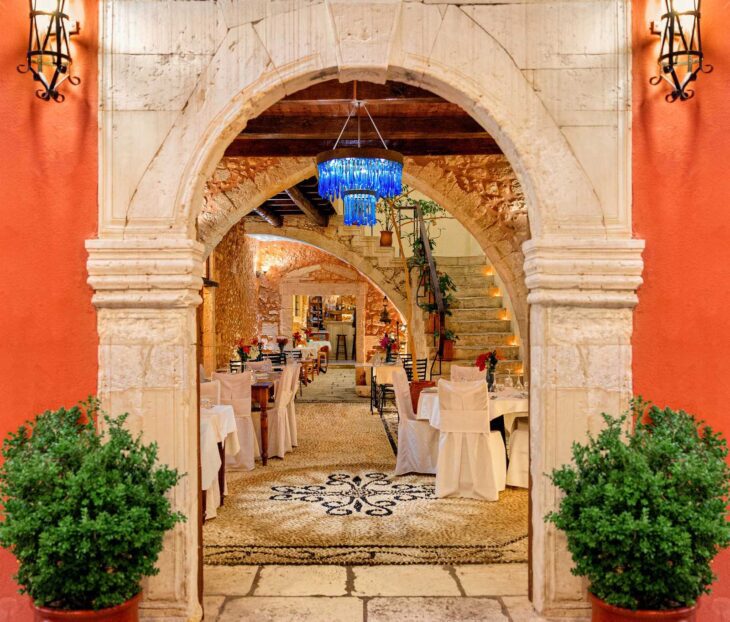 Check out the beautiful ambiance of the historic building, dine in their quiet garden, and experience the friendly service that has helped Veneto become one of Rethymnon's top restaurants.
Address: Epimenidou 4 Old Town, Rethymnon
Website: https://www.veneto.gr/
Contact: +30 2831 056634
Sofra
A restaurant located in a small street and surrounded by a lush garden, Sofra is the perfect family-owned place to dine al fresco. Besides serving traditional Cretan dishes, it offers a very affordable menu that includes appetizers, main dishes, and desserts.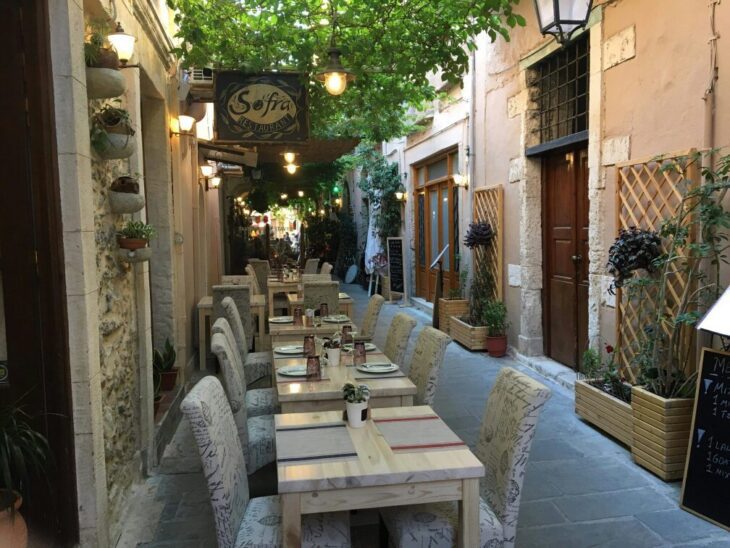 From pasta, fish, and meat dishes to the best local specialties, you're sure to find the food you'll love. The restaurant is filled with a peaceful ambiance and a family-like feeling, which makes it the ideal spot to visit if you're looking for a memorable feast in Rethymnon.
Address: Epimenidou 6, Rethymnon
Website: https://www.tripadvisor.com/Restaurant_Review-g189421-d15056580-Reviews-Sofra-Rethymnon_Rethymnon_Prefecture_Crete.html
Contact: +30 2831 020558
Castelvecchio
For those who want outdoor seating overlooking the old town, Castelvecchio is an excellent choice. The restaurant offers exquisite Italian dishes and has a wide variety of wines and drinks to choose from.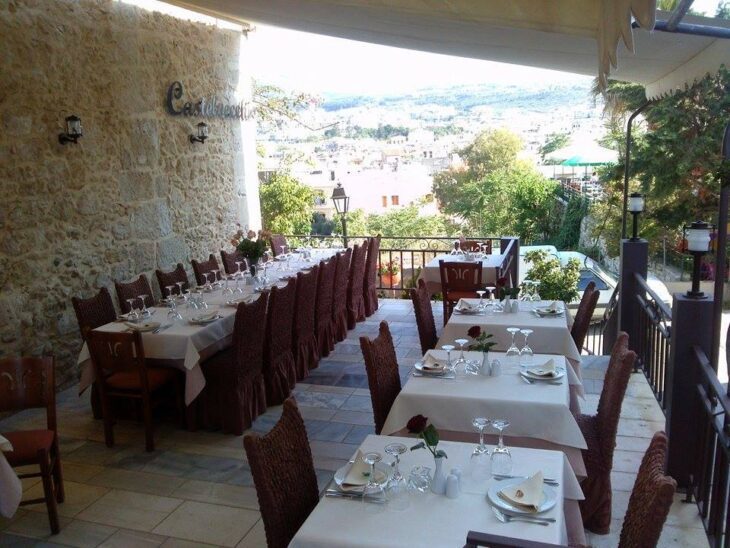 Their food is a blend of Greek and Mediterranean flavors, which are always prepared with the freshest ingredients. The desserts are excellent as well and will make your meal even more remarkable.
Wooden tables surrounded by plants are just some of the elements that make this restaurant charming. If you're looking for a great place to spend your evening, Castelvecchio is one of Rethymno's best restaurants worth considering.
Address: 29 Chimarras, Rethymnon
Website: https://www.facebook.com/Castelvecchio-142668054733/
Contact: +30 2831 055163
To Pigadi
A small but beautiful restaurant decorated with green plants and wooden furniture, To Pigadi is a traditional tavern that will satisfy even the pickiest eaters.
If you're looking for cheap eats, this is the place to go! The menu has a selection of excellent dishes with prices that will fit any budget. There's something for every appetite, whether you're craving pasta, meat, fish, or Cretan specialties.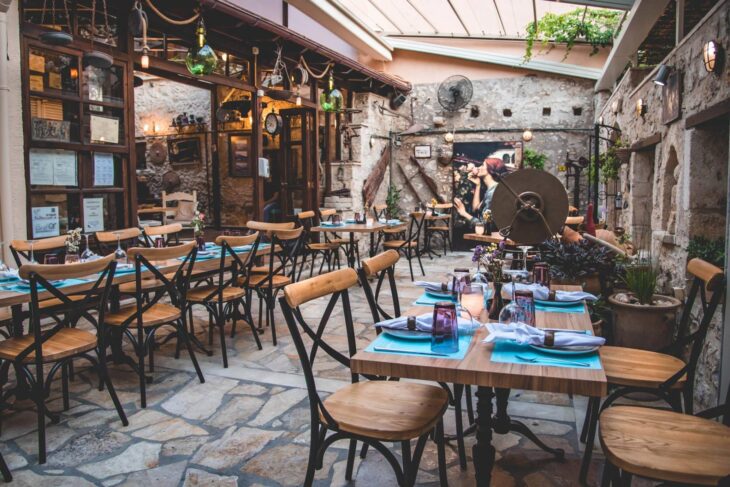 The ambiance gives off a romantic yet relaxed vibe that makes you feel like you're eating in an enchanted garden. A little fountain and dim lighting from candles give a great touch to the already pleasant setting.
Address: 31 Xanthoudidou Old Town, Rethymnon
Website: https://www.pigadi-crete.com/
Contact: +30 2831 027522