Even if you are familiar with the delicious "gyros" in your home country (it's a justifiably popular Greek export!), to get a taste of the real thing you'll need to come to Greece. We've compiled a list of everything you need to know about this popular Greek street food and where you can have the best souvlaki in Crete.
Key Takeaways
Gyros is a popular Greek street food made from meat cooked on a spit that turns constantly over coals.
Gyros, Kalamakia, and Souvlakia are the three most popular street foods in Crete, and can be found in main streets of Chania, Heraklion and every major city of Crete.
Souvlaki shops often offer vegetarian and vegan options, and many places also serve burgers, and even club sandwiches.
Quality of souvlaki varies from shop to shop, and it's a good idea to see who is in line and look for shops with a lot of locals.
Some recommended places to try souvlaki and gyros in Heraklion include Chop Chop, Souvlaki Tsigos, Hovoli, and Krasas.
Some recommended places to try souvlaki and gyros in Chania include Se Anamena Karvouna, Pita Goal and Gyrotechneio.
What is Gyros? (And How Do You Say It?)
Gyros come from the Greek word 'to turn,' because the meat is cooked on a spit that turns constantly over the coals or – more often – vertically, next to a strong heat source the fat melts away and the meat crisps on the edges while staying very juicy.
The "g" is a hard g, not soft like a "j" as it is often pronounced. And the "y" sounds like "i", so it is "GEE-ros" (not "JY-ros.")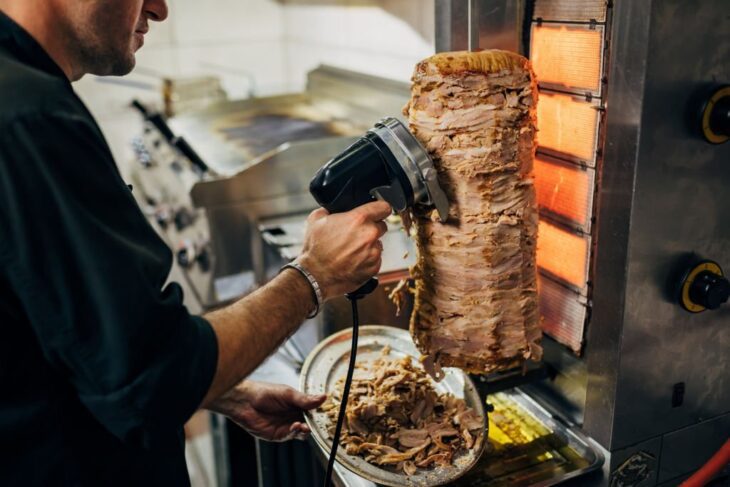 Gyros, Kalamakia and Souvlakia
Gyros, Kalamakia and Souvlakia are the three most popular street foods in Crete (and Greece). You can find a place to eat Kalamakia and Souvlakia in main streets of Chania and Heraklion. All shops serve traditional Gyros, Kalamakia and Souvlakia either in portions for one, two or per piece.
What to Order at a Souvlaki Shop
Gyros and Souvlaki places are not just for passionate carnivores. Almost all souvlaki shops will offer a couple of sides.
You can usually count on getting a very good Greek salad, plus another salad choice – Cretan salad or dakos since we're in Crete, and at larger places maybe a chicken caesar salad. Many places also serve burgers, and even club sandwiches. Additionally, there are often vegetarian and even vegan options sometimes, especially during the religious fasting periods.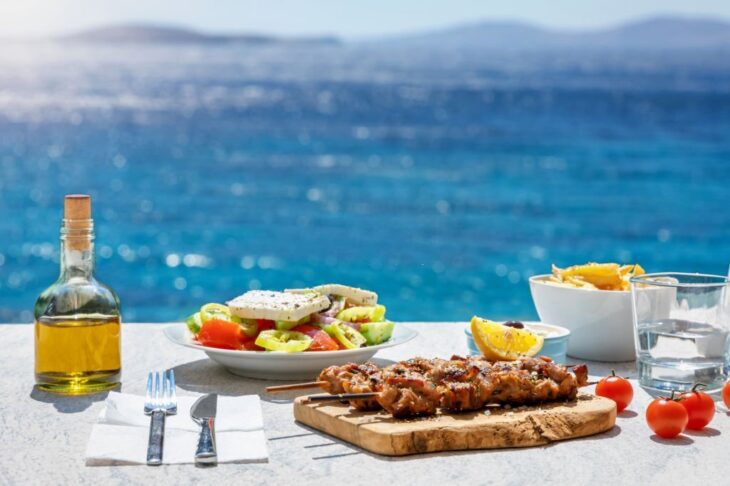 Where to Have Souvlaki in Crete
The most popular street food in all Greece, a good souvlaki can be found anywhere you go. And almost all souvlaki shops have a couple of good salads too. But of course quality souvlaki varies from shop to shop. See who is in line – does it look like a lot of locals? Then probably it's a good place. Join them, or try some of these places.
Where to Have Good Souvlaki in Heraklion
The capital city of Crete is full of tempting restaurants and tavernas of every type, but at least once during your stay you may enjoy trying this delicious and inexpensive street food for a fun meal. Here's a few places to try a souvlaki in the capital:
Chop Chop
The name means "fast!" in Greek, and this place is perfect for a quick bite. Directly in the town center and very close to the Archeological Museum of Heraklion, this is a very convenient location. The place is praised for its very generous portions and low prices.
Website: https://www.facebook.com/Chop-Chop-1727860184189520/
Address: Idis 6, Heraklion
Souvlaki Tsigos
Close to the charming port of Heraklion, Souvlaki Tsigos is another local favourite for the ratio of portion to price. Also they make a nice "Kalamaki" – skewered grilled meat, and burgers.
Address: Leoforos Ikarou 113
Website: https://www.facebook.com/Souvlaki-tsigkos-114707396935521/
Hovoli
This is another very good choice if you are in the center of the city, also very close to the Archeological Museum.
Address: Plateia Daskalogianni 3
Website: https://www.facebook.com/chovoli.heraklion/
Krasas
The popular mini-chain Krasas has four Heraklion locations, so one is sure to be convenient. One of their locations is directly by the airport, perfect for a bite before your trip back or a quick taste of Greece as soon as you pick up your car.
Address: Stadiou 78 (by the airport), Idomeneos 40 (Town Center), plus two other locations in town.
Website: https://www.krasas.gr/el/
Souvlaki in Rethymnon
In the charming old town and near the marina, there are several nice places to go for a souvlaki in Rethymnon.
Nikos Souvlaki
The top choice of locals with great reviews, for the basics done right: souvlaki, burgers, skewered meats. Very nice spot between the marina and the Venetian harbour.
Address: Arkadiou 70
Gia Souvlaki
A little inland from the marina, this local spot has a nice menu which besides delicious souvlaki has club sandwiches, tortilla wraps, "skepasti" (a larger option), and also meatless options.
Address: Kountouriotou 165, Rethymno
Website: https://www.facebook.com/giasouvlakirethimno/
Souvlaki Bar
Just a little east of the marina with pleasant outdoor seating, Souvlaki Bar gets great reviews from locals and visitors alike for their fresh, tasty options, which include several substantial salads, perfect for a group with mixed eating styles.
Address: Markou Portaliou 10
Website: https://www.facebook.com/souvlakibarrethymno/
Souvlaki in Chania
Chania is a charming city with a lot of appealing food options. Locals really like these three- two near the central market by the harbour, and one right by the beach.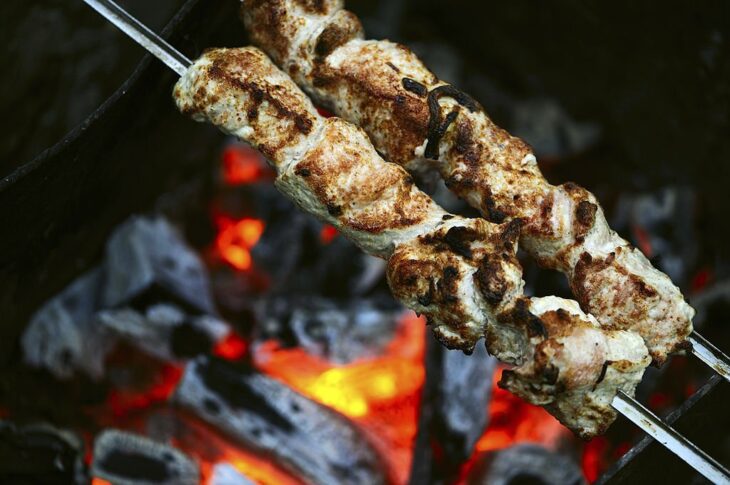 Se Anamena Karvouna
This is a promising name – it means "on the hot coals". And also a good description: meats are grilled over the coals for a nice charred taste. In addition to the traditional choices like an ideal souvlaki, they also have some more unusual specialties, like a mushroom skewer and also a beef skewer.
Address: Chatzimichali Giannari 20, Chania
Website: https://www.facebook.com/Sanamenakarvouna-765981360187208/
Pita Goal
Right by the beach of Koum Kapi, this long-time local favourite has an enthusiastic following, thanks to the delicious souvlaki, skewers, burgers, and other specialties – including fantastic homemade Cretan Kalitsounia (fried pies) prepared with love and care by the best cook in the neighbourhood (so of course, a Cretan grandmother!). Top marks for food and the very friendly service.
Address: Spartis 8, by the Koum Kapi beach
Gyrotechneio
Very close to Chania's central covered market, Gyrotechnio has pleasant outdoor seating and high marks for atmosphere and food. The menu includes some salads, plus Cretan sausage, in addition to souvlaki, skewers, and mixed grill platters that are nice for sharing with a couple of beers.
Address: Mousouron 2, Chania
Website: https://www.facebook.com/gyrotexneio2/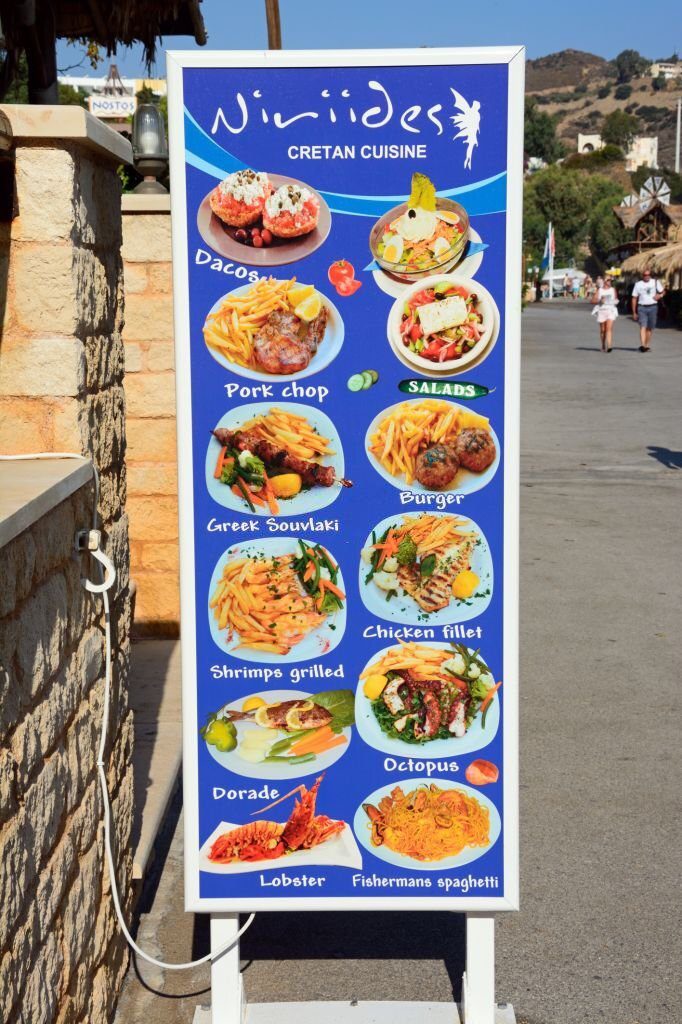 Regional variations of Greek Gyros and Souvlaki
That is another question altogether, and the answer depends on where you are. In the north of Greece, a gyros is a sandwich of small shavings of seasoned meat that have been roasted on the vertical spit. Also in the north, a souvlaki is pieces of tender, seasoned meat – usually pork, sometimes chicken – threaded onto wooden skewers and roasted over the coals. So it is very much a concept like the "gyros" you are familiar with from a Greek take-away shop in your home country.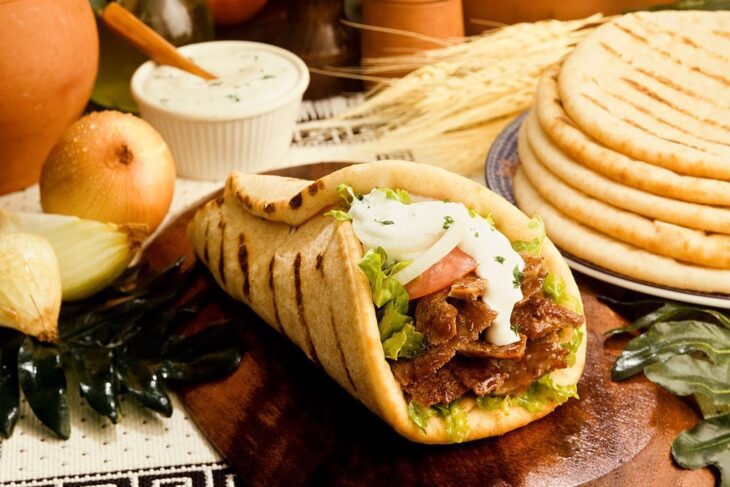 "Souvla" means spit – a rotating device over the coals. And "-aki" as an ending means small – therefore, these are small, individual "souvlas".
In Athens, there are no "gyros" – or at least not by that name. The sandwich called gyros in Thessaloniki and also abroad is in Athens a "souvlaki". If you want pita bread stuffed with shaved grilled meat, that is what you order.
If you want small skewers of meat – "souvlaki" in North Greece – then you order a "kalamaki" – a little "straw".
Gyros/Souvlaki, Crete Style
In Crete, they generally use the Athenian word – a Souvlaki is a grilled fresh pita bread with tender pieces of meat. But Cretan souvlaki is very special – rather than ketchup and mustard as you'll find in the north for instance, the traditional topping on a Cretan souvlaki is a thick smear of cool Greek-style strained yogurt. It's a perfect counterpoint to the meat. A Cretan souvlaki usually also comes with french fries and tomato slices and a sprinkling of salt and fragrant oregano.
Can vegan or vegetarian people eat Souvlaki or Gyros?
No, a vegan person should not eat traditional souvlaki or gyros wraps as they typically include meat as a main ingredient. However, many restaurants now offer vegetarian and vegan alternatives such as patatopita, calamari pita, octopus pita or falafel wraps. Patatopita wrap is a Greek wrap made with fried potatoes, tomatoes, onions and herbs. Calamari wrap is a wrap that contains deep-fried squid, Octopus pita is a wrap that contains grilled octopus, and falafel wrap is made with deep-fried balls of ground chickpeas, fava beans, or both and it is often served with tahini sauce. These options are a suitable alternative for vegans.
The Local's Ordering guide for a Gyros/Souvlaki shop
Arabic Pita – A thinner, larger flatbread made from wheat flour, water, yeast, and salt. It is often used as a wrap for gyro and other Mediterranean-style sandwiches.
Pita Bread – Pita bread is a type of round, flat bread that is typically made from wheat flour and water. It is used as a wrap for fillings such as gyros, souvlaki and french fries.
Gyro – A traditional Greek dish consisting of meat (pork or chicken) that is seasoned and cooked on a vertical rotisserie. The meat is shaved off the rotisserie and served either within a pita bread or a portion. It is usually accompanied with french fries, tomatoes, onions, and tzatziki sauce.
Kalamaki or Skewer – A Greek dish that consists of cubed meat (pork or chicken) skewered and grilled over an open flame. The meat is often marinated with herbs and spices before cooking. A unit used per stick of kalamaki. Also called "temachio" in Greek.
Kebap – A Turkish dish that is similar to a gyro but the meat is typically ground meat (usually beef or lamb) that is seasoned and formed onto a skewer before being grilled.
Portion or Merida – A dish that consists of a large portion of meat (pork or chicken) served with tomato, onion, pita, and yogurt or tzatziki on the side.
Mix Grill – A dish that typically includes an assortment of different meats such as gyro meat, sausage, hot dog, burger (bifteki), and sometimes Kebab. It is often served with French fries, tomato, onions, and yogurt or tzatziki.
Skepasti – A Greek dish that consists of meat (pork or chicken) that is sandwiched between two pitas, sometimes with melted cheese.
Tzatziki – A Greek sauce made from yogurt, garlic, cucumber, olive oil, lemon juice, and dill or mint. It is often served as a topping or a dip for gyro and other Mediterranean-style dishes.