Rodakino Beach is a stunning, long, narrow beach rich in sand. Rodakino is found in the south of Rethymnon prefecture. Culture, history, environment, and adventure all abound in the interesting region of Crete known as Rethymnon. Located on the Libyan Sea, the south coast of Crete is well-known for its beautiful scenery and pristine beaches. Rodakino Beach is surrounded by high cliffs and crystal-clear waters, which are good indications that the place is perfect for swimming, sunbathing, and other beach-related activities. The beach has adequate tavernas and coffee shops nearby that are good for satisfying the visitors' appetites and cravings. It is referred to as a quiet beach since it belongs to a secluded village. However, it becomes busy and crowded on Saturday and Sunday. Rodakino, Creta, is a beautiful beach located in one of Creta's wildest and most untouched locations. Nature enthusiasts find a variety of surrounding diversions and activities, both by the sea and in the region's rugged terrain.
What is Rodakino Beach?
Rodakino Beach is a sandy beach that is found on the island of Crete, Greece. Rodakino beach is noted for its clean and clear water and attractive environment. The beach is popular among its visitors due to the activities that are allowed to be done in the area, such as swimming, sunbathing, and snorkelling, among others. It is highly accessible by car or foot, and its calm ambiance makes it a favourite place for visitors wanting a quiet and soothing beach experience. Rodakino Beach was formed due to a lot of geological activities such as wind, waves, and weather, which paved the way for the sand and rock formations along the coastline. There is no well-documented history of Rodakino Beach, but it is most likely connected to the Minoan civilization, which was one of the earliest and most advanced civilizations in the world. It was centred in Crete, way back from 2600 to 1100 BCE. Rodakino Beach and the citizens living in the area are mostly reflecting the large historical trends and influences.
Where is Rodakino Beach located?
Rodakino Beach is located in Rodakino village, which is around 43 kilometres southwest of Rethymno region, Crete, Greece. Rodakino Beach belongs to the largest Greek island, which is situated in the eastern Mediterranean Sea. Rodakino village is a secluded village on the South coast of Crete between Plakias and Frangokastello. The coordinates for Rodakino Beach are 35.228529 and 24.185276. These coordinates are very useful when used with a GPS system or a mapping mobile application to track the beach. There are many ways to arrive at the beach of Rodakino, including by car and by public transportation. Tourists who opt to use a car must start from the city of Rethymno and take the path to Chania. On the other hand, if they choose to have public transportation, they are directly travelling from Rethymno city to the village of Rodakino.
The activities that are allowed to be done in Rodakino beach are listed below.
Swimming: The clear, crystal water in Rodakino Beach makes it ideal for swimming while appreciating the sun. The sea is not polluted, which does not cause any harm to visitors.
Sunbathing: There are spaces with soft sand around Rodakino Beach where tourists are to spend their time. They are allowed to relax and soak up the sun while enjoying the beautiful view at the same time.
Snorkeling and Diving: The clear water of Rodakino beach gives high visibility for divers. Hence, it is a famous site for snorkelling and diving, packed with diverse rocks and caves that are very fascinating to explore.
Beach Games: Rodakino Beach offers beach games such as beach volleyball and Frisbee for its visitors. However, if the tourists want to play another game, they must bring their own materials and ask for permission.
Hiking: It is another popular activity that is done by tourists. The cliffs sitting around the beach provide excellent chances for hiking and exploration of the local places.
Photography: Rodakino beach is a very beautiful and attractive place. Taking pictures around the area is a great activity to do, mainly because tourists are sure to capture very good photos. The sunset and sunrise, the people, and the crystal-clear water are just a few of the good sceneries that they are to take pictures of.
How does the Rodakino Beach Map look?
Below is the map of Rodakino Beach.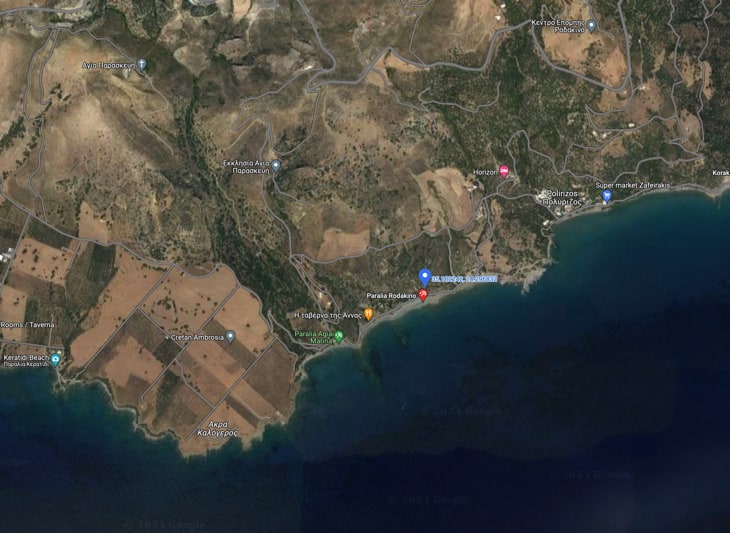 On the south coast of Crete, between Plakias and Frangokastello, is the little and secluded town of Rodakino. It is situated on a precipitous hill that rises above the water. Beaches that are pleasant to visit and are normally extremely peaceful are likely to be found some distance below the settlement. The first beach one is going to see after descending from Rodakino is called Korakas, while the second beach is located a little farther to the west. While Polyrizos is the most accessible of all the plazas, it is the plaza with the most visitors. The third beach, known as Peristeres, is located farther to the west and is accessible only through a winding, narrow road. It is one of the quieter beaches.
What are the activities in Rodakino Beach?
Rodakino is a region for those who enjoy trekking, natural environment, and rugged terrain. There are wonderful untouched villages to visit and delicious local food to taste. There are world-famous treks, as well as beautiful beaches, quiet coves, and harbours. The terrain is really interesting for climbers. Canyoning is possible in the Rodakino gorge, which is occasionally as narrow as 1.5 metres. The difficult gorge is only accessible to skilled canyoneers with the aid of canyoning equipment. The world-renowned Samaria Gorge is accessible to anybody with exceptional stamina and solid footwear. To really appreciate the canyon, one must enter at the highest point, Xyloskalo, at an elevation of 394 feet (organised buses can bring you from Sfakia to the beginning of the Samaria Gorge). The 16-kilometre hike will lead you to the Agia Roumeli beaches. Throughout the path through this national park, you will see 70 plant and animal species that are unique to Crete, out of a total of over 450 species. The diverse topography leads you through verdant forests, and for added drama, the end of the gorge features steep cliffs that are often only 3 metres apart. The boats will transport you from Agia Roumeli back to Sfakia, stopping at Loutro en route. The town of Loutro is a marvel; it is a picturesque, little settlement situated around a gorgeous bay. It is only accessible by boat. As the ship docks, goods are moved down the waterfront on wheeled carts. With no automobiles or loud music, you will just hear the sound of the ocean and appreciate the white island architecture. Have some freshly caught fish; the fishermen are pleased with their catch.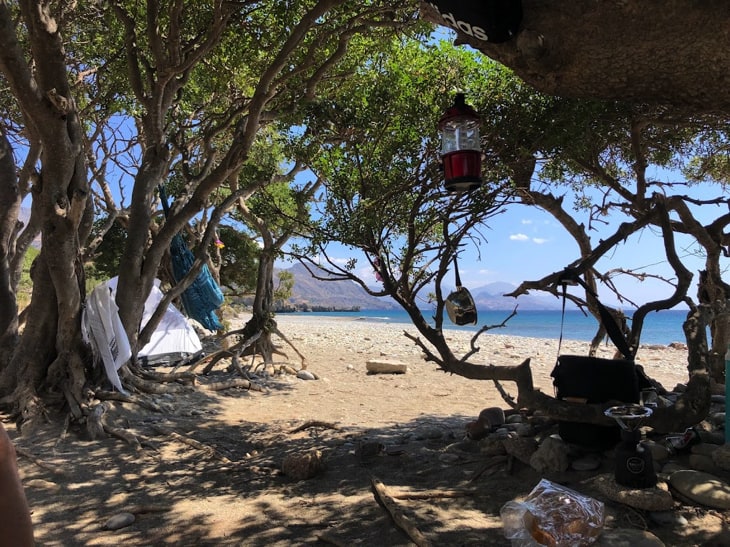 When is the best time to visit Rodakino Beach?
The best time to visit Rodakino Beach is during the summer months. The months of June to September are considered the summer season in Rodakino Beach. The beach is most famous during summer and it provides the best weather. The sea is much calmer and fitter for snorkelling and diving. Other activities such as swimming and sunbathing are more enjoyable during summer. However, the advantage is that it becomes crowded and most of the spaces and accommodation slots are taken. Tourists who want to be on the beach to experience a more peaceful and less crowded scene must visit outside the peak of the summer, which is around April to May, or from October to November. The weather during these particular months is still mild and desirable, and the benefit is it has a smaller crowd and a relaxed environment.
How was the preservation of Rodakino Beach?
The preservation of Rodakino Beach is by a series of government measures and law. Rodakino Beach is currently being protected by an imposed law called 30028/2022 by the Council of Europe Legislation. The 3028/2022 law states that "On the Protection of Antiquities and Cultural Heritage in General"; it is effective for every historical and cultural site found in Crete which is measured to be at the highest degree possible. Apart from that, the law covers all movable, immovable, and intangible structures. Rodaki Beach is both a tourist attraction and a representation of the rich history and culture of Crete, which makes the government exert effort in guarding it.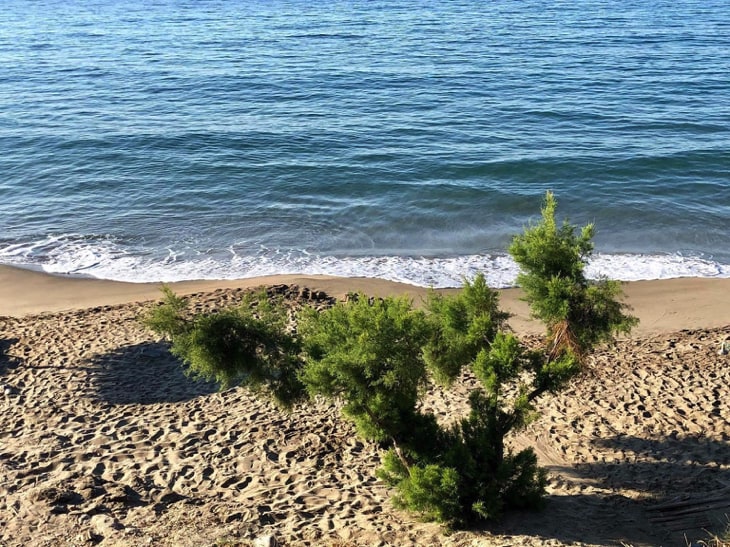 What are the nearby attractions in Rodakino Beach?
The nearby attractions at Rodakino Beach are listed below.
Rodakino Village: The village of Rodakino, also called Ano Rodakino, is a tiny place with a rich Cretan tradition that showcases the local culture and way of life. Tourists are encouraged to go around the narrow streets, eat local food, and explore the local taverns and coffee shops.
Rethymno: The city of Rethymno is situated just a quick drive from the beach of Rodakino. The city offers a wide selection of attractions and activities. Travellers are allowed to walk around the old town, visit the Venetian fortress, or drive on the sandy beach.
Plakias Beach: Only a short distance from Rodakino lies Plakias Beach, another well-liked seaside location. The beach is a wonderful spot to unwind due to the pristine seas and beautiful scenery.
Frangokastello Castle: Frangokastello Castle is a historic fortress located on the south coast of Crete. The castle dates back to the 14th century and is known for its impressive architecture and rich history. Visit the castle and learn about its role in the history of the island.
Preveli Monastery: The Preveli Monastery is a historic landmark located in the nearby village of Preveli. The monastery dates back to the 17th century and is known for its beautiful architecture and religious significance. The Preveli monastery is dedicated to St. John the Theologian and St. John the Baptist and is one of the most significant monasteries on the island of Crete.
How do you get to Rodakino Beach?
Less than two hours is all it takes to get to Rodakino from the International Ioannis Daskalogiannis Airport in Chania. It's a little under two hours by car from Heraklion's Nikos Kazantzakis Airport. Visitors have the option of picking whatever airport they like, and they are going to discover a vehicle rental agency right there. See what Rental Center Crete offers in terms of vehicle rental rates in both Heraklion and the Chania airport. A car is waiting for visitors at the dock so that they are likely to be on the road as soon as possible upon arriving by boat.
What are the factors to consider before renting a car in Crete?
The factors that are needed to be considered before renting a car in Crete are listed below,
Insurance: Renting a car with insurance coverage is a good idea for travellers because it protects them from financial responsibility for any incidents that are possible to occur. Insurance must be considered since they are for accident damage waiver, but the driver is obliged to utilise a credit card as a guarantee to avail of it. Complete coverage is provided, but there is no deductible and no option to pay with a credit card, but it comes with a higher cost. Tourists that are planning to rent a car must remember that the insurance coverage does not reimburse them for broken mirrors or glasses.
Driver's Age: A driver's age must be considered by tourists since it is one of the factors to get a driver's licence. A driver's licence is only available for drivers 18 and above. However, Crete car rental companies require drivers to be at least 21 years old and hold their licence for 12 months or more. It is against the law for anyone younger than these ages to rent or drive a vehicle.
Car Rental Location: It is essential to give careful consideration to the location of the rental company prior to the decision of renting a car in Crete. Crete car rentals require tourists to bring the rented vehicles back to their own respective locations. Tourists must ensure that the organisation where their rented car belongs is closely located to the destination they intend to go to. They are subjected to costly charges if they do not comply with it.
Online Booking: It is a smart option for vacationers who want to drive around the island to make online bookings for a rental car on Crete. There are a lot of advantages such as discounts and special deals if they want to complete their car rental transaction online. Additionally, They only need to pick up their rental car without having to wait whenever travellers arrive at one of the airports in Crete such as Heraklion, Chania, or Rethymnon.
Car Type: Crete car rental institutions offer multiple selections of cars to their customers. Tourists have different needs and preferences when they are renting a car. The factors that influence the needs and preferences are the destinations, the number of passengers, and the comfort they wish to experience. Customers must know how to choose the right car to rent in Crete, in order for them to meet their standards and achieve satisfaction.
How much does a car rental in Crete cost?
Renting a car is the most convenient way to explore Crete. Renting a car allows tourists to navigate around Crete more quickly. The cost of a vehicle rental in Crete depends on a variety of factors, including the number of people in your party, your planned route, the type of car you want. A Crete car hire typically costs between €30 and €40 a day. On average, a weekly automobile rental would set you back €250. The average price of a weekend car rental was €78. Car rental costs in Crete vary greatly across makes and models. The majority of automobile rental agencies in Crete provide customers with a wide selection of vehicles to choose from. When consumers in Crete wish to reserve a car, they may do it over the Internet at any of the many rental agencies in the area. Just follow the steps on their website to reserve a car online. It is important to make sure one has everything they need before renting a car on Crete.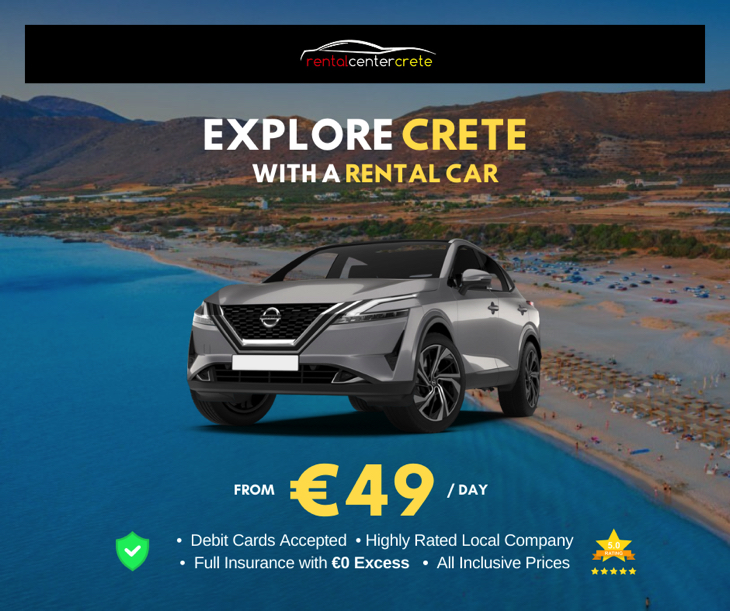 How much does it cost to get to Rodakino Beach?
There are no admission fees in Rodakino Beach. The beach is open to all visitors because it is considered a public one. Visitors who are planning to pay must do research because there are no charges upon entering the beach of Rodakino. It is the same with other beaches in Crete that do not ask for payments from tourists. On the other hand, the hotels, apartments, and food must be paid for by the tourists. The usual cost of accommodations in Rodakino Beach goes around €30.86. It is already a one-night stay in hotels and apartments. The average expense for eating in nearby restaurants in Rodakino Beach like the I Kantina Tou Manoli approximately €3.50 to €15 for every meal. The meal cost is anticipated to become more expensive depending on the number of people and the prices of each food. There are no parking fees in Rodakino Beach on a usual basis, and visitors must find their own places to parking. However, there are expected parking rates on busy days. The prices of accommodations, food, and parking are increased during peak season. Hence, tourists must expect to pay more when they are to visit in summer.
Where to stay near Rodakino Beach?
The beach of Rodakino is surrounded by several kinds of accommodations such as hotels, vacation rentals, campsites, hostels, and resorts where tourists are welcome to stay. Hotels in Rodakino beach vary depending on the budget and the numbers of tourists staying. There are budget-friendly hotels, family-friendly hotels, luxury hotels, boutique hotels, and all-inclusive hotels. Saint George Boutique Hotel is one of the best hotels near Rodakino Beach, mainly because of its accommodations and inclusions. Most of the rooms offered in Saint George Boutique Hotel are double rooms with 1 double bed. It is located 1.2 kilometres away from the beach of Rodakino. Another hotel is Akropolis Studios with free cancellation and no prepayment required. It has a double room with balcony and sea view, where 2 beds are included. It is approximately 200 metres from the beach, which is accessible through walking. Additionally, Akrotiri Panorama is a known luxury hotel and apartment near Rodakino Beach. It is estimated to be approximately 450 metres from the beach.
Where to eat near Rodakino Beach?
There are a lot of places where visitors are allowed to eat in Rodakino Beach. Firstly, seafood restaurants are extremely common in the area. They serve specialised newly-cooked and tasty seafood dishes with local ingredients. The I Kantina Tou Manoli restaurant is one of the best seafood restaurants near Rodakino Beach. Secondly, local tavernas are found along with seafood restaurants. Local tavernas usually provide a wide option of homemade dishes, which include grilled meat, salad, and dips. An example of local taverna in Rodakino Beach is the Elia Traditional Cretan Taverna. Thirdly, beachfront clubs and coffee shops accommodate tourists who are planning to chill and relax. These establishments offer a usual dining table with light food and cold drinks, which are best to have after enjoying the beach all day. Peach Bar is a good beachfront bar in Rodakino Beach with a 5-star rating. Fourthly, there are fine dining restaurants within the vicinity of Rodakino Beach which sell formal dining. The high-end restaurants are known to have a good deal of gourmet cuisine and an elegant surrounding. Lastly, snack stores and street food vendors are available in Rodakino Beach. Quick bites such as falafel, kebabs, and Greek sweets are being sold in these stores which tourists are highly recommended to try.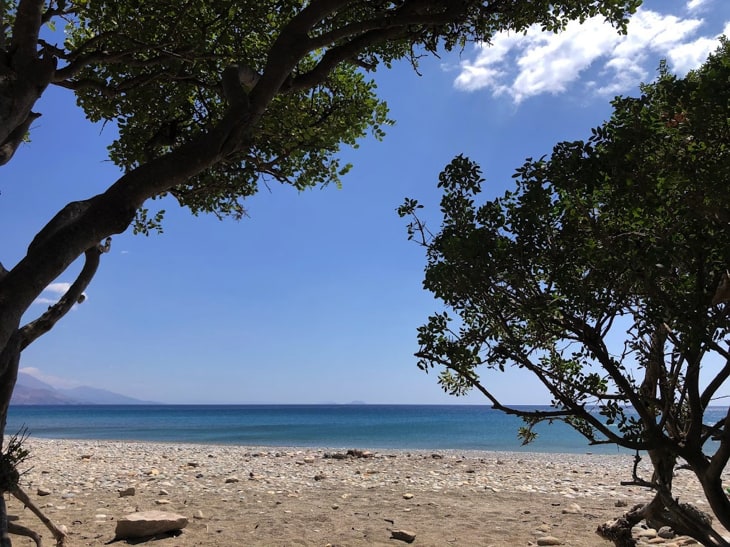 Is Rodakino Beach worth visiting?
Yes, Rodakino is worth visiting. Rodakino beach is considered by a lot of visitors to be a gorgeous and serene beach with clear waters and a scenic ambiance. It is a perfect place to visit for people who love to swim, sunbathe, snorkel, hike, and relax in a natural and tranquil atmosphere. Rodakino beach belongs to one of the best beaches in Crete because it offers many benefits for its visitors. Apart from that, the place is less crowded compared to other famous beaches around the region, which satisfies those who want to achieve peacefulness. However, it is still best to do research before going to the place to read some reviews and insights into other people's experiences. It is a good basis for whether to go to Rodakino Beach or just go somewhere else if there are drawbacks that one avoids.
Is Rodakino Beach safe?
Yes, Rodakino beach is safe. The beach of Rodaino is considered to be a safe place since there are lifeguards on duty to aid those visitors that are swimming on the beach during emergency situations. The beach is a peaceful and quiet place, which means there are fewer potential risks and hazards than in any other beach area. The proper taking of safety precautions is still advised by the local authorities, despite Rodakino beach being a safe place for visitors. The visitors who are staying on the beach must always look after their valuable items since theft and pickpocketing are expected to happen. The non-swimmers are recommended not to swim alone, especially in the region where strong and big waves are occurring. Awareness of warning flags or signage that project potential risks and dangers such as currents or jellyfish must not be ignored.
Do you need to book in advance to visit Rodakino Beach?
No, one does not need to book in advance to visit Rodakino Beach. The beach of Rodakino does not necessitate any advance booking since it is considered a public beach. Rodakino Beach is open to all visitors at any time they want. However, it is highly advisable to go to the beach early in the morning or in the afternoon to search for a comfortable place on the beach during the crowded season of the year. Apart from that, they must remember to book hotels or apartments nearby in advance as there are a lot of people that visit the place and these accommodations are most likely fully booked. It is a great thought to prepare prior to the visit and conduct research on the internet when is the best season to visit Rodakino Beach based on one's personal time availability and preferences. It is a way to prevent dissatisfaction and make sure that the visitors obtain a danger-free and enjoyable trip at Rodakino Beach.
Are children permitted at Rodakino Beach?
Yes, children are permitted at Rodakino Beach. Visitors who plan to bring their children with them must be happy since they are allowed to. There are no restrictions regarding children on the beach of Rodakino since it is not a dangerous place to visit, which makes it one of the best beaches in Crete for toddlers and young kids. It is a family friendly place where all activities are made for all ages, including children. Parents must always be watching their children when they plan to bring them and never dare to neglect them. The waves of Rodakino Beach sometimes become unpredictable, which is dangerous for children. Strong currents and underwater rocks bring potential risks and hazards for children. Therefore, necessary precautions must be taken to ensure that they are safe. Parents must not rely entirely on lifeguards and must do their own effort to prevent accidents from involving their children. Aside from that, children must be wearing safety equipment such as a life jacket to help them float in the water. Sunscreen must be applied to protect them from the harsh rays of the sun.