The Westernmost region in Crete with its romantically picturesque capital is a big favorite of everyone who visits. It's full of beauty, history, and charm. It also has a diverse topography, from rugged mountains to a world-famous gorge, and heavenly beaches.
Everything You Need to Know About Chania – Crete
The town of Chania is famous for its Venetian harbor and the old town with its winding alleys filled with bougainvillea and jasmine.
The town is full of authentic character, with charming vernacular architecture, a landmark mosque, the Egyptian lighthouse, and the absolutely gorgeous Venetian boatyards, which now serve as cultural venues.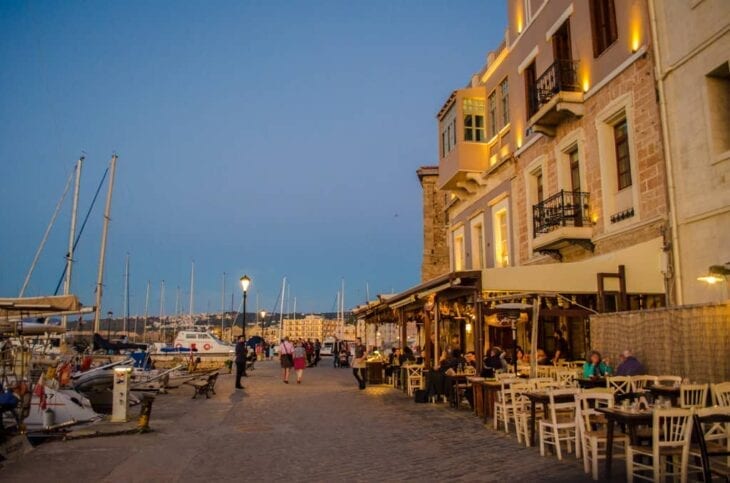 The nightlife caters to every taste, from elegant port-side cocktails and dining to casual music tavernas and late night venues. There is also excellent shopping. Chania is known for traditional leather craft, and there are also excellent boutiques for island-friendly fashions and crafts. For a splurge, there are also fabulous jewellery stores.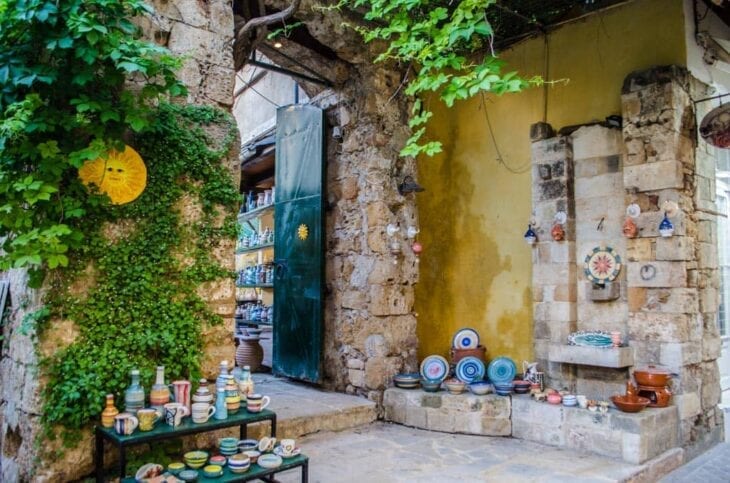 Chania is full of great accommodations with local character, from charming small family hotels to luxury boutique experiences and also plenty of family friendly beachside resorts close to Chania town.
Beautiful drives make exploring the region by car a pleasure. Many world-class destinations are within an easy distance of Chania town.
Where is Chania Located?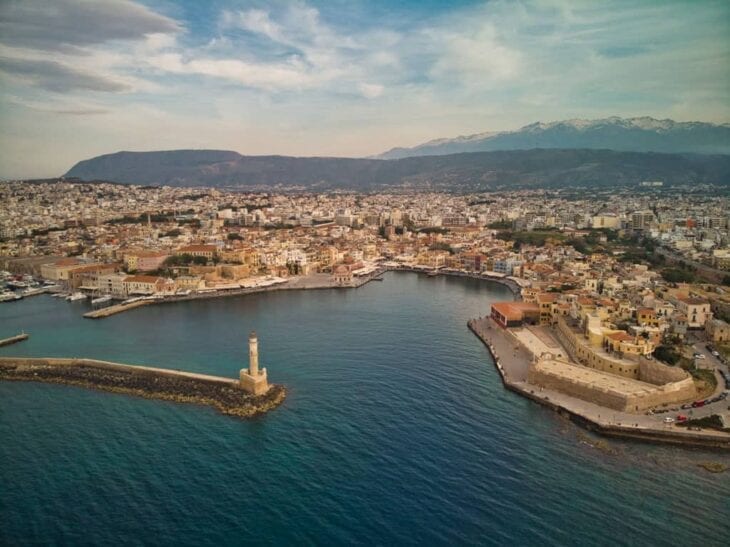 Crete is Greece's largest island with its own distinctive culture. Chania is the heart of the popular westernmost region of the island.
How to Get to Chania in Crete
Chania is a popular destination for both foreigners and Greeks year-round, and is very easy to reach. Ferries arrive daily to Souda harbor, less than 7 kilometers from Chania town. The Ioannis Daskalogiannis International Airport (CHQ) is just under 15 km away and a simple 20 minute drive. There is a car rental in Chania Airport – just 50m away from the main gate. If you're arriving by ferry, port-side pick up is easily arranged.
There is also bus service from the Chania airport to the center of town, and taxi service starting from 24 Euro.
The History of Chania
A long and rich history has shaped this famous port city.
Chania started life as "Kydonia". There is evidence that it has been settled since the Neolithic era, and it thrived in the Minoan era. A wave of Dorian settlers came from mainland Greece in the 12th century BC, and during the Classical period (the 5th and 4th centuries BC, which as the building of the Parthenon), this was an important city state.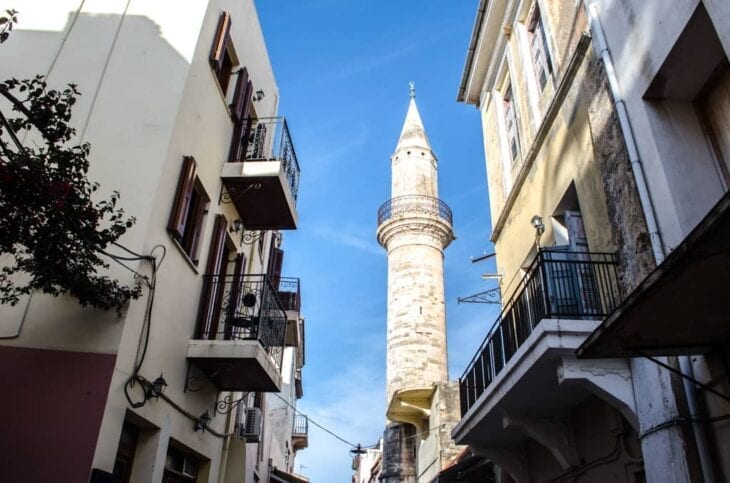 The city was part of the Byzantine Empire, interrupted by some periods of Arab invasion, until it was taken by the Republic of Venice in the 13th century (with a brief interlude of rule by the Genoese), when it acquired the name Candia. The city flourished intellectually and culturally during this period.
The city fell to the Ottomans in 1669 and was free only in the early years of the 20th century. Minarets and the mosque of the Janissaries (a prominent feature of the venetian harbor) remain from this period, adding to the interesting architectural mix.
What to See and Do in Chania, Crete
Chania town is a great town for just walking around. It has a gorgeous harbor front. Try starting in the harbor's eastern edge in the marina, where the venetian boat yards are and maybe have your eye on a dockside taverna for later. If you are up to it you can walk out to the Egyptian lighthouse from here but definitely do this before dark because it can be a little bumpy. From the lighthouse you have a great view (and photos!) of the main harbor.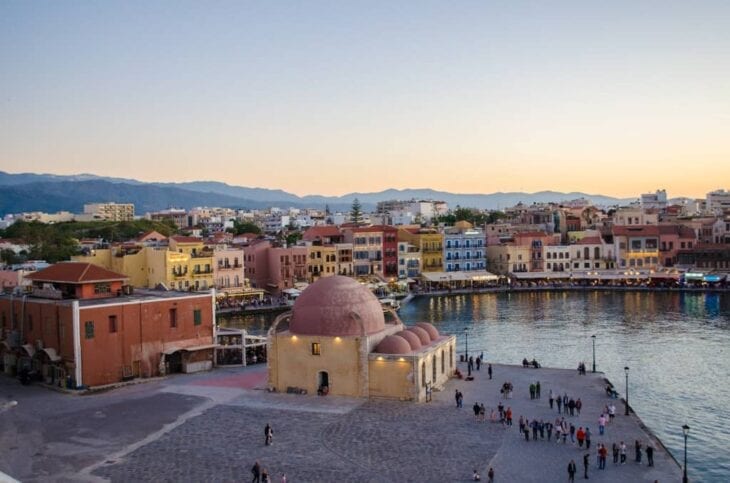 Then explore the main harbor. The waterfront has some of the more touristy restaurants, but the back alleys are magical. Some restaurants in Chania are in the picturesque ruins of old houses, open to the starry skies above.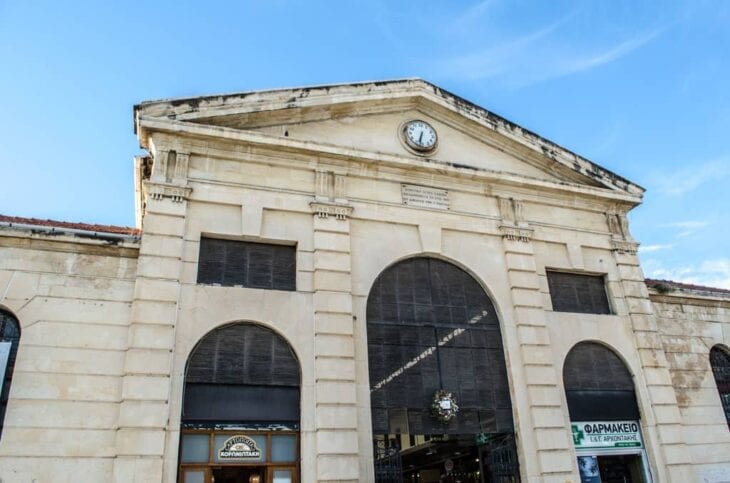 By day, you won't want to miss the Agora – the traditional covered marketplace – which opened in 1913. You will find some gifts and shops clearly catering to tourists, but for the most part this is what it has always been, a play for people to get their olives and cheeses, their fresh meats, produce, and their just-caught fish. If you like edible souvenirs, herbs are always a good choice and you can also try coarse salt or shrink-packed olives.
There is an Archaeological Museum in a gorgeous location- the Monastery of St. Francis. It features Minoan and Roman artifacts. The Nautical museum is also interesting because of the city's fascinating maritime history.
The Public Garden – just in from the Agora's main entrance. There is an elegant small mansion that serves as a cafe, and there are white peacocks and goats which make it a nice visit with children. Do you like the cinema? The open air cinema is also here in a fragrant garden. Movies are screened in their original language with greek subtitles (except for childrens' films, which are generally dubbed).
Locals love Kalo Chorio– the marina and beach just west of the port. You'll find a fine city beach and some charming tavernas here.
Eat at The Well of Turk
There are plenty of little cafes to have a snack but a visit to The Well of Turk will leave you with a satisfying and culturally significant meal. Located in the Turkish quarter, you can try the ethnic dishes in this award-winning establishment.
Enjoy a Beach Holiday – Gorgeous Beaches around Chania, Crete
It's hard to go wrong here – Chania is surrounded by wonderful beaches.
Are you travelling to Crete with kids? The gently shallow waters of Agios Apostoloi (just west of town – about a ten minute drive) are very popular with families. It's right past Chrissi Akti (Golden shore), a beach with sun loungers and service that's also very popular.
Are you up for a gorgeous drive? Then you won't want to miss the justifiably famous Elafonissi beach at Crete's southwestern corner. The sands are dazzling white with pink, and there is an island (sometimes connected to the mainland by a sandbar) with sand dunes covered with wildflowers that is a nature preserve.
Activities around Chania, Crete
This is a beautiful region for exploring. The world famous Samaria Gorge is nearby. This is all all day event, involving taking a bus to the gorge entrance then a boat and buses back from the lower end. For a taste, visit the gorge from the south. The drive to Sfakia is one of Crete's loveliest. From there is a short ferry ride to Loutro (adorable!) and Agia Roumeli at the gorge's southern end.
Very near Chania is Therissos gorge. This is a popular destination for locals to enjoy top quality lamb and goat in a beautiful natural setting. It's worth going just for the scenery along the route.
Cultural Excursions around Chania
Hike Therisos Gorge
Therisos is also the site of the Therisos revolt, which was a crucial step in the Independence of Crete and its ultimate union with the rest of Greece. The mother of the great statesman Eleftherios Venizelos was from Therisos, and he led the revolt from this strategic mountain pass. In Therissos you will find the National Resistance Museum and also the Historical and Folklore Museum.
Spend a full day hiking in Samaria Gorge
Hiking in Samaria Gorge is a very rewarding experience and one of the things you may do just once in a lifetime. The hile duration is about 6 to 8 hours depending on the pace. The hike commences at Xyloskalo the famous location of the Omalos plateau (1.250 m above sea level) where there are several local taverns, hotels and a museum dedicated to the Samaria Gorge. The gorge is available to everyone from May to October and the entrance fee €5.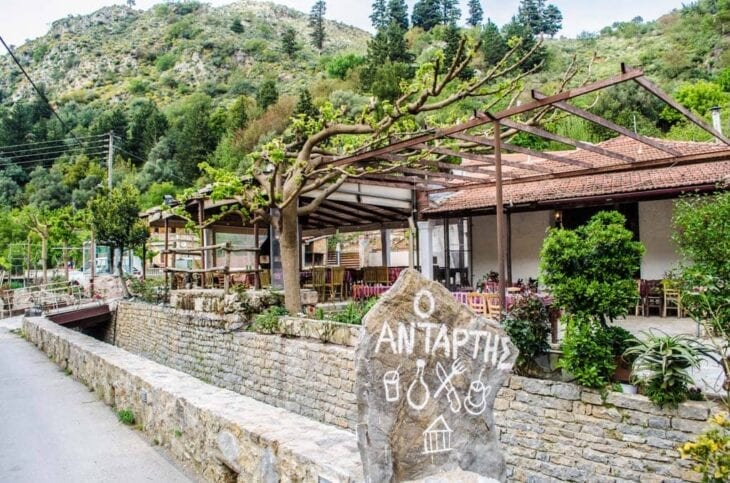 A beautiful drive south (the same that brings you to Sfakia) takes you to the Venetian Fortress of Frangokastello dramatically set on the shore.
Visit the Agia Triada Monastery
The Monastery of Agia Triada (Holy Trinity) is a half-hour's drive from Chania into a beautiful and fertile Akrotiri peninsula. The 17th century monastery continues to produce oil and wine, both of which can be purchased.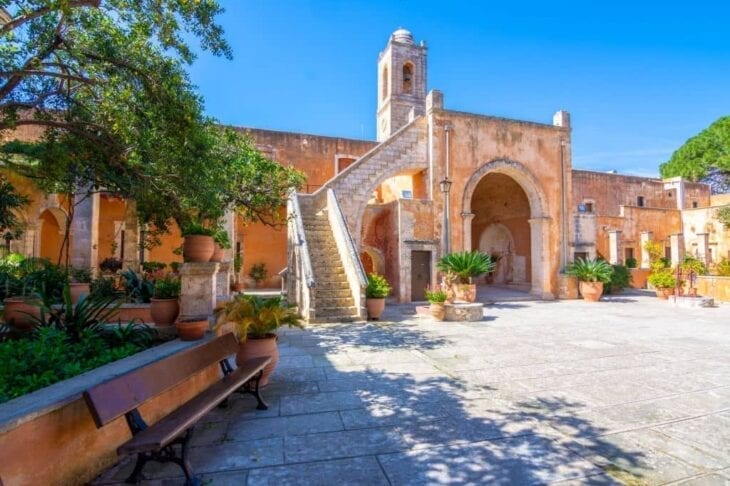 Have lunch at Vrysses
For a simple taste of beautiful village life, visit Vrysses – a lush village shaded by plane trees just over half an hour's drive to the east. You can always get an excellent meal in a village.
Spend the night in Agia marina or Platanias
Right next to Chania town you will find two smaller resort towns. These are Agia Marina and Platanias. Both coastal villages are approximately 6 minute drive from Chania. Platanias and Agia Marina are the liveliest villages in West Crete and they offer endless nightlife opportunities. Throughout the summer visitors can enjoy regular beach parties which are hosted during the day and night.
Explore Chania – Crete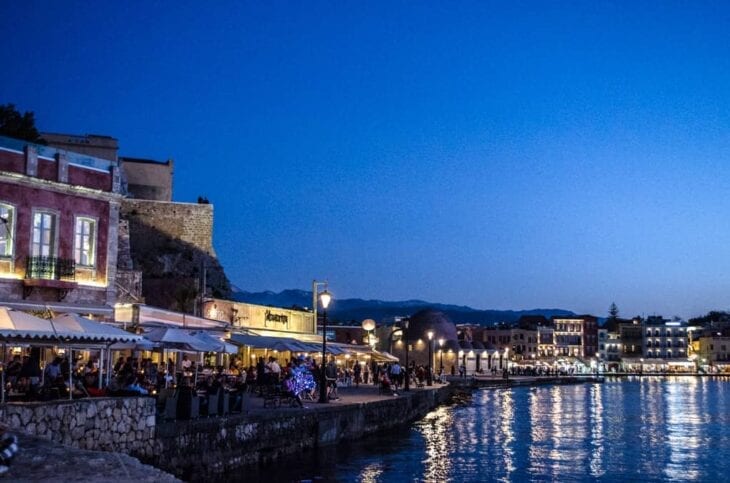 The region around Chania is full of gorgeous beaches, history, and natural splendor. Chania's gorges and mountains, villages and monasteries are a pleasure to visit by car, enjoying the scenery along the way.